20 minute read
A Guide to Finding Delivery Driver Jobs Near You
Check out our comprehensive guide on how to become a delivery driver. Find local delivery jobs, be your own boss, and make your own hours.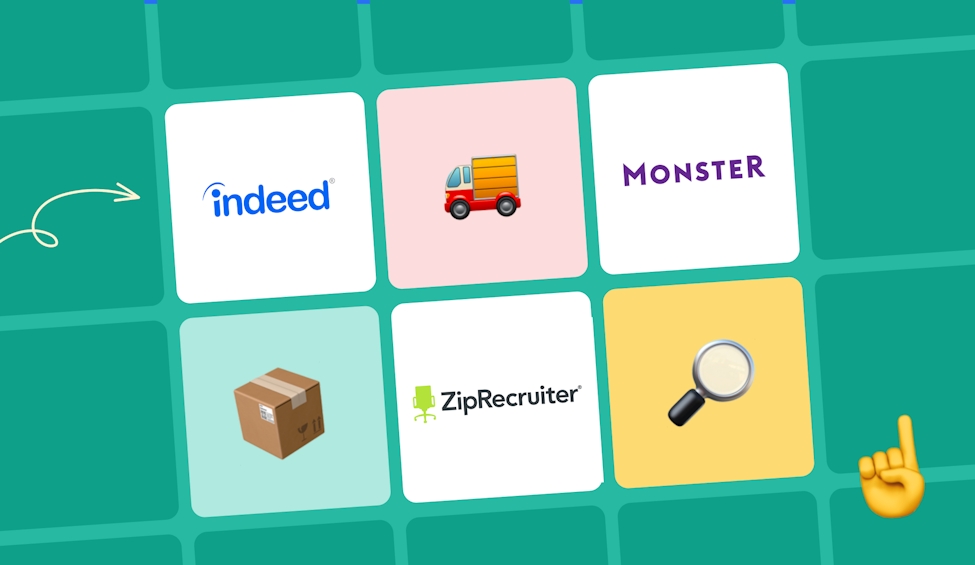 The "Great Resignation" has changed how we work. We want flexibility and more control over where, when, and how we work.
Call us Veruca Salt. We want what we want, and we want it now — including being our own bosses and setting our own hours.
But, it's not that easy.
Leaving a stable job on payroll can feel risky if it's something you've never done before. Plus, how can you guarantee that there will be enough delivery jobs available near you to make it all financially worthwhile?
If you've never tried gig work before, that's OK. This article gives you a complete introduction to delivery driver jobs near you by walking through the following points:
Why you should consider becoming a delivery driver
Where to find delivery driver jobs
What the highest-paid delivery jobs are
What the best delivery gig jobs are
Plus, essential tips to get done faster and earn more money.
If you'd like to learn how you can benefit from finding delivery jobs near you, continue reading.
Why become a delivery driver?
If this sounds like you, you're not alone.
Many people share these desires, and it's impacted delivery driver job growth.
In fact, the U.S. Bureau of Labor Statistics (BLS) predicts job growth for delivery truck drivers to grow 12% faster than average from 2020-2030.
Why?
Because delivery driving can be a rewarding career path with a flexible schedule. You can work as an independent contractor, acting as your own boss and making your own schedule.
Just take a look at different delivery driving job options. 
You can become a food delivery driver through Uber Eats, Postmates, Grubhub, or a specific restaurant like Domino's. 
You can also become a shopper and deliver groceries with Instacart or Shipt.
Not interested in food delivery? Become a package delivery driver with Amazon Flex, USPS, UPS, or FedEx. You may even enjoy benefits like health care or paid time off, depending on the job!
Are you ready to take back the keys to your career and hop into delivery driving?
I'll walk you through finding delivery driver jobs near you, the qualifications you need, and more!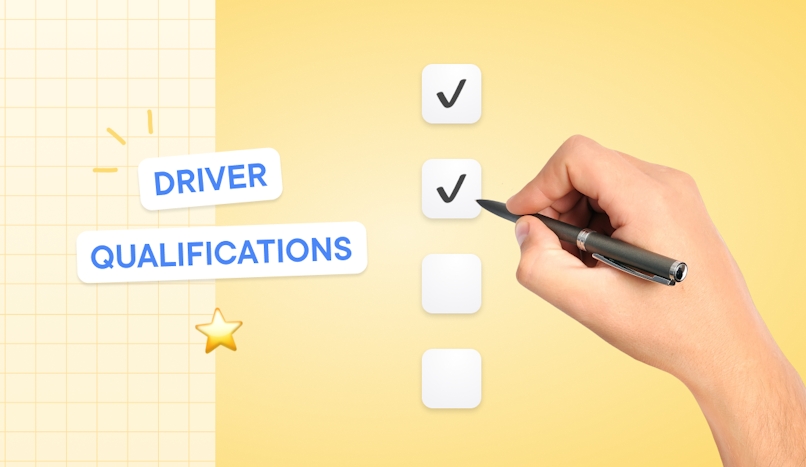 What qualifications do you need to be a delivery driver?
If you're considering part-time or full-time delivery driving, there are a few things you should know.
First, you need to be able to drive.
That doesn't mean you need loads of driving experience, but if you're going to be driving for a living, it helps to be good at it and enjoy it!
Beyond that, you'll need a clean driving record and a valid driver's license. This should be specific to the region you're in. 
For example, if your delivery service is in California, you'll need a valid California driver's license.
You also need access to a reliable vehicle. 
While some companies — like FedEx — handle transportation, others don't. Just don't forget about insurance! 
Food delivery companies require workers to have auto insurance to protect themselves from liability when making deliveries. 
Maintaining an active auto insurance policy also helps protect you and your property when you're on the job. Check out this article from Forbes about navigating auto insurance for delivery drivers.
Don't have a car? No problem.
Some food delivery services allow you to use a scooter or bike like Uber Eats and DoorDash, depending on the size of the scooter's engine and the location you're working. 
Grubhub supports deliveries made in cars and on motorcycles in all delivery areas. This article does a great job going over some of the perks of using a scooter or bike for deliveries.
You'll also need to be in good physical condition, as delivery typically involves lifting and carrying.
If you're delivering food, heavy lifting isn't as big an issue. But if you're delivering for UPS, for example, you'll need to lift up to 70 pounds.
And, of course, you'll need to show up on time.
These qualifications are enough to get you started on your delivery driving journey. Remember that different delivery driver job positions have specific needs regarding background checks, age, certifications, and more. 
Be sure to read the full job details. As a general rule, most delivery driver jobs need you to be at least 18 years of age and have at least two years of driving experience with a good driving record.
Where are most delivery driver jobs posted?
When it comes to looking for a delivery driver job, you have a few options. 
You can go the traditional route and look through job boards like Indeed, ZipRecruiter, or Monster — or you can find jobs specific to the type of deliveries you want to make.
If you're interested in food delivery, you'll need to sign up with each service directly. 
For Uber Eats or Postmates, visit the Uber website and send your information. Once accepted, you'll have access to the Driver app to pick up jobs. 
For DoorDash, you can sign up using the DoorDash website. The process takes a few minutes, and most Dashers can start earning in just a few days. 
Grubhub for Drivers is a similar process.
You may even want to sign up to work for more than one delivery service. Just be sure to check the FAQs before you commit.
For grocery delivery, check out Gopuff, Shipt, and Instacart. 
If you're looking for delivery jobs on job boards like Indeed or Monster, try searching for "delivery driver," "courier," or 'package delivery driver." 
Check the job details for incentives, benefits, and requirements.
For instance, many long-distance delivery truck drivers need certifications like a commercial driver's license (CDL).
Stay in the know. Don't forget to sign up for job alerts to stay up to date with the latest driving jobs!
If you're more interested in package delivery, check out Amazon Flex, UPS, FedEx, or USPS. 
How to find local delivery driver jobs
Put away your maps. Finding local delivery driver jobs isn't rocket science!
When you're looking for local delivery jobs, you can still use many of the resources in the section above, like Indeed and Monster. Just make sure to plug your location into the search tool.
You can also consider stopping by or contacting businesses near you. 
For example, that local Chinese restaurant with the "hiring delivery drivers" sign in the window can be a good lead. 
And finding a catering delivery job, for instance, could be as simple as calling a local restaurant and asking if they're hiring.
Once you're accepted as a delivery driver for one of the delivery services, such as Amazon Flex or Instacart, you'll have access to the driver app or portal that allows you to pick up local delivery jobs in your area. 
You'll want to have an iPhone or Android smartphone charged and handy, so you can keep up with your local deliveries.
If you're looking for a more traditional job like UPS, FedEx, or USPS, then you can find job postings on the career page of their website or job boards like Indeed. These jobs will give you an assigned route in your local area.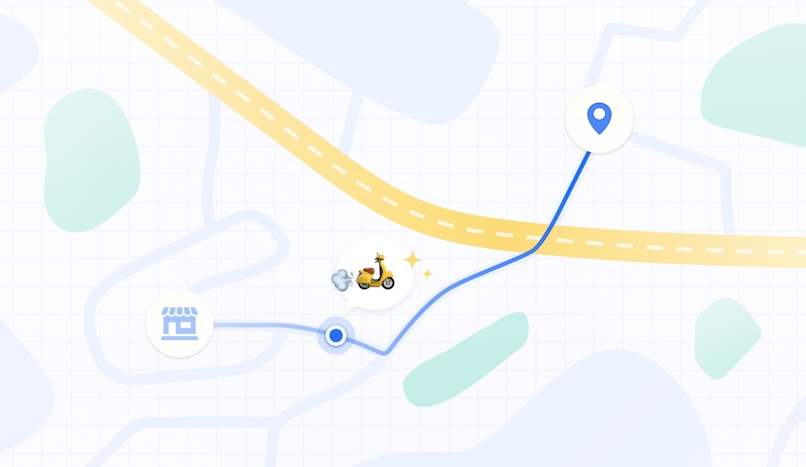 What are the highest-paying delivery driver jobs?
Obviously, you're in the delivery business to make money. So, what jobs make the most money in the delivery driver world?
There are a few factors that can affect how much you make as a delivery driver. For starters, the type of deliveries you make will play a role.
Food delivery, for instance, generally pays less than other types of deliveries. The average food delivery driver in Georgia, for example, makes $22,000 per year. In contrast, the average UPS worker typically makes over $51,000 a year. 
But tips can make up a significant portion of your earnings, so that's something to keep in mind.
Let's take a look at some of the different high-paying local delivery driving jobs.
Check out our article on how much delivery drivers make for more information.
What are the best delivery driver gig jobs?
You want the freedom and flexibility of being your own boss and can enjoy life on the go. Don't forget the money.
Yo-ho, yo-ho! It's delivery driver life for you.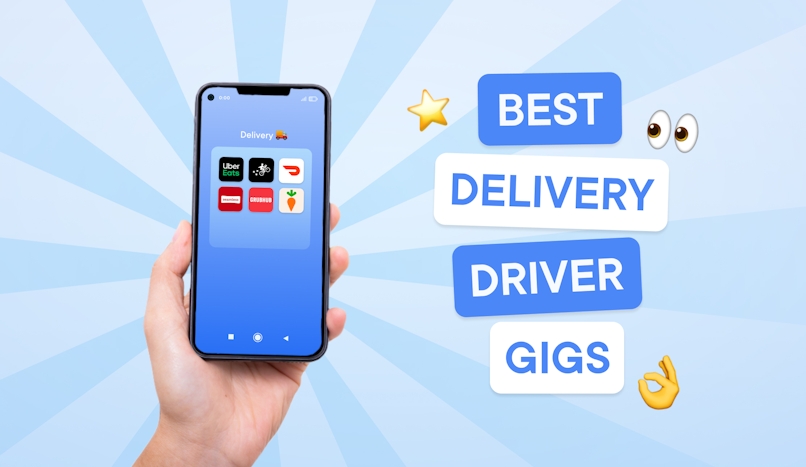 1. Amazon Flex — best for an easy start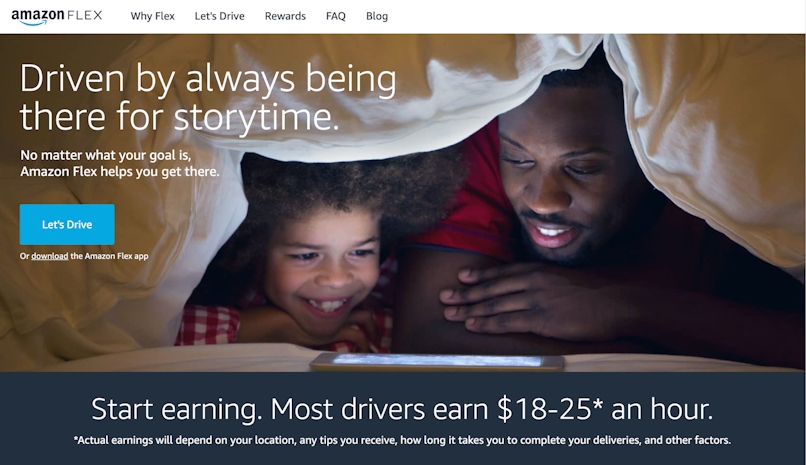 Are you trying to get started fast? 
If you're looking for an easy way to start delivering packages, Amazon Flex might be the right option for you. With Amazon Flex, you can be your own boss and set your own schedule. You can work as little or as much as you want, and you can deliver packages using your own vehicle.
Amazon Flex pays $18 to $25 per hour, and you don't need any delivery experience to start.
To become accepted as an Amazon Flex driver, you need to meet the following requirements:
Be 21 years or older
Have a valid driver's license
Own a smartphone that can run the Amazon Flex app
A mid-sized vehicle, such as a four-door SUV, van, or pickup with a covered bed
Have auto insurance
The process to sign up is simple, but it could take a week before you're accepted as a delivery driver due to background checks.
Amazon sends you the available time schedule blocks you can fulfill through your app. Claiming a three or six-hour block is on a first-come, first-serve basis.
Be sure to sign in to the app early to get your preferred delivery blocks.
Pros:
Pick your own schedule (block)
Pays through direct deposit twice a week
Better pay than many of the other options on the list ($18 to $25 per hour)
Cons:
Check out this article to see brutally honest reviews from real Amazon Flex drivers. It's full of helpful tips and feedback from delivery drivers. Here are some standout reviews:
"Why do they waste our time, allowing us to sign up, do a background check, submit all the documents then give us locations over 100 miles away."
"This Amazon GPS system is awful. Been driving for a couple of weeks now and this mapping system is just awful. The amount of time I have to turn around and get my heading corrected is ridiculous."
"My Flex app is showing me as checking in late for every shift. For instance, this morning, [my] shift started at 5:30. I checked in exactly at 5:15, and scanned every single one of my block packages by 5:26. I'm still flagged as late."
2. Shipt — best for making your own hours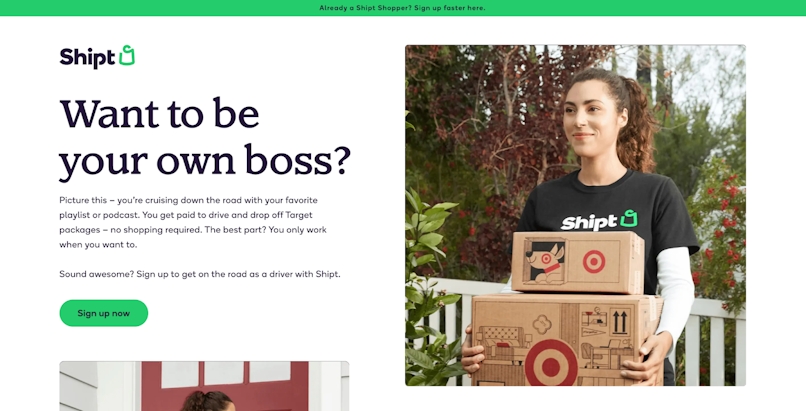 Do you need a bit more scheduling flexibility but still want to supplement your income?
Shipt is a grocery delivery service that hires part-time and full-time shoppers to help customers get the items they need from local stores.
As a Shipt shopper, you'll need to be able to lift up to 50 pounds and have a reliable vehicle.
You'll also need to be comfortable using smartphones to communicate with customers and the Shipt app.
The requirements are:
You must be 18+ years old
Have a valid mailing address
Hold a valid US driver's license and auto insurance
Have a reliable, operable vehicle (1997 or newer) — can't be a two-door sedan
Can lift 45 pounds
Have a smartphone — iPhone (iOS 10 or newer) or Android (5.1 or newer)
Experienced Shipt Shoppers can make anywhere from $16 to $22 an hour. You get paid per shop, so the more you shop, the more you earn.
With Shipt, you keep 100% of your tips, and the app encourages members to tip, so you can make more by providing top-notch service.
You can work as little or as much as you want, and you'll get paid weekly through direct deposit. 
The sign-up process is quick and easy, and you can start shopping and earning money as soon as you're approved.
Pros:
Flexibility
Communication with customers is better and more consistent compared to Instacart, according to drivers
Cons:
Order volume heavily dependent on your area
Many Shipt shoppers share that the pay per order is low and highly depend on tips
Can't see the tip until two hours after delivery
What do Shipt shoppers have to say?
One Reddit user shares that it's "completely [dependent] on your area on [whether Instacart or Shipt] pays better. I typically make more on Shipt on average but everyone's metro is different. The ease of shopping is better on Shipt. The app is more intuitive and easier to use. One advantage of Instacart is you see the tips right away (as long as they aren't tip baiting). Instacart is also more flexible timewise because you pick up what is currently on there versus scheduling yourself."
One shopper in California said, "Customers can rate you for any reason that might be unrelated to your actual performance (e.g,. app issues) and your rating will plummet; thus, affecting the amount of orders you will receive. As shoppers, we can't even rate customers. You can however apply for Rating and Late Delivery Forgiveness."
3. DoorDash — best for busy areas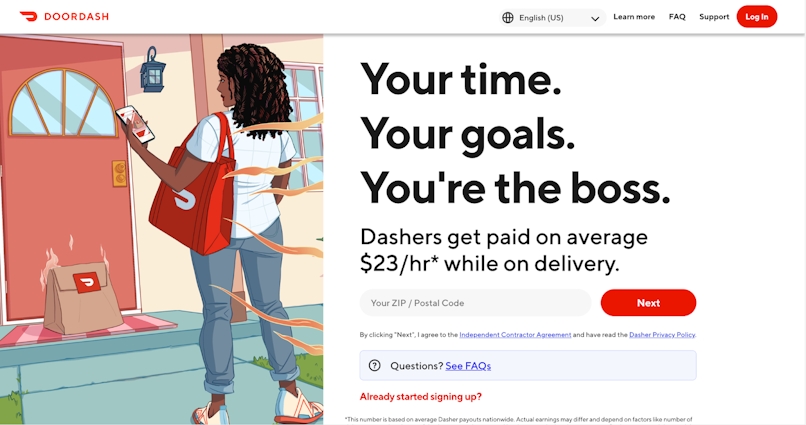 DoorDash is a food delivery service that hires Dashers (delivery drivers) to pick up and deliver food from local restaurants to customers.
The requirements are:
Must be 18+ years old
Any car, scooter, or bicycle (in select cities)
Have a driver's license
Have a Social Security number (only in the United States)
Consent to a background check
To sign up, you'll need to create an account and complete a short application. Once you're approved, you can start picking up food delivery orders in your area through the app.
DoorDash pays weekly through direct deposit and offers a flexible schedule so you can make your own hours.
For food delivery services, keep in mind that you want to stay in high-volume areas. 
High-volume areas are areas with a high volume of orders. This means more orders to pick from and more money made.
Pros:
Flexibility
Peak Pay and hot spots make it easy to maximize your earnings
Keep 100% of customer tips
Pick the orders you want to accept
Cons:
One driver in Texas shared, "The schedule is really flexible, but the pay and the way the app is designed and works is awful. Some people tip ok/great, but the majority of orders get delivered with no tip. The price of fuel right now is $4.09 where I'm at, and I'm in a little car that gets over 20mpg…. But whenever you have to drive 9 miles total for $3.25, it flat out doesn't add up. Then, after the delivery, you have to drive 9 miles back to your 'hot zones' for free. I've delivered over 450 orders for DoorDash, and it's extremely rare that I get an order on my way back to the hot zone."
A dasher in New Jersey said, "Good to work on your own time, flexibility, able to set schedules. No micromanaging and phone support is helpful. Just need to be certain your car is in good condition and be prepared to spend on gas."
4. Instacart — best for experienced grocery shoppers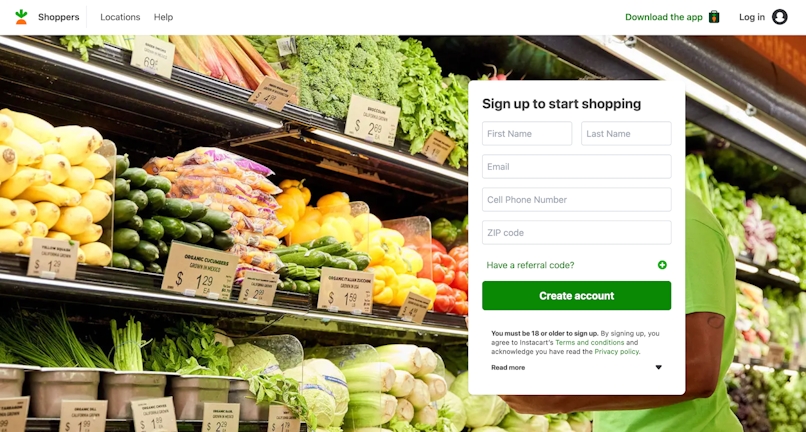 Similar to Shipt, Instacart is a grocery delivery service that hires in-store shoppers and drivers to deliver groceries to customers.
Here are the requirements to be an Instacart shopper:
At least 18 years old
Eligible to work in the United States
Have consistent access to a vehicle
Have consistent access to and be able to effectively use a recent smartphone (iPhone 6s/Android 5.0 or newer)
Able to lift 50 lbs. with or without accommodation
There are two different roles/positions with Instacart: a full-service shopper or an in-store shopper. Full-service shoppers are independent contractors who shop and deliver orders. There's no limit to how many batches (a "batch" is up to three customer orders at the same store) you can do.
As an in-store shopper, you're an employee of Instacart. You'd be based at a specific store, like Aldi, for example, and once you receive an order through the app, you would fill the order and hand the items to an Instacart delivery driver. You don't need a car.
If you know your way around the local grocery stores and feel confident you can grocery shop quickly, being an Instacart shopper could be a great choice. 
Are you detail-oriented? Great because you won't want to miss any items on the list or pick rotten produce.
Once you're approved, you can start picking up orders in your area through the app. You can make your own schedule as a part-time or full-time Instacart shopper.
Pros: 
Flexibility
Two options: in-store shopper or full-service shopper
Paid by the amount of hours you work, not by how many orders you complete; can keep 100% of your tips
Cons:
Responsible for saving for and paying your taxes, gas, wear and tear on your car, etc.
Need to be organized, fast, and good at shopping for items efficiently
Instacart shoppers are timed — you have about one minute to pick out each item
Here are some experiences and honest reviews from Instacart shoppers:
Alex says, "Well it's basically shopping at the grocery store but at hyper speed. It's fun but can also be exhausting because you have to navigate grocery stores where everyone else is taking their time and getting in the way. It's an interesting job to say the least."
Jason has a lot to say about what it's like being an Instacart shopper: "Terrible. You have 60 seconds per item to find an item in store, bag it, check out, pay, confirm replacements with customers. It's a tight schedule. But what really makes it terrible is that I've never worked a single day where the app worked. Unfortunately for you, app failure still goes against your stats. Basically they make shoppers responsible for everything and take responsibility for nothing at their head office. Do you think the programmers in San Francisco are getting reliability incidents every time their clunky app crashes?"
5. Grubhub — best for high-volume orders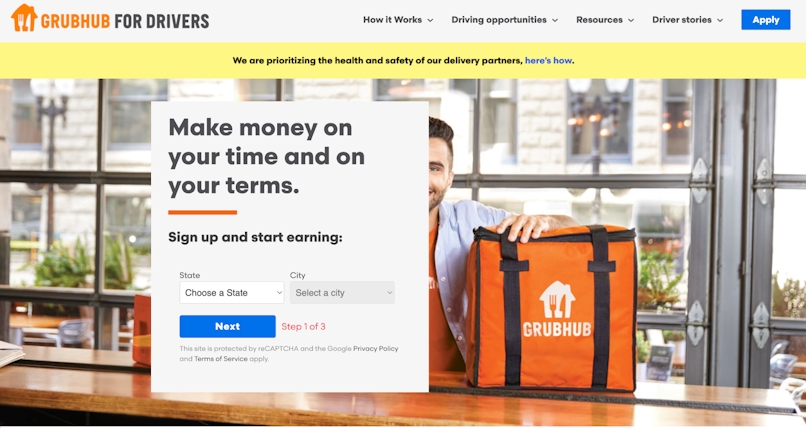 Make people less hangry by delivering food with Grubhub.
Grubhub is a food delivery service that hires drivers to deliver food from local restaurants to customers.
Grubhub covers around 1,000 cities across the US and has been top-rated by customers. As a leading food delivery service, Grubhub offers a reliable stream of orders depending on your area. 
If you're in a high-density city or area, Grubhub is likely to offer a stream of high-volume orders, especially at peak hours.
Before you sign up, it's a good idea to check how many restaurants near you deliver through Grubhub. If there aren't many listed, you may not have many orders to deliver, which can affect your potential income.
To be a Grubhub driver, you must::
Be 19+ years old
Own a car (or bike in select areas)
Have a valid driver's license and auto insurance for drivers
Have a valid state I.D. or driver's license for bike riders
Own a smartphone
Plus, you don't need any previous delivery experience!
You can sign up to be a driver on the Grubhub website. Once you're approved, you can start the onboarding process, learn how to pick up orders in your area, and set your own hours through the app.
Pros:
Can work when you want, whether part-time, full-time, or on your own schedule
Access additional perks and benefits for maintaining high attendance rates, high acceptance rates, and low block drop rates
Cons:
Wear and tear on your vehicle, saving for taxes, and gas prices are all factors worth considering
Can be penalized for missed, rejected, or delayed orders
Drivers express frustration that orders are often not ready on time
This Reddit user says, "Though there are many horror stories I personally have not had too many bad experiences. Granted I have to decline some bad orders but I live in a decent metro area so I can still average 20-30 an hour. I've been doing it since late May and the app only crashed once."
"With the low pay and time and gas put in it wasn't worth it. From what I'm told they have too many people in one area delivering so that makes it even worse," a driver in Indiana shares.
6. Postmates/Uber Eats — best for busy cities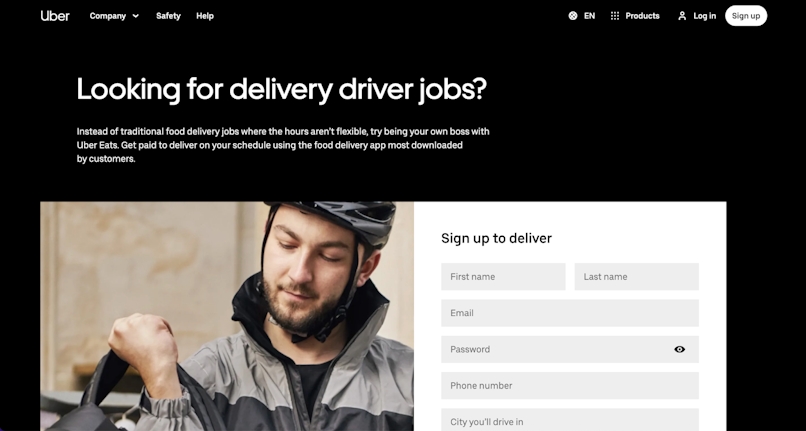 Did you know Postmates and Uber Eats are officially married? OK, well, not quite, but close enough.
Postmates officially merged with Uber Eats and started to accept delivery and customer orders from the Uber app in June 2021. In July 2021, Uber announced their decision to shut down Postmates for drivers.
Postmates is a food delivery and courier service that hires drivers to deliver food and other items from local merchants to customers. 
Unlike some other food delivery services, Postmates also delivers non-food items, such as groceries and alcohol. 
Uber Eats is a food delivery service from Uber (the ridesharing company) that delivers food from local restaurants to customers.
What does this mean for you?
If you want to drive for these services, you only have to apply with Uber Eats.
Requirements vary depending on whether you're driving a car or scooter or you're biking. When you become a delivery driver, you'll be prompted about which documents are required based on your mode of transportation.
Delivery drivers in the US must also pass a background screening.
Pros:
Make your own hours
Instant payout option
Find out where the best food is and learn to navigate your city
Cons:
Uber Eats delivery drivers share their honest experiences with the company:
Youram says, "I recommend Uber Eats because I've been working as a delivery driver for 6 months. Uber Eats is a good platform to earn extra money. They give you benefits like different points like a medical discount, car maintenance, etc. It gives daily promotions and pays extra when you achieve goals. Their customer service is really good and they solve your problems within a minute. More 5 stars to UberEats!!"
Drivers on Glassdoor kept it simple:
"Simple, efficient and good for side cash."
"Traffic, no parking, gas prices."
"No benefits. No pay raise. Discriminate between old vs new drivers."
Are you looking for more delivery jobs? We have a list of more gig apps great for couriers.
Delivery driver tips to get done faster and earn more
You're feeling ready to jump-start your new delivery career, but before you do, I have some helpful tips to make your new job experience even better.
1. Use Circuit Route Planner to optimize your delivery routes
If you're looking to make the most money in the shortest amount of time, you're going to want to use an app like Circuit Route Planner.
The Circuit Route Planner app can help you map out the fastest delivery routes so that you can make the most deliveries in the least amount of time — which means more money in your pocket and free time on your clock.
Circuit helps you find addresses fast. Quickly add, optimize, and find the addresses on your route and get there quickly with your favorite GPS.
Traffic slowing you down? No problem. 
Circuit makes it easy to add, delete, and re-optimize your route based on real-time traffic updates and delivery windows. Hands-free voice entry makes it easier and safer to keep your routes optimized. 
Drivers can also keep customers updated with proof of delivery, so everyone is on the same page at all times.
2. Get to know the delivery service app
The next thing you need to do is make sure you understand how the delivery service app works.
Each delivery service has its own way of handling things, so it's important that before you start taking orders, you understand how the app works and what's expected of you.
Check out the app, read the FAQs, or watch a tutorial. For many delivery jobs, grabbing gigs before anyone else is essential to get the hours you want.
3. Pack light and efficiently
Lighten up.
No, seriously.
The key to efficiency is packing light. When you're out on deliveries, the last thing you want to do is lug around a heavy bag. This will slow you down and make it more difficult to get to your next delivery.
Pack your bag so that the heaviest items are at the bottom and the lightest items are on top. This will help the package stay balanced and less likely to topple over during transit. 
And avoid crushing little Johnny's favorite to-go pancakes.
If you aren't in charge of packing to-go food orders or packages, you still need to be sure packages are secure while in transit.
If you're delivering food, try to group the orders together so that you can make fewer trips to the restaurant. For catering delivery orders, make sure everything is packaged correctly, and you're not missing any items.
4. Wear the right clothes
Every delivery driver knows comfort is key.
After all, you might spend hours behind the wheel, going from one destination to the next.
There are a few key items that every delivery driver should consider adding to their wardrobe.
First, a good pair of shoes is a must. You'll want something that can withstand long hours of walking and standing but that also won't slip and slide when you're behind the wheel.
Secondly, a comfy pair of pants or shorts is essential. Delivery drivers need to be able to move around easily, so tight jeans or skirts are a no-go. Instead, opt for loose-fitting shorts that cover your knees.
And lastly, a breathable shirt is a good idea, especially for the summer. You might be spending time in and out of hot vehicles, so it's important to wear something that won't make you too sweaty.
Consider wearing layers so that you can adjust to the weather conditions. If it's raining, wear a waterproof jacket. If it's cold, wear a hat and gloves. Think layers, like Shrek.
With these key items in your wardrobe, you'll be sure to look (and feel) your best while making deliveries.
Just starting out in delivery driving? Here are 27 other essential items our expert, Pete, says you must have.
5. Be polite and professional
Turn that frown upside down.
When you're delivering an order and interacting with customers, take a few extra seconds to introduce yourself and say thank you.
It's easy to get swept up in the rush of going from one order to the next, one stop to the next. 
Consumers relying on the delivery of meals, groceries, and retail products expect their orders to be correct, delivered to the correct location, and to arrive on time. 1,000 Americans were polled — read all about their customer expectations.
So, yes, customers expect a lot and may assume the worst. (Seriously, we don't want to eat your soggy fries.)
Taking a moment to acknowledge and appreciate the customer is easy to forget.
But it's important.
Not only will you make a good impression — you might get a better tip.
Even though you don't have much one-on-one time with customers, you still need to be positive and polite when interacting. If there's a problem with the order, apologize and try to resolve the issue as quickly as possible.
Circuit Route Planner saves you time and money
If you're looking to make the most money in the shortest amount of time as a delivery driver, it's smart to use an app like Circuit Route Planner. Our route optimization app can help you map out the most efficient delivery routes so that you can make the most deliveries in the least amount of time.
All you need to do to get started is:
Download the free Circuit app in your app store.
Add your stops with our quick, easy, and unlimited process.
Circuit optimizes your delivery routes for you so you can finish early with the fastest, most efficient routes.