7 minute read
Pizza Delivery Drivers: How Much They Make and How to Apply
How much do pizza delivery drivers make? Find out the pay and benefits you can expect and how to get a pizza delivery gig.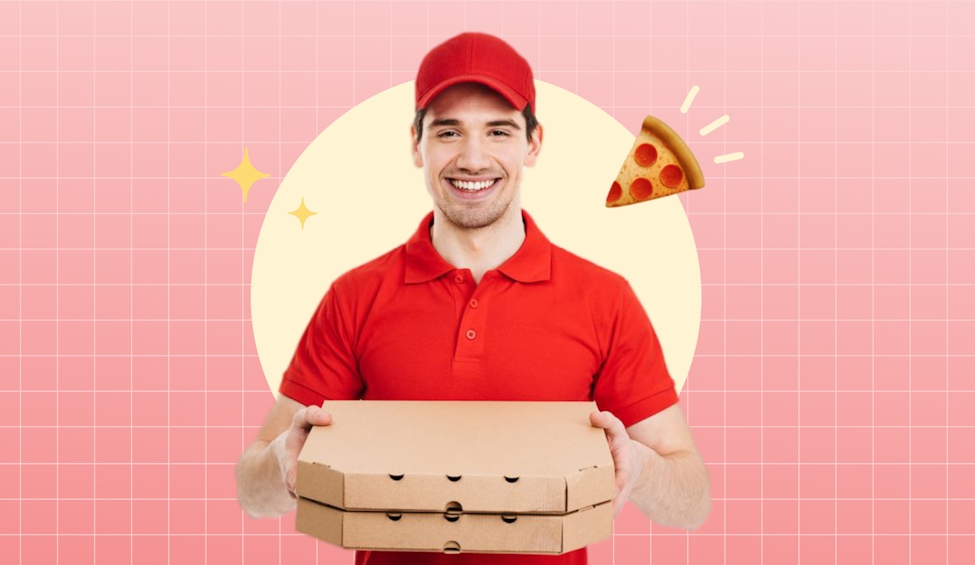 If you want a low-risk side hustle that you can do outside regular hours, pizza delivery might be just the job for you. 
You can enjoy a flexible schedule — this can be a full-time or part-time job — and you don't have to worry about protecting pricey packages, so it's pretty low stress.
Although pizzas aren't worth big bucks, pizza delivery is still an important and fulfilling gig. 
After all, when you're hungry and desperate for your food order to arrive, the sight of the delivery guy sparks pure joy, right?
So, on top of it all, delivering pizzas allows you to make someone's day just a little bit brighter. If you're a people person who enjoys working in customer service, it's a great match.
Yeah, yeah, pizza delivery has its advantages — but what does it pay? It's not like you want to do the job for free. Fair enough.
We'll explain the kind of compensation you can expect as a pizza delivery driver in the United States, United Kingdom, and Australia. You'll also get quick tips on how to get your first pizza delivery gig and maximize your earnings.
We'll start with the most important question.
How much do pizza delivery drivers make?
Let's get right to it: Pizza delivery drivers don't have set salaries. 
There isn't one universal wage that applies to all pizza delivery jobs (otherwise, this article would be a lot shorter)!
In reality, pay as a pizza delivery driver depends on the region and the company you work for. For instance, a driver in an urban area with a higher cost of living may earn more than a driver in a small town where wages are lower.
Plus, many drivers get a big chunk of their money from tips. Tipping also depends on the person, so it's hard to pinpoint a certain number for gratuity.
The amount you can earn through tips will also depend on how much work. So, if you're only working one night per week and delivering a few pizzas, you'll earn significantly less in tips and hourly wage than if you're driving five nights a week.
All that said, there are some rough estimates for pizza delivery pay that can give you an idea of what to expect. 
Here's a quick breakdown of the average pizza delivery driver salary in the U.S., U.K., and Australia.
Pizza delivery driver salaries in the U.S. 
The U.S. is home to some of the world's best-known pizza chains, including Pizza Hut, Marco's Pizza, Domino's Pizza, Little Caesars, and Papa John's. 
So, what do drivers working in the homeland of some of the biggest names in the pizza business earn?
According to Salary.com, the median annual salary for pizza delivery drivers in the U.S. is $11 an hour. But drivers in bigger cities with more demand and a more competitive market will likely earn higher average pay.
Pizza delivery driver salaries in the U.K. 
Many major U.S. pizza chains have also made it overseas — the U.K. is a case in point. 
You'll find bigwigs like Pizza Hut and Dominos here. But what do their drivers earn?
Indeed.com reveals that the national average salary for Pizza Hut and Domino's Pizza drivers in the U.K. is around £10 GBP per hour. In general, the national average for pizza delivery driver jobs is £7.85, according to Payscale.
Again, you can usually expect higher pay in larger cities due to the higher volume of people and increased demand.
Pizza delivery driver salaries in Australia 
Pizza is universally loved, so you'll even find it in the Land Down Under! 
If you're thinking of delivering pizzas in Australia, you can expect similar earnings if you work in the U.S. or U.K.
According to Payscale.com, the national average salary for pizza delivery drivers in Australia is an hourly rate of $17.42 AUD. 
To put that into perspective, $17.42 AUD is about £9.22 GBP or $12.52 USD.
How do pizza delivery drivers get paid?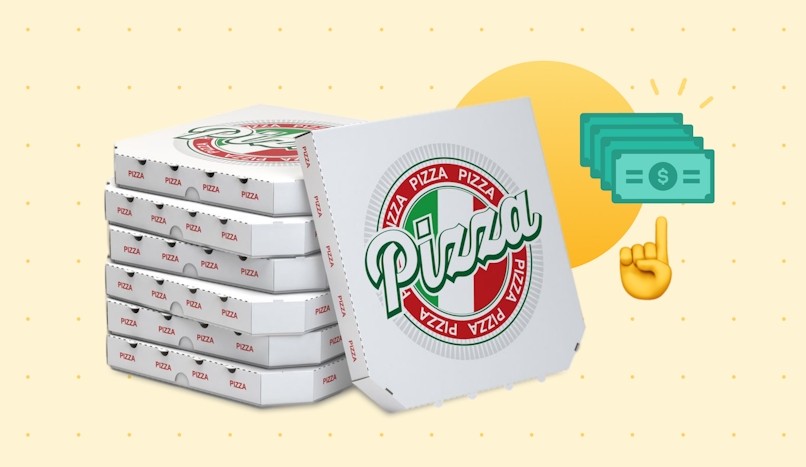 Delivering pizzas can be a really fun gig. 
You get to drive your own delivery vehicle, listen to your own music, and explore your city — all while making people happy with their favorite slice.
Plus, this job offers great flexibility. People often want pizzas for dinner or late at night, so you can do this gig on top of your daytime job if you're looking to earn something extra.
Now that you have an idea of just how much you can earn, you might wonder how and when you'll get paid. "Show me the money," right?
Don't stress. Pizza delivery drivers usually get a base hourly wage, paid weekly or biweekly. 
And on top of a paycheck, you can get pretty decent tips — especially if you can keep your customers happy. More on that below.
Do pizza delivery drivers receive tips? 
Tips can add a lot to your base salary as a pizza delivery driver. 
Most customers will tip anywhere from 10% to 15% of the order total — and some may even go up to 20%!
Your tip money goes straight into your pocket. You don't have to hand it over to your employer (and beware of any employer who tries to skim your tips)! 
That said, you should technically declare tips on your tax return.
Customers give you tips because they're happy with your service as a delivery driver. 
If you really want to maximize your tip potential, though, here are a few things you can do to try to increase your earnings. 
Check the order. Technically, it's the pizzeria's responsibility to make sure the order is complete and packed correctly. But let's face it, if the order is wrong, you'll have to deal with the unhappy customer. Check the order during pickup to spare yourself the headache.
Complete deliveries quickly. Don't dawdle on your deliveries. You want to get hangry customers their food fast to keep them happy. Plus, nobody wants to eat a cold pizza. Circuit Route Planner can help you find the fastest path to get your orders done.
Communicate. Customers like to have an idea of when their order will arrive. They'll really appreciate you sending them a text message to alert them of their order's progress.
Go the extra mile. Delivery is a customer service job — so act accordingly! If a customer has requested sauces with their pizza (like a garlic dipping sauce for the crust — yum), grab some extras for them and let them know you got them extra condiments.
Be friendly. Give your customer a smile and have a quick chat if it's appropriate. For example, if you're delivering a pizza from a place you like, you might mention that their breadsticks are also awesome and worth a try. That brief human interaction can make a big difference.
Do pizza delivery drivers get benefits? 
Whether you get benefits as a pizza delivery driver depends on the company you work for and your employment. 
For example, independent contractors probably typically don't get benefits, while employees may enjoy some perks.
Depending on the circumstances, though, benefits could include:
Health care coverage, possibly including vision and dental coverage.
Paid time off when you need a break from the daily delivery grind.
Retirement support, such as 401(k) plan matching.
Discounts on meals, which can be a big bonus if you're a pizza fan!
Life insurance, so your loved ones are taken care of if something happens to you.
How to apply for pizza delivery driver positions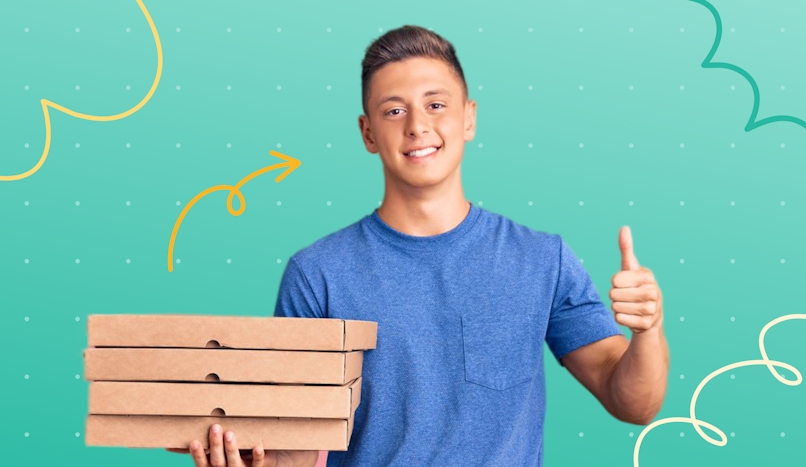 Are you interested in a pizza delivery driver job? Great news: You don't need years of experience or fancy degrees to qualify.
Pizza delivery is a great first job. All you need to get started is your driver's license and your own car. To do well in this role, you'll have to prove that you're reliable, punctual, and have a knack for customer service.
But just how do you get the gig? You'll apply directly to the pizza place or company you want to drive for. Here's a quick rundown of the basic application process (although details may vary according to location):
How Circuit Route Planner makes life as a delivery driver faster and easier
If you want to take on the job title of pizza delivery driver, there are a few essentials you'll need — like your own vehicle, comfortable shoes, and a killer Spotify mix for long shifts behind the wheel.
Another must-have? Circuit Route Planner.
The multi-stop route planner shows you the fastest route to get your deliveries done, connecting with map apps like Google Maps to get real-time traffic data. It also offers handy features like delivery time windows and delivery notes.
Delivery drivers for everyone from Amazon to DoorDash rely on Circuit. Discover the benefits for yourself today and try free now.