13 minute read
No Experience Delivery Driver Jobs: The 7 Best Ways to Find Yours
You want to become a courier, but you have zero experience. That's OK. Here's 7 ways to find your first job.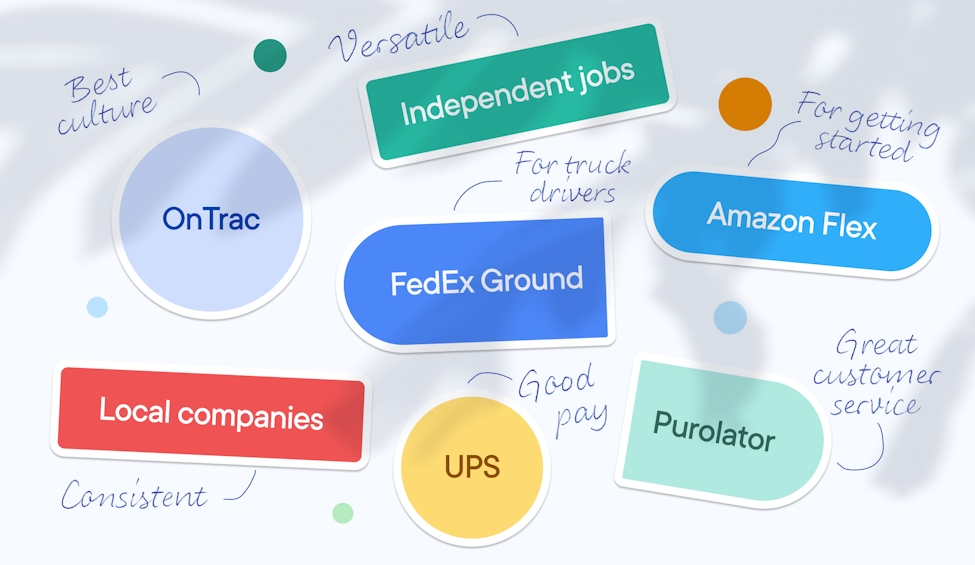 Want help to finish work faster? Circuit Route Planner optimizes your stops in three clicks. Get your free trial now.
Do you want to become a delivery driver for FedEx or another company, even if you don't have prior experience?
Well, you're in luck. Delivery drivers are in great demand these days. There are currently 1.3 million delivery drivers in the U.S. today, and the number is still growing.
However, most people are anxious to get started in this field. You might think that you need to be familiar with the routes. Or that it's hard to find an address or search for the best path to save time.
You can throw these concerns out the window now.
Modern technology gives ways of finding the most efficient route with great ease.
You can also forget worries about job security and pay. As you read on, you'll discover the best opportunities available, including:
Qualifications
Steps to follow
Average salary and payment schedules
You'll also learn if you need to use your own vehicle or if the company will give you one.
After reading this article, you'll be able to choose the best option for no experience delivery driver jobs.
1. Amazon Flex – The Best for Getting Started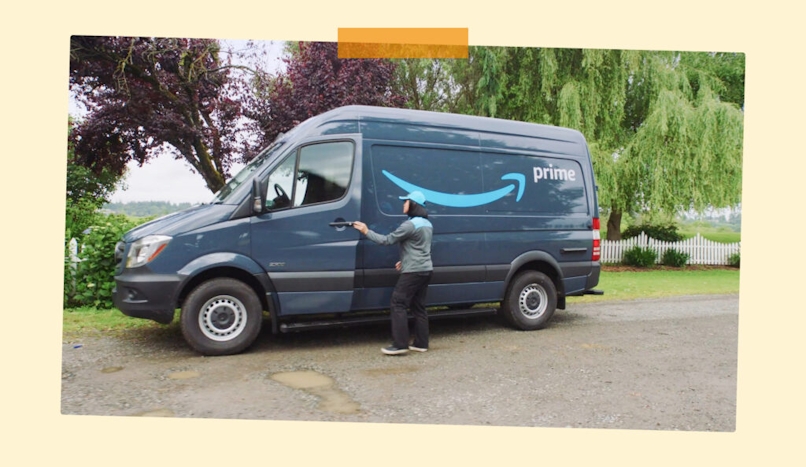 Amazon Flex is the best starting point for new couriers looking for no experience delivery driver jobs. Here, you can use your own vehicle, and the qualifications are not stringent.
As the name suggests, Flex gives you the flexibility to choose how many deliveries you want to make based on your availability. In a typical workday, the Amazon Flex app gives three to four-hour delivery blocks to pick from. The app will open a GPS to the delivery locations, helping you start dropping off packages with ease.
Amazon Flex pays delivery drivers a minimum of $18 per hour, depending on their location. Drivers in prime areas can earn up to $35 per hour.
The company wire transfers payments twice a week. It's an excellent pay schedule, especially if you need to receive your money fast. Be friendly to customers, and you may earn more through tips.
Amazon Flex Qualifications
To get qualified as an Amazon Flex driver, you need to meet the following criteria:
At least 21 years old
Valid driver's license
Social security number
A smartphone to run their app – iPhone at least iOS 13 or Android phones version 5.0 or higher
Qualifying vehicle with auto insurance
Pass a background check
Amazon Flex Application Process
Becoming an Amazon Flex driver is pretty straightforward – just do the following to get started:
Go to flex.amazon.com or download the Flex app from the AppStore or Google Play Store.
Check if your city is accepting new drivers. If there are no openings, you can still sign up to join the waiting list.
Sign up with a new account or use your existing Amazon account.
Enter your SSN and give your consent to start the background check. You'll be answering a series of questions during this step.
Wait for the background check to finish.
Watch pre-recorded training videos on app usage and job responsibilities.
Enter your bank account and tax information. You can choose to receive payment as an individual, LLC, or S corporation.
Set your availability and start date.
Amazon Flex Review
Working for the nation's biggest online retail company is very lucrative. That's why some locations have no openings for delivery drivers. Some applicants even wait for two weeks or longer to get enlisted.
But if you persist and land a job at Amazon Flex, you'll get rewarded with good pay and a flexible schedule. You'll have more than enough delivery jobs, especially on peak shopping seasons like Amazon Prime and Black Friday.
2. FedEx Ground – The Best for Truck Drivers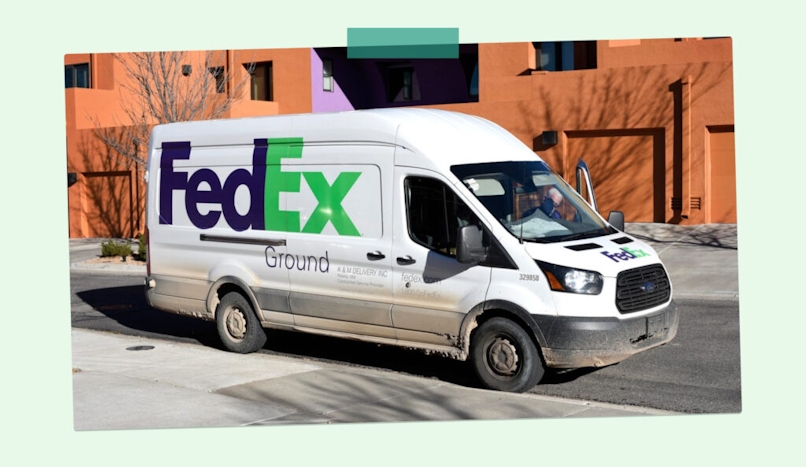 FedEx Ground has 30 years under its belt for delivering packages across the country. It's a great option if you want a steady income. A delivery driver for FedEx Ground never runs out of job orders to fulfill. Plus, the company will give the truck, so you won't need to use yours.
If you're looking for no experience delivery driver jobs, a new truck driver for FedEx must undergo a series of training. Scanner training teaches specific codes used for identifying and marking the status of each package. On the other hand, driver training will help you deal with any challenges that may arise along the route.
The usual annual salary for FedEx truck drivers is $55,095 per year – approximately $26.49 per hour or $4,951 per month.
Top players even earn up to $79,500 in annual salaries. So your pay can also get better as you grab opportunities for advancements.
FedEx Ground Qualifications
FedEx Ground hires experienced drivers. But if you have no experience, don't worry. You can still join their fleet through any of their contractors – with most of them offering an Entry Level Driver Program (ELDP) for new drivers.
To become a FedEx Ground driver, you must meet the following requirements:
At least 21 years old
Valid driver's license or CDL if you'll drive large trucks for freight pickups
Good driving record with minimal violations and/or accidents
Professional driving experience from Uber or other industries
Enrolled in an entry-level driving course (new drivers)
Pass a DOT physical and drug test authorized by FedEx Ground
Pass a complete background check with no felony conviction or DUI violations
FedEx Ground Application Process
Applying for work as a delivery driver for FedEx Ground is easy. Simply follow these steps:
Go to FedEx's careers website and create an account.
Browse for open positions and fill out the online application for delivery drivers.
After submitting the application, you will go through the Aptitude-Behavioral test.
Wait for an email or call from FedEx regarding your interview.
Complete the phone or in-person interview.
Go through a series of checks – background, drug screening, and driving tests.
The last step is the orientation and onboarding process.
FedEx Ground Review
The experience of working as a delivery driver for FedEx Ground is not the same for everyone. Depending on your location and chosen route, you can finish early, or you might have to work long hours.
With drivers required to have professional driving experiences, the qualifications are pretty stiff. Plus, depending on the vehicle you'll be driving, you might need a special license.
3. UPS – The Best for Pay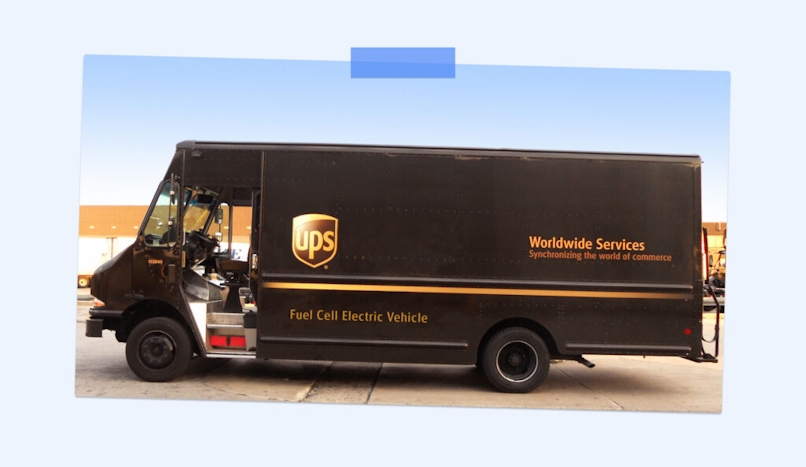 On top of an awesome salary, UPS also offers medical benefits and a pension after 30 years of service for those looking for no experience delivery driver jobs. Plus, lots of opportunities for growth as you gain seniority. You can become a big rig driver which offers even higher pay.
Becoming a full-time employee at UPS is not the only way you can work for this company. You can choose to be a Personal Vehicle Driver (PVD) instead. While you won't be driving their iconic brown truck, you'll still be wearing the full UPS uniform. As a PVD, you'll have a flexible work schedule and mileage reimbursement.
When it comes to better pay, UPS beats most companies in the same niche – hands down. According to Indeed, the annual salary for UPS delivery drivers is $87,791, which is 66% higher than the national average. For PVDs, the pay is in the range of $21 to $31 per hour.
UPS pays all their drivers weekly. The pay period starts from Sunday to Saturday. You can receive it through direct deposit the following Thursday, or you can get it as a paycheck on Friday.
UPS Qualifications
Here are the requirements you need to meet to work for UPS as their delivery driver, full-time or PVD:
At least 21 years of age
Valid driver's license
Pass DOT's physical exam
Traffic violation in the past year not exceeding one
No felonies or other serious convictions
Compliance with UPS appearance guidelines
Ability to carry heavy loads
Since they'll be using their own wheels, PVDs must also meet the following criteria:
Proof the vehicle has registration
Minimum state-required auto insurance
No political stickers or offensive markings on the vehicle
The vehicle must have a secured and covered bed and should weigh under 10,000 lbs
No oversized rims and low rider suspensions
In addition, PVDs need to have a smartphone for the UPS app and a checking account to receive their pay.
UPS Application Process
Follow these steps when applying for UPS:
Visit the UPS's Jobs website and use the search feature to look for a job in your area. The listing updates daily, so be sure to check constantly.
If you find a job, click Apply and register for a UPS account if you don't have one yet.
Fill up the short application form and submit it.
Wait for a call or email from a UPS team member.
After you pass the interview, you'll go through a quick onboarding process, and you're good to go.
Waiting to hear from them can take up to two weeks. But if you apply before the start of the holiday season, they'll respond much faster.
UPS Review
If you're planning to work as a delivery driver for UPS, you must prepare your mind and body to work long hours. However, if you consider both the pay and the benefits, working for UPS is undoubtedly worth it. And if you're still new to the delivery driver scene, working as a PVD is a great way to start.
4. Purolator – The Best for Customer Service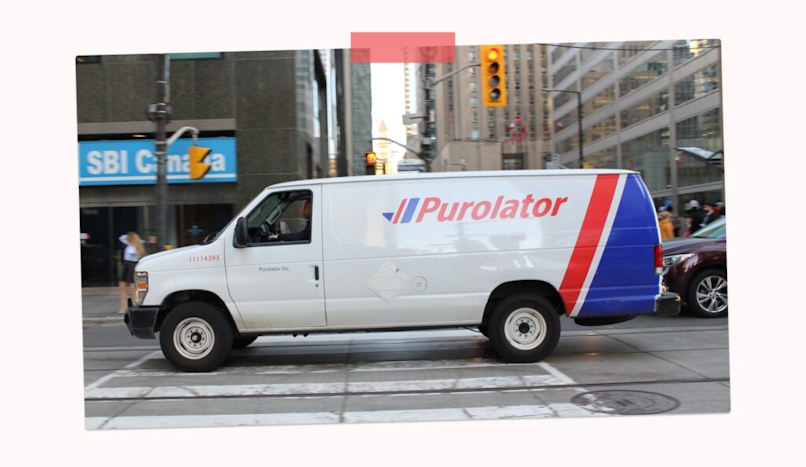 Purolator is notable for providing excellent values to its employees, regardless of race and religion. The company offers growth opportunities, especially for its couriers. Plus, their customer service is excellent and renowned among Canadians. So it's only natural for their couriers to always receive a warm reception.
Purolator gives its employees with a comprehensive benefits package and a pension plan. They also have an Employee Shared Ownership program and give a lot of employee discounts. Delivery drivers don't have to use their own vehicle as the company gives the delivery trucks.
The hourly pay for couriers averages at CA$23 per hour, which is 26% above the national average. Like some companies in this list, Purolator sends payment to their couriers weekly.
Purolator Qualifications
Purolator prioritizes strong customer service skills among their applicants. If you want to apply, here are the rest of the requirements you need to fulfill:
Able to read maps and have a good sense of direction
Able to lift and/or carry up to 70 lbs.
Valid non-probationary driver's license
Must pass written and actual road tests
Complete Courier Methods training course
Complete Defensive Driving course
Pass criminal record check and employment verification
Purolator Application Process
Below are the steps to perform when applying as a delivery driver for Purolator:
Go to their Careers webpage and search for courier jobs. If you want to stay within your area, be sure to specify on the Search by Location textbox.
Click on the job you want to apply to and review the responsibilities and requirements.
Hit the Apply Now button and login to your Purolator account, or create one if you don't have one yet.
Complete the application form and submit
Wait for a call from Purolator for your scheduled interview.
Go through the interview process.
If you pass the interview, they'll give instructions for your orientation and onboarding.
Purolator Review
Purolator's multi-cultural and relaxed environment makes it a great choice for delivery drivers. Most of the current employees attest to how fun the work environment is. They also get protection against layoffs and regular increments since Purolator belongs to a union. The pay may not be ideal, but the benefits you get can compensate for it.
5. OnTrac – The Best for Culture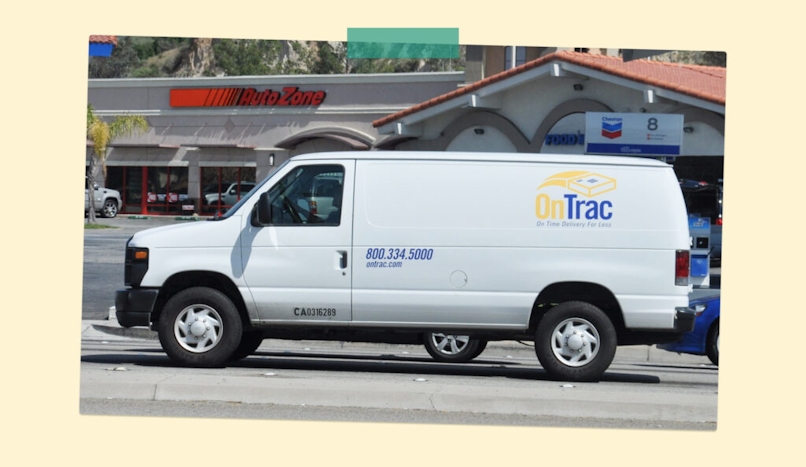 Another company you can apply for is OnTrac. This company employs individual contractors for their fleet. And if you want to be a delivery driver for them, you'll be working directly under one of its contractors. You won't be using your own vehicle to make deliveries but those from the contractors.
An OnTrac driver delivering 120 packages per day usually earns $224. You need to make 80 stops per day and earn an additional $2 for each stop past the required 80. They pay all their employees weekly.
OnTrac Qualifications
Since you'll be driving a vehicle with a bigger load capacity, you'll need to have these specific qualifications to apply:
At least 21 years old
Commercial driver's license
Proof of clean driving records
Auto insurance
OnTrac Application Process
You have two ways to apply. Use either OnTrac's website or third-party employment sites. Regardless of your choice, you'll need to submit a resume to start the application process.
OnTrac's hiring managers contact qualified applicants usually within a week after receiving the resume. If, after a week, and you haven't received a call and believe the position is still open, you might need to follow up in person. You can visit any of their local offices to inquire.
OnTrac Review
You can expect consistent work if you decide to work for OnTrac. But since you're working under a contract, you won't have regular employee benefits. Still, go for OnTrac if you want full-time work and receive consistent pay every week.
Many companies employ OnTrac for their logistics and parcel services. So expect that there will always be a delivery job to do.
6. Local Companies – The Best for Consistent Work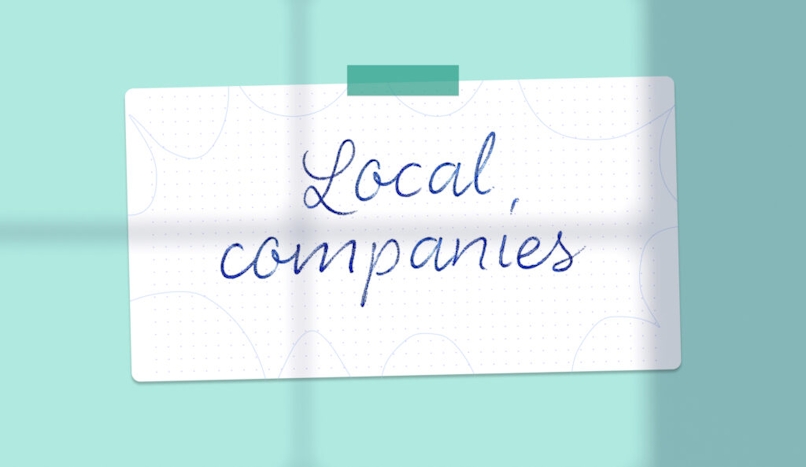 Working as a delivery driver for local companies is your best bet if you prefer consistent work while having flexibility. You can make money every week and still have time to spend with your family every day. If you need to take long weekends, you're free to do so since you don't have to complete a certain number of stops per day.
Your pay will vary greatly, though, depending on your agreement per company. A local delivery driver can make an average of $34,825 per year – equivalent to earning $670 every week. The payment schedule will also depend on your specific arrangement, but the usual is weekly by direct deposit.
Local Company Qualifications
You're doing freelance work here. So you'll have to use your own vehicle to fulfill your deliveries. Requirements may vary, but you need to meet the following for better chances of getting gigs:
At least 21 years old
Valid driver's license
A vehicle with auto insurance
Some local companies will ask for you to pass drug tests and other job-related tests.
Local Company Application Process
You can go online and check company websites for open positions. However, the best method is to call them or go in person and submit your resume. Another option is to check the local job listing sites online for any openings.
Local Company Review
Doing deliveries for local companies usually means the route is within the area only and so is a great choice if you're looking for no experience delivery driver jobs. If you know your city well, you'll instinctively know which roads are less congested and the safest and quickest course to take. Since you're working for more than one company, you have better work coverage. One caveat with this approach is you'll have to file your own taxes. Plus, you also won't get any benefits from the company.
7. Independent Courier Contractor – The Best for Versatility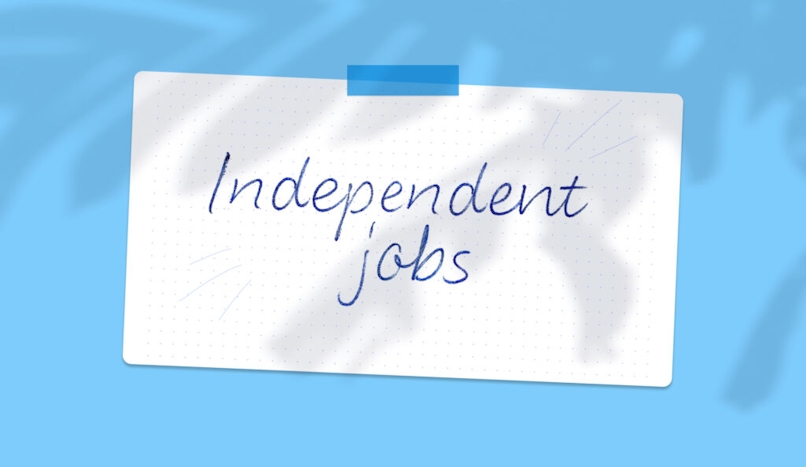 Working for an independent courier contractor is a step up from working directly for local businesses. Since you're employed full-time, you won't have to worry about filing for taxes yourself. Some contractors even give employee benefits while you're on the job.
Depending on the contractor, they might give the vehicle for you, or you might have to use yours. In the latter case, some may ask you to add a print or slogan to your car.
Independent couriers offer the best versatility since their services do not focus on a specific industry only. Their delivery jobs can vary by location, type of package, and pay.
The amount you receive per delivery job as well as when you get it varies greatly. Some jobs can earn you up to $23 per hour, while others can be as low as getting an hourly pay of $12 only.
Independent Courier Contractor Qualifications
At least 18 years old
Valid driver's license
Clean driving record
If you're going to work as an independent driver, you'll need to use your own vehicle, complete with auto insurance.
Independent Courier Contractor Application Process
Independent courier contractors post job openings online on sites like Indeed and Zip Recruiter. Sometimes they even advertise on Craig's List. The application process may differ from job to job, but most require resume submission or filling up an online form.
Independent Courier Contractor Review
When you work as a delivery driver for an independent courier contractor, you are free to choose the work you want. You also have control over when you want to take jobs. However, the versatility this approach offers comes with a price – your salary or pay is inconsistent.
No Experience Delivery Driver Jobs: Frequently Asked Questions
Is being a delivery driver worth it?
Working as a delivery driver gives an opportunity to interact with a wide range of people. You get to travel and earn at the same time. You can choose between going full-time or working as a freelancer. Work hours can be very flexible, giving you time to spend with your family and achieve a work-life balance.
What are the qualifications to be a delivery driver?
The qualifications required for a delivery driver are not hard to meet at all. Most of the time, you'll only need to be at least 21 years old, have a valid driver's license, and clean driving history. Some will require you to have a specific type of vehicle.
You must also have good time management and problem-solving skills. Since you'll be interacting with people, you'll also need good communication and customer service skills.
How do I become a delivery driver?
Delivery is the fastest growing industry today, so there are plenty of ways to become a delivery driver. You can go to job listing sites to find openings or even ask local businesses. You'll also need to have a vehicle that can accommodate deliveries if you don't plan on working full-time with companies like FedEx or UPS.
No Experience Delivery Driver Jobs: Driving it Home
There's almost no barrier to entry to become a delivery driver today. With plenty of GPS navigation software available, you won't even have to worry about the routes. So you wouldn't get stressed trying to find a good starting point, here's a recap of the best opportunities available today:
Amazon Flex for beginners
FedEx Ground for truck drivers
UPS for the best pay
Puralator for excellent customer service
OnTrac for great culture
Local companies for consistent work
Independent courier contractors for versatility
Do you want to make your job easier? Download Circuit Route Planner for free and get your deliveries done earlier.