7 minute read
Drink Carriers, Hot Bags, and Delivery Driver Hacks You Need to Know
Hot bags and drink carriers make your job easier, less messy, and can even get you more tips.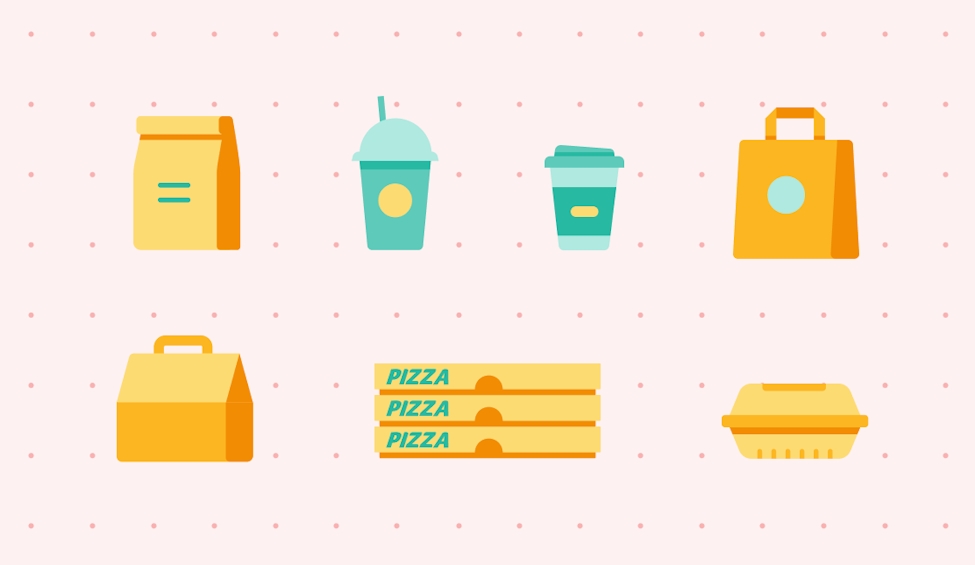 Hot bags and drink carriers are a must-have for any delivery driver who transports food and drinks. Another must-have work tool? Circuit Route Planner.
If you're a delivery driver for a service like GrubHub, Uber Eats, Postmates, or DoorDash, people count on you to bring them their favorite food and drinks.
When you're dealing with hangry (hungry + angry) customers, the last thing you want is to spill their beverage or let their meal get cold.
Hot bags and drink carriers can help make your life as a food delivery driver easier. They keep deliveries intact, warm, and spill-free, making sure customers are happy with the goods you bring them.
And as you probably already know: Happy customers means better tips!
Plus, you'll be able to handle more orders simultaneously — which again means more money. And heck, that's what you're in this business for, right?
The right carriers and bags can also make your delivery job easier by saving you time when packing and unpacking multiple orders and preventing spills in your delivery vehicle. A car that smells like old food? No thanks.
There are loads of drink carriers and hot bags on the market for delivery drivers. Read on for a quick guide to some top product picks.
How do delivery drivers transport drinks?
Drink carriers can help you safely transport multiple drinks at a time by holding to-go cups securely in place.
Your delivery vehicle likely only has a few cup holders, which won't be enough when you're transporting multiple orders. After all, a single customer will likely order at least two drinks.
Plus, it's not like your car's cup holders will help you outside the vehicle. A carrier allows you to transport multiple beverages in one hand when you're going from your car to your customer's door.
There are a few different types of drink carriers, including:
Pulp trays: Made of sturdy paper pulp, these trays usually hold two to four drinks. You can carry the tray in one hand, gripping it from the bottom. These trays are stackable, which can help save space and allow you to easily store many trays in your car at once. However, if they get wet, the pulpy material gets soft — so you'll have to grab a new one.
Drink bags: Drink carrier bags are often made of materials like polyester or nylon and can hold two, four, or six cups. A carrying handle in the middle gives you an easy grip. These carriers are collapsible, which can save space in your vehicle. They're also long-lasting and easy to clean in case of spills.
Caddies: Caddies are usually made of sturdy plastic or collapsible polyester and can hold up to six drinks. A handle in the middle allows you to carry up to six beverages in one grip. Caddies are long-lasting and durable, and you can use them repeatedly. They're also easy to clean if they get wet.
The best drink carriers for delivery drivers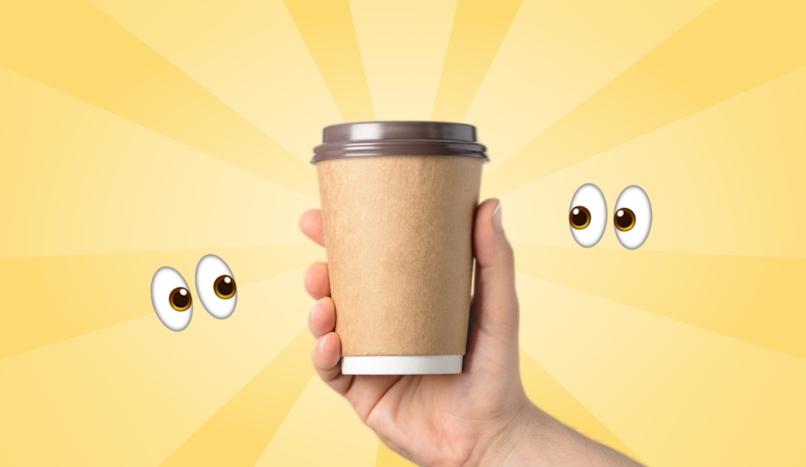 Not sure which carrier to select for your beverage delivery job? Here's a roundup of some popular options.
Outdoor Sport collapsible cup carrier
This lightweight, collapsible drink carrier is made of durable polyester. It holds up to six hot or cold beverages, separated by a divider and held in a sturdy frame with a firm base.
The caddy-style carrier's large grip makes it easy to hold, and you can fold it flat for storage when not in use.
Best for: Compact storage
Where to buy: $14.46 on Amazon
Rubbermaid deluxe carry caddy
This robust caddy-style carrier can hold up to eight 32-ounce cups or bottles, making it perfect for large drinks. The drink holder has an ergonomic design with a comfortable easy-grip handle.
The reusable drink holder is also really easy to clean — simply rinse off the plastic in case of spills!
Best for: Durability
Where to buy: $18.00 on Uline
Drink Caddy portable drink carrier
This portable bag-style drink carrier is made of resilient polyester and can hold hot or cold drinks. It has adjustable dividers for holding XXL beverages and a separate storage pocket for added convenience.
You can choose from three sizes holding two, four, or six drinks. The eco-friendly reusable drink carrier is also foldable.
Best for: Adjustable for beverage size
Where to buy: $18.49 on Amazon
Footprint 4-cup drink carrier
These pulp drink carriers are made of recycled, biodegradable fiber. They carry up to four drinks ranging in size from 8 to 32 ounces.
They're also microwavable and moisture-resistant, making them very durable — but they aren't made to be used forever.
You can order bulk pages of 100 qty or 300 qty.
Best for: Biodegradable
Where to buy: $33.08 on Amazon
Kraft drink carrier with handles
These collapsible cardboard carriers hold up to four 20-ounce cups. Made of sturdy, moisture-resistant cardboard, they have a strong carrying handle.
You can also fold them so they lay flat when not in use and recycle them when you're done with them. Similar to before, though, they won't last a lifetime, so make sure to buy in bulk.
Best for: Price
Where to buy: $14.99 on Amazon
The best hot bags for delivery drivers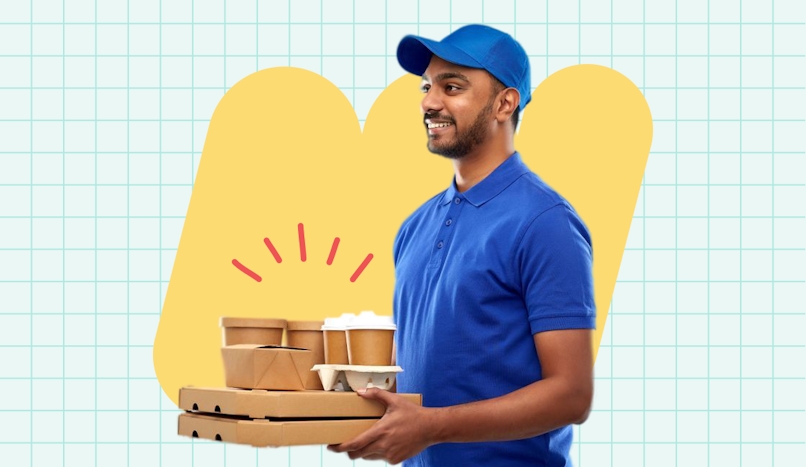 Drinks aren't the only thing you'll transport as a delivery driver — there's also the food to consider! As with beverages, you want to avoid spills.
Plus, there's the temperature to consider: Ideally, a hot meal will still be hot once it reaches the customer. A hot bag can help transport food safely while also giving warming insulation.
Here's an overview of some popular types of hot bags used by delivery drivers.
Rubbermaid ProServe delivery bag
This nylon and polyester catering bag is insulated, offering up temperature control for hot or cold foods. Lightweight yet robust, it's also dishwasher safe, making it easy to clean.
The large identification window on the side also makes it easier to keep deliveries organized with labels.
Best for: Durability
Where to buy: $36.99 on Webstaurant
NZ Home insulated grocery bag
This takeout bag has twin handles at the front, back, and sides, so you can carry it however is most comfortable for you. It's made of polypropylene fabric, with an aluminum inner layer and lightweight PE foam insulation.
The bag stands upright and can be hand-washed to maintain strict sanitation measures.
Best for: Price
Where to buy: $19.99 on Amazon
Cherboll insulated delivery backpack
This insulated bag features two shoulder straps, so you can wear it as a backpack and leave your hands free. It has two removable dividers to help keep food in place and a top-loading zip for easy packing and unpacking.
Three zip pockets on the side offer additional storage for things like customer receipts.
Best for: Adjustable storage
Where to buy: $35.99 on Amazon
Top delivery driver hacks to know
Even if you love your job as a delivery driver, let's face it: You're in this for the money! You want to do all you can to maximize your earnings, right?
The best way to do that? Increase your organization, speed, and caliber of service. These hacks tell you how:
Use a route planner app: Multistop route planners like Circuit Route Planner chart the most efficient, easiest route to cover all of your delivery stops as quickly and logically as possible. You'll get your work done faster, allowing you to pick up more orders — and earn more money. The app also lets you add and delete stops as you go using voice control and will then update your route accordingly.
Dress for the job: On top of a lot of driving, a food deliverer's job also demands a lot of walking. If you're a Door Dasher or Uber Eats pro, you're constantly getting in and out of your car to bring orders to people's doors. Dress for the job with comfortable shoes and clothing. Wear layers that you can take on and off — if you're hustling, you don't want to break a sweat!
Invest in safety gear: If you deliver at night, a reflective vest can help keep you safe when you're walking along dark pathways or roadways. This helps make sure you can complete your deliveries in a timely fashion. Depending on the delivery location and local requirements, you may also want to wear PPE like a face mask.
Have a driver emergency pack: Equip your vehicle with a small tote bag holding all the essentials you may need as a driver, including a charger for your phone, snacks, and a water bottle. A pad of paper and a pen can also be useful for keeping notes about deliveries (or, even better, you can use Circuit Route Planner to keep delivery notes).
Check orders twice: You don't want to lose time going back to grab forgotten goods. Although the food service providers you pick up from should make sure a customer's order is complete, it's a good idea to double-check. You can help ramp up your tips by grabbing extra condiments or utensils for your customers (and making sure to point it out)!
Alert the customer of your arrival: Customers like to know when their food is getting there. Although some ride-share and delivery apps use GPS tracking to give you real-time updates, not all do. With Circuit Route Planner, though, you can give customers a heads-up on your arrival with real-time updates. This is sure to make your customers happy and much more likely to leave a generous tip.
Be friendly: As a delivery driver, part of your job is customer service. Greet customers with a smile and a friendly hello. If you've eaten at the restaurant they've ordered from, you might even strike up a quick chat about the food. This can help you get better tips and good reviews!
Deliver faster and easier with Circuit
Food delivery driving can be a tough job. You're expected to get people's meals to them safely and quickly, whatever the weather (and, let's face it, the demand for delivery services is especially high when the weather is bad).
Food delivery bags and beverage carriers are just two of the tools you can count on to make your job easier. Another must-have item for any food carrier is the Circuit Route Planner.
This multi-stop route planner charts out the most convenient path for covering all of your deliveries, providing real-time updates. Plus, you'll benefit from perks like delivery notes and proof of delivery. Get Circuit Route Planner now.