8 minute read
What Is Final-Mile Delivery? Everything You Need To Know
Discover the ins and outs of final-mile delivery with our comprehensive guide. Get insights on how it works, challenges, and latest trends.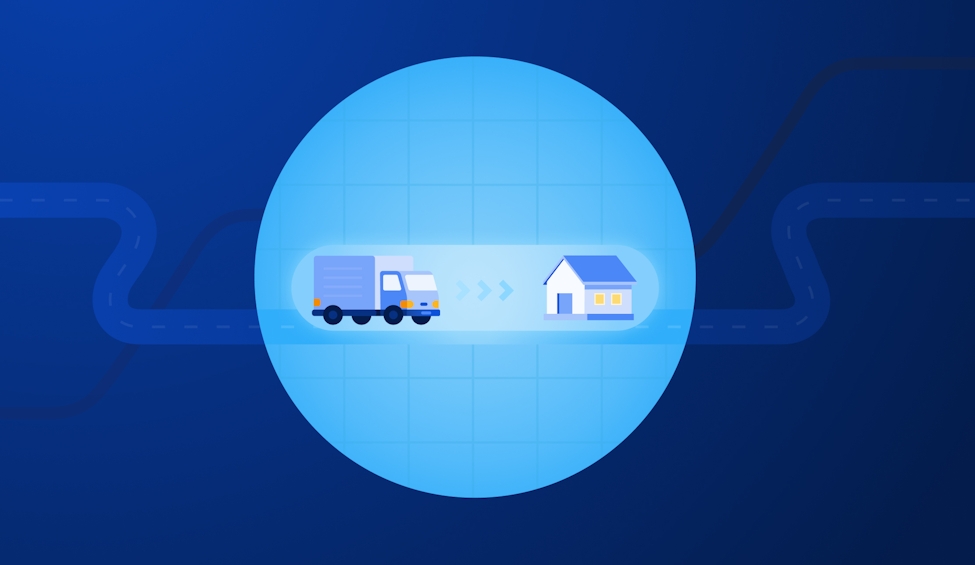 Create a plan for the most cost-effective final-mile delivery. Find out how Circuit for Teams can help.
Key takeaways:
Final-mile delivery, also known as last-mile delivery, is the last stage of the delivery process when a package goes to its final destination from the nearest transportation hub.
The final mile is challenging due to logistical issues and heightened customer expectations, and it can account for over 50 percent of the total shipping cost.
A successful final-mile delivery service prioritizes fast delivery, real-time order tracking, specialized delivery, and optimized delivery routes.
Final-mile delivery is when the delivery driver transports a package to its final destination from the nearest transportation hub in the last step of the delivery process.
For retail and logistics services, the final mile is a key factor in customer satisfaction and promoting customer loyalty. 
If you run a delivery service business, the final mile of a package's journey is where you usually end up spending the most money. 
In fact, the cost of final-mile deliveries can account for more than half the total cost of shipping. 
On top of that, customers now want quicker services in the form of same-day deliveries, ship-from-store options, and returns. 
As a result, delivery teams and logistics companies have to reorganize their operations, technologies, and resources for greater efficiency. 
But greater efficiency can often mean higher expenses — especially if you don't know how to handle the challenges of final-mile deliveries. 
In this article, I'll break down the main elements of final-mile delivery, its difficulties, and the latest technologies you can use to smooth out the process. 
What is final-mile delivery?
In final-mile delivery, the package moves from the nearest distribution warehouse to its final destination — making it the last leg of the supply chain.
Final-mile logistics make it possible for customers to get their orders at home. 
However, these kinds of deliveries can be challenging in remote areas with poor internet connectivity. 
That's because final-mile delivery might involve things like real-time tracking, cash-on-delivery options, and proof of delivery (POD).  
The final mile is often the most challenging part of the delivery chain due to logistical challenges and heightened customer expectations. 
Let's dig deeper into the differences between final-mile delivery and last-mile delivery.  
Final-mile delivery vs. last-mile delivery
If you search for "final-mile delivery," you'll most likely come across hundreds of resources on something called "last-mile delivery."
Let's clear the air: Final-mile delivery is just another term for last-mile delivery. 
Whether you say final-mile delivery or last-mile delivery, you're essentially referring to the same thing. It's the process of moving products from a warehouse or logistics hub into a delivery vehicle and dropping it off at their destination. 
Final-mile delivery is just a lesser-known way of referring to last-mile delivery. 
No matter how you say it, though, the challenges and rewards of the process are the same. 
For instance, various factors can affect final-mile deliveries, such as roadblocks, traffic jams, last-minute changes to delivery schedules, and high delivery and fuel costs.
Other factors impacting the process include failed and repeated delivery attempts, lousy delivery routing, and theft or damage to packages during transit. 
How final-mile delivery works
The arrival of a package at a transportation hub nearest to its delivery address marks the beginning of its final-mile journey. 
From this point on, retail and distribution companies have to make sure the package reaches the customer as quickly as possible. 
There are five main steps in final-mile delivery: 
It begins with the customer placing an order through an online retail platform. The order goes into a centralized order system. This tracking system kicks off the order fulfillment process.
Packages from the production line or supplier arrive at the final transportation hub or warehouse, where preparations for delivery to the customer take place. 
Warehouse or hub staff scan packages for delivery and load them into delivery vehicles, making sure the right packages go to the right addresses based on the barcode.
Delivery drivers or shippers are assigned orders based on optimal delivery routes.
Delivery drivers collect proof of delivery after delivering packages to verify the successful completion of delivery. 
Key components of final-mile delivery 
Now that you have an idea of what final-mile delivery is, let's learn the key components of an optimal final-mile delivery service. 
You'll want to prioritize these five qualities for a good delivery experience:
Fast delivery
More and more customers want same-day deliveries. So, prioritizing faster deliveries can help you stand out as a final-mile delivery service.  
Faster deliveries mean improved customer experience and loyalty for your brand or company. 
Real-time order tracking
Customers also want to keep close tabs on the delivery status of their orders. 
Knowing when to expect deliveries can help customers plan their day better and improve their delivery experience. 
You can make a big difference by offering real-time tracking services to customers.  
Insurance
You can offer your customers an attractive insurance option in the unlikely event that their package gets damaged or is lost. 
This guarantee can give your customers much-needed peace of mind and compensation in case of loss or damage.  
Specialized delivery
If you're new to the market, you'll compete with established final-mile delivery companies. 
So, think about what delivery options and benefits you can offer to set yourself apart. 
Even something as simple as having more polite delivery drivers can work wonders in terms of customer satisfaction. 
Convenience
You probably deal with customers who are in the habit of having their daily needs met through apps — whether it's the delivery of their groceries or the installation of air conditioning. 
Given today's lifestyle, no one is ready to forego convenience, and the best final-mile delivery service needs to be mindful of that. 
Consider offering your customers options like choosing their exact delivery time.  
The role of technology in final-mile delivery
Technology allows many delivery services to prioritize customer demands while bringing down costs and streamlining their operations. 
Here are a few ways technology can up your final-mile delivery game:
Customized delivery schedules
Final-mile delivery software can help you optimize delivery schedules for multiple destinations, drivers, and routes.
Customized delivery schedules are all about efficient time management and improved last-mile logistics. Software like Circuit for Teams can help you organize your delivery schedule based on factors like vehicle capacity and delivery deadlines.  
Route planning
Final-mile delivery software allows you to optimize your delivery routes.
Circuit helps you organize your deliveries based on the shortest and fastest routes available. This way, you save time and money while making sure customers get on-time deliveries. 
Real-time package tracking
You can let your customers keep track of their packages in real time using route optimization software like Circuit for Teams. Package and driver tracking can make your delivery process more transparent to customers.
Electronic proof of delivery
Final-mile delivery technology takes away the paper trail left behind by conventional proof-of-delivery methods.
Now, delivery drivers can use electronic means to document proof of delivery. This does away with the hassle of managing chits of paper that customers sign on. 
Challenges of final-mile delivery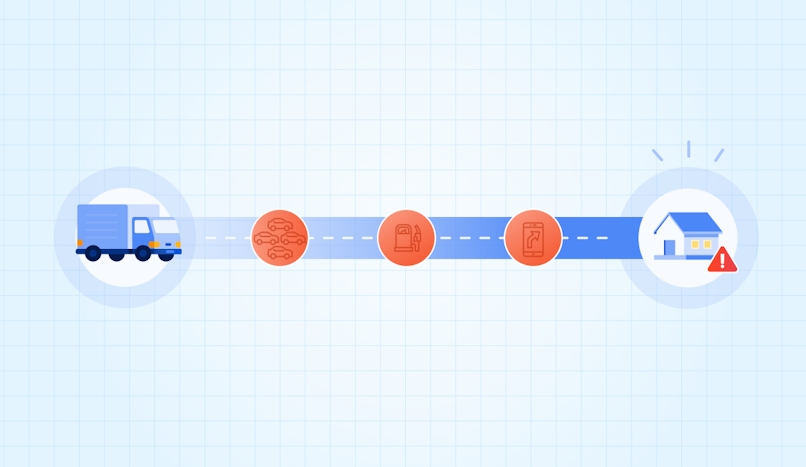 The final-mile delivery process seems easy at first glance. But things don't always go according to plan when it comes to this crucial last leg of the delivery process. 
A number of factors can get in the way of your delivering packages to customers smoothly and on time. 
I explore some challenges at the center of the final-mile delivery process. 
Traffic congestion and delays
Delays caused by traffic jams and road blockages in urban and semi-urban areas are an everyday problem for final-mile services.  
At Circuit, we know missed or delayed deliveries can frustrate customers and negatively impact customer satisfaction.
In fact, they're quick to take to Twitter about late deliveries. We found that 83% of tweets to the UK's top courier companies are negative.  
What you need is easy-to-use route planning software like Circuit for Teams.  
Dispatchers can use it to create optimized routes that consider traffic, bottlenecks, and ongoing construction work for multiple drivers. 
Find out how Circuit for Teams can help you save time and money by planning the most efficient route for your final-mile deliveries. 
Last-minute changes
Sometimes, customers make last-minute changes to their delivery window or address. 
Other times, dispatchers need to change a schedule due to driver unavailability, bad weather, or other unforeseen circumstances. 
Circuit for Teams' delivery scheduling app allows you to easily adjust to unexpected changes in a matter of minutes. This can help keep your customers satisfied.
High delivery costs
Your order sizes may vary, and you might sometimes not need a full truckload for delivery. When delivery volume is low, the cost of final-mile delivery can be high. 
To address this issue, you can make sure your delivery vehicles, equipment, and staff have the necessary skills to handle the specific needs of each delivery. This can help keep final-mile delivery costs proportional to the order size.
With Circuit for Teams, you can take into account vehicle capacity while planning the most efficient route for delivery. 
Theft and damage 
It's not uncommon for customers to be unavailable to get their packages in person, and they may request that your driver leave their package on the porch. 
However, this can increase the likelihood of porch pirates stealing packages or the packages getting damaged — resulting in customer complaints and extra expenses for you.
You can solve this problem by allowing the customer to be more involved with the delivery process. Give them the option of real-time delivery updates. 
If they know when they can expect their order to arrive, they can arrange to collect it themselves or from someone else.
Discover how Circuit for Teams can protect your brand's reputation from customer complaints and financial losses with scheduled delivery and electronic POD. 
Latest trends in final-mile delivery
New trends in final-mile delivery include the building of warehouses closer to cities. Since final-mile deliveries cater mostly to urban and semi-urban consumers, this helps companies make faster deliveries to customers. 
Another trend is building multiple distribution centers spread out across a city. This can help make the delivery process smoother, faster, and more cost-effective. 
Businesses can invest in developing distribution centers closer to their customers based on the volume of orders they get. 
The impact of eCommerce on final-mile delivery 
Final-mile shipping has become essential to the smooth running of online retail businesses. 
Customers rely on the internet for most of their shopping needs — big and small. 
Global eCommerce sales should grow by over ten percent in 2023, bringing the market's total size to $6.3 trillion.  
This increase in online shopping will add to the pressure for faster deliveries. 
Supply chains experience frequent disruptions due to weather conditions, human resource shortages, and delays in transportation. 
Despite these realities, last-mile delivery services are working hard to meet customer demands for on-time and transparent deliveries. 
New technologies shaping the future of final-mile delivery
New and innovative technologies made to cut down on global carbon emissions —such as smart tech, real-time tracking, route planning and optimization, and electric vehicles —, are priorities in the future of final-mile delivery. 
For instance, route planning software like Circuit for Teams can help logistics businesses cut down their carbon emissions per delivery by ten percent.
How Circuit for Teams can optimize your final-mile delivery process
In the age of eCommerce and online shopping, final-mile delivery is an inevitable and complicated part of the logistics network. 
Circuit for Teams can make final-mile delivery easier and cheaper for you. It can help you plan and execute your home delivery routes faster and more efficiently. 
Circuit for Teams can also change the way customers do business with you. 
On hectic days, customers don't have to worry about organizing their time around a simple delivery.  
They can track their deliveries in real time and be assured of the safety of their packages even when they aren't around to get them in person. 
For the best in delivery management and to plan your routes so drivers spend less time and money making deliveries, start your free trial of Circuit for Teams today