8 minute read
Supply Chain Optimization 101
Want to make your supply chain more efficient? We give you a laydown of supply chain optimization 101.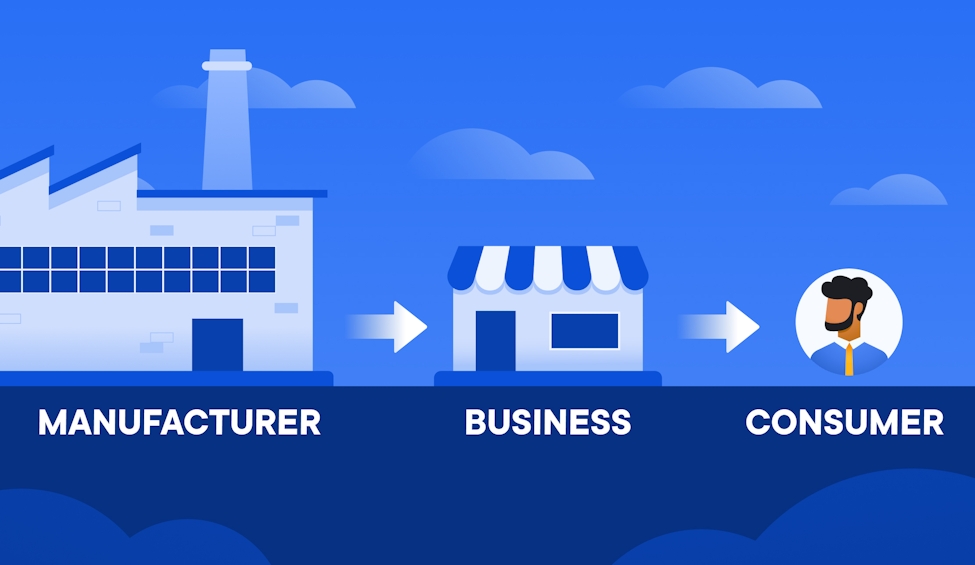 Want ways to make your supply chain more efficient? Give Circuit for Teams a try when it comes to last-mile delivery.
The supply chain is a key part of every retail or eCommerce business. 
Inefficient supply chains can put small businesses at risk of losing major business to large companies that spend more time and money on optimizing their supply chains. 
After all, no matter what you sell, you'll need to have business processes in place to get products and raw materials from your suppliers to you — and from you to your customers. 
But what if you own a service-based business? 
It's still important to reach your customers on time, giving them the easy and convenient option to use your services from the comfort of their homes. 
If you don't, they might gravitate toward bigger brands like Amazon (which is notorious for running small companies out of business). 
A good supply chain can help improve customer satisfaction and give your business a competitive advantage. 
But how? 
I'll explain what an optimized supply chain is and how it can help with inventory management, order management, and last-mile delivery. 
I also go over the benefits of supply chain optimization techniques, including tips to help you optimize the supply chain for your delivery business.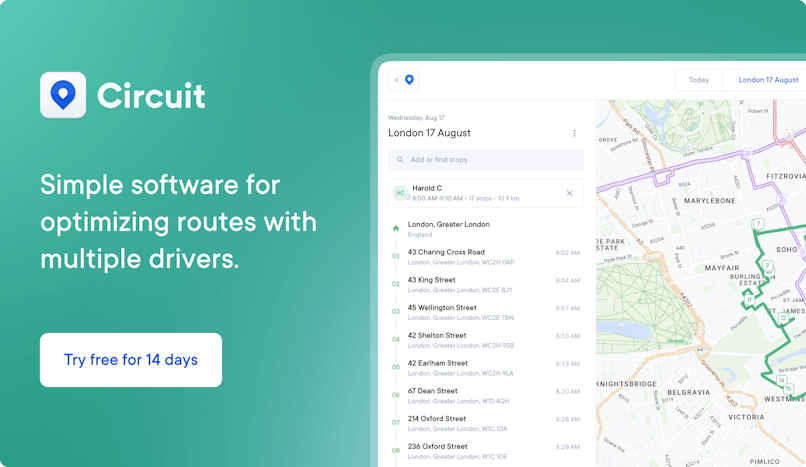 What is supply chain optimization?
Supply chain optimization is the process of making changes to your supply chain to make sure it's as efficient as possible. 
For example, optimizing your supply chain operations can allow your team to make deliveries quicker — meaning they spend less time on the road, eat up less fuel, and make customers happier in the process. 
The goal is to boost your profitability.
Let's say your delivery business owns two small trucks, which cost a total of $150 each in monthly fuel charges. 
You pay two drivers $500 a month to drive these trucks to the same location. 
You can optimize your process by switching the two small trucks for a bigger truck that uses $250 worth of fuel each month. 
Your hired driver costs $500 per month. 
Assuming the larger truck can take all those goods, you save a total of $550 each month ($50 on fuel and $500 on the extra driver). 
Not to mention your customers get their deliveries faster, which makes for a better customer experience. 
How? With a single truck, you can fulfill your orders at the same time, and you have one less vehicle sitting in traffic. 
This is just one way to optimize your supply chain, lowering the total cost in the process. 
The goal of supply chain optimization is to identify gaps in your current supply chain processes and solve them by taking action. 
For example, if your last-mile delivery has been receiving too many complaints, optimization includes figuring out what the problem really is and how you can solve it.
Let's understand how you can do this.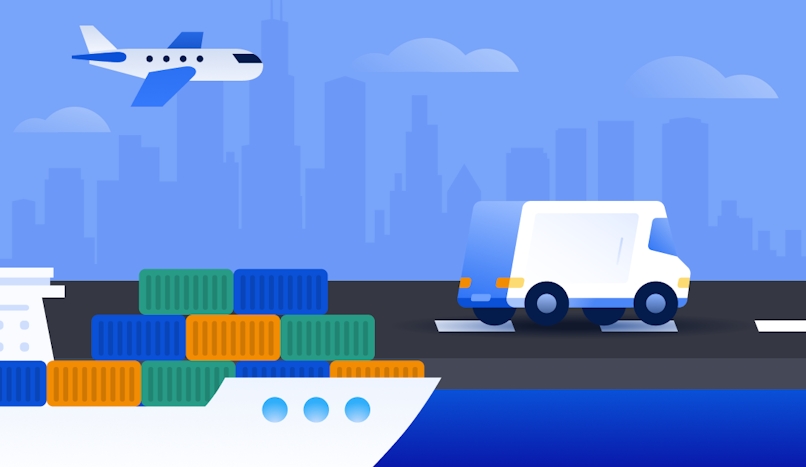 The supply chain optimization process
A typical supply chain optimization process is made up of three parts. 
Here's what they mean.
Supply chain design</3> 
Supply chain design is an important part of supply chain management. 
It involves improving both inbound logistics and outbound logistics: who and where your supplies are, where your warehouses and customers are located, and deciding how you'll transport products between them. 
The idea is to make the best use of all available resources. 
For example, if you own five warehouses in a city, you might choose a supplier located in the middle or in a way that reduces the headache of getting goods to each warehouse.
The other important aspect of supply chain design involves demand forecasting — using data from previous years and competing businesses to figure out future customer demand to schedule supply orders. 
This is the part of the supply chain optimization process where you estimate customer demand and design an efficient supply chain around it. 
Supply chain planning
Now that you have a supply chain design, it's time to turn it into a plan. 
But what is the difference between a design and a plan? 
A design is based purely on logic and calculations, and a plan is how you apply this design to the real world. 
In other words, supply chain planning is the decision-making part of the process. 
Take our previous example. 
If the design is figuring out where your procurement facility should be located, your plan might be finding a supplier close to the area and checking if they're right for your business. 
Supply chain planning includes other things like:
Inventory planning — how much stock you should hold in your stores and warehouses at a particular time
Matching estimated customer demand with supplier orders to maintain a healthy inventory level
Supply chain execution 
This is the phase where you set up all of the processes and systems that can help you put your supply chain plan into motion. 
This includes everything from storage and warehousing to systems that make your supply chain more transparent (for example, live order tracking). 
Let's say your supply chain optimization plan involves sorting delivery packages based on the delivery location for a more organized workflow. 
You might decide to use optical character recognition (OCR) scanners, which can help read labels and sort packages based on these labels automatically. 
You might also change your packaging to fit all the necessary codes and labels on the boxes. 
Another part of the supply chain execution phase is transportation management, a process where you change your delivery team's size and design based on your immediate needs.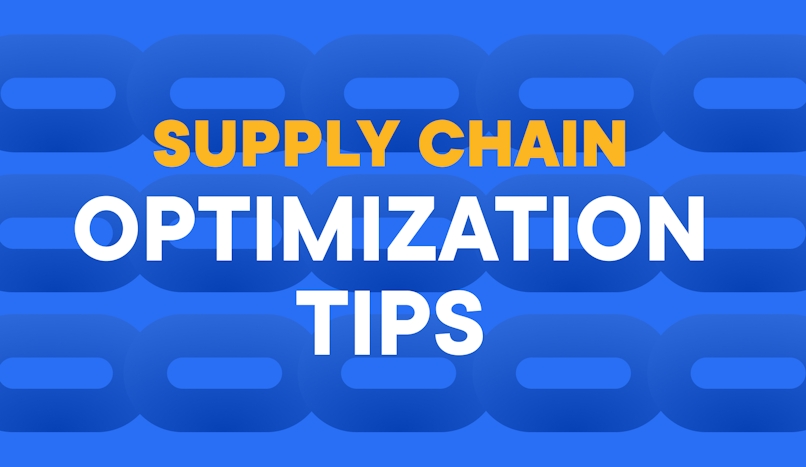 Tips to optimize your supply chain
Here are a few important tips to keep in mind when drawing up your supply chain optimization plan. 
Establish responsive supply chain processes
You can only become fully aware of supply chain gaps by checking these processes constantly. 
But how do you judge supply chain performance? By looking at supply chain analytics.
For example, you can discover whether your last-mile delivery team is up to the mark by figuring out how long it takes for your drivers to make a delivery, on average. 
Responsive supply chain processes allow you to collect data and draw insights. 
For example, letting customers leave reviews for last-mile deliveries helps you get valuable feedback, which keeps the process in check. 
You can also look at factors like lead times, transportation costs, and inventory levels. 
Another aspect of this is collecting data that helps you predict supply chain disruptions and forecast demand. 
You might use artificial intelligence to analyze sales data from past years and data from reviews, social media sites, and point-of-sale (POS) systems to help figure out trends that make it easier to predict customer demand. 
Spotting repeating trends in customer demand can be valuable information for you — making supply chain network optimization easier. 
Use mobile-based technology
With a mobile device, you can monitor your supply chain processes anywhere, anytime. 
You can get end-to-end visibility as long as you have a stable internet connection. 
Using a mobile app to manage your warehouses lets you easily find out your inventory levels, order arrival dates, and how many orders are sent out each day right on the app. 
Does the app show a decline in the number of orders you send out daily? 
If yes, why is that, and how can you solve it? 
Another area where mobile apps can prove useful is deliveries. 
Route automation software like Circuit for Teams can help your drivers make faster deliveries by always showing them the fastest routes. 
Work to improve forecasting processes
Good demand forecasting is essential to an optimized supply chain. 
Why? 
Think about it. If you have too much stock, you might find it difficult to store and transport it. 
If you have too little stock, you might have to scramble around to get stock from your suppliers and fulfill orders. 
It can also result in backorders. 
An efficient forecasting process helps you find the right amount of stock to carry. 
You can get this data from several sources, including your POS systems, customer surveys, and feedback. 
For example, you can use POS data to see how many items were sold at a particular time in the past few years. 
Once you see a pattern, you can start stocking up on those items around that time (for example, chocolates before Valentine's Day).
You can also use it to compare the time it takes to deliver orders between centralized dispatching and decentralized dispatching. 
This can help you predict which method is better in certain regions.
Similarly, you can do customer surveys to ask them what their favorite products are and what products they're more likely to buy in the coming season. 
This data can tell you what to stock up on based on customer expectations. 
Collaborate with suppliers
It's important to maintain a warm and cordial relationship with your suppliers because, well, that's where your stuff comes from! 
A bad supplier who overcharges you in times of need can be a problem. 
Instead, try collaborating with them to reach mutual agreements that benefit both of you. 
For example, you can offer to buy a little extra stock when the supplier hasn't been able to sell much. 
In exchange, you can ask the supplier to make your business a priority in case of urgent orders or replacements. 
You can also ask for special seasonal discounts on goods that you know you'll need a lot of in the coming season. 
Maintaining a friendly relationship with your supplier can help you cut operating expenses and make your supply chain processes smoother. 
Consider your carbon footprint
Younger customers are more inclined to shop with companies that care about the environment. 
After all, there is no Planet B. 
You can do your part by reducing your carbon footprint (fuel emission) and switching to more eco-conscious processes. 
For example, you might switch to more fuel-efficient vehicles and use low-wattage LED lights in all your stores and offices. 
This can help you bring about a company-wide change that you can mention in your marketing to get more customers. 
After all, who doesn't like a well-intentioned, conscious business ​​committed to sustainability? 
What's more? This can help you cut down on fuel and electricity costs and make your supply chain processes cheaper. 
When your vehicles use less fuel and your warehouses use less energy, you end up saving money.
Assess your last-mile delivery process
Last-mile delivery is the most expensive and complex part of the supply chain process. 
And it can really make or break a supply chain. 
Let's say your providers deliver your orders on time and your warehouses store them efficiently and dispatch them when needed. 
Even then, if your last-mile drivers get stuck in traffic or are late for some other reason, your deliveries could also end up being late. 
This makes it all the more important for you to regularly assess your last-mile delivery process. 
Start by figuring out how to save fuel costs. 
A great way would be to help your drivers make delivery times shorter by choosing the right routes. 
Circuit for Teams can help with this. 
Circuit for Teams can save time and money on your delivery process
Circuit for Teams can help optimize your supply chain by focusing on the most important part: last-mile delivery.
Our routing software does this by mapping out the fastest sequence of stops for your drivers that considers things like road closures and traffic.
This means more money in your pocket — as your drivers can make more deliveries in a day.
It can also lead to greater customer satisfaction, as our tool allows you to send real-time notifications that tell them exactly when drivers will show up at their doorstep.