9 minute read
Top Medical Courier Apps for 2023 (Key Features and Pricing Comparisons)
Discover the top medical courier apps for 2023, providing real-time delivery solutions for healthcare needs. Improve efficiency and patient care today.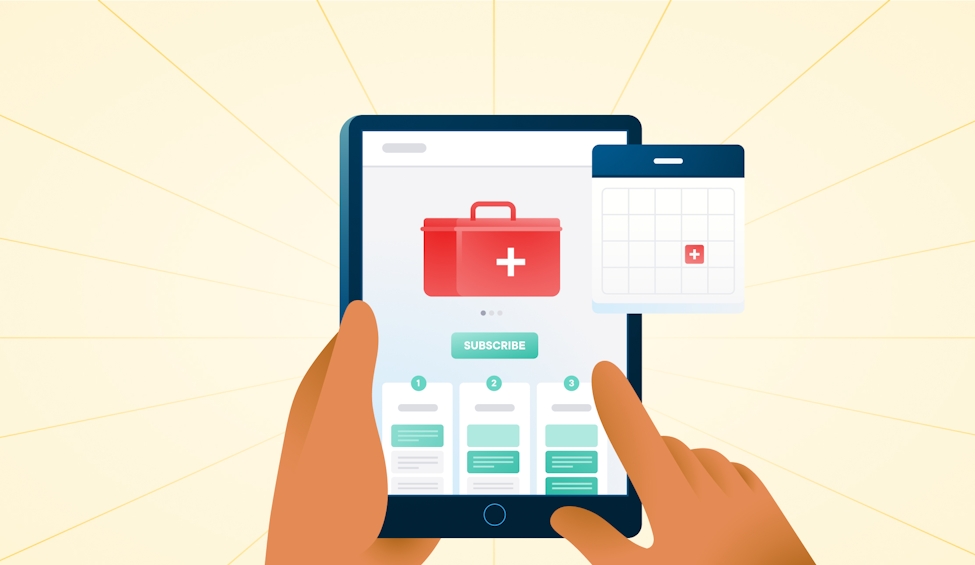 Elevate your medical deliveries to a new level of excellence with Circuit for Teams' multistop route planning and real-time tracking.
In today's fast-paced health care environment, the need for swift and accurate medical deliveries has never been more critical. Medical couriers contribute significantly to the health care industry with the timely and safe delivery of critical medical supplies. 
As the health care industry continues to embrace digital innovation, medical courier apps are paving the way for a safer, more efficient, and patient-centric approach to medical logistics. 
In this article, I'll explain the responsibilities of a medical courier and why you might want to become one. Then I'll walk you through the essential elements to consider when evaluating a medical courier app for your delivery business. 
I'll also give insights into the leading medical courier software and apps currently on the market and present a comparison of their key features and pricing.
Key takeaways
Some of the benefits of becoming a medical courier are flexible schedules, autonomy, and varied work environments.
Requirements for medical couriers include vehicle specifications, training, HIPAA compliance, and networking with health care institutions.
Medical courier apps are driving efficiency, safety, and patient-centricity in modern medical logistics.
Essential medical courier app features include multistop route planning, delivery time windows, recurring routes, barcode scanning, order prioritization, real-time driver tracking, and patient delivery notifications.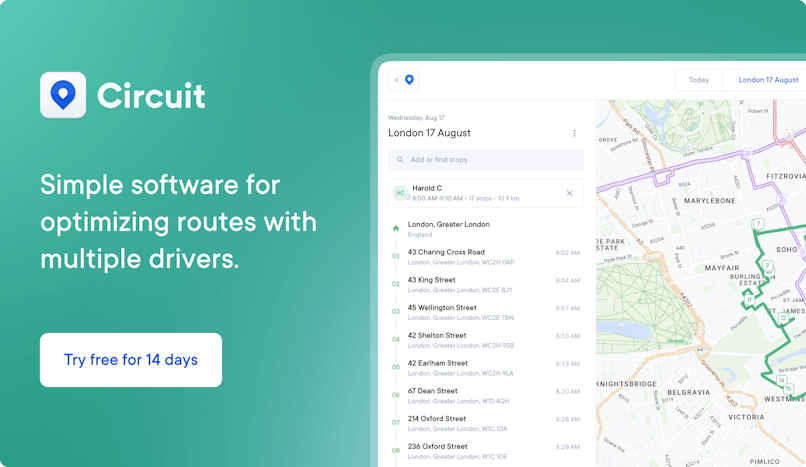 What's a medical courier?
A medical courier or medical delivery driver is a professional responsible for transporting sensitive medical materials, specimens, documents, equipment, and supplies between health care facilities, laboratories, clinics, hospitals, and other medical institutions. 
This essential role helps maintain the efficiency and effectiveness of health care operations, ensuring time-sensitive items are delivered promptly and securely.
Responsibilities of a medical delivery service often involve transporting items like medical specimens for testing, pharmaceuticals, medical records, X-rays, and equipment needed for medical procedures. 
Accuracy and speed are of utmost importance to prevent delays in patient care, diagnostic processes, and treatment protocols.
Benefits of becoming a medical courier
This role not only offers potential benefits for personal flexibility and autonomy but also contributes to the smooth functioning of health care services. Here are the main reasons to take it on:
How to become a medical courier 
Becoming a medical courier driver involves a blend of logistical and interpersonal skills along with a strong commitment to maintaining the quality and security of medical deliveries.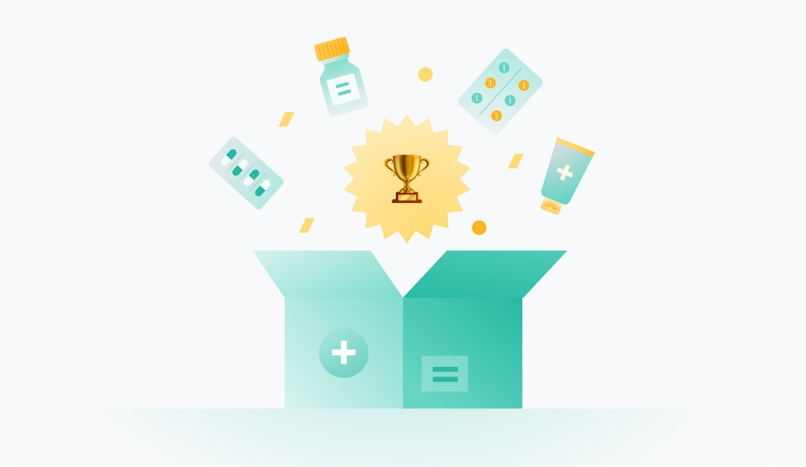 Top 10 medical courier apps for 2023
With the increasing demand for real-time tracking, secure deliveries, and optimized routes, medical delivery driver apps and software offer a level of convenience that traditional methods simply can't match. 
Let's take a look at how the top medical courier software and apps compare on key features and pricing.
1. Circuit for Teams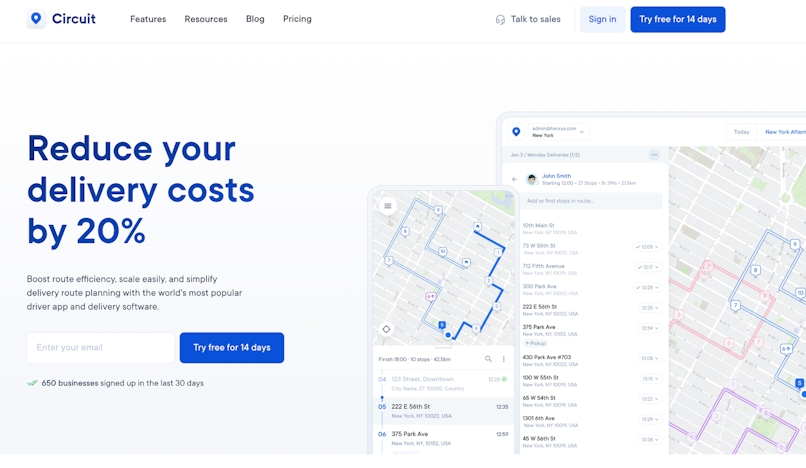 Our software offers a suite of features designed to revolutionize your medical courier business.
Pricing transparency and scalability also make Circuit for Teams a valuable asset in elevating your medical courier services.
You can choose your plan based on which features you need and how many drivers you have. The base plan includes two drivers, and you can cover additional drivers for another $40 each per month, making Circuit for Teams a great option for small teams while giving you room to scale up your operations as you grow. 
2. Onfleet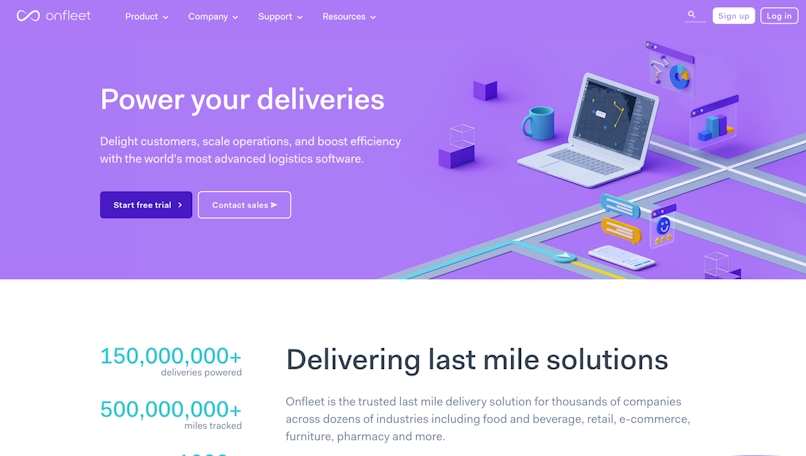 Onfleet's real-time tracking helps with timely medical supply deliveries, and its efficient routing minimizes delays. Drivers can also conveniently capture proof of delivery by signature or photo for accountability. 
Automatic delivery status alerts help you manage time-sensitive medical shipments while data analytics features enhance your operations. Plans are pricier than Circuit for Teams at $500 per month, but you can get a 14-day free trial with Onfleet. 
3. Route4Me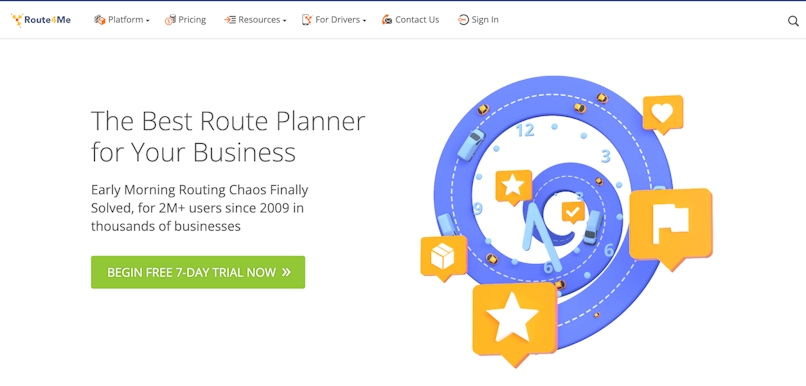 Route4Me offers a platform for efficient routes, dynamic planning, and adaptable scheduling, ideal for medical courier services. It's great for shifting medical delivery needs, allowing for changing routes on a daily, weekly, or seasonal basis.
Route4Me offers rapid mobile route planning across various devices while enabling the monitoring of all driver activities through GPS tracking. 
The starting price for basic Route Management is $199 per month and covers up to 10 team members, with a seven-day free trial available for businesses.
4. Track-POD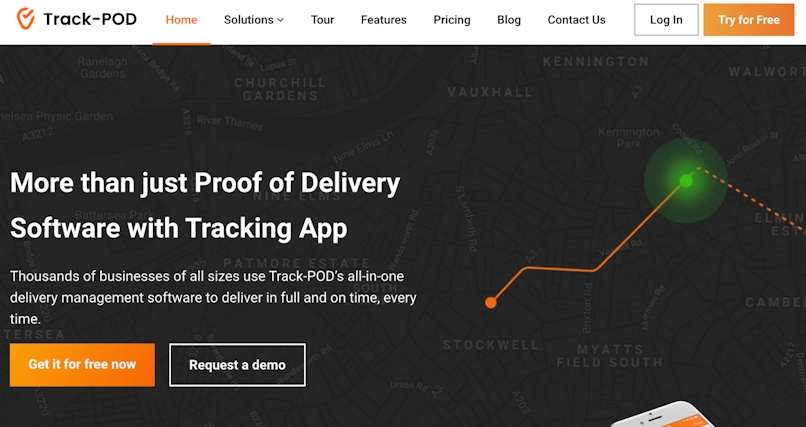 Track-POD is a delivery management system with features like electronic proof of delivery, real-time driver performance monitoring, and paperless note capabilities. It serves as both route planning software for quick multidelivery arrangements and a QR/barcode scanner for load control.
Noteworthy features include GPS vehicle tracking, sign on glass, custom delivery notifications, and electronic proof of delivery templates. Pricing begins at $285 per month for 1,500 orders, with a free seven-day trial available.
5. OptimoRoute

OptimoRoute lets you optimize routes and schedules based on customizable prioritization. It also has real-time order tracking and customizable messages to keep customers informed about their drivers' estimated arrival time.
The Pickup and Delivery Beta feature lets you plan routes with goods from one location to another without going through your depot, making it ideal for medical courier companies. 
After a 30-day free trial, OptimoRoute's pricing starts at $35.10 per driver per month when billed annually, making these essential route planning tools affordable for smaller teams. The cost rises as you add more drivers, so consider whether you'll need to scale up in the future.
6. Routific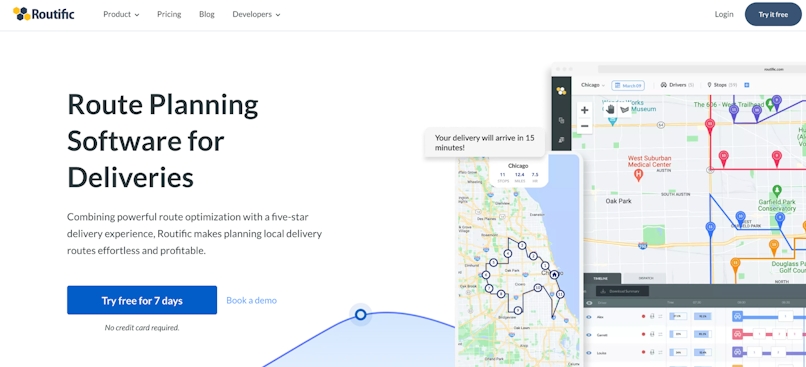 Routific is a user-friendly route optimization solution for small teams of medical couriers due to their per-driver pricing. Its drag-and-drop interface makes it easy to rearrange stops while the system optimizes routes based on real-time factors like delivery time windows and vehicle capacity.
It also offers a real-time delivery tracking link clients can use to monitor their delivery status. 
You can take advantage of a seven-day free trial, with pricing starting at $49 per vehicle per month. So, consider Routific if you have a small team of drivers — but it can get pricey if you need to add more drivers down the road.
7. Tookane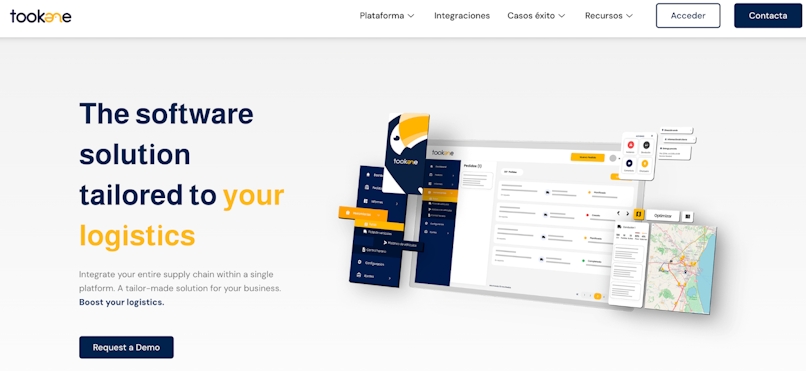 Tookane is a customizable delivery management system that lets you adapt each module to your unique needs. 
In addition to route planning, you can connect your eCommerce, marketplaces, carrier platforms, and enterprise resource planning (ERP) software for seamless coordination and optimization. 
Pricing starts at $129 per month and includes a 14-day free trial.
8. eLogii

Cloud-based delivery management platform eLogii lets you efficiently route, schedule, and dispatch deliveries, eliminating manual processes. The platform supports features like capturing signatures, utilizing barcodes, security codes, and age verification to enhance security and accuracy.
eLogii adopts a personalized approach to pricing based on your operations, but their pricing starts at $259 per month with a 14-day free trial option.
9. Detrack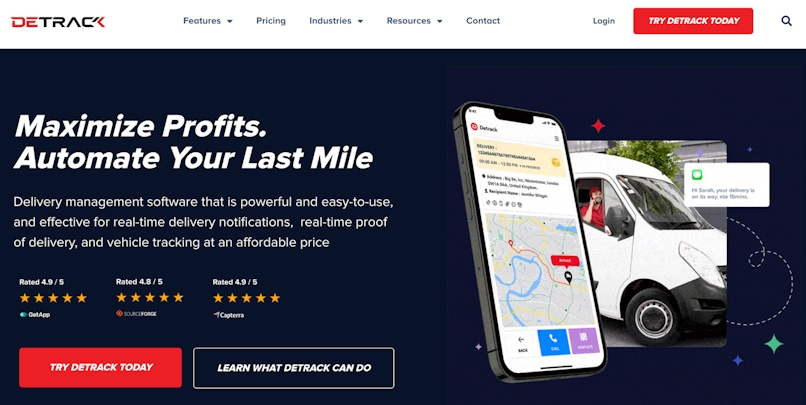 Detrack delivery management software offers Uber-style tracking and automated notifications by SMS and email, keeping customers informed about package location and estimated arrival time. 
The E-POD system, compatible with iOS and Android devices, enables signature and photo capture, allowing you to digitize POD paperwork for organized record-keeping.
Essential delivery optimization features are offered free of charge for up to 300 orders a month with a limit of just one delivery vehicle. That's a good deal for microsized medical courier operations, but Detrack has another option that includes route planning starting at $29 per vehicle per month. 
This might work better for smaller teams, but it can add up as you grow your business.
10. GSM Tasks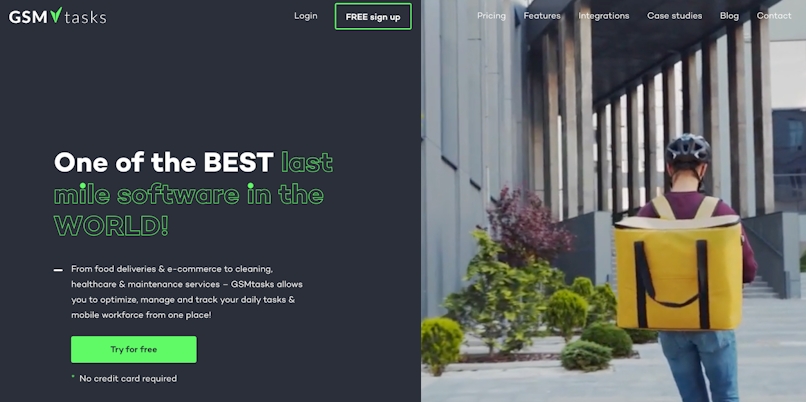 GSM Tasks offers effective time management, live tracking, intuitive data visualization, paperless customer service, and seamless integrations. The fast POD function lets drivers quickly send signed documents to customers once their packages get delivered.
It starts at $17 per user per month for the essential package, but if you want route optimization features, that cost goes up to $22. The more drivers you have, the more you'll pay, making both options best for smaller teams.
How the top medical apps compare
As you can see in the comparison below, many of the top 10 delivery software options share similar features that can help medical couriers succeed. Consider the pricing, any limits on how many orders you'll have each month, and how many team members each plan covers to see which one suits your needs.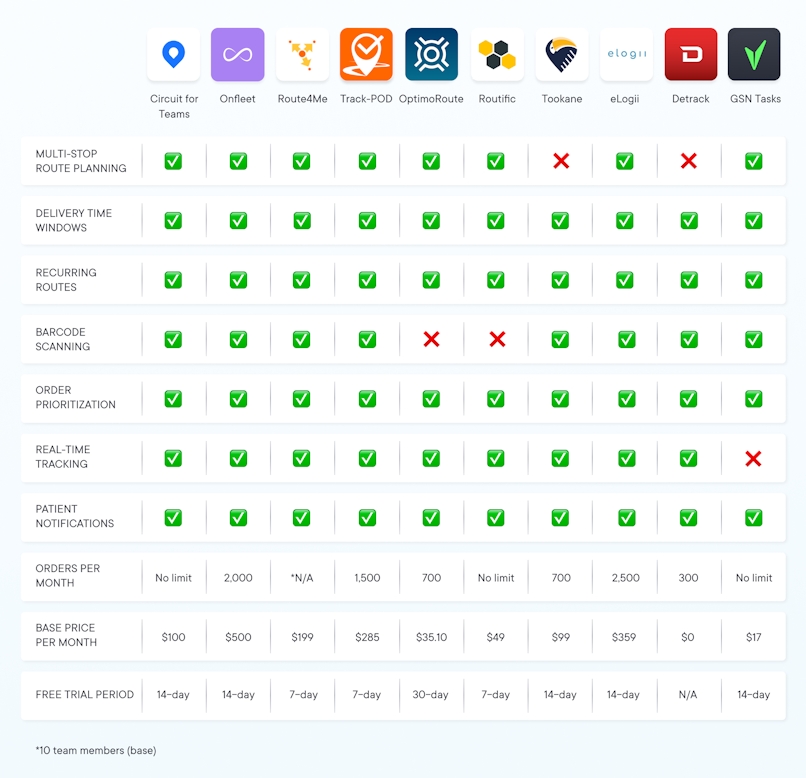 If you're still not sure, take advantage of a free trial!
Elevate your health care logistics with the right technology
As you step into the future of health care logistics, choosing the right technology partner can redefine your efficiency and impact. 
Circuit for Teams is a solution tailored to health care's unique demands. By seamlessly integrating multistop route planning, real-time tracking, and patient notifications, it streamlines your operations while putting patient care first.
Experience the power of Circuit for Teams for your medical courier business today.