7 minute read
How Dispatchers and Managers Benefit From Using a Delivery Driver Tracking App
In this post, you'll learn about what you need in a delivery driver tracking app, and we'll introduce you to our delivery software, Circuit for Teams.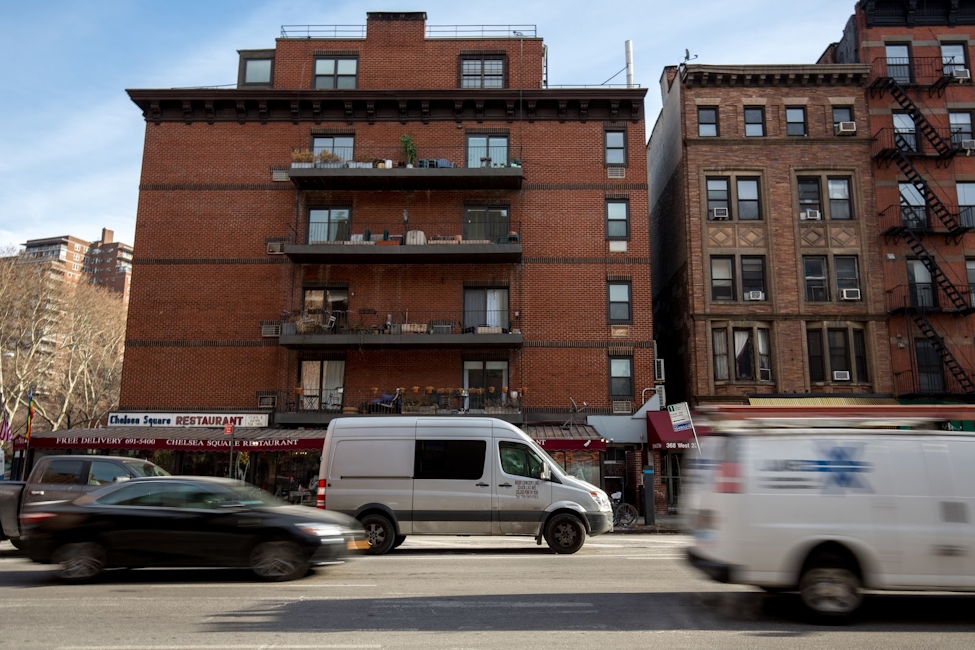 Real-time delivery driver tracking was once reserved for big companies with expensive gadgets and large fleets of vehicles. And it was once powered by custom hardware, similar to the tracking devices you see in spy movies, which were hitched onto vehicles. But now, any business has the ability to monitor their drivers in the field through delivery driver tracking apps.
In this post, we'll discuss what features you need in a delivery driver tracking app, and we'll introduce you to the real-time monitoring functionality in our delivery software, Circuit for Teams.
Finally, we'll explain how driver tracking should fit into your overall delivery operations, and why it makes sense to choose software that can offer you more than just route monitoring.
What You Need in a Delivery Driver Tracking App
What comes to mind when you think about tracking delivery drivers is being able to watch them driving from point A to point B on an online map. But there's more to consider when choosing a delivery driver tracking app to help your business. This includes looking for:
A user-friendly dispatcher hub: If you're managing drivers from the back-office at your headquarters, you'll be better off with a route monitoring software that works on desktops and laptops — as well as on your smartphone.


Real-time capability: Your driver tracking app needs to feed data back in real-time, or at least near-real-time. This gives you an accurate picture of what's happening out in the field at any given moment, meaning you can inform customers and update routes.


Seeing drivers in the context of their route: It's all well and good tracking your driver as a dot on a map, but to monitor specific route progress, you need to see where they just stopped and where they're going next. This means your route tracker needs to speak to your route planning tool — or it needs to be part of the same piece of software.


Easily installed on existing hardware: To be convenient for you and for your drivers, the route monitoring app needs to work seamlessly on popular personal devices that use operating systems such as Android or iOS. This saves on costs and minimizes hassle.


Integration with the rest of your delivery operations: When it comes to managing deliveries, driver tracking doesn't sit in isolation. You also need to handle route planning or route scheduling, vehicle capacity planning, proof of delivery capture, recipient updates, and more. Your driver tracking solution needs to work in tandem with these.
Introducing Circuit's Route Monitoring Solution for Tracking Drivers
Circuit is designed especially for last-mile delivery teams — helping couriers, delivery companies, and small business delivery services manage their deliveries more efficiently.
Our route planner app is perfect for individual drivers who simply want to plan and run the most efficient delivery routes, but our Circuit for Teams platform offers a lot more functionality for delivery teams with multiple drivers — including real-time route monitoring.
Real-Time Delivery Driver Tracking
Using Circuit for Teams, your drivers manage their daily deliveries using the Circuit app for iPhone and Android, and you can track their movements through the dispatcher-side Circuit web app. Your drivers can use whichever GPS navigation app they prefer, and Circuit runs in the background, automatically streaming data about their whereabouts and scheduled stops.
Note: Circuit works with all of the major navigation apps, including Google Maps and Waze.
And as well as tracking drivers along their route, dispatchers can also make changes to ongoing routes from the web app, which then get reflected in the driver's smartphone app. And vice-versa — if a driver has to adapt their pre-scheduled delivery route, they can make changes easily in the Circuit app, and the updated information is shown to the dispatcher or manager.
But the best thing about Circuit's driver tracking system is that it integrates with tools for everything else you need to manage a delivery team. First and foremost, your drivers' routes are guaranteed to be the most efficient, thanks to our route optimization algorithm.
In the next section, we'll explain more about route optimization, and take a deep dive into some of the other features that delivery teams benefit from when they sign up with Circuit for Teams.
If you're looking for an efficient route optimization and route monitoring platform for your delivery team, try Circuit for Teams on a free trial.
Tracking Drivers: Just One Part of the Delivery Puzzle
Tracking delivery drivers is just one small part of managing a delivery team. You also need to plan routes, keep recipients in the loop, and make sure deliveries are completed successfully. Fortunately, Circuit for Teams gives you peace of mind in all of these areas:
Recipient Updates and ETAs
Traditionally, dispatchers would find out their driver's location by phoning them up and asking where they were. This is a disruptive, distracting, and inefficient way to do things. Thankfully, with tracking apps like Circuit, this isn't necessary — because you can simply refer to the map.
But as a dispatcher, your time can still be drained by fielding customer calls about packages. To streamline this, and to improve customer service, you need to give recipients information before they request it. And with Circuit you can create automatic recipient notifications.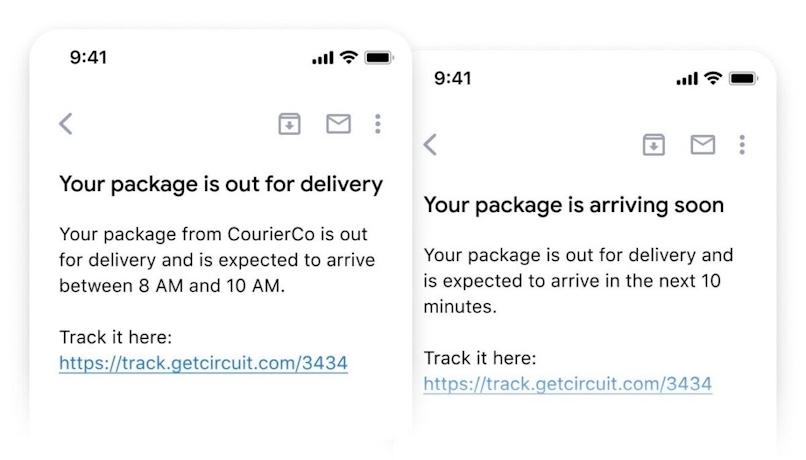 Sent via SMS and/or email, you can give recipient ETA updates at various stages of the delivery process — e.g. an estimate when the driver leaves the depot, an accurate ETA an hour before delivery, and a delivery confirmation (including proof of delivery) after the stop has been made.
This means customers are happy because they know when their package is arriving (note: they can also leave instructional notes for the driver), your drivers are happy because you're not disrupting their day by calling them up, and you're happy because you can keep an eye on route progress without having to answer so many queries and complaints.
Proof of Delivery (POD)
Delivery tracking means more than just monitoring drivers along their routes — because you also want to know that they've actually completed their deliveries successfully. This is important for daily admin, but it's also key for record-keeping and to resolve complaints and disputes. So, if you're making dozens or hundreds of deliveries per day, you'll need electronic proof of delivery.
Our driver app gives your drivers the ability to use their smartphone to process e-signatures on delivery, but also to capture photographs of where they've left parcels. In either case, proof of delivery is automatically uploaded to the cloud and accessible for the managers back at HQ.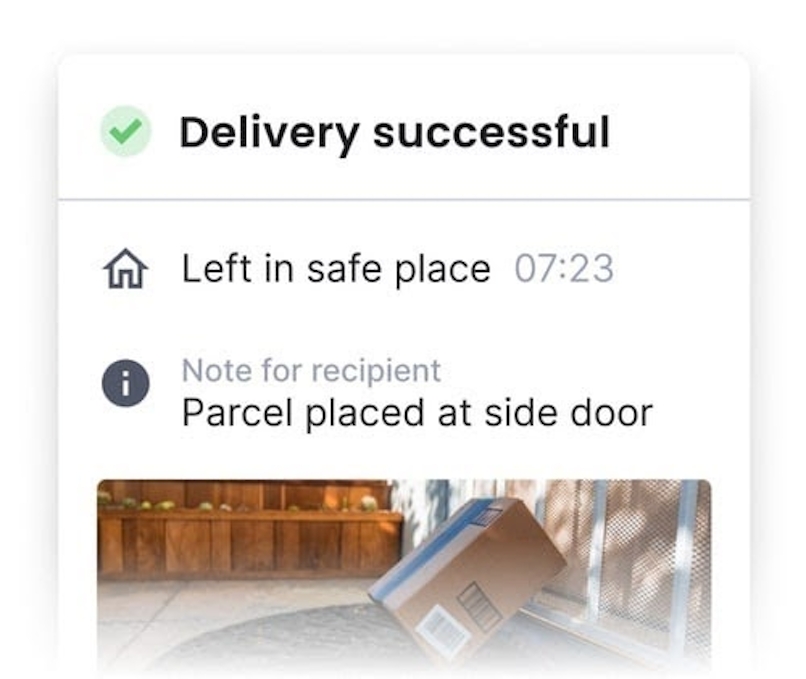 So, as a dispatcher or manager, if a customer isn't sure where their parcel is or why it wasn't delivered, you can access all the information you need on the back-end Circuit web app — whenever you need it. This means that if they haven't received a notification or have a further query, you can update them simply by checking the record in your system.
Note: Drivers can also leave notes via their driver app for the customer and/or for the dispatcher, explaining what happened on a delivery attempt, or where they left the parcel.
Route Optimization (a.k.a. Route Planning or Route Scheduling)
Our routing capabilities form the foundation of Circuit for Teams, which has been developed in partnership with delivery companies who were originally using our driver-focused route planning app. So, route optimization still remains central to what we offer our users.
Put simply, by using Circuit to plan optimal routes and optimize the order of your stops, you're setting drivers up for a smooth day on the road. And this allows Circuit to show your drivers' progress along those optimal routes — and to give customers an accurate ETA for their parcel.

You can use Circuit for Teams to plan routes for multiple drivers (via spreadsheet import), and create the fastest route possible with or without parameters. For example, parameters include:
Time constraints: If a driver has to leave at 1pm for a dentist's appointment, Circuit will automatically calculate how they can complete the maximum number of stops in the time available. Or if you need to meet a certain deadline or delivery window for a client, Circuit can take this into account when you calculate your routes.


Priority stops: If a certain stop (or list of stops) has to be made ahead of others, you can set urgent prioritization. Circuit will tell your drivers how to get to those stops quickly, and the rest of the route will be optimized around those priorities.
And as we mentioned earlier, while routes are in progress, you can update them, add stops (or priorities), and swap routes between drivers at the last minute. This is valuable for teams with multiple drivers working busy schedules at the same time, meaning unforeseen situations, emergencies, and new priorities can be handled with minimal disruption to overall efficiency.
How a Driver Tracking App Positively Impacts Your Delivery Services
In the end, three things matter most when you're running a delivery team:
Customer satisfaction
Driver happiness
Operational efficiency (note: this also feeds into 1 and 2)
By using a delivery driver tracking app as part of a platform that also handles route optimization, recipient updates, and proof of delivery, you'll positively impact all three factors.
For example, by tracking drivers in real-time and updating recipients with accurate ETAs, you're maintaining customer satisfaction. And by giving your drivers clear and accurate routing through their favored GPS — as well as the tools they need to make deliveries smoothly (e.g., proof of delivery) — you're keeping them happy and not distracting your team from the job at hand.
Finally, increased automation allows you to run a more efficient operation: drivers get the optimal routes without you having to manually calculate them, customers get notifications without you having to call them, and you can make changes to routes on the fly without disrupting the scheduling or slowing down your delivery workflow.
If you're looking for an efficient route optimization and route monitoring platform for your delivery team, try Circuit for Teams on a free trial.