8 minute read
Routes for Sale: How to Buy Delivery Routes
A delivery route business can be a reliable and profitable income stream. Learn how to buy delivery routes here.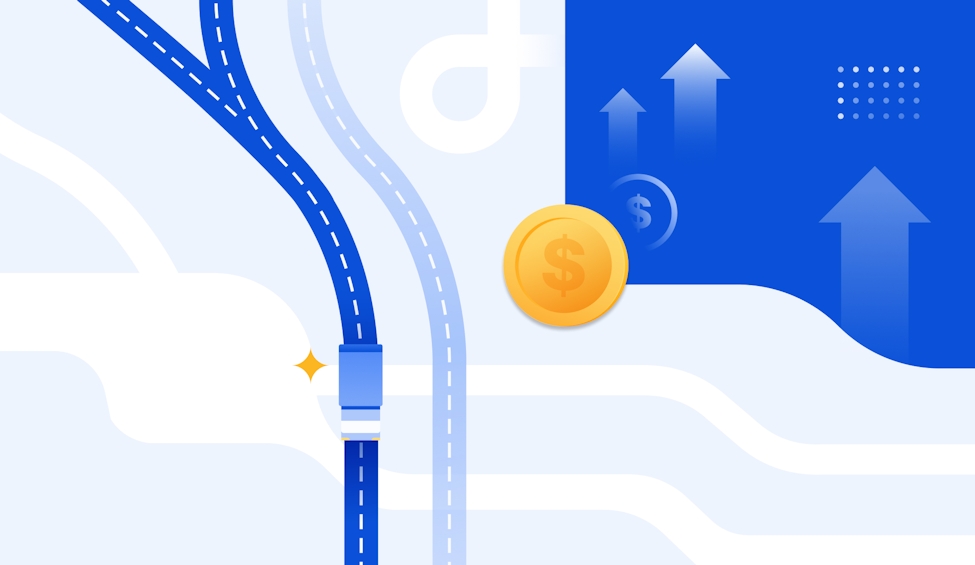 Get the tool you need to help your delivery route business thrive with Circuit for Teams.
If you're looking for a business model with a positive outlook, a delivery route business is a strong bet.
The global logistics market is already booming, and it's projected to continue growing in the coming years. 
In fact, it's expected to reach a value of $6.55 trillion by 2027.
Now's a good time to get in on the action. 
As people recognize the lucrative opportunities of delivery routes, prices have climbed in the last three years. 
And they may continue to climb as demand continues to grow — meaning higher prices and a more competitive marketplace in the future.
Want a piece of that business? We don't blame you. You can get in on the action by establishing a delivery route business.
I explain what that is and how to start one. Let's get to it.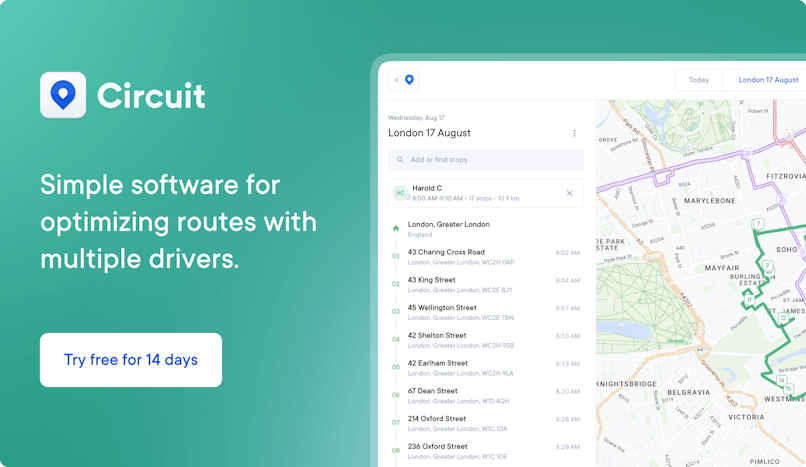 What is a delivery route business?
Basically, a delivery route business takes up existing routes for established courier franchises.
Let's say you buy a FedEx Ground Route. It's a protected route with a set number of addresses you deliver to on FedEx's behalf.
Every week, a driver on your team delivers FedEx packages to those addresses (that's assuming there are packages to deliver).
At the end of the week, FedEx will calculate your commission based on how many packages you delivered.
You can buy two types of routes:
Protected routes with defined delivery addresses.
Independent routes that don't limit you to set addresses but to a general delivery area. They're usually cheaper to buy and more profitable — but also more competitive. With an independent route, you service multiple carriers (like FedEx, UPS, and DHL versus just doing a route for one carrier).
Once you buy the route, you're responsible for running it and completing the deliveries on that route.
With a protected route,  nobody else from that courier franchise will enter your designated geographic area. An independent route lacks this protection.
Most delivery route contracts pay on a commission basis. For example, if you complete X deliveries per week, you'll get a 12% cut based on that number. 
Payments are usually weekly, allowing for regular cash flow.
Are delivery routes profitable? 
Buying delivery routes can be a lucrative business. 
For example, the average annual profit from a FedEx route reportedly ranges from $30,000 to $40,000. 
Many routes average $40,000 in annual profits, so running multiple routes can add up quickly. 
Just three routes a year at $40,000 each will have you earning six figures.
Keep in mind that you are only getting a portion of the route's profits. 
So, if you buy a FedEx route that normally earns $1 million per year in revenue and you have a contract that guarantees a 10% commission, you'll get $100,000.
Additionally, you don't have to stress about certain business overhead expenses when buying a route from a well-known company, like marketing or creating logos to boost brand recognition.
You can also use hacks to help your drivers finish their routes faster. You can then take on more routes, maximizing how much money your business makes. 
For example, our post explains how a route planner can help you complete faster deliveries.
Route optimization software like Circuit for Teams maps out the fastest sequence of stops for your drivers. They can then access their routes on their mobile phones.
Circuit for Teams also has other features that can make drivers' jobs easier and more efficient, like a package finder. 
This lets drivers save time by quickly locating packages in their vehicles without digging through piles of deliveries.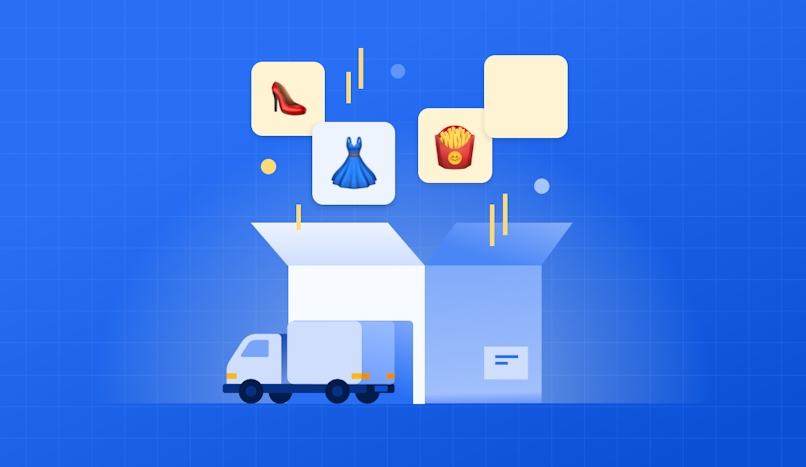 What types of delivery routes are available?
There are different types of delivery route businesses. 
You may find yourself buying routes that deliver everything from packages to ready-made meals.
Examples of some common delivery route types include:
Courier routes for companies like FedEx and UPS
Grocery delivery routes for supermarkets and big-box retailers that sell food, like Walmart or Target
Food delivery service routes for restaurants or ready-made or meal prep service providers
Bread routes for bakeries that sell their goods to restaurants, stores, caterers, and other food providers
Vending machine routes that involve restocking vending machines at various locations and collecting their earnings
Personal service routes for niche fields like dry cleaning businesses
Medical or pharmaceutical routes for medical laboratories to transport samples or pharmacies that deliver prescriptions to patients
ATM routes to service off-site ATMs (not located in bank buildings), allowing you to collect fees from the ATM transactions
Linehaul routes to cover long-distance deliveries, including interstate deliveries using semi-trucks in some cases
Which companies sell delivery routes? 
There are two ways to buy delivery routes. 
One option is to contact brands directly. For example, you can buy FedEx Ground routes on their website.
Pepperidge Farm is another company that lets you browse delivery routes online.
Another option is to go to delivery route brokers who advertise routes for sale online. 
Some popular platforms for buying delivery routes in the US include: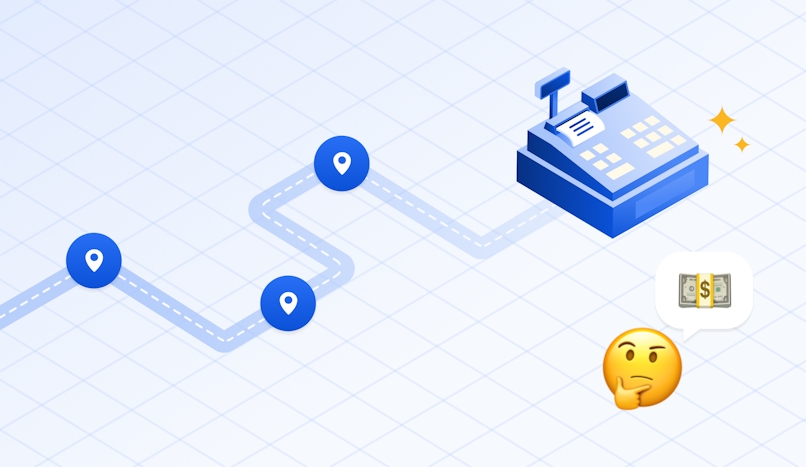 How to buy a delivery route in 4 steps
Buying delivery routes can be profitable — if you know what you're doing.
But, if you don't do your due diligence (find out what that means below), you may end up investing a lot of money in a route that isn't very profitable.
If you take out a loan to buy your route (which is common — more on that below), you may have trouble paying it back. 
That means debts piling up!
We'll talk you through how to buy a route using FedEx as an example.
1. Find a route 
The first step is to find a route (by using one of the websites listed above, for instance).
In the case of FedEx, refer to BuildAGroundBiz.com to find a route.
You can search based on opportunity type, country, and state. 
You can also create an account profile, which allows you to get notifications when routes in your area become available.
2. Research the route and company 
When you find a route you're interested in, don't buy it immediately. 
Do your research to make sure it's a smart buy.
For example, experts suggest being aware of routes that are selling for significantly less than average.
These "bargains" may not be great earners, for example, because they cover a large surface area without having a lot of population density (meaning you have to cover more ground while making fewer stops).
FedEx routes give concrete stats for every route. 
Take Columbs, Mississippi, for example. You get route ZIP codes and key info based on data from the previous 12 months, including:
Average route mileage
Average delivery stops 
Average delivery packages
Average pickup stops
Average pickup packages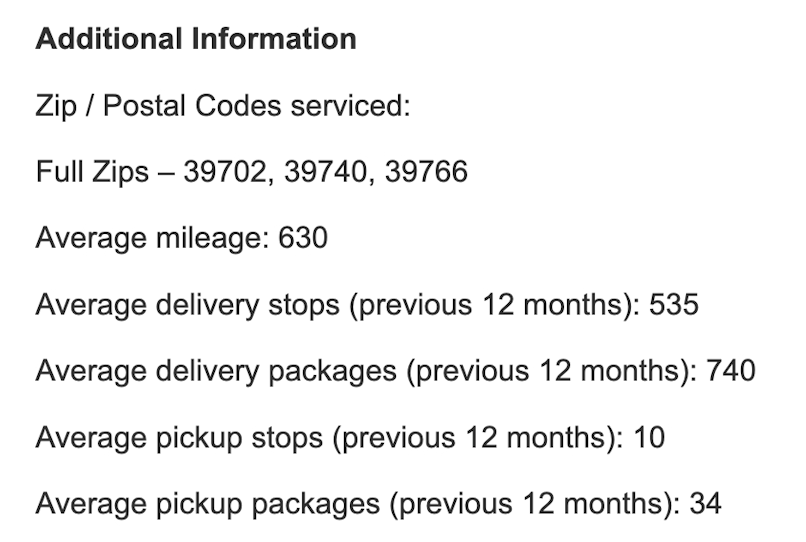 FedEx also includes basic contract terms in their route listings. 
For example, as the contracted service provider (in other words, the route owner), you're responsible for: 
Employer-related expenses, like delivery driver pay
Recruiting and training drivers
Supplying, maintaining, and managing delivery vehicles
Beyond the route, you also want to look at the company as a whole, not just the route. 
For example, do you want to work seven days a week? 
Some delivery companies operate all week, while others have weekends or Sundays off.
Check out our guide on when certain courier services deliver for more information. 
We also have a guide on how late courier companies deliver.
3. Secure funding
A delivery route can be a great business opportunity. 
However, it isn't cheap! 
A look at the route listings on a site like BizBuySell shows prices ranging from around $415,000 to upward of $1.7 million.
Generally, routes with a higher proven cash flow cost more. 
Delivery routes are pricey, so you may need external funding to buy FedEx routes.
Some possible funding sources include banks, SBA loans, and private investors.
For example, you can make a down payment on a route and let a bank finance the rest. You'll then pay the loan back over time.
If you're going to get external funding, it's important to be prepared. 
As the prospective business owner, you need to prove to people or organizations why they should invest in your business.
Write a business plan that includes key points like a description of your services, a marketing plan, and financial projections. 
The US Chamber of Commerce has tips for writing a business plan.
The US Small Business Administration (SBA) also has a guide for entrepreneurs on how to get funding.
4. Get company approval
Once you've identified a route you want to buy and have the money you need to buy it, you still need approval from the company.
If you're applying for FedEx routes, for instance, you have to make sure you meet the company's criteria.
For example, FedEx Ground asks that all delivery vehicles have Vehicle Event Data Recording (VEDR) safety technology.
Other responsibilities include:
Hiring and training drivers
Covering employer-related expenses, like salaries, benefits, employment taxes, and workers' compensation coverage
Maintaining payroll and employment records in line with state and federal laws
Supplying and maintaining vehicles and equipment
Adhering to FedEx policies, such as safety protocols
Managing daily operations to fulfill deliveries
FedEx will verify your finances before approving your contract.
For example, you don't just need the money to buy the route. You also need money to buy and maintain trucks. 
They may want to view tax returns and financial statements, for instance.
You will also need to complete some administrative steps to prove you're ready to fulfill the above obligations.
For example, you need to formally register your delivery route business and get a Federal Employer Identification Number (FEIN) that allows you to legally hire drivers. 
FedEx will ask for supporting documents related to your registered business, like a copy of your Articles of Incorporation (stamped by the state) and a legal document with the FEIN issued by the IRS.
You'll also need to sign a nondisclosure agreement (NDA), keeping FedEx business and route details confidential.
Make the shift to small business ownership through delivery routes
Buying delivery routes is a great way to start (or, add to) your own business and become your own boss. 
You can buy routes from larger brands as an independent operator. As an owner-operator, you make sure that your drivers fulfill the route and make all of their deliveries on time.
A good FedEx delivery route can earn upward of $30,000 per year.
That said, it's important to do your due diligence when buying routes. 
Consider details like the distribution route's geographic coverage and the average number of package deliveries a route needs.
To help your independent business be as profitable as possible, make sure you're running your routes as quickly as possible. 
Then, you'll have the capacity for more routes and can grow your startup.
Circuit for Teams optimizes your routes for you, giving you the fastest sequence of delivery stops. 
The routing software also takes into account details like traffic data and construction sites, helping drivers avoid traffic jams.
Plus, Circuit for Teams offers other perks that make drivers' jobs faster, like a package finder, proof of delivery, and delivery time window notifications for customers.