8 minute read
How to Manage Couriers and Delivery Drivers With Excel
Excel can help delivery managers and dispatchers manage and track drivers and deliveries. Learn how delivery tracking in Excel works.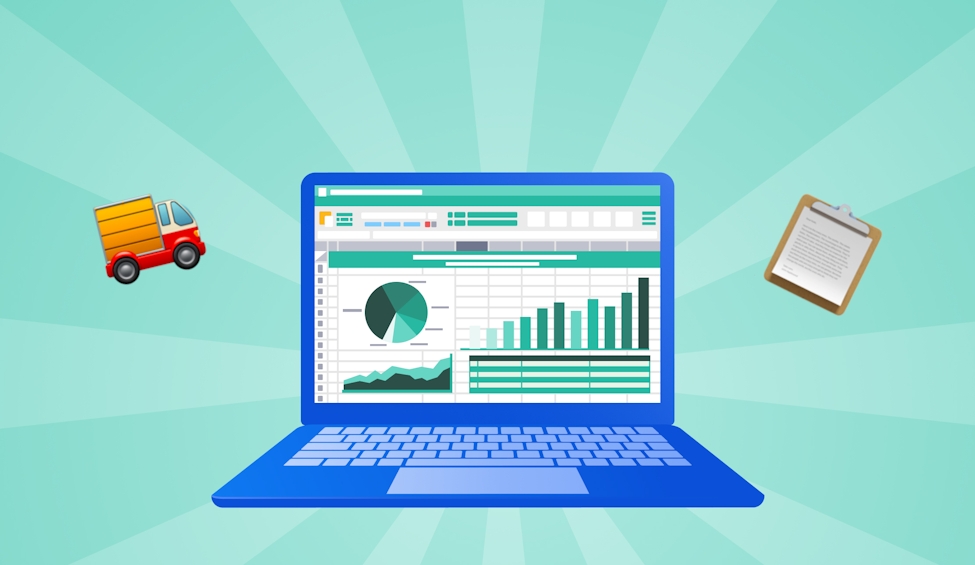 Excel is just one tool that can help you manage delivery drivers. Circuit for Teams can help you optimize their routes and track their progress in real time.
You might think Microsoft Excel is just for crunching numbers. But the spreadsheet tool has other purposes beyond accounting.
One useful purpose: If you're a manager or dispatcher overseeing a delivery team, Excel can help you manage and track your drivers and their routes.
Tracking packages can help reduce delays and losses and increase accountability among drivers. 
You can also use it to keep customers updated about a package's status, improving customer satisfaction.
Without package tracking, you can't know a package's estimated delivery time, location, or delivery driver. 
This can increase the risk of losses. 
Plus, if a customer calls to ask about their delivery status, you won't know what to tell them.
I'll explain how to use Excel to manage and track deliveries and even include a template spreadsheet.
Plus, I'll give you some tips on how to use driver management and tracking software to make your delivery operations even easier.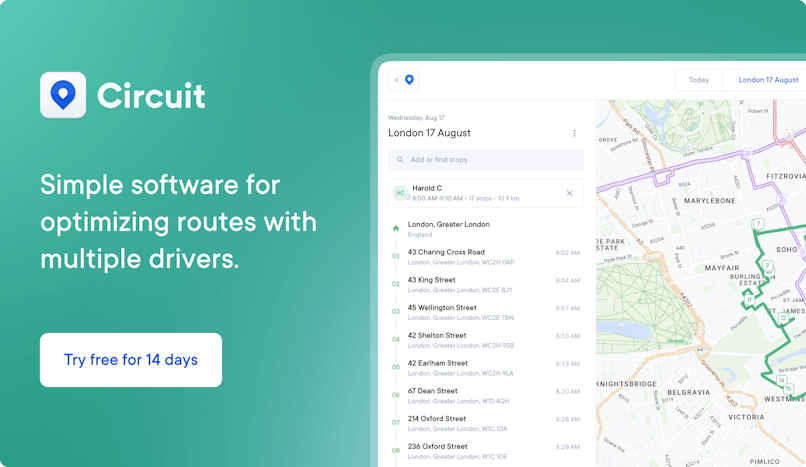 How to use Excel to manage and track deliveries
The first step to managing and tracking deliveries in Excel is to create a spreadsheet. 
You can download several free Excel templates online.
You can also create your own Excel spreadsheet template. 
I'll go into more detail on the key points to enter in your template below. But just know that these points should be your headline fields. 
It'll look something like this:

Next, add customer order information details. Here's what that might look like:

Now, you'll need to add a formula to get Excel to automatically calculate your delivery status (eek)! 
Don't worry, we've got you covered. 
For column K in our example, Delivery Status, use this formula for the empty cells (add to K2, K3, and so on):

(The box is at the top left, above your chart.)

Now, assign your delivery driver in the template Excel's column L. 
Add the delivery date once they fulfill the delivery. 
Your Excel formula will automatically tell you if the package is delayed or on time, filling in the "Delivery Status" column for you. 
Here's an example:

What to include on your Excel tracker 
You should include certain information when creating an Excel document to manage and track deliveries. 
Here's a list of what details your tracking template should include:
Order number (a tracking number)
Customer last name
Customer first name
Delivery city
Delivery state
Delivery address
Delivery type (like rush, 48-hour, standard)
Order date (when you received the delivery order)
Deadline (when the delivery must arrive based on the delivery type)
Departure date (when the driver leaves with the delivery)
Delivery date (when the delivery is dropped off)
Delivery status ("on time" or "delayed" based on the Excel formula above)
Delivery person (which driver is handling the delivery)
Here's an example of what your Excel spreadsheet might look like:

The above list is just an example. Exactly what info you add will depend in part on your business.
For example, eCommerce shop owners might want to add a product description for each order.
Business owners with regular customers might want to add a column for customer-specific notes.
These are just a couple of points you can add based on your industry. It depends on what info matters for your business.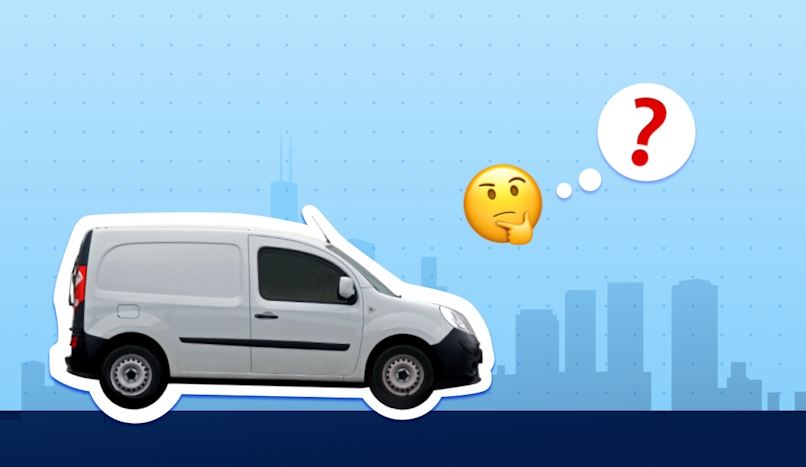 Why is courier and delivery tracking important?
If you're going to deal with complicated delivery tracking templates, you want to make sure it's worth it.
Why bother?
The tough truth: Courier and delivery tracking are essential to your delivery business's success.
Here are some benefits of courier and delivery tracking:
Reduce delays and losses: A tracker template allows you to know each package's status, including details like delivery deadlines (for example, if a customer paid for 48-hour shipping). With this information at hand, you can make sure to prioritize those packages. Plus, when you know details like which driver is responsible for delivering which packages, it's easier to track them and make sure they aren't lost. This means simpler and less stressful inventory management.
Increase accountability: When you track drivers and packages, you know which of your team members is responsible for delivering which packages. This can help increase accountability within the supply chain. There's no doubt about who is responsible for what packages. This can encourage drivers to handle packages more carefully and keep track of them — if a package is lost or misplaced while in the driver's care, they are likely responsible.
Keep customers up to date: When you know the status of individual packages, you can give customers estimated times of arrival (ETAs) and even delivery time windows so they can anticipate their package delivery. This is especially useful for packages needing a customer's signature, as your driver can make sure they're home. You can also send customer notifications if a package is delayed because of an unexpected logistics issue — known as a delivery exception. Learn about delivery exceptions and how to avoid them.
Improve customer satisfaction: If a customer calls or emails to ask about a delivery status, you want to give them a concrete answer — fast. By tracking your deliveries, you can. Take it to the next level by using your delivery and courier tracking sheet to proactively send updated notifications (by text or email) about when they can expect a package. Or use delivery management software to automatically send real-time updates, making your job even easier.
- Pro tip: Customers don't want to be in the dark about their package status! This can lead to complaints or negative reviews (yikes, bad reputation). Learn more about how to deal with tough customers. 
Increase transparency and peace of mind: Knowing who's delivering what packages and having an up-to-date delivery status helps increase transparency around delivery processes. In addition to increasing customer satisfaction, this can also bring delivery drivers and team managers peace of mind. There's less confusion around the delivery process and everyone has more clarity on their tasks and duties.
Improve profits. Keeping track of deliveries helps minimize the risk of loss and misplaced packages — which can cost you lost profits if not recovered. A lost package means lost inventory and paying to ship a new product to the customer. Plus, improving customer satisfaction can also improve your business reputation. For example, a happy customer might leave a positive review and tell other people about your business. Research shows that this kind of word-of-mouth marketing is very powerful in convincing consumers and can attract more customers. More customers = more money coming in!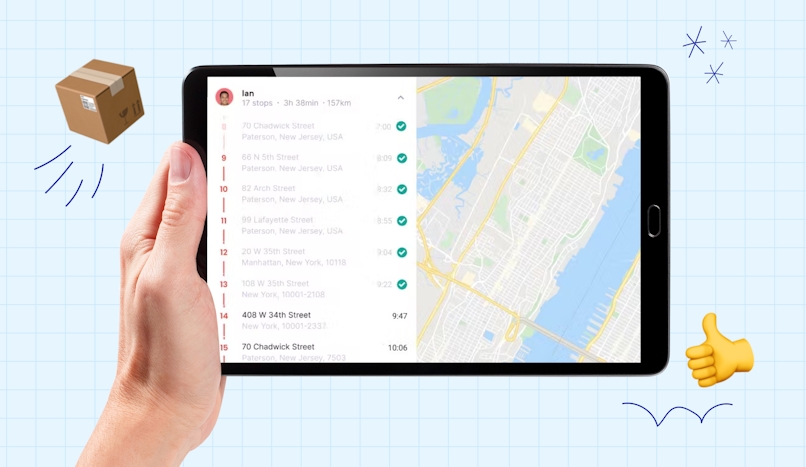 The best delivery software for drivers and dispatchers
A free template tool has limits in terms of how it can help you manage delivery teams. 
For example, it won't offer perks like real-time delivery route tracking, which makes it easier to keep customers up to date about deliveries — improving satisfaction and your company's reputation (which can, in turn, boost profits).
Delivery software also has other perks that can help improve earnings. 
For example, route optimization can help your drivers save money on gas, and a package finder can help reduce the risk of lost or misplaced packages.
Delivery software like Circuit for Teams makes managing and tracking deliveries, drivers, and delivery routes even easier.
Route optimization to get your drivers where they're going faster 
Route optimization software like Circuit for Teams charts out the fastest sequence of delivery stops for drivers. 
Drivers benefit because they don't have to worry about mapping out delivery stops — wasting precious time that could be better spent. 
Routing apps also help drivers save time by considering hurdles like traffic jams. 
This means they're less likely to waste gas backtracking or sitting in traffic. 
You're more likely to keep customers happy since packages can be delivered when promised, and your drivers have more time to deliver even more packages.
For example, Circuit for Teams clusters stops based on the geographic area. 
So, a driver can complete all the stops in that location instead of dropping off one package, going across town to drop off a different package, and then returning to the first location for more deliveries.
Route optimization also benefits managers and dispatchers. 
There's no need to chart delivery routes using old-school mapping and spreadsheet tools. 
The route optimization tool does the hard work, so you can get drivers on the road faster.
Learn more about how delivery software works.
Route monitoring so dispatchers can track route progress 
Route optimization tools like Circuit for Teams also offer real-time route monitoring. 
This means drivers and dispatchers don't have to exchange texts or calls for package status updates.
Drivers can focus on the road and dispatchers can get the information they need.
It's a win-win for everyone involved.
Managers can simply check the software tool to find where drivers are on their routes (tracked by the drivers' mobile phones and GPS technology).
Discover additional benefits of GPS driver tracking.
Updates to keep your customers informed 
Real-time route tracking also benefits customers. 
For example, if a customer calls to ask about a package status, the route manager can quickly check using the software tool. 
There's no need to interrupt the driver's work with a call.
Real-time tracking also makes it easier to set delivery time windows and give ETAs. 
Customers can make sure they're home to receive valuable packages, and drivers don't have to worry about redelivering. 
Tools for capturing customer signatures or taking photos of delivered packages 
Advanced route optimization tools like Circuit for Teams include other features to make drivers' lives easier, like proof of delivery.
This lets drivers capture a customer's signature upon delivery to prove they delivered the package. 
Drivers can also take a photo of the package when it's been dropped off (for example, on the customer's doorstep).
This helps protect both your business and your drivers, as there's no doubt a package was safely delivered. 
It also brings customers peace of mind.
However, collecting proof of delivery is just one essential step in effective delivery management. 
Our guide gives you some additional pointers.
Save time on last-mile deliveries with Circuit for Teams
A Microsoft Excel template can be a valuable tool for managing couriers and delivery drivers, making tracking and prioritizing packages easier.
The benefits of shipment tracking templates range from reducing misplaced packages to increasing customer satisfaction. 
Schedule templates also help improve transparency and make it easier to hold drivers accountable.
You can optimize your dispatch management even further with these tricks and tools. 
One technology we recommend? Circuit for Teams.
Circuit for Teams allows you to optimize routes, finding the fastest delivery route for each driver. You can also update routes in real time and track drivers' progress through the driver app.
Plus, Circuit for Teams benefits customers by offering features like proof of delivery and delivery time windows.