6 minute read
Driver Tracking Solutions: Does Your Courier Business Need GPS Software or Vehicle Trackers?
Does your delivery fleet need GPS vehicle trackers, or will a smartphone-based app do the trick? Explore the easiest methods of driver tracking in this post.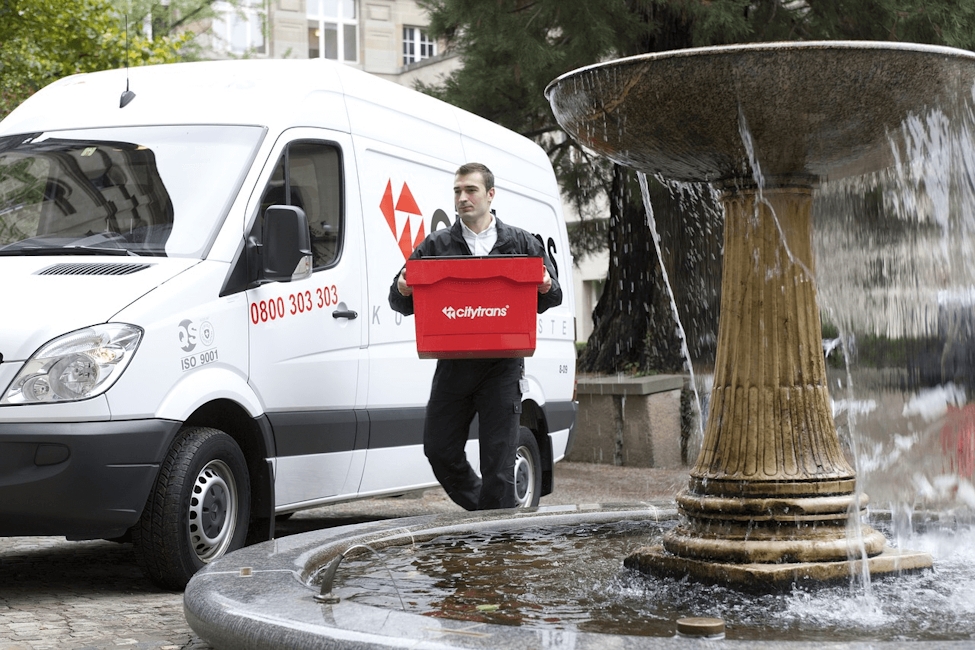 If you're in the courier business, it comes with the territory to field questions from customers on the status of their deliveries.
But the communication gap between dispatchers or company owners and their drivers can make updates challenging. Drivers are busy delivering parcels, so sharing the progress of their routes isn't always top of mind. If you call them to check in, that in turn will slow down operations.
Fixing these issues starts with better driver tracking. Currently, there are two main solutions that can help: GPS trackers, and GPS software.
One software option you can turn to is Circuit. We're an app that provides real-time tracking with live route progress of all your drivers. Plus, we provide best-in-class route optimization so drivers can finish their routes more quickly.
When it comes to knowing the whereabouts of your drivers, Circuit isn't your only choice. There are other options to keep tabs on them (minus the hassle of bugging them for details).
In this article, we'll discuss whether software or physical trackers are best for your business. We'll also show exactly what it's like to use Circuit to track drivers in your fleet.
If you manage a team of drivers and want a simple, cost-effective way to keep track of them (while making their routes more efficient), sign up for a free trial of Circuit.
Driver Tracking with GPS Software or GPS Trackers?
From taxis to construction vehicles, there are many different situations that call for driver tracking. In this piece, we're focused on courier and delivery businesses.
As you likely know, you can make phone calls or send texts to members of your fleet to get information, help them choose better routes, or triage other problems. But unlike the options we're about to discuss, they're inefficient solutions for monitoring your drivers' progress through their routes.
Your best hope for driver tracking stems from technology. But between GPS software on a cell phone and tracking devices, which tracking system is right for you?
Driver Tracking with GPS Software
GPS software is simple and easy to integrate into your fleet. All you need to do is download and install the applications onto your device and have your drivers do the same.
Most courier companies turn to GPS software because it's the most affordable choice. Oftentimes, you only need to pay a subscription fee to keep the service active.
Aside from affordability, real-time tracking is another benefit. GPS software provides you with maps that give you visuals of where your drivers are at all times. You can follow them along their delivery routes without calling them to check in.
But it's better than just knowing where your drivers are — a software app such as Circuit provides context for your drivers' locations. Not only do you know where they are, but you know how far along they are in their routes, which customers have yet to get their deliveries, roughly how long drivers will be out, and so forth.
One downside is that you need to get all of your drivers to use the software on their mobile devices (which means the ease of use and benefits the software provides for them are very important when you're evaluating options). It also helps to choose software that has easy setup and installation.
Another disadvantage of software is limitations due to cellular coverage. If your drivers deliver in an area with little to no connectivity, your software won't track their progress during that time.
Driver Tracking with GPS Trackers
The main difference between vehicle GPS trackers and software is physical. A GPS tracker is a hardware device you place inside the vehicles of your fleet.
Unlike software, GPS trackers aren't limited by cellular coverage. Good GPS trackers rely only on satellite communication to handle driver tracking. This is a valuable feature when you deliver in areas with poor cellular coverage.
GPS fleet tracking can also be a great hedge against theft. If you own your delivery vehicles, installing trackers could help you recover vehicles that go missing. Alternatively, having drivers use a key fob with GPS tracking installed helps you know who is driving which vehicle at any given time.
GPS vehicle tracking is also popular with companies that want to collect information about and monitor the driving habits of their employees for safety purposes. Different products allow you to monitor braking, rapid acceleration, whether the vehicle is going the speed limit, and so forth. Some trackers even come with a geofencing, so that a dispatcher gets real-time alerts whenever the vehicle leaves its assigned area.
If you operate a small courier service, vehicle tracking devices might not be the answer for you because they're often much more expensive than standalone apps. Along with software costs, there are hardware costs you'll need to consider, too. You'll have to buy, maintain, and replace physical equipment as needed.
Some GPS Tracker Options
There are many reputable companies offering vehicle GPS trackers. Here are a couple of examples.
Advanced Tracking Technologies, Inc. has a GPS tracking device called the Shadow Vision III. Along with real-time updates, ATTI offers training sessions and unlimited user support. This tracker is useful for small or large fleet management.
Samsara is a company that specializes in Industrial Internet of Things technology (tech that uses a network to link, track, and analyze data from relevant physical devices). From cars to trucks, they offer tracking hardware that works with a variety of vehicles. They also promise an easy plug-and-play installation that takes no longer than 15 minutes.
How Driver Tracking and Route Optimization Work on Circuit
Circuit has a simple interface that makes it easy to track the status of your drivers.
In a moment, we'll show you how that works. But before we do, we'll begin by telling you how to set your drivers up with Circuit. After all, you can't track your drivers if you don't have them in the system.
Setting Up Your Drivers with Circuit
Invite your drivers to use Circuit by phone number or email address.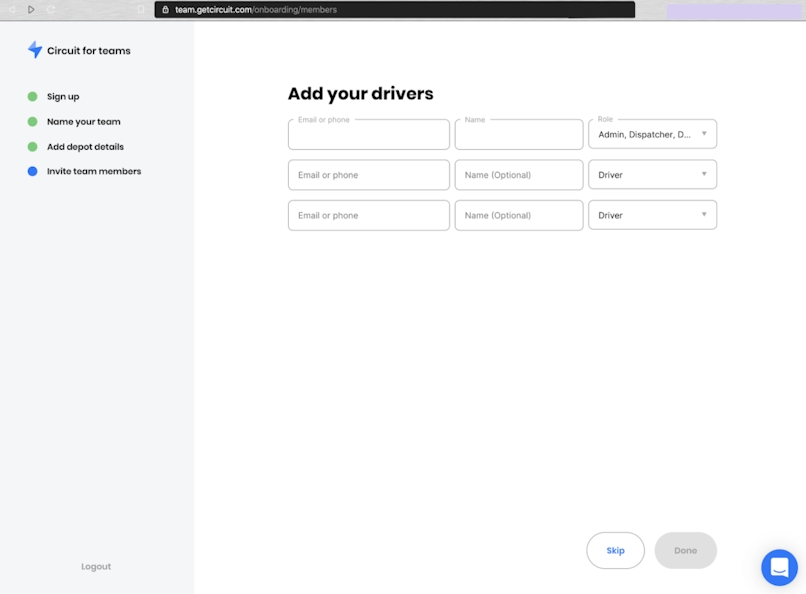 They'll receive a confirmation message that has a link for installing the mobile app. It will also provide instructions for logging in as well as their user credentials.
If they're having problems with setting up the app, there are two things you can do:
First, make sure your drivers have installed Circuit for Teams. This differs from the standard Circuit app that's used by independent drivers.


Next, proofread for any typos you may have made entering their email address or phone number. If that happens, drivers may receive error messages saying they're not part of your team.
Once your drivers are set up, you can then create delivery routes for them, or they can do so on their own. You can add addresses manually or by importing spreadsheets of your delivery manifests.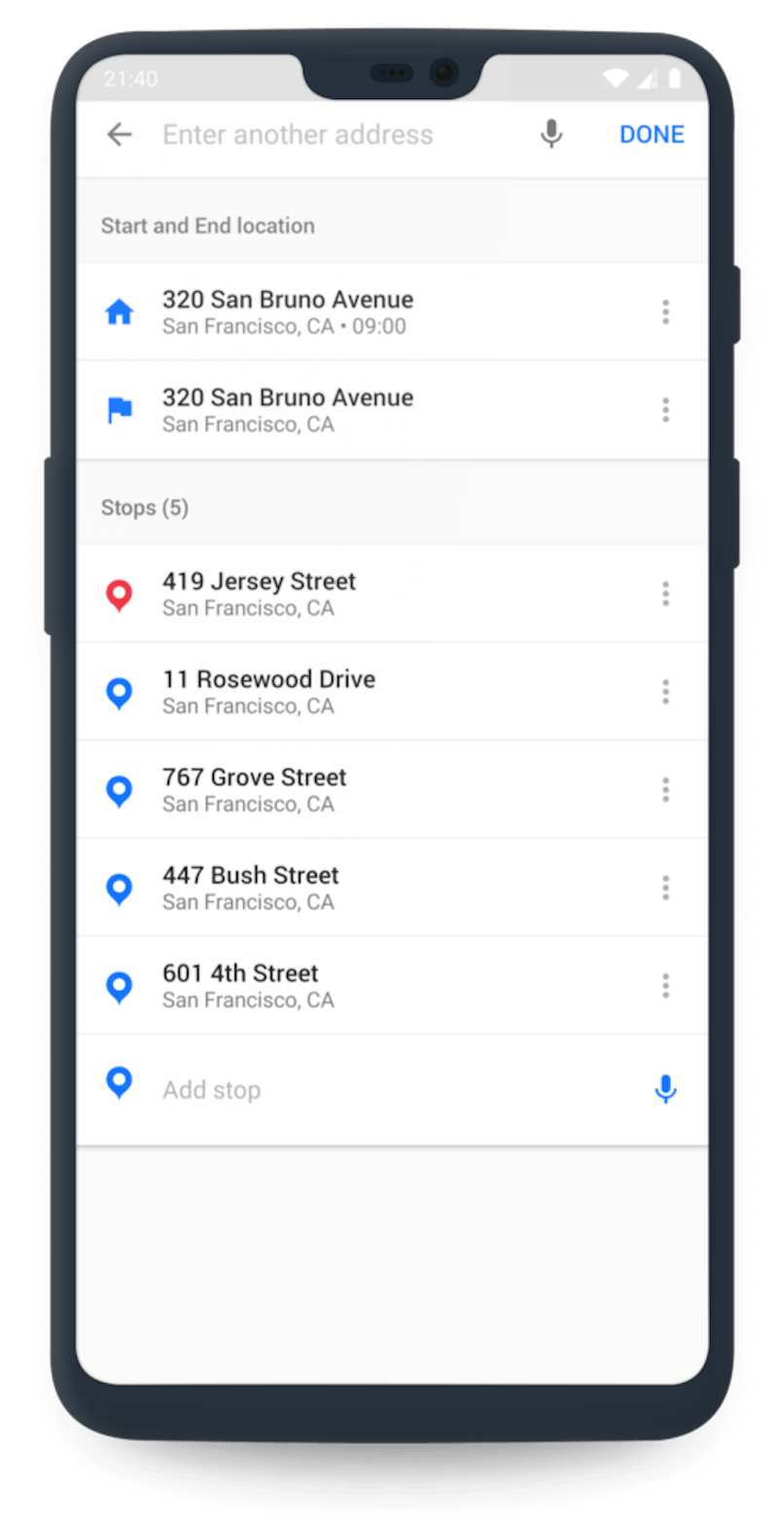 Optimizing Routes with Circuit
Drivers can have Circuit optimize their routes as soon as they're finished adding all of their addresses for the day. The algorithm will take special needs into consideration, so make sure they share some or all the following information:
Whether a stop needs normal or ASAP priority
How long it takes to complete an average delivery
Your desired window of delivery for specific parcels.
When ready, drivers need only press the 'Optimize route' button on the bottom right of the app. From there, Circuit will calculate their most optimal route based on factors like traffic and the special conditions they added. They can sync that route with any of their favorite map apps (such as Google Maps, Waze, etc.).
Monitoring the Progress of Your Drivers
Driver locations sync every 15 seconds as long as the driver is actively driving the route. Once they're done using Circuit for the day, tracking stops. Your drivers' vehicle locations will appear as circular beacons you can follow on your Circuit team map.
With Circuit, you can track a variety of details on your drivers' whereabouts. It gives you the capability to know how long it took them to complete previous stops. Circuit also provides information on estimated arrival times for later deliveries.
Software or Hardware for Driver Tracking? Here's What We Think
We know we're biased. But we truly believe software is the best solution when it comes to driver tracking for courier and delivery teams.
It's a low-cost investment, and you can always opt out of software later if you find you prefer hardware instead. Software is also easier to onboard. Most drivers are already using their smartphones to help them find the next destination. With physical GPS trackers, you'll have to install them in your vehicles or each drivers' keys.
Finally, it's hard to argue with fleet tracking software that comes with route optimization. Not only does it make it more likely for drivers to adopt the technology, but it gives everyone the opportunity to go home a little earlier in the day since drivers deliver packages more efficiently.
Whatever you decide, better driver tracking will improve your operations. And as a result, you'll be better able to meet your customers' needs.
If you manage a team of drivers and want a simple, cost-effective way to keep track of them (while making their routes more efficient), sign up for a free trial of Circuit.