9 minute read
How to Choose the Best Delivery Software in 2023
Delivery software makes dispatch management easier, streamlining your company's logistics. Here are some of the best software options.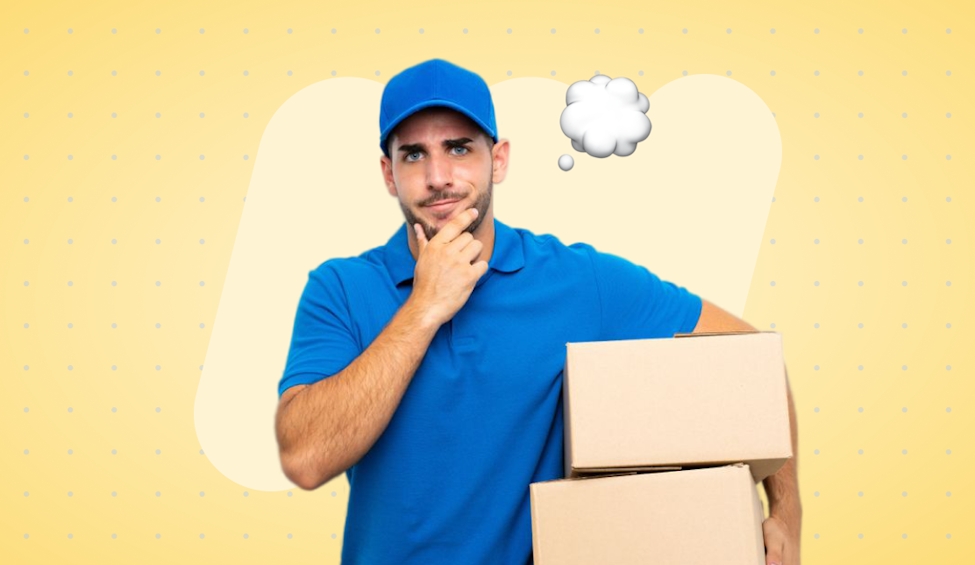 Circuit for Teams is the best delivery software in 2023. It makes your business's delivery management a breeze.
Managing a delivery business is a tough job.
You've got to track multiple drivers who could be handling hundreds (if not thousands) of packages between them.
But what about meeting customer expectations? Or making sure drivers have the right routes? Or constant interruptions from drivers that get lost? Or finding the time you need to train your team? Or optimizing for the fastest routes? Or making sure you know where your drivers are on the road? Or keeping track of priority packages?
You get the idea.
As the dispatcher or ops manager, it's on you to make sure your team gets the job done — aka getting packages into customers' hands fast. 
Every detail counts, from making sure customers' addresses are correctly noted to finding the fastest routes for drivers to take.
On top of it all, there's no room for mistakes. Errors like a misspelled address or a miscalculated route can result in delivery delays or — the worst-case scenario — lost packages. For you, that means displeased customers adding time and mental energy to your already stressful day.
Delivery software is the answer. The right software can simplify your delivery organization, planning, and management, giving you the support you need to get your job done — no sweat.
The great news: There are different software products to choose from. The bad news? Picking the right one for your needs can be hard.
Don't worry. We've got you covered. 
In this article, we point out the differences between some of the most popular delivery management software products. Including the pros and cons of each one so you can make an informed choice.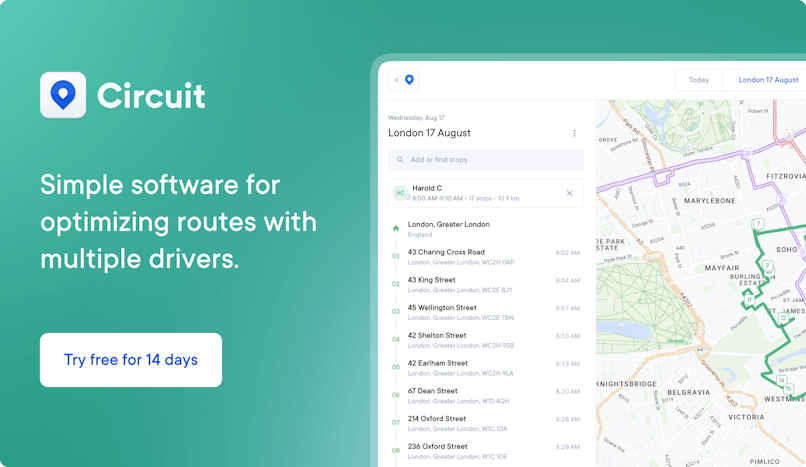 Why is delivery software essential?
Delivery software helps dispatchers and ops managers with everyday tasks, such as:
Deciding which drivers will deliver which packages where
Determining the delivery order 
Coming up with the most efficient route for each driver
Luckily, cutting-edge technology allows you to get these tasks done fast! 
For example, software like Circuit for Teams lets you upload a spreadsheet with essential delivery data (like customer names, addresses, and priority notes). Then, it'll automatically plan the driver's delivery sequence and delivery route for you. 
All you have to do is assign the route to the right driver.
Delivery software also improves communication in the logistics supply chain, benefitting dispatchers and ops managers — and their drivers.
For example, as the manager, you can add or delete stops to a driver's route. The driver will get the updated route automatically through the delivery driver app.
You don't have to waste time with phone calls or text messages, as automation takes care of those for you. 
Less time on the phone? Pretty much every dispatcher's dream.
From the other side, you don't have to rely on your drivers to call or text you with updates about their routes. A good delivery management software tool allows for on-demand driver tracking in real time so you can always check their progress.
A comprehensive software solution also makes it easier to keep customers up to date on their deliveries. Modern route planning tools let you set delivery time windows so customers have an ETA for their packages (and can be around to sign for them, if needed).
Last but definitely not least, delivery software empowers your drivers.
A top-quality software product like Circuit for Teams helps drivers get their work done faster and includes perks to lighten their workload. 
Let's find out just what those perks are.
Features to look for in good delivery software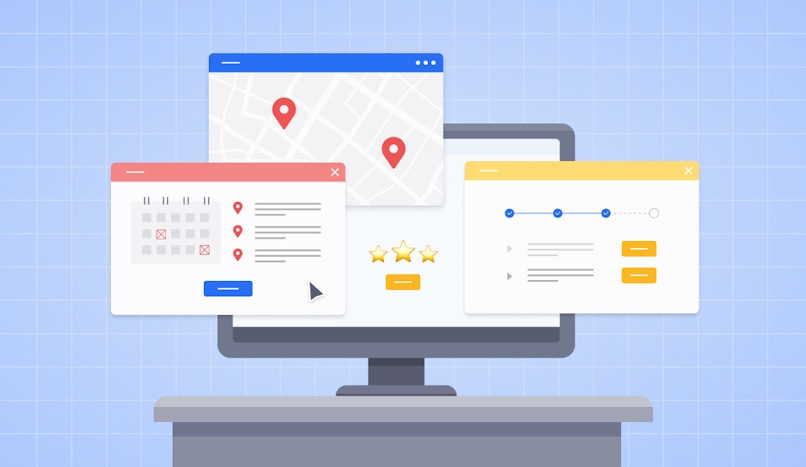 There are many delivery software products on the market. Some target specific audiences, like long-haul truck drivers or food delivery service drivers, while others are more general.
Navigating the huge variety of options can be tough. Knowing what to look for in delivery software can make it easier.
Here are a few features to look for in good delivery software:
Real-time tracking: You can track drivers in real time with software that combines GPS tracking and mobile technology. This way, you get regular updates about driver locations and route progress, making sure deliveries are on track.
Delivery notes: Delivery notes allow drivers and dispatchers to have all the information needed about a specific delivery. For example, a customer might specify a spot to leave a package, like at their garage door. Having this info at hand makes drivers' jobs easier.
Delivery time windows: Delivery time windows let customers know when to expect a package. This feature is also handy for drivers. If a package needs a signature, the delivery time window ups the odds that the customer will be home and the driver can fulfill the delivery on the first try.
Delivery priority: If a customer pays for same-day, next-day, or another speedy delivery option, you want to fulfill that request. Being able to mark packages as a delivery priority allows you to meet customers' needs, as the route planner will automatically prioritize those drop-offs.
Proof of delivery: Electronic proof of delivery (POD) might include getting a customer's digital signature upon drop-off or the driver taking a photo of a delivered package. This functionality protects you and your drivers and gives customers peace of mind.
Package finder: Drivers may have 100-plus packages in a single delivery vehicle. Being able to find a package fast when they reach a stop saves them time and stress (and saves the company wasted hours). A package finder feature with barcode scanning lets drivers quickly find packages at each stop.
User-friendliness: While delivery software makes life easier for dispatchers and ops managers, the driver is the end-user. You want a user-friendly tool that drivers can access on their phones. Also, look for perks like hands-free functionality.
Recipient notifications: Delivery software should also make life easier for your customers. Recipient updates and notifications based on real-time data can help manage customer expectations and improve transparency. Look for tools with diverse notification options, like SMS and email.
The best delivery software options
Now that you know what to look for in a delivery route optimization software, let's look at some products. 
Here are some of the more popular options available, with a quick rundown of their pros and cons. 
Circuit for Teams – the best delivery software for couriers
Let's cut to the chase — Circuit for Teams ticks every box of features to look for in delivery software. It also offers unlimited stops (for a price), so you don't have to stress about restricting your routes.
You can manage multiple routes with ease, using real-time driver tracking to see if you can count on on-time delivery.
Planning routes is easy, too. Just upload your customer data using spreadsheet integration and let Circuit do the rest — finding and prioritizing drop-offs for the fastest route possible.
You can see who is assigned each route, where they are on the road, the package details (such as whether it's priority), any delivery notes, and the package's progress from one simple dashboard.
By default, Circuit for Teams optimizes packages for the most efficient routes based on traffic, priority stops, and more. But you can customize this.
Package delivery companies, in particular, can benefit from additional perks, like the package finder and the proof-of-delivery (POD) function. With photo proof or a signature, Circuit for Teams syncs and saves POD for every stop.
Meanwhile, another handy feature for food delivery drivers is that you can set delivery time windows. Allowing you to give "hangry" (hungry and angry) customers a heads-up when they're on the way with their meals.
All kinds of drivers can make the most of delivery notes to specify drop-off details and benefit from the ability to tag priority packages.
Despite its numerous features, Circuit for Teams is easy to use. It's been designed alongside dispatchers to make sure it has everything you need to hand.
If you're a customer-facing service provider handling last-mile delivery, you'll also find that Circuit for Teams can benefit your customers. Real-time delivery updates bySMS keep people up to date on their order status and safe in the knowledge of when their package will arrive.
Finally, Circuit for Teams is easy for drivers to use. The delivery management system has its own mobile app, meaning it's compatible with iOS and Android devices and drivers can easily track routes, manage pickups, and check delivery updates.
Pros:
Delivery time windows
Package finder function
Proof of delivery
Cons:
Route optimization can be inaccurate if not integrated with a mapping tool
Higher price for extra features
May crash if not updated
The Recipient plan or higher comes highly recommended for its proof of delivery and notifications features. You can get updates in real-time and create customizable customer notifications by text message and email.
RouteXL – the best delivery software for large teams
RouteXL lets you import delivery addresses through select apps, spreadsheets, or a copy and paste function and then uses this data to calculate routes for you. It also links to open-source platforms like MapQuest to give accurate address updates.
Unfortunately, RouteXL is only free for up to 20 stops (although you can pay to get more), so it's not great for teams that handle a lot of deliveries. The platform also doesn't have an app (it just gives you printable route directions), so it's not great for drivers who are on the road and need live updates.
Pros:
Easy to add delivery stops in bulk
Premium geocoding available
Unlimited routes per day
Cons:
Desktop only
Premium geocoding costs extra
Not a user-friendly design
You may need to go for a paid plan if you find that the free version is too restrictive or need more stops. This is highly unlikely for a small team with a relatively simple delivery operation, but can get expensive fast if you do need to go over.
Onfleet – the best delivery software for fleets
Onfleet is a delivery management tool in the best sense. It has an intuitive web dashboard to help you manage dispatching and route optimization and allows you to auto-assign drivers. There's also a user-friendly driver app, giving real-time routing data.
That said, Onfleet's pricing can get expensive if you have to cover a large number of drivers. The integrations are also limited, and other dispatchers report that the admin panel is somewhat complicated and tricky to use.
Pros:
Ability to search and filter according to status, time, or text
Auto-assign routes to drivers
Proof of delivery function
Cons:
Expensive product, starting at $149 per month
Glitches can result in customer notifications not being sent
No way to easily print driver manifests
OptimoRoute – the best delivery software for weekly planning
With OptimoRoute, you can import delivery data through a CSV or an Excel file and even save customer details for future deliveries, saving time in the future. OptimoRoute also offers some handy features, like proof of delivery.
Although comprehensive, OptimoRoute isn't the most flexible tool to optimize routes. It's tough to update delivery lists in real time after you input them, and the integrations available are limited.
Pros:
Calendar feature allows for weekly planning
API integration with your FSM, POS, CRM, and ERP
Proof-of-delivery function
Cons:
The maps used for geolocation are outdated
The outdated user interface could use a refresh
Routing doesn't allow you to take HAZMAT routes into account 
You can get OptimoRoute starting at $35.10 per month, but this doesn't include proof of delivery. For that, you'd need their Pro plan at $44.10.
Routific – the best delivery software for customer profiles
On top of route optimization, Routific offers loads of handy features for delivery drivers, including proof-of-delivery and integrated customer updates. One major drawback, though, is that the app doesn't offer live tracking of delivery status. 
That means you won't have all the answers when your customer calls about a late delivery, and you can't send them live notifications, either.
Routific also doesn't have the most user-friendly API documentation. Depending on the plan, there are also limitations when it comes to the number of drivers covered and customer support availability.
Pros:
Ability to save customer profiles
Proof-of-delivery function
Live GPS tracking 
Cons:
Difficult to access routes in areas with poor cell service
Difficult to update a route after it's been dispatched
Steep learning curve (requires training)
How to use route optimization software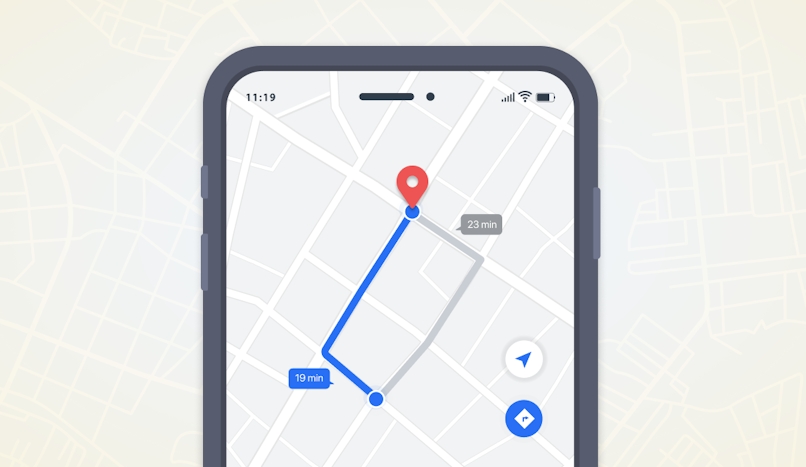 The right route optimization software can help streamline your delivery operations, making your job as a dispatcher or ops manager — and your drivers' jobs — easier. 
But how does it work?
First, you upload your delivery information, for example, through an Excel or a CSV file. You can upload multiple stops with relevant details (like customer names, addresses, and notes) in minutes since you can just upload one master document.
The software then takes this data and, using a mapping tool, creates delivery routes. The stops are sequenced to maximize efficiency. If a routing tool has a mobile app, each driver can access their route through their mobile device.
GPS functionality can be used to track drivers through their phones in real time. You then have constant oversight over each route's progress.
Some routing tools (like Circuit for Teams) are dynamic, meaning you can add and delete stops to a route as needed. The route optimization tool updates the sequence of stops automatically.
Software products with additional benefits, like POD, delivery time windows, and package finders, further simplify drivers' jobs. 
By allowing for better organized and faster deliveries, delivery software can also improve last-mile delivery and the overall customer experience. 
In the big picture, this can increase loyalty to your e-commerce brand or delivery business — potentially boosting profitability, too!
How Circuit for Teams can transform your business
For a delivery management solution that ticks all the boxes, give Circuit for Teams a try. You can see what real customers have to say about Circuit for Teams by checking out our customer success stories.