8 minute read
Delivery Software: 7 Key Features for Managing Deliveries, and Why They Matter
In this post, we're going to explore what delivery software actually does, highlighting the key features that we've built into our own product, Circuit for Teams.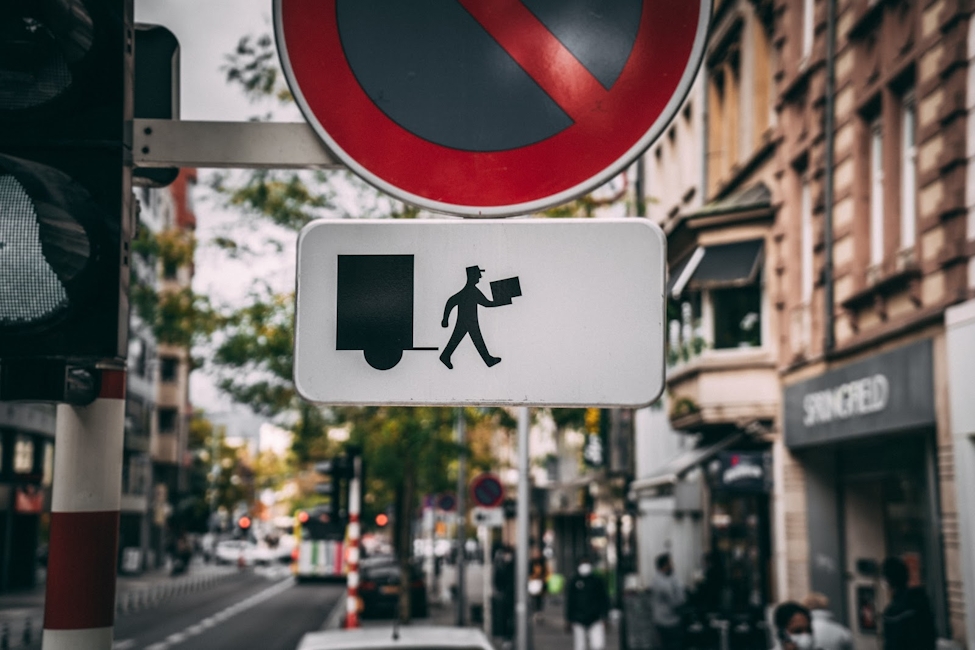 If you're making dozens (or hundreds) of deliveries every day using more than one delivery driver, you'll need the help of technology to keep your operation smooth and efficient. For many businesses that handle last-mile delivery, this takes the form of full-fledged delivery software.
Of course, "delivery software" is a broad term. And the delivery process includes every little step of moving a package from A to B securely.
So, in this post, we're going to explore what delivery software actually does, highlighting the key features that we've built into our product, Circuit for Teams, and how delivery teams use it to run a more efficient operation.
We're going to take a deep dive into:
7 key features of delivery software, and why we've built them into Circuit
What outcomes this technology should offer for delivery teams
How different types of companies save time and money using delivery software
The 7 key features of delivery software (+ introducing Circuit)
We developed Circuit for Teams especially for delivery teams, based on feedback from couriers and delivery companies using our route planner app for individual drivers.
This means our platform has been developed with the needs of dispatchers and delivery drivers at its core.
Many other vendors either:
build a single app for a specific use case, which is used in isolation or within an expensive suite of tools, or
build one solution for a variety of field services, meaning features are diluted or generic.
Instead, Circuit is designed for delivery.
These are some of the key features that we've built into our delivery software:
1. Route optimization (a.k.a. route scheduling or route planning)
Manual route planning is a huge time-drain for managers who are scheduling delivery routes, especially when you have multiple drivers working at the same time. And using platforms like Google Maps doesn't cut it when you've got hundreds of stops to schedule each day.
With Circuit for Teams, you simply upload your list of addresses (in spreadsheet format) into our dispatcher-side web app, and our route optimizer algorithm will calculate the fastest route for each driver automatically.
Within 2 minutes, you'll have fully-optimized driving directions, which can then be forwarded to the driver's mobile app for them to follow.
And with Circuit, you don't just get optimized routes for each driver in isolation, but all your routes combined as a whole are the fastest they can be.
By entering your list of addresses for multiple drivers, you're making sure your company's routing is planned efficiently in its entirety.
2. Route customization
If you're working with manual planning and/or route printouts, it's a huge challenge to adapt when something unexpected happens.
But with Circuit for Teams, you can customize routes as they're in progress. Back at HQ, you can add new stops — and the driver can do the same manually on their iOS or Android app. This gives you control and flexibility throughout the day.
And route customization is also important before drivers kick off their route. Circuit also offers:
Priority stops allowing you to prioritize certain stops that need to be completed early in the day, which are then taken into account for your optimized routes.
Time constraints allowing you to finish a delivery run by a particular time of day or within a specific allocated time window. For example, one business uses this feature to complete B2B stops in the morning before running B2C deliveries in the afternoon.
Swap routes between drivers if a driver prefers one side of the city or needs a shorter day, you can easily switch a route allocation from one driver to another.
Try our free trial of Circuit for Teams and experience first-hand how it makes life easier while you manage multiple drivers across various delivery routes.
3. GPS navigation
Some delivery software vendors force you to use their own mapping tool or limit their integrations to certain navigation systems. But with Circuit, your delivery team can use whichever GPS app they prefer without adding any extra hassle or cost.
Our platform works with Google Maps, Waze, Apple Maps, and all the other major navigation tools.
Note: Drivers simply toggle between the Circuit delivery app and their chosen GPS app, with the two working together seamlessly as their route progresses. This allows you to benefit from best-in-class navigation and doesn't force drivers to learn a new software solution.
4. Route monitoring (a.k.a. driver tracking)
Being able to monitor drivers along their routes is critical for any dispatcher or team manager. And with drivers now using their smartphones for navigation and delivery management tasks, this can now be done without buying expensive hardware for tracking the location of vehicles.
And with Circuit for Teams, you can do real-time tracking and know each driver's location in the context of their optimized route. This means you know where they've just stopped and where they're going next.
In contrast, many other vehicle trackers simply show you the driver as a dot on the map, but you don't actually know whether the driver is on schedule or running late.
5. Recipient notifications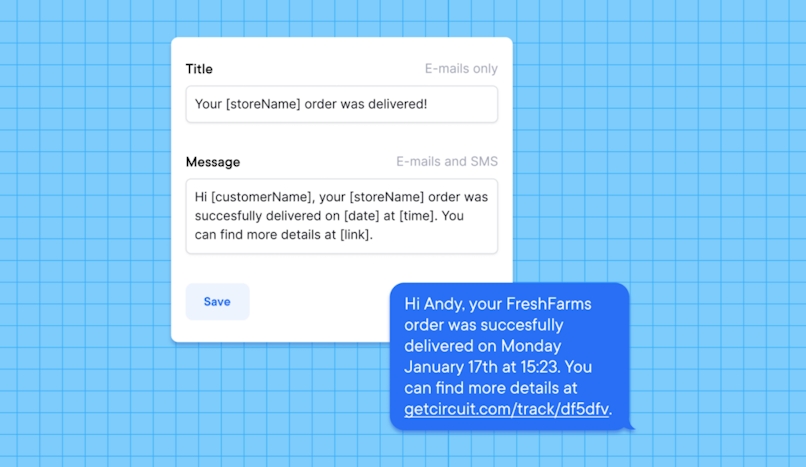 You might need delivery tracking to inform customers of where their package is and when their driver is likely to arrive. But to increase efficiency even further, you should aim to give recipients this information upfront, so they don't have to call your customer service.
When you use Circuit as your delivery solution, you can automatically notify recipients when a vehicle leaves your depot to give them a rough ETA — and update them closer to the time with an accurate time window for delivery.
This increases customer satisfaction and means that you're able to complete more deliveries because recipients are home at the right time.
Note: Automated recipient notifications also provide delivery confirmation updates and proof of delivery (more about this later), and they can be sent via SMS, email, or both.
6. Electronic Proof of Delivery (POD)
Acquiring proof of delivery means you're protected against complaints and disputes, and it also means your drivers can complete more deliveries.
This is because they can leave packages with neighbors, or put them in a safe place ready for the recipient to collect when they're back home. And really, no delivery management solution is complete without POD capabilities.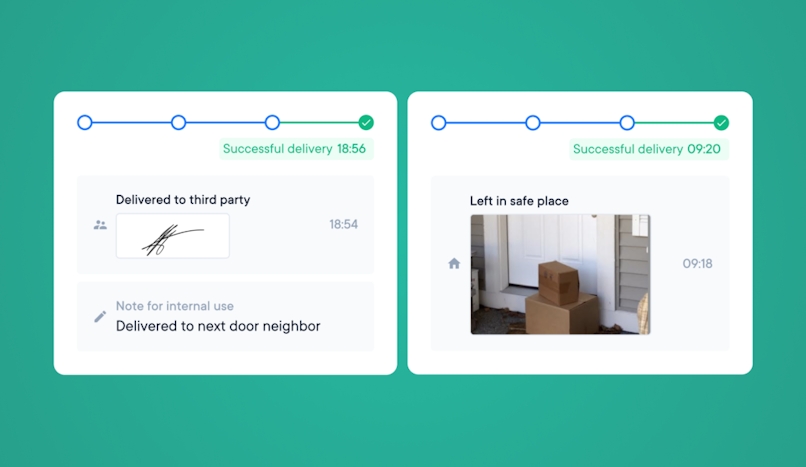 Circuit for Teams turns your driver's smartphone into an e-signature device, allowing the recipient to sign on the touch-screen with the tip of their finger.
And your driver can capture photographic proof of delivery, too. This information is automatically uploaded into the cloud for your back office records and can also be sent to the recipient as delivery confirmation.
7. Fleet management and vehicle capacities
When you have multiple drivers, they're not all necessarily driving the same vehicle. This means you have to manage different vehicles with different capacities in your fleet — from the larger trucks to the medium-sized vans and even cars, motorcycles, or bicycles.
This impacts your delivery operations because each driver is able to handle different volumes of packages and/or different items.
Coming soon, with Circuit for Teams, you'll be able to specify the capacity of each individual vehicle and customize the number of stops that can be allocated to that driver. This gives you fleet-level efficiency in your route optimization.
What outcomes (i.e. benefits) should delivery software create?
In our view, there are three main outcomes that delivery software should help create:
Happy customers
Happy drivers
Efficient operations
Full-fledged delivery software should ease friction in every area of dispatching and driving, allowing you to focus on making more successful deliveries faster without adding stress or complexity. This, in turn, allows you to scale your delivery business and serve customers better.
Real-world outcomes of using a delivery software like Circuit
Circuit for Teams is designed for courier companies and delivery firms, but also for independent business owners who want to launch and run their own delivery service.
In both cases, Circuit's delivery management software will save time and money, streamline the daily workload for drivers, and enhance the customer experience for recipients. Here are a few examples.
Couriers and delivery companies
1. Delivery companies
One pharmacy delivery company managed a 20-25% increase in daily deliveries and scaled from 2 to 10 couriers with the help of Circuit's route optimization for teams. They benefit in particular from our route customization — as their pharmacy clients have weekly recurring prescriptions and last-minute emergency medications to deliver.
This means that the couriers can set off with their weekly list of addresses, and add in new stops manually when collecting their loads in the morning.
Combined with our Priority Stops feature, routes can be optimized around the most important deliveries.
2. Couriers
Sagar Khatri uses our route planning app to double the number of deliveries he can make in a day. As he loads his vehicle, Sagar adds addresses into his Circuit app, which gives him an accurate ETA and means he can plan his day around the maximum number of deliveries.
With Circuit, he can make 50 stops in 4 hours — half the time it would take if he wasn't working from an optimized route. And he can also use the "notes" field to add descriptions of each package, making it easier to find them at each stop.
While Sagar is using our route planner for individual drivers, the benefits he experiences can be extended to multiple drivers in your organization when your business uses Circuit for Teams.
Delivery services for small businesses
Circuit is helping thousands of small businesses all over the world manage their delivery services, and we saw many more companies begin to offer local delivery as the COVID-19 pandemic took hold.
Here are three customer stories showing the benefits of delivery software:
1. Restaurants
When it comes to food delivery, there's no shortage of third-party delivery services who'll happily take a cut of your profits.
But for Indian restaurant, Sanjhi Rasoi, having an in-house delivery team is the preferred way. And with 4-5 drivers delivering over 1,000 meals daily, owner Sagar Dhaliwal was spending hours every day figuring out the best routes.
By using Circuit for Teams, he was able to cut his route planning down to just a few minutes, and he could distribute routes more fairly between drivers.
And with proof of delivery, he cut the number of lost or missing meals down to zero — saving on the costs and time that would otherwise be spent cooking, dispatching, and redelivering food to unhappy customers.
Overall, the Sanjhi Rasoi restaurant saves more than $3,500 per month in salaries thanks to Circuit.
2. Local stores
Seattle's Plant Shop saw a jump in online ordering and had to manage a 566% increase in weekly deliveries — due to the COVID-19 lockdown measures encouraging eCommerce and preventing in-store visitors.
This meant the owners had to add new delivery drivers to the team, and as a result, their early-morning route planning became painfully slow.
So, Plant Shop tested out Circuit for Teams, which immediately saved the owners around 5 hours per week. And they now use the driver tracking feature to inform customers when their delivery is arriving. They're now adapting their business to make local delivery permanent.
3. Wholesalers
Circuit can also help businesses who want to switch up their model, selling (and delivering) directly to consumers as well as businesses like cafes, restaurants, and stores.
For example, beverage wholesaler, OK! Kombucha, started at 5-6 wholesale deliveries per week but scaled to 30 deliveries per day with the help of Circuit for Teams' route optimization. They're able to automatically keep individual customers in the loop with our recipient notifications.
In total, the team saves around 12.5 hours per week on route planning and customer communication.
Delivery software: not just for large businesses
With affordable mobile apps like Circuit's Route Planner and scalable platforms like Circuit for Teams, the automation and advanced functionality that was once reserved only for the heavy-hitters is now available to smaller independent businesses.
This means that delivery companies and small business delivery teams can now benefit from features such as route optimization and route customization, driver tracking, proof of delivery, automated recipient notifications, vehicle capacity planning, and other functionality.
Having access to this allows you to run a more efficient delivery operation — maximizing the number of deliveries you can complete in a day while keeping customers informed at all times.
Try our free trial of Circuit for Teams and experience first-hand how it makes life easier while you manage multiple drivers across various delivery routes.