8 minute read
Why the Best GPS App for Delivery Drivers is What They're Using Right Now
If you're searching for the best GPS app for delivery drivers, you might already have the answer. It's the tool you use already. Just add Circuit for Teams.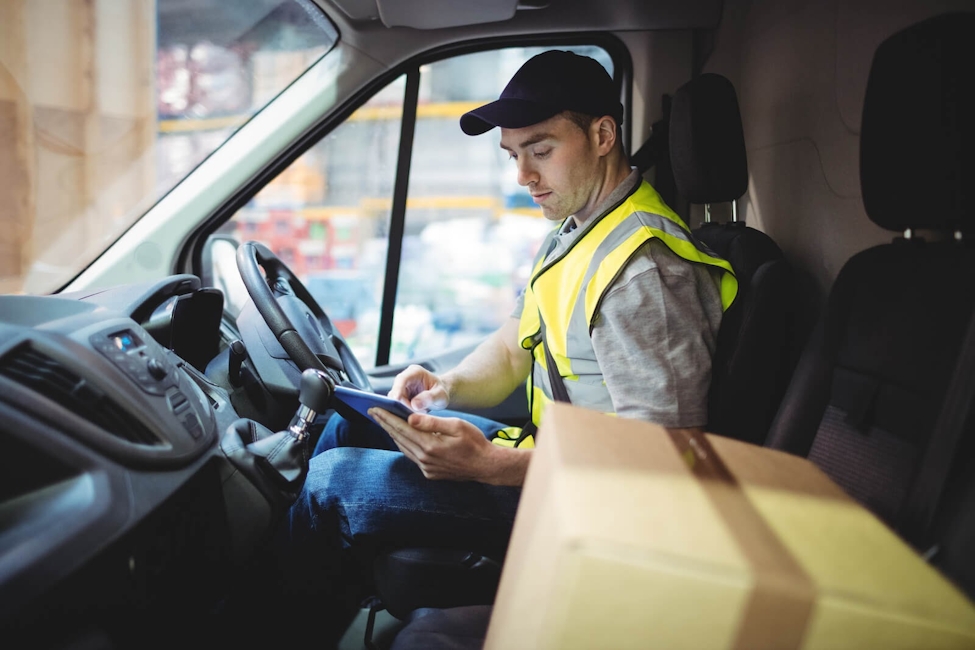 GPS apps — such as Google Maps and Waze — help a driver get from point A to B, but when companies are looking to find the best GPS app for delivery drivers, they're generally trying to solve more complex problems than straightforward street-by-street navigation.
While Google Maps and Waze are by far the most popular GPS apps out there, there are still other options, such as HERE WeGo, Apple Maps, and TomTom GO Navigation.
The differences between these apps can often be chalked up to user experience — which screen the driver prefers, which voice they like to hear navigating the route, whether they alert the driver to changes in the speed limit — or whether the driver uses their smartphone or a GPS hardware.
But in our experience, those aren't the major pain points delivery drivers and delivery teams are trying to solve when they're looking for the best GPS app to help with their deliveries.
Here are the four most common features we see delivery teams missing when they're trying to run a route with only a GPS navigation:
Optimizing multi-stop routes.

The longer you spend driving a route, the more money you're spending on gas and labor. Plus, the longer your customer has to wait for their order. By using a route optimization tool, your drivers will be utilizing the fastest route.


Monitoring routes in progress.

A GPS app will tell the delivery driver where they are, but it doesn't relay that information back to dispatch.


Sending delivery updates to customers.

In a similar vein, GPS apps don't notify the customer of updates in delivery status. Sending real-time status updates to the delivery team's customers, so the customer knows an accurate ETA on their shipment.


Capturing proof of delivery.

This creates peace of mind for your delivery company, as well as the customer. You can either have a customer sign for a delivery or your driver can take a photo of where the package was left if they're doing contactless delivery.
To get those benefits, you'll need a route planningroute planning and route optimization tool that works with GPS.
Enter Circuit: an app that lets delivery teams harness the power of route optimization and route planning while using their go-to navigation system.
In this post, we're going to show you how delivery teams can use Circuit to optimize their processes, and what a delivery process looks like without a tool such as Circuit.
If you manage a team of drivers and want a simple, cost-effective way to keep track of them (while making their routes more efficient), sign up for a free trial of Circuit.

How Delivery Teams Use Circuit with Their Preferred GPS App
When your drivers log into Circuit on their smartphone, it asks them what GPS tool they use. They can select Google Maps, Waze, Apple Maps, or any other navigation app they have installed.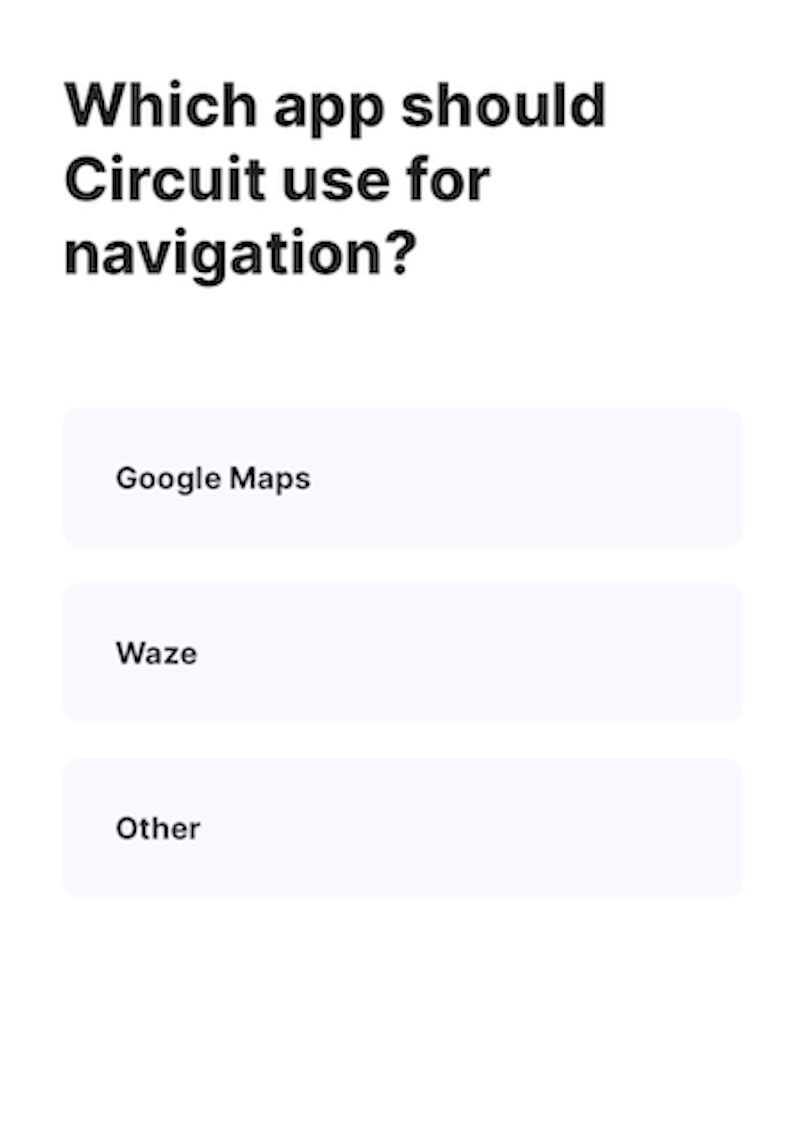 This allows your delivery drivers to get the benefits of using Circuit to manage delivery routes, while sticking with their favorite GPS app.
For example, if one of your contracted drivers prefers Google Maps because they think it offers superior traffic alerts, while another contractor likes the hands-free feature of Waze, both drivers can use Circuit without having to make any sacrifice.
How Delivery Drivers Use Circuit for Route Optimization
Circuit's route optimization tool lets drivers and dispatchers create the best route possible, no matter how many stops are needed in their day.
Drivers can either create routes on their phone — using Circuit's manual entry tool, which uses the same auto-complete technology found in Google Maps, making address entry a breeze — or they can have routes pre-prepared and sent to them by their dispatcher.
Being able to edit or create routes directly on their smartphone is significant because sometimes a driver will need to re-optimize their routes based on last-minute changes, such as a canceled delivery or an unexpected delay in traffic. The driver then uses their preferred GPS app as a navigational tool, following the optimized route created automatically by Circuit.
How Delivery Drivers Use Circuit to Collect Proof-of-Delivery
Once the delivery is made, drivers can collect proof-of-delivery (PoD) in the form of signature or photo directly on their smartphone. If the driver is collecting a signature, they just have the customer sign their screen with a finger.
If the driver is leaving the package on the patio or near the door (because the customer isn't home or they're doing contactless delivery) they can take a photo of where they left the package and upload it into the Circuit app, where the driver and dispatch can reference the photo if needed. This helps cut down on confusion about when and where the package was left.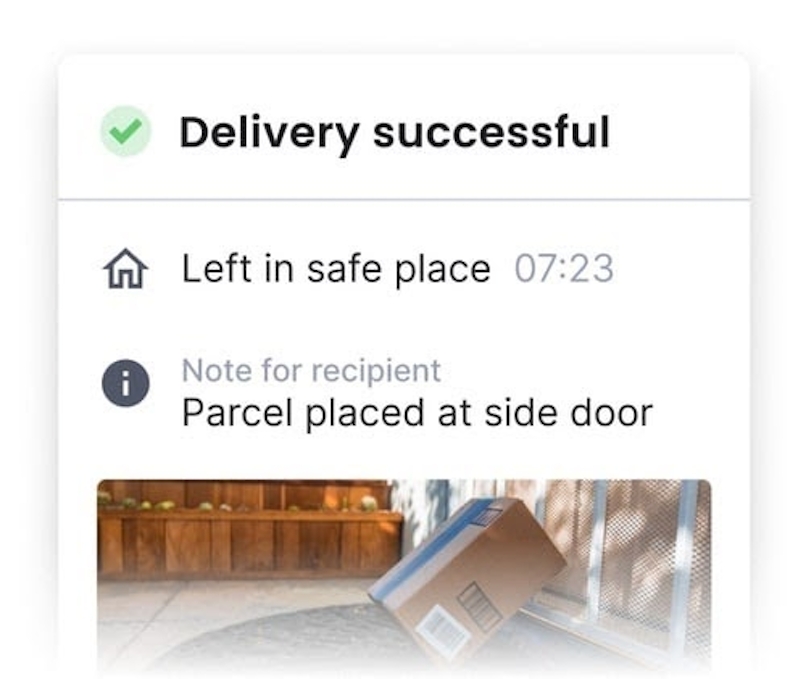 Drivers like using Circuit because they're now driving on optimized routes — and they're navigating these optimized routes with their preferred GPS app. Optimized routes mean the drivers can complete their stops in a shorter amount of time. This can lead to expanding business (as now you're able to do more deliveries in a day).
How Dispatch and Delivery Managers Use Circuit
GPS apps are great for telling the driver where they are and where they're going, but they don't relay that information back to dispatch.
This creates a blind spot that can lead to poor customer service and ineffective route planningroute planning decisions.
For example, if a customer calls your business and asks for an update on their delivery, you need to take down their information, call the driver to get an update (interrupting their route), and call the customer back.
This game of phone tag isn't efficient or customer-friendly, and as your delivery business grows, the amount of customer calls you're going to receive is likely to grow with it.
One of our customers had this very thing happen. As Pilar Ordonez started making more deliveries each day, she spent more time fielding calls and working as a mediator between her driver and her customers.
She needed a way to monitor the drivers without having to constantly interrupt each other.
Circuit lets you do these things — and more — with a feature called route monitoring.
Route monitoring gives you real-time updates on the driver within the context of their overall route. This means you're not just given their geographic location, but instead, you know what stop they finished and where they're going next. By using Circuit's route monitoring feature, Pilar is now able to update customers quickly when they call to ask about their delivery.
Note: We also offer Recipient Notifications in the "Recipient" and "Premium" plan on Circuit for Teams. This is where customers are sent, either by text message or email, a link so they can check the status of their delivery from their phone or computer.
Plus, let's say you're running a food prep service and your drivers need to come back to reload their car multiple times. If you know how close your drivers are to returning, it lets you plan your day so you're not preparing food too early or too late.
We've seen this benefit in real life with one of our customers who runs a voluntary organization and uses Circuit to help them deliver food packages during COVID-19.
How Delivery Teams Use GPS Apps Without Circuit
Without a route optimization tool like Circuit, you're reliant on the free features of GPS apps.
And while GPS apps do have valuable features — such as 3D maps or step-by-step turn directions — they aren't sophisticated enough on their own to create a delivery process for most delivery teams.
Some delivery teams or delivery drivers will use a free tool like Google Maps to make their deliveries, because they're only doing a few deliveries a day. Let's take a look at how that would work.
How the Driver Handles Delivery Using Only a GPS App
Google Maps lets you plan routes of up to ten stops — with one of those stops usually being the address where your driver will end their route. And Waze only allows you to add one stop at a time.
So, for drivers who make no more than nine stops, they might enter those addresses into Google Maps and manually rearrange them to be closer together. This is the best you can do within the Google Maps GPS app, and it still doesn't create an actual optimized route in the way that Circuit does.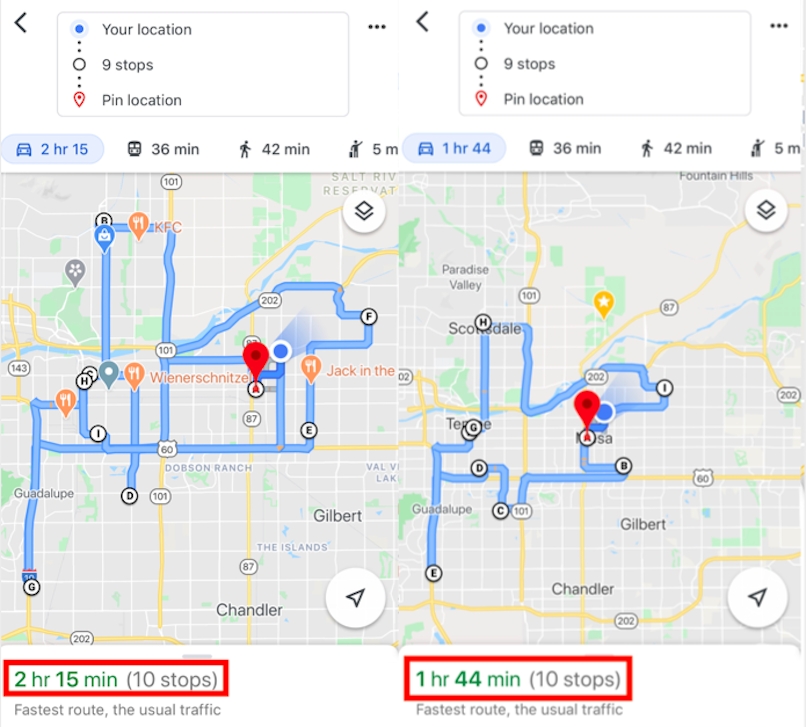 Most of the drivers we work with make between 40-120 stops per day. In this case, it becomes pretty much impossible to optimize a route manually on Google Maps or any other GPS tool.
The driver needs to have a copy of the order list on their person, and they'll have to update Google Maps with stops as they go along their route. Not only does this create a very inefficient route, it's also time-consuming.
And if the driver starts their route but real-time traffic updates show disruption, they'll pull off to the side of the road and rearrange their route. This slows them down, and the delivery company doesn't know where they are because there's no monitoring of the driver's GPS app at dispatch HQ. This will cause confusion if the customer calls to ask about the whereabouts of their order.
How the Delivery Management Team Handles Delivery Using Only a GPS App
Sometimes delivery teams will do route planning in the morning. The idea is to use Google Maps or another free GPS tool, plan the route, and then print it out for the driver. Now all the driver has to do is follow the route, and feed in new addresses as they go.
This is time-consuming on dispatchers, delivery managers, and small business owners. We spoke with one of our customers — a free-range egg supplier — who planned his team's route the night before. He said once he switched to Circuit for route optimization, he saved roughly an hour each night.
Another customer — a healthy juice cafe that offered direct-to-consumer delivery after the COVID-19 lockdowns went into effect — is able to plan an 80+ stop route in just under 15 minutes.
Final Thoughts: Why the Best GPS App for Delivery Drivers Is What They Use Right Now — Alongside Circuit
Conventional GPS apps are good at what they do — getting a driver from point A to point B. When it comes to picking a GPS app, most delivery drivers are looking at things like whether the app has 3D maps, voice control for hands-free navigation, and whether or not it drains the battery life of their phone.
While these are important things to consider, they don't get to the heart of what can elevate a simple navigation app into a tool that can help your delivery team save time and money.
When you're a courier or a delivery dispatcher who is looking for the best GPS app for delivery drivers, you're going to need a third-party route management tool that works in tandem with your GPS app. We made Circuit to help delivery drivers and delivery dispatch teams create the fastest route possible and to let delivery drivers use their preferred GPS app while making deliveries.
If you manage a team of drivers and want a simple, cost-effective way to keep track of them (while making their routes more efficient), sign up for a free trial of Circuit.