30 minute read
The Best Free Route Planner with Unlimited Stops: Comparing 10 Route Planners
Save time and money with a free route planner that allows unlimited stops! We compare the 10 best options to help you find the right one for your needs.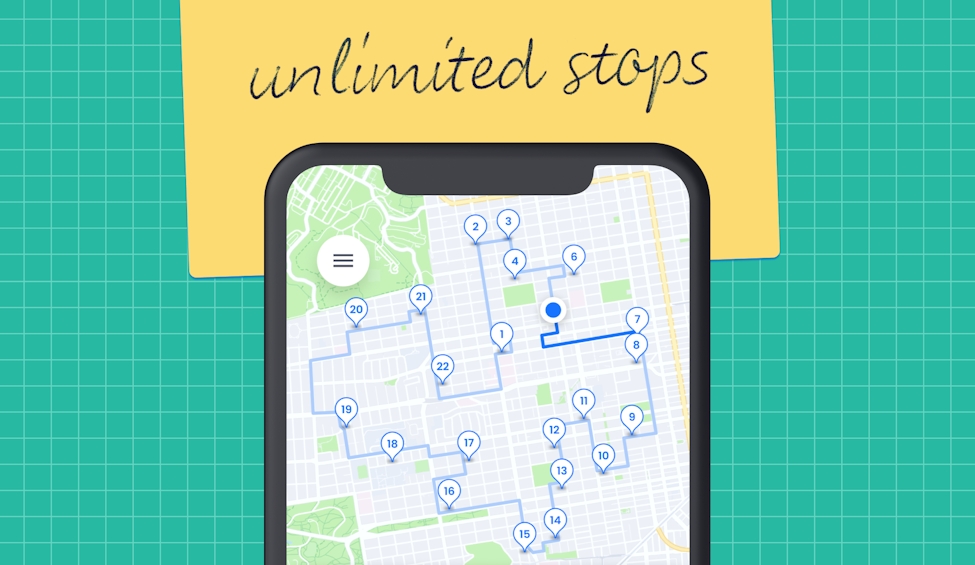 Inefficient route processes are expensive to manage and will cut into your profits whether you're a professional courier or if you supervise a team of delivery drivers.
Key takeaways:
While some route planner free trials offer unlimited stops, you'll need to pay for long-term access.
Free route planning software is available but often has significant limitations, especially if you're managing a professional route.
While Google Maps includes routing for public transit and bicycles, and Waze can alert drivers to speed traps, Circuit for Teams is trusted by thousands of fleet managers for its unlimited stops, multi-depot delivery, easy onboarding, proof of delivery, tracking, and more.First, there's the time it takes to plan routes in advance. 
Inefficient route processes are expensive to manage and can cut into your profits.
However, if your business supervises a team of delivery drivers, planning routes takes a lot of time.
Sometimes, delivery teams try to use free tools like Google Maps. But the Google Maps route planner was built to offer driving directions — not to find the shortest route possible.
Then there's the expense associated with driving the route (for example, the driver's salary, wear and tear on the vehicle, and potential fuel costs).
A good rule of thumb: The shorter the driving time, the more profitable your delivery business will be.
Finding the right route planning software can save you time and money, allowing you to plan the best routes in seconds to help your drivers complete their stops faster. 
But you should consider other things before making a decision, such as:
Will a free route planner work for me? A lot of free route planners are available, but they come with limitations. A free route planner might work for people planning road trips or part-time couriers who handle fewer than ten stops at a time. But professional couriers and small businesses offering delivery will need more robust mapping software.
Is it possible to get a free route planner that offers unlimited stops? There isn't a free route planner that offers free unlimited stops. Most free route planners offer somewhere between ten and 20 stops per route. Circuit Route Planner offers a plan with unlimited routes.
Is a paid route planner worth the outlay? Paid route planners offer advanced features, such as unlimited stops per route. Better route planning tools also come with other route management features, such as proof of delivery and driver tracking.
In this article, I'll help you find what works best for you by looking at the best free route planners available — along with some fee-based options.
I'll discuss how many stops each platform lets you make per route, whether they can divide routes among multiple drivers, and how their optimized routes work with apps like Google Maps (which your drivers can still use for turn-by-turn directions).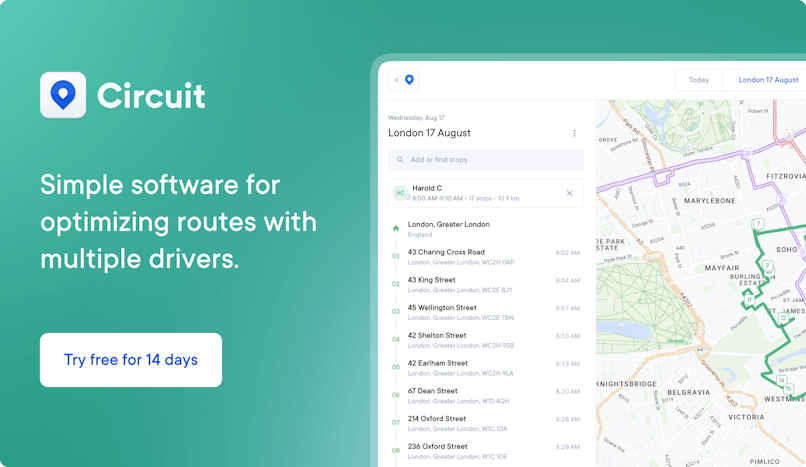 Does any free route planner offer unlimited stops?
There isn't a route planner that's free and offers unlimited stops.
Some apps are free or have a free version up to a certain number of stops (usually around ten).
You might snag a free trial to enjoy the full functionality of route planning software for a limited time (like with our software, Circuit for Teams).
But you'll need to pay for a route planner for long-term, unlimited stops.
10 of the best free route planners: A quick intro to each
For dispatchers managing multiple drivers, Circuit for Teams is preferred. With Circuit for Teams, you can plan routes for multiple drivers — plus, you get real-time driver tracking, proof of delivery, options to start routes from multiple depots, and much more.
Google Maps. This free app lets you plan routes for various modes of transportation, including public transportation, car, and bike — making it versatile. It also offers diverse viewing options, from satellite birds-eye views to 360-degree street views. That said, it only lets you add up to ten stops.
Waze. Waze uses community-sourced data to give you real-time updates on traffic conditions, police stops, speed traps, and more. The voice-assisted step-by-step driving instructions are convenient, and the app is free. But you'll deal with a confusing dashboard, and you can only add two stops.
Apple Maps. This map and navigation tool is available only for iPhone users, with no desktop version available. It gives you navigation information and highlights local points of interest. Cons include that you can't download maps for offline use or add multiple stops.
Speedy Route.  This is available only as a web-based route planner (no mobile version). You can plan free routes on Speedy Route for up to ten stops. You must pay a daily, weekly, or monthly subscription for more stops.
RouteXL. RouteXL has a free plan for up to 20 stops per route, but it's a web-based route planner. You must print out your routes and give them to your drivers.
MapQuest. MapQuest lets you plan up to 26 stops for free, but it doesn't offer any advanced features you get with route planners like Circuit for Teams.
MyRouteOnline. MyRouteOnline doesn't have a free plan. Instead, you pay for credits. $29 buys 100 credits, which equals 100 stops.
Route4Me. Route4Me doesn't have a free plan, but it does have a large marketplace where you can customize your route planning tool by adding the features you need. That might be useful or overkill, depending on your situation.
TruckRouter. TruckRouter is a free route planner aimed at long-haul truckers. It's not really suitable for last-mile delivery teams.
1. Circuit Route Planner (and Circuit for Teams)
Circuit Route Planner started as route optimization software for individual drivers — a route planner for couriers and nonprofessionals who needed help with their trip planning.
We soon noticed a lot of our customers were professional drivers working for large delivery teams.
Based on their feedback, we built a tool that offers the essential features to successfully (and affordably) manage a team of delivery drivers — Circuit for Teams — which we go into below.
We still offer a free route planner app for drivers who need to create the fastest route possible and don't need extra features like route monitoring and proof of delivery.
Our free route planner app works with both iPhone/iOS and Android mobile devices. Simply download it from the app store, and it works with your preferred GPS navigation app — whether that's Google Maps, Apple Maps, or Waze.
With our free plan, our algorithm lets you optimize a route of up to ten stops. Our software reorders your stops so you're always on the fastest, most efficient route. 
The best part is there's no limit to the number of routes you can make.
How to get started with Circuit Route Planner
Circuit Route Planner is for individual drivers.
Manually typing addresses into the Circuit Route Planner mobile app is quick and efficient because we use the same auto-complete technology that Google Maps uses. 
As you type in your destination, Circuit Route Planner uses your current location to suggest the most likely destination.
While this is useful for drivers, it's less handy for dispatchers who aren't actually planning routes from their current location (that's who Circuit for Teams is for — more on that below).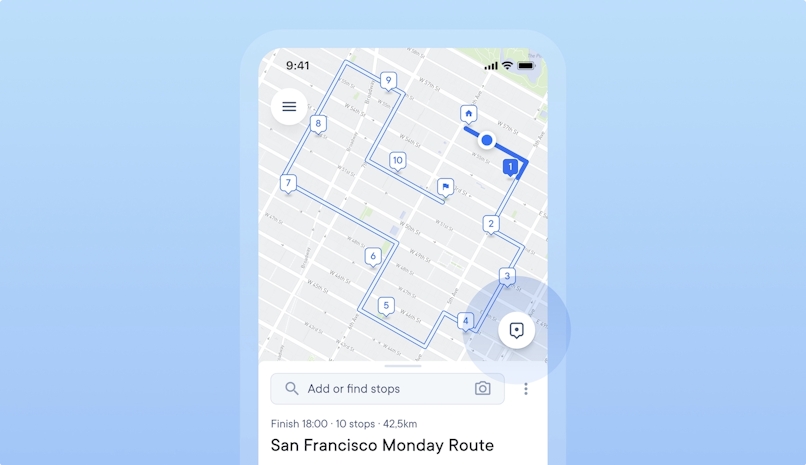 On the plus side, drivers can set advanced parameters like time constraints and priority stops, so they know where to go first.
Let's say one of your customers needs their package as soon as possible.
Your delivery driver can prioritize that stop, and Circuit Route Planner will optimize the fastest route with that stop first.
Drivers just enter their stops, use "Optimize," and Circuit Route Planner will create the optimal route (factoring in any parameters you set). 
The driver can view the route on their app. When they hit "Start Route," the app will automatically open their preferred navigation app on their phone
They can then run through their stops and mark each complete on their iPhone or Android app as you go through their day.
In addition to setting priority packages as a first stop, it's also possible to designate last stops, leaving non-priority items for the day's end.
Circuit Route Planner app for delivery drivers
Professional couriers who need a multi-stop route planner that can handle more than ten stops at a time will benefit from our paid plan (which comes with a free trial).
On this plan, your drivers can optimize unlimited stops per route.
Even if you manage a large team of couriers, unlimited stops per route should be plenty to let them plan their stops each day.
Plus, if your team is using Circuit Route Planner on Android, they can import their addresses into Circuit Route Planner from an Excel spreadsheet (or .csv, .tsv, .xls, and .xlsx file types).
Drivers can cancel the Circuit Route Planner Premium subscription at any time, making it a great option for those who have more work during specific times of the year (like the holiday season).
If your business has an internal team of delivery drivers, more goes into making an efficient delivery process than just optimizing for the fastest route.
If your drivers are using Circuit Route Planner individually, there's zero central control or accountability over their routes. 
Your delivery managers can't track drivers and monitor live routes to make changes based on real-time data.
They also can't capture POD or get data on their drivers — which is a potential logistical nightmare, wasting time and creating an extra expense on your bottom line. 
Enter Circuit for Teams.
Circuit for Teams: Route planning for multiple drivers (and more)
We know that time is money.
Based on feedback from professional delivery teams, we offer the following advanced features to help make your delivery operations as efficient as possible:
Route optimization
With Circuit for Teams, you can optimize routes for multiple drivers. You can also swap routes between drivers in case of a last-minute change or if a driver prefers a specific route or area.
Let's say the workday starts in 15 minutes. You've already imported your addresses into Circuit for Teams and created an efficient route. 
Then, at the last minute, one of your drivers says they have to leave early due to an unexpected appointment. What now?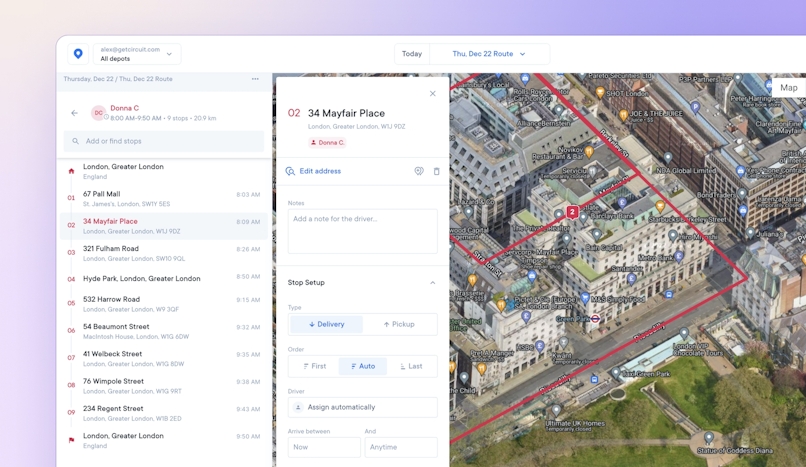 With minimal hassle, you can set a time restraint for that driver, making sure they finish their stops by noon. Then, you can re-optimize the remaining stops among your other drivers.
By using Circuit for Teams, what could have become an hour-long headache was fixed in a matter of minutes.
Saving your dispatcher time and stress, and minimizing the potential for extra business costs.
We also make it possible to copy stops from one route to another. This saves even more time.
You can edit optimized routes and make adjustments to delivery schedules based on real-time data, like traffic jams. You can even edit live routes.
The result? Greater agility.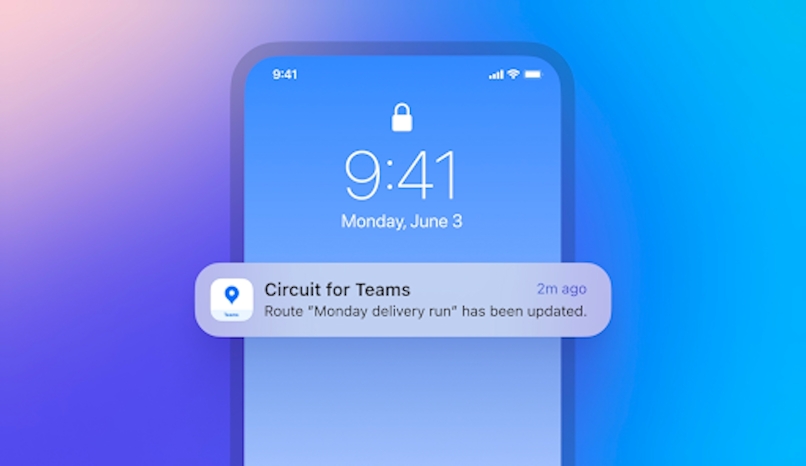 Route monitoring (also known as driver tracking)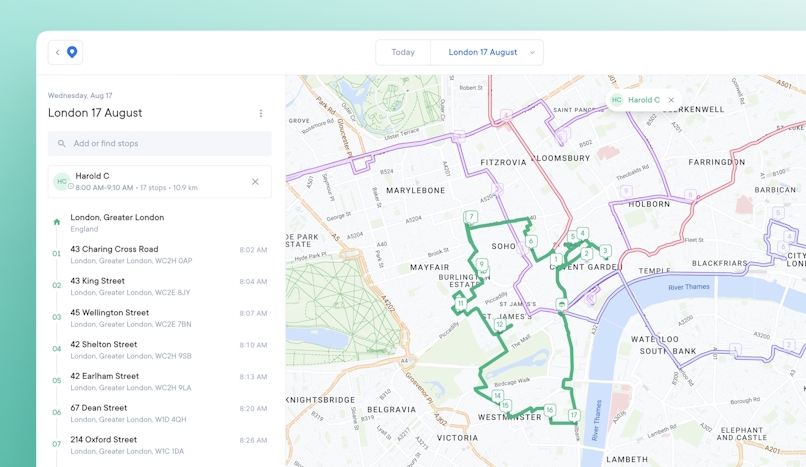 The Circuit for Teams route monitoring feature tells you where your drivers are within the context of their route. 
Dispatchers can use this feature to give customers a status update about their delivery and make changes to any routes in progress with the Circuit for Teams web app.
For example, a customer calls to ask when their package will arrive. Without route monitoring, you'd have to take down the customer's information and contact the driver for an update.
This interrupts their route, distracts them, and adds to their overall travel time.
"With route monitoring, you can glance at your Circuit for Teams dashboard to get real-time ETAs on all routes in progress."
With our route monitoring feature, you can see which stop your driver just completed and where they're going next, and inform the customer immediately.
It's also possible to group routes by status, so you can see where a route has started, is in progress, or has finished.
To search stops, click a specific route so you can look up stops only within that selected route. If a stop can't be added to a route, it will be highlighted, so you can fix it.
Order tracking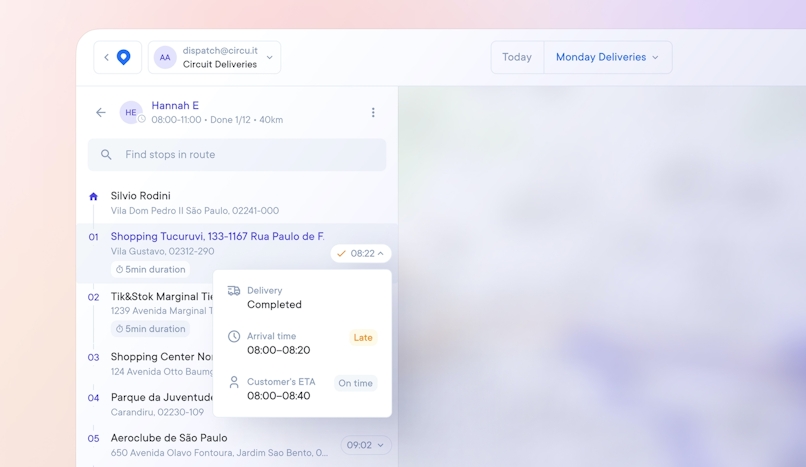 The new dynamic stop status icons make it easy to find where deliveries are in real time. Automated order tracking streamlines communication between dispatchers and teams.
You can also greatly reduce the number of customer calls you'll get at HQ by sending your customers order tracking information automatically.
At the start of the route, Circuit for Teams sends your customers an email and/or SMS message with a link to a dashboard they can use to check their delivery status. 
As the driver gets closer to their address, the customer gets an updated and more accurate time window.
The customer can also leave notes for the driver at this stage, such as a gate code or detailed information on how to find their specific building.
Customer notifications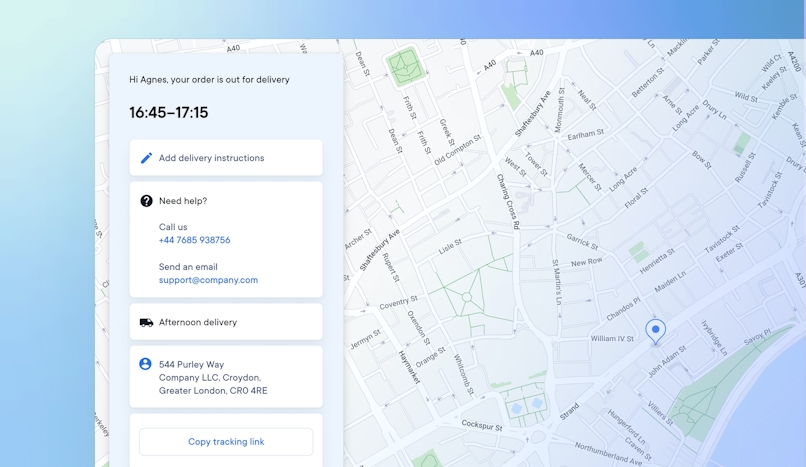 Circuit for Teams also makes it possible to set dynamic delivery windows or fixed delivery windows. 
This way, you can give customers greater transparency and control about when they can expect a package.
To control time windows, go to account settings and click customer updates. Then, you'll see the "delivery time window" and can set a fixed or dynamic window.
A dynamic window will show a minimum delivery time, for example 10 to 11 am. Depending on route progress, this may expand, for example, from 9.30 am to 12.30 pm.
This sends your customer a notification.
Create and manage multiple depots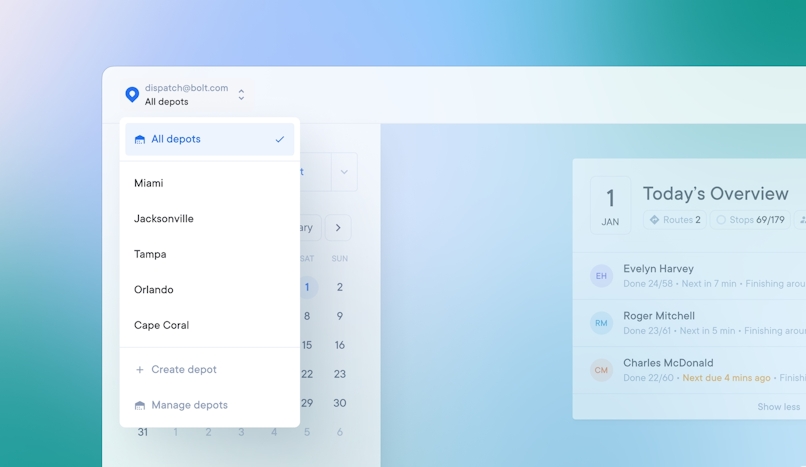 Managing larger teams often means managing larger depots. We saw that our business partners with multiple depots struggled to keep up.
That's why Circuit for Teams now offers enhanced functionality, allowing dispatchers to manage deliveries across locations for larger teams.
Combined with route monitoring, and live editing, this hands even more control to your delivery management team.
New API for live event data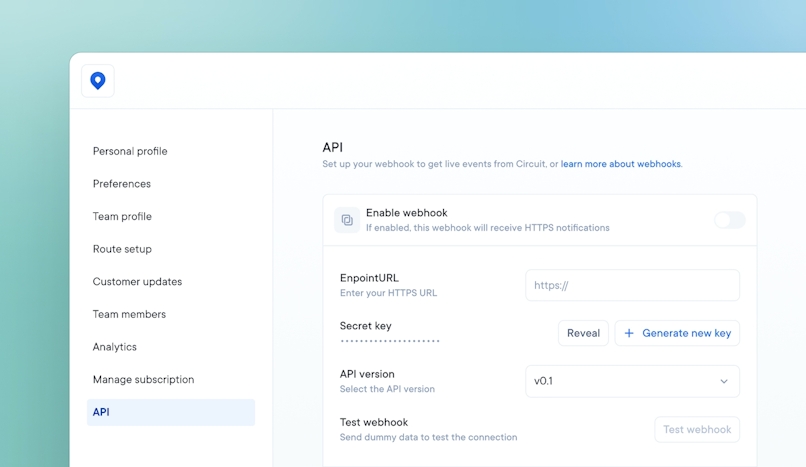 API integrations allow Circuit for Teams to use the power of other apps. 
Circuit for Teams can integrate with eCommerce platforms like Shopify and Zapier, making it easier to track customer orders.
Customers can then get live event data about their deliveries through the eCommerce platform.
Metrics and driver performance tracking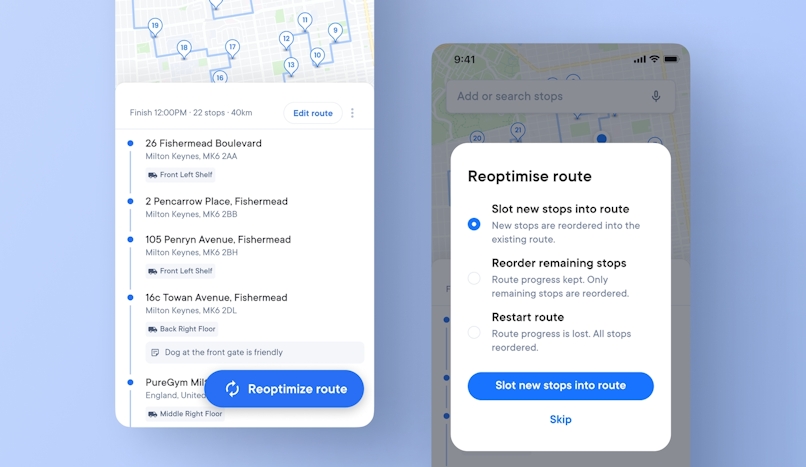 If you want to optimize your team's delivery performance, you've got to start with a baseline. 
Circuit for Teams lets you track driver performance and collect metrics, like how long it takes to deliver a package or complete a route.
With this information, it's easier to understand which drivers are getting held up where and why. You can then find solutions to help drivers get the job done faster.
Electronic proof of delivery (POD)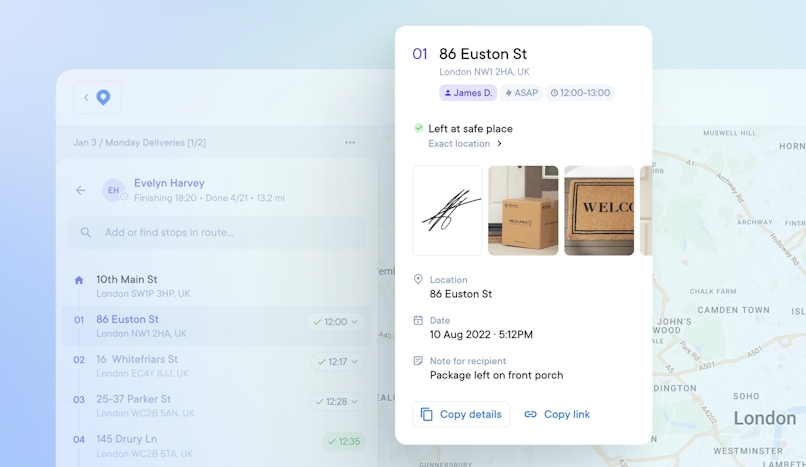 Circuit for Teams offers two types of electronic proof of delivery:
Signature. The driver can use their smartphone to collect a signature from the customer.
Photo capture. If a customer can't get their package, the driver can leave it in a secure place. Then, the driver can take a photo of where they left it and upload it into the Circuit for Teams app — where it's stored in the cloud for future reference.
Whether it's a signature or a photo capture, Circuit for Teams sends proof of delivery to the customer.
Plus, it's available for reference within the Circuit for Teams web app. You can view, copy, and even share POD documents, streamlining workflows and document management. 
This way, if a customer calls dispatch and asks about their package, you can reference the photo from the delivery driver and help the customer find their package.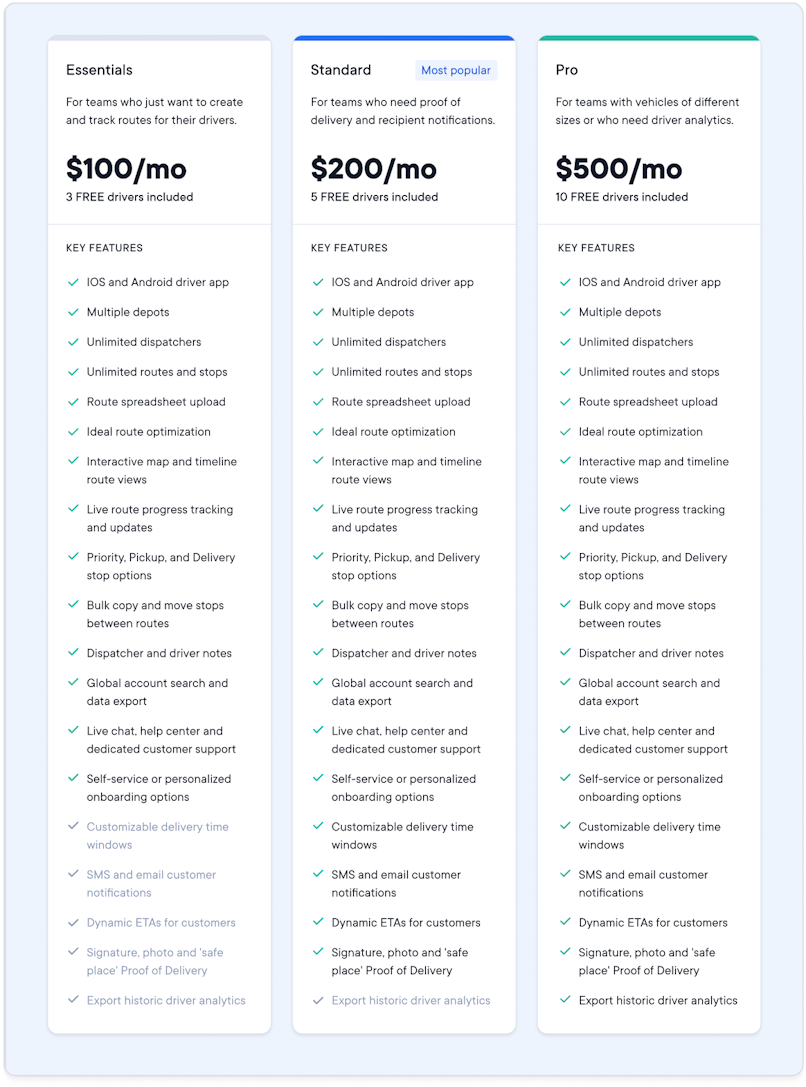 If you manage a team of delivery drivers and want a simple, cost-effective way to keep track of them (while making their routes more efficient), start your free trial today.
What do Circuit's customers have to say? Here are some real-world reviews:
5/5 stars: "Takes the thought out of routing … We evaluated several different titles and none of them were as easy to use for the field folks as this."
5/5 stars: "We've used Circuit almost daily for a month now, and it's changed our efficiency drastically. I have more time to focus on other tasks in the morning, other than sorting a route for our drivers. Circuit even notifies our clients of a potential arrival time so we don't have to constantly be on the phone updating our arrival times. There are too many benefits to go over it all, but the real icing on the cake is the support from Circuit itself."
4/5 stars: "The drivers found the app very useful, and the fact that it linked with the map app on their phone meant that they could easily find each address."
The companion Circuit for Teams app offers the same functionality as Circuit Route Planner (which drivers love!). 
Another thing Circuit for Teams' customer's love is the free trial.
You can start a free trial, try all the features, and find if it's right for you. No obligations. You don't even have to talk to a sales person to get started. Just go.
Let's discuss other free route planners, highlighting their features and whether they offer more advanced plans for delivery teams.
2. Google Maps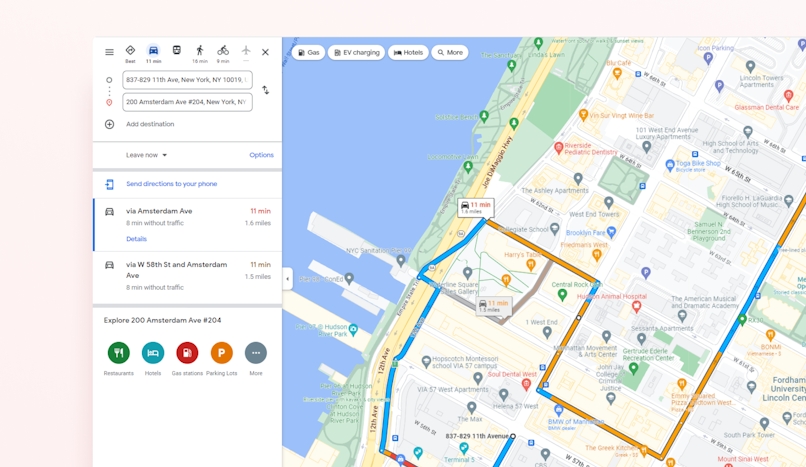 Google Maps is a free tool that lets you plan routes for drivers by car, bike, foot, or public transportation. 
Just add the destination and choose the mode of transport at the top of the map screen.
You can get step-by-step directions, which tell your drivers exactly when to turn where. 
Drivers can access directions through an audio voice assistant, so they can focus on the road and driving instead of fiddling with the Maps tool.
Another benefit: Google gathers real-time traffic data, so drivers can avoid hurdles like traffic jams or construction that slow down their route. 
The tool also lets drivers visualize their route in different ways, including a map find, satellite find, and 360-degree street find.
For iOS and Android, Google Maps can be used as an app or desktop.
Although it earns points for versatility, be aware that Google Maps doesn't let you set more than ten stops at once. 
This can waste time, as you'll have to continually revamp driver routes to add new stops as they complete old ones.
Plus, you can only plan a route for one driver at a time. 
There's no way to plan multiple different routes for multiple different drivers — so it's useless if you've got a team to manage.
On top of that, Google Maps doesn't necessarily give the shortest route. 
This can be a big drawback if you want to prioritize points like speed and fuel efficiency.
That said, Google Maps doesn't cost you a thing to use. 
It might serve your purpose if you have only one driver, need a tool for short routes (less than ten stops), and you're on a tight budget.
Here's what real-world Google Maps users have to say about the app:
3/5 stars: "Google maps is a useful app for navigating and exploring new places, but it has its downsides. While the app offers reliable and accurate directions and real-time traffic updates, it can be slow to load and respond at times, and I've encountered occasional glitches and inaccuracies in the directions provided."
1/5 stars: "Inconsistent!!! Works completely different on a PC or a tablet and a phone."
4/5 stars: "This app changed the world. Much love for this. These days though, it's often less usable than I expect. It will insist on routes I don't want, or not present alternatives for routes that are obviously wrong. Especially on longer trips. I've struggled with annoying pop-ups (that I can't clear easily while driving)."
3. Waze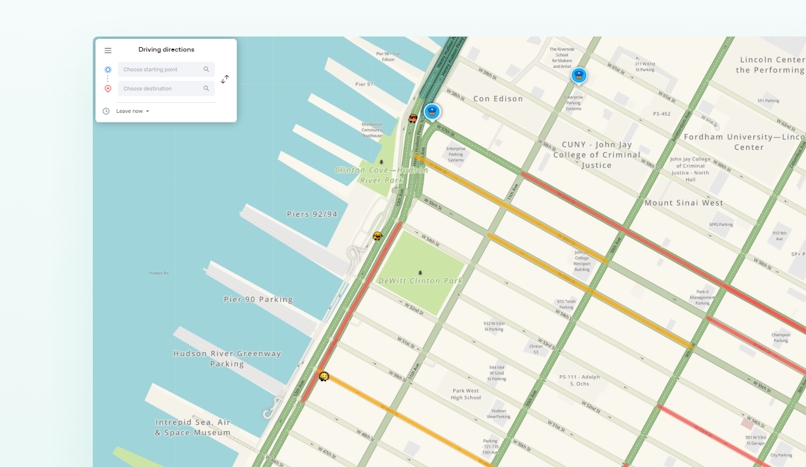 The Waze app is another free tool with traffic notifications and step-by-step directions. 
The voice assistant lets drivers get the info they need by audio, so they can keep their hands on the steering wheel and focus on the road.
This GPS navigation software includes data that's partially user-sourced. 
So, other Waze users can update routes, give alerts about police stops or speed traps, and offer insights into traffic conditions.
With the Waze trip planner function, you can designate arrival or departure times for a set destination, making it easier to map out trips for your drivers in advance. 
Another pro: The app is free to use. It also has some fun API integrations, like Spotify — perfect for drivers who want that fun road trip vibe.
The problem is that Waze only lets you add up to two stops. 
This isn't a route planning tool for delivery driver teams — it's just about getting users from point A to point B.
The app can also be pretty cluttered, with a confusing dashboard. When it comes to user-friendliness, it's not the best option. 
Also, getting directions from somewhere other than your current location is hard. 
For dispatchers trying to plan routes in advance from a location that isn't a route stop, it's impractical.
Waze also lacks some of the functionality of other apps on this list. 
For example, you won't get the 3D street find or satellite viewing options with a tool like Google Maps.
Here's what people have to say about Waze:
4/5 stars: "This app has saved me so many times. I absolutely love it. I use it constantly, mainly because it alerts me to traffic and cops, but also because it has shown me shorter ways to places I go to all the time (and thought I knew the best route there)."
5/5 stars: "Waze is my #1 choice for GPS. Live traffic updates, being able to edit traffic conditions on the fly to give a more accurate commute, and sharing routes and ETAs are great features. I do hope they integrate voice commands with Siri so we can say things like 'Hey Waze, drop a stopped vehicle pin' while we are driving, so interaction becomes handsfree and safer."
3/5 stars: "I've used this app for years and hardly drive without it. It gives great directions and usually gets me where I'm going the fastest way possible. That being said, it has some serious flaws. It definitely takes some time to account for traffic or an accident and bypass that route. It also doesn't take all routes into consideration. I've had times where it will only give one route option when I know for a fact there are other routes I personally know. And it usually doesn't give you routes that bypass the freeway that's backed up unless you actually set the whole app to avoid the freeway, even if the side streets are the faster route."
4. Apple Maps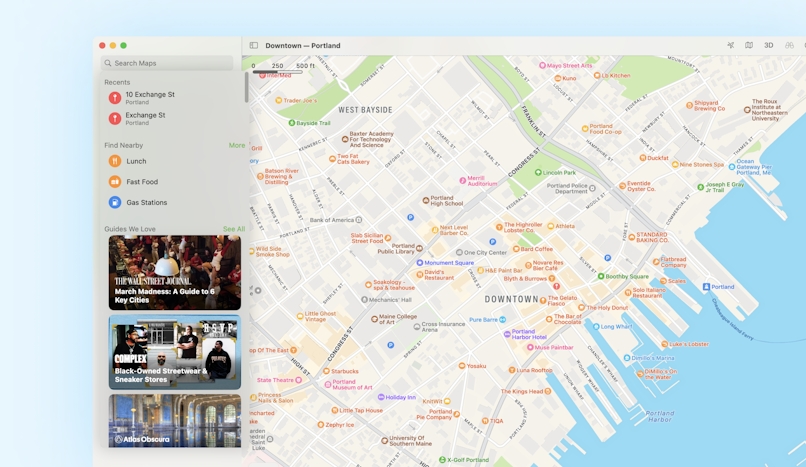 If you've got an iPhone, Apple Maps is another option for route planning. 
But note that your drivers will ALL need to have iPhones if they're going to use this tool!
This is Apple's answer to Google Maps, as it gives driving directions and map views — including panoramic street views and a 3D flyover mode.
In addition to getting transit and navigation information, you can search local points of interest, including restaurants, hotels, coffee shops, and more.
Your drivers might appreciate this feature — for example, if they're looking for a place to stop for lunch.
Another unique plus of this route planner is that it integrates with Siri.
However, Apple Maps falls short in a few areas. 
You can't modify routes, for example, and you can't add multiple stops. It's more of a navigation tool than a route planning tool.
Another drawback is that you can't save maps for offline use, so your drivers must always be connected to the internet to use this tool. That can mean big data fees.
Apple Maps is available for free through the Apple App Store. But there's no browser version available — you can only use it through the iPhone app.
One pro for drivers worried about privacy is that Apple Maps doesn't hold on to user data.
Here's what people have to say about Apple Maps:
3/5 stars: "Like some other reviews, I noticed a lot of people were having difficulties with this app. It's pretty glitchy, but still pretty decent."
1/5 stars: "Every time I use Apple Maps, I almost get in a car accident. Today seriously shook me up, as Apple Maps rerouted 4/5 different times while I was on a 70 MPH highway. It told me to merge where I shouldn't, it took me the opposite direction of my destination, and took me down tons of one way streets. The inconsistency of this app is dangerous and careless of Apple."
4/5 stars: "iOS 16 maps was a big improvement. About time you put multiple stops in … The only thing that I can see now that you need to do is a fuel optimizer."
5. Speedy Route
Speedy Route is a web-based route planner. The free version allows you to calculate the route for a maximum of ten stops. 
The benefit of Speedy Route is that you can add multiple vehicles to the list and the algorithm will calculate how best to distribute routes between them.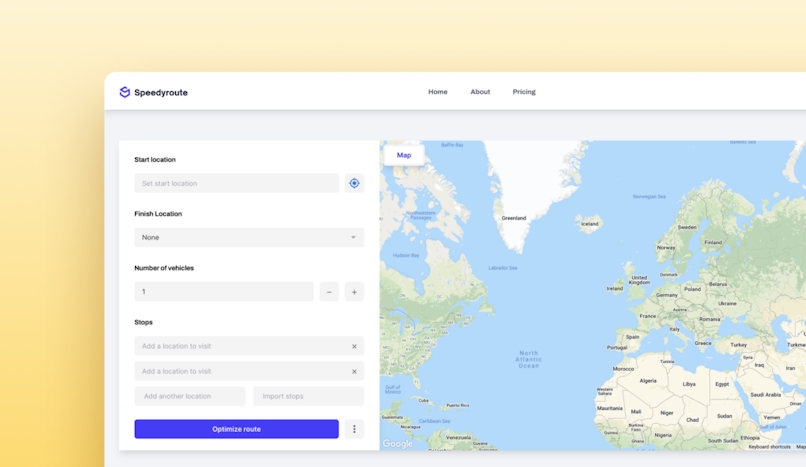 You'll need to buy a subscription for routes with more than ten stops. The options are: 
$69 per month for small teams (5 drivers, 500 stops)
$99 per month for large teams (10 drivers, 9,999 stops)
If you have a lot of stops to enter, the tool allows you to bulk upload addresses or import a list of locations from a .txt file.
The downside of Speedy Route is that it's not available as an app because the Android product was discontinued in Google Play in 2015. 
This makes it harder to hand optimized routes over to drivers.
However, Speedy Route is a useful tool if you just want to plan a few stops for multiple vehicles. 
The setup is well-suited for delivery drivers and traveling salespeople who make a limited number of stops over a large distance.
6. RouteXL
RouteXL is a web-based route planner. It's free if you're planning delivery routes with up to 20 stops. 
If you need more than 20 stops per route, RouteXL charges around $40. If you need more than 100 stops per route, RouteXL charges around $70.
At the time of writing, it doesn't look like RouteXL offers any route planning features for drivers or delivery teams optimizing more than 200 stops.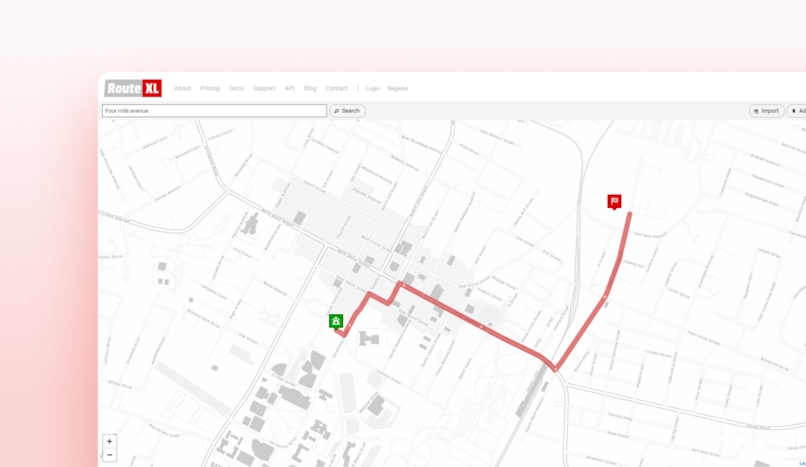 The easiest way to use RouteXL is to create the route on your desktop (after making an account). After finishing your route, go to routexl.com on your mobile phone, log into the same account, and start the route.
Unfortunately, RouteXL doesn't let you select a specific stop as having a high priority or time constraint. 
It's worth noting that with RouteXL, you're not using an actual app. Instead, you're relying on the mobile version of a website. 
This can be more draining on your phone battery and certainly isn't as easy to use as an app.
Note: For professional delivery teams, RouteXL partners with Webfleet Solutions to offer an integration with TomTom devices.
RouteXL: paid vs. free
The biggest difference between getting a paid subscription with RouteXL and using it for free is the number of stops you can plan in a single route. 
But there's one other significant difference: the quality of geocoding.
Geocoding helps you find addresses on the map when you're typing in your destinations or importing addresses. We talked about this in our section on Circuit Route Planner, when we explained how we use the same type of geocoding Google Maps uses.
RouteXL's free plan uses free geocoding services, which sometimes have a usage limit and/or are generally not as reliable.
This means you could select the wrong address when creating your route. 
You'll upgrade to premium geocoding services once you start paying for RouteXL, which usually perform better.
Before you upgrade to a paid plan, you can get a free trial. However, it's a tedious process. 
With RouteXL, you'll have to talk to a sales prep first — whereas with Circuit, you can get started right away.
Here's a sampling of what some real RouteXL users report:
5/5 stars: "100 addresses can take a few minutes to import and find a route for."
4.5/5 stars: "I didn't think that the tutorial was very good at explaining how it works. There isn't much training on how to use it."
4/5 stars: "Maximum of 20 addresses or 'stops' per route when using RouteXL lite, worth the small $9/month fee for unlimited address stops."
7. MapQuest
MapQuest is similar to RouteXL, as it works mostly as a web-based route planner. But instead of 20 free stops, you get 26.
With MapQuest, you can pick whether you want to map your route for the shortest time or distance. You can also ask MapQuest to avoid tolls, highways, ferries, seasonal roads, and country borders.
Plus, you can import a spreadsheet of your destinations into MapQuest, which is faster than manually typing in each address — great for overworked managers.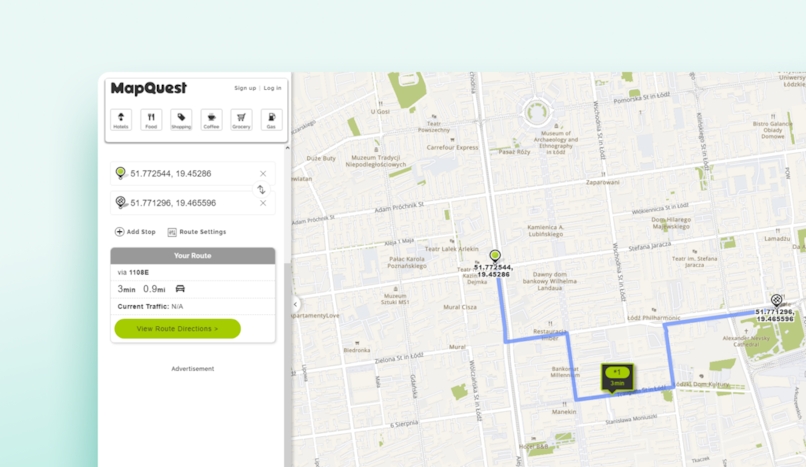 MapQuest is a viable option for individuals planning route trips or vacations. 
However, it doesn't let you plan routes for multiple drivers. 
This means dispatchers aren't saving much time in route planning — they have to plan a route for every driver.
Plus, it doesn't offer advanced route management features or the ability to add more stops, meaning it's likely too limited for professional drivers to use consistently.
What do actual MapQuest users have to say?
3/5 stars: "The good part was that while traveling there were several accidents that Google Maps told us would cause significant delays, but couldn't/didn't give us any alternative routes. Neither did Apple Maps. MapQuest gave us the alternative and even alternatives to that route when it started getting backed up. Neither G nor A gave additional alternatives even once knowing we were on a different road."
3/5 stars: "I'm an avid MapQuest user because I'm always having to go to different meeting sites for work and rely on this app because I'm always in an unfamiliar area. I trust MapQuest because it has kept me on the right track and on time. However, this last time I had to change my route because of construction and the MapQuest map was not keeping up with the voice."
5/5 stars: "I'm a letter carrier. In December, we have to deliver so many parcels, and I was very new at this job so didn't know much about 100s of streets. My truck was full of parcels to deliver, so I gave it a shot to use MapQuest because it tells me which side houses are on the street. Then I figured out the BEST part of this app is it lets me put 25 addresses at the same time, which makes my life so easy."
8. MyRouteOnline
MyRouteOnline doesn't currently offer a free plan, but — like the other apps on our list — it does have a free trial.
With MyRouteOnline, you can add addresses with an Excel or CSV file (up to 350 per route). 
When building a route with MyRouteOnline, you can set it up to:
Minimize the distance
Minimize the time
Balance distance and time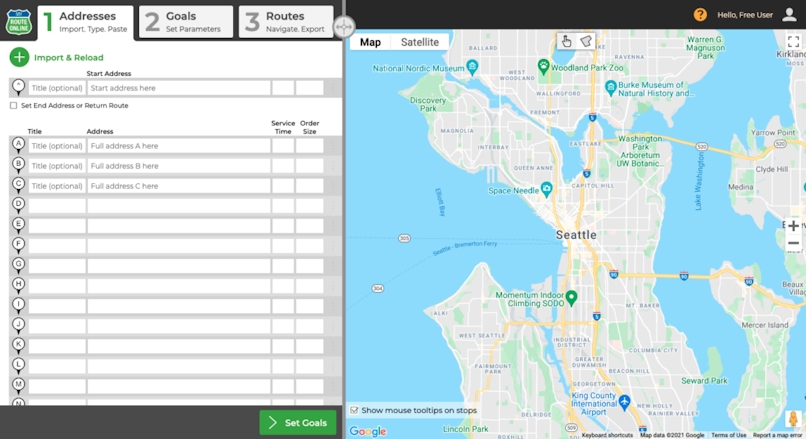 You must export your routes as an Excel file after they're optimized and print or email them to your drivers. You can also export them to TomTom or Garmin devices — if your drivers are using those tools.
But with Circuit for Teams, drivers can access their routes through an app.
You can also export them to TomTom or Garmin devices — if your drivers are using those tools.
The problem is that it can be challenging to handle route changes as they're in progress unless your drivers are using TomTom or Garmin devices.
Circuit for Teams makes it easier to change routes on the go. 
With dynamic stop status icons, you can monitor delivery statuses and make adjustments as needed in real time.
Real-time route editing also gives dispatchers using Circuit for Teams greater agility.
MyRoute Online offers a tiered paid plan system.
For example, the premium plan includes 1,200 address credits at $99 per month; the professional plan includes 6,000 address credits at $399 per month; and the business plan includes 15,000 address credits at $799 per month.
While that kind of flexibility is great, these rates aren't cheap. 
In contrast, the Circuit for Teams Standard plan includes unlimited routes and stops for just $200 per month. 
Online reviewers have this report:
4/5 Stars: "Our deliveries are exclusively in NYC. With loads of (a) toll bridges and tunnels, and (b) dense, concentrated routes. We would really, REALLY like to see... (a) the option of avoiding tolls and (b) the option of the Start Point resulting from us having chosen 'Quickest' or 'Shortest' (not 'Farthest' or 'Nearest')."
3/5 stars: "Sometimes, the routes provided need to be changed as it takes into consideration only one criteria (for instance the 'duration' one)."
3/5 stars: "There is a serious lack of information on how to use the program. Personally, I find the information that is available hard to navigate, all over the place and dysfunctional. The videos that are supposed to help you get started look like they were from the 90s, very dry content and not overly helpful. Popups that you could enable or disable would be neat."
9. Route4Me
Like MyRouteOnline, Route4Me doesn't offer a free plan, but you do get a seven-day free trial. It's one of the more complex planning tools on our list. 
This is because it's a route-planning app that lets you customize your features and has a long list of possible add-ons.
Here's how Route4Me works:
First, you select one of its core pricing plans.

Route Management, which starts at $199 a month
Route Optimization, which starts at $249 a month
Route Optimization Plus, which starts at $349 a month
Then, you choose add-on services. It's these add-on services that make Route4Me unique.
For example, if you manage a commercial vehicle delivery service that deals with long-haul trucks, you'll like their add-on for commercial truck routing.
Plenty more add-ons are available, including curbside delivery, predictive weather, and left- or right-turn avoidance.
Customers pick up their goods at the curb, saving drivers time since they don't have to get out of the car.
Predictive weather is another tool drivers may appreciate, allowing them to prepare for possible interferences like snow or rain that can slow them down. 
For drivers who dread time-consuming turns, the tool also offers left- or right-turn avoidance.
Here's what some actual reviews report:
3/5 stars: "There was a new update that caused you to have to open a separate window in order to view a route. There were a few times where I had over 500/1,000 stops and I wasn't able to create a single map. I instead had to create multiple maps and take screenshots and stitch them together using a third party."
4/5 stars: "The first thing that I like is support. The team is very fast and effective in solving all issues. The routing engine software is very good but has parts to improve and make it awesome."
4/5 stars: "I think there needs to be more training to explore the full functionality of the platform. It would be ideal to have a user-friendly and full-service mobile application."
10. TruckRouter
TruckRouter is a free routing software built for long-haul truck drivers. 
That makes it different from the other free routing apps on our list because it offers features like finding truck-specific routes, entering waypoints, and making sure your truck won't have any trouble with low-clearance bridges or highways.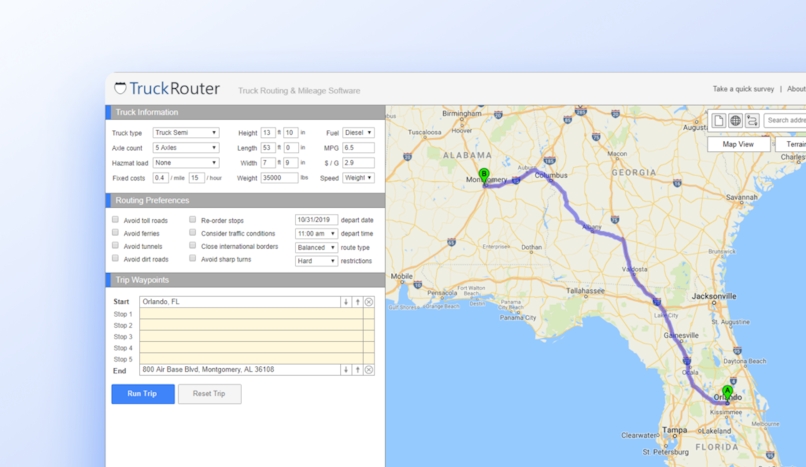 Because TruckRouter is specific to trucks, it doesn't focus on offering a high number of stops. In fact, most long-haul trucks aren't making many stops. 
Instead, they're traveling far distances — sometimes crossing multiple state lines — to make one or two deliveries or pick up goods.
TruckRouter can help you figure out your trip's cost efficiency.
Let's say you're managing a team of large trucks and a client wants to pay you to deliver a load from South Florida to North Florida. 
You can factor in the route, the average time spent at each stop, and the cost of fuel. 
Then, you can factor in how much you need to pay your driver to make sure you make a profit.
While that's convenient, it's also time-consuming. Plus, you aren't dealing with standardized rates, which can be confusing.
This high level of customization defeats the whole purpose of using automated route planners — to save time. 
For dispatchers with big teams to manage, this is a major drawback.
Here's what real-world users have to say:
3/5 stars: "This app has helped very much to find truck routes in unfamiliar areas, especially the East Coast where there are many truck restrictions and low overpasses. HOWEVER, some annoyances need to be addressed. 1: Cannot access settings while navigating. 2: Once exiting navigation, settings can be accessed but they are very basic."
3/5 stars: "It will get you in the ballpark. The route maps need serious work. They will try and send you down residential streets that are restricted for big semis. Also, it will also take you out of the way."
1/5 stars: "As previous reviews have stated, this app will put you in some nasty spots 100%!"
Quick recap: 10 different route planners, compared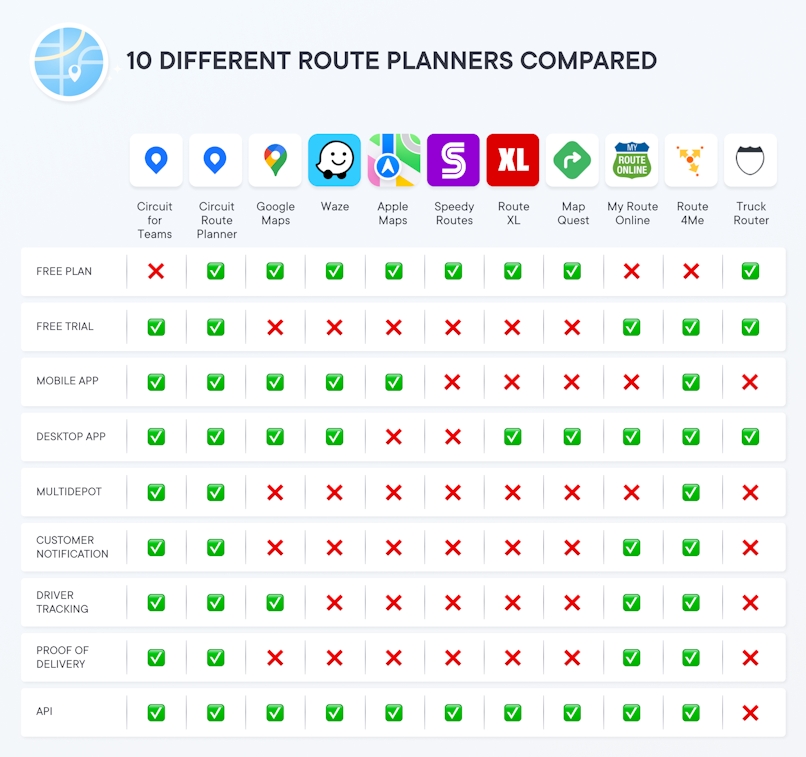 Most of the above tools offer a free trial. However, that means you'll only get to use the tool's full functionality for a very limited time — for example, seven or 14 days.
This is unique from a free plan, where you can use certain features for an unlimited time frame. Free plans usually don't offer full functionality, however. 
For example, they may only offer a limited number of stops or drivers.
Every platform has its own terms for starting a free trial. Some require you to talk to a salesperson first. Others, like Circuit for Teams, are easier.
With Circuit for Teams, you can get started right away. There's no need for detailed training since the platform is user-friendly and straightforward. This lets you get the most out of your freebie. Start your free trial today.
Frequently asked questions
Let's dive into some commonly asked questions. 
What is the best multi-stop route planner?
There is no one "best" multi-stop route planner. The right one for you depends on your needs as a delivery manager.
For example, if your drivers need a route planner that includes routing for public transportation and bicycles, Google Maps is convenient. If they need a route planner that alerts them to speed traps, Waze is handy.
For an all-around route planner made for managing multiple delivery drivers, trust Circuit for Teams. It offers unlimited tops, multi-depot delivery, easy onboarding, proof of delivery, tracking, and much more.
Is free route planning software good?
Free route planning software is available but often has significant limitations, especially if you're managing a professional route.
For example, free route planning software greatly limits how many stops your drivers can have per route. But for $20 per month, you can use Circuit Route Planner and add unlimited stops to a single route.
Plus, if you're handling more than one driver, you may want delivery management capabilities like route monitoring, order tracking, and proof of delivery. 
You get these with Circuit for Teams.
How do I plan a route with a lot of stops?
While many free route planners are available, they all limit the number of stops you can add. There are no free route planners with unlimited stops.
One cost-efficient option for dispatchers managing  delivery drivers who need a multi-stop route planner is Circuit for Teams. 
The paid option offers unlimited stops plus other perks to simplify delivery driving, like setting couriers start locations from different depots, proof of delivery and tracking features.
Can I plan routes with Google Maps?
Like most navigation apps, Google Maps has a lot going for it. It's user-friendly, lets you plan estimated times of arrival (ETAs) based on different travel modes, and has a street map to find where you're going. 
But it's not ideal for planning multiple driver routes. Why? 
Because navigational apps like Google Maps don't use route optimization software. That is, they don't have an algorithm in their code that lets them build the fastest route for you based on speed, distance, traffic patterns, and other key variables.
Plus, they do not support routes for multiple drivers.
We go over this detail in our post on how to plan multi-stop routes with Google Maps.
What is the max amount of stops on Google Maps?
You can add up to ten stops in the Google Maps route planner. 
This wastes time for delivery drivers who make more than ten stops: They'll have to constantly interrupt their delivery driving to add new stops, wasting time and money.
When does upgrading to a paid route planner make sense? 
Now that you're more familiar with the different route optimization options and their limitations, a free route planner app won't cut it in some situations.
For example, Google Maps isn't going to check all your boxes if you're a manager dispatching vehicles making 100+ stops a day.
Here are some situations where you should consider route optimization software with full functionality:
If you have a team making more than 20 stops a day, you need a route planner that can keep up with your demand.
If you have more than two vehicles on the road, you must manage multiple drivers and distribute multiple stops. Doing this with a free route planner can be time-consuming and frustrating.
If you want to save time and reduce fuel costs, you need the real deal. A free route planner won't always get you on the shortest route. 
If you must upgrade your route planning solution, try Circuit for Teams.
Circuit for Teams can help you reduce delivery costs by 20 percent by minimizing failed deliveries and reducing idling, missed turns, and slow routes. Start your free trial today
How to plan routes better and make faster deliveries
As you know, there's more to route planning than just getting your driver from point A to point B as quickly as possible.
When searching for the right route planner, we recommend diving into your entire delivery process — from route planning and route management to what happens once your driver arrives at their destination.
Most delivery teams and professional couriers benefit from more advanced features, such as proof of delivery and order tracking.
By relying on free route planners, they might save money upfront just to lose it through inefficiency elsewhere in their operations.
If you just need route optimization, we recommend looking at which route planner works with your Android or Apple device and offers the features you must plan an efficient route.
If you manage a team of delivery drivers and want a simple, cost-effective way to keep track of them (while making their routes more efficient), Circuit for Teams could be the way to go. Start your free trial today.