15 minute read
The Best Free Route Planner with Unlimited Stops: Comparing 7 Route Planners
In this guide, we review seven of the best free route planners with unlimited stops. Some apps have free plans, and others offer free trials.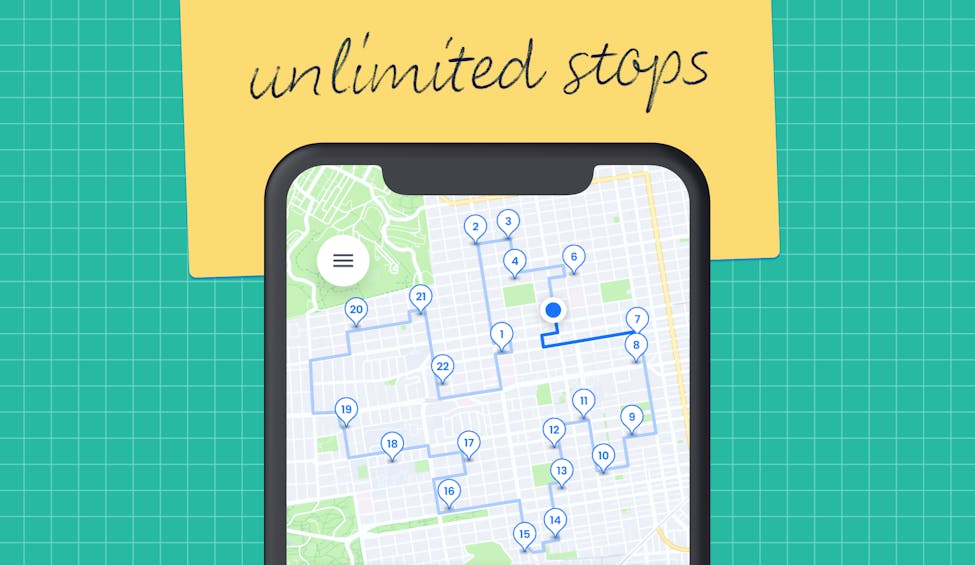 Inefficient route processes are expensive to manage and will cut into your profits whether you're a professional courier or if you supervise a team of delivery drivers.
First, there's the time it takes to plan routes in advance. 
Sometimes, delivery teams try to use free tools like Google Maps. But Google Maps was built to offer driving directions, not to find the shortest route possible.
Then there's the expense associated with actually driving the route (for example, the driver's salary, wear and tear on the vehicle, and fuel costs).
A good rule of thumb: The shorter the driving time, the more profitable your delivery business will be over time.
Finding the right route planning software can save you time and money, allowing you to plan the best routes in a matter of seconds to help your drivers complete their stops faster. 
But you must consider other things before making a decision, such as:
Will a free route planner work for me? A lot of free route planners are available, but they come with limitations. A free route planner might work for people planning road trips or part-time couriers who handle fewer than ten stops at a time. But professional couriers and small businesses offering delivery will need more robust mapping software.
Is it possible to get a free route planner that offers unlimited stops? There isn't a free route planner that offers free unlimited stops. Most free route planners offer somewhere between ten and 20 stops per route. Circuit Route Planner offers a plan with unlimited routes.
Is a paid route planner worth the outlay? Paid route planners offer advanced features, such as unlimited stops per route. Better

route planning tools

also come with other route management features, such as proof of delivery and driver tracking.
In this article, I'll help you find what works best for you by looking at the best free route planners available — along with some fee-based options.
I'll discuss how many stops each platform lets you make per route, whether they can divide routes among multiple drivers, and how their optimized routes work with apps like Google Maps (which your drivers can still use for turn-by-turn directions).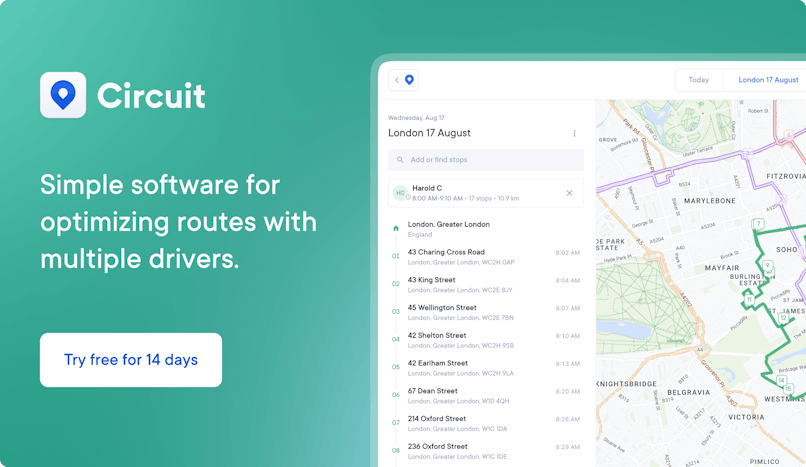 Does any free route planner offer unlimited stops?
There isn't a route planner that's free and offers unlimited stops.
Some apps are free or have a free version up to a certain number of stops (usually around 10).
You might be able to snag a free trial to enjoy the full functionality of route planning software for a limited time.
But you'll need to pay for a route planner like Circuit for Teams or Circuit Route Planner for long-term, unlimited stops.
7 of the best free route planners: A quick intro to each
Circuit Route Planner: This is ideal for individual delivery drivers or small to midsize delivery teams. You can plan routes with up to ten stops for free. Paid plans start at $20 per month for an unlimited number of stops. With Circuit for Teams, you can plan routes for multiple drivers — plus, you get real-time driver tracking, proof of delivery, and much more.
Speedy Route: This is available only as a web-based route planner (no mobile version). You can plan free routes on Speedy Route for up to ten stops. You must pay a daily, weekly, or monthly subscription for more stops.
RouteXL: RouteXL has a free plan for up to 20 stops per route, but it's a web-based route planner. This means you must print out your routes and give them to your driver.
MapQuest: MapQuest lets you plan up to 26 stops for free, but it doesn't offer any of the advanced features you get with route planners like Circuit.
MyRouteOnline: MyRouteOnline doesn't have a free plan. Instead, you pay for credits. $29 buys 100 credits, which equals 100 stops.
Route4Me: Route4Me doesn't have a free plan, but it does have a large marketplace where you can customize your route planning tool by adding the features you need. That might be useful or overkill, depending on your situation.
TruckRouter: TruckRouter is a free route planner aimed at long-haul truckers. It's not really suitable for smaller delivery teams.
1. Circuit Route Planner (and Circuit for Teams)
Circuit Route Planner started as route optimization software for individual drivers — a route planner for couriers and nonprofessionals who needed help with their trip planning.
We soon noticed a lot of our customers were professional drivers working for large delivery teams. Based on their feedback, we built a tool that offers the essential features you need to successfully (and affordably) manage a team of delivery drivers, which we go into below.
We still offer a free route planner app for drivers who need to create the fastest route possible and don't need extra features like route monitoring and proof of delivery.
Our free route planner app works with both iPhone/iOS and Android mobile devices. Simply download it from the app store, and it works with your preferred GPS navigation app — whether that's Google Maps, Apple Maps, or Waze.
With our free plan, our algorithm lets you optimize a route of up to ten stops. Our software reorders your stops so you're always on the fastest, most efficient route. 
The best part is there's no limit to the number of routes you can make.
How to get started with Circuit Route Planner (for individual drivers)
Manually typing addresses into the Circuit Route Planner mobile app is quick and efficient because we use the same auto-complete technology that Google Maps uses. 
As you type in your destination, Circuit Route Planner uses your current location to suggest the most likely destination.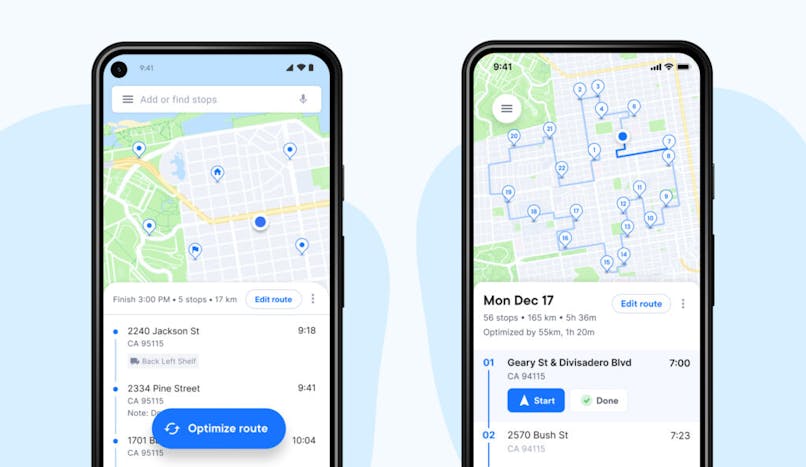 Plus, you can set advanced parameters like time constraints and priority stops.
Let's say you're a courier and one of your customers needs their package as soon as possible. On the Circuit Route Planner app, you can give that stop priority and Circuit Route Planner will optimize the fastest route with that stop first.
Once you've entered your ten stops, click "Optimize" and Circuit Route Planner will create the optimal route (factoring in any parameters you set). 
Once your route is ready to go (it takes just a few seconds), click "Start Route" and Circuit Route Planner will automatically open your preferred navigation app.
Then, run through your stops and mark each one complete on your iPhone or Android phone app as you go through your day.
Circuit Route Planner app for delivery drivers
If you're a professional courier who needs a multi-stop route planner that can handle more than ten stops at a time, you'll benefit from our paid plan (which comes with a free trial).
On this plan, you can optimize unlimited stops per route. Even if you're a courier for companies like Amazon and DHL, unlimited stops per route should be plenty to let you plan your stops each day.
Plus, if you're using Circuit Route Planner on Android, you can export your addresses into Circuit Route Planner with an Excel spreadsheet (or .csv, .tsv, .xls, and .xlsx file types).
You can cancel the Circuit Route Planner Premium subscription at any time, which means it's a great option for drivers who have more work during specific times of the year (like the holiday season).
Circuit for Teams: Route planning for multiple drivers (and more)
If you're managing a team of delivery drivers, more goes into making an efficient delivery process than just optimizing for the fastest route.
Based on feedback from professional delivery teams, we offer the following advanced features to help make your delivery operations as efficient as possible:
Route optimization
With Circuit for Teams, you can optimize routes for multiple drivers. You can also swap routes between drivers in case of a last-minute change or if a driver prefers a specific route or area.
Let's say the workday starts in 15 minutes. You've already imported your addresses into Circuit for Teams and created an efficient route. 
Then, at the last minute, one of your drivers says they have to leave early due to an unexpected appointment. What now?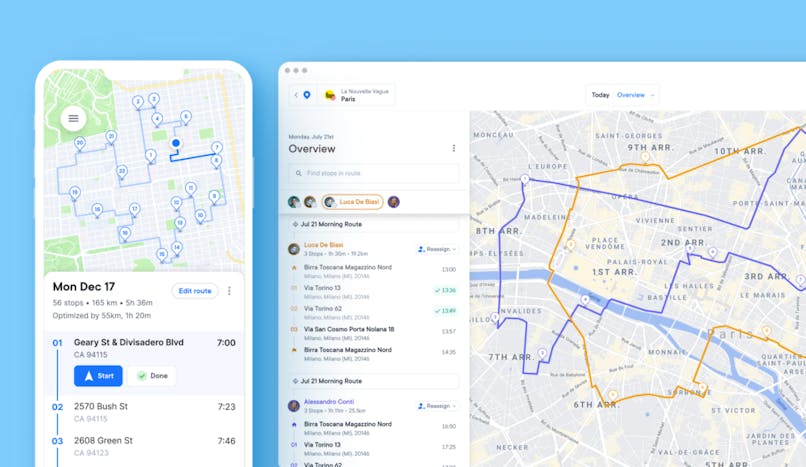 With minimal hassle, you can set a time restraint for that driver, making sure they finish their stops by noon. Then, you can re-optimize the remaining stops among your other drivers.
By using Circuit for Teams, what could have become an hour-long headache was fixed in a matter of minutes.
Route monitoring (also known as driver tracking)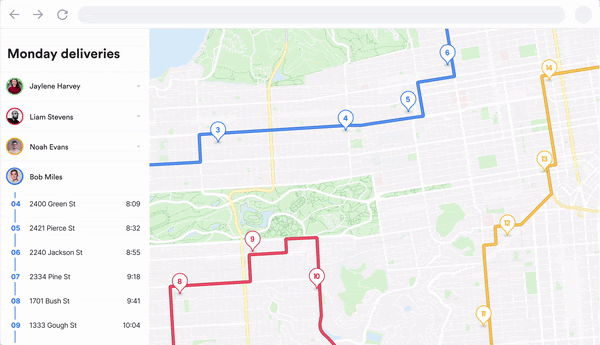 The Circuit for Teams route monitoring feature tells you where your drivers are within the context of their route. 
Dispatchers can use this feature to give customers a status update about their delivery and make changes to any routes in progress with the Circuit for Teams web app.
For example, let's say a customer calls to ask when their package will arrive. Without route monitoring, you'd have to take down the customer's information and call the driver to get an update. 
This interrupts their route, distracts them, and adds to their overall travel time.
"With route monitoring, you can glance at your Circuit for Teams dashboard to get real-time ETAs on all routes in progress."
With our route monitoring feature, you can see which stop your driver just completed and where they're going next, and inform the customer immediately.
Order tracking (and customer notifications)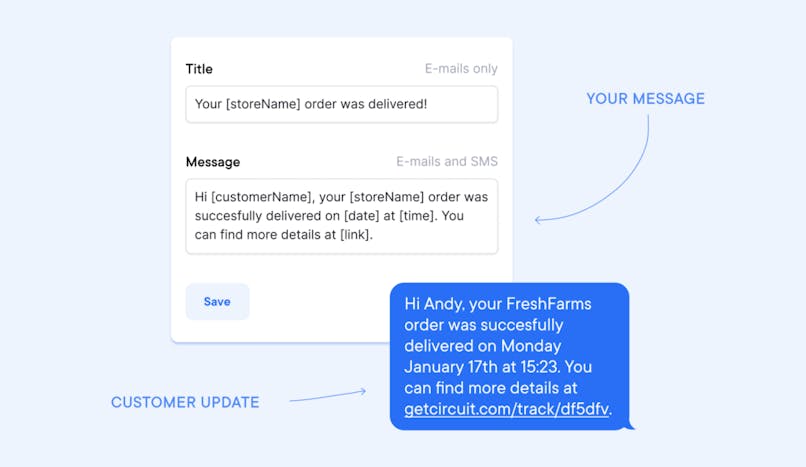 You can also greatly reduce the number of customer calls you'll receive at HQ by sending your customers order tracking information automatically.
At the start of the route, Circuit for Teams sends your customers an email and/or SMS message with a link to a dashboard they can use to check their delivery status. 
As the driver gets closer to their address, the customer gets an updated and more accurate time window.
The customer can also leave notes for the driver at this stage, such as a gate code or detailed information on how to find their specific building.
Electronic proof of delivery (POD)
Circuit for Teams offers two types of electronic proof of delivery: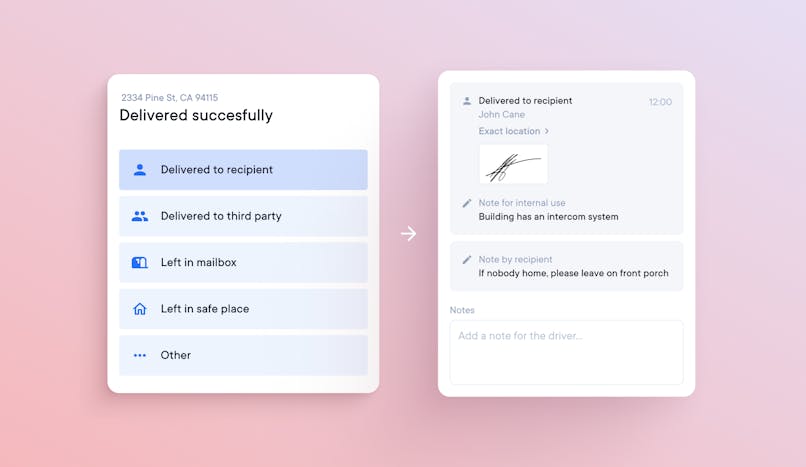 Signature: The driver can use their smartphone to collect a signature from the customer.
Photo capture: If a customer can't receive their package, the driver can leave it in a secure place. Then, the driver can take a photo of where they left it and upload it into the Circuit for Teams app — where it's stored in the cloud for future reference.
Whether it's a signature or a photo capture, Circuit for Teams sends proof of delivery to the customer.
Plus, it's available for reference within the Circuit for Teams web app. This way, if a customer calls dispatch and asks about their package, the dispatcher can reference the photo submitted by the delivery driver and help the customer find their package.
Let's look at other free route planners, highlighting their features and whether they offer more advanced plans for delivery teams.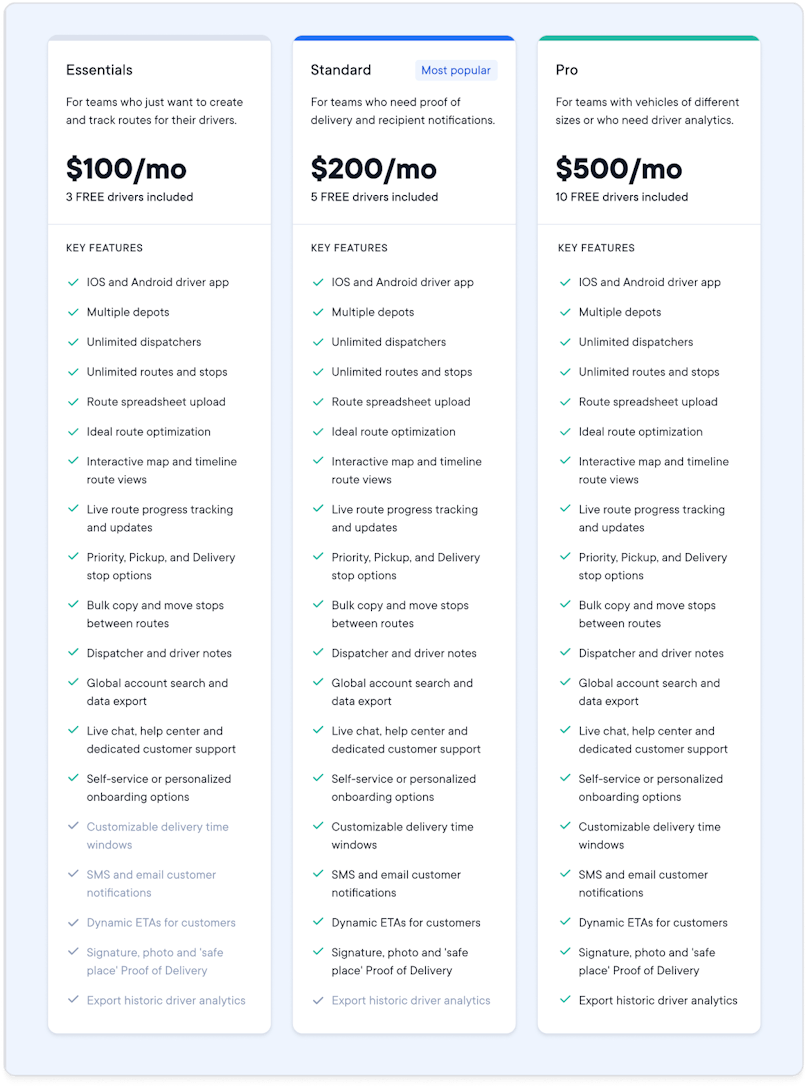 If you manage a team of delivery drivers and want a simple, cost-effective way to keep track of them (while making their routes more efficient), try Circuit for Teams free today.
2. Speedy Route
Speedy Route is a web-based route planner. The free version allows you to calculate the route for a maximum of ten stops. 
The benefit of Speedy Route is that you can add multiple vehicles to the list and the algorithm will calculate how best to distribute routes between them.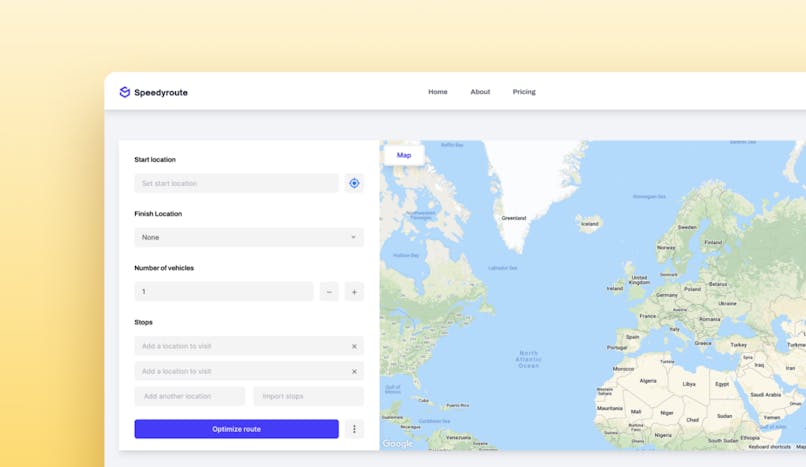 You'll need to buy a subscription for routes with more than ten stops. The options are: 
$69 per month for small teams (5 drivers, 500 stops)
$99 per month for large teams (10 drivers, 9,999 stops)
If you have a lot of stops to enter, the tool allows you to bulk upload addresses or import a list of locations from a .txt file.
The downside of Speedy Route is that it's not available as an app because the Android product was discontinued in Google Play in 2015. 
This makes it harder to hand optimized routes over to drivers.
However, Speedy Route is a useful tool if you just want to plan a few stops for multiple vehicles. 
The setup is well-suited for delivery drivers and traveling salespeople who make a limited number of stops over a large distance.
3. RouteXL
RouteXL is a web-based route planner. It's free if you're planning delivery routes with up to 20 stops. 
If you need more than 20 stops per route, RouteXL charges around $40. If you need more than 100 stops per route, RouteXL charges around $70.
At the time of writing, it doesn't look like RouteXL offers any route planning features for drivers or delivery teams optimizing more than 200 stops.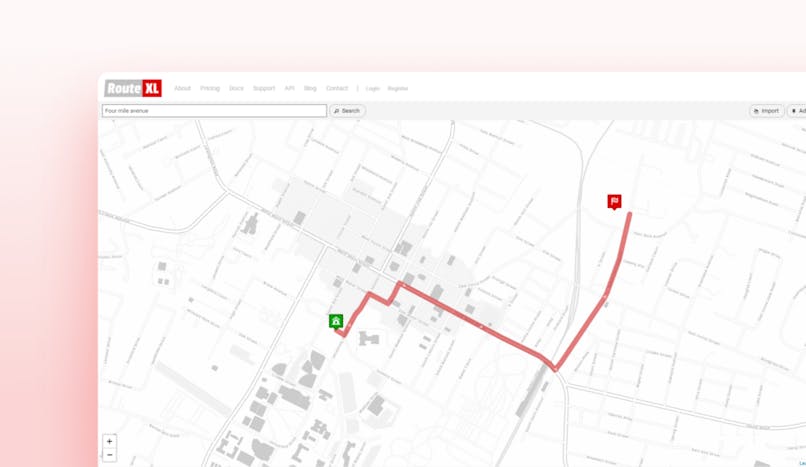 The easiest way to use RouteXL is to create the route on your desktop (after making an account). After finishing your route, go to routexl.com on your mobile phone, log into the same account, and start the route.
Unfortunately, RouteXL doesn't let you select a specific stop as having a high priority or time constraint. 
It's worth noting that with RouteXL, you're not using an actual app. Instead, you're relying on the mobile version of a website. 
This can be more draining on your phone battery and certainly isn't as easy to use as an app.
Note: For professional delivery teams, RouteXL partners with Webfleet Solutions to offer an integration with TomTom devices.
RouteXL: paid vs. free
The biggest difference between getting a paid subscription with RouteXL and using it for free is the number of stops you can plan in a single route. 
But there's one other significant difference: the quality of geocoding.
Geocoding helps you find addresses on the map when you're typing in your destinations or importing addresses. We talked about this in our section on Circuit Route Planner, when we explained how we use the same type of geocoding Google Maps uses.
RouteXL's free plan uses free geocoding services, which sometimes have a usage limit and/or are generally not as reliable. This means you could select the wrong address when creating your route. 
You'll upgrade to premium geocoding services once you start paying for RouteXL, which usually perform better.
4. MapQuest
MapQuest is similar to RouteXL, as it works mostly as a web-based route planner. But instead of 20 free stops, you get 26.
With MapQuest, you can pick whether you want to map your route for the shortest time or distance. You can also ask MapQuest to avoid tolls, highways, ferries, seasonal roads, and country borders.
Plus, you can import a spreadsheet of your destinations into MapQuest, which is faster than manually typing in each address.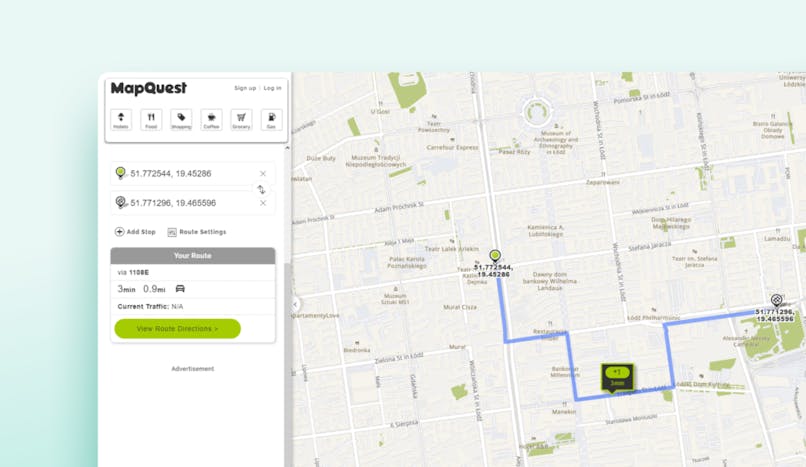 MapQuest is a viable option for individuals planning route trips or vacations. 
But it doesn't offer any advanced route management features or the ability to add more stops, which means it's likely too limited for professional drivers to use consistently.
5. MyRouteOnline
MyRouteOnline doesn't currently offer a free plan, but — like the other apps on our list — it does have a free trial.
With MyRouteOnline, you can add addresses with an Excel or CSV file (up to 350 per route). 
When building a route with MyRouteOnline, you can set it up to:
Minimize the distance
Minimize the time
Balance distance and time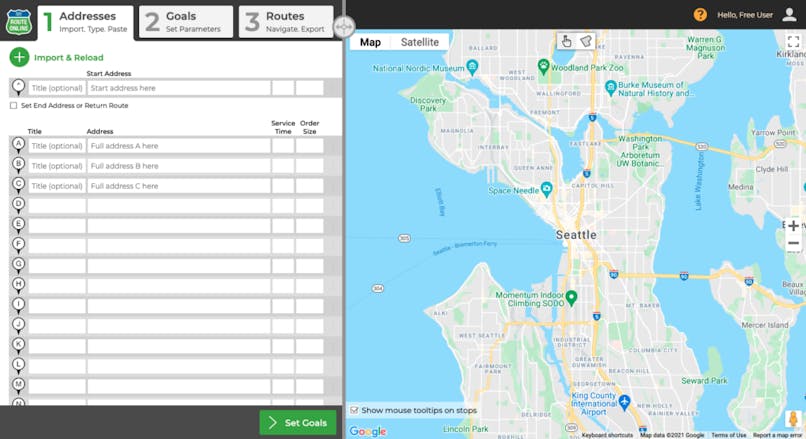 You must export your routes as an Excel file after they're optimized and print or email them to your drivers. You can also export them to TomTom or Garmin devices — if your drivers are using those tools.
The problem here is that it can be challenging to handle route changes as they're in progress unless your drivers are using TomTom or Garmin devices.
6. Route4Me
Like MyRouteOnline, Route4Me doesn't offer a free plan, but you do get a seven-day free trial. It's one of the more complex planning tools on our list. 
This is because it's a route-planning app that lets you customize your features and has a long list of possible add-ons.
Here's how Route4Me works:
First, you select one of its core pricing plans.

Route Management, which starts at $199 a month
Route Optimization, which starts at $249 a month
Route Optimization Plus, which starts at $349 a month
Then, you choose add-on services. It's these add-on services that make Route4Me unique.
For example, if you're a commercial vehicle delivery service that deals with long-haul trucks, you'll like their add-on for commercial truck routing. 
Plenty more add-ons are available, including curbside delivery, predictive weather, and left- or right-turn avoidance.
7. TruckRouter
TruckRouter is a free routing software built for long-haul truck drivers. 
That makes it different from the other free routing apps on our list because it offers features like finding truck-specific routes, entering waypoints, and making sure your truck won't have any trouble with low-clearance bridges or highways.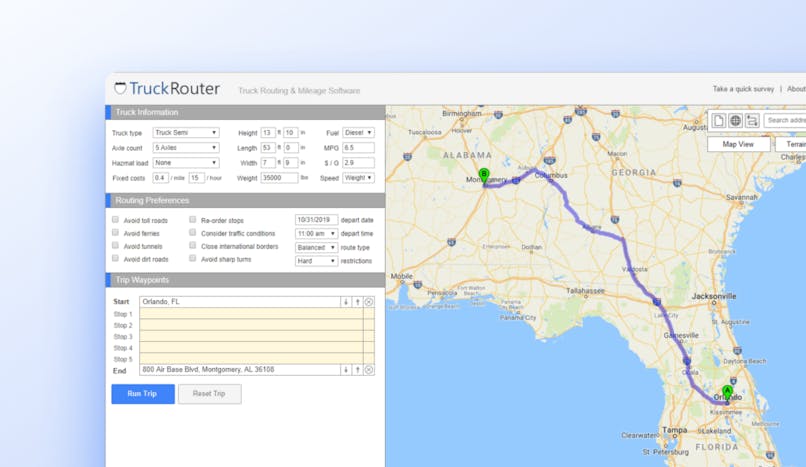 Because TruckRouter is specific to trucks, it doesn't focus on offering a high number of stops. In fact, most long-haul trucks aren't making many stops. 
Instead, they're traveling far distances — sometimes crossing multiple state lines — to make one or two deliveries or to pick up goods.
TruckRouter can help you figure out your trip's cost efficiency.
Let's say you're managing a team of large trucks and a client wants to pay you to deliver a load from South Florida to North Florida. 
You can factor in the route, the average time spent at each stop, and the cost of fuel. 
Then, you can factor in how much you need to pay your driver to make sure you make a profit.
Quick recap: 7 different route planners, compared
Frequently asked questions
Let's dive into some commonly asked questions. 
Is free route planning software good?
Free route planning software is available, but it often has significant limitations, especially if you're managing a professional route.
For example, free route planning software greatly limits how many stops you can have per route. But for $20 per month, you can use Circuit Route Planner and add unlimited stops to a single route.
Plus, if you're handling more than one driver, you may want delivery management capabilities like route monitoring, order tracking, and proof of delivery. 
You get these with Circuit for Teams.
Can you plan routes with Google Maps?
Like most navigation apps, Google Maps has a lot going for it. It is user-friendly, lets you plan estimated times of arrival (ETAs) based on different travel modes, and has a street view so you can see where you're going. 
But it's not ideal for planning routes. Why? 
Because navigational apps like Google Maps don't use route optimization software. That is, they don't have an algorithm in their code that lets them build the fastest route for you based on speed, distance, traffic patterns, and other key variables.
We go over this detail in our post on how to plan multi-stop routes with Google Maps.
When does upgrading to a paid route planner make sense? 
Now that you're more familiar with the different route optimization options and their limitations, you know a free route planner app just won't cut it in some situations.
For example, Google Maps isn't going to check all your boxes if you're a manager dispatching vehicles making 100+ stops a day.
Here are some situations where you should consider route optimization software with full functionality:
If you're making more than 20 stops a day, you need a route planner that can keep up with your demand.
If you have more than two vehicles on the road, you need to manage multiple drivers and distribute multiple stops. Doing this with a free route planner can be time-consuming and frustrating.
If you want to save time and reduce fuel costs, you need the real deal. A free route planner won't always get you on the shortest route. 
If you need to upgrade your route planning solution, try Circuit for Teams.
Circuit for Teams can help you reduce your delivery costs by 20 percent by minimizing failed deliveries and reducing idling, missed turns, and slow routes.
How to plan routes better and make faster deliveries
As you know, there's more to route planning than just getting your driver from point A to point B as quickly as possible.
When you're looking for the right route planner, we recommend you look at your entire delivery process — from route planning to route management to what happens once your driver arrives at their destination.
Most delivery teams and professional couriers benefit from more advanced features, such as proof of delivery and order tracking.
By relying on free route planners, they might save money upfront just to lose it through inefficiency elsewhere in their operations.
If you just need route optimization, we recommend you look at which route planner works with your Android or Apple device and offers the features you need to plan an efficient route.
If you manage a team of delivery drivers and want a simple, cost-effective way to keep track of them (while making their routes more efficient), Circuit for Teams could be the way to go.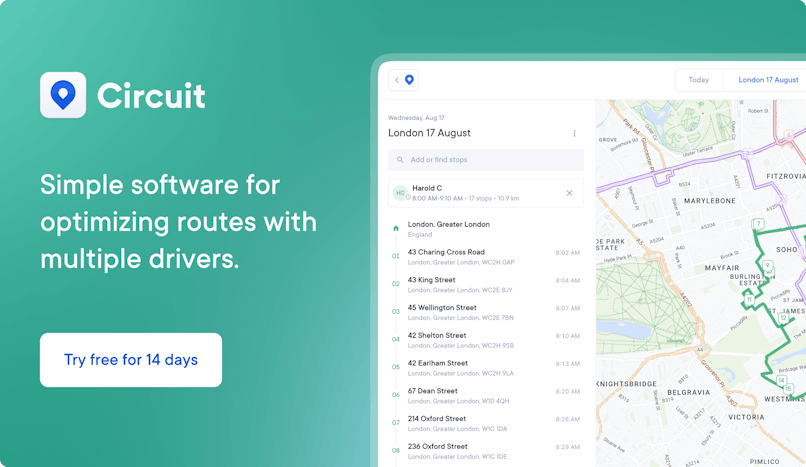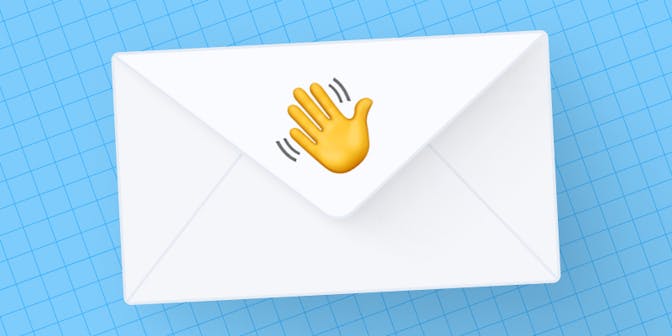 You made it this far!
Chances are you'll love our other stuff too. Get our newsletter for the latest on all things delivery.