15 minute read
10 Best Logistic Management Software for 2023 and How to Choose
Discover the Top 10 logistics management software options for 2023 and find out which systems are right for your business needs.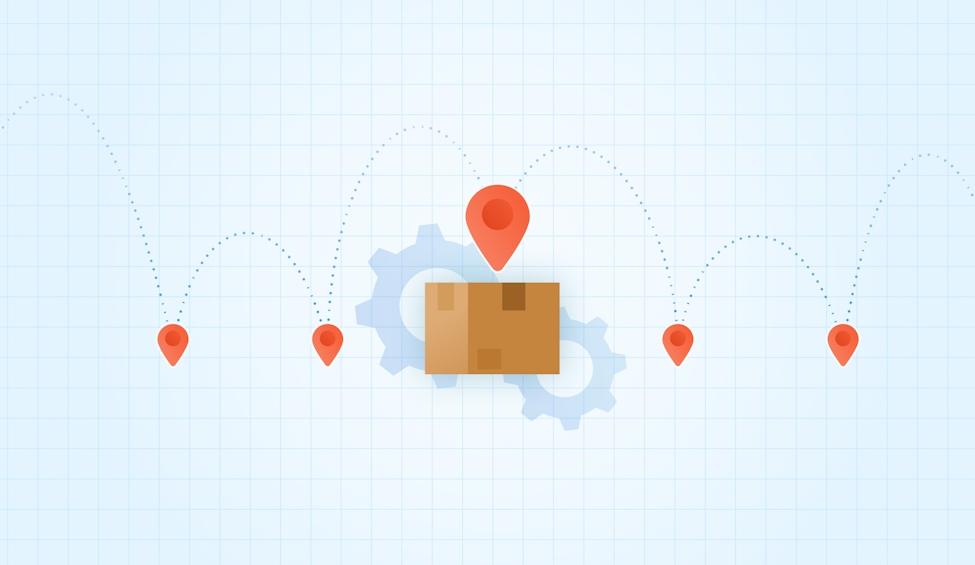 Logistic management software can save you time and money by automatically managing many aspects of your business. It uses the power of technology and data to streamline and refine your operations and help manage your business more effectively. 
Without today's advancements, logistics would be a headache. You'd have to manually track your inventory, and planning your delivery routes would involve a map and a pen. 
But today, the right logistics management system can save you hours of labor and automate the pain away while boosting customer satisfaction. 🦾
But what's the best software to use, and how do you choose? 
You're in the right place. This article tackles the ten best logistic management software options for 2023 and how to choose the right one for your business. 
Key takeaways:
Transportation management system (TMS) software is ideal for businesses making deliveries. Rose Rocket and Alvys are top options, and Circuit for Teams is the perfect integration for optimizing your last-mile delivery.
Excalibur, Brightpearl, Logiwa, and Zoho are great warehouse management system (WMS) software options for businesses that need to manage a large amount of inventory.
Returnly is the perfect logistics management software option for online retailers looking to optimize their returns process.
Fishbowl is a great tool for large businesses with many complex processes to monitor, letting you track multiple logistics all in one place.
Large companies relying on a global supply chain will get the most out of Netsuite ERP; it lets you track your inventory anywhere in the world and also supports outsourced logistics. 
The top logistics management software options with the most transparent pricing are Zoho Inventory and Circuit for Teams.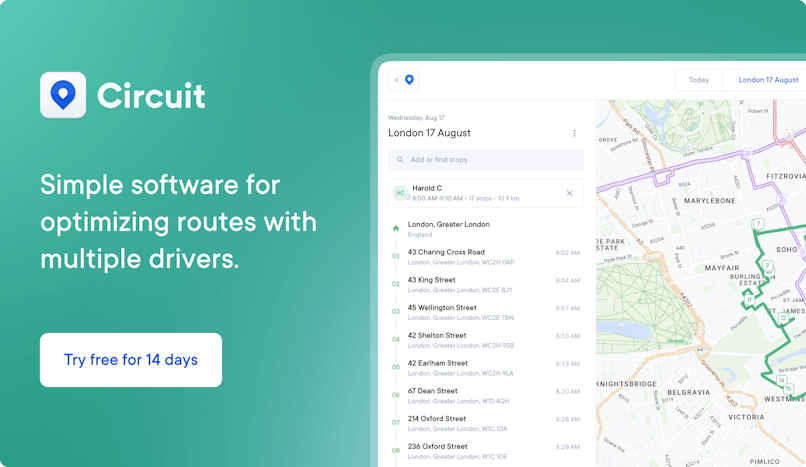 What is logistics management software?
Logistics management software helps businesses manage things like packaging, warehousing, inventory control, and delivery services. It does this by offering a comprehensive package of solutions that solve problems associated with managing logistics, like missed deliveries or mismanaged inventory. 
Scheduling and communicating with a large, complex workforce can be demanding, as well. Some employees might be on the road delivering goods, while others are busy storing and checking inventory. Then, there are administrators and back office workers.
And with today's gas price fluctuations, it's more important than ever to make sure you're spending as wisely as possible on transportation.
Reasons to use logistics management software
Logistics management software can automate many aspects of your business and help you manage complex processes. Here are some reasons you may want to consider digitized logistics solutions. 
Manage transportation operations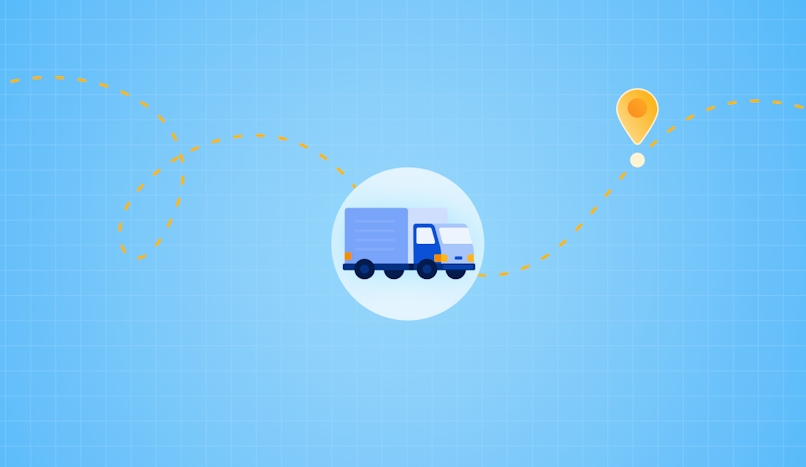 Most types of businesses have logistics processes that involve transportation. And the cargo you're transporting — a customer's order, warehouse inventory, or supplies going to another business — must arrive at its destination quickly, easily, and efficiently. ⏱️
Plus, it's vital that you can track those items wherever they are on their journey. You may need to track a package or ensure your drivers are following their routes and making their stops on schedule.
Transportation management system (TMS) software is the perfect solution, designed to streamline and track transport operations and reduce costs. It can also improve delivery times and customer satisfaction, especially if you integrate Circuit for Teams — it lets you track drivers and deliveries, and even real-time vehicle conditions so you can schedule maintenance as needed. 
Manage your inventory
Inventory is complex because it means managing a lot of items, which ebb and flow daily. That's why businesses turn to Warehouse Management Systems (WMS) software to help manage this aspect of their logistics. 
As you scale your business, your warehouse might become too massive for you to track and manage your inventory manually. The largest warehouse in North America stands at a truly Herculean 10 million square feet! But warehouses of any size are easier to manage with WMS software. 
It can automate things like inventory tracking, picking, packing, order processing, and shipping packages out the door. This improves things like inventory, order accuracy, and order processing times. 
A WMS can even help with employee scheduling and managing warehouse vehicles, reducing your labor costs. 
Plan and monitor your supply chain 
Supply chains are always changing. Geopolitics, labor disputes, natural disasters, and global pandemics are just some of the things that make supply chains difficult to manage and predict. 
Because supply chain disruptions can directly impact business resources, many business owners use supply chain planning (SCP) techniques and supply chain management (SCM) software to optimize their supply chains and mitigate risk. SCP and SCM can also help you plan production based on potential customer demand. 
For example, demand forecasting predicts future demand for a business's goods or services based on past trends. You can use this data to plan production to meet future demand. 
One type of logistics management software that can handle this is enterprise resource planning (ERP) software. A good ERP system will support supply chain management activities from planning and procurement to inventory and order management.
Increase customer satisfaction 
Today's customers aren't satisfied just knowing you got their order or it's left your warehouse. They want to track its journey and know exactly when it will arrive at their door.
A TMS system, combined with a delivery management system for last-mile delivery like Circuit for Teams, is a great way to give your customers the best delivery experience. It lets you give them dynamic delivery time estimates so they always know when their shipments will arrive. 
Customer satisfaction does more than put smiles on faces; it can improve your bottom line. Research shows that 1 in 4 customers are willing to spend up to 10% more if they expect to get excellent customer service as part of the deal. 
Top 10 logistics management software options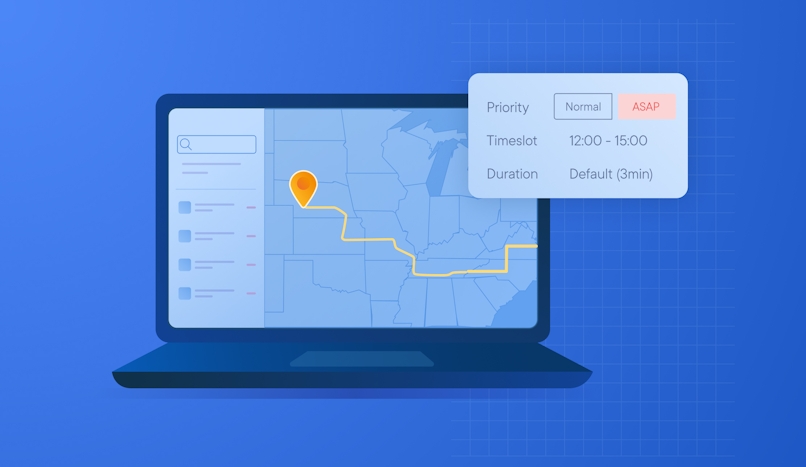 There is a galaxy of logistics management software out there 🪐.
1. Fishbowl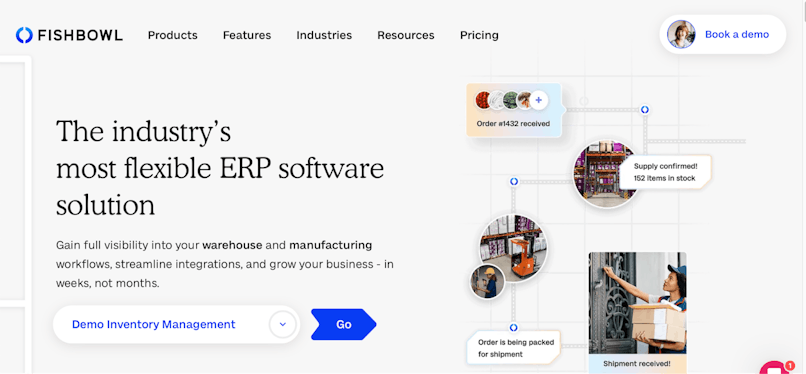 Fishbowl is an ERP software solution that helps businesses manage their inventory, order fulfillment, and shipping processes. It also streamlines logistics operations by improving efficiency and reducing costs.
One of Fishbowl's major perks is how it integrates with other logistics systems, such as your WMS or TMS, to improve your entire supply chain process. It even helps organize and manage your accounting, HR, and customer relationship management (CRM) platforms.
You can see your inventory, orders, and shipping logistics all in one place with Fishbowl. You can also manage orders from multiple sales channels, like eCommerce platforms and point-of-sale (POS) systems. 
Best for …
Fishbowl is a great tool for large businesses with many complex processes to monitor. Examples include large-sized manufacturers, retailers, wholesalers, eCommerce businesses, or companies needing a flexible all-in-one solution to help them scale their operations. 
Pricing
Head over to the Fishbowl website for accurate pricing and a quote. 
The website explains that different pricing tiers are available. Your best option will depend on which features you need for your business. 
Reviews
Fishbowl customers praise how easy it is to implement and train employees to use it. That's a key benefit since it can be challenging for people to adapt to new technology.
Customers also love that it integrates with Amazon, eBay, and Shopify, making it perfect for eCommerce businesses with multiple sales channels. 
However, some wish that Fishbowl offered more "robust" reporting — another important aspect for managing finances and demand forecasting.
2. Rose Rocket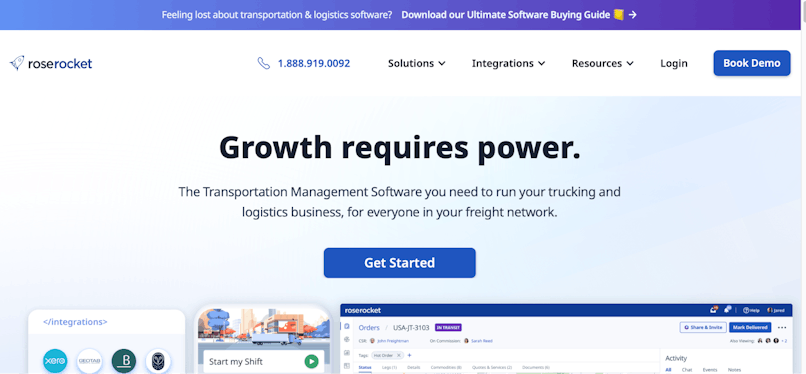 Rose Rocket is a cloud-based TMS web app that gives end-to-end (start to finish) business solutions, including order management and transportation management for deliveries. It mainly focuses on 
Best for …
Rose Rocket mainly focuses on trucking and best suits businesses looking for easy-to-use, cost-effective trucking management software.
Pricing
Contact Rose Rocket directly for a pricing quote. You'll likely need details about the size of your organization and its needs. 
According to some reviews, the starting price could be around $250 per month. However, this will probably vary widely depending on your business.
Reviews
Users appreciate Rose Rocket for its simplicity and easy-to-use interface.
But surprise updates may be a downside of this software. Some users have shared that these updates can disrupt their workflow without notice.
3. Alvys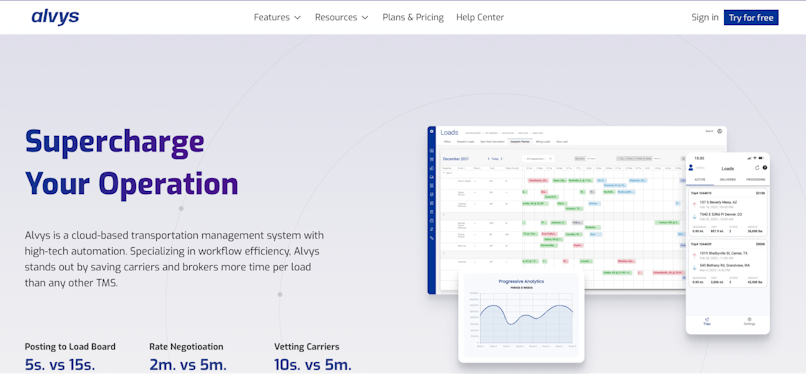 Alvys is a cloud-based, SaaS (software as a service) TMS system offering full operational visibility of your shipments and automated invoicing, procurement, optimization, planning, and task automation. It also has a mobile app, making it easy for drivers to do administrative tasks (like updating their information for management use). 
Best for …
Like Rose Rocket, Alvys is mainly trucking-focused, with features for managing truck capacity and options for brokers and managing carrier payments. It's great for trucking companies looking to minimize human error in their accounting and load tracking. 
It automatically synchronizes every feature with its accounting operations, helps manage payments, and calculates taxes. This software is ideal for trucking businesses with a large staff, making productivity and efficiency an important factor. 
Pricing
Alvys' full suite of services starts at $150 per month, but you'll need to complete a form on the website to access more comprehensive pricing based on your needs. Factors that can increase this base price include the size and scope of your operations and the type of inventory you need to store and ship. 
Reviews
Users have lauded Alvy for its customer service and how quickly they can train their teams to use it. However, some said that updates can cause the software to glitch, slowing operations until the problem is fixed. 
4. Excalibur WMS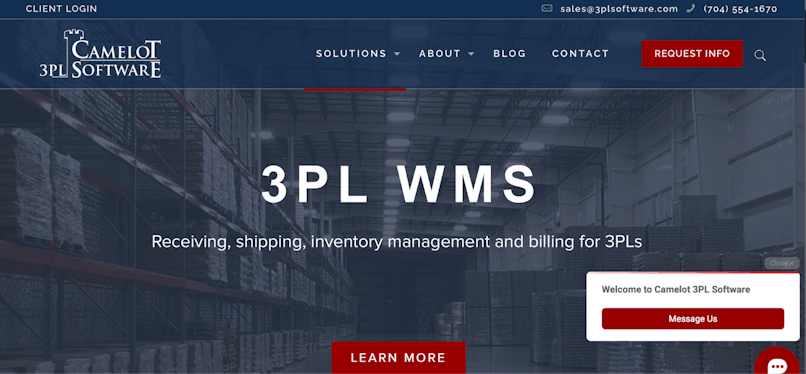 Excalibur WMS is a warehouse management software developed by Camelot 3PL to streamline third-party logistics (3PL), public warehouses, and packaging fulfillment operations. It lets you manage inventory, shipping, receiving, invoicing, and reporting all in one place.
Best for …
Excalibur WMS is best suited to logistics companies, distributors, or wholesalers who store large amounts of inventory in warehouses and manage multiple complex processes. 
That's because this software offers many functions, including QuickBooks, barcode scanning, shipping carrier integration, and types of data collection. If you don't need all of these features for your business, you might be paying for what you don't need with Excalibur WMS.
Pricing
According to some reviews, the starting price for Excalibur WMS is $250 per month. You'll have to contact Camelot 3PL directly for a more specific quote. 
Reviews
Excalibur WMS users have good things to say about its flexibility and integration with programs and hardware, such as driverless guided forklifts (useful for companies using large warehouses).
However, some users felt that Excalibur is complex and should come with better training guides to help them train employees on how to use it. Others had to spend lots of time customizing its many features. 
5. Brightpearl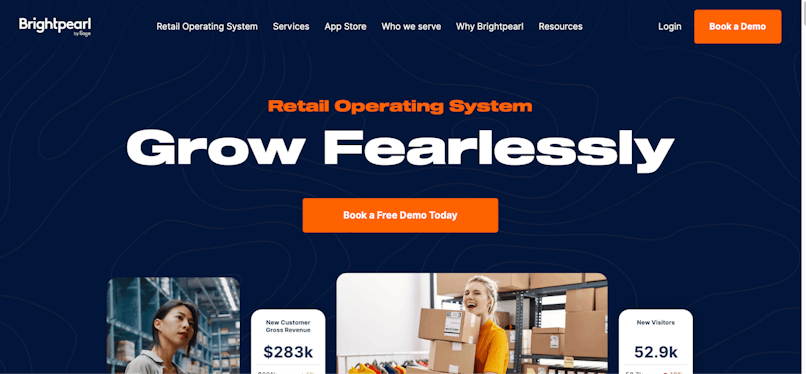 Best for …
Brightpearl is a WMS designed to help retail businesses, eCommerce stores, and wholesalers of any size grow and compete with the bigger business behemoths.
It can handle your inventory management, order processing, and warehouse management and integrate with multiple sales channels and dropshipping partners like Amazon, eBay, and Walmart. 
Pricing
You must contact Brightpearl directly to ask about pricing and to get a quote. The company will want to know the size of your operations and the types of things you'll need them to manage for your business. 
The more complex your operations, the higher the pricing. 
Reviews
Brightpearl comes highly recommended for its customer service and ease of implementation. One customer wrote: "From overview to training calls to actual implementation, everything was seamless." 
However, others shared that the software solution didn't offer enough integrations to be meaningful for their business. So, make sure Brightpearl can integrate with your other software and systems before committing.
6. Logiwa WMS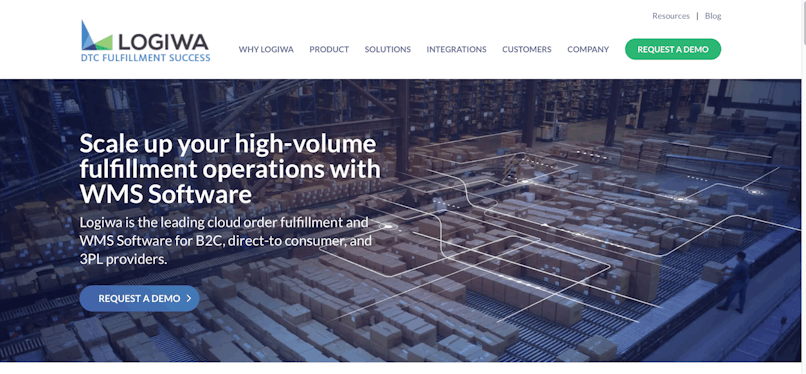 Best for …
Wholesale businesses, business-to-consumer (B2C) or direct-to-consumer (DTC), and business-to-business (B2B) are all part of Logiwa's main user base. This software is designed to handle large inventories and lets you seamlessly connect with online stores like Amazon, Big Commerce, and Etsy.
Pricing
You must request a demo of one of their five different editions to get a quote. These vary by business type:
DTC Launch Edition: For smaller B2C/DTC businesses looking to manage order fulfillment
DTC Growth Edition: For high-volume B2C/DTC businesses looking to scale operations
Enterprise Edition: For companies with high-volume B2C/DTC and B2B operations needing a single WMS 
Wholesales DTC Transition Edition: For wholesalers with warehouses looking to support B2C/DTC order fulfillment
3PL Acceleration Edition: For businesses with 3PL and fulfillment networks looking to scale operations
Reviews
One customer claimed that Logiwa is "the best WMS system in the market." That's high praise, but others were less pleased with their experience. 
Another said that customer service was hard to access, making it difficult to implement the software and train their team to use it. This reviewer also said they couldn't find a phone number to call — just an email address. 
7. NetSuite ERP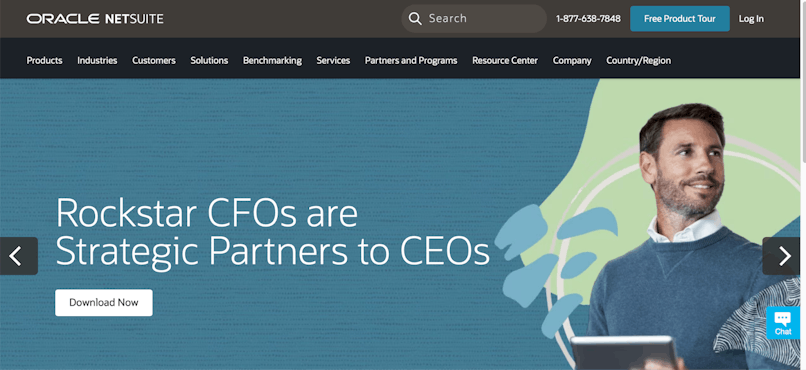 Oracle offers multiple NetSuite options, and their NetSuite ERP can help you track inventory from anywhere and manage global supply chains. It also manages 3PL for a variety of logistics service providers.
Best for …
Large companies relying on a global supply chain will get the most out of Netsuite. That's because they specialize in tracking your inventory anywhere in the world and supporting outsourced logistics. 
Pricing
You'll need to fill out a form and complete a NetSuite product tour to receive the quote for your needs. However, one recent source claims pricing starts at $99 per month. 
Reviews
User reviews indicate that customers particularly like how NetSuite handles inventory management. One even said it's better than that of other ERP software on the market.
Others, though, said that NetSuite takes too long to fix product glitches, slowing down progress. 
8. Zoho Inventory

Zoho Inventory is a cloud-based WMS solution that helps businesses manage multi-channel orders, packages, and shipments. It also offers warehouse management and inventory tracking and can integrate with multiple eCommerce platforms. 
Best for …
Since Zoho Inventory allows you to manage inventory for multiple sales channels all in one place, companies that would benefit the most from Zoho Inventory are those that store goods in warehouses.
Like Brightpearl, it's great for smaller businesses looking to scale operations. 
Pricing
One benefit of Zoho Inventory compared to Brightpearl is its pricing transparency. 
It offers six pricing tiers, including a free trial if you're just curious and want to take it for a spin before committing.
This trial includes 50 orders per month. It also covers one warehouse, two users, one Shopify store, and a customer portal.
Standard: $59 per month (billed annually)
This tier includes 1,500 orders per month, two warehouses, three users, one Shopify store, and a customer portal. 
Professional: $99 per month (billed annually)
The second paid option includes 7,500 orders per month, five warehouses, five users, two Shopify stores, and added perks like workflow automations, a vendor portal, a serial number, and batch tracking.
Premium: $99 per month (billed annually)
This is the most popular option. It offers all that the Professional tier does, plus a total of 150,000 orders per month, seven warehouses, ten users, and five Shopify stores. 
Elite: $239 per month (billed annually)
The next step up, this tier offers all that the Premium tier does but with a total of 250,000 orders per month, 15 warehouses, and 15 users.
Ultimate: $329 per month (billed annually)
As the name suggests, this is Zoho Inventory's most advanced offering. It has all the perks of the Elite tier, plus highly advanced reports and dashboard interfaces, data analytics, and financial tracking.
Reviews
Zoho Inventory users praise its value for the price. One reviewer with no previous inventory experience claimed this software streamlined the learning curve for them. 
Still, others said the company needs better customer support and would have appreciated the ability to export data at a lower pricing tier. 
9. Returnly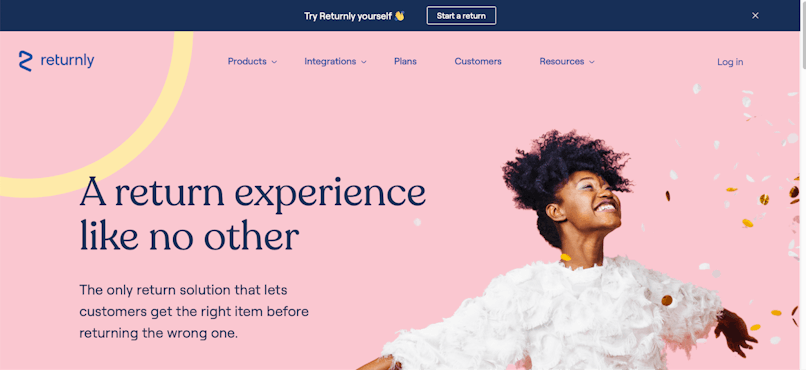 Managing customer returns can be a huge pain for businesses, but it's also an important aspect of the customer experience. That's where Returnly can help. 
It's a smart returns platform that simplifies returns and exchanges. Your customer can get the right item before they even bother returning what they ordered. 
Best for …
Online retail stores are a great match for Returnly. ECommerce clothing retailers are a prime example since they often manage many customer returns due to items not fitting.
Its integration with shipping companies like FedEx and DHL makes it a great option for any online retailer that ships products to customers and wants to streamline the returns process. 
Pricing
According to its partner, Shopify, integrating Returnly with your Shopify store starts at $99 per month. 
However, you can start with a 14-day free trial to try it out first. The price increases depending on which add-ons you include, such as offering customers instant credit and exchanges and in-store returns.
Reviews
Overall, Returnly users like the simplicity of the software on the customer side, with helpful visuals and no need for contacting the seller directly.
But some felt that it would help to offer their customers more flexibility. For example, Returnly doesn't allow your customer to choose a different color or style for their exchange.
10. Circuit for Teams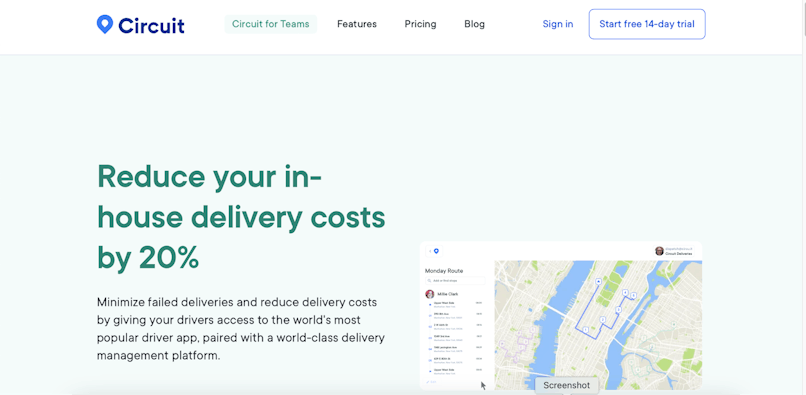 Circuit for Teams is a cloud-based delivery management software that simplifies route planning and delivery logistics with advanced route optimization features.
It also offers real-time visibility of every driver on your team and facilitates communication. For example, Circuit for Teams allows dispatchers and admins to change live routes and notify drivers on the fly. 
It also improves customer service by allowing customers to check their delivery status in real time, giving you multiple ways to get in touch with them, and letting you set dynamic time windows for deliveries. 
Plus, Circuit for Teams can even reduce your in-house delivery costs by 20 percent by streamlining your last-mile deliveries with optimized routes. You can also adjust them as needed with last-minute edits to prioritize certain stops.
Best of all, you can integrate it with other types of software thanks to the Circuit for Teams Webhook API, so you can see more of your business processes all in one place.
Best for …
Circuit for Teams works well for businesses of any size looking to improve their delivery processes. Many companies reap the benefits of Circuit for Teams, from farmers to beer brewers to bicycle courier services. 
Circuit Route Planner is a key feature that optimizes your deliveries with the most accessible, logical, and time-saving routes to cut your transportation costs. You can also confidently plan, track, and manage your deliveries in real time using its intuitive mobile app and desktop software.
Pricing
Pricing for Circuit for Teams is simple and accessible. There are three tiers, each one suiting different needs and budgets:
Essentials: $100/month
The Essentials plan offers the basics, letting you optimize your routes, track drivers in real time, and integrate with other software using Circuit for Teams API.
This package includes your first two drivers, but you can add drivers for an additional $40 each.
Standard: $200/month
This is the most popular Circuit for Teams plan since it offers a bit more for those looking to improve their customer experience. It includes all the benefits of the Essentials plan above, with the added options of POD capture and customer notifications.

This package includes your first three drivers, but you can add drivers for an additional $60 each.

Pro: $500/month
Get the most out of Circuit for Teams with the Pro plan. It offers everything the Standard plan features, plus the ability to analyze your delivery data to track and improve business operations.

This package includes your first six drivers, but you can add drivers for an additional $80 each. 
Reviews
Many Circuit for Teams customers praise the software for its ease of use. One shared that it gives them "fewer headaches, more productivity." Maybe that's why Circuit for Teams review ratings show that 89 percent of users would recommend it and 100 percent plan to renew. 
Choosing the right logistics management software
There are all kinds of logistics management software solutions out there ready to cater to your needs. The trick to choosing the right one is defining what those needs are, then trying the one that matches best (and doesn't have too many additional features).
If you go with an option with more bells and whistles than you need, you risk spending unnecessary time setting it all up and training your employees to use each feature. 
Even if logistics software manages your shipments, your delivery operations and last-mile delivery are both opportunities to make the best impression, leading to repeat customers and recommendations. 
If your business involves delivery management, integrating Circuit for Teams into whichever logistics management software you choose will improve your customers' satisfaction and ultimately, your bottom line.