24 minute read
8 of the Best Delivery Route Planning Solutions in 2023
Don't let inefficient delivery routes slow down your team. Check out these eight delivery route planning solutions to streamline your operations.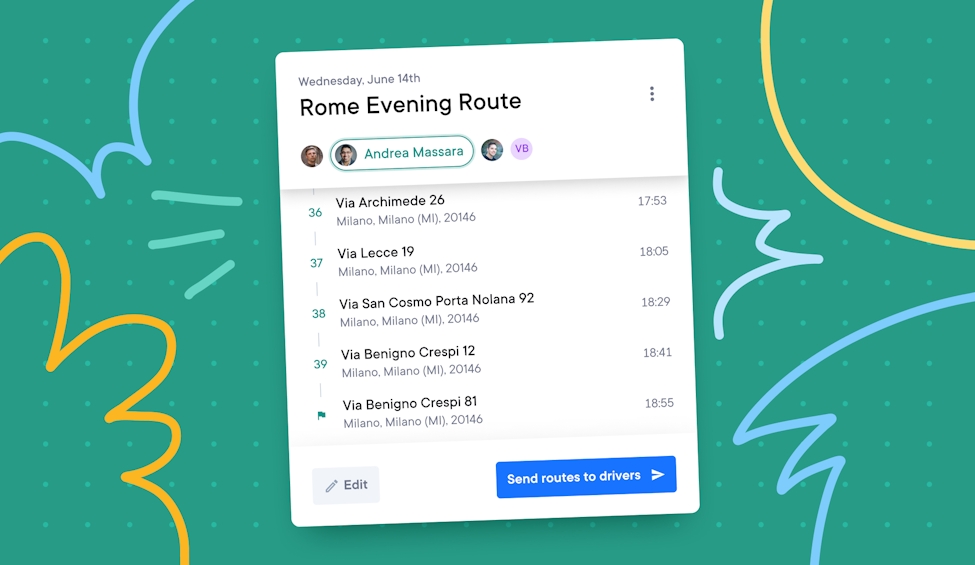 All delivery businesses can benefit from routing software. The more optimized your route, the less time your team spends on the road, and the more your business saves (in fuel costs and labor costs, plus you'll have increased capacity to deliver more items than before).
Key takeaways
Routing software saves delivery managers and dispatchers time on route planning and creates faster routes for drivers, saving on fuel and labor.
Key capabilities to consider when picking routing software include: route optimization, route editing, stop prioritization, multiple depot options, driver tracking and metrics, customer updates, proof of delivery, API integrations, customer service linking, and delivery constraints.
Circuit for Teams offers a comprehensive solution for dispatchers managing multiple drivers and routes.
All delivery businesses can benefit from routing software.
The more optimized your route, the less time your team spends on the road, and the more your delivery business saves in fuel costs and labor costs. Plus, you'll have increased capacity to deliver more items than before.
But what changes across delivery route planning solutions is the level of sophistication you need from your route planning software based on the number of stops and drivers you need, what they're delivering, and their vehicle capacity.
Our customers often ask about the same five capabilities when they're weighing delivery route planning solutions:
Route optimization. Optimizing your multistop, multidriver routes in the most efficient way possible
Route editing. Updating routes in real time, giving teams greater flexibility
Stop prioritization. Designating which delivery stops need to be made first versus last
Multiple depot options. Managing deliveries across multiple locations, ideal for larger teams with multiple depots
Driver monitoring and metrics. Monitoring driver's ongoing routes to increase transparency and cut down on inefficiencies and gathering metrics to assess driver performances
Customer updates. Updating customers on their package's estimated arrival time by email or text message, for example, by giving fixed or flexible delivery time windows
Proof of delivery (POD). Collecting a customer's signature when the driver delivers a package or taking photographs of where the driver left the package, and ideally being able to share this POD with others 
API integrations. Integrating with eCommerce apps like Zapier and Shopify so customers can get real-time updates on their orders with these tools
Customer service linking. Offering direct links to customer service resources using user-friendly tracking links
Delivery constraints. Planning a route with specific constraints, such as vehicle size, strict time windows, vehicle capacity, and more.In this post, we explore five different delivery route planning solutions to see what they offer drivers and dispatchers, and how they help businesses save time and money while making deliveries.
In this post, we explore eight different delivery route planning solutions to find what they offer drivers and dispatchers and how they help businesses save time and money while making deliveries.
Note: As you may have noticed, our list includes our own solution for delivery businesses. We're the first to admit we're biased, but we've also worked hard to turn Circuit into a tool any delivery driver or dispatcher would love to use. 
We continually do research with our customers to improve their user experience and add features that make their lives easier.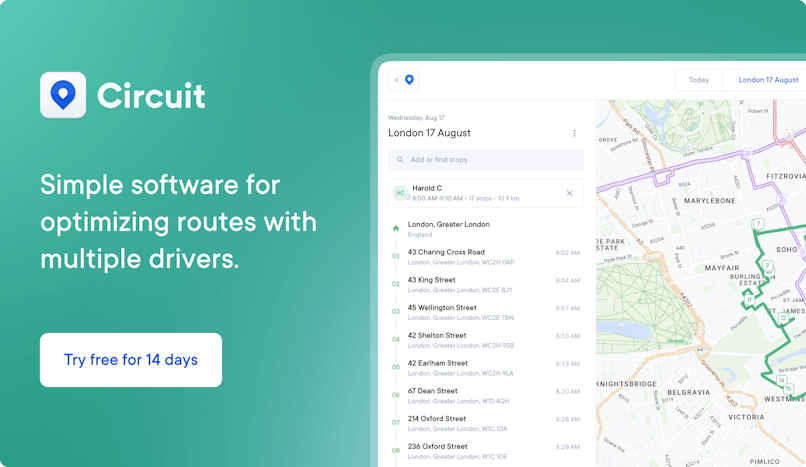 1. Circuit for Teams — best for large delivery teams (25+ drivers)
Circuit for Teams (Circuit) began as route optimization software for anyone who needed to plan a route with multiple stops. 
But since most of our customers were professional delivery drivers, we focused exclusively on building an efficient, intuitive experience for delivery teams.
Now, no matter if your delivery team is made up of one vehicle or a dozen, Circuit helps improve efficiencies in your delivery operations.
Circuit lets you create optimal routes, monitor routes, update customers with delivery times, collect proof of delivery, and set up specific constraints to customize your route to your business needs.
Route optimization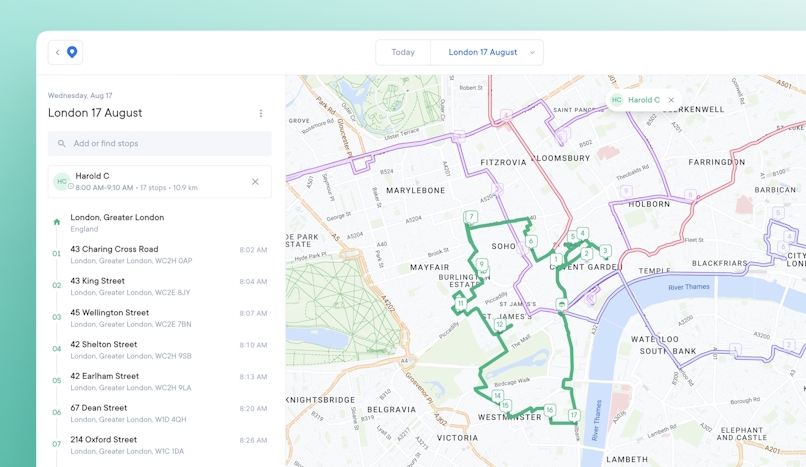 When you plan routes with Circuit for Teams, you can use our auto-complete address feature to add stops into the Circuit app or upload large routes with a CSV or Excel file. 
Either way, our route optimization feature works the same way.
Circuit for Teams simulates thousands of different route combinations until it finds the best route.
This is done in a few minutes, significantly reducing the time it takes delivery services to plan a daily route. 
Route optimization is a significant time-saver that can't be done with free navigation services like Google Maps or Waze. Instead, you'll use Circuit to optimize the route and your preferred navigation system to drive the route.
The Circuit for Teams default is to create a full-loop route (although this can be changed) where you end up where you started. 
We've noticed that most customers are delivering out of warehouses or their businesses, so a full-loop route makes the most sense.
But this means you can get routes that find a little like this: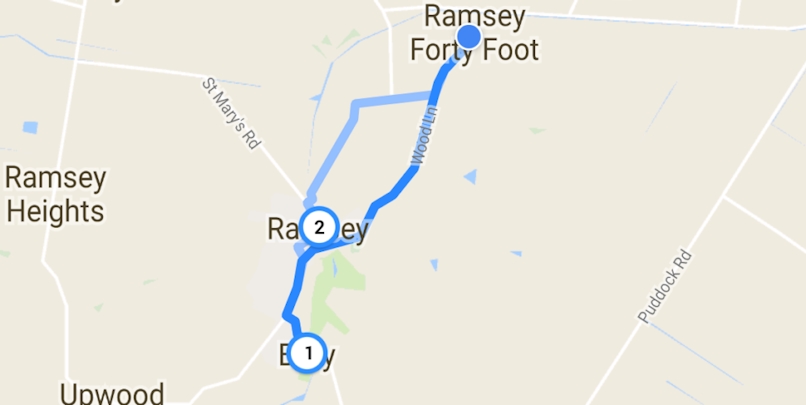 The route starts at Ramsey Forty Foot and passes Stop Two on the way to Stop One. You might think this an awkward oversight — after all, you're so close to the second stop. 
But The Circuit for Teams optimization algorithm did the math and knows it's faster, all other things being equal, to complete the second stop on the return journey.
Of course, drivers use Circuit for more than two-stop routes, and there are several other factors to consider when planning routes.
Including delivery time (some stops need their package by a specific time) and vehicle capacity (when operating at maximum capacity, some drivers need to head to the warehouse to reload their vehicle).
Concerning the number of stops you can have on a route: If your drivers are subscribed to Circuit Route Planner through their Android or iOS device, they can optimize an unlimited number of addresses every month and add up to 500 stops in a single route.
As a dispatcher, however, if you need to manage multiple drivers and more than 500 stops, we offer that in our team plans.
Route monitoring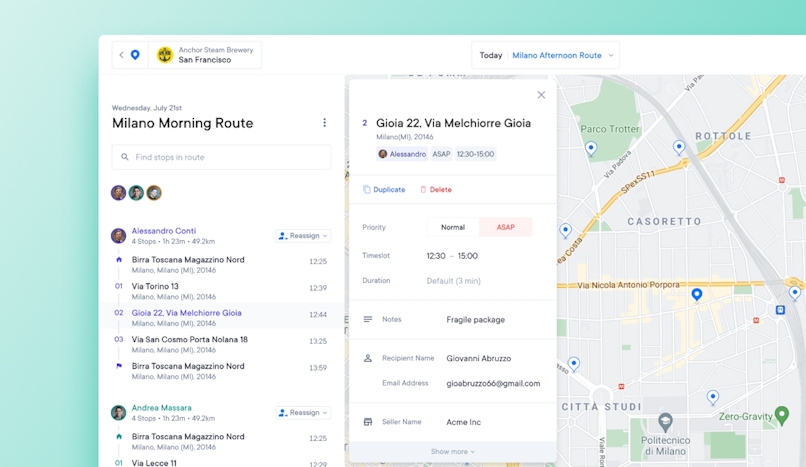 The Circuit for Teams route monitoring features are designed to tell you where a driver is within the context of their route.
This is an improvement upon traditional GPS tracking updates that simply tell you the driver's geographic location.
Knowing a driver is at 4th and Madison isn't helpful if you don't know they had to re-optimize their route to avoid an accident and that what was once their fourth stop is now their third.
This way, if a customer reaches out to dispatch about their delivery, dispatch doesn't have to collect their information, contact the driver, get the status update, and contact the customer back.
All dispatch has to do is find on their screen, zoom in on the driver for updated details on where they are currently and where they're headed next. Then, tell the customer of their package's estimated time of arrival (ETA).
Customer updates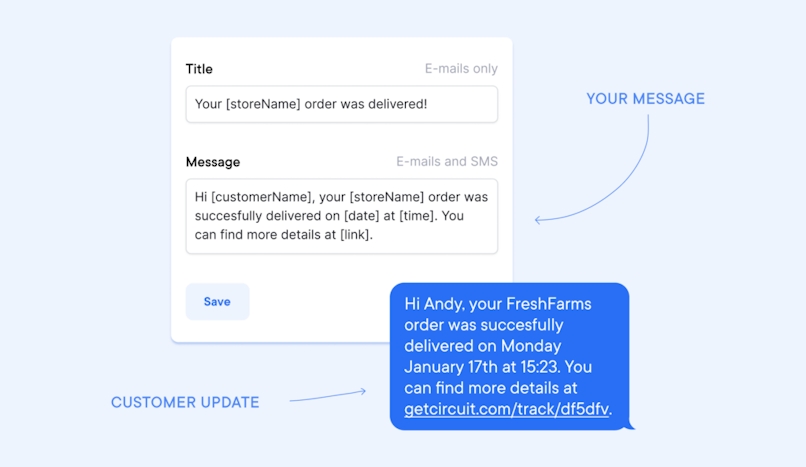 Speaking of keeping customers in the know, Circuit for Teams can also send delivery updates directly to the customer. 
Customer updates give peace of mind while reducing labor on your end, as dispatch won't field as many calls from customers asking about their package's ETA. 
They also reduce the risk of failed deliveries, which result in second delivery attempts and have a negative impact on the route's overall efficiency.
Once a driver starts their route, recipients get a text or email (you specify which in the backend) of their ETA.
The message comes with a link that allows the customer to check on the status of their package throughout the day. 
So, say your customer gets a text at the start of the day saying their delivery is expected to arrive between 8:30 and 10:30. 
If there are complications and your driver is a little behind on their route, when the customer checks the given link, they'll find their ETA has been moved back to happen between 9:00 and 11:00.
Plus, when the customer clicks the given link and goes to the tracking page, they can add notes that go directly to the driver, such as additional delivery instructions.
As the driver gets closer to making the delivery, the customer gets a final text with an exact delivery time.
Finally, once your package is delivered, the tracking page is updated to reflect that.
Proof of delivery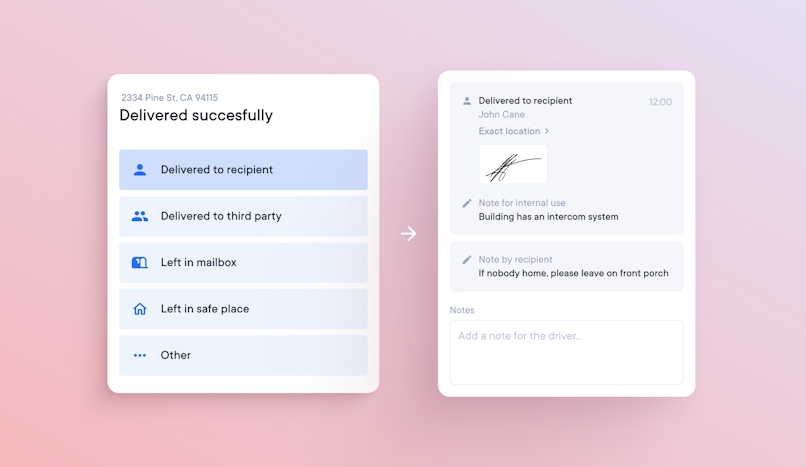 Depending on where and what you're delivering, the need for proof of delivery (POD) will vary.
With Circuit, drivers can:
Collect a customer's signature, verifying your package was collected by the customer or another recipient (such as a concierge).
Mark that they left your package in a mailbox.
Mark that they left your package in a safe place (and take a photo for additional verification).
Dispatch can easily find the information after the driver updates their stop — this gives dispatch access to any relevant notes if a customer calls to ask about the status of a package.
Circuit for Teams pricing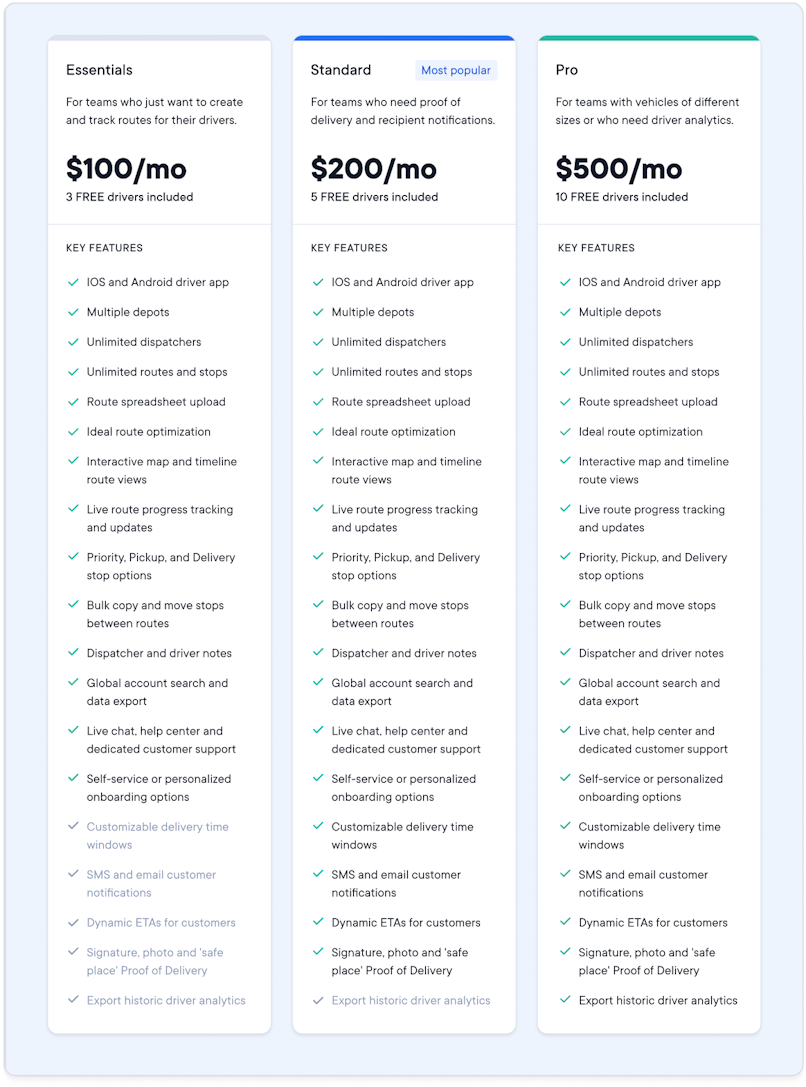 Circuit for Teams has three plans to choose from, Essentials, Standard, and Pro., based on what your team needs. Here's a breakdown of how much each one costs and what it gives you:
Essentials ($100 per month). With the Essentials plan, you can create and optimize routes, track drivers in real time, and integrate with the Circuit for Teams API. The price includes two drivers. After that, you pay $40 per additional driver.
Standard ($200 per month). With the Standard plan, you get all the features of the Essentials plan — plus you can capture proof of delivery and send customer notifications. The price includes the first three drivers. After that, you pay $60 per additional driver.
Pro ($500 per month). With the Pro plan, you get all the benefits of the Essentials and Standard plans, plus you can analyze delivery data. The price includes six drivers. After that, you pay $80 per additional driver.
So, if you have a team of 25 drivers, you'll pay:
Essentials. $1,020
Standard. $1,520
Pro. $2,020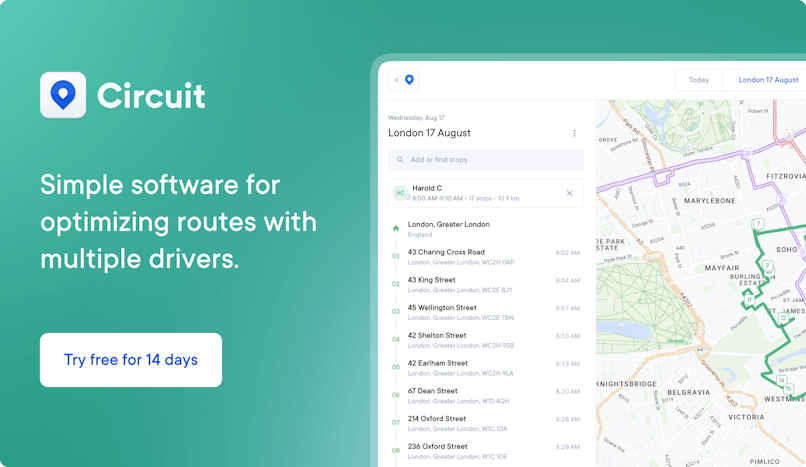 2. Routific — best for teams that prefer per-vehicle pricing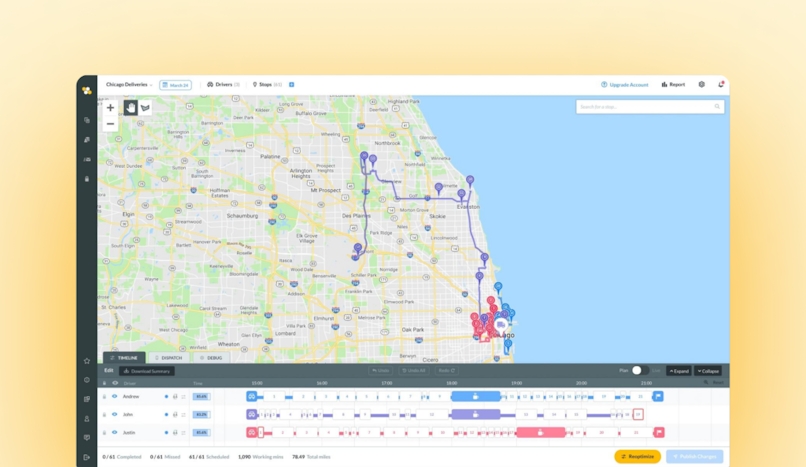 Routific is a route optimization platform that offers route monitoring (what they call Live Tracking), customer updates, and proof of delivery.
Route optimization
Routific lets you optimize routes for time (quickest route possible) or distance (shortest route possible). You choose which stops are of the highest priority. 
This way, if a route gets behind schedule, Routific will optimize the route to make sure high-priority stops are still completed on time.
Route monitoring
Routific calls their route monitoring service Live Tracking. And there are some key differences between what Routific offers and what other delivery route planning solutions offer when it comes to monitoring ongoing routes.
Live Tracking follows a driver's progress and takes into account two actions:
When a driver marked a stop as completed.
When a driver marked a stop as skipped.
In the screenshot below, you can begin to see how Live Tracking works:

The vertical blue line is the current time. Green boxes represent completed stops. While red boxes are incomplete stops (so your driver marked the stop as skipped), and yellow boxes are late stops (stops that were completed, but behind schedule).
So, Routific knows when a stop was completed, if a stop was skipped, and if a stop is likely to be late.
Customer updates
Through Routific, you can choose to update your customers through email or SMS notifications — if you choose to send updates at all.
If notifying by email, Routific suggests you make sure the notifications are coming from an email address you currently use because the customer can respond directly to the notification.
There are four different types of notifications:
Planned Delivery
A notification goes out to your customers when you publish routes through your dashboard. By default, this template gives the stop a one-hour buffer. If the ETA for arrival is 10:00 a.m., the customer gets a notification saying to expect their delivery will fall between 9:30 a.m. and 10:30 a.m. If during the route, the driver gets behind schedule or so drastically ahead of schedule that the new delivery window falls outside of the old delivery window, the customer gets an updated ETA. This happens as often as necessary.
Out for Delivery
Unlike planned delivery notifications, which can go out to customers multiple times within one route, the out-for-delivery notification is sent only once — when a package is 30 minutes out from its final destination.
After Delivery
Once the delivery is completed and the driver hits Confirm Completion on the Routific app, a customer gets a final notification. The driver can also use this template if they have to skip a delivery, so the customer is aware their delivery has been skipped.
Canceled Delivery
Dispatch is responsible for canceling deliveries. Once they unschedule or delete the delivery, they republish the route (drivers can't republish their own routes), and the customer gets a canceled delivery notification.
Proof of delivery
When using the Routific app, drivers can collect customer signatures directly on their smartphones.
Once the signature is collected and the driver confirms the stop is complete, dispatch can find the customer's signature plus how long the stop took the driver.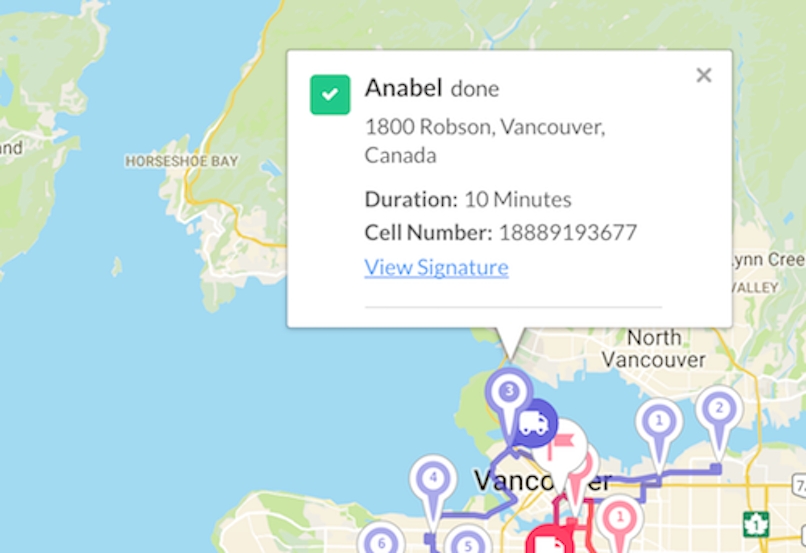 As far as we could tell, there aren't any ways to add a photo of a package. 
For example, if you had to leave your package on the customer's patio or another discreet location, there isn't a way to snap a photo and document it on Routific.
Routific offers two standard pricing tiers: the Essentials plan and the Professional plan.
Both tiers are per vehicle per month, with the main difference being the Essentials plan doesn't offer live delivery status tracking for customers or API integration into existing workflows.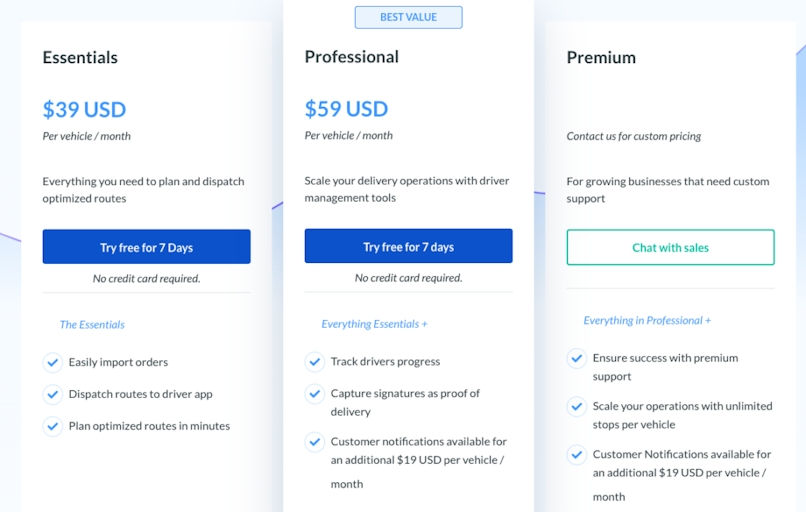 So, if you have a team of 25 drivers, you'll pay:
Essentials. $975
Professional. $1,475
Professional with customer notifications. $1,950
For a team of 25+, you'll probably want to spring for the Professional plan with customer notifications. That volume of deliveries is a lot to keep track of, and customer notifications can help you stay on top of everything.
3. RouteXL— best if you want a web-based solution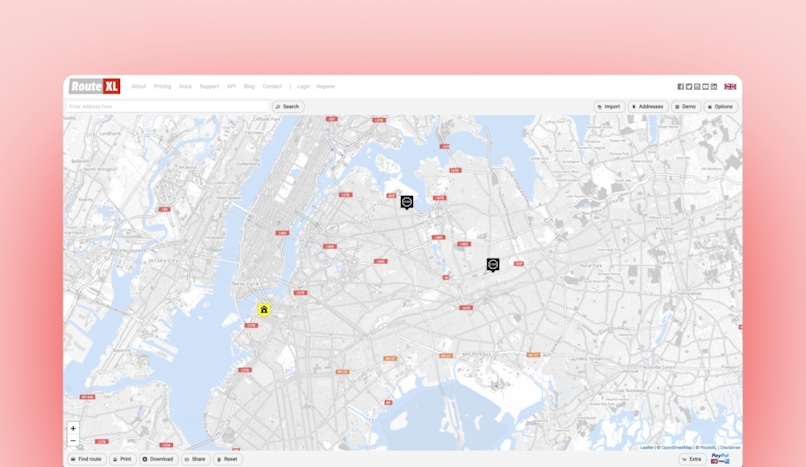 RouteXL is the most basic service on our list. As of when this post was published, RouteXL offers free route optimization (up to 20 stops) but no route monitoring, no customer updates, no mobile app, and no proof of delivery features.
Route optimization
RouteXL will optimize routes with 20 stops or fewer at no charge. Here's what you get for that:
You enter the addresses (or import them with a spreadsheet), and RouteXL finds the quickest route.
Sometimes, addresses are wrong, old, or incomplete. Delivery route planning solutions use geocoding to help with this problem. 
RouteXL uses two types of geocoding: free and premium. At no cost, RouteXL sends addresses to third-party geocoding services, such as Bing, Here, Mapbox, MapQuest, Nominatim, or Photon.
If you're paying RouteXL's premium pricing, your addresses use Google's geocoding API, which is considered the best in the business.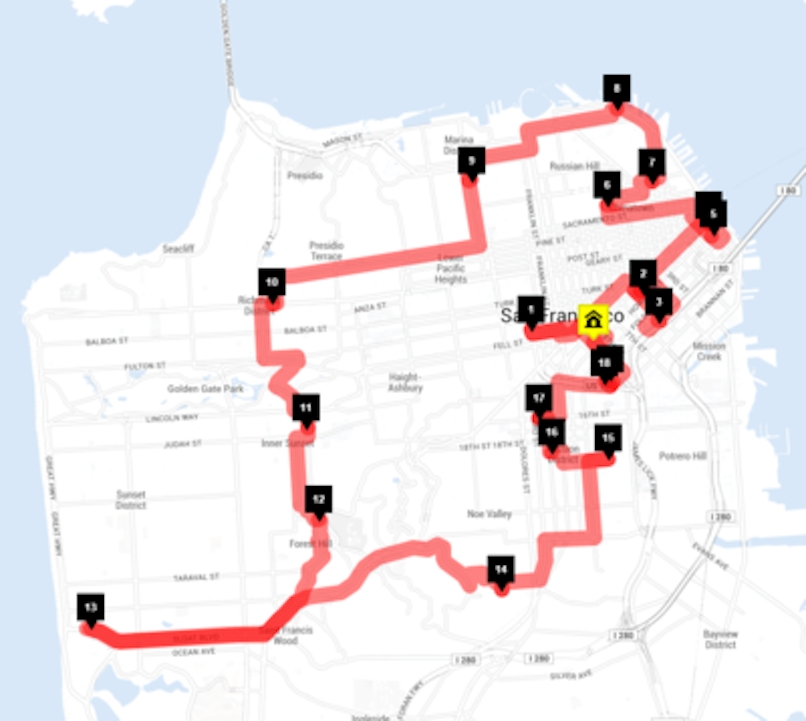 Once you have the route, you can distribute it to your drivers in various ways:
Print. Print the route and hand it to your drivers in the morning before they start their route.
Email. You can send the route to drivers by email, which can be opened by any browser.
Fulfillment. This is RouteXL's answer to not having an app. You can send the route URL to drivers with smartphones, and when they use on it, they'll get what RouteXL calls the "fulfillment dialog." Basically, this is a simple system that shows the stops in optimized order, including details like scheduled arrival time and delivery options.
Webfleet. For delivery drivers and fleets using TomTom Pro devices, you can use RouteXL's Webfleet integration. This integration allows the optimized route to be loaded directly into your TomTom Pro devices.
Pricing
RouteXL offers free route optimization for routes of 20 stops or less. You can do as many routes as you want in a day. 
If you're a dispatcher managing 25 drivers or more, you'll probably want to go for the RouteXL 100 or RouteXL200 plan. 
The 20 stops per route that RouteXL 20 gives you probably won't be enough. 
Plus, you don't want to run into access issues if you exceed their "fair use" policy — more on that below.
Here's what the cost breakdown might look like:
RouteXL 100. €35 (approximately $38) per month
RouteXL 200. €70 (approximately $76.35) per month
That might look like a steal, but be aware that RouteXL comes with some important terms. According to their fair use policy:
You can only calculate one route at a time. If you want to create multiple routes, you'll have to calculate one after the other.
In case of "extreme usage," you may run into issues. If you're using a free account and you exceed what they consider fair use, RouteXL may block access to the tool. Here's the thing — there's no clearly defined number of what they consider "extreme." They suggest that the fair limit for users of a free plan is about 100 routes per day. After this, your access might be cut off! 
For upgraded users, the "extreme usage" rule is a bit more flexible. With an upgraded account, you shouldn't have issues calculating up to 5,000 stops (not routes) per day. RouteXL suggests this could be 100 routes with 50 stops each, for example. While you won't have your access cut off if you exceed this "fair use" limit, the route planning tool will be slower. Plus, RouteXL will probably reach out to help find a "solution" for you — which might mean upselling you.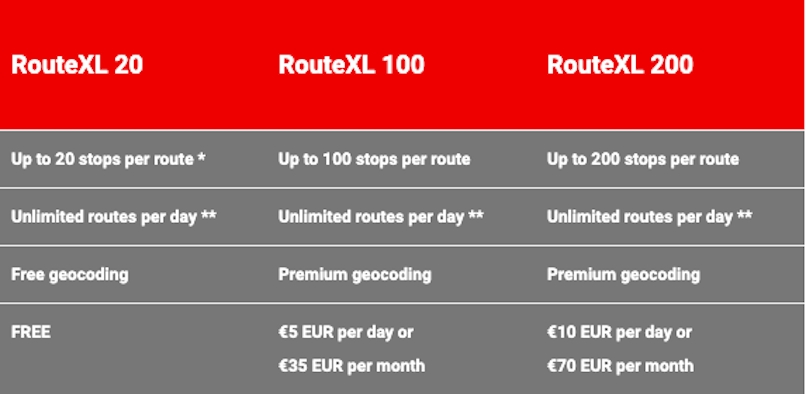 4. Route4Me — best for high levels of customization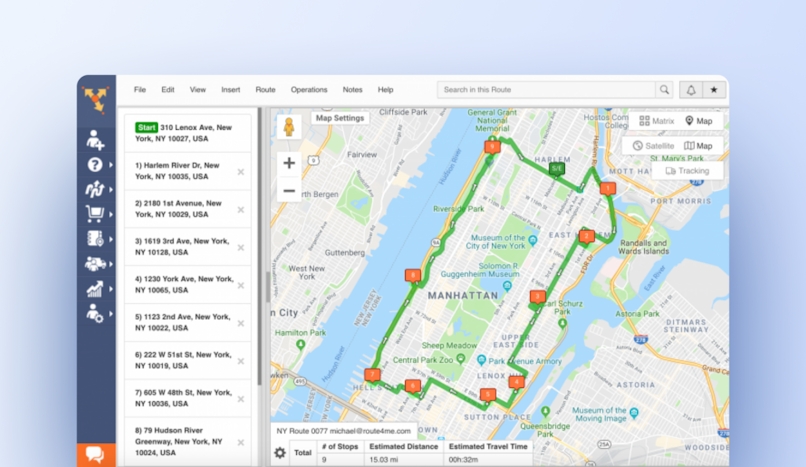 Route4Me is a comprehensive and customizable delivery route planning solution with a long list of add-ons for your business. It offers route optimization, route monitoring, customer updates, and proof of delivery.
Route4Me is popular among field service techs and larger delivery operations due to its marketplace catalog, which allows for significant customization.
Route optimization
Route4Me's pricing tiers include a level for single-person routes and a level for multi-person routes. Plus, Route4Me lets you optimize within specific constraints, such as avoiding highways or tolls.
Once a route is published, dispatch can manually move customers across routes and change the previously optimized route.
Route monitoring
Route4Me positions its route monitoring service as a tool to monitor and supervise drivers, so dispatch can catch employees who might be "goofing off" or driving too fast.
Route4Me also collects driver data and puts it into a dashboard for viewing. For example, you can compare your predicted travel times versus actual travel times or map where drivers deviated from their routes.
Customer updates
Route4Me uses geofencing that allows you to set up parameters around your customer's location, so when your driver gets close to a specific location, a notification will go out to the customer, letting them know their delivery is about to arrive. 
For example, you can set it up to notify a customer when the driver is five miles or 15 minutes away.
Proof of delivery
With Route4Me's smartphone app, drivers can collect signatures on their mobile devices. Then the signatures will appear automatically on each corresponding stop in the app.
Signatures are a type of event in the Route4Me system, which means you can monitor them inside your activity feed.
Route4Me also lets drivers upload media (such as photographs) to accompany any notes.
Route4Me pricing
Route4Me offers three tiers: the Route Management tier (which doesn't feature route optimization), the Route Optimization tier (which only optimizes single-person routes), and the Route Optimization Plus tier. 
All three plans are a per-month fee.

Route4Me also has its marketplace, which has features you can add to your monthly plan. For example, they offer a near-real-time tracking add-on, where there isn't a lag between what your driver is doing and what Route4Me is reporting.
If you're managing 25 drivers or more, you'll have to go for the Route4Me Optimization Plus tier to cover your multiperson capacity needs. 
This means paying a minimum of $349 per month.
That's expensive, especially if you add options that are already a given for other tools, like Circuit for Teams.
For example, route optimization is a given even for the Circuit for Teams Essentials plan, which starts at just $100 per month.
Plus, these prices include only up to 10 members. 
After that, you have to pay $69 per month per extra team member. So, for a 25-person team on the Route Optimization Plus plan, you'll end up paying $1,384.
5. OptimoRoute — best for teams using Garmin TomTom or Navigon GPS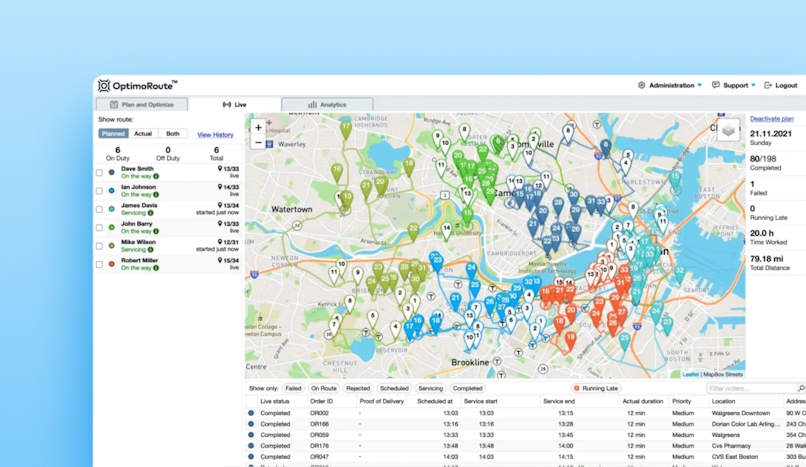 OptimoRoute offers route optimization, route monitoring, and customer updates, but as of now, it has no proof-of-delivery capabilities.
Route optimization
OptimoRoute optimizes your route (which is entered manually into OptimoRoute's dashboard or imported with a spreadsheet) and can factor in several constraints, including travel duration, driver work times, and vehicle load capacity. 
Depending on the plan you choose, your route can have 250 stops or 750+ stops. The optimized routes can be downloaded or uploaded to Garmin TomTom or Navigon GPS devices.
Route monitoring
Available in Business and Enterprise plans, OptimoRoute offers what they call Live ETA: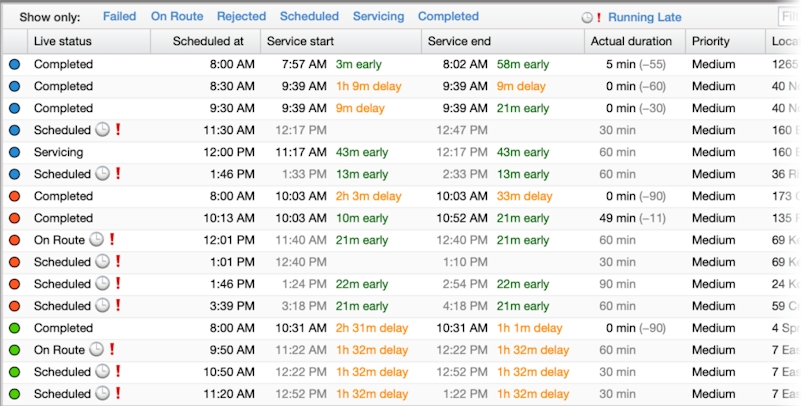 If you need more information than what you see on the screen above, you'd need to reach out to the delivery driver.
Customer updates
Through OptimoRoute, you can send an email to your customers, a text message, or no notifications.
OptimoRoute includes a URL with the messages, so the customer can go directly to an order tracking page. Here, customers can see the most updated ETAs.
OptimoRoute pricing
OptimoRoute bills services pricing per driver per month and has three different plans.
In the Lite plan, you can plan 700 orders at once, but you don't get real-time order tracking or proof of delivery.
In the Pro plan, you can plan up to 1,000 orders at once, but you don't get access to some advanced features.
With the Custom plan, you get all of OptimoRoute's features and can plan thousands of orders at once.
If you've got 25 or more drivers to oversee, you'll probably want the Pro plan at minimum. 
This will give you the volume of orders you need to cover, plus extras like driver analytics and real-time order tracking — useful perks when you've got a team of that size!
So, if you have a team of 25 drivers and use the Pro plan, you'll pay $1,102.50 per month (billed annually).Free options for delivery route planning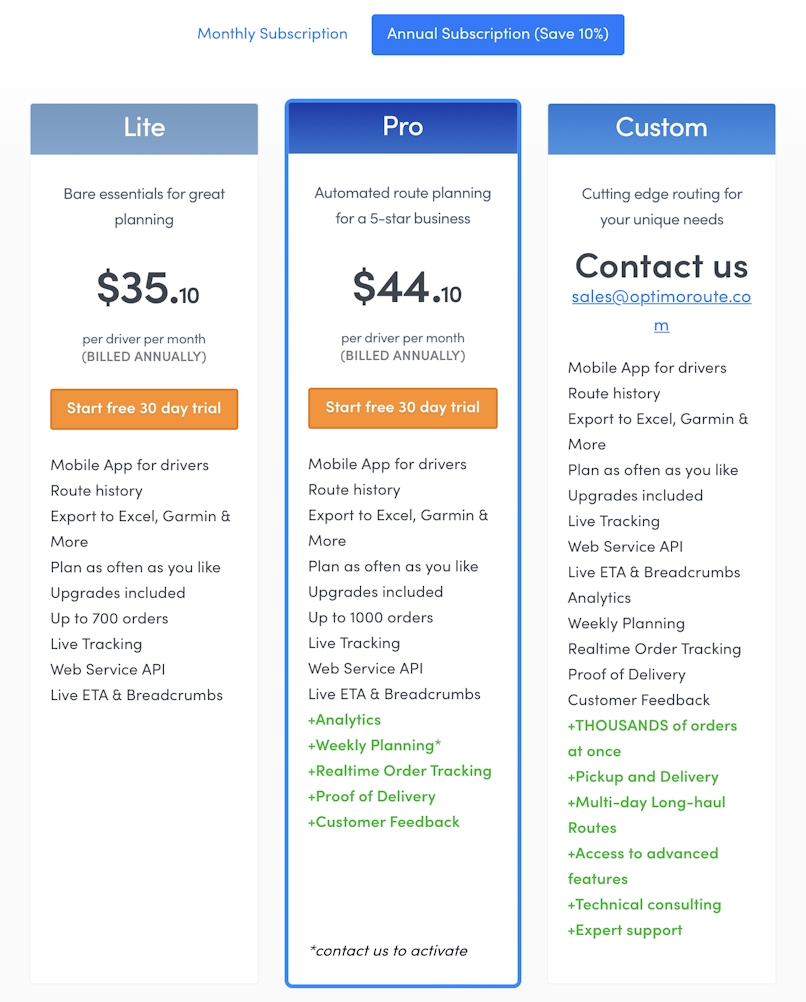 6. Onfleet — best for those without budget limitations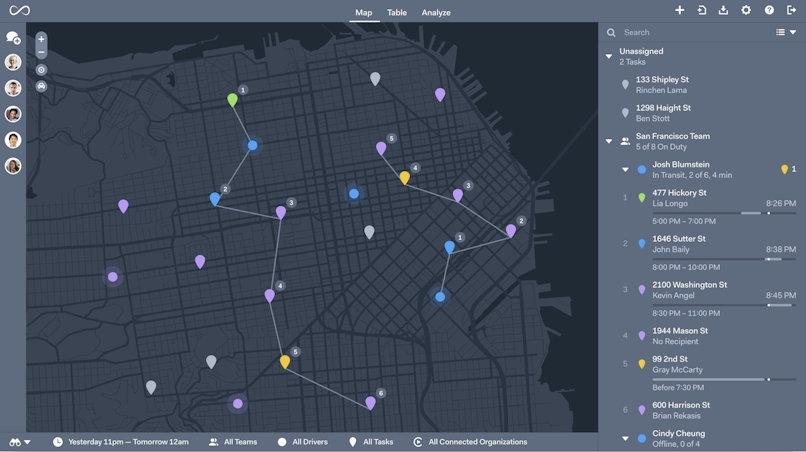 Onfleet calls itself "the world's most advanced last-mile delivery platform" — and they've got plenty of perks to back up their claims.
But this tool also has some drawbacks, including a hefty price tag.
Route optimization
Onfleet's integrated route optimization takes into account location, time, traffic, and driver capacity to generate the fastest route.
Routes can be updated and optimized in real time and sent directly to drivers while they're on the road. Integrations with apps like Apple Maps, Waze, and Google Maps allow for current traffic updates, so drivers can avoid jams.
It's possible to search through routes using keywords like status, customer name, and pickup or delivery instruction details, making it easier for dispatchers and delivery managers to monitor updates.
Route monitoring
Onfleet consolidates routing, dispatch, and tracking in one streamlined tool.
An auto-assign engine helps determine which driver to send where — saving time and cutting labor costs by automating tasks. For example, the auto-assign function can send the closest driver to a pickup spot.
Managers can track individual drivers and chat with them directly through the secure app. 
Drivers can respond by text or voice message — voice being ideal for those on the road who need to rely on hands-free communication to drive safely.
Customer updates
Real-time driver tracking makes it easy to give ETAs and delivery time windows, boosting customer satisfaction.
The delivery route planner can be configured to give customers automatic status updates so they know when to expect their orders.
Integrated customer communication also allows customers to interact with the driver directly by phone contact or message. Customers can also contact dispatchers or a contact center. 
To safeguard customer data, these calls can be anonymized.
Onfleet pricing
Onfleet offers a free 14-day trial for those who are curious. Take advantage of the freebie because this tool is a financial commitment — you want to test it first.
The Launch plan for small teams starts at $500 per month and includes 2,000 delivery or pickup tasks monthly. The Scale plan starts at $1,150 and includes 5,000 delivery or pickup tasks.
There are also custom Enterprise plans for multi-stop delivery routes exceeding 5,000 delivery or pickup tasks per month — price on request.
If you've got at least 25 drivers as a delivery manager, you'll probably need to get the Scale plan. 
The 2,000 delivery or pickup tasks included in the Launch plan will run out quickly for a 25-person team. 
Plus, Scale offers some useful perks for big teams, like barcode scanning.
So, if you go for the Scale plan, you'll pay $1,150 per month at a minimum.
If you need more stops, you'll have to pay more for a Custom plan. 
The Custom plan includes more functions, like multibrand or region support, advanced route optimization, and unlimited historical analytics.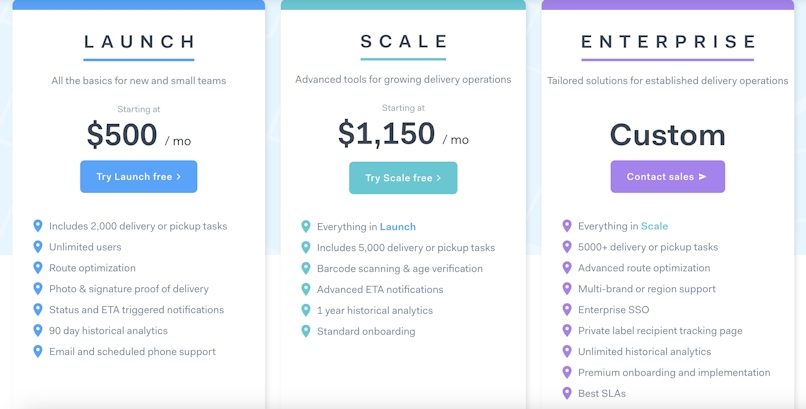 7. RoadWarrior — best for teams that deliver to businesses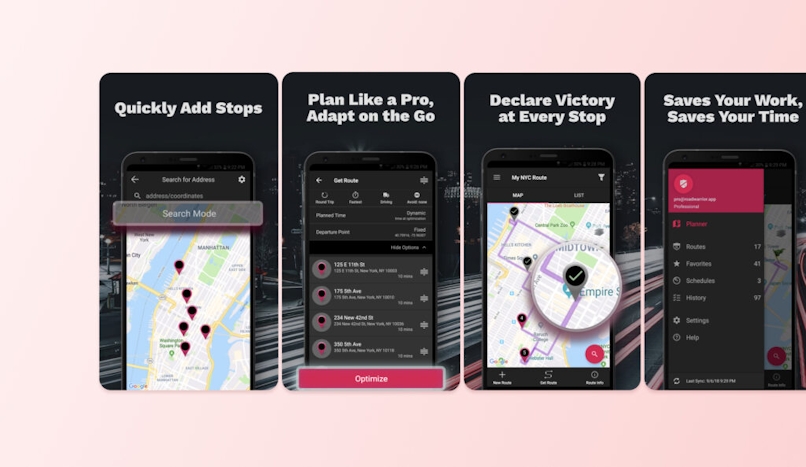 RoadWarrior has more than 500,000 platform downloads and over 11,000 ratings on Android and iOS, with an average 4.5-star rating. 
But does it live up to the hype? Let's break it down.
Route optimization
RoadWarrior optimizes routes based on multiple variables, taking into account school zones, tolls, traffic, and more to plan the most efficient route. 
Up to 200 stops can be entered with a spreadsheet or on the app's map.
Drivers can also designate drop-off priorities. For example, if a speedy delivery has to go to a certain customer first, it's possible to mark this in the app.
In case plans change — for example, a new priority package comes up — drivers or delivery managers can update routes on the fly.
It's easy to update routes through a drag-and-drop feature.
Route monitoring
RouteWarrior allows delivery managers to track their drivers in real time. It's also possible to alter, merge, and reassign routes.
For example, if one driver falls behind and another one is ahead of schedule, you can reassign some drop-offs to the driver who's ahead of things — simplifying delivery management.
Customer updates
Delivery drivers who cater to businesses face a conundrum — will the business be open when they stop by for a pickup or drop-off?
RoadWarrior solves the problem by allowing drivers to save availability time windows and opening hours. This can help make sure someone is there to sign for the order, streamlining the delivery experience.
However, the delivery route planner app doesn't allow for automated customer updates. There's no way for drivers to send customers updates about when they can expect their packages.
RoadWarrior pricing
RoadWarrior offers a free seven-day trial for individuals and teams.
After this, the RoadWarrior Flex plan for one solo driver or dispatcher costs $10 per month per team member. This includes 200 stops in each route and 500 daily stops per driver.
Say you've got a team of 25 or more to manage, that will quickly add up to a minimum $374.74.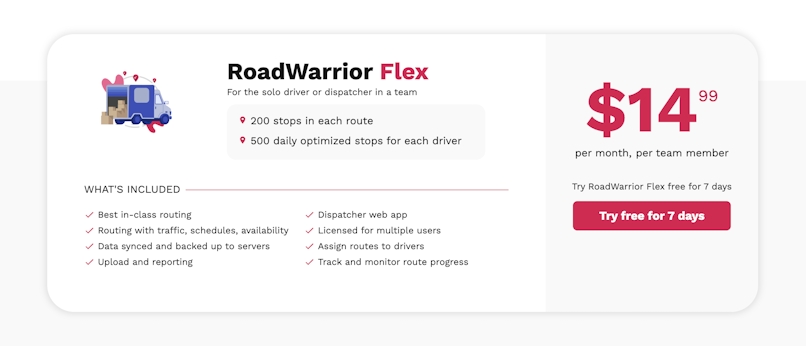 8. Mappr — best for easy-to-scale pricing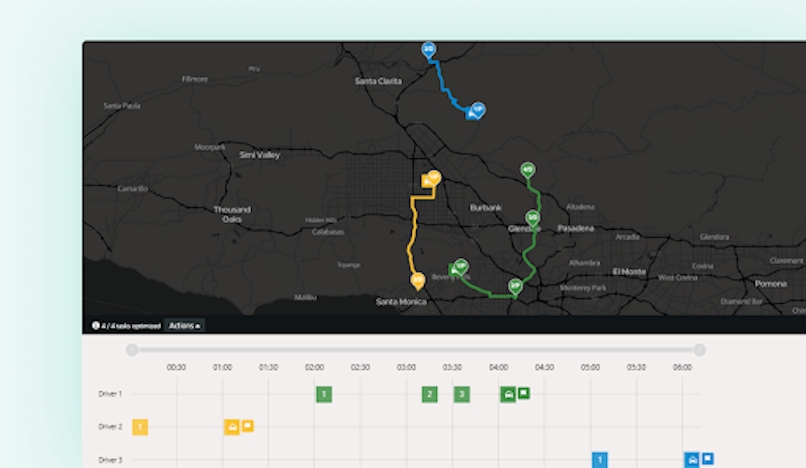 Mappr is a straightforward route planning tool that keeps it simple — and offers a reasonable price plan that can be scaled up as needed. 
The app claims to reduce logistics costs by 30 percent.
Route optimization
Mappr offers multi-stop route optimization based on distance, time, and driver location. The app also takes into account real-time traffic data, helping drivers avoid traffic jams.
Mappr offers vehicle-based optimization. So, if you're routing a bicycle delivery person, the route will be different from routing a car. 
The app takes into account vehicle fuel consumption, capacity, and speed.
Orders can be marked as a priority, and managers and drivers can update routes to accommodate changes in delivery workflows.
Route monitoring
Mappr offers live driver tracking, so delivery managers and dispatchers can find where deliveries are at any given time.
The route planning tool also offers API integration with Tookan, a delivery management solution from the same parent company (Jungleworks). Managers can use automatic task allocation to assign routes, saving time and hassle.
Managers can also get analytics and reports of route data, which can be helpful in finding ways to improve delivery times.
Customer updates
Mappr can streamline internal operations when it comes to delivery management. 
But it doesn't offer external-facing perks — like live updates for customers. This is a drawback that can leave customers guessing as to when their package will arrive.
Mappr pricing
Mappr is free — to a point. You can use it for 50,000 transactions without paying.
After that, you can upgrade to 1 million transactions for $209 per month. If you need even more capacity, you can boost it to 2 million transactions for $375 per month.
Let's say you've got a team of 25-plus to manage. The Growth plan with at least 1 million transactions per month will likely cover the volume you need. 
It also offers useful functions the Startup plan lacks, like custom map themes and chat support.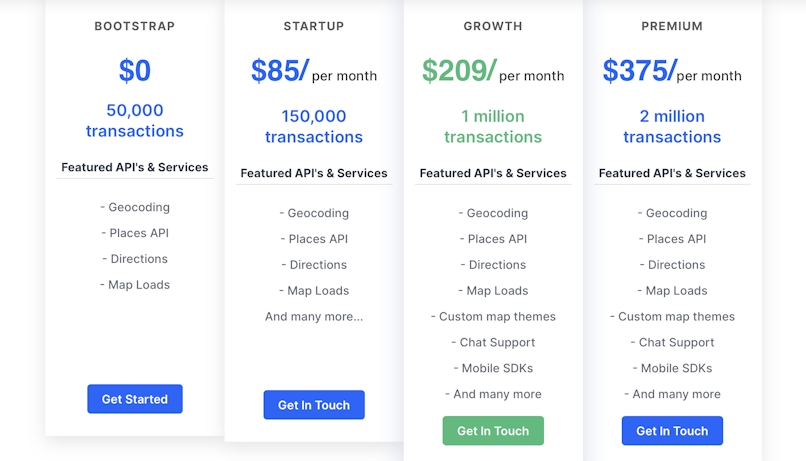 Quick recap
If you're feeling overwhelmed by all that math and number-crunching, this table gives you a quick overview of what you can expect to pay for each product.
I've based this summary on the assumption that you have a team of at least 25 drivers and picked the plans from each provider that should meet those needs.
Now, at first glance, you might be tempted to just go for the cheapest option. But picking a route planning solution is about way more price.
For example, RouteXL might seem like a steal — but once you look at the fine print of their fair use policy, it's clear that their "free" offering is restrictive and could even leave you without access to your route planning tool without warning!
Also, take the time to research what each provider offers. 
For example, Routific charges extra to get customer notifications, whereas the Circuit for Teams Standard plan includes customer notifications. 
The Circuit for Teams Standard plan also includes many other functions that other providers don't offer — or charge you extra for. 
You can create and optimize routes, track drivers in real time, capture proof of delivery, send customer notifications, and integrate with the Circuit for Teams API. 
Free options for delivery route planning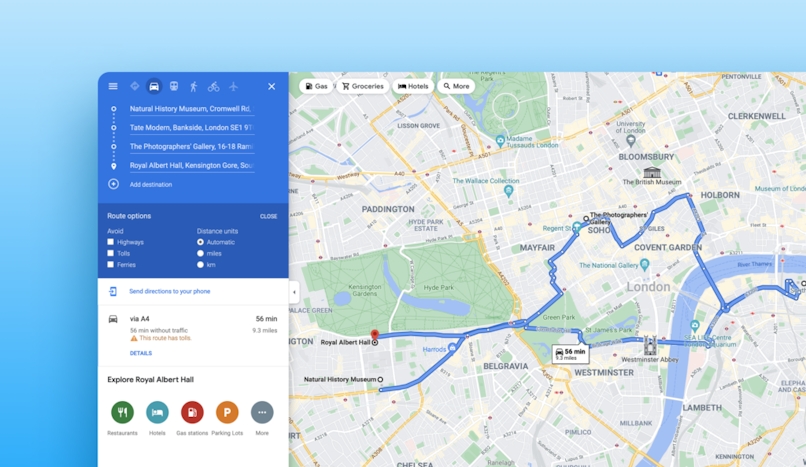 If you're not looking to pay a per-driver or monthly fee for a delivery route planning solution, you can find free options.
Just keep in mind that free delivery route planning solutions are significantly limited. 
Google Maps, for example, only allows for manual optimization, as we cover in our post on planning the shortest route for multiple destinations in Google Maps.
Then, there's MapQuest's route planner. Unlike Google Maps, MapQuest works to optimize a route, but it still has severe limitations. 
While it lets you avoid toll roads and highways, it only lets you optimize for one driver with 26 or fewer stops. After that, the service is done. 
There's no route monitoring, app to use, proof of delivery, or customer updates. This service could work as a short-term solution for small businesses where the owner is handling deliveries and needs an elementary way to finish a handful of stops quickly.
The best delivery route planning solutions: Conclusion
As we covered above, delivery route planning solutions are about more than just optimizing a multi-stop route. 
Depending on the sophistication of your deliveries, you could be looking to create optimized routes that take into effect toll roads, highways, seasonal roads, vehicle capacity, high-priority deliveries, and time-sensitive stops.
Teams have to consider more processes, such as route monitoring, proof of delivery capabilities, and customer updates. 
Hopefully, the tools we've listed can help you choose whichever solution best fits your needs.