15 minute read
5 of the Best Delivery Route Planning Solutions in 2023
In this post, we explore how five different delivery planning solutions approach route planning and monitoring, proof of delivery, customer updates, and more.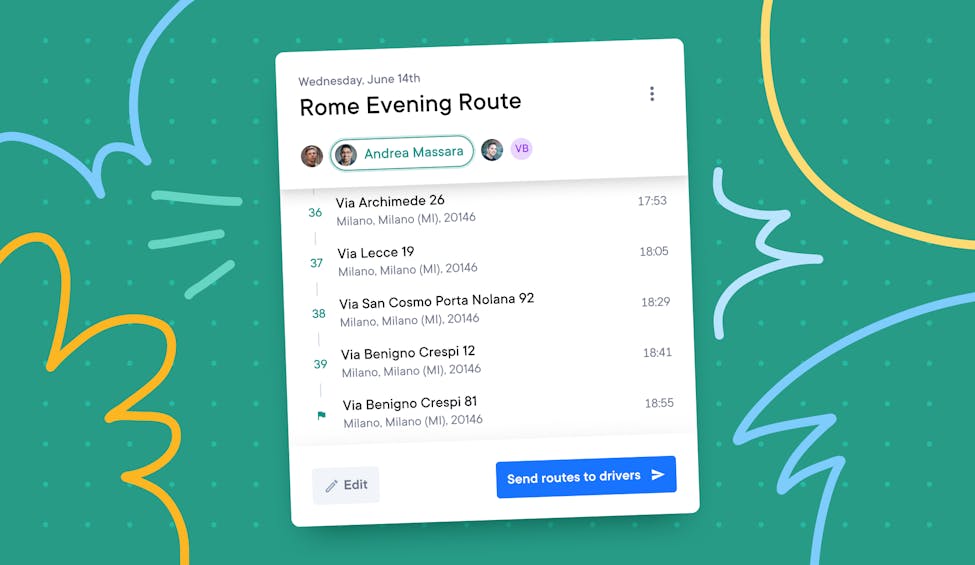 All delivery businesses can benefit from routing software. The more optimized your route, the less time your team spends on the road, and the more your business saves (in fuel costs and labor costs, plus you'll have increased capacity to deliver more items than before).
But what changes across delivery route planning solutions — based on factors such as the number of stops you're completing, what you're delivering (size of parcel and vehicle capacity), and whether you work alone or as part of a team or large courier business — is the level of sophistication you need from your route planning software.
Our customers often ask about the same five capabilities when they're weighing delivery route planning solutions:
Route optimization
Optimizing your multi-stop, multi-driver routes in the most efficient way possible
Route monitoring
Monitoring ongoing routes to increase transparency and cut down on inefficiencies
Customer updates
Updating customers on their package's estimated arrival time via email or text message
Proof of delivery
Collecting a customer's signature when the driver delivers a package or taking photographs of where the driver left the package
Delivery constraints
Planning a route with specific constraints, such as vehicle size, strict time windows, vehicle capacity, and more.
In this post, we explore five different delivery route planning solutions to see what they offer drivers and dispatchers, and how they help businesses save time and money while making deliveries.
Note: As you may have noticed by now, our list includes our own solution for delivery businesses. We're the first to admit we're biased, but we've also been working hard to turn Circuit into a tool any delivery driver or dispatcher would love to use. We continually do research with our customers to improve their user experience and to add features that make their lives easier.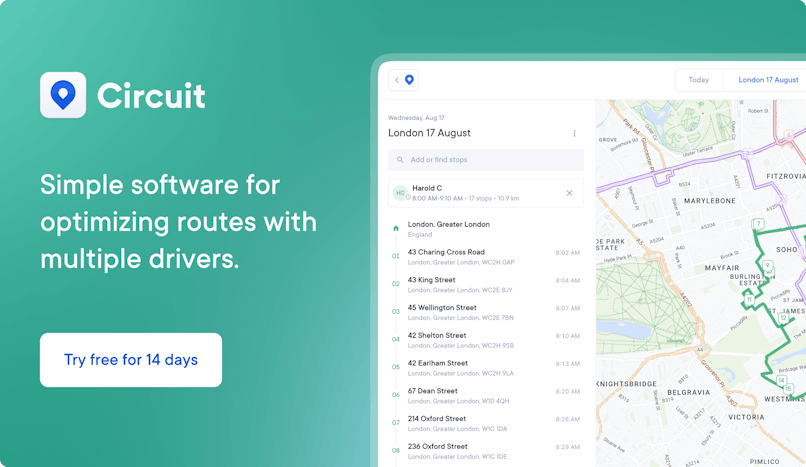 1. Circuit for Teams
Circuit for Teams began as route optimization software for anyone who needed to plan a route with multiple stops. But since most of our customers were professional delivery drivers, we focused exclusively on building an efficient, intuitive experience for delivery teams.
Now, no matter if your delivery fleet is made up of one vehicle or a dozen, Circuit helps improve efficiencies in your delivery operations.
Circuit lets you create optimal routes, monitor routes, update customers with delivery times, collect proof of delivery, and set up specific constraints to customize your route to your business needs.
Route optimization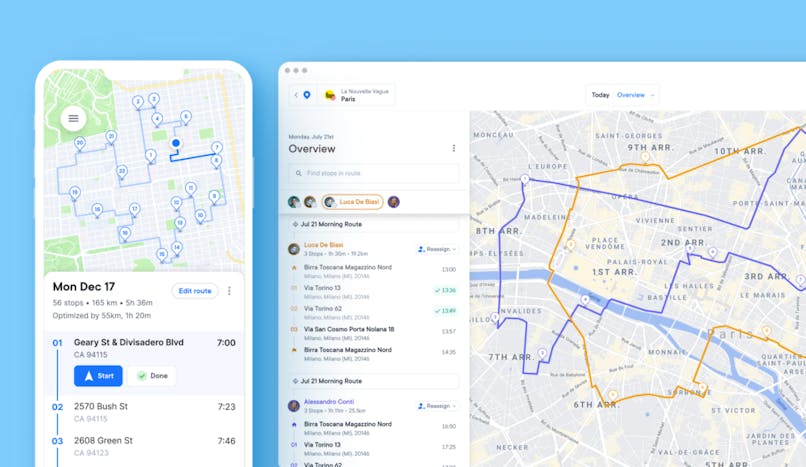 When you plan routes with Circuit, you can either use our auto-complete address feature to input stops into the Circuit app, or upload large routes via a CSV or Excel file. Either way, our route optimization feature works the same way.
Circuit for Teams simulates thousands of different route combinations until it finds the best route. This is done in a few minutes, significantly reducing the time it takes delivery services to plan a daily route. Route optimization is a significant time-saver that can't be done with free navigation services like Google Maps or Waze. Instead, you'd use Circuit to optimize the route and then use your preferred navigation system to drive the route.
Circuit's default is to create a full-loop route (though this can be changed) where you end up back where you started. We've noticed that most of our customers are delivering out of warehouses or their businesses, so a full-loop route makes the most sense.
But this means you can get routes that look a little like this: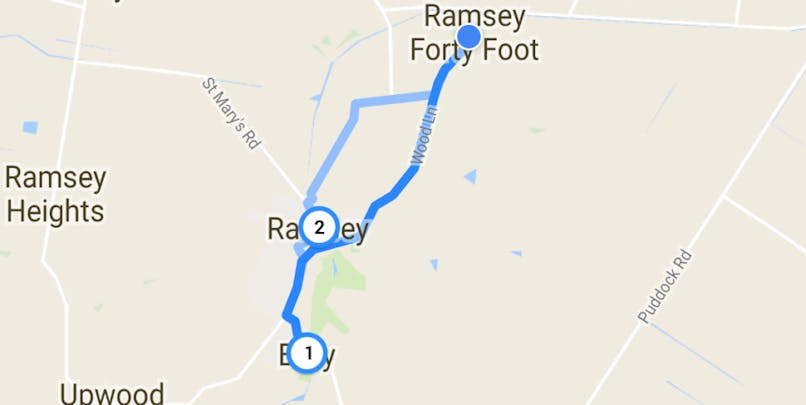 The route starts at Ramsey Forty Foot and passes Stop Two on the way to Stop One. You might think this an awkward oversight, after all, you're so close to the second stop. But Circuit's optimization algorithm did the math and knows it's faster, all other things being equal, to complete the second stop on the return journey.
Of course, drivers use Circuit for more than two-stop routes, and there are several other factors to consider when planning routes, such as required delivery time (some stops need their package by a specific time) and vehicle capacity (when operating at maximum capacity, some drivers will need to head back to the warehouse to reload their vehicle).
Concerning the number of stops you can have on a route: If you're subscribed to Circuit through your Android or iOS, you can optimize an unlimited number of addresses every month and add up to 500 stops in a single route.
If you need more than 500 stops to a route, we offer that in our team plans.
Route monitoring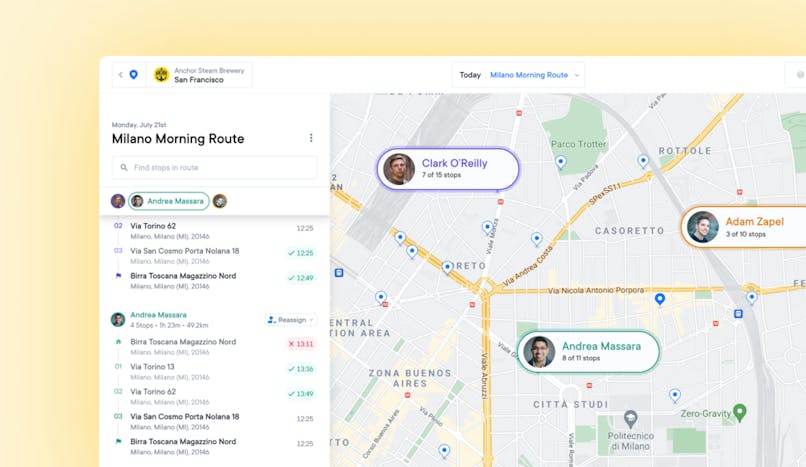 Circuit's route monitoring features are designed to tell you where a driver is within the context of their route. This is an improvement upon traditional GPS tracking updates that simply tell you the driver's geographic location. Knowing a driver is at 4th and Madison isn't helpful if you don't know they had to re-optimize their route to avoid an accident and that what was once their fourth stop is now their third.
This way, if a customer reaches out to dispatch about their delivery, dispatch doesn't have to collect their information, reach out to the driver, get the status update, and then call the customer back.
All dispatch has to do is look on their screen, zoom in on the driver for updated details on where they are currently and where they're headed next, and inform the customer of their package's estimated time of arrival (ETA).
Customer updates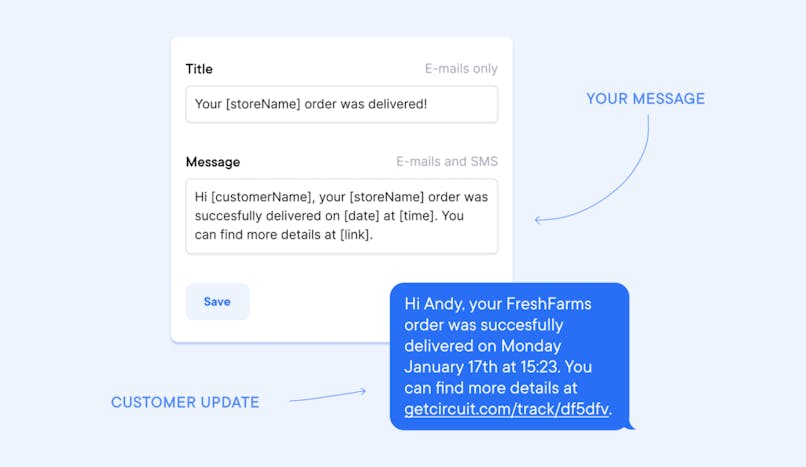 Speaking of keeping customers in the know, Circuit can also send delivery updates directly to the customer. Customer updates provide peace of mind while reducing labor on your end, as dispatch won't be fielding as many calls from customers inquiring about their package's ETA. They also reduce the risk of failed deliveries, which result in second delivery attempts and have a negative impact on the route's overall efficiency.
Once a driver starts their route, recipients get a text or email (you specify which in the backend) of their ETA.
The message comes with a link that allows the customer to check on the status of their package throughout the day. So, say your customer gets a text at the start of the day saying their delivery is expected to arrive between 08:30 and 10:30. If there are complications, and your driver is a little behind on their route, when the customer checks the provided link, they'll see their ETA has been moved back to occur between 9:00 and 11:00.
Plus, when the customer clicks the provided link and goes to the tracking web page, they can add notes that go directly to the driver, such as additional delivery instructions.
As the driver gets closer to making the delivery, the customer gets a final text with an exact delivery time.
Finally, once the package is delivered, the web tracking page is updated to reflect that.
Proof of delivery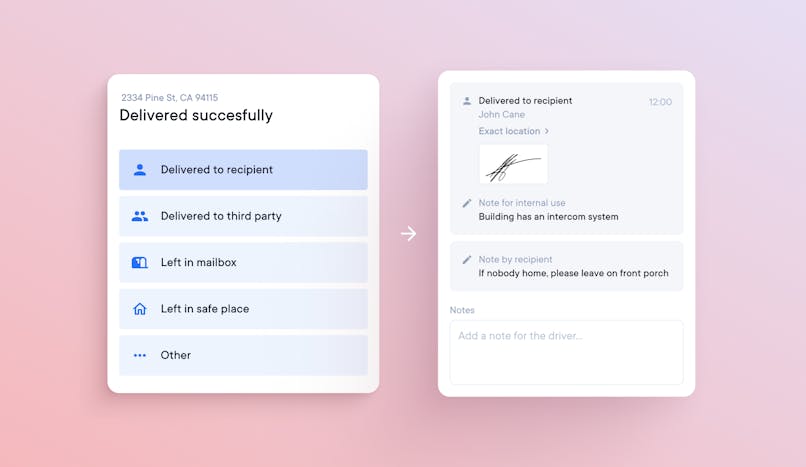 Depending on where and what you're delivering, the need for proof of delivery (POD) will vary.
With Circuit, drivers can:
Collect a customer's signature, verifying the parcel was received by the customer or another recipient (such as a concierge)
Mark that they left the package in a mailbox
Mark that they left the package in a safe place (and take a photo for additional verification).
Dispatch can easily view the information after the driver updates their stop – this gives dispatch access to any relevant notes if a customer calls to inquire about the status of a package.
Circuit for Teams pricing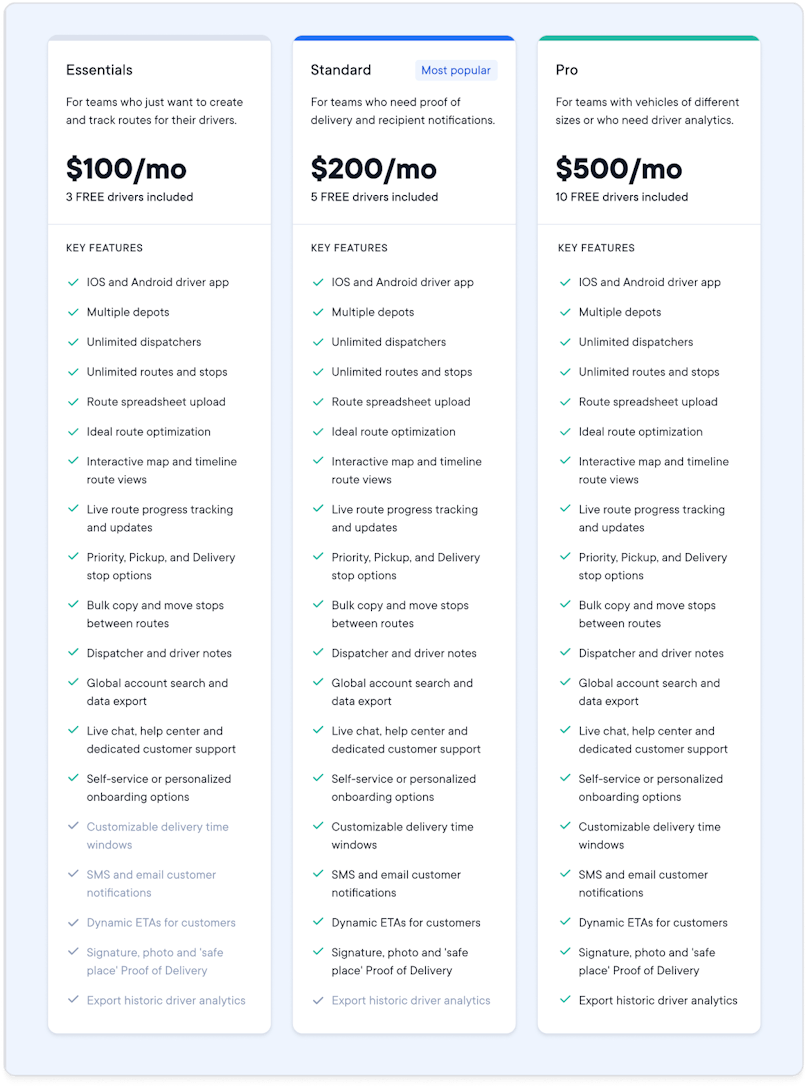 Circuit for Teams has three plans to choose from, Essentials, Standard, and Pro., based on what your team needs. Plans start at $100 per driver per month for dispatchers wanting to just track routes for their drivers.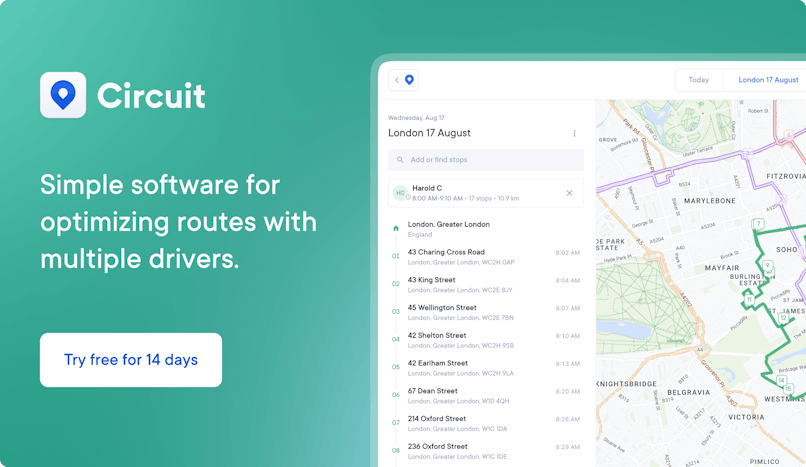 2. Routific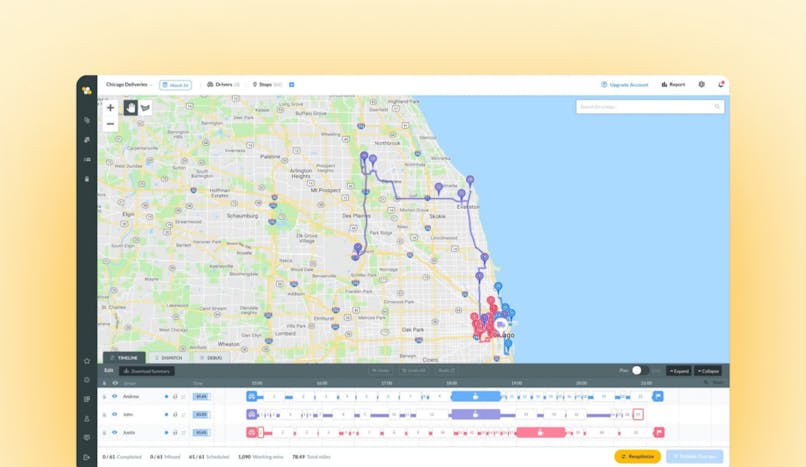 Routific is a route optimization platform that offers route monitoring (what they call Live Tracking), customer updates, and proof of delivery.
Route optimization
Routific lets you optimize routes for either time (quickest route possible) or distance (shortest route possible). You select which stops are of the highest priority. This way, if a route gets behind schedule, Routific will optimize the route to make sure high-priority stops are still completed on time.
Route monitoring
Routific calls 1their route monitoring service Live Tracking. And there are some key differences between what Routific offers and what other delivery route planning solutions offer when it comes to monitoring ongoing routes.
Live Tracking follows a driver's progress and takes into account two actions:
When a driver marked a stop as completed
When a driver marked a stop as skipped.
In the screenshot below, you can begin to see how Live Tracking works:

The vertical blue line is the current time. Green boxes represent completed stops. While red boxes are incomplete stops (so your driver marked the stop as skipped), and yellow boxes are late stops (stops that were completed, but behind schedule).
So, Routific knows when a stop was completed, if a stop was skipped, and if a stop is likely to be late.
Customer updates
Through Routific, you can choose to update your customers through email or SMS notifications, if you choose to send updates at all.
If notifying via an email, Routific suggests you make sure the notifications are coming from an email address you currently use, because the customer can respond directly to the notification.
There are four different types of notifications:
Planned Delivery
A notification goes out to your customers when you publish routes through your dashboard. By default, this template gives the stop a one-hour buffer. If the ETA for arrival is 10:00 a.m., the customer gets a notification saying to expect their delivery will fall between 9:30 a.m. and 10:30 a.m. If during the route, the driver gets behind schedule or so drastically ahead of schedule that the new delivery window falls outside of the old delivery window, the customer gets an updated ETA. This happens as often as necessary.
Out for Delivery
Unlike planned delivery notifications, which can go out to customers multiple times within one route, the out-for-delivery notification is sent only once — when a package is 30 minutes out from its final destination.
After Delivery
Once the delivery is completed and the driver hits Confirm Completion on the Routific app, a customer gets a final notification. The driver can also use this template if they have to skip a delivery, so the customer is aware their delivery has been skipped.
Canceled Delivery
Dispatch is responsible for canceling deliveries. Once they unschedule or delete the delivery, they republish the route (drivers can't republish their own routes), and the customer gets a canceled delivery notification.
Proof of delivery
When using the Routific app, drivers can collect customer signatures directly on their smartphones.
Once the signature is collected and the driver confirms the stop is complete, dispatch is able to see on their screen the customer signature plus how long the stop took the driver.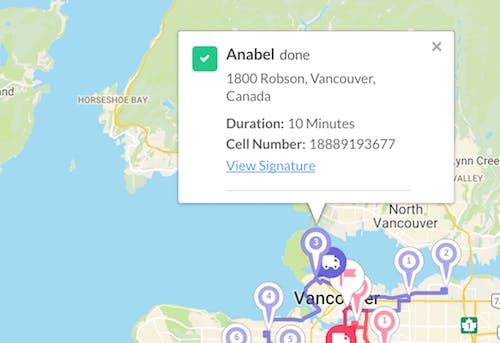 As far as we could tell, there aren't any ways to add a photo of a package. For example, if you had to leave the package on the customer's patio or another discreet location, there isn't a way to snap a photo and document it on Routific.
Routific pricing
Routific offers two standard pricing tiers: the Essentials plan and the Professional plan.
Both tiers are per vehicle per month, with the main difference being that the Essentials plan doesn't offer live delivery status tracking for your customers or API integration into your existing workflows.
Routific also offers a Premium option, which is a custom pricing option that requires you to reach out to the Routific sales team for details.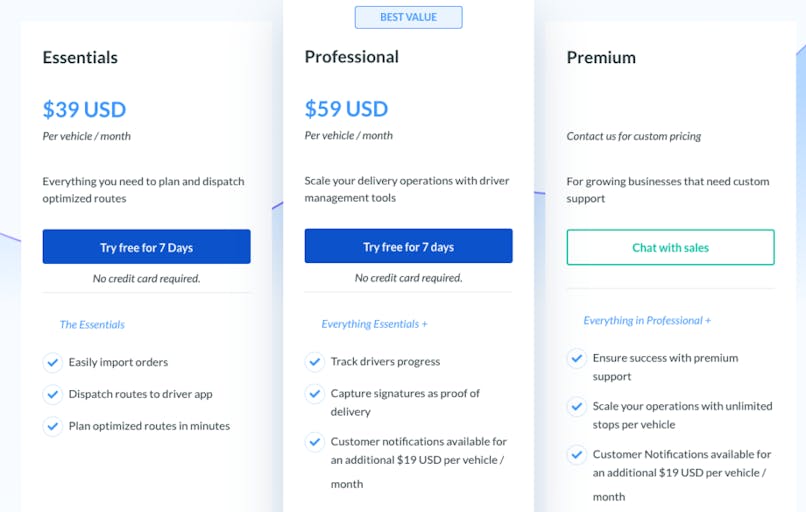 3. RouteXL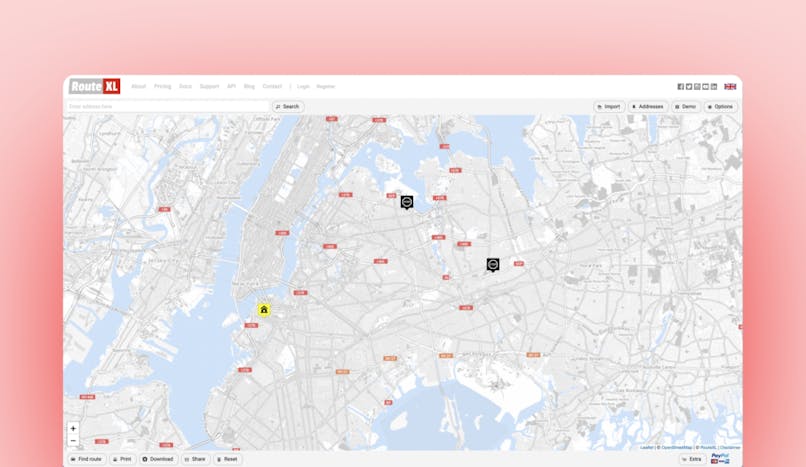 RouteXL is the most basic service on our list. As of when this post was published, RouteXL offers free route optimization (up to 20 stops) but no route monitoring, no customer updates, no mobile app, and no proof of delivery features.
Route optimization
RouteXL will optimize routes with 20 stops or fewer at no charge. Here's what you get for that:
You enter the addresses (or import them via a spreadsheet), and then RouteXL finds the quickest route.
Sometimes addresses are wrong, old, or incomplete. Delivery route planning solutions use geocoding to help with this problem. RouteXL uses two types of geocoding: free and premium. At no cost, RouteXL sends addresses to third-party geocoding services, such as Bing, Here, Mapbox, MapQuest, Nominatim, or Photon.
If you're paying RouteXL's premium pricing, your addresses use Google's geocoding API, which is considered the best in the business.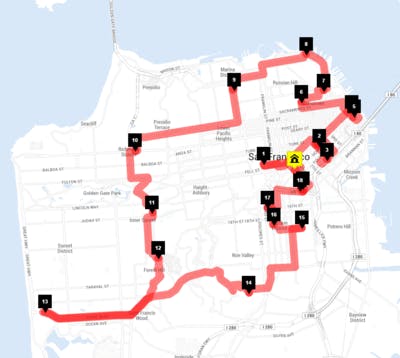 Once you have the route, you can distribute it to your drivers in various ways:
Print: The ultimate offline method. Print out the route and hand it to your drivers in the morning before they start their route.
Email: You can send the route to drivers via email, which can be opened by any browser.
Fulfillment: This is RouteXL's answer to not having an app. You can send the route URL to drivers with smartphones, and when they click on it, they'll get what RouteXL calls the "fulfillment dialog." Basically, this is a simple system that shows the stops in optimized order, including details such as the scheduled arrival time and delivery options.
WEBFLEET: For delivery drivers and fleets using TomTom Pro devices, you can use RouteXL's WEBFLEET integration. This integration allows the optimized route to be loaded directly into your TomTom Pro devices.
Pricing
RouteXL offers free route optimization up for routes of 20 stops or less. You can do as many routes as you want a day. If you want to up your usage to 100 stops per route, it's roughly $38 per month (€35 euros), and if you need 200 stops per route, it's roughly $76.35 per month (€70 euros).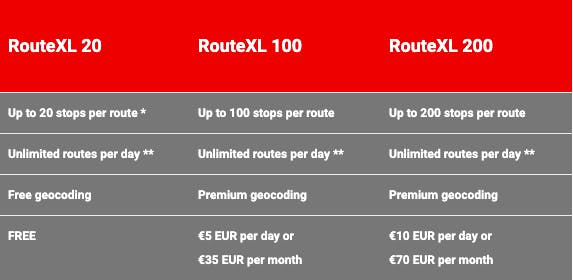 4. Route4Me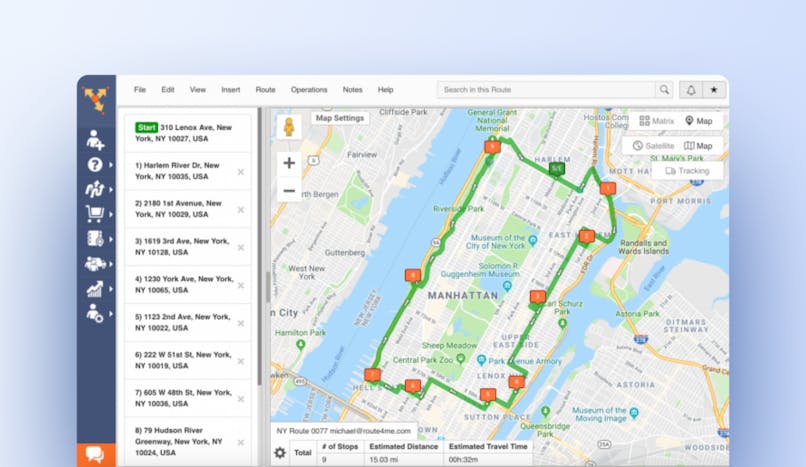 Route4Me is a comprehensive and customizable delivery route planning solution with a long list of add-ons for your business. It offers route optimization, route monitoring, customer updates, and proof of delivery. Route4Me is popular among field service techs and larger delivery operations due to its marketplace catalog, which allows for significant customization.
Route optimization
Route4Me's pricing tiers include a level for single-person routes and a level for multi-person routes. Plus, Route4Me lets you optimize within specific constraints, such as avoiding highways or tolls completely.
Once a route is published, dispatch can manually move customers across routes and change the previously optimized route.
Route monitoring
Route4Me positions its route monitoring service as a tool to monitor and supervise drivers, so dispatch can catch employees who may be "goofing off" or driving too fast.
Route4Me also collects driver data and puts it into a dashboard for you to view. For example, you can compare your predicted travel times versus actual travel times or map out where drivers deviated from their routes.
Customer updates
Route4Me uses geofencing that allows you to set up parameters around your customer's location, so when your driver gets close to a specific location, a notification will go out to the customer letting them know their delivery is about to arrive. For example, you can set it up to notify a customer when the driver is five miles away, or 15 minutes away.
Proof of delivery
With Route4Me's smartphone app, drivers can collect signatures on their mobile devices. Then the signatures will appear automatically on each corresponding stop in the app.
Signatures are a type of event in the Route4Me system, which means you can monitor them inside your activity feed.
Route4Me also lets drivers upload media (such as photographs) to accompany any notes.
Route4Me pricing
Route4Me offers three tiers: the Route Management tier (which doesn't feature route optimization), the Route Optimization tier (which only optimizes single-person routes), and the Route Optimization Plus tier. All three plans are a per-month fee.

Route4Me also has its marketplace, which has features you can add to your monthly plan. For example, they offer a near-real-time tracking add-on, where there isn't a lag between what your driver is doing and what Route4Me is reporting.
5. OptimoRoute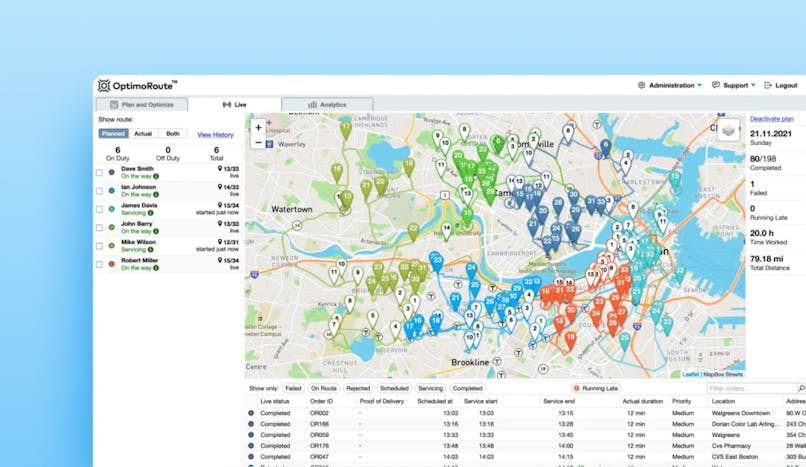 OptimoRoute offers route optimization, route monitoring, and customer updates, but as of now, it has no proof-of-delivery capabilities.
Route optimization
OptimoRoute optimizes your route (which is entered manually into OptimoRoute's dashboard or imported with a spreadsheet) and can factor in several constraints, including travel duration, driver work times, and vehicle load capacity. Depending on the plans you choose, your route can have 250 stops or 750+ stops.
The optimized routes can be downloaded or uploaded to Garmin TomTom or Navigon GPS devices.
Route monitoring
Available in Business and Enterprise plans, OptimoRoute offers what they call Live ETA: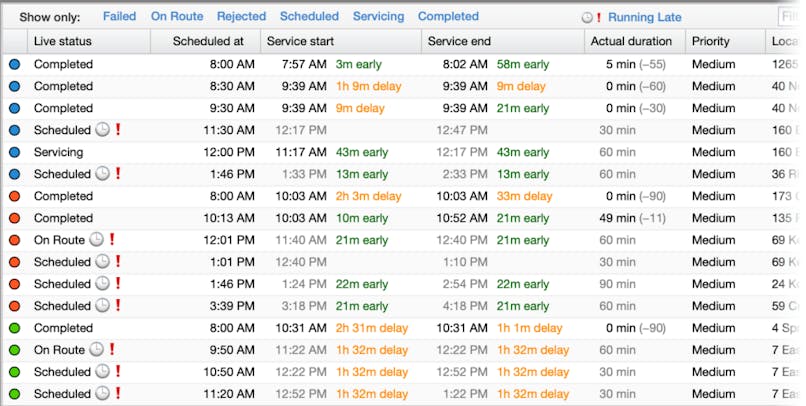 If you need more information than what you see on the screen above, you'd need to reach out to the delivery driver.
Customer updates
Through OptimoRoute, you can send an email to your customers, a text message, or no notifications.
OptimoRoute includes a URL with the messages, so the customer can go directly to an order tracking page. Here, customers can see the most updated ETAs.
OptimoRoute pricing
OptimoRoute bills services pricing per driver per month and has three different plans.
In the Starter plan, you're able to plan 250 orders at once, but you're not getting live tracking or API integration. In the Business plan, you can plan 500 orders at once, but customers aren't able to see real-time tracking of their order. In the Enterprise plan, you get all of OptimoRoute's features and can plan 750+ orders at once.

Free options for delivery route planning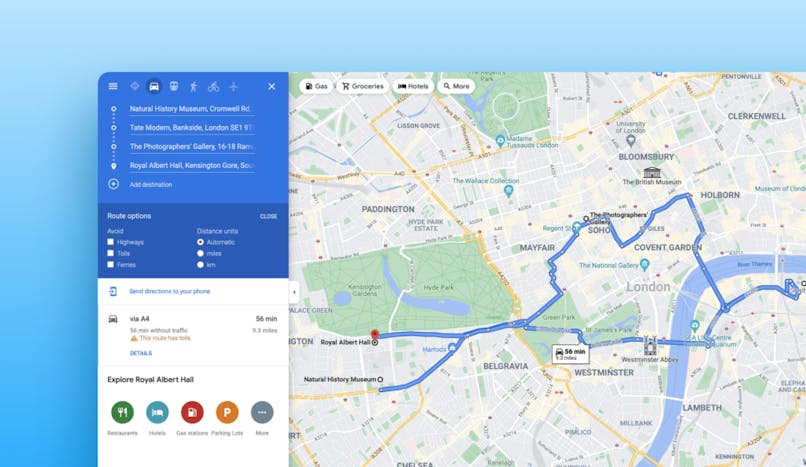 If you're not looking to pay a per driver fee or monthly fee for a delivery route planning solution, you can look for free options.
Just keep in mind that free delivery route planning solutions are significantly limited. Google Maps, for example, only allows for manual optimization, as we cover in our post on planning the shortest route for multiple destinations in Google maps.
Then there's MapQuest's route planner. Unlike Google Maps, MapQuest works to optimize a route but it still has severe limitations. While it lets you avoid toll roads and highways, it only lets you optimize for one driver with 26 or fewer stops. After that, the service is done. There's no route monitoring, app to use, proof of delivery, or customer updates. This service could work as a short-term solution for small businesses where the owner is handling deliveries themselves and just needs an elementary way to finish a handful of stops quickly.
The best delivery route planning solutions: Conclusion
As we covered above, delivery route planning solutions are about more than just optimizing a multi-stop route. Depending on the sophistication of your deliveries, you could be looking to create optimized routes that take into effect toll roads, highways, seasonal roads, vehicle capacity, high-priority deliveries, and time-sensitive stops.
Teams have to consider more processes, such as route monitoring, proof of delivery capabilities, and customer updates. Hopefully, the tools we've listed will help you choose whichever solution best fits your needs.
If you currently manage a team of drivers and want a simple, cost-effective way to keep track of them (while making their routes more efficient),sign up for a free trial of Circuit.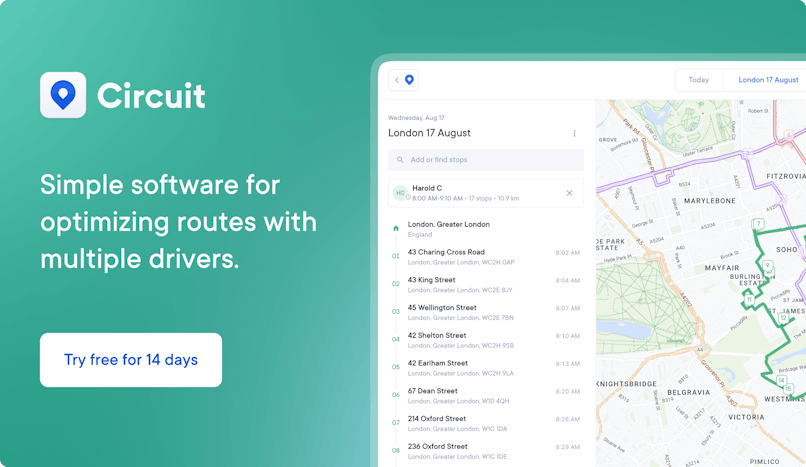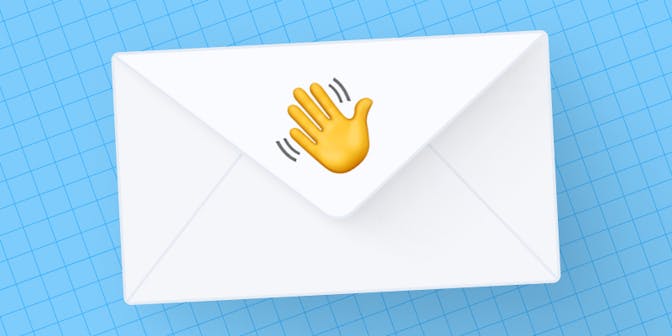 You made it this far!
Chances are you'll love our other stuff too. Get our newsletter for the latest on all things delivery.