7 minute read
How to Get Courier Contracts in 2023: What You Need to Know
Increase your odds of business success by using different techniques to find and get courier contracts. This article gives you tips for getting clients.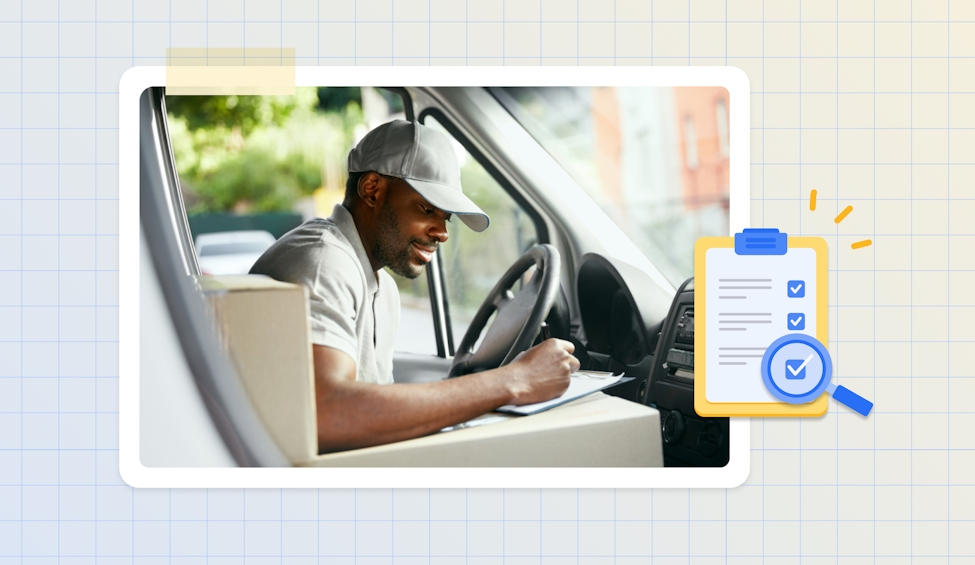 Finding and getting courier contracts is only half the battle. Once you get clients, you'll need to keep them happy with fast delivery. Circuit for Teams can help.
One of the biggest challenges that courier business owners and managers face is that it's super competitive. Many service providers compete for the same contracts. 
You'll need to put some time and effort into understanding how to get courier contracts if you want to succeed in this field. In the long run, knowing how to find and get the best courier contracts will set you up for success.
While it might be challenging at first, it gets easier as you become more experienced. Plus, you'll build a loyal customer base of clients who keep returning to you for work, so you can easily go from a part-time to a full-time operation.
But, before you can win valuable repeat customers, you've got to connect with them. 
How do courier services get clients? How do you find courier contracts? In this article, we've given you some pro tips on how to find and get courier contracts that will set your delivery business up for success. 
Read on for the highlights.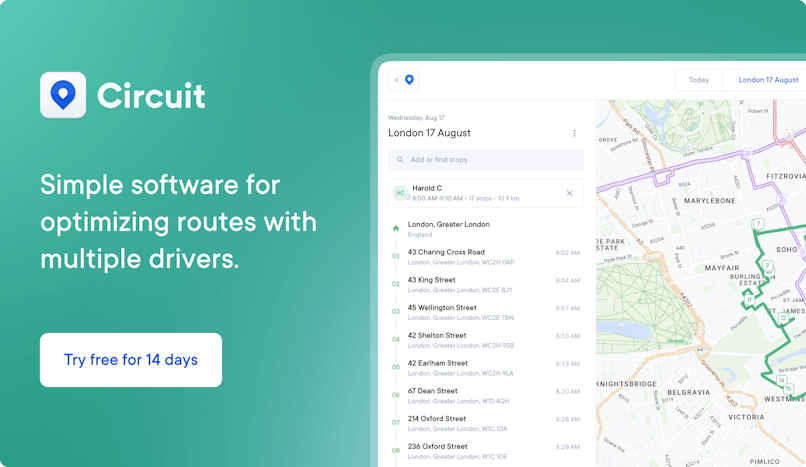 How do courier services get clients?
We all know what it's like not to have enough clients. You have a great business plan, a well-researched local area, vehicles, delivery software, and drivers at the ready.
… and you launch to crickets. But, this isn't Field of Dreams — you can't just build your business and expect clients to contact you.
The good news is that there are many ways that courier services like yours can get clients. Most businesses rely on more than one method, so a basic understanding of your options when it comes to finding work is a must.
Some strategies range from bidding on contracts put out by companies actively seeking courier services to networking to meet new potential business partners.
In an ideal world, clients will come to you directly seeking your services ("if you build it, they might come", after all). This is possible but needs some initial work on your part, as you'll have to raise your brand profile and establish a trusted reputation for people to seek you out first.
Which may sound like a lot — and that's because it is.
But don't get disheartened. You can do this through different marketing methods — from paid internet advertising to social media promotions. We detail some of the marketing techniques you can use to draw in customers organically below.
How to find courier contracts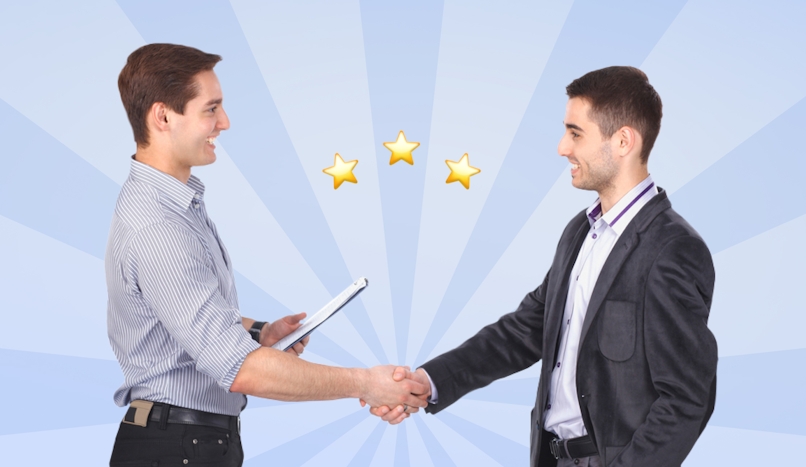 Getting new courier contracts may seem intimidating at first, especially if you're new to the delivery service business.
The great news is that there are many different ways to find and attract potential clients.
Switching up your methods of getting courier customers can help increase your chances of establishing a busy, thriving delivery business. Here are some different ways to attract potential customers.
1. Contact potential clients 
One way courier companies find contracts is by contacting potential clients directly. Come up with a set process to do this: You can start with a cold call and follow up with an email with more information, for example.
Begin by researching businesses in your area that might need your type of courier work. For example, a medical courier service might contact local medical labs, health care offices, and even pharmacies.
Meanwhile, a local farmer might contact area supermarkets to gauge interest — or even switch to a direct-to-consumer model, selling produce to customers directly. 
That's what Three Chimney Farm did.
In contrast, a plant shop might survey local restaurants, hotels, or offices to see if they're interested in their products. 
Or, like Plant Shop in Seattle, they could sell directly to consumers.
Prepare a pitch that gives all the essential information they need to know about the delivery jobs you offer. This could include details about: 
Size of your team
Volume capacity
Vehicles
Rates
Licenses and insurance
Ordering and payment processes
Attending networking events is another great way to connect with local businesses and exchange information. 
In fact, making this first contact and following up with information about your last-mile delivery services might be more successful than cold-calling total strangers.
2. Bid services on courier websites 
Many businesses post jobs related to delivery needs on their websites. They may also use platforms that connect independent contractor couriers to companies that need their services, like FindRFP, CourierBrokers, and Shiply.
These platforms make it fast and easy to bid on jobs. You can set up a profile with your business details in advance and bid as the right jobs appear.
While practical, be aware that these websites can be very competitive. Many courier services place bids on a single listing, and the person offering the job has many providers to choose from. 
They may be more inclined to select someone with more experience over a newbie like yourself. Additionally, these sites can restrict rates and take extra service fees, cutting into your profits. 
As an alternative, you might try looking at local online job boards like Craigslist.
3. Draw clients in organically 
(Back to our Field of Dreams analogy!) You know that the easiest way to get clients is if they come straight to you for their delivery needs. 
Of course, you'll still have to put in some effort upfront to build yourself up as a reliable local courier that people can trust.
Establishing a strong, recognizable brand that helps you stand out from the crowd is important. Marketing techniques like content marketing, social media marketing, and pay-per-click (PPC) advertising like Google Ads can help raise your brand profile.
Feel like we've just spoken another language? Don't panic. Check out this article from TechRadar that has a really helpful guide covering all these topics in depth.
Make sure to drive people back to your website when advertising with online media. Your website should have essential information like your rates and service area. You can use platforms like WordPress, Wix Hubspot, or Squarespace to create your own site.
Just make sure your website is optimized so clients can find it. You'll need to know a little about search engine optimization (SEO), which refers to strategies that get your website to rank higher on Google. If you're relatively new to SEO, some resources that can help include:
Finally, don't ignore traditional marketing methods. Email marketing, flyers, and ads in local print media are still great ways to reach people at the local level.
How to get courier contracts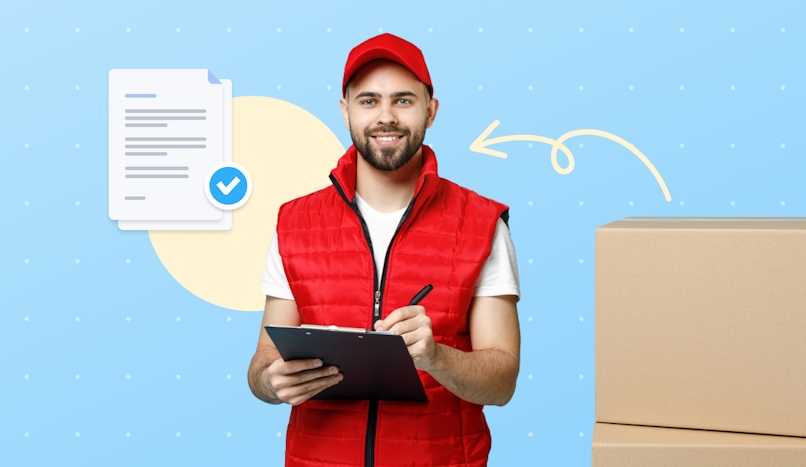 Before you start actively soliciting courier contracts, make sure your website is set up. It should include a service description, rates, and coverage area.
You can then start using the techniques above to attract clients:
Bidding on online platforms
Drawing customers to your site through marketing techniques 
Cold-calling potential customers
If you're going to call people, though, make sure you have a quick pitch ready to tell them about your business. Talk about your services, prices, and how you're different from the competition.
You can also draw customers in with offers like taking the business owner along for a ride along. This guide has more tips for getting customers.
However, finding customers is only half the battle if you want to succeed as a courier business. 
You'll now need to foster customer loyalty so clients come back to your business over and over again.
This way, you'll have a regular customer base (which means a steady stream of business and a higher profit). This can also help you cut down on trying to find customers in the first place, saving time, stress, and money (for example, by spending less on marketing costs).
The key to success is great customer service. If a client is happy with your courier delivery, there's no reason for them to look elsewhere for similar services or to turn to your competitors.
Read on to find out what you can do to guarantee a great courier delivery customer experience that will keep clients coming back to you again and again.
1. Give excellent courier service 
You can take a few simple steps to give your customers a positive experience and keep their loyalty for future jobs.
First, make sure your courier drivers are up to the task. When vetting drivers for courier jobs with your company, make sure to check their references, ask for a valid driver's license, and run some background checks.
Second, give your drivers the tools they need to succeed. Make sure you have a fleet of well-maintained vehicles if you don't expect them to use their own vehicles.
The type and size of vehicles you need will depend on your services. For example, you'll need box trucks, pickup trucks, cargo vans, or sprinter vans if you haul large items.
Next, make sure your deliveries are on time. A tool like Circuit for Teams can help with fast deliveries by mapping out the speediest routes for your drivers.
All you have to do is upload the delivery details, like customers' names and addresses. The software then uses an algorithm and mapping technology to figure out the fastest and easiest routes for delivery stops.
While it's possible to do this kind of route planning manually (for example, by using a mapping tool like Google Maps), Circuit for Teams allows you to get the job done much faster. 
Plus, Circuit uses several details in its calculations, from traffic patterns to speed limits and more.
Circuit can also help improve the delivery process with priority notifications. You can mark select packages with priority status — for example, if they're for same-day delivery — and the tool will prioritize their delivery accordingly.
In addition to great route planning, you can boost customer satisfaction through communication. Keep your customers up to date on their delivery status and let them know delivery time windows to give an ETA of when they can expect a delivery.
Circuit can also help on this point, as the software works with GPS technology to give real-time tracking of drivers. You can monitor each driver's route progress and provide customer notifications regarding package arrivals.
Finally, Circuit can help improve the customer experience with extra perks like proof of delivery. This lets the driver get the customer's signature at delivery or take a photo of the delivered package (for example, on the customer's doorstep).
Customers can rest easy knowing that their packages have been safely delivered, while delivery drivers can enjoy peace of mind knowing they won't be held responsible for a missing package.
Boost your courier business with a multi-prong approach
If you're the owner-operator of an independent courier business, you want to do all you can to make sure your company thrives. 
Using different ways of finding and getting contracts with local businesses can help you succeed. A well-rounded strategy — as described above — will include multiple approaches to identify and approach customers.
From bidding on courier sites to investing in digital marketing techniques and making customers come to you, you have many options. 
Seize them! Start your free trial of Circuit for Teams now.