12 minute read
The 6 Best Delivery Route Planner Apps (In-Depth Review)
Delivery Route Planner Apps can help you manage your routes and speed up your work day. Here's an in-depth look into the 6 best.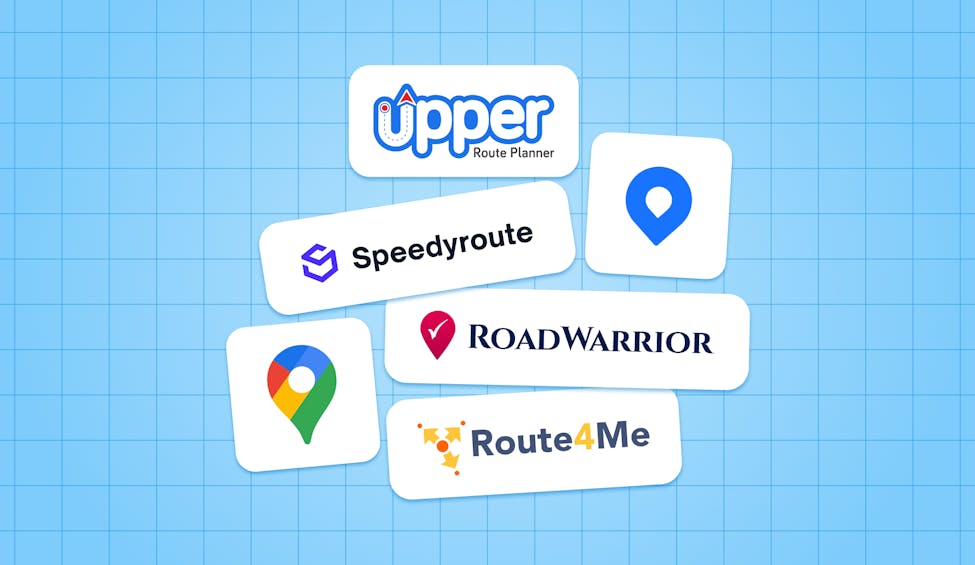 Want to skip the read and get right to my top picks? The best route planner app is Circuit Route Planner.
Success as a delivery driver happens when you find your routes easily and make your deliveries quickly.
So how does a delivery driver find that success?
Find a delivery route planner app that works for you, and you'll be on the road with little stress, driving to your destination and making your drops on time.
A delivery route planner can help you finish your day early or on time, keeping customers, supervisors and contractors happy.
You'll also feel satisfied, knowing that you found the most efficient route that should also help you save fuel as well as time.
So if you're wondering, what's the best route planner app for delivery drivers? I'm here to help.
Let's take an in-depth look at the six best delivery route planner apps, so you can get on the road and get driving to success 👇
What Is a delivery route planner app?
Let's start with a look at what exactly is a delivery route planner.
Having an app on your smartphone that helps plan your route is more than using a map to find your destination. The best delivery route planner also optimizes your route.
Delivery route planner apps: What is route optimization?
Route optimization is a process of finding the most efficient route, and not simply the way between two destinations. It plans your route using a number of different factors, including:
The number of stops.
The location of all the stops on your route.
Any traffic congestion or construction delays.
The best way to approach your destination, perhaps even avoiding tricky situations like crossing intersections or making a left-hand turn.
A delivery route planner app that gives you route optimization will help you plan your best route each day.
It can help you give customers a delivery window.
It can make sure you build in rest stops or bathroom breaks.
It should respond and update based on any changes during the day, modifying planned routes in near real-time as traffic and other situations change.
All this means that it should also help you spend less time driving, avoid backtracking, and reduce your fuel costs as well as lower your stress.
The best delivery route planner app may also help you organize packages in your vehicle, saving you time at every stop. That can add up over the course of the day to be a big time saver.
So let's look at your options and the 6 best delivery route planner apps.
Best free delivery route planner apps
If you're looking for a free delivery route planner, you have a couple of options.
Google Maps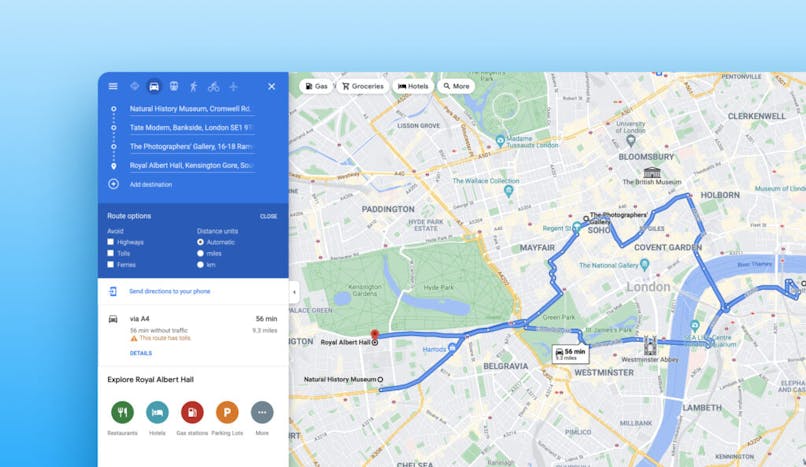 Google Maps is a program that's used and understood by plenty of people, particularly for personal use.
It's great for giving you directions from one location to the next. It's also proving to be a way for researchers to calculate emissions hotspots in real time, since it captures detailed information that helps understand traffic flows on busy roads.
The tricky part is when you need to add more than one stop to your route.
Planning a route with multiple stops can be a time-consuming process, but it is possible to do on Google Maps. You can add multiple stops and make the shortest and fastest route possible.
However, Google Maps has limited use if you need to add a large number of stops. You can only input 10 addresses at a time, including your starting address.
If you have more than nine stops, you can also use Google's My Maps to make a master list and decide which stops are nearest to each other. The process is messy, and you're the one who has to plan the route.
Which means that if you simply input the addresses, that's the route that Google will take you, even if it means backtracking.
There's no route optimization.
You have to go in and organize your route, first by checking how much time it will take and then making adjustments to reduce that time.
So while Google Maps may seem like the best free route planner app for delivery drivers, it's not ideal if you regularly make more than nine deliveries in a day.
Pros:
It's probably already on your phone.
You're likely familiar with it and have used it for personal trips.
It does re-route around accidents and traffic jams.
It's free and relatively user friendly, particularly if you only have a few deliveries a day.
Cons:
There are limited stops, as you can only include your starting location and nine other stops.
There's no route optimization.
It's time-consuming to add multiple stops and then optimize the route on your own.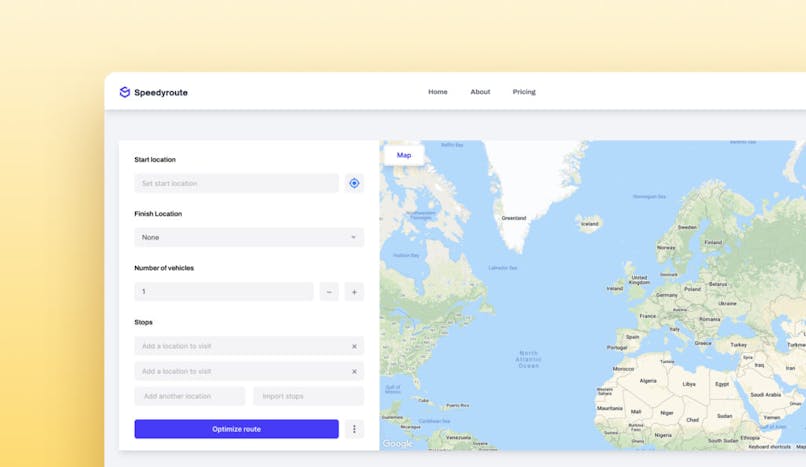 This one is not a completely free delivery route planner. There is a free web service when calculating routes with 10 or fewer locations.
The subscription service kicks in for calculation of routes containing more than 10 locations, or for more than three calculations "within a rolling 24 hour period for routes containing any number of locations."
In other words, if you need to calculate more than three routes from the same IP address within 24 hours, you'll have to purchase a subscription.
It's also good for fleet use. If there are multiple delivery vehicles, it gives the optimal route for the number of delivery vehicles.
In this case, the calculated route may use any number of vehicles, up to the maximum you input. The maximum number of locations in a route that Speedy Route will attempt to calculate is 500 locations.
SpeedyRoute will calculate the best route if you have to make multiple stops, then leads you back to your starting location.
Enter all your locations and It will re-order them into the optimal route.
It will guide you to each location once, then take you back to the start in the shortest and quickest way possible. It also gives you driving directions between all the stops on your route.
SpeedyRoute is available worldwide, including the United States, the United Kingdom, Europe, as well as in Canada, Australia and New Zealand, the Far East and South America.
Subscriptions are available as daily, weekly, monthly, and special offer periods. Note that we have used USD for all the apps and plans that we have included.
Pricing for SpeedyRoute:
$39/month - Limited to 1 driver, 100 stops per route
$69/month - Up to 5 drivers, 500 stops per route
$99/month - Up to 10 drivers, unlimited stops per route
Pros:
Free for up to 10 delivery locations.
Flexible subscription prices.
Optimizes your route.
Wide availability around the world.
Cons:
The free option is limited to only 10 stops.
Not currently available as an app for iPhones – Android only.
One of the pricier monthly options for single drivers.
Best delivery route planner apps for Android and iPhone
If you really want to take advantage of a quality route planner, spending a bit of money to use a dependable delivery route planner app is worth it.
Delivery drivers agree that finding a quality app is better than wasting time on those that don't work very well.
Here's a look at the top picks.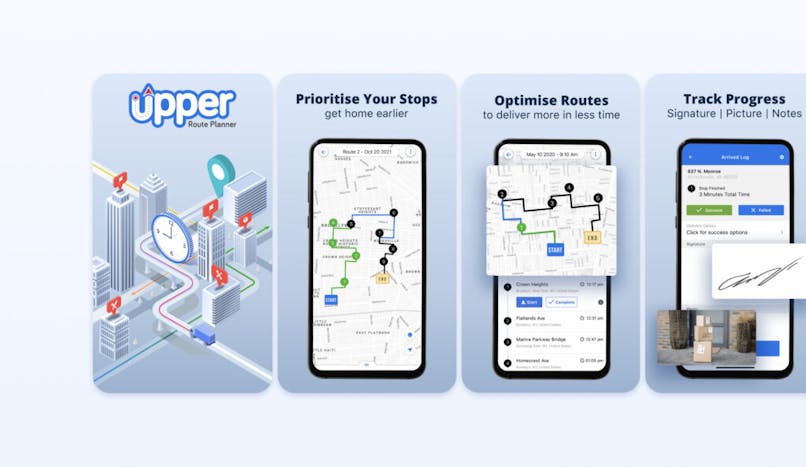 Upper Route Planner is a route planning and optimization software with two options:
One for small to medium-sized businesses to manage and streamline daily delivery operations, or Upper Route Planner for individual drivers to plan and optimize routes.
Upper Route Planner will give automatic route optimization and also lets you save regular routes if you often make deliveries to the same locations.
It uses a route planning and optimization algorithm that it claims will cut planning time by 95%.
Here are some of the key features:
Optimize multiple stops per route.
Add special instructions for each stop.
Generate proof of delivery for tracking and record-keeping.
Input options include using Excel to import addresses, and then you can export your optimized route to other navigation tools including Google Maps.
You can even adjust settings such as driving preferences, vehicle type, and service time, including settings for a car, bike, van, or truck. A three-day free trial lets you explore the app before committing to a plan.
Pricing for Upper Route Planner
Upper Route Planner has a free delivery route planner app, but to access the full features, you'll need a subscription. With this, you can create unlimited routes, sync routes to the cloud and datasheets and more.
$19.99/Month
$4.99/Week
Pros:
Route optimization and proof of delivery features.
Ability to adjust settings for the type of vehicle.
Works with more familiar navigation tools like Google Maps.
Cons:
Multiple pricing options make it difficult to choose a plan.
The free trial is limited to 7 days.
Some users have found it difficult to get started.
Route4Me route planner app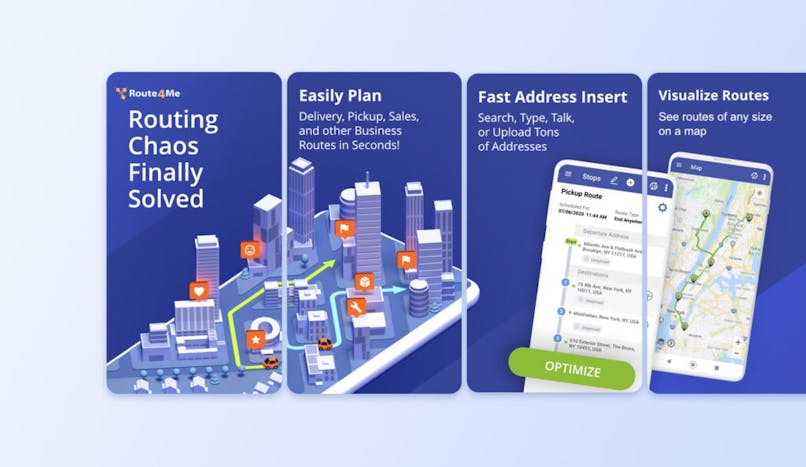 Route4Me offers services on a website as well as iPhone, iPad, and Android apps.
It lets you enter up to thousands of stops, and then gives an optimized route listing, a map with route lines, and turn-by-turn driving or walking directions.
You can save a route to your Route4Me account for later reference, or share it with friends or business colleagues, either by email or directly into their Route4Me app.
You can even create a route, save it, and then come back and edit it later.
You can also choose from two different options:
Dynamic Routing, for businesses whose driving routes change daily or a few times a week; or Scheduled & Recurring Routing, for businesses whose customers need to be visited using a repeating schedule.
Within these two choices, there are different subscription plans.
For instance, in the Dynamic Routing plan, the options range from route management only, to route optimization for single-person routes, to route optimization for multiple people driving multiple routes.
It's likely best for businesses rather than individual drivers, as it boasts that its integrated telematics platform "enables dispatchers and field-service personnel to plan, manage, and execute delivery or pickup routes."
Pricing for Route4Me (all cover 10 drivers):
$239/month - Route management only
$319/month - Route optimization
$479/month - Route optimization for multi-person routes
Pros:
Great for teams of up to 10 drivers.
Routes can be shared among teams.
Cons:
One of the priciest options for route planning software.
The least expensive package includes route management only.
Likely best for teams and not individual drivers.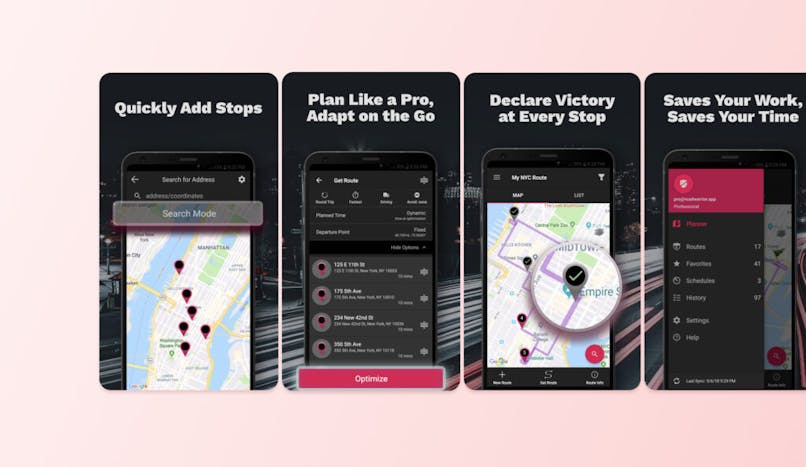 This is another good option that works for teams or individual drivers.
You can input your stops using the app or by uploading a spreadsheet.
You can add your own preferences to customize the trip, with settings like avoiding highways or planning a one-way trip.
The system also takes into consideration things like drop-off priority, traffic, school zones, and business availability, building an optimized route that you can adjust.
Rather than a proof of delivery, you "Check In" after navigating to and arriving at your stops. The Check-Ins store a record of your arrival times at each stop and also mark that stop as complete in the route.
Road Warrior is available in the United States, United Kingdom, Australia, Canada, Denmark, Finland, France, Germany, Iceland, Ireland, Italy, Netherlands, New Zealand, Norway, South Africa, Sweden, and Switzerland.
The RoadWarrior Flex plan has also added integration with FedEx. It will seamlessly import your FedEx manifests directly to your RoadWarrior app, available on most smart devices.
Pricing for RoadWarrior:
Free - Maximum route size of 8 stops
$10/month - Maximum route size of 120 stops
$10/month plus $10/month for each driver - Maximum route size of 200 stops
Pros:
Can be used by individual drivers or Team RoadWarrior for teams.
One of the least expensive options.
Cons:
The free plan only gives you a maximum of 8 stops per route and 48 daily optimized stops.
Lacks proof of delivery.
Not rated as high by drivers as some of the other options.
The Pro plan is only $10 per month but routes can only be a maximum of 120 stops, and there's a cap of 500 stops and 500 searches per day.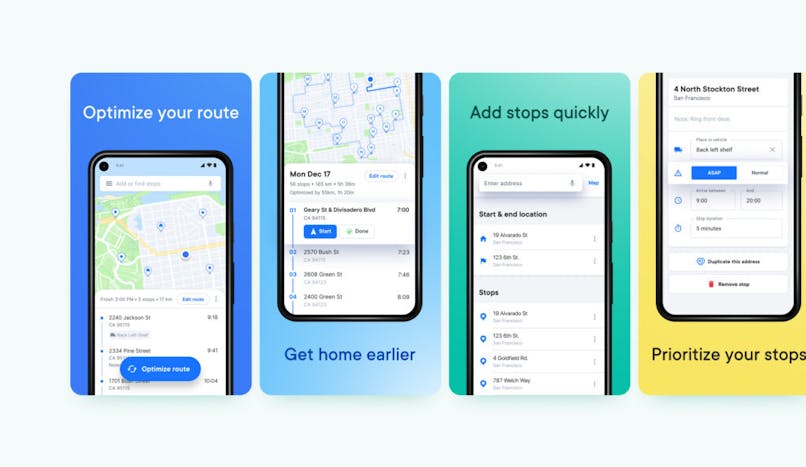 Our app, Circuit Route Planner, will plan a route of up to 10 stops for free.
If you need to make more stops, it has an individual plan that's only $20 a month, as well as three different plans for multiple vehicles or delivery teams, allowing the business to scale.
Circuit Route Planner also offers some bonus features that other GPS navigation apps don't.
It does route optimization, allowing for faster and shorter routes. It monitors your route, so you can see the entire route in progress.
Circuit can give customers a delivery update with an estimated time of arrival. It also features proof of delivery using a signature or photo.
Here's another time-saving feature you'll really love.
Delivery route planner apps: Fast package finder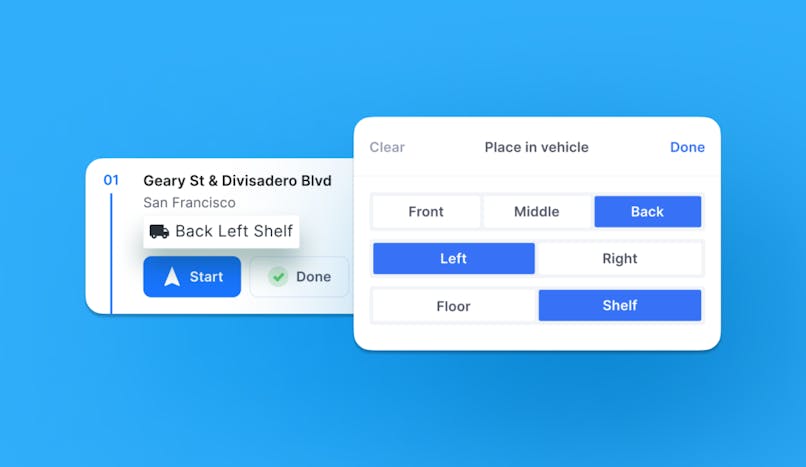 The Fast Package Finder lets you input each package, describing where you've placed it in your vehicle.
When you arrive at each stop, it lets you know where each package is located. That will help increase your package delivery speed, helping you find the right package at the right stop.
It could save you up to an hour each day by eliminating time spent searching your vehicle at every destination, which adds up quickly when you're making many deliveries.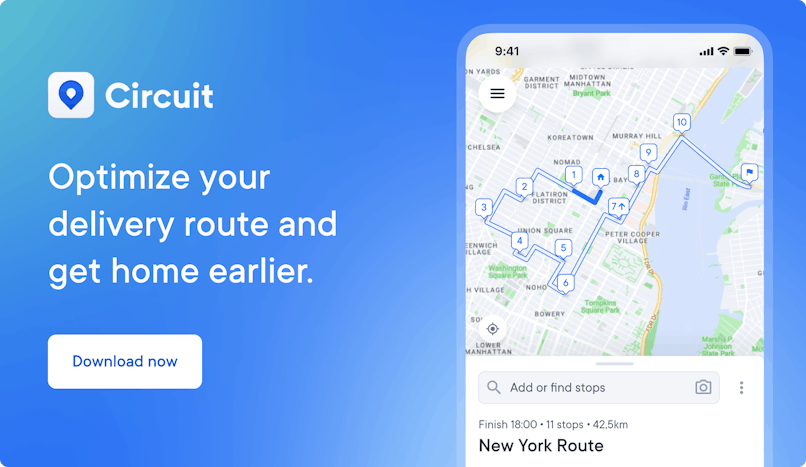 After all, one of the key roles of a driver is to plan the best delivery route, but it's also to assist with loading and unloading and make sure your packages are correctly stowed and easy to find.
The rise in same-day delivery requests makes a package finder a valuable addition to an already great delivery route planner app.
As an added bonus, Circuit Route Planner also works with Google Maps or any navigation app that you or your company uses, or the one with which you're most comfortable.
With Circuit, you can easily find your delivery destinations, while following a route that decreases time spent on the road.
It will make sure you avoid time wasters like traffic jams and backtracking, and you can add necessary stops like bathroom breaks right into the route.
The Circuit app builds an optimized plan for up to 500 stops in just a few minutes.
You have options for address inputs, including manual input on your phone or by uploading them from a CSV file on Android devices.
You can voice search addresses, set specific time windows for special deliveries, and re-optimize your route with one click if you need to make a change.
You can also add, delete or re-optimize multiple stops while on your route with ease, including hands-free voice entry to make delivery even faster. It also features the easiest and fastest-to-use user interface (UI).
In fact, drivers themselves appear to love Circuit Route Planner.
It currently has a 4.7-star review in the Google app store with over 20,000 reviews, and has been downloaded over 1 million times, with over 150 Million delivery routes optimized.
Pricing for Circuit Route Planner for individual drivers:
Free - Up to 10 stops
$20/month - Unlimited number of stops
Pricing for Circuit for Teams:
$40/month/per driver - Ideal for services with multiple call-outs and stops
$60/month/per driver - Ideal for retail and medium businesses
$100/month/per driver - Ideal for dispatchers at high-delivery couriers
Pros:
Free to try for up to 10 stops.
Route optimization and Fast Package Finder will save you time and fuel.
Competitive pricing for an individual driver.
Designed for individuals or can be used for fleets.
Circuit for teams lets your business scale up as it grows, with features that increase as you build on to the plan.
Cons:
The free option is limited to 10 stops.
You can't manually change an optimized route.
Overview comparison table
* For the purposes of our comparison, we are highlighting features and pricing for individual drivers, not options for teams.
Delivery route planner apps: How real drivers benefit from Circuit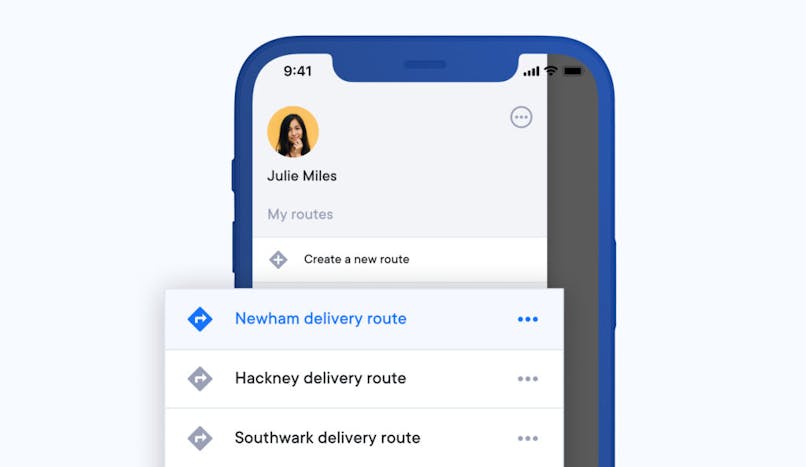 If you're still wondering about the benefits of a delivery route planner app like Circuit, don't just take our word for it!
Reviews from other drivers can help you make your decision.
For instance, a FedEx driver who gave Circuit a try instantly saved 1-2 hours per day by harnessing the power of the app. Joanne Evangelist says her days were long, inefficient and very frustrating. She describes Circuit as a "lifesaver" on her multi-stop delivery routes.
Joanne says her favourite feature of Circuit is that once you put in all your stops, it optimizes the route to be the most efficient, taking into consideration the stops as well as things like traffic.
"You press a button and it's there," she says.
"I can't put into words how life-changing it was when I learned about this app. I used two other apps and Circuit blows those away."
Circuit is designed for all kinds of deliveries, from last-mile professionals to gig workers and couriers. It's also been rated with 5 stars by over 5000 drivers.
The 6 best delivery route planner apps: Conclusion
Whether you work for yourself, as a contractor, or drive for a company, traveling the best route to all your stops saves you time and reduces stress.
When it's easy to find your stops and deliver packages quickly, you'll have happy customers and you'll feel more satisfied at the end of the day.
A delivery route planner app can help you find each destination on your route, plan the best route including avoiding traffic jams and allow you to make your drops on time.
You won't end the day stressed and frustrated by an inefficient route that wastes time and fuel. A good route can also help keep you safe since you can avoid dangerous driving conditions or speeding to make a stop that you missed.
Published
28 September 2021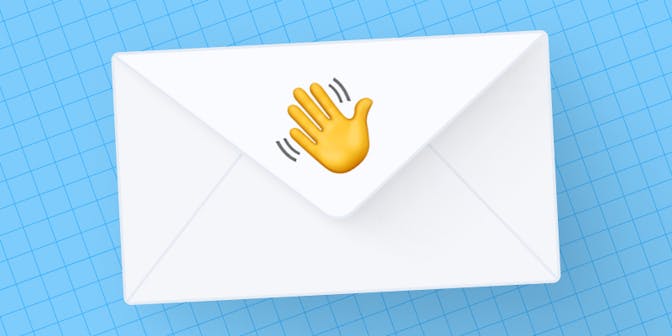 You made it this far!
Chances are you'll love our other stuff too. Get our newsletter for the latest on all things delivery.