11 minute read
Experts' Guide to Choosing the Best Packaging for Your Small Business Products
Are you a small business owner looking for the best shipping packaging? From bubble mailers to corrugated boxes, we've got you covered.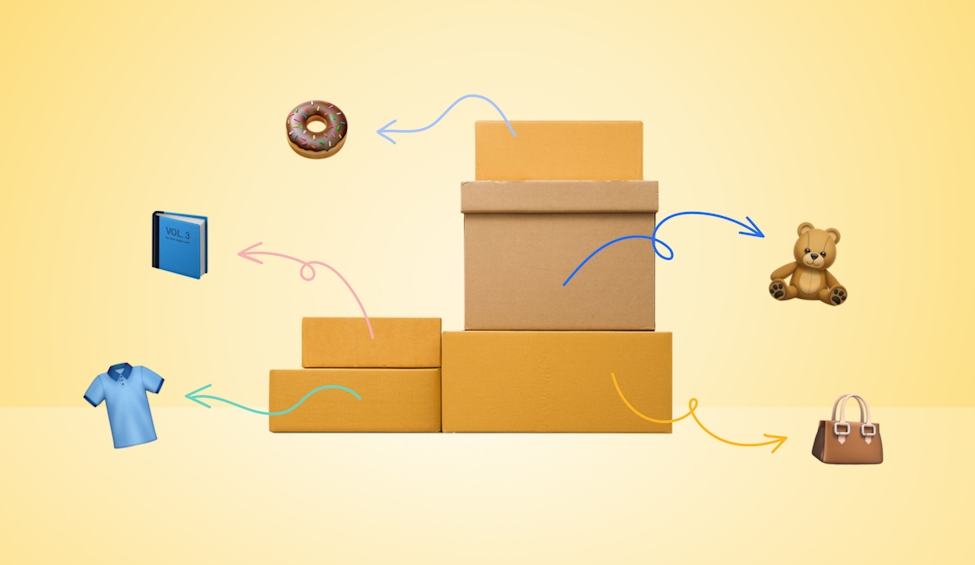 Do you need help delivering packages more efficiently? Optimize routes, keep your customers updated on their orders, and more with Circuit for Teams.
As a small business owner, you know that every penny counts. 
That's why you must be extra careful when choosing packaging supplies for your products. The right shipping supplies can make a big difference in terms of cost and convenience, so it's worth taking the time to do your research.
In this article, I'll share some tips on choosing the best packaging for your products. Then cover the different types of packaging available and offer some guidance on which one might be best suited for your needs.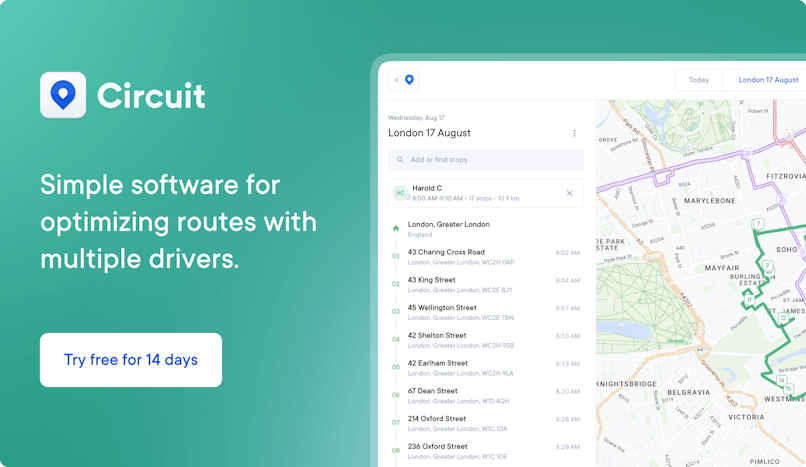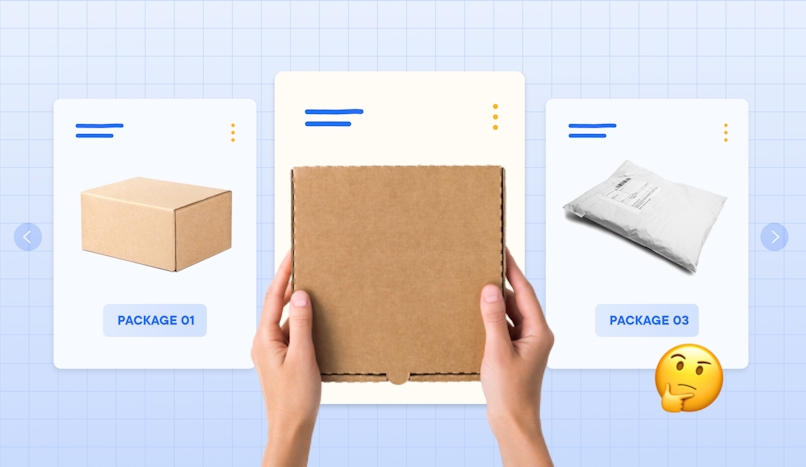 What types of packaging should your small business consider?
Sure, it may seem like it's just a pouch or sticker or cardboard box, but picking the right packaging supplies is important. 
It's the first thing your customers see when they get your products, so you want to make sure your first impression packs a punch.
Packaging isn't just for aesthetics. 
Your packaging needs to protect your products, and the type of packaging you choose can affect everything from your shipping costs to how safe your products are during transit. 
Check out these 14 packaging fails for some examples. No one wants to receive broken plates in the mail. And, if you run the business shipping the plates, you don't want lost products and disappointed customers.
We'll cover popular packaging types and typical ways you'd use them to help you understand which might be best for your small business.
Corrugated boxes
This is the typical box you're used to seeing. Corrugated boxes are the most popular type of packaging. 
They're made from layers of paper (called fluting) that are glued between two layers of linerboard. The fluting gives the box strength and a little bit of cushioning.
Corrugated boxes come in a variety of sizes and shapes. You can even order custom boxes to fit your products. They make great heavy-duty moving boxes, storage boxes, and shipping boxes for an endless array of products.
There are more options when it comes to corrugated boxes than you may think. We look at the many styles of corrugated boxes available as well as their applications in this section.
Regular slotted container boxes — best for regular warehousing, moving, and storage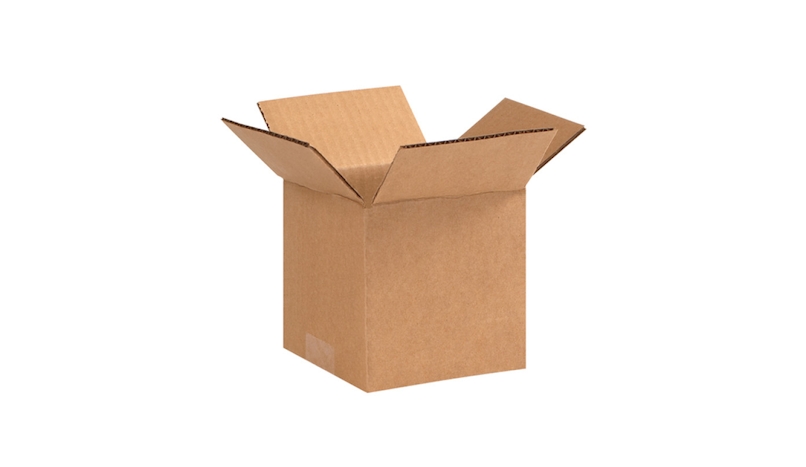 The regular slotted container (RSC) is the most basic style of corrugated box. It's made up of a single piece of corrugated board that's been cut and scored to create a box. The lid and bottom flaps are glued or taped shut.
Stock boxes are the industry standard. This means you can use them for a wide variety of products and applications, such as shipping boxes for e-commerce or moving supplies.
This type of slotted box can hold a variety of items but isn't recommended for products that are heavy or need extra protection. A single wall box can hold between 20 to 120 lbs.
Suitable for: 30 cuddly toys
Not suitable for: A solid bronze garden statue
Auto-locking bottom boxes — best for fast setup time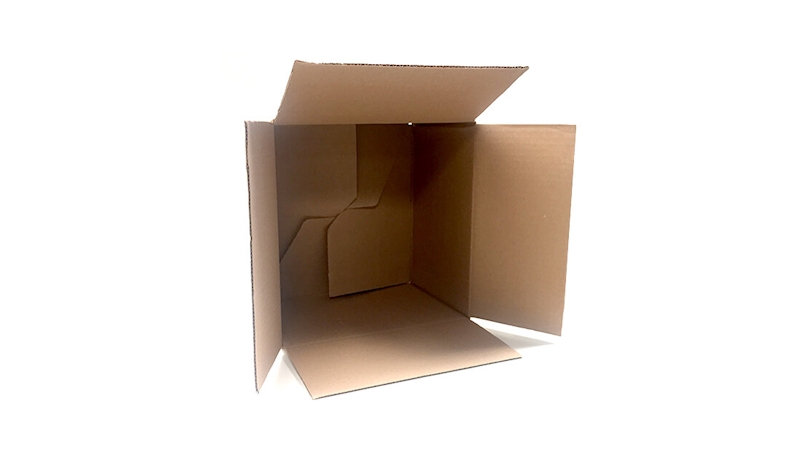 A folding mechanism in an auto-locking bottom box allows the cardboard flaps to interlock with each other by pushing down on them as you open. The bottom locks into place, making them sturdy and secure.
If fast packaging time is a top priority for you, auto-locking bottom boxes are a great option. They can be quickly assembled and allow you to save on packing tape. 
However, these boxes cost more than your typical RSC. For example, these Duck self-locking mailing boxes are $49.56 for only 25 boxes. You can also get a quote to print custom auto-locking boxes. 
Auto-locking boxes aren't the most budget-friendly option, especially if you're shipping low-cost items and want to keep shipping expenses low.
Weight limits vary. For instance, these auto-lock storage file boxes can hold up to 650 lbs. If you're ordering custom auto-locking boxes, your quote should include information on the weight capacity, as it will depend on the size and quality of the materials.
Suitable for: Heavy files or dishes (with appropriate wrapping for fragile items)
Not suitable for: Light paper products like paper towels, which could have cost-efficient packaging
Full overlap boxes — best for heavy or fragile items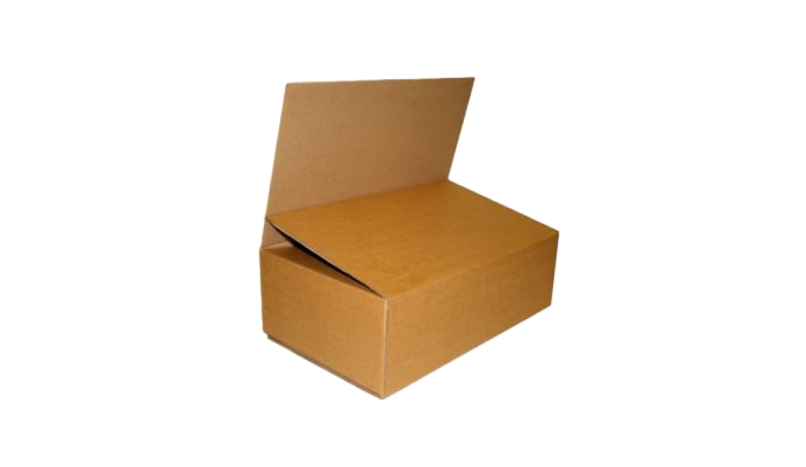 Unlike the traditional RSC, a full overlap box has two parallel flaps covering the opening of the box. Having these two parallel flaps means the opening is well-secured and covered, but it still needs to be secured with packing tape.
The double-reinforced sides make this type of box more robust and less prone to damage while being transported.
However, it's still a good idea to consider bubble wrap, packing peanuts, or an eco-conscious packaging supply for protection if the item needs it.
You can get a quote for custom printed full-overlap boxes or opt for plain boxes. For example, these full-overlap, side-loading boxes are great for art prints, vinyl records, and canvases. But because of their large size, they're priced at $97.29 for a 5-count box order.
They usually handle the same weight as a regular slotted box, around 60 lbs.
Suitable for: Art prints
Not suitable for: Small toys
Roll-end corrugated boxes  
Corrugated boxes are the workhorses of the packaging world. They're tough, stackable, and come in all shapes and sizes.
But there's one type of corrugated box that stands out from the rest: the roll-end box. 
Roll end boxes get their name from their unique construction: Instead of being square or rectangular, they have two rolling panels that meet at the top and bottom. This design gives them a sleek, modern look that's great for packaging everything from books to electronics. 
And because they're made with high-quality corrugated cardboard, they're also extremely durable.
If you're looking for eco-friendly shipping packaging, you'll love that roll-end boxes use materials more efficiently because they require less cardboard than traditional boxes due to their design.
Roll-end lock-front boxes — best for subscription boxes and mail deliveries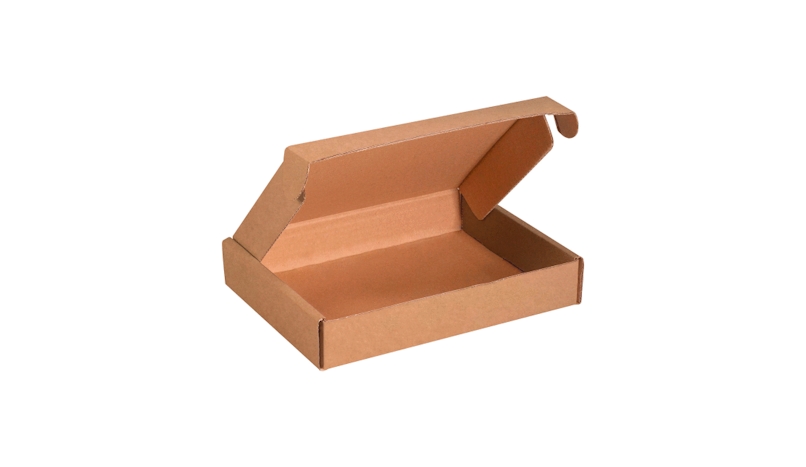 A roll-end lock-front box (RELF) has small flaps that slide into the front of the box and act as a locking mechanism.
The locking front gives these boxes a clean, finished look that's perfect for high-end products like luxury skin care products, clothing, and more. Plus, it offers the most secure closure for a box without using packaging tape or stickers because the front panel rolls over and locks into place through the tabs.
Of course, you'll likely want to seal your boxes with one of those for security during transit.
Digital printing to create stylish, custom boxes makes roll-end lock-front boxes one of the most popular choices for new products and small businesses.
They're ideal for mail deliveries, subscription boxes, small parts, eco-friendly packaging, and cost-conscious small businesses. 
You can order custom boxes or search online for plain boxes that fit your requirements. For instance, these 8 oz. Mason jar shipping boxes ($2.25 per box) are designed with a specific function in mind. 
This bundle of 50 Kraft Deluxe Literature Mailers (10" x 10" x 4") are $111.99 for a bundle of 50 but can be suited for a wider range of uses.
Suitable for: Your favorite subscription boxes
Not suitable for: Large items like basketballs or pots and pans
Roll-end tuck-top boxes — best for non-shipping deliveries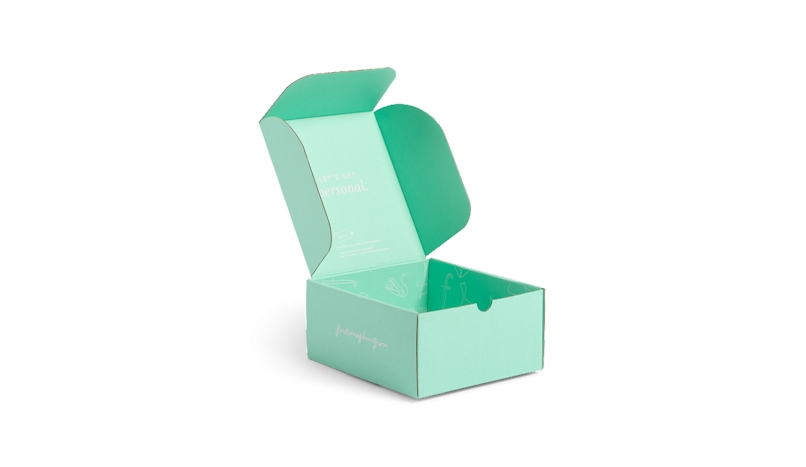 Roll-end tuck-top boxes (RETT) are similar to roll-end lock-front boxes, but instead of a locking mechanism, they have a small flap that tucks into the top of the box. The flaps on the sides are called "dust flaps."
These are the kinds of boxes you see when you order a pizza.
This type of box is easy to assemble and eco-friendly. Just fold down the flaps, tuck in the top, and you're done. However, it's not as secure as the roll-end lock-front model.
They need to be fastened with stickers or packing tape when used for shipping.
Roll-end tuck-top boxes are a good choice for delivering pizza, pastries, and other baked goods. You can use this type of box for non-shipping deliveries or storage on shelving.
Get quotes on plain and custom-printed mailer boxes from Lumi. 
If you're shipping a heavy product, roll-end tuck-top boxes may not be the best fit for your needs. They often carry smaller items with light to medium weights. 
You can find a pack of 50 corrugated RETT boxes on Quill for $22.99 ($0.46 each) for a 6" x 3" x 2" mailer.
Suitable for: Pizza boxes and baked goods
Not suitable for: Large and heavy items like ceiling fans
Poly bags  
These days, more and more companies are using poly bags for shipping packaging. 
Sometimes, a box just isn't the right fit.
Poly bags come in a variety of closure types and can range from single-layer to gusseted poly bags. 
They all have one thing in common: They're light, flexible, and cost-effective. Tear-proof poly mailers are around $0.10 per unit, depending on the size, while self-sealing, single-layer poly mailers are around $0.12 per unit. 
While these bags may seem made of plastic, they're actually made of a type of polyethylene that's recyclable and doesn't contribute to the growing problem of plastic pollution.
If you're considering shipping package options for your small business and eco-friendly packaging is important to you, poly bags are a great option.
They can also be customized with your small business's logo, design, or colors.
Let's explore the different types of poly bags on the market.
Single-layer poly bags — best for small pieces or packing items individually for a large order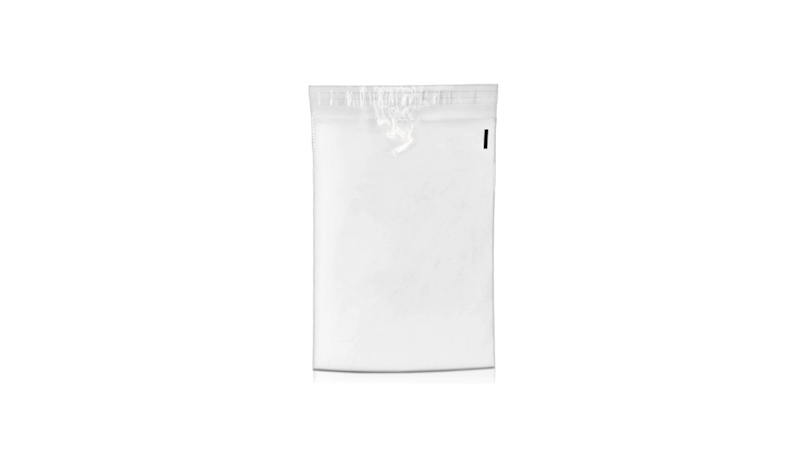 Single-layer poly bags are the simplest type of bag and are made from a single layer of polyethylene.
They're a lightweight pouch, making them ideal for loose products like beads, hardware, or small food items. 
These are also great for packaging products that don't need a lot of protection, like postcards or small stickers.
You can buy wholesale self-seal poly bags, which have a strip that you can peel off and press together to seal the bag so that you don't need any packing tape. 
Find them on Amazon in a pack of 100 for $11.98. You can also find clear poly mailers, ideal for print marketing, magazines, and catalogs.
There are many styles available, like tear-off poly mailers or returnable poly mailers, which are made with two strips of adhesive — one for the original shipment and a second for any returns. 
Prices vary by size and manufacturer. For example, the 10" x 13" x 2.5 mil poly mailers with tear strips are currently listed at $104.95 for 1,000, while a pack of 500 12" x 15.5" returnable poly mailer envelopes are currently $79.95.
Suitable for: Small pieces like jewelry
Not suitable for: Knives, cups, and chemicals
Bubble mailers — best for shipping small items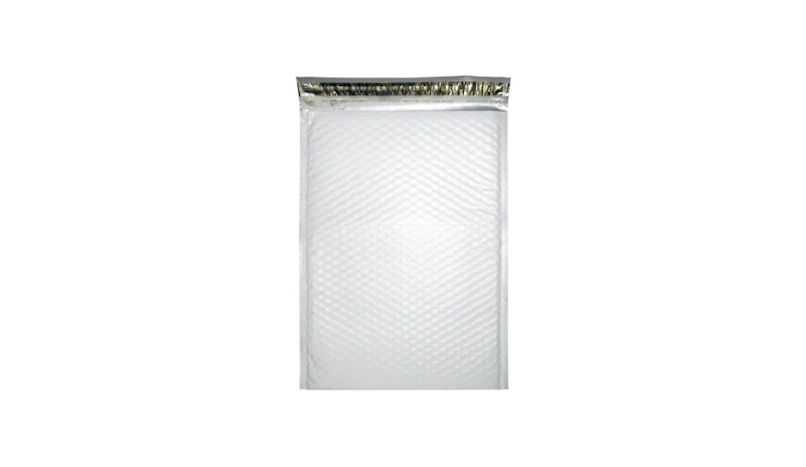 Instead of wrapping your items with bubble wrap, you can simply place them in a bubble mailer and seal them up, saving you time and packaging material.
Bubble mailers are made of a type of polyethylene that contains bubbles. The bubble wrap is sandwiched between two layers of polyethylene. 
This type of packaging gives the mailer a bit of cushioning, making it ideal for delicate items like jewelry or electronics.
Plus, bubble mailers are lightweight, which helps keep shipping costs down.
If your business ships fragile items, however, bubble mailers may not be the best option because they're flexible and can be damaged during transit.
Bubble mailers are available in a wide variety of colors and sizes. These factors will affect the cost. 
For instance, paper (outer material) bubble mailers can start as low as $0.14 each, while matte finish bubble mailers start at $0.40 each.
Custom bubble mailers with your logo and design printed on them can be more pricey. Sticker Mule sells their custom bubble mailers at $91 for 50, but you can save more by ordering in bulk.
Suitable for: Small electronics, a book, or CD
Not suitable for: Collectable toys in boxes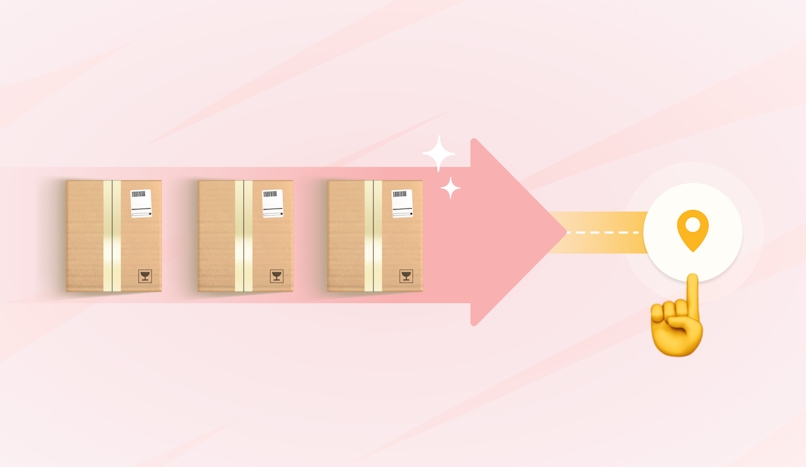 How to choose the best packaging for your small business
Now that you know the different types of packaging available, how do you choose the best one for your small business? Here are a few factors to consider.
The type of product you're shipping: Are you shipping janitorial supplies or chemicals or liquids that have special requirements? If you're shipping fragile items, you'll need packaging that will protect them. If you're shipping heavy items, you'll need packaging that can support the weight.
The size of your product: You'll need to make sure the packaging you choose is large enough to accommodate your product. Otherwise, you'll have a lot of wasted space or damaged goods.
The weight of your product: Heavier products may need sturdier packaging. Suppose you're shipping a lot of heavy products. In that case, you might want to consider using multiple types of packaging to distribute the weight. Will there be strapping or stretch wrap involved in securing your packages?
The design of your shipping packaging: If you want your packaging to reflect your brand, you'll want to choose packaging that you can customize with your logo or colors. If you don't have the budget for custom packaging, do you want to purchase stickers or stamps to decorate your packaging? Are you offering gift wrap or special packaging?
The destination of your product: If you're shipping internationally, you'll need to make sure your packaging meets the requirements of the country you're shipping to. For example, some countries have restrictions on using certain materials.
Internal packing materials: Do your items need to be wrapped in bubble wrap, tissue paper, stretch wrap, or kraft paper before the package is secured?
Additional tools: Do you need a tape dispenser or tape gun? Do you need edge protectors for your boxes?
Your budget: You'll need to consider your budget when choosing your packaging. Some packaging options are more expensive than others.
Your shipping goals: Are you trying to save money on shipping? Are you looking for packaging that will make your products stand out? Are you trying to be more eco-friendly? Keep your shipping goals in mind when choosing your packaging.
The best packaging for your small business will depend on your specific needs. There is no one-size-fits-all solution. But we hope this guide has given you some things to consider as you choose the best packaging for your products.
If you deliver products yourself, you need Circuit for Teams
If you want to save money in your small business, one way is by picking the right packaging and streamline the packing process to peak efficiency.
Before you choose, take the time to look at the different packaging options and select the best ones for your needs.
Still, if your delivery process isn't working, you'll be running around in circles.
That's why you need Circuit for Teams to optimize your delivery operations — so you get packages to your people on time.
Circuit for Teams routing software can help you plan the most efficient routes for your delivery vehicles, saving you time and money on your last-mile deliveries. 
Circuit for Teams can also help you monitor your delivery vehicles in real-time, so you can quickly respond to any delays or issues that may arise. 
In other words, our software is a must-have for any small business that relies on deliveries.
So, what are you waiting for?