12 minute read
A Guide to Cargo Vans for Small Business Owners: Is a Van Right for You?
Cargo vans help businesses optimize their operations on the go. Read this guide to find out if your small business could benefit from a cargo van.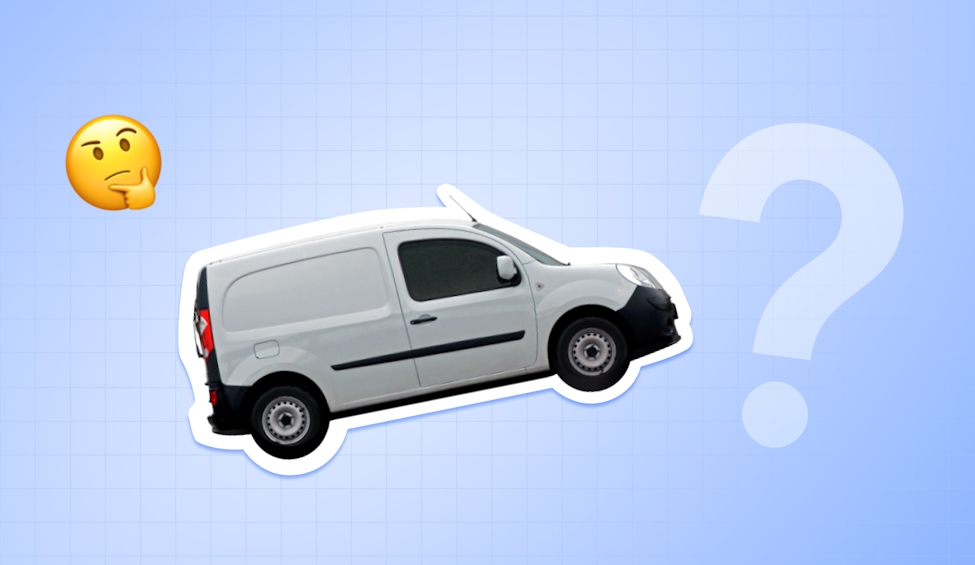 Need an app that can help you find packages in your vehicle faster? Ready to start optimizing your driving routes? Do this and more with Circuit for Teams.
If you or your drivers spend a lot of the workday driving around and servicing customers, having the right vehicle is critical.
Trying to run a full-fledged delivery business with a small coupe or sedan-style car can come with challenges. 
You might have inadequate cargo space or a weak engine that doesn't have enough horsepower to transport a heavy payload.
Limited space and payload capacity, low horsepower, and other missing features can all serve as obstacles to your business, leading to wasted time and money.
That's why many small businesses rely on cargo vans to transport packages, tools, replacement parts, and more. 
It's important to consider several things when deciding if a cargo van is the right solution for your small business. And if it is, you have to decide which van best suits your specific needs.
I'll go into detail on how to make those two big decisions so your business can grow.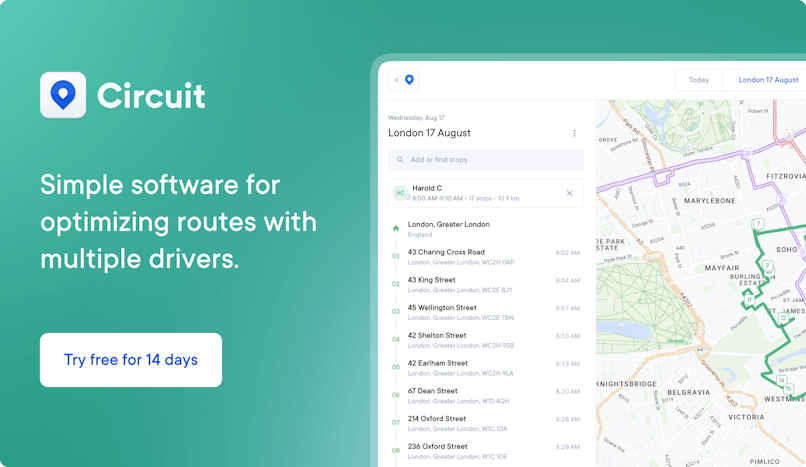 What businesses use cargo vans?
Businesses of all sizes use cargo vans to accomplish various transportation needs — from delivering high-volume package payloads to carrying work tools and replacement parts.
A cargo van is similar to a passenger van with the cab and cargo area connected, but a cargo van tends to have large rear doors to help with loading and unloading.  
Some businesses using cargo vans include:
Last-mile delivery services
Caterers
Florists
Landscapers
Plumbers
HVAC techs
Movers
Cleaners
Electricians
Medical transports
Telecom/internet services
Mobile auto detailers
The question now is, can your business benefit from a cargo van?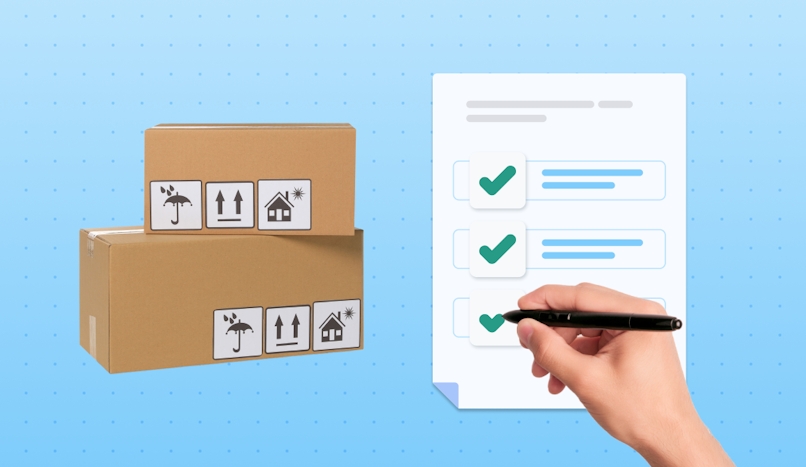 4 benefits of using a cargo van for your small business
If you've never really looked into cargo vans before, you might be surprised to discover the ways using one might help your business.
Increase total deliveries 
Does your business make last-mile deliveries? Is your demand for deliveries outgrowing your current delivery vehicle? 
You may need a cargo van.
A cargo van allows you to handle greater order volume and increase your total number of deliveries in three major ways.
Deliver more packages: Cargo vans are designed to carry cargo, and lots of it. If your business has a ton of orders but you're limited in the number of deliveries you can make at a time due to the size of your vehicle, you could upgrade to a cargo van. It'll offer more cargo capacity for more packages and increase the total number of deliveries completed per trip.
Deliver heavier packages and payloads: Not only do cargo vans have a lot of room, but they also have a lot of payload capacity (the maximum weight you can load into the van before it stops working correctly).
Deliver longer packages: A van can also offer extended cargo space for lengthier packages. If you can't use your current vehicle to deliver large building materials like lumber or drywall boards because the cargo area is too short, getting a cargo van could be a simple solution. Cargo vans are available in different lengths measured by the wheelbase.
For more helpful info on how your business can handle large package deliveries without breaking the bank, check out our post on the cheapest ways to ship large packages in 2022.
Ample space 
Cargo vans are basically big boxes on wheels that you can use for any purpose, like:
Packages
Tools and work equipment
Replacement parts
Workers/seating
Tables and chairs
Coolers
Food and beverages
The maximum cargo space in the back of a cargo van is measured in cubic feet, and the vans we explore later in this article range in space from about 105 to 530 cubic feet.
The exact cargo space depends on the specific model you choose. 
Most manufacturers offer multiple roof heights (a high roof equals more space) and different wheelbase options (a longer length equals more space).
Because cargo vans are meant to offer the most cargo space possible, standard seating is limited to two front seats. 
But some models have seating upgrades if you need to carry additional workers (check out the Chevrolet Express and the GMC Savana if that's you).
Many commercial vans — including those listed below — come in two or all three of these options:
Cargo van: Designed with empty cargo space for carrying high-volume payloads with limited seating
Passenger van: Includes ample seating for transporting many people (such as hotel shuttles, airport shuttles, and private tour shuttles)
Cutaway van chassis/cab: Just the cab and the chassis (base frame) used by manufacturers to create their own commercial vehicles
Upfit is a fancy term for the interior customization of a commercial vehicle, usually for the purposes of your specific trade. 
Manufacturers of commercial vehicles tend to offer professional upfitting services that you can choose at the time of purchase.
Packages can include:
Shelves and bins
Refrigeration systems and coolers
Wall hooks and pockets
Hand-washing stations
Ladder racks
Added cargo tie-downs
Speak with the manufacturer's upfitting consultant to decide the best way to upfit your cargo van.
Faster deliveries 
A cargo van can help you speed up the delivery process — without risking a speeding ticket — in a few ways.
Improve your package organization. Randomly placing packages in a regular vehicle might work for a while, but you or your drivers could be wasting precious time looking for the right packages at each stop. Like we said, several commercial van manufacturers can install a shelving system in the van's cargo space — allowing you to load up packages in a certain way. The less time your drivers have to search for packages, the more deliveries they can make each day.
Want to make it even easier to keep track of where each package is in your vehicle? Circuit for Teams offers a package finder tool in the driver app. 
Maneuver easier. Because a cargo van is smaller than a freight truck and easier to maneuver, it can make getting around town a breeze. Driving a van is often easier than driving an enormous truck (which is why a CDL isn't legally required to drive a cargo van). Parking a van also tends to be easier than parking a big truck.
Move faster with more horsepower. If your current work vehicle struggles to keep up with your payload or you just have a slow-to-get-up-and-go car, a cargo van can help you or your drivers speed up. The cargo vans listed below have enough horsepower to move a lot of weight without slowing you down.
Are you interested in other ways to make deliveries faster? Our post on how to deliver packages efficiently using package delivery software might be just what your business needs.
Additional branding opportunity 
A cargo van has a lot of branding real estate with its big, blank sides and large back end, allowing you to create a mobile billboard. 
Whether you enlist the manufacturer to outfit your new van with graphics at the time of purchase or hire an aftermarket graphics company to glam your van, you can take advantage of the space that comes with a cargo van.
According to a study by the American Trucking Associations (ATA), a vehicle wrap on a local delivery van makes 16 million impressions every year (the number of times a person sees your branded van).
To put that into perspective, take a look at how many visitors (impressions) your company website gets in a year or the clicks on your paid advertising.
Considering it's a one-time purchase, 16 million impressions per year is a big return on brand awareness.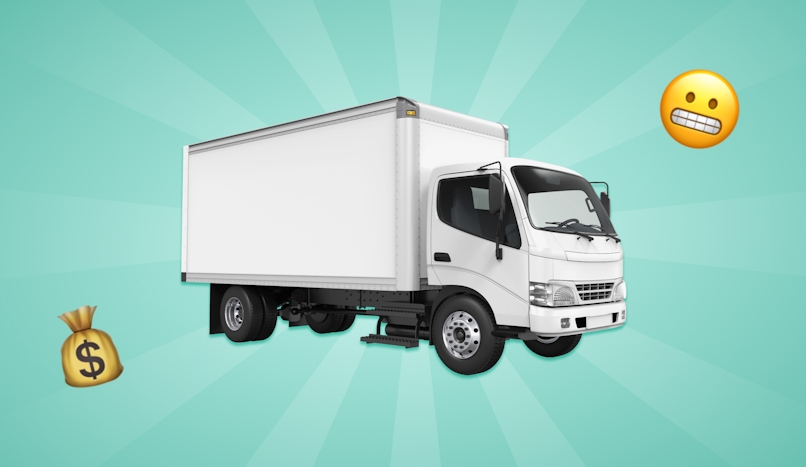 3 challenges of using a cargo van for your small business
Cargo vans aren't perfect. Before hitting the purchase button, review the challenges that come with using this type of vehicle for your business.
Upfront costs and ongoing expenses 
The list price (MSRP) of a cargo van is only part of the overall cost of purchasing and maintaining the vehicle.
Additional costs can include:
Trim and upgrade options 
Upfit packages and accessories
Vehicle graphics
Transportation and handling charges
Title or registration fees
Prep or documentation fees
Taxes and interest fees
Vehicle maintenance
Insurance premiums
We've got the scoop on how to reduce your transportation costs.
Rising fuel costs 
It's no secret gas prices are high. In fact, gas prices increased 60% over the past year. 
Adopting a gas-fueled cargo van definitely has its caveats.
In June 2020, California passed a rule that requires all new commercial trucks and vans sold in the state to meet zero-emissions standards by 2045 — meaning new commercial vehicles should be hybrid or electric.
And in August 2022, several US states started making plans to ban all new consumer gas vehicle sales by 2035 or sooner.
Although the deadlines might seem far off, it's important to remember these two trends — rising gas prices and a future that favors electric vehicles — when buying any new vehicle.
Consider these tips when planning your future transportation methods:
Choose the right van for your needs. Try to avoid driving a larger van than you need. A lighter, smaller vehicle naturally requires less power to go, so you can minimize the money your business spends on fuel or electricity with a smaller model.
Consider your driver routes for fuel efficiency. Do your drivers spend most of their time driving on local city streets, the highway, or a mix of both? Keep the answer in mind when comparing the fuel economy — in other words, the gas mileage (MPG) — for any cargo vans you're eyeing.
Go electric. Opting for an electric engine over a gas engine can help eliminate fuel costs and replace them with a utility cost. Electric commercial vans are already cheaper to own compared to diesel vans. By 2023, that will also include regular gas-powered commercial vans.
The biggest thing to remember is that powering any vehicle will cost some type of resource (at least until scientists come up with some amazing engine options that don't yet exist).
Driver safety
If you or your drivers are used to driving regular consumer cars, you may experience a learning curve when maneuvering and operating a cargo van.
Cargo vans are easier to maneuver than larger freight trucks, but their bulky size can make them a challenge for new cargo van drivers.
This is why UPS, for example, requires new drivers to complete a UPS driver training boot camp called Integrad.
Fortunately, most modern cargo vans come standard with safety features (like backup cameras, blind-spot alerts, and lane-keeping assist), or they at least have these options available to add on so drivers can operate the vehicle safely.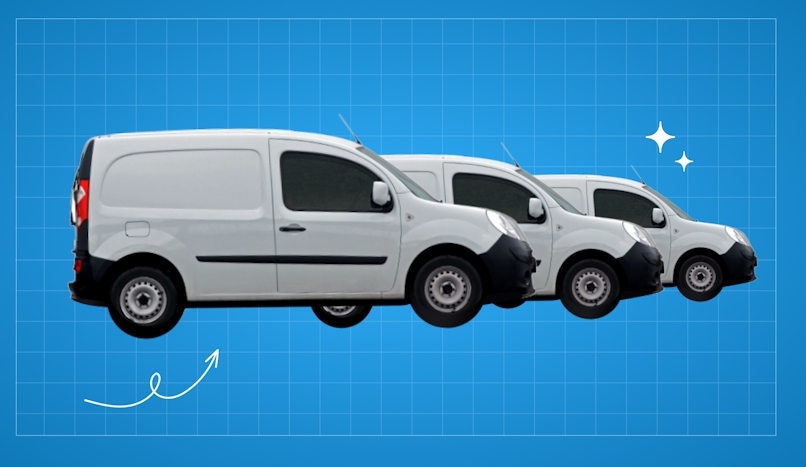 7 best cargo vans for small businesses
We've picked out our top seven cargo van choices for small businesses that routinely transport a lot of stuff, whether packages, catering equipment, or something else. These are the commercial vans to start your search with if you need something better than your everyday consumer vehicle.
1. Mercedes-Benz Sprinter Cargo Van — best for heavy loads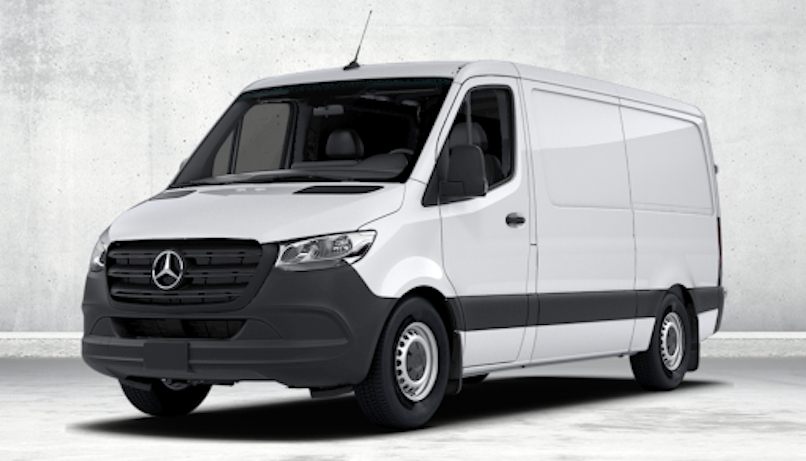 The heavy-duty 2022 Mercedes-Benz Sprinter Cargo Van is designed to meet the needs of different businesses. 
Its large interior, low floor, tie-down points, rear doors, and side doors make it useful for delivery drivers with a high volume or packages or technicians (HVAC workers, for example) who need to carry a lot of tools and replacement parts.
This luxury van comes in 10 colors and various configurations that offer a range of storage capacities for heavy payloads. The largest model has the highest payload capacity of all the cargo vans listed here.
Upfitting options include shelving, sliding bins, partition walls, refrigeration equipment, hand-washing stations, special flooring, lighting, and more.
The Mercedes-Benz Metris is a smaller, slightly less expensive cargo van. If your business doesn't need quite the large space and payload capacity of the Sprinter but you still want the benefits of a Mercedes vehicle, consider the Metris lineup.
2. Ford Transit Connect Cargo Van — best for maneuverability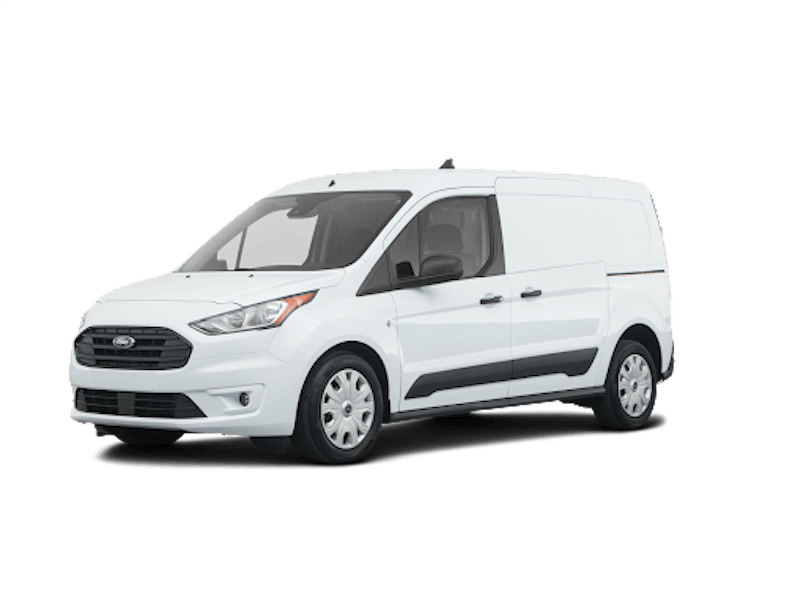 The light-duty 2022 Ford Transit Connect is the little brother to Ford's hugely popular full-size Transit Cargo Van. The Connect lineup offers a smaller van size and easy handling, similar to the feel of an SUV. 
That makes it ideal for small-volume delivery businesses (like florists and caterers) and technicians who need a simple, utilitarian work van.
The Transit Connect comes in two models: the XL and the XLT. The XLT has more safety features that we recommend if you have wiggle room in your budget.
Upfitting options include racks and bins, partitions, ladder racks, gas-type conversions, and advanced telematics hardware.
3. Ram ProMaster City Cargo Van — best for customization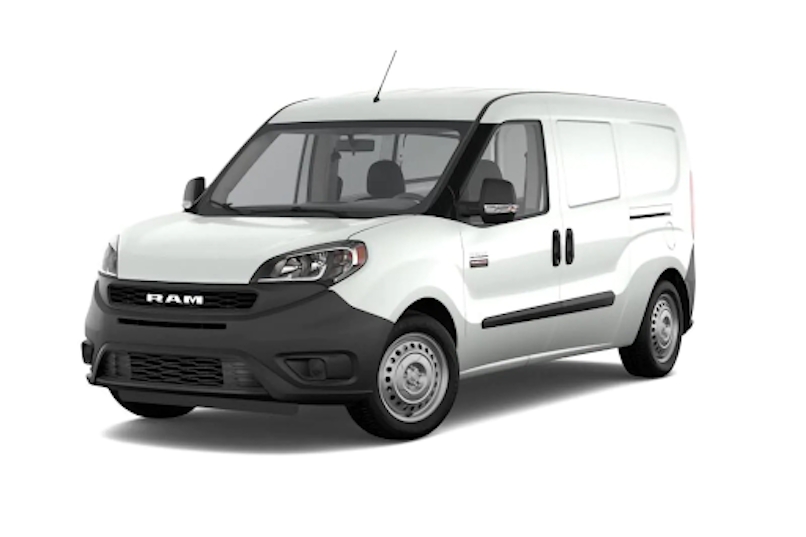 The 2022 Ram ProMaster City is similar to the Ford Transit Connect, with a slightly higher payload capacity. It also features six roof anchor points with a 150-pound roof weight capacity (included in the max payload).
The ProMaster City also comes in a wagon model that's geared toward passengers. Although this guide focuses on cargo vans, we mention the passenger version because it's well-designed for cargo deliveries. If you want a work van that can easily transform into a passenger vehicle, the wagon might be right for you.
Upfitting options for the Cargo Van and Wagon include complete packages, racks, cabinets, shelves, and more.
4. Chevrolet Express Cargo Van — best for high-volume payloads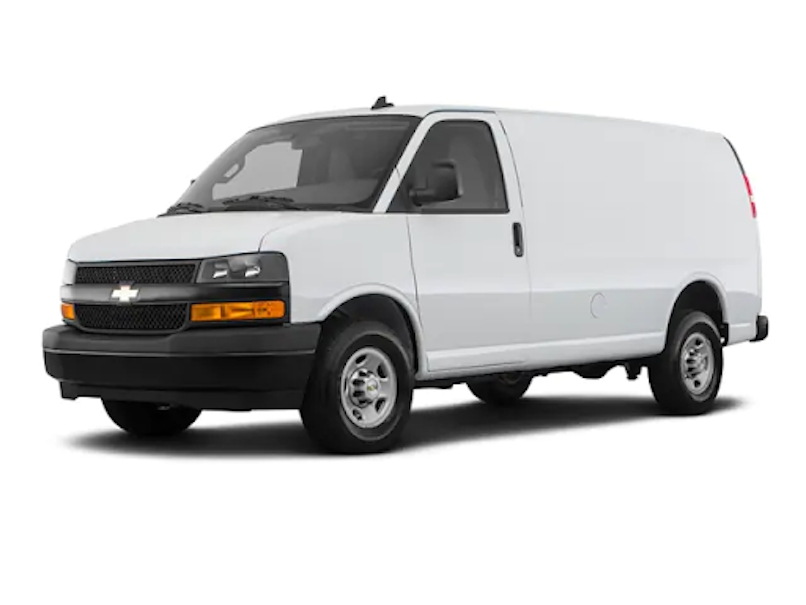 The 2022 Chevrolet Express Cargo Van is your classic Chevy work van. Available in either a 2500 or 3500 model, the Express is a heavy-duty, full-size cargo van made for hauling a substantial amount of weight. It's great for a variety of business uses, from landscaping to package deliveries.
Because the old-school Express is intended for fairly utilitarian cargo transportation, the upfitting options offered by Chevy are somewhat limited. 
Plenty of technology upgrades are available, and upfit packages for the cargo space include a shelving package and cooling units, with accessories. 
If these relatively basic solutions fit your needs, the Express may be the work van for you.
5. GMC Savana Cargo Van — best for high-volume payloads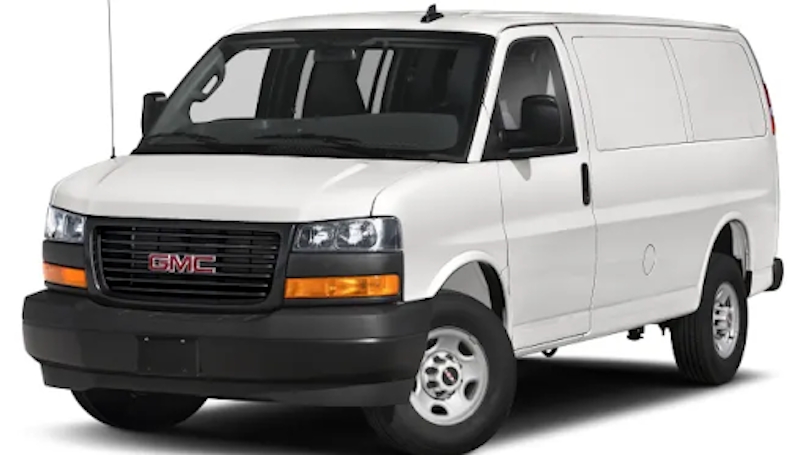 The GMC Savana Cargo Van is another classic heavy-duty work van that's identical to the Chevy Express in all but branding.
Because GM owns both Chevrolet and GMC, the two vans really are the same (except for their brands and the dealerships that sell and service them). The GMC Savana has all of the same trim options and upfitting packages as the Chevrolet Express. 
If you're unsure which brand to choose, we recommend going with the best price you can find at your favorite dealership.
6. Ford E-Transit Cargo Van — best for maximum cargo space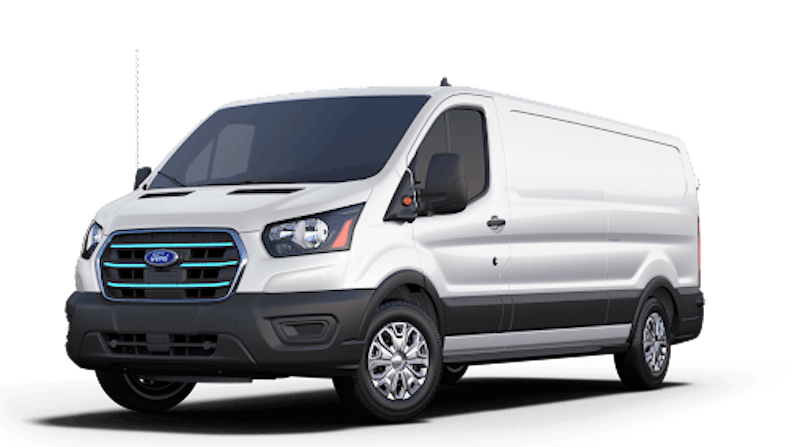 The 2023 Ford E-Transit Cargo Van makes it possible for small businesses to go electric.
Available with three roof heights and two wheelbase lengths, the heavy-duty E-Transit features a fully electric powertrain that offers a driving range of 108 to 126 miles per battery charge (depending on the model). 
This cargo van's battery can cover an entire workday for many city-driving businesses. If your driver needs to recharge during the day, they can use one of the 75,000+ charging stations across the US as part of the Ford BlueOval Charge Network.
The largest E-Transit Cargo Van model offers the most cargo space of all the cargo vans listed, although the payload capacity is more typical. Of course,  you can opt for a smaller E-Transit model if you don't need all of that space.
Another major feature of the E-Transit is its ProPower Onboard equipment, which lets you plug tools and devices directly into your van's 2.4 kWh power source (separate from the main battery). 
Upfit options for the E-Transit include a complete parcel delivery package and other accessories, like individual shelving units, heavy-duty flooring, tie-down hooks, handles, extra lighting, and other upfits for the cargo space.
7. Nissan NV200 Compact Cargo Van — best for low-volume deliveries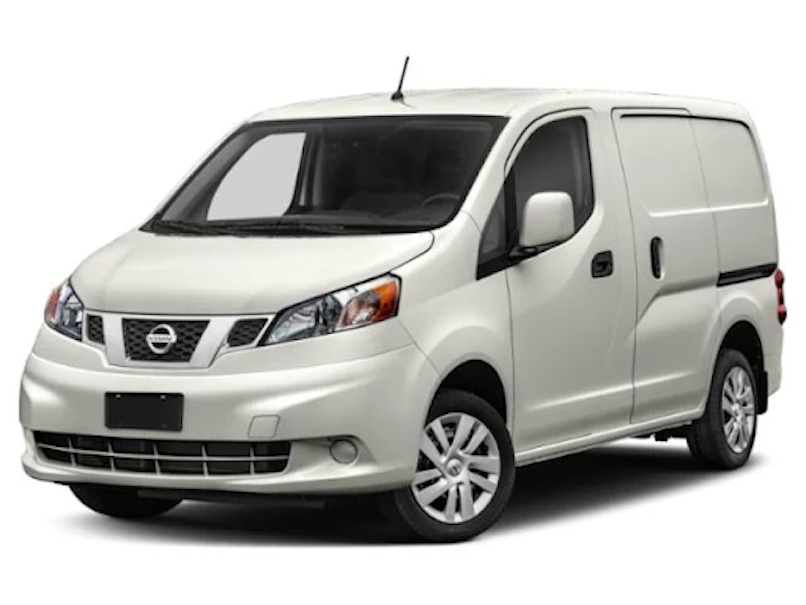 As the most affordable option on our list, the Nissan NV200 was discontinued after the 2021 model's release. It's still a popular light-duty cargo van for businesses looking to save money. 
The NV200 was made for caterers and similar businesses. 
Consider purchasing one of these pre-owned cargo vans if you're a low-volume delivery driver or other mobile business with light transportation needs. (You can also consider used Chevrolet City Express vans because they're really just rebadged Nissan NV200s.)
You might find used NV200 vans that have been upfitted with shelving and other catering accessories. 
The van's standard design features interior cargo tie-downs, a flat floor, a sliding door on each side, and 40/60 split rear doors.
Decide if a cargo van is right for you
Getting started with a cargo van could be a great way to boost your business.
If your current work vehicle isn't cutting it for any number of reasons, upgrading to a cargo van could give you more cargo room and weight capacity, custom functionality, and other advantages that don't come with an everyday consumer car.
Interested in more ideas to grow your business and increase earnings? Take a look at our post on how to grow a courier business.
Good luck with that new cargo van and your business expansion!