8 minute read
How to Deliver Packages Efficiently Using Package Delivery Software
Delivery teams need package delivery software that helps get packages to their destination quickly, efficiently, and securely — without adding complexity.
Some delivery teams rely on manual delivery processes to deliver their packages. Other teams use multiple different tools and apps to complete last-mile delivery. Not only are both methods inefficient and resistant to scale, but they cause you to pay more for each stop — more on fuel, more on labor, and more on tools that aren't helping you in the long-run.
The solution is to find package delivery software that helps get packages to their destination as quickly and efficiently as possible while minimizing the number of tools your drivers and dispatchers need to use at any one time.
Specifically, you need a software solution that can:
Get the customer's package to them ASAP by creating optimized routes.
Let the customer track their package with real-time delivery updates.
Collect proof of delivery to verify when proof of delivery to verify when to verify when and where the driver delivered the package.
In this post, we're going to show you how delivery teams often damage their profitability by planning and following inefficient routes, making multiple delivery attempts per stop, and managing lost package disputes between courier and customer.
Then, we're going to show you how Circuit can save your delivery team money (and empower it to grow) by helping drivers deliver their packages quickly and efficiently.
If you manage a package delivery service and are looking for a cost-effective way to deliver your packages quickly and securely, sign up for a free trial of Circuit.
How Inefficient Package Delivery Hurts Your Business
Delivery teams want to help drivers to make more stops in a shorter amount of time. But complications quickly arise that cause your entire team to spend more time on a stop, not less.
These complications are similar whether you're responsible for a small delivery service at a local business or a courier company with hundreds of clients.
Planning Inefficient Routes: Route planning is challenging because of the variables (time windows, location, traffic patterns, number of drivers, etc.) that need to be factored into the route. No matter the size, every delivery team can benefit from route optimization software that uses advanced algorithms to create the fastest route possible.


Making Multiple Delivery Attempts: Sometimes packages need a recipient's signature. If the customer isn't home when the driver attempts delivery, the driver must come back later. Now, you're spending more money (labor and fuel costs) on making that delivery. Customers missing their delivery window is a problem that can be solved by keeping them updated with an accurate ETA, which we cover in the section below.


Missing Package Disputes: If you leave a package at the customer's front door — or with a concierge — you run the risk of missing package disputes. The easiest solution here is to use a proof of delivery tool to verify when and where the driver delivered the package.
Instead of finding individual solutions for each of these problems, it's easier (and more cost-efficient) to use an all-in-one package delivery software. This beats having multiple tools and apps, because your drivers and dispatchers don't need to toggle back and forth through different platforms, meaning they can do their jobs more efficiently.
In fact, one of our customers saved 12.5 hours a week in labor costs just by using Circuit to make their deliveries.
And when you increase these efficiencies, you'll start making more deliveries. Overall, our customers have been able to increase the daily number of packages they deliver by 20%.
Below, we're going to cover how Circuit helps improve these three areas of your delivery operations, getting packages to their final destination quickly, efficiently, and securely.
Using Circuit to Get Packages from Point A to Point B
Let's take a look at how delivery packages get from your back office — or local small business — to your customer's front door when you're using Circuit's package deliverypackage delivery software.
First, collect your customer orders that need to be delivered that day. Most delivery businesses handle customer addresses in two ways: manual entry or spreadsheet import.
Manual Entry: Generally, manual entry is only used by smaller businesses or drivers* themselves when they need to add a stop to their route while it's in progress.

But we know it's still a vital feature, so we use the same auto-complete functionality that Google Maps uses — as you're typing in an address, Circuit suggests possible addresses based on your location. This significantly helps reduce the amount of time it takes to manually enter a list of stops.


Spreadsheet Import: Most of our customers use this feature because it's quick and easy. Just download your customer addresses into one of these files (.csv, .tsv., .xls, .xlsx) and upload them into your Circuit account.
Once your addresses are loaded into Circuit, you can start optimizing routes.
*Quick note: Circuit has both a mobile app and a web app. The mobile app works with iPhone (iOS) and Android devices.
Route Optimization: Getting Packages Delivered as Quickly as Possible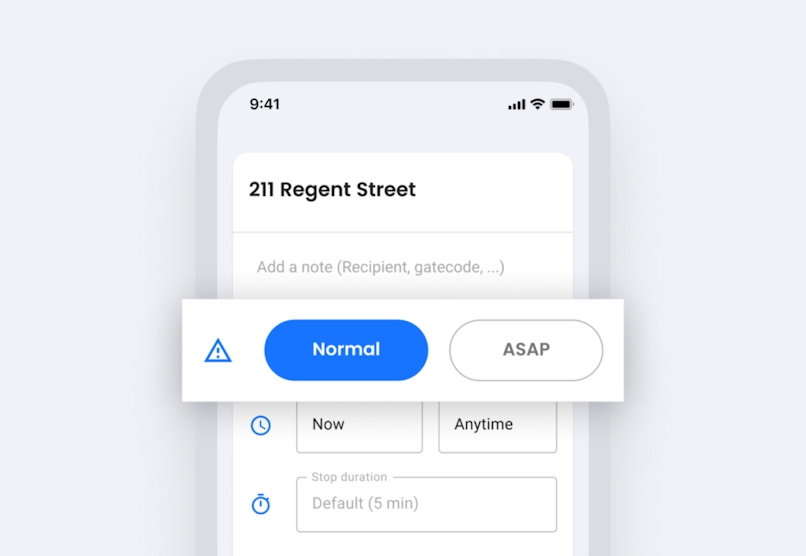 Route optimization is practically impossible to do without advanced algorithms to help you plan the stops. There are obvious limitations of using a program like Google Maps to plan routes.
(The main limitations being that Google Maps can't create routes with more than ten stops, and it doesn't have the software required to actually optimize a route.)
Circuit started as a delivery app for people who wanted better route optimization than what was offered by free route planning tools, so we know the importance of creating the fastest route possible. That app — a route planner for individual drivers who only need route optimization — is still available.
But based on feedback from our customers who were in need of a more full-fledged delivery management software, we made Circuit for Teams.
With Circuit for TeamsCircuit for Teams, you can set:
Priority Stops: If you have a stop that needs to occur early in the route, you can set it to be the first stop.


Time Constraints: If you have drivers who need to be off at a certain time or want a route completed earlier in the day, you can use time constraints. You can also use time constraints to help reduce failed delivery attempts by setting a time window the customer has requested.


Number of Drivers: With Circuit, you can optimize the route for one driver or several drivers.


Average Time per Stop: To increase optimization, you can set the average time per stop. Let's say you're a courier company that delivers to businesses. Your drivers may be at a stop for 15-20 minutes, meaning their optimal route may be different than if they were only going to be at their stop for 5 minutes based on that day's traffic patterns.
Now, how does Circuit help dispatchers and route planners do their jobs more efficiently?
Flexible and Efficient Route Optimization
Let's say you've optimized your routes for the day, and you have five drivers on the schedule. Then, two last-minute changes occur right before the day's packages are about to leave HQ.
One of your drivers can only do a half-day, so they need to be back at the unit by noon;
A customer calls and requests that they receive their package by 10 a.m.
Since you're using Circuit, these routing changes are quick and easy to make.
To accommodate the first request, you just set a time constraint on that driver's route, making sure they're scheduled to be back at the warehouse by noon.
Then you can go the day's route and find the customer's address who needed their delivery by 10 a.m. Again, you use Circuit's time constraint feature to make sure they'll get the package when it works for them.
Once those changes have been made, just click the optimize button again and you'll re-optimize the route. Now that the route is set, your drivers can start delivering.
Recipient Notifications: Let the Customer Track Their Package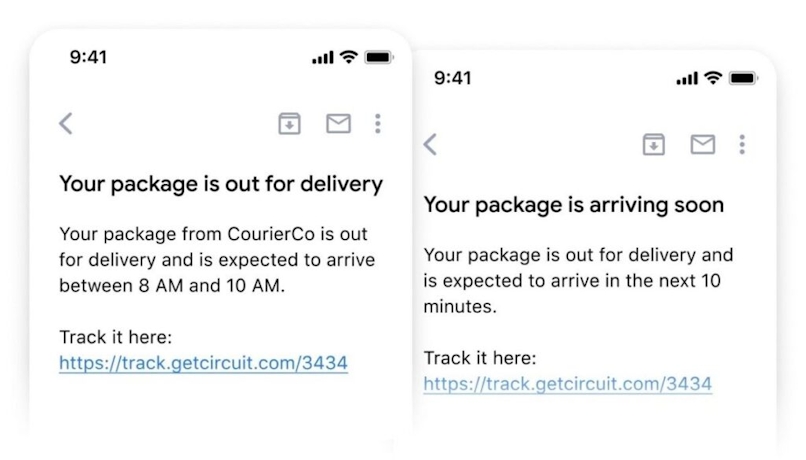 Earlier, we mentioned a potential drain on delivery team operations is when the driver has to make multiple delivery attempts. Multiple delivery attempts occur when a customer needs to be present for delivery but isn't at home or is unable to come to the door when the driver arrives.
The solution here is keeping the customer updated on your driver's ETA with status updates. Most customers can't or won't be willing to wait at home all day for a package (and if they have to, that's not providing the best customer experience). But by knowing when their package is arriving, your customers can go about their day and make it back home when needed.
You can use Circuit's recipient notifications to make sure your drivers don't have to circle back to try and make a delivery later in the day (or the following day).
It works like this:
As soon as the package is en route, the customer gets an email or SMS message with a projected delivery time.


In that message, they are given a link to a dashboard that they can use to track real-time updates of their delivery.


Once the driver gets closer to the customer's stop, the customer receives a message with an updated time frame. At this point, the customer can even communicate directly with the driver, such as messaging them a gate code or precise directions.
This way, the customer is always aware of when their package is arriving.
Plus, we also offer Route Monitoring for dispatchers. It's important to keep communication open between customers, drivers, and dispatchers. With Circuit, dispatchers get real-time tracking of routes as they're in progress. Driver tracking is helpful when dispatchers need to field calls from customers inquiring about their package's whereabouts. It's also helpful for when dispatchers need to make last-minute changes to ongoing routes.
Proof of Delivery
We've talked about preparing for the package to leave the warehouse. And we've talked about how Circuit helps customers stay informed when routes are in progress. Now let's look at how Circuit helps delivery teams complete their deliveries.
We offer two types of proof of delivery features:
Digital signatures
Photo capture
With Circuit, the driver can collect the customer's signature using their Circuit app on their smartphone. The customer just signs on their phone using their finger.
If the customer isn't present for the delivery — and a signature isn't needed — the driver can collect proof of delivery via photo. After the driver leaves the package in a safe place, they simply use their smartphone to take a photo of where they left it. The photo is then uploaded into Circuit, where it's shared with both dispatch and the customer.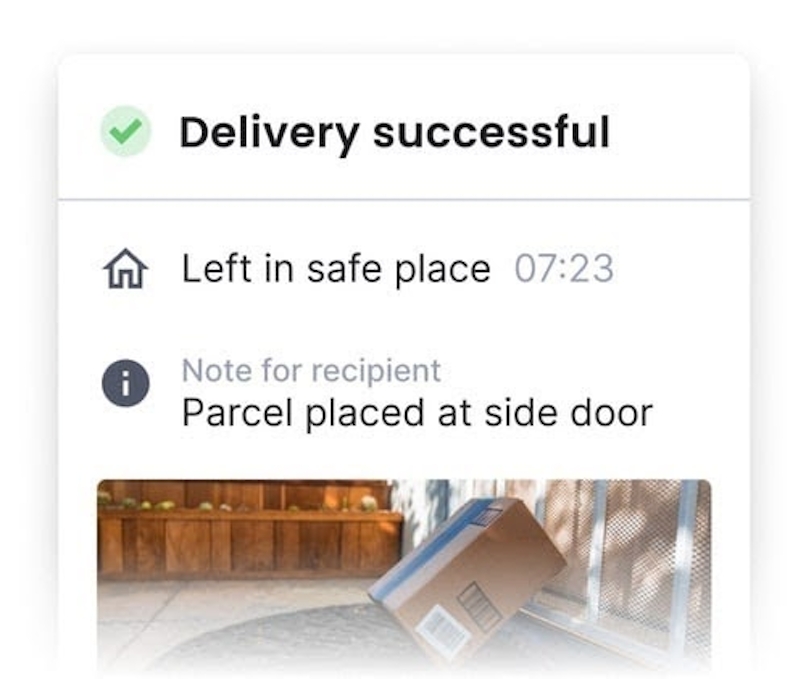 This way, when the delivery is completed, the customer receives photo verification of when their item was delivered and where it was left, reducing the risk of missing package disputes.
One of our customers — a food delivery service in Canada — would get at least one customer a day who couldn't find the food parcel the driver left for them. The owner — who was running a restaurant along with the entire delivery operation — was too busy to personally manage each dispute, so his kitchen cooked up more food for his driver to re-deliver. This was a costly solution.
After switching over to using Circuit, his drivers started using our proof of delivery feature to take photos of where they left the customer's food order. Now, when a customer calls and complains they can't find the delivery, the owner is able to reference Circuit and handle any disputes without having to send out his drivers to make another trip.
Final Thoughts: What Goes into the Best Package Delivery Software?
Delivery logistics are a complicated part of running your own delivery team. There's a real need for advanced route optimization — making sure you're dispatching your drivers on the most efficient route possible. But optimizing routes isn't as simple as looking at a map and trying to stick all stops within specific zip codes. You need software that can factor in routes, traffic patterns, the number of drivers, time constraints, and priority stops.
Plus, whatever time you save by optimizing your routes can be lost if your customers aren't home to receive their package or your drivers can't verify delivery with a signature or photo.
By talking with our customers, we learned that the best delivery solution is one that gets the customer's package to its final destination without slowing down the drivers or dispatchers.
If you manage a package delivery service and are looking for a cost-effective way to deliver your packages quickly and securely, sign up for a free trial of Circuit.