7 minute read
How to Start a Non-CDL Business Delivery Service in 2023
A non-CDL delivery service doesn't require a commercial driver's license, simplifying your business startup. Find out how it works.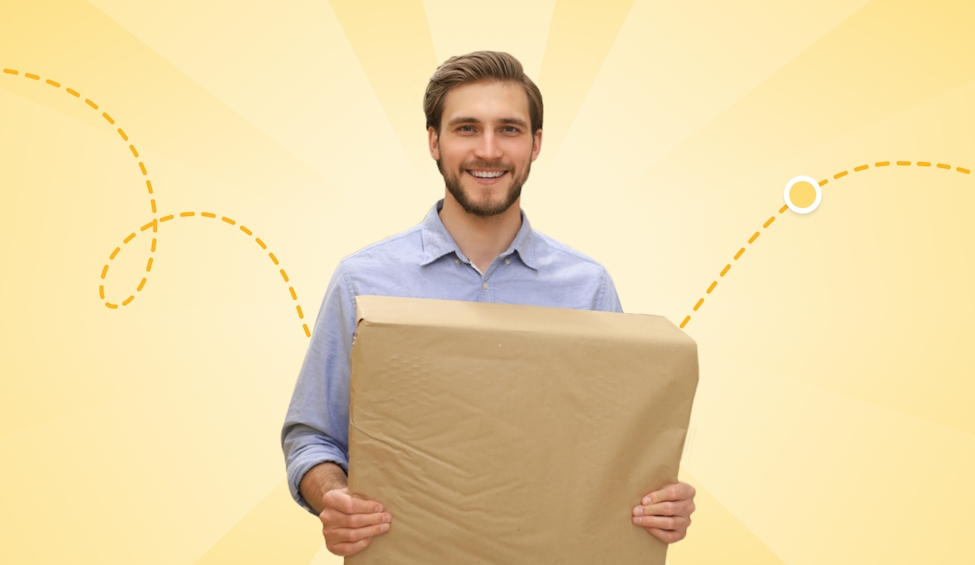 Trust Circuit for Teams to help plan efficient and hassle-free driver routes once your non-CDL delivery business is up and running.
From e-commerce shops to grocery stores, businesses are embracing online shopping — allowing customers to order goods and have them shipped directly to their doorsteps. 
Forty-five percent more people use online grocery services than before the pandemic, and e-commerce is up 19%.
Businesses rely on delivery services to fill the gap in the supply chain from manufacturing goods to getting them into customers' hands. 
While some brands and businesses have their own in-house delivery services, others rely on third-party business delivery services.
If you want to get into the logistics field, you might consider starting this kind of delivery service. 
A non-CDL business simplifies the startup process because you don't need drivers with commercial driver's licenses (a requirement for driving bigger vehicles like tractor-trailers).
It's important to understand that starting a business of any kind involves some administrative steps. That's where this article can help.
Find out what you need to do to start a non-CDL delivery business below.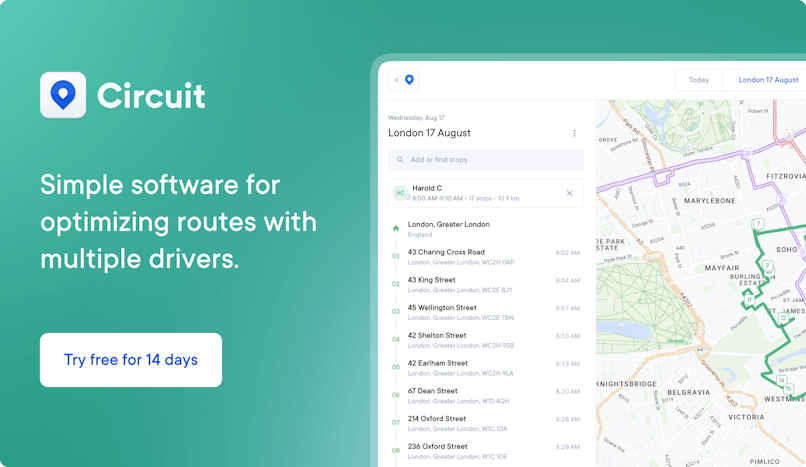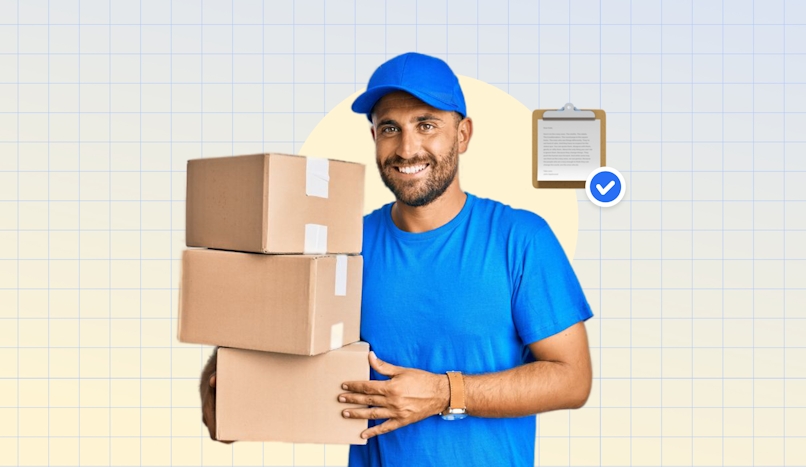 What is a non-CDL delivery business?
A CDL delivery business relies on the use of CDL trucks to deliver goods. CDL trucks require a commercial driver's license because they're larger and more complicated to maneuver than a standard-sized car or vehicle. 
A non-CDL delivery business relies on non-CDL trucks to deliver goods. To qualify as non-CDL, vehicles can't have a gross combined weight rating (GCWR) of more than 26,000 pounds. Trucks or vans with a GCWR exceeding 26,000 pounds or longer than 26 feet usually need a CDL.
Are delivery businesses profitable in 2023?
The entire point of starting a business is to make a profit! 
The good news is that a non-CDL delivery business has some attractive characteristics that make it a likely money-maker.
First, delivery in general is in high demand since the COVID-19 pandemic encouraged more people to stay home and order goods online. 
In fact, the pandemic more than doubled business for food delivery apps.
And while people may no longer be sheltering in place at home, the demand for delivery services remains significant. 
For instance, the same-day delivery market is expected to grow at an annual growth rate of more than 10% through 2026.
Since delivery is in high demand, you likely can earn good money in this field.
And you can make even more money by focusing on more lucrative delivery types. For example, you might look into medicine delivery. 
A lot of people need medicine, so there should be consistent demand (and reliable earnings).
Keep in mind that your geographic area will impact your earnings. You'll probably earn more in a major city where there are a lot of people — meaning a lot of customers demanding your services — than you will in a rural area.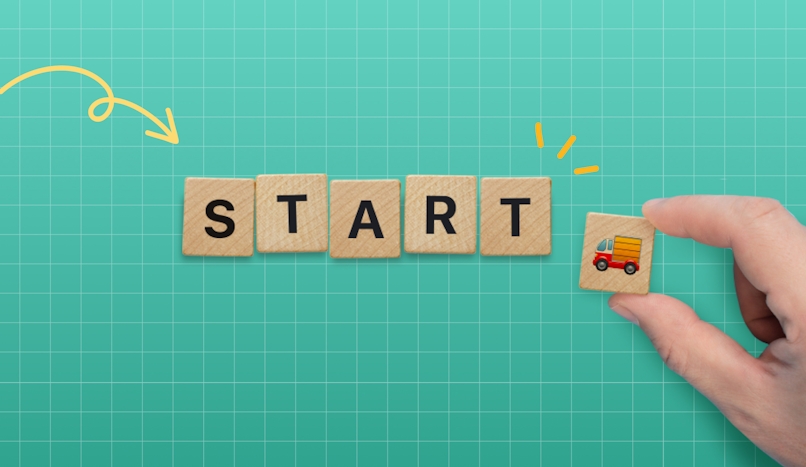 How to start a non-CDL business delivery service
As mentioned above, you'll have to go through some administrative steps if you want your non-CDL business delivery service to start on the right foot. Here's a step-by-step guide to the basic needs.
1. Determine a profitable delivery niche 
There are many types of delivery businesses focusing on various products, like food delivery, packages, marijuana, medical devices, pharmaceuticals, furniture delivery, and more.
Defining a niche can help you better cater to a specific target audience and focus your marketing strategy (more on that below).
Consider the competition in your area when deciding on a niche. Ask yourself:
What other delivery services are available in your region and what is their focus?
What gap can you identify in the market?
What local delivery needs are unmet?
This guide to doing market research includes a free template to analyze your market and the competition.
Once you know what type of business you want to start, write the details in a business plan with your business name and a service description. This template shows you how to write one.
2. Legally establish your business 
Establishing your own business as a formal entity can offer some personal liability protection in case your delivery business gets into legal trouble.
For example, if one of your non-CDL drivers hits someone with a truck, that person might sue the business. While that could mean losing business assets in a lawsuit, your personal assets will be protected.
The U.S. Small Business Administration (SBA) offers a guide to common business structures and how they differ in terms of taxation, general operation, and reporting requirements.
Some common business entity types include:
Sole proprietorship
Partnership
Limited liability company (LLC)
Corporation
Most states need you to register a business with the Secretary of State (SOS). This list of SOS websites can help you find your local state department and explain how to register.
You'll need an employer identification number (EIN) if you plan to register your business as a corporation or partnership. This nine-digit number is also required if you:
Plan to hire employees (unless you want to make deliveries yourself!)
Want to file tax returns
Open a business bank account
It's a good idea to register for one at the start of your business. The Internal Revenue Service (IRS) has a questionnaire that can help you figure out if you need an EIN.
Research the requirements for business licenses and permits. The SBA offers a quick look guide. 
3. Buy non-CDL delivery vehicles 
It probably goes without saying but you can't have a delivery business without delivery vehicles.
You may think you need a commercial driver's license to operate a larger delivery vehicle, like a box truck. 
Well, not necessarily!
Make sure whatever vehicles you buy are non-CDL. This generally means the vehicle can't have a gross combined vehicle weight rating (GCWR) of more than 26,000 pounds.
Trucks or vans with a GCWR exceeding 26,000 pounds or longer than 26 feet usually need a CDL. This is because larger, bulkier vehicles need special driving knowledge for safe handling.
For example, these big vehicles must take turns slower than a smaller car or van. Otherwise, their bulk may cause them to tip over when they take a turn too quickly.
Check with your state's Department of Transportation (DOT) to confirm CDL versus non-CDL requirements. For example, Arizona's DOT specifies that a GCWR of 26,001 pounds or more requires a CDL.
Here's a list of all the states and their DOT websites. The Federal Motor Carrier Safety Administration (FMCSA) can also offer resources.
Vehicles will likely be one of your highest startup costs, so you'll want to take care of them. An insurance policy can help safeguard your investment. Some forms of insurance, like public liability insurance (PLI), are a requirement!
4. Market your delivery business 
Once you've taken the above steps, it's time to find your first customers! 
Depending on your niche, you might contact potential customers directly. For example, a medical delivery business can approach local health care providers, labs, hospitals, and pharmacies.
Referrals are another great way to drum up business. As you get customers, ask them to write reviews and testimonials on platforms like Yelp and Google so that new customers can get the proof they need to do business with you.
Raise your business profile and attract attention through digital marketing, like social media marketing (such as LinkedIn and Facebook) and content marketing. 
Content marketing involves distributing various types of content, from blog posts to infographics, to audiences. The Content Marketing Institute (CMI) provides greater detail about what content marketing is and how it works.
You can often leverage one type of marketing for another. For example, if you have a Facebook page, you can use it to distribute content like blogs. Plus, customers can write Facebook reviews for your page, providing valuable word-of-mouth marketing.
The U.S. Chamber of Commerce has a guide to marketing for small business owners that can help you get started.
5. Give your drivers the best training and tools 
You'll need a few basic things before becoming the owner-operator of a new business, like: 
Vehicle(s): A pickup truck, cargo van, or box truck will have plenty of space to hold the goods your team delivers. Consider the type of delivery you're offering when choosing vehicles. For example, a pickup truck may be handy if you're delivering bulky furniture. But you might only need an SUV if you're going to be delivering smaller goods, like light boxes and packages. You also want to pick a fuel-efficient vehicle to save money on fuel.
Protective gear: Ratchet straps can help secure cargo if you're moving bulky items, making sure nothing shifts or flies out of the vehicle (for example, if you use a pickup truck). This helps prevent damage and deliver goods safely and in one piece — which is important to maintain customer satisfaction. Moving blankets can also help protect big items.
Dolly or handcart: A dolly or handcart can help reduce heavy lifting and lugging for drivers when bringing goods to the customer's door. This can come in handy even if you're only delivering small packages. Suppose a driver has to bring multiple packages to a customer's door, for example. With a dolly, they can bring them all in one trip instead of running back and forth between the vehicle and the customer's door — saving time.
Smartphone: A smartphone is useful for maintaining communication with customers. It can also help you find customer addresses with mapping tools. Smartphone apps can also make drivers' jobs easier. Routing software like Circuit for Teams includes access to a mobile app, which drivers can use on their phones to chart the fastest path from one stop to the next.
Once you've hired a team of drivers, you need to train them. Focus areas for a comprehensive training program could include customer service, work processes, health and safety, and software use. 
You also want to make sure you equip your drivers with the tools to succeed.
Your drivers are important to your delivery business's success. So, you want them to complete deliveries fast while offering quality customer service.
Give your team the tools to thrive, such as quality vehicles, comfortable uniforms, and technology. Routing software like Circuit for Teams can help support your drivers' success.
Route optimization can give your delivery drivers the fastest and easiest sequence of delivery stops. This saves them time and hassle.
The software also connects to popular GPS apps like Google Maps, giving drivers real-time traffic data to avoid time-wasters like traffic jams. Circuit also offers perks like package finders and delivery-time windows for customers.
Circuit tracking can also monitor your drivers' progress in real time. This allows you to quickly stay on top of each driver's routes without texting or calling for updates.
When you get Circuit for Teams for your business, you get access to an app for your drivers. They'll then have all the perks described above in an easy-to-use app at their fingertips.
Get your non-CDL business off to the right start
A non-CDL business can be a great career option, offering regular and reliable demand. Careful planning can help get your delivery company off to a strong start. 
Trust the tips above to help. Start your free trial of Circuit for Teams now.