10 minute read
How to Start a Food Delivery Business in 2023
Consumers love the convenience of food delivery. Tap into the market by learning how to start a food delivery business of your own.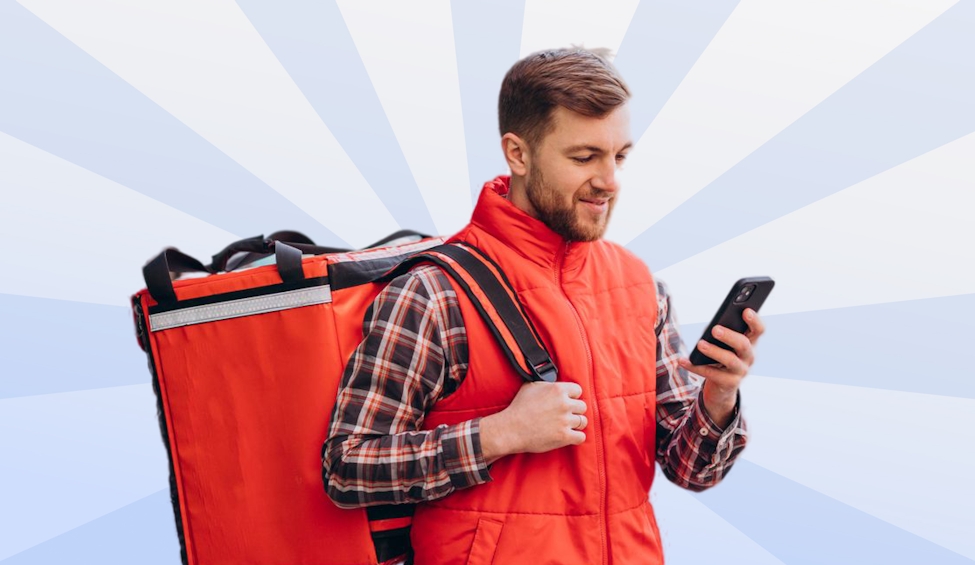 Food delivery service can be a lucrative business. One tool you'll want to make sure of its success? Circuit for Teams.
Almost anyone can start a food delivery business. You don't need a college degree, large bank account, or corporate experience.
The only thing you need is a great idea, the right systems, and the drive to make it happen. 
In learning about how to start a food delivery business, chances are you already have an idea and the drive. All you need is a reliable business model that's sure to be in high demand.
Since demand for food delivery has increased dramatically in the COVID-19 pandemic, odds are you have a broad target audience to appeal to.
Food delivery apps alone more than doubled their business during the pandemic. Other types of food delivery, like grocery delivery, have also become more popular.
If you want to take advantage of the booming food delivery market, now's a great time to do it. That said, starting a food delivery service needs some planning. 
This article tells you what you need to know.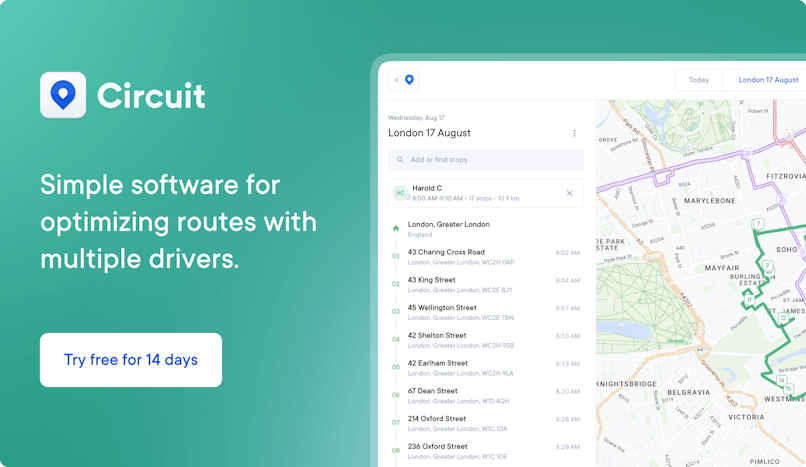 Food delivery 2-minute cheat sheet
Before we dive into the details, here's a quick look at how to get a food delivery business off the ground. The exact steps will vary depending on the type of business and your location, but this will give you a rough idea of what to expect. 
Write a business plan. This means doing market research, defining your services, and sketching out how your business will be structured and operated. It's your guidebook to running your business.
Calculate your costs and get funding. Adding up all your expected startup expenses allows you to determine overall costs. You can then raise the capital needed to cover those costs.
Legally establish your business. Forming a legal business entity like a limited liability company (LLC) or corporation has perks like streamlining your bookkeeping and protecting your personal liability. You have to register your business entity with your region for this step.
Get the right licenses and permits. Depending on the type of food delivery you offer and the region, you may need certain licenses and permits to operate legally. For example, you might need a food-vending license.
Establish your delivery region. Figuring out your delivery region allows you to better anticipate capacity needs. You can then determine how many drivers and vehicles you need to meet demand based on population and competition in the area.
Build a reliable and responsible team. Your delivery drivers are the basis of your business success. You want people who are reliable, trustworthy, and have a knack for customer service. Hiring a strong team from the beginning will improve your odds of success.
Optimize delivery routes for food orders. You can make life easier for your drivers by optimizing their delivery routes. This gives them the fastest path to get their deliveries done, making sure food is still hot when it reaches customers. This can also keep your customers happy!
Is food delivery a profitable business?
A food delivery service can be a reliable and profitable business.
Since 2019, consumer demand for food delivery has steadily grown. The market reached a value of $18.5 billion in 2020 and is expected to reach a value of $33.7 billion by 2026. People have embraced online ordering and the convenience of getting food brought to their doorsteps.
Not only is food delivery in high demand, it's also far-reaching — with many different types of food delivery business models possible!
You're likely already aware of food delivery apps like Uber Eats, Grubhub, Doordash, and Postmates. There are also food delivery services that bring consumers groceries instead of ready-made restaurant meals, like Instacart.
A food delivery service can also cater to a business-to-business (B2B) customer base instead of individual consumers. For example, you might handle produce delivery for restaurants.
It's clear that food delivery is in-demand, versatile, and holds potential for great profits. But, it's impossible to say exactly how much you'll earn.
The profits of a food delivery business depend on many factors — from what kind of business you have to where you're located. 
For example, if your delivery service is in a large city, you may see higher demand and greater earnings potential than less populated areas.
Can you start a food delivery business with no money?
One benefit of a food delivery business is its scalability. 
You can start small and, depending on how it goes, expand your operations later to meet the rising demand.
This means that you generally don't need to invest a lot of money to get your business off the ground. 
However, it won't be free. You will need some money to cover basic startup costs.
For example, depending on the area where you plan to make deliveries and the type of business you have, you might be able to start with just a bicycle and a cellphone. 
If you already have a bike and a phone, you might think you're all set!
Not so fast.
You'll also need to handle some administrative things, like getting the right business licenses and insurance. Depending on where you operate, this will likely cost you some money, for example, in processing fees.
We go into all the nuts and bolts of what you need to start a food delivery business below.
Should restaurants start their own food delivery business?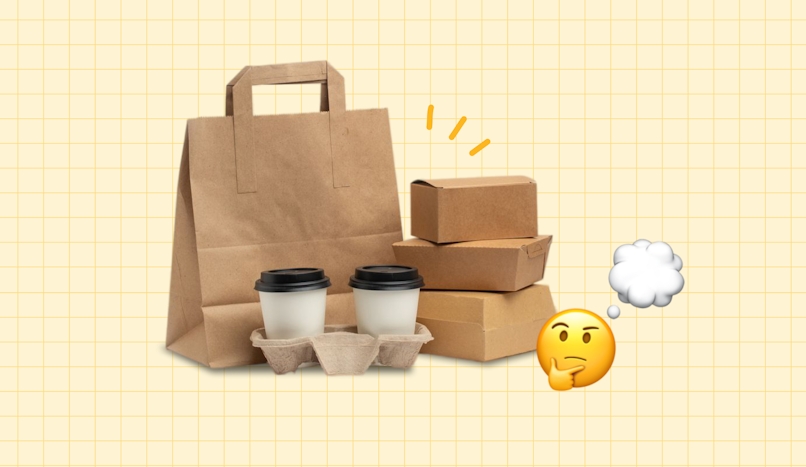 If you're already in the food service industry as a restaurateur, congratulations! Then expanding your business by offering delivery makes sense. 
While you can rely on other food delivery companies like Uber Eats to get food to your customers' doorsteps, this needs you to pay the restaurant delivery platform a delivery fee.
When you set up your own online food delivery service, you have full control. You won't have to pay a cut to an external service provider, which can mean more money in your pocket.
Even if you already offer takeaway or takeout services — where customers pick up their food — delivery can be a plus. 
Takeout isn't super convenient for consumers, so adding your own delivery service allows you to broaden your target market and reach potential customers you might otherwise miss.
How to start a food delivery business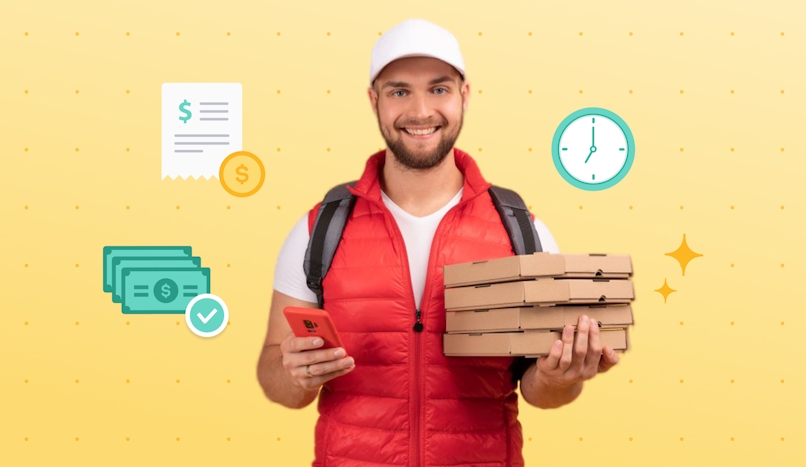 Have you decided that a food delivery business is the right choice for you? Great! 
Now, read on to find out how to get started.
Step 1. Write a business plan
A business plan provides a guide to how your company is run and structured. The first step in writing a plan is to conduct market analysis to determine the competition for delivery businesses in your area. 
Ask yourself what other businesses are in your area and how you'll stand out from the competition. For example, maybe you'll provide faster delivery or cheaper service.
Your business plan should also include a company description, organization and management overview, description of your services, marketing and sales plans, and financial projections.
The U.S. Small Business Administration (SBA) has a detailed guide to writing a business plan.
Step 2. Calculate your costs and get funding 
Before getting started, make a list of all the things you'll need to run your food delivery service. You can then tally up the total to get an idea of your startup costs.
Common startup costs include:
Administration fees, like fees to register your business (more on that below) plus business licenses and permits
Market research expenses, for example, conducting surveys
Equipment like delivery vehicles and driver uniforms
Technology like computers, mobile phones, and software
Office space, if you plan to have a central headquarters, plus utilities 
Marketing and advertising costs, like social media, pay-per-click (PPC) advertising, email marketing, and pamphlets
Website development and hosting fees. 
Insurance costs, like general liability insurance
The costs will vary significantly based on factors like how large of a delivery company you want to start and your business strategy.
For example, if you plan to provide your drivers with delivery vehicles, you'll have to cover these costs, which can easily run into the six figures, depending on how many you buy. If you let drivers use their own vehicles, this isn't an issue.
Rest assured, there are many ways to reduce fees. For example, website development can cost as much as $10,000! However, you can create your own website for cheap using a template builder like Wix.
Step 3. Legally establish your business 
You can establish your business as a formal legal entity by registering it with your region.
Establishing a legal business entity is important for a few reasons.
First, it makes it easier to separate your business and personal finances. Once you've formed a business entity, you can set up a business bank account to handle all your business funds.
Second, having a formal business entity can simplify certain paperwork in the future, like your bookkeeping and tax filings.
Finally, and most importantly, setting up a distinct business entity can help protect your personal liability. For example, if you have an LLC or a corporation and someone sues your delivery business, your personal assets will likely be protected.
Possible types of business entities in the United States include:
Sole proprietorship
Limited liability company (LLC)
Corporation
Partnership
These entities differ on points like tax filing and reporting requirements. The U.S. Chamber of Commerce provides a guide to popular types of legal entities, how they differ, and how to choose the right one for you.
Step 4. Get the right licenses and permits 
Starting a business is exciting! 
But it also needs some administrative paperwork. On top of the documentation needed to set up your business entity, you also need to get any licenses or permits required by your municipality. In addition to a general business license, you may need a food-vending license or food-handling permit, for example. The Centers for Disease Control and Prevention (CDC) also provide guidance on safe food handling.
If you fail to get the proper licenses and permits, you may get in trouble with the authorities and face fines — or even lose your right to do business completely! Food safety fines are a big deal (Fun fact: Chipotle has received the biggest fine to date, a whopping $25 million). 
The SBA has a state-by-state guide to the types of business permits and licenses you may need. You can also consult your county clerk's office for information.
Finally, keep in mind that you may need to get insurance to cover your business. The SBA has another guide to common types of business insurance and what they cover, including professional liability, commercial property, and general liability insurance.  
Step 5. Establish your delivery region 
Food delivery services are usually local, so odds are you'll only deliver within your city or municipality. 
However, even within this geographical area, you may want to define a strict delivery region. To do this, consider points like:
The population density of your potential delivery region. In a densely populated city, a smaller surface area can still bring plenty of business. In rural areas, you may need to cover a larger area to get enough business.
How much mileage you want to subject delivery vehicles to. A larger area means more miles, resulting in greater wear and tear on vehicles and increased maintenance expenses.
Your driver capacity, keeping in mind that the farther drivers have to go, the longer it will take them to fulfill their deliveries. A larger geographic coverage may mean building a bigger team.
Part of this is simply about maintaining a good level of customer service. For example, if you deliver restaurant food to a house an hour's drive away, the food might be cold by the time it gets there! 
Ideally, you want to avoid this scenario.
Other considerations include gas and mileage expenses. The larger the delivery region, the more ground you can cover — but the more you'll have to pay for fuel.
Step 6. Build a reliable and responsible team
Your business success relies on the right team. Follow best practices for hiring by writing clear job advertisements, interviewing potential applicants carefully, and checking their references personally.
For delivery drivers, you also want to run a background check and check their driving record. Drivers know where customers live, so you want to make sure they don't have any criminal past.
Step 7. Optimize delivery routes for food orders 
The last thing you want in a food delivery business is to keep hangry (hungry + angry) customers waiting. 
Making sure your drivers complete their routes as fast as possible can help avoid this nightmare scenario and get them to your customers faster (super important for hot food!).
You can optimize your food delivery routes for maximum speed using Circuit for Teams. With Circuit, you upload your delivery details — including a spreadsheet of customers' names and addresses — into the software, which then calculates the most efficient route for your drivers.
With this tool, you can also do without the added cost of delivery apps, which take a cut out of your profits by charging a fee. The same perks you get from some of these apps, like real-time tracking of drivers, are offered by Circuit.
Drivers can then access their routes on their mobile phones, and you can track their progress using real-time tracking. This also makes it easy to keep customers up to date about their orders.
The best part: Circuit for Teams has customizable notifications to let your customers know exactly when to expect their food. So there won't be any guesswork involved.
Not only will this help prevent complaints – but also make your customers feel much more confident about buying from you again. Which is critical if your food delivery business is going to thrive!
Save your food delivery business time and money with Circuit for Teams
We've covered everything you need to know to start a food delivery business. You can now get ready for the exciting adventure ahead.
Taking the first step can seem daunting, but don't let it scare you
As your food or meal delivery business grows, you want to make sure you keep a handle on your business operations. Meal delivery software can help you stay organized, making sure your customers' orders reach them quickly.
Trust Circuit for Teams to help your online food delivery service stay on track. 
With our routing software, you can easily plan delivery routes for your drivers. Simply upload delivery details into Circuit and let the software plan the fastest route for your drivers.
Real-time tracking lets you check where your drivers are on their routes. Plus, you can automate delivery notifications, so customers know when their orders are coming.
Your drivers will also appreciate the added convenience, as they can access Circuit's mobile application, making sure they're always on top of their routes. Thanks to the mobile app's hands-free functionality, it's easy to use even while driving.
Finally, by planning fast routes, you'll also reduce mileage on drivers' delivery vehicles and fuel usage. This can help keep your operational costs down, increasing the likelihood that your food delivery platform will be a success!