8 minute read
What Makes a Great Delivery Experience? Key Findings in Our Data
We surveyed 275 people who regularly receive packages through delivery services, and asked them what makes a high-quality delivery experience.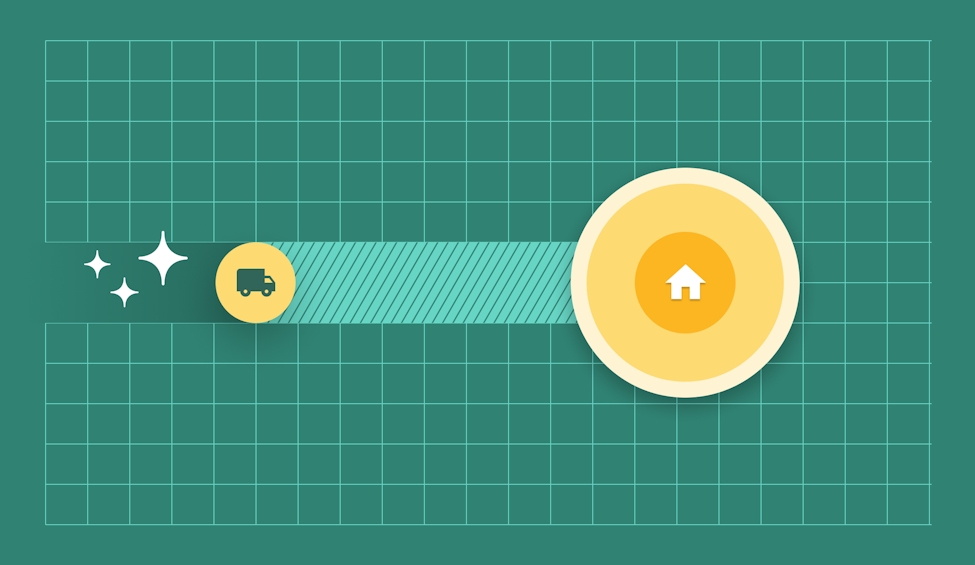 It's clear that a great delivery experience has multiple factors in play: being on time, keeping packages safe, and having friendly drivers are just some that may immediately spring to mind. But how do you know which aspects to focus on to improve your team's customer service skills and make sure you have happy customers?
We surveyed 275 people who regularly receive packages through delivery services, and asked them what makes a high-quality delivery experience. Our survey findings highlight what you and your team need to focus on to make sure customer satisfaction, including:
Delivering on time, every time.
Delivering the right packages to the right place.
Getting customer communication right.
Being careful with packages.
Looking after your team of drivers.
In this post, we'll also show you how using Circuit for Teams helps you achieve all of these to give recipients the best delivery experience.
But first, we'll look at what a positive customer experience actually looks like, according to our survey respondents. And we'll show you how to avoid making the mistakes that lead to a poor delivery experience.
Note: If you manage a team of last-mile delivery drivers and want to give them the tools they need to offer a positive customer experience, including real-time delivery notifications, route optimization for faster deliveries, and proof of delivery to keep packages safe, try Circuit for Teams for free.
What does a great delivery experience look like?
When asked what was most important to them when getting a package delivered, 40.8% of our survey respondents said: "deliveries being on time."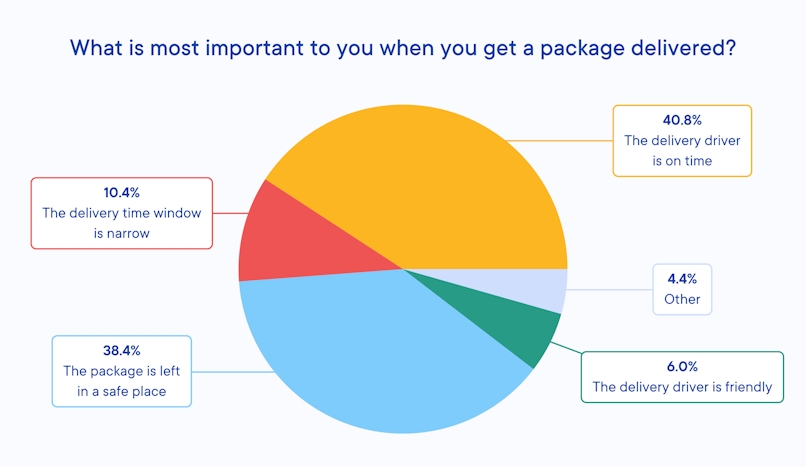 Timely deliveries mean customers spend as little of their own time as possible getting hold of their package, which is the foundation of a positive delivery experience.
The next most popular answer was "packages being left in a safe place" with 38.4% of respondents highlighting this as important.
When recipients are not at the delivery address, they want to know they can count on the package being stowed somewhere where:
It is kept away from the elements (nobody wants a soggy package that's been rained on for several hours).
It is safe from being stolen (secured in a porch, garage, or, preferably, with a friendly neighbor).
It can be easily retrieved (it's not fun playing "find the package in the dark" at the end of a long day).
"Narrow delivery times," was next on the priority list, with 10.4% of responses, which brings us back to not wasting your customers' time.
In fourth place was "driver friendliness" with just 6%. However, your drivers are the last point of contact with the customer and are responsible for the final impression in the customer journey. So, friendliness is especially important if you have a small business that runs in-house deliveries.
Poor delivery experiences: What to avoid
Package recipients are equally clear about what they don't want from a delivery experience. Avoiding poor service is vital because it has a direct negative impact on customer behavior.
According to another recent Circuit survey of 1,000 online customers, a poor delivery experience leads 72.5% of customers to stop recommending the retailer involved. Whether you're delivering your own products or providing a delivery service for retailers, bad customer feedback will quickly impact repeat business and make it difficult to retain customer loyalty.
And the top two characteristics of poor service, according to the survey we mentioned in the first section of this article, are easy to guess:
Delivery driver arrives late (31.6%)
Package is damaged (30.4%)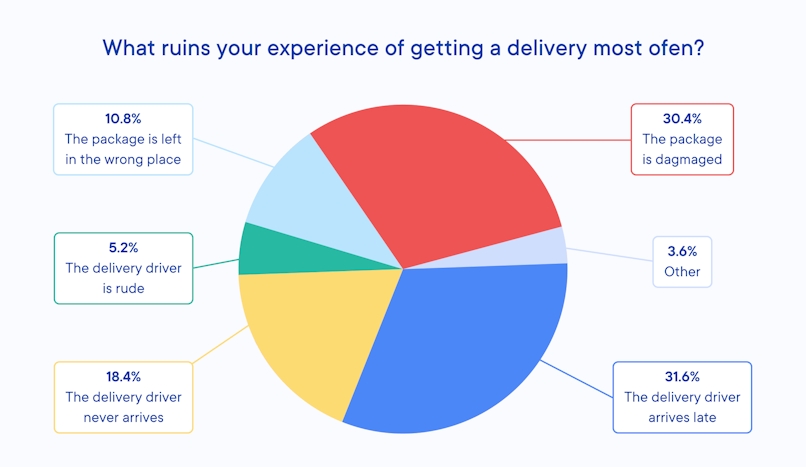 Lateness is a major no-no, because keeping a customer waiting leads to frustration, repeatedly calling customer support to get an updated ETA and customers just getting unhappier as the time ticks by.
Damaged packages come in a very close second in what makes a poor delivery experience, and can increase your delivery costs.
If the products inside are still in good shape you won't have the expense of redelivering and/or replacement, but your delivery service's image won't remain so intact. It's difficult to argue that you run a careful and meticulous service if you deliver a mangled package.
The impact on your image is similar for the final three things to avoid:
Delivery driver never arrives (18.4%)
Package is left in the wrong place (10.8%)
Driver is rude (5.2%)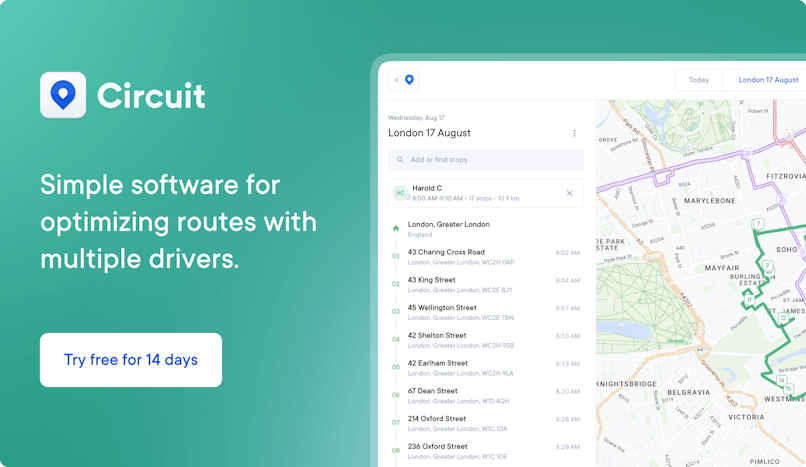 How using Circuit for Teams helps you create a great delivery experience for recipients
Circuit for Teams gives your team of drivers all the tools they need to give a great customer experience. Here's how Circuit's features can help you with each step needed to make sure you have happy customers:
1. Circuit helps you deliver on time
Circuit for Teams optimizes delivery routes for multiple drivers to make the delivery process smoother. Drivers and dispatchers can simply upload a list of delivery addresses into Circuit and, in just a few moments, our routing software calculates the fastest route covering all delivery stops.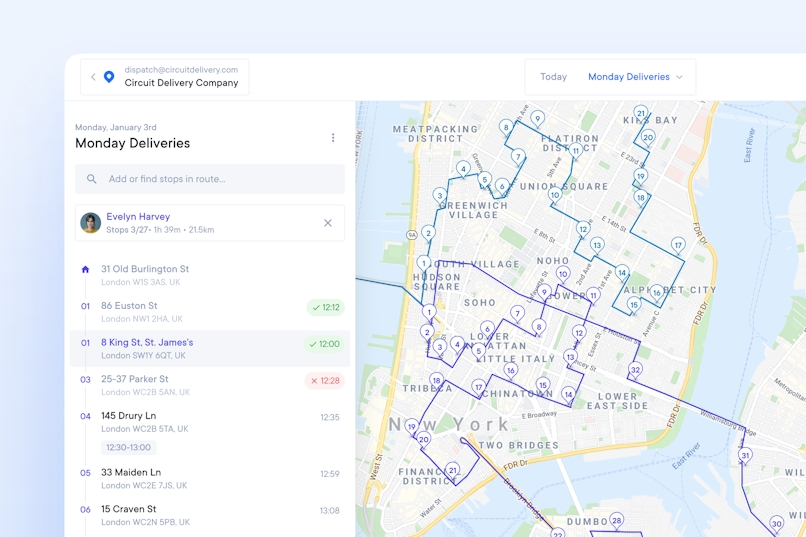 It also gives accurate estimates of arrival times for each individual address and keeps recipients posted with ETA notifications by email and/or SMS.
This way, customers get a specific delivery time they can count on, and even if there are unexpected delays, for example, because of traffic, they'll get an updated ETA in real-time.
Additionally, when drivers hit traffic, Circuit automatically recalculates the delivery route, finding alternative ways to go around the problem, which further reduces potential delays compared to using no route calculator, or one that doesn't give alternative routes.
Circuit can also assign specific delivery windows and priority stops that will be made before other "standard" stops along the route. These stops take precedence over regular stops, and allow you to offer express delivery as a delivery option, for example.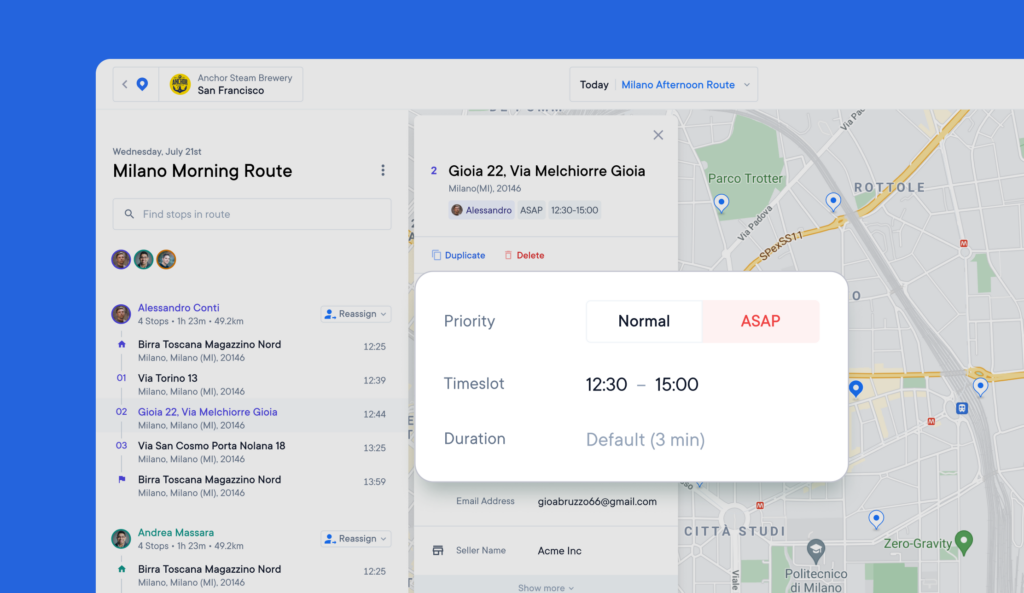 2. Circuit helps you deliver the right goods to the right people
To avoid mistakes when manually inputting addresses into the route calculator, Circuit has a spreadsheet import feature. By simply uploading a spreadsheet of delivery addresses the whole delivery route is calculated in a single step and then drivers receive detailed directions to the correct addresses.
If recipients aren't at the address when the delivery driver arrives the electronic proof of delivery (ePOD) function. The driver uses the Circuit driver app on their smartphone to take a photograph on their smartphone of where they have left the package (and add notes about where it can be found).
If they leave it with a neighbor, they can either take a photo or get an electronic signature (also using the driver app) from the person taking delivery.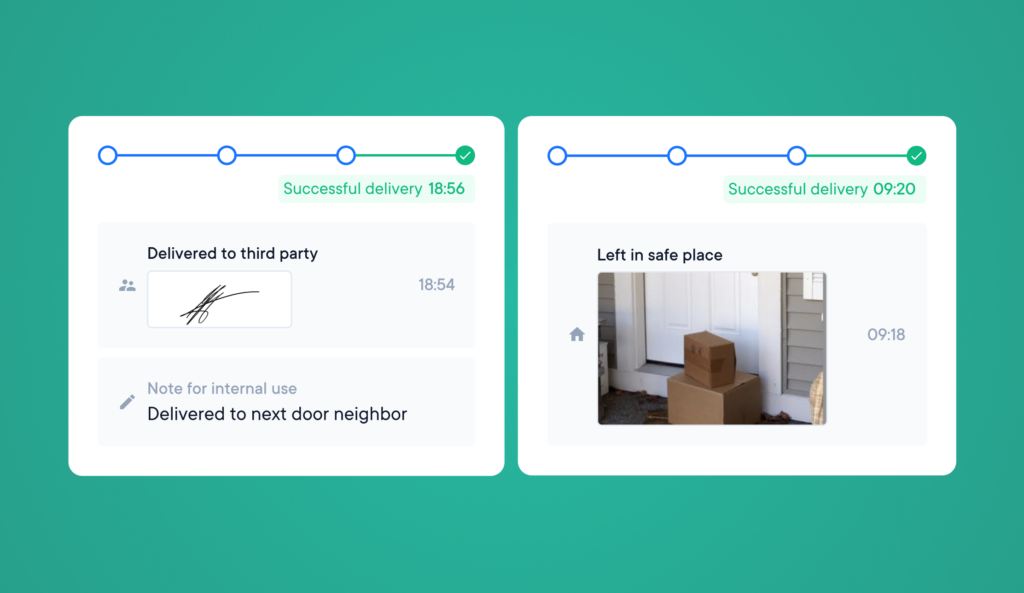 ePOD photos, electronic signatures and related notes are automatically sent in a recipient notification and uploaded from the driver app to the cloud for future reference. All of which makes sure that each package is delivered to the right place and the recipient can track it down when they get back.
3. Circuit Helps You get customer communication right and accurate
Timely and accurate customer notifications smooth out the delivery process, as customers don't need to get in touch with delivery company dispatchers to find out where their package is.
And because Circuit gives accurate ETAs, by SMS or email, on all deliveries, and sends updates in real-time when delays occur, customers can rely on the information they receive about delivery times.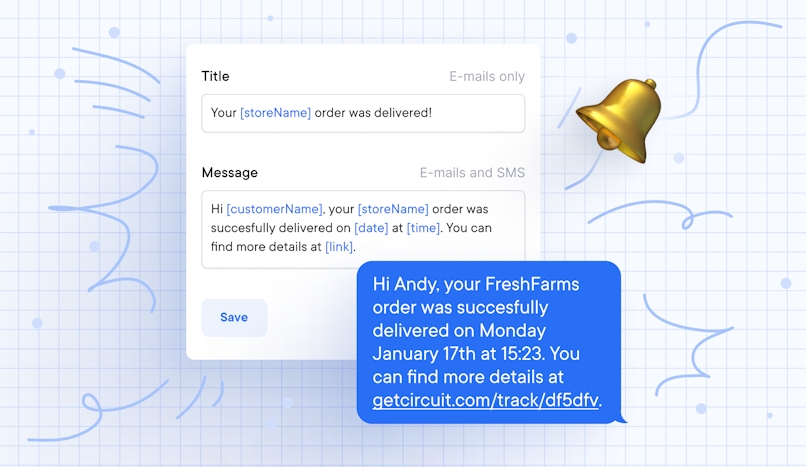 This makes the whole delivery experience more relaxed and comfortable for recipients, who can eliminate the time they'd spend clock-watching to do something else, or be somewhere else.
4. Circuit helps you take care of packages
The Circuit route calculation function allows drivers to organize their packages inside their vehicle before they even set out on their daily delivery route.
By adding packages to the vehicle in the order that Circuit calculates for optimized delivery, drivers don't need to drag packages around in the back of their truck to search for the specific one they want when they arrive at each address. This reduces package damage to a minimum.
Plus, our proof of delivery features, which use the driver smartphone app for photo capture and e-signatures, allow drivers to leave packages in secure places, or with a trusted person. This avoids the problem of mis-deliveries and packages going missing.
5. Circuit helps you look after your drivers
Drivers who are happy doing their job benefit your business and improve the delivery experience for customers. Because they deliver packages faster and more efficiently, drivers can also boost their hourly earnings — which is a sure way to improve job satisfaction.
On top of that, using Circuit for Teams for automation of time-consuming and mentally demanding tasks like…
uploading address lists
route optimization
real-time route recalculation
automatic customer notifications
automatically-generated route directions
and more…
Your drivers will also feel less rushed, and more relaxed because they'll know how their day is likely to pan out. That means they're less likely to make delivery mistakes, and they'll have more energy to be friendly to customers.
And because Circuit gives drivers a clearer idea of when their day finishes, they can make plans to wind down after work, or just go home to their families.
For a comprehensive checklist on delivery driver training and to make sure your drivers are happy doing their job, read our in-depth article: Delivery Driver Training: A Checklist to Set New Drivers Up for Success. We've also written a guide, How to Be a Good Delivery Driver, based on feedback from experienced drivers who use Circuit to make their deliveries.
How one business improved driver job satisfaction using Circuit
Sagar Dhaliwal, owner of the Sanjhi Rasoi restaurant in Brampton, Canada, started using Circuit to improve the efficiency of his tiffin delivery service, but signing up for Circuit for Teams also improved the work/life balance and job satisfaction of his drivers.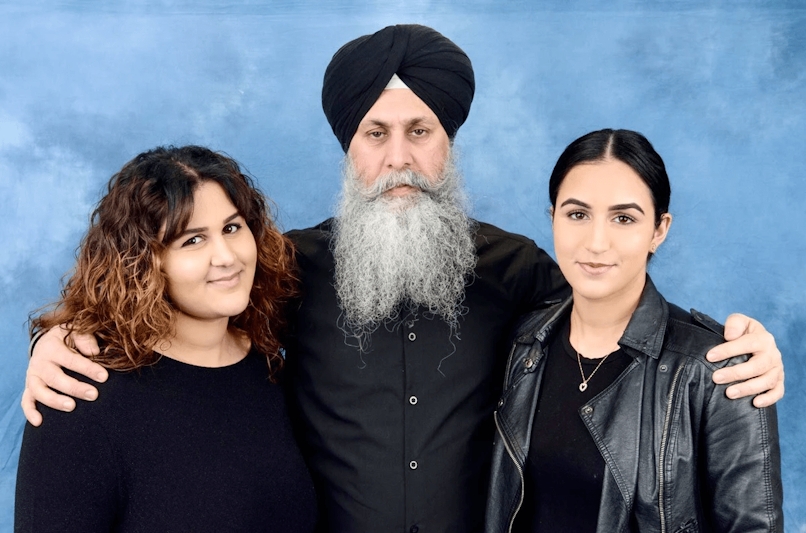 By using the detailed route duration metrics from Circuit, Sagar can now pay his drivers by the hour instead of by the day. Tension between drivers has been dissipated, because there's no envy of drivers who were given shorter delivery routes, and the whole compensation system is fairer and more transparent.
Sagar says:
This has made managing drivers so much easier for me, which lets me focus on growing the actual business, rather than spending time on managing the little things.
Final takeaways: How Circuit helps you create a great delivery experience
Circuit gives your delivery drivers the support they need to give customers an exceptional delivery experience, by offering them:
Route optimization and real-time route recalculation, allowing drivers to deliver on time and keep customers informed.
The possibility of organizing packages ahead of time to keep them in great condition.
Accurate customer notifications to reduce the time recipients have to wait at home.
Electronic proof of delivery tools to record where packages are left, make sure they are kept securely, and easily retrieved.
Full information about route duration, allowing drivers to better plan their day and improve their work-life balance.
Automation of routine delivery tasks so drivers feel less rushed and can focus on customer satisfaction.
Note: If you manage a team of last-mile delivery drivers and want to give them the tools they need to offer a positive customer experience, including real-time delivery notifications, route optimization for faster deliveries, and proof of delivery to keep packages safe, try Circuit for Teams for free.