11 minute read
How to Start a Pharmacy Delivery Service
Your guide to starting a pharmacy delivery service, including how to pick your niche, and questions to ask when looking into important laws and regulations.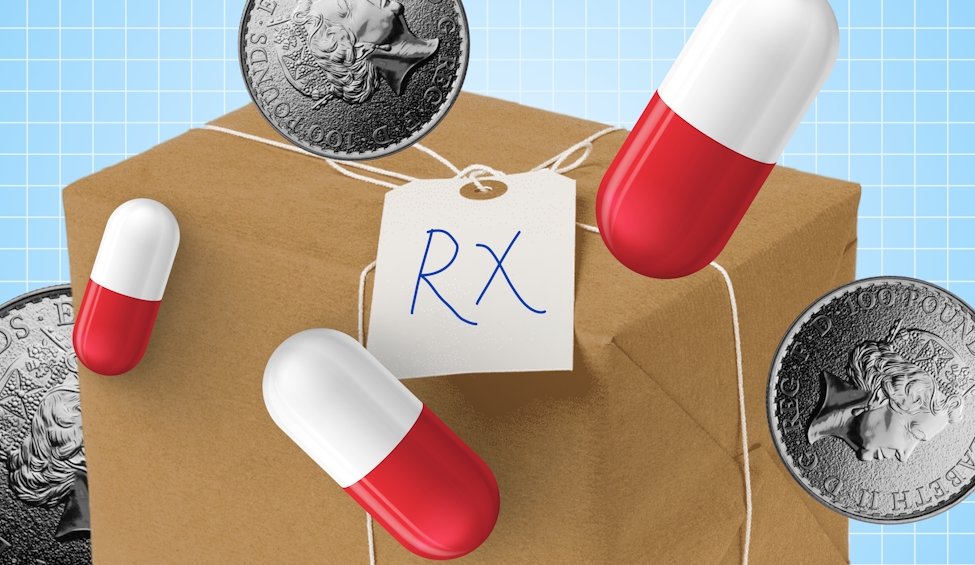 It's now becoming more common for customers to want pharmacy orders delivered directly to their front door. In fact, in 2020, the pharmacy industry saw a 21% increase in customers taking advantage of pharmacy delivery services.
While COVID-19 may have expedited this increase, there's no sign that this new demand will go away.
This makes starting a pharmacy delivery service an attractive option if you're a new delivery business, or a pharmacy owner wanting to add home delivery as an option for your customers.
But costs can stack up with last-mile delivery — the process of getting the parcel from the pharmacy or supplier to its final destination.
In this post, we cover the basics of starting a pharmacy delivery service. This includes how to pick your niche, and the questions to ask yourself when looking into the laws that regulate the delivery of prescription medications.
Then, we show you how pharmacy delivery services can cut down on costs and optimize their delivery process by using Circuit — our delivery management platform.
We'll feature stories from two Circuit customers who use our route planning functionality to quickly, efficiently, and securely deliver pharmaceutical goods to customers.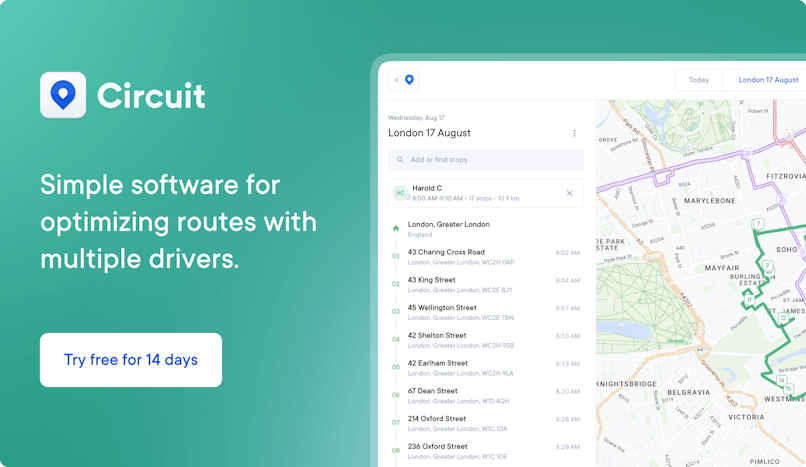 The basics of starting a pharmacy delivery service
What you need for your specific prescription delivery service will depend on several factors, including your location, your size, and what you're delivering – for example, some medications need to be stored at a specific temperature, and others need same-day delivery.
There are three actions you can take to help you start your delivery service:
Understand your market
Understand the laws and regulations
Hire and onboard your drivers
Understand your market
Understanding your market helps you better shape your business plan.
Here are three questions that can help you as you prepare to start and launch your pharmacy delivery service:
1. Are you an existing pharmacy business that's looking to add delivery services, or are you a third-party business that's looking to start a delivery business for local pharmacies?
What changes between the two is how you'll grow your business. If you're a third-party business, then your customer base is the pharmacies in your area, including big chain drug stores like Walgreens and CVS — you're delivering medications on their behalf to their clientele.
If you're a pharmacy, then your customer list is exclusively your existing clients. (But you can look into joining pharmacy delivery apps that let you add your pharmacy as a listed business.)
2. Are you delivering to hospitals or individual customers?
This helps you understand the quantity and frequency at which you need to make deliveries. Hospitals are constantly getting refills of medications, so you may have larger delivery orders but on a recurring route and schedule.
Individual customers, on the other hand, may mean a varied route with more stops but fewer packages per delivery.
You can definitely do both — but it's helpful to know if you'll need the flexibility that direct-to-consumer deliveries require as you finalize your business plan.
3. Do you also want to expand into a medical courier service?
This could mean delivering oxygen tanks, adjustable beds, physical therapy medical equipment, medical samples, and even organs? If so, this will change how you hire, and what equipment you need to factor into your start-up costs.
For example, if you're delivering medical equipment that needs to be tested when it's dropped off (e.g. an oxygen tank), then you're looking for a driver with some medical background who can confidently set up equipment and field any questions your customers may have.
Understand the laws and regulations
Depending on your niche, the specific laws are likely to change. Laws will also change based on location, so make sure you've looked into the laws specific to your state or region.
To clarify: Nothing in this article constitutes legal advice. Instead, we are giving you a jump start on the kinds of questions that you'll want answers to. Check out our Privacy Policy to understand how we handle your customer data.
When starting to research what laws and regulations will apply to your business, you can ask yourself these questions.
Who is responsible for answering customer questions?
Traditionally, a pharmacist tells their customers how to administer their medication and lists any potential side effects. A pharmacist is also trained to answer questions about generic vs. brand name medications or possible complications.
Does the driver need to be qualified to answer those questions, or will the customer be contacted by the pharmacist before delivery? Do you need your customer to sign a waiver attesting that they understand the instructions and side effects listed on the bottle?
Where can medications be delivered?
For example, most of the time delivery addresses need to match the address on file with the prescription without the slightest variation, and deliveries can't be made to a P.O. box. Also, a signature is almost always required.
Note: Circuit's delivery management platform features a proof of delivery feature that lets your delivery drivers collect the customer's signature (including a timestamp) directly on their phone. More on this below!
Will the driver need to collect payment?
Prescription medications often require a copay, or the amount left over after insurance plans have been applied. Will this be collected via an online pharmacy checkout portal, or will the driver have to collect the payment at the point of delivery via a credit card?
What records will you keep in your delivery database?
Knowing what medication people are receiving is privileged information — depending on how you receive your orders, you may or may not need to have written documentation of what prescriptions are being filled.
If you do need to know, then you need to make sure you're storing that information securely and that it isn't something that can be accessed by any member of your team.
Further, patient privacy is a significant issue in the healthcare industry. Your customers want to know that the medication they're getting is not being shared with other companies or individuals.
Delivering pharmaceutical goods is not the same as delivering a cheeseburger from a local restaurant. The goods are more essential, and the information is more sensitive.
As you finalize your overall operations, make sure you have registered your delivery service with the right organizations or authorities and are in complete compliance before you start making any deliveries.
Here are a couple of resources to help you get started:
Hire and onboard Your drivers
If you're focusing on creating a pharmacy delivery service that will start as, or may grow into, a medical courier service, then you may need drivers with specific licenses or training.
For example, here is a job ad for a medical courier driver: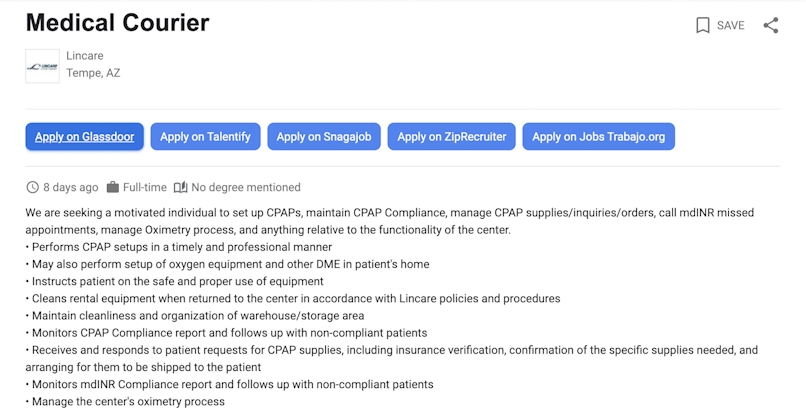 Part of the listed requirements include:
Setting up CPAP machines in a timely manner
Setting up oxygen equipment
Instructing patients on how to use their equipment
Cleaning equipment (which means practicing proper cleaning measures)
But if you're hiring drivers for your medicine delivery service (no background with medical equipment needed), then you don't need to focus on any sourcing traits other than what makes a skilled courier driver.
You can find delivery drivers on job boards like Indeed, Glassdoor, and LinkedIn.
For more information about onboarding your new delivery driver, read our new hire delivery driver training guide here.
Optimizing the delivery aspect of your pharmacy delivery business
Circuit is a delivery management software that can be used by delivery teams to optimize their last-mile delivery processes.
We spoke to two Circuit customers who use our software to efficiently and securely deliver prescription medication.
One customer runs a bicycle courier service that delivers medication in a major metropolitan city. The other customer is Woodbridge Emergency Response Group, which was formed in response to the COVID-19 pandemic, to help its residents get their prescription drugs delivered directly to their homes and promote social distancing.
Below, we look at how those specific businesses (and how your delivery service) can use Circuit to plan routes, monitor drivers, track orders, and collect proof of delivery.
By using these core delivery features, we will then show you how delivery services can cut down on resources (labor, fuel, etc.) and increase their margins.
A quick note before we begin: Circuit offers both Circuit for Teams and a service for individual drivers. For this post, we focus on Circuit for Teams but if you're running a delivery service that only requires a single driver, you may find what you need with the Circuit Route Planner.
Route planning (and route optimization)
One of the more time-consuming aspects of making deliveries is planning your route. Often, new delivery services try to use free route planning tools like Google Maps. But these tools are severely limited in functionality.
For example, Google Maps doesn't let you add more than ten stops per route, and it doesn't actually factor in the variables required to create a fast route. Plus, it doesn't work with routes handled by multiple drivers.
Circuit for Teams offers advanced route optimization and route customization features that let you plan the most complicated routes in minutes, not hours. Plus, because of our advanced route optimization algorithm, you know you're getting the fastest possible route every time. This means your drivers spend less time on the road, which costs you less in fuel and labor.
How a bicycle courier company scaled to 400 daily pharmacy deliveries
Let's look at how one bicycle courier company uses Circuit's route planning feature to scale their pharmacy delivery business in a short space of time:
First, this courier company is a third-party delivery service that works with several different pharmacies. This means each pharmacist gives the courier company the order information of where their couriers will be making stops.
The courier company gets the order information in an Excel spreadsheet and uploads that directly into the Circuitweb app, using Circuit's easy import features.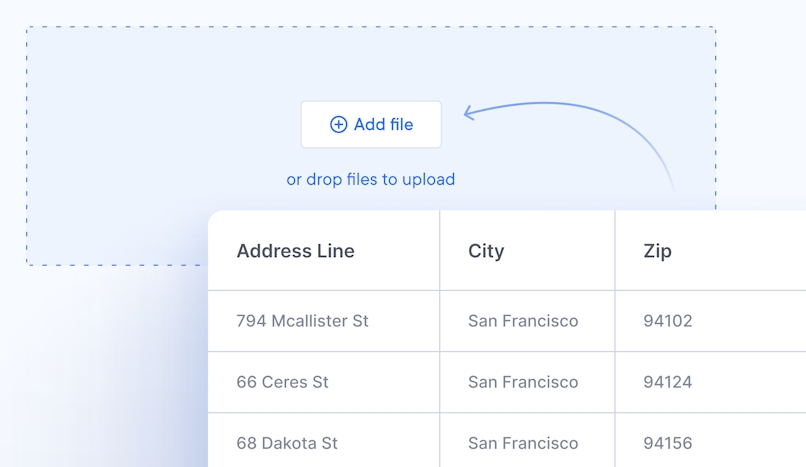 From there, Circuit can optimize the routes for speed and for as many drivers as you select.
Then the bicycle couriers go to the pharmacy to pick up the medication. But they are also picking up any last-minute filled scripts which need same-day delivery.
These are easy to add to the optimized routes because Circuit has a driver-friendly mobile app that drivers can use on the go. They can quickly add last-minute stops and re-optimize the routes.
Once the courier is ready to start their route, they click "Start Route." Circuit opens up their preferred satellite navigation tool (such as Google Maps or Waze) and the driver can start making their stops with Circuit's optimized route.
By using Circuit, this bicycle courier company was able to scale up its services from a two-man operation to a courier company with 10 drivers that can make up to 400 deliveries per day.
How the Woodbridge Emergency Response Group saved time on route planning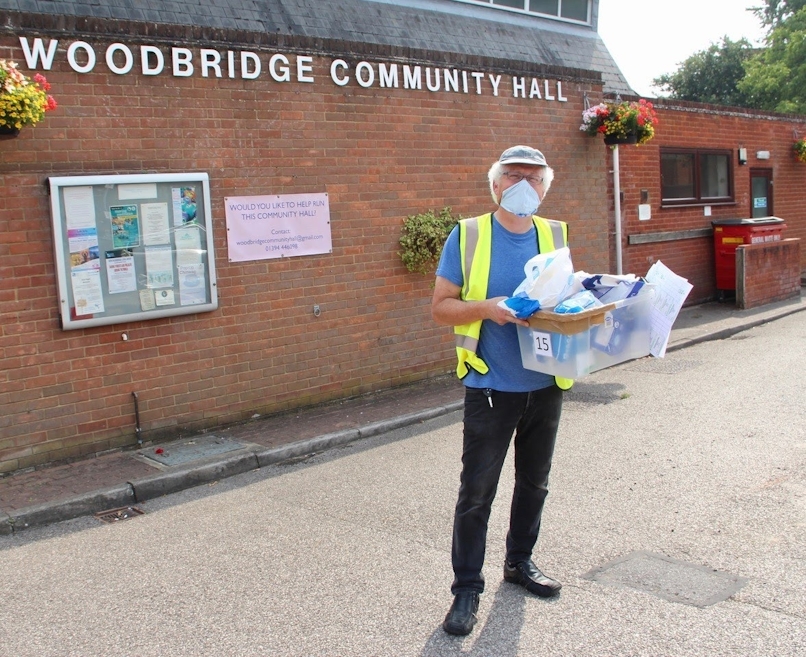 Circuit helps delivery services optimize their last-mile processes, making them more efficient and cost-effective. These time-saving measures are the most quantifiable when a business owner looks at the time they spent planning routes before Circuit vs. after using Circuit.
For example, the Woodbridge Emergency Response Group saved 12+ hrs a week in route planning when they started using Circuit.
Before using our route optimization tool, Eamonn O'Nolan, the town councilor who oversaw Woodbridge's pharmacy delivery service, would work with a volunteer to manually plan routes using printed maps and a sheet of postcodes.
At the beginning of the COVID-19 pandemic, O'Nolan and his team were responsible for around 600 deliveries a week. By using Circuit, they were able to make over 1,300 deliveries per week.
Route monitoring (driver tracking)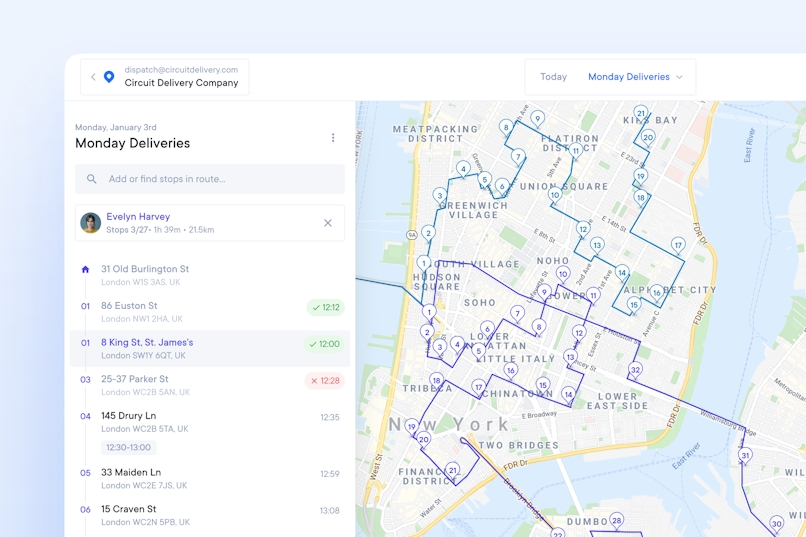 Delivery services don't just spend time planning routes, they spend time managing them as well.
Often what happens is a route needs to change (based on a customer request, a delay in inventory, or unexpected traffic) or a customer calls in to inquire about the status of their order.
Circuit offers a route monitoring service that lets you follow routes in progress in real-time.
This means if you need to delete or add a stop, you can look at your Circuit web app to see which driver is best suited for a change in their schedule. Then you can add a stop and the driver gets the notification on their mobile app.
(This would be beneficial for a medicine delivery business that also picks up medication from a supplier or a hospital to move to another location.)
It also means if a customer calls in and asks about the status of their prescription, you can quickly look at the route and give them an accurate update.
But there's another benefit for pharmacy delivery services who use Circuit — we offer complete transparency, from when the driver starts their route to when they finish it. Your delivery drivers are delivering prescription-only medication as well as over-the-counter drugs, which means it's a sensitive parcel. By having accurate GPS tracking, you can safely and easily see where your drivers are as they navigate their routes.
This transparency is also shared with the customer, which we cover next.
Order tracking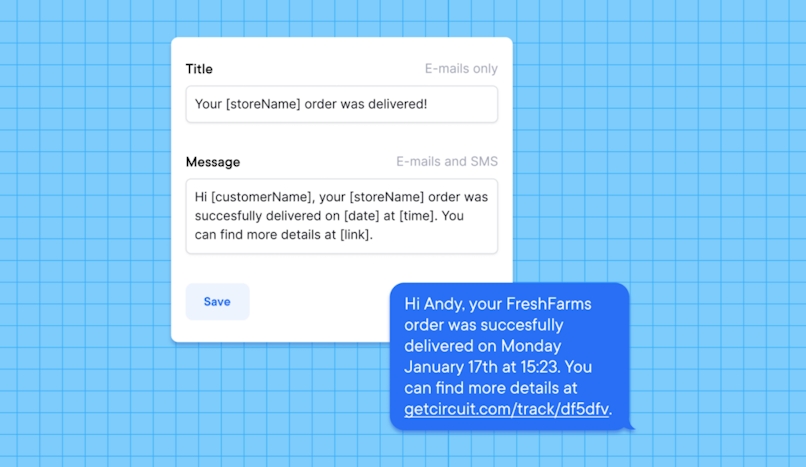 Getting pharmacy goods delivered to your front door isn't the same as getting a book or vacuum filters delivered to you by Amazon.
You don't want the package left outside for very long — and depending on whether it's prescription medication or over-the-counter medication, your customer might need to sign for it, which means they need to be home to receive the delivery.
Circuit uses its GPS tracking feature to send out accurate updates directly to your customer. These updates can be sent as a text message, email, or both.
The customer gets their first notification at the beginning of the route. Circuit sends them an estimated time of arrival and a link to a dashboard where they can check the status of the order whenever they want.
As the driver gets closer to completing their stop, the customer gets one more update with a more specific time window.
This helps make sure the customer is aware of when their delivery is expected to arrive, so they can be home when it matters the most and not have to wait all day for the doorbell to ring.
Proof of delivery
Proof of delivery is capturing some type of record that your delivery driver successfully handed off the parcel.
Electronic proof of delivery is the norm with current delivery services, but it's a must-have for pharmacy delivery services. This is because you want a record of when the prescription medication was handed off to the customer.
Without proof of delivery, you run the risk of customer disputes that are increasingly difficult to solve. What if a customer claims they never received their order? Instead of spending the time it takes to get a hold of your driver for delivery confirmation or having to figure out what to do about the missing order, you can use a proof-of-delivery app.
With Circuit for Teams, your delivery drivers can use the Circuit free mobile app to collect a signature directly on their phone. The customer just signs for their delivery with their finger.
If for whatever reason, the customer is present but cannot sign, then the driver can take a photograph of the customer receiving the delivery.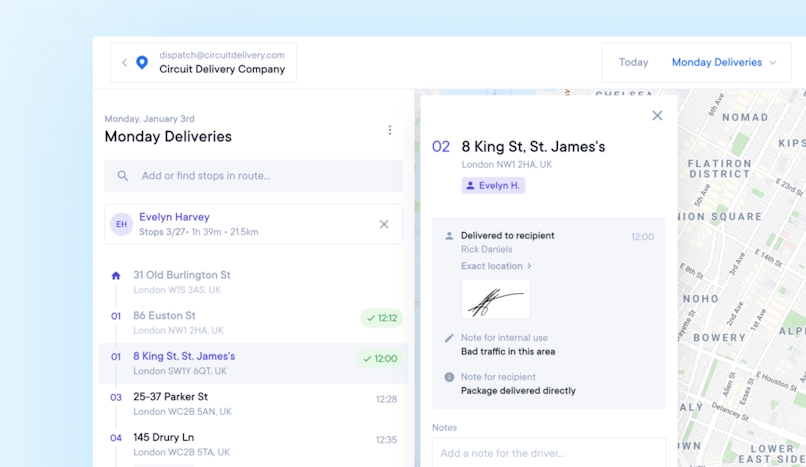 Either way, this electronic proof of delivery is loaded into Circuit and a copy of it is shared with the customer for their own peace of mind.
Next steps for starting your pharmacy delivery service
Starting a pharmacy delivery service can be a profitable business venture, whether you're running a third-party delivery service that works with different pharmacies, or adding delivery services to a pharmacy you currently manage.
There are a few major components to starting and running a pharmacy delivery service: understanding your niche (and how it may develop over time), understanding the laws and regulations in your area, building your processes, hiring your delivery team, and figuring out the last-mile delivery setup to make sure you can efficiently get orders to customers.
And it's in this last last-mile delivery stage that teams use our delivery management platform to significantly lower their costs and make things smoother.
To summarize, while using Circuit, you can do the following:
You can optimize delivery routes to create the most efficient route possible every time.
You can track routes in progress (which is important for route management but also keeps a constant eye on the whereabouts of sensitive materials).
You can send tracking updates directly to your customers so they can be home to receive their medication.
You can obtain proof of delivery to make sure your records are accurate and adhere to any regulations.
Are you ready to see how Circuit can be used to help you run your pharmacy delivery service? Start your free trial.