6 minute read
5 Delivery Logistics to Consider When Planning the Optimal Route for Multiple Destinations
Here's how we approach optimal route planning challenges like delivery windows, vehicle capacity, mid-route package pickup, re-routing on the fly, and more.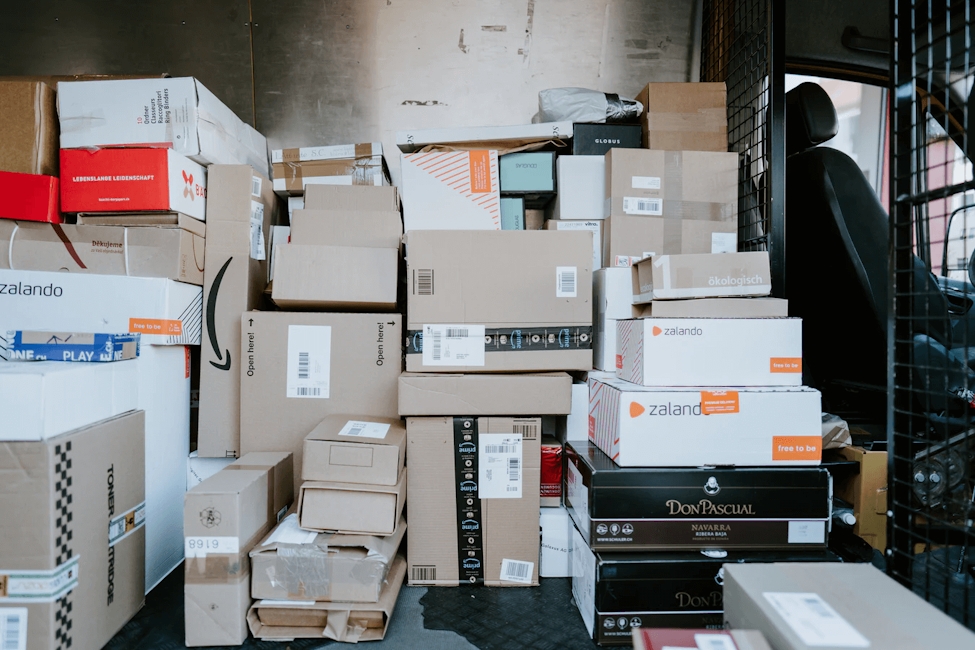 Due to the spread of COVID-19, demand for delivery has surged for many businesses. It's a boon for your bottom line — if you can keep up. At the end of the day, more packages delivered equals more revenue generated.
But to do so requires a stalwart approach to keep your dispatchers and delivery drivers in sync. Depending on the courier business you run, there are many issues to ponder when planning optimal, multi-stop routes besides raw route optimization.
In this article, we'll detail several logistics you may have to consider when you optimize routes. In particular, they are:
Perhaps you have a system in place for some of these, or maybe some of them are looming on the horizon. The specific needs you want to address will vary. They'll depend on whether you do B2B or B2C deliveries and which industries you service.
But if these logistical issues are ones you need to handle, read on for ways to improve your route optimization and customer experience with Circuit's help.
If you manage a team of drivers and want a simple, cost-effective way to keep track of them (while making their routes more efficient), sign up for a free trial of Circuit.
#1: Delivery Windows and Time-Sensitive Shipments
Delivery windows are set periods of time in which packages must arrive. They're often agreed to in advance by the recipient and the courier. They may also be given to customers as a courtesy. Delivery windows occur most times in B2B transactions requiring a recipient's signature.
Time-sensitive shipments aren't the same as delivery windows, but they're similar. Instead of a specific timeframe, these deliveries must arrive as soon as possible. Common examples are shipments of refrigerated packages with short shelf lives. The faster these packages arrive, the better.
In either case, drivers often plan their own routes using their instincts rather than data. Without software, providing customers with accurate delivery times can be a challenge.
How Circuit Can Help
With Circuit For Teams, you can enter delivery windows for all your stops. Circuit will generate the fastest route that ensures you arrive within a specific time frame.
Meanwhile, if you have time-sensitive shipments, you can designate them for ASAP delivery. Circuit will automatically order those stops at the beginning of your routes.
Need to make your routes even more precise? In both situations, you can also input an estimate of how long each stop takes.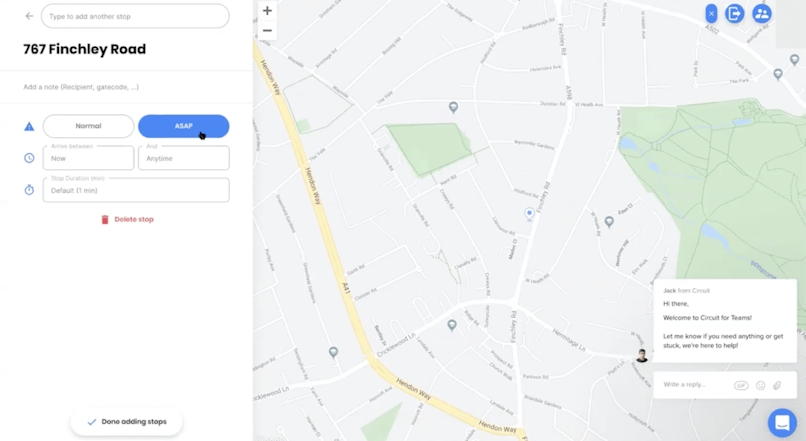 #2: Truck Size
How big or small are your delivery vehicles? The answer plays a crucial role in determining how many stops your drivers can make on any given route.
Let's say you have a fleet that's composed of nonstandard vehicles. It's a challenge to have ideal distribution of packages among each driver. To do this in an effective way, drivers of smaller vehicles may need to make more than one stop at the depot.
But even then, you'll have to consider how many packages each driver can handle. You also have to account for whether they can make their deliveries on time. When you overlook these factors, route planning can turn into a logistical headache.
How Circuit Plans to Help
In early access is a feature to tell Circuit how many parcels fit in each of your delivery vehicles. To do so, you'll note a variable called Package Capacity in the Excel spreadsheet (or similar format) for your manifest.
The scale by which you measure this new variable is arbitrary and up to you to decide. You'll set the Vehicle Capacity while designating driver-specific information, like so:

When you're finished, Circuit For Teams' route planner will chart the most efficient routes.
#3: Mid-Route Package Pickup
A driver's entire daily delivery inventory isn't always at the depot. Sometimes, drivers may have to pick up packages from customers in the middle of their routes. Other times, they grab parcels from a company's other supply locations.
These logistics can add extra stops to a driver's delivery route. As a result, they're handling different waves of deliveries throughout their workday.

How Circuit Plans to Help
Right now, Circuit users must manually solve any dilemmas around mid-route package pickups. But our product team is hard at work on a new feature that will soon help.
In fact, it will be an extension of the method we use to plan routes while taking delivery truck size into account, as mentioned above.
Circuit will help users create the quickest routes with detours by processing two critical details:
First, there's Vehicle Capacity. You'll set this on the Circuit for Teams web app under the delivery profiles of your drivers. Circuit will include an option for you to note how many parcels their trucks can hold.
Second is Package Capacity. We covered how this will work in the previous section discussing truck size.
With these two data points, Circuit will optimize the best routes around mid-route pickups.
#4: Proof of Delivery
When you have drivers making more than one delivery, it's reassuring to know if each stop is a success. Incorporating a proof-of-delivery system can give both you and your customers peace of mind. Proof of delivery can also ensure your company follows local laws and regulations.
Ask drivers to collect signatures from recipients upon successful delivery. Or, require them to take photos of each parcel's arrival.
How Circuit Can Help
Delivery receipts on Circuit include two options for proof of delivery. Drivers can either share a photo of a package delivered to its destination, or they can collect a recipient's signature.
With Circuit, you can also send tracking links to parcel recipients. This will take them to a website where they can watch the status of their packages in real time. The link allows recipients to communicate any delivery instructions to drivers, too.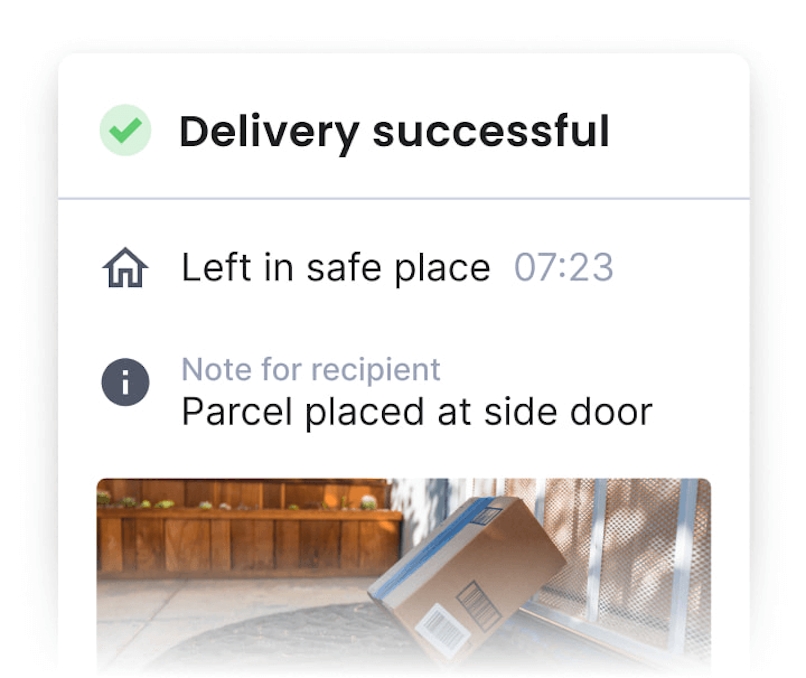 #5: Rerouting on the Go
You can rarely expect your drivers to complete all their stops according to plan. That's because delays and unforeseen circumstances happen all the time. As a result, drivers may find themselves changing driving directions on the fly.
Rerouting on the go can have consequences on the rest of your drivers' stops. But drivers can limit the impact of unexpected changes with the aid of software solutions like Circuit.
How Circuit Can Help
In the event drivers need to change course, Circuit can serve as a failsafe. To do so, drivers input their current location into the mobile app. Then Circuit will process that information to generate a re-optimized route.
This isn't possible with tools that provide static or printout routes; because drivers can access Circuit and modify the route from their smartphones, they're able to react more quickly to changes than other drivers.
From there, drivers can make changes on their mobile devices using the map software they prefer, such as Google Maps, Apple Maps, and Waze.

In the near future, Circuit will proactively alert drivers if they're running behind on a delivery window so they can course correct.
Plan Routes in One Place
When it comes to route planning, many companies offer little help to their drivers, reasoning that it's one less thing they have to do themselves.
But having a central hub for route planning can prove to be a worthwhile investment by giving dispatchers the information they need when they need it and by giving drivers more tools to deliver a great customer experience. Take action by choosing route-planning software you can trust.
If you manage a team of drivers and want a simple, cost-effective way to keep track of them (while making their routes more efficient), sign up for a ftrial of Circuittrial of Circuit.