6 minute read
How to Add Local Delivery to Your Small Business During COVID-19
Many businesses are adding in-house delivery service to their business model in the wake of COVID-19 to make ends meet. Here's how you can, too.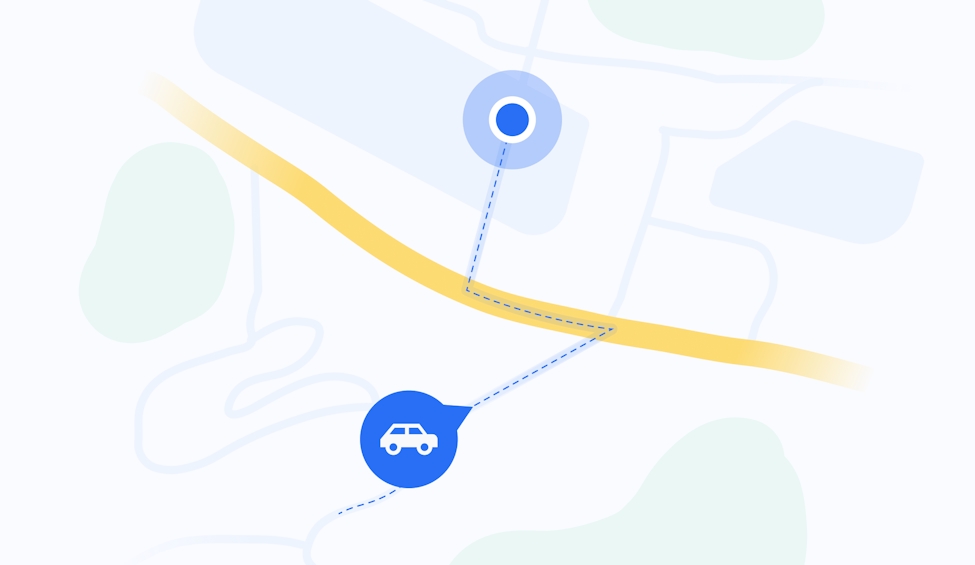 Businesses are adapting to stay-at-home and shelter-in-place orders due to the spread of COVID-19. Some businesses have had no choice but to close down operations completely, letting go of staff until things return to the status quo. Other businesses — primarily liquor stores, bakeries, grocery stores, coffee shops, food banks, florists, butchers, and pharmacies — are adapting by adding local delivery as an option (with the added perk that they can keep some employees on the payroll by turning them into delivery drivers).
Existing delivery companies (food delivery services such as DoorDash, Uber Eats, Grubhub, or traditional carriers like FedEx and DHL) are not ideal for a variety of reasons. Some are cost-prohibitive; some are incompatible with local regulations (such as laws preventing alcohol from being delivered in the mail). Plus, with your own delivery service, you can guarantee same-day delivery and put your own employees to work, often for less than you'd spend on a third-party service.
But adding local delivery to your small business brings in several other complications:
How do you take a staff of historically non-delivery drivers and have them operate as efficiently as delivery drivers?
How many drivers are needed to make your deliveries?
How wide of a delivery zone can your business support?
What delivery options can you provide your customers?
How do you manage to turn a list of customer addresses into a coherent route?
At the heart of these new problems lies the need for route optimization.
Enter Circuit. We've had an influx of small business owners using our services to help keep their company running. Even inexperienced delivery drivers can get to their stops quicker, saving money on gas and labor costs, when driving along an optimized route (a feature that isn't available in free navigation services such as Google Maps, which has a ten stop limit, and Waze). Plus, once you're able to see how long it will take (with the fastest route possible) to complete your orders, you're more prepared to plan ahead for how many drivers you'll need on a given day.
In this post, we'll explain how small businesses can set up local delivery to help keep money coming in while using Circuit to cut down on drive time and increase profitability.
Adding delivery to your business model for the first time? Optimize delivery routes, manage drivers, and keep customers in the loop with Circuit for Teams.
Set up an eCommerce site for local delivery
Because you're an existing business, we aren't going to spend time telling you how to set up a website, as you likely already have one. But it's important to know you need a webshop on your site, by which we mean a place where customers can add your products to a shopping cart, put in their shipping address, and process payment. If you already have this part done and are just looking to improve day-to-day delivery operations, skip ahead. Otherwise, keep on reading.
How to set up local delivery on Shopify
One of the more popular (and customer-friendly options) is Shopify. Here's what to do if you want to use it:
Listed above are six big-picture steps on how to set up local delivery on Shopify. If you need more detail, we recommend you read Shopify's post written for this very issue.
Collect all relevant information needed to represent your products, from photos to descriptive copy. How detailed you get is up to you and will depend on both what you're selling and how well established your customer base is.
Add products to your webshop. From your Shopify admin page, click on 'Add Product' under the 'Products' icon. Here is where you'll add the name of your product along with a description and photo.
Enter the price. If you're charging for delivery, it's often best to just include the delivery amount in the price of the product, i.e. free delivery.
Edit any variants as needed. Variants include options such as adjusting toppings, sides, and sizes.
Configure email notifications. You'll want your customers to receive at least two emails. First, an order confirmation after they make a purchase, and then a confirmation of a delivery window once your driver has started their route. To do both of these, go to settings, then 'Notification Emails'; from there, you can click on both 'Order Confirmation' and 'Shipping Notification' and edit the body of the emails as necessary.
(Note: Order confirmation emails will go out immediately after an order is placed, whereas shipping notification emails go out when you click "Fulfill Orders" in Shopify's backend.)
Launch your store. You've added your products and set up email notifications. Now it's time to share the good news: You're open and now offering a delivery service! Use your existing social media to let potential customers know your business is delivering straight to their door and direct them to your new webshop.
And while we're focusing on Shopify, remember that no matter what platform you're using, you'll need to designate your shipping origin address (which could be your storefront or office) and the shipping zones you want to service. You should also add shipping costs and edit as necessary (some businesses may build the price of shipping into the product; others may choose to change the costs by proximity to their business or the amount purchased).
Start making deliveries
Adding local delivery amidst a global pandemic isn't familiar territory. Even with your business's previous months of sales for reference, it's difficult to predict how many customers will take you up on your service. Some of our clients have seen business cut in half; others have actually seen sales increase.
But even if you're only doing ten to fifteen deliveries a day, you still need a plan your employees can follow. Here's how you can accomplish your new business plan with Circuit.
1. Take the orders from your eCommerce site and export them into a CSV
Circuit makes this step easy. Just import the CSV file into our system, and all the relevant information transfers.
If you need to manually enter an address, Circuit uses the same autocomplete technology that Google uses. Just start typing the address, and Circuit will suggest the most likely location.
2. Optimize your delivery route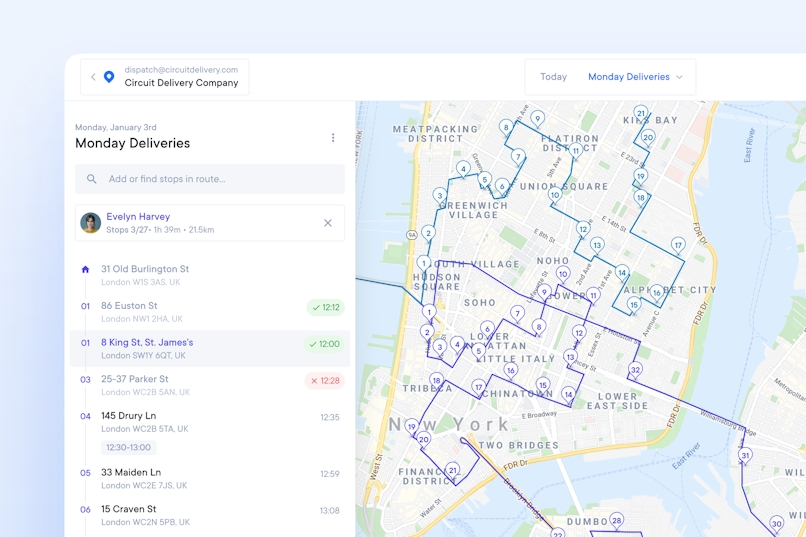 Some companies we spoke to were only using Google Maps to build a route. That's a headache, especially when you're optimizing routes with multiple destinations because Google Maps has a limit on stops and doesn't actually optimize the route for you.
One business we talked to — a wine supplier that is now delivering directly to their customers — has been fortunate enough to see a surge in business, so much so that it took them 2.5 hours per day just to plan the routes by hand. Using Circuit reduces that 2.5 hours down to a matter of minutes.
3. Share the optimized routes with the driver
The quickest way of sharing an optimized route is by having drivers use the Circuit app on their cell phones. Circuit works with both iPhone and Android. Drivers can use Circuit alongside Google Maps or Waze for navigation.
4. Contact your customers to keep them in the loop.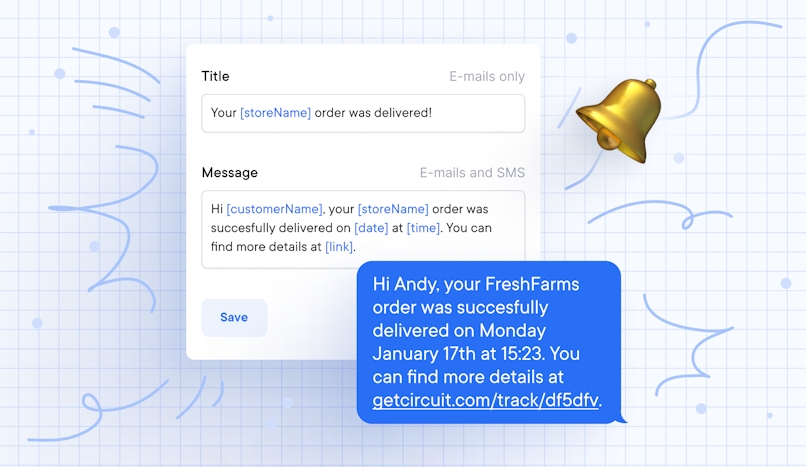 If you're using Shopify, customers will get an email when their order is "shipped" (i.e., out for delivery) as long as you mark it so. But with Circuit, you can also give customers direct access to their order's estimated delivery time.
5. Monitor driver progress and collect POD (proof of delivery) as needed.
Different businesses have different needs when it comes to collecting and monitoring their drivers. With Circuit, you can see where your driver is within the context of the route (instead of just letting you know what cross streets the driver is at). If your drivers run into any issues, you'll be better equipped to help them.
And while collecting proof of each package delivery is always recommended, remember it is required when delivering alcohol.
Final thoughts
When adding local delivery to your company, the two potential bottlenecks are:
Setting up an easy way for your customers to place an order.
Taking the order information and turning it into a viable, optimized route.
The first drawback is solved by using a simple, customer-friendly eCommerce site that gives you control over what products you offer and takes customer payment and information.
The second drawback is solved by Circuit. You'll have all the tools you need to manage operations for a team of delivery drivers, whether they're experienced or completely new to the job. COVID-19 may be an unprecedented challenge, but it doesn't have to signal the end of your business. With ingenuity, hard work, and a few new tools, you can weather this crisis, too.
Adding delivery to your business model for the first time? Optimize delivery routes, manage drivers, and keep customers in the loop with Circuit for Teams.