7 minute read
How to Do Your Team's Route Optimization in 2 Minutes
In this post, we show you how to make the fastest and most efficient route possible for your delivery drivers, in just a couple of minutes.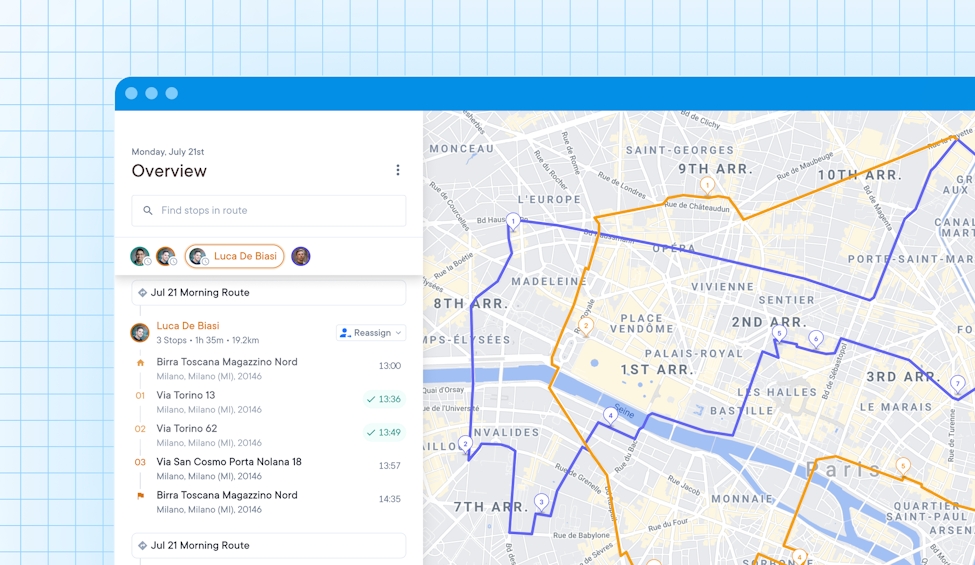 There are two ways to do route optimization for your deliveries:
Manually: That's using a pen and paper, and usually a navigational app like Google Maps or free route planners you can find online.
Using route optimization software: Software does the heavy lifting for you; it creates the fastest route after you've entered your stops. There are several different types of route optimization software available. For this article, we're going to focus on our product, Circuit, which is used by all kinds of local delivery teams to create fast and efficient routes.
No matter which method you choose, the goal is the same — to make the fastest and most efficient route possible for your delivery drivers. When your drivers navigate optimized routes, it saves you money on operational costs, such as fuel costs and labor costs. Plus, your drivers can make more stops in less time.
Read our case study: How Sagar Khatri Uses Circuit to Double the Number of Deliveries He Can Make in a Day
But there's a big difference between manually optimized routes and routes you've optimized with route optimization software.
In this post, we look at both methods, using real-life case studies from delivery teams who all at one point decided to stop spending hours a day manually building their delivery routes.
The Drawbacks of Manually Optimizing a Route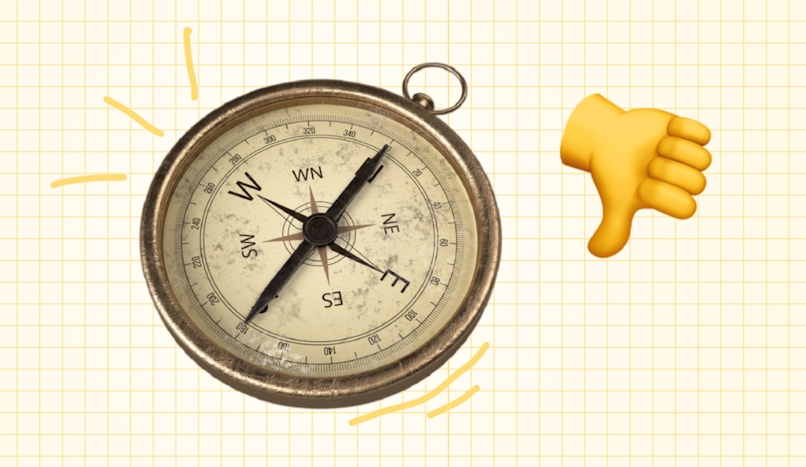 When you're manually trying to make the best route, you're working with a pen, pencil, and usually a tool like Google Maps or Waze. The idea is you'll put in the stops you need to make and then re-arrange them to make a fast and efficient route.
But there are a few big problems.
It's time-consuming: Manually planning routes takes a long time. Exactly how long will depend on how many stops you have, and how complicated your routes are. But some of our customers were spending 12+ hours a week in route planning alone. Of course, that doesn't even factor the time they waste following inaccurate routes, which we cover next.
It's inaccurate: No matter how long you spend on planning routes manually, it's impossible to get it 100% right. There are so many possible routes and too many factors to consider (things like traffic patterns, the distance between stops, and speed limits). This means you can spend 12+ hours a week building a route, and it still won't be the most effective route possible.
You can't change routes in progress: Once you've finished manually compiling your route, you can't easily change it throughout the day. And sometimes you'll need to change it. Customers will cancel their order, or unexpected traffic jams can delay your driver. But you can't easily change the route and re-optimize it.
So while creating a route manually may seem cheaper, it's actually not cost-effective. You're not saving time on building the route, and you're not saving time on your drivers navigating the route. For a breakdown of this in real-time, head over to our post where we try to optimize a multi-stop route using just Google Maps.
How about Using a Free Route Optimization Tool?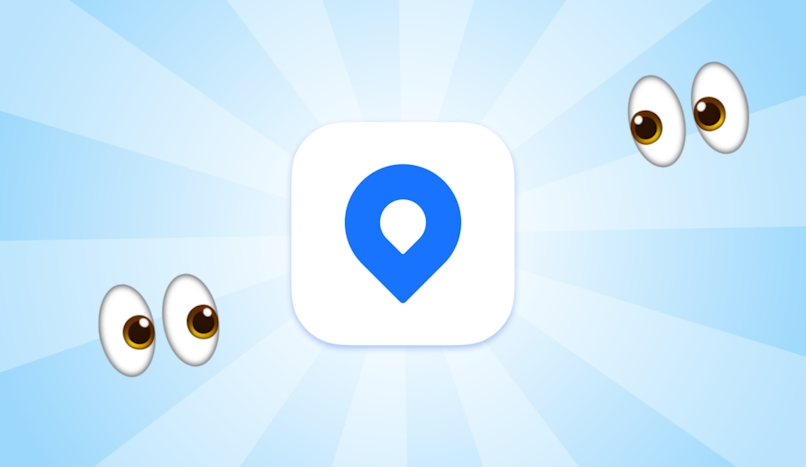 Free route optimization tools are great and can be really useful (we have one if you want to try it out). But free route planners, while they do optimize routes for speed, come with other disadvantages that delivery businesses need to be aware of:
There's a limit on the number of stops you can have on a route: Most free route planners put a cap on how many stops you can add to your route. It can be as few as 10 stops. So if you have to make more than 10 stops in a day, then you can't really use many of the free route planners out there.
There's a limit on how many drivers can be added to a route: Free route planners don't usually let you optimize a route for multiple drivers. This is a major drawback for delivery teams who have more than one courier making deliveries on a given day.
It isn't easy to get routes to your drivers: Finally, many free online route planners don't have mobile apps. To give your drivers their route, you need to print it out and hand it to them, or send it to them as a spreadsheet. This makes it hard to navigate and impossible to make last-minute changes during the day.
To do these things, you need a more powerful tool like Circuit for Teams if you have multiple drivers in your team.
With Circuit, you can:
Add up to 500 stops to your route (and build as many routes as you want).
Add as many drivers as you want to your routes with Circuit for Teams.
Send your routes to your drivers by using our free mobile app.
Below, we take an in-depth look at how our advanced algorithm lets you create the best route possible in minutes.
How to Do Your Route Optimization in Just 2 Minutes
In this section, we're going to focus on how you can do your route optimization with Circuit for Teams.
First, you want to add your stops. You can do this manually or by importing a spreadsheet.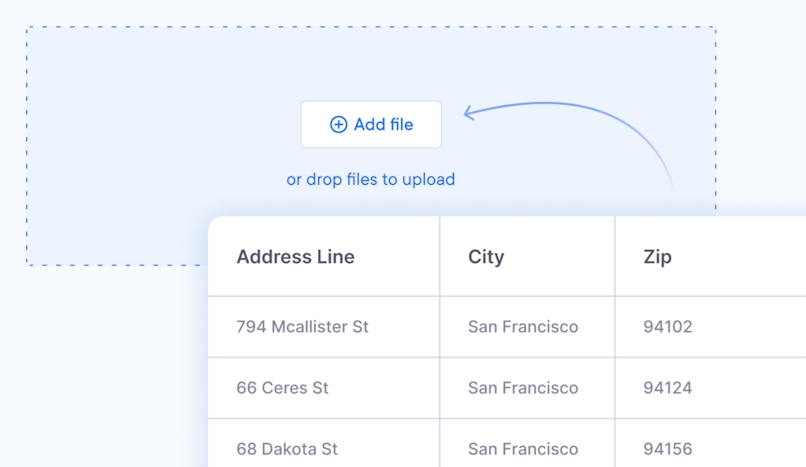 Importing a spreadsheet is definitely faster, but even if you're manually typing in an address it won't take too long. Our route optimization software uses the same predictive text technology that Google Maps uses. This means that as you're typing in your stop, our software will suggest the most likely destination.
Second, you want to customize your delivery stops. This means you want to set priority stops and time windows.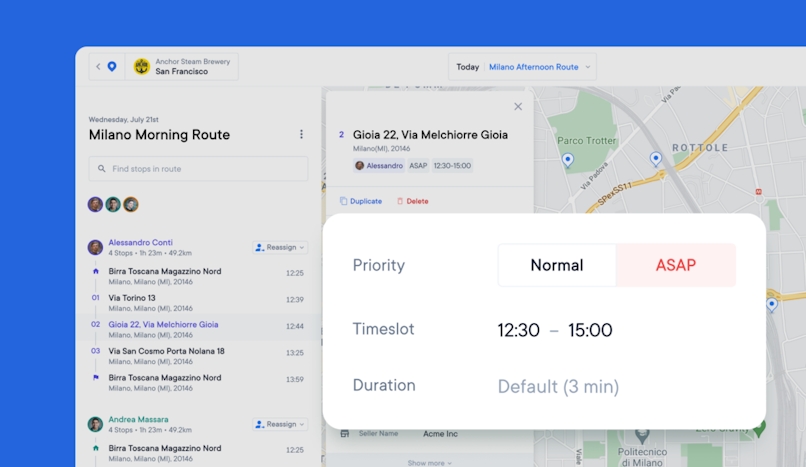 Priority stops: If you have a customer who wants their package ASAP, then you'd set their stop as a priority. When you optimize your route, Circuit will give you the fastest route possible, with that specific stop being first.
Time windows: You can set time windows for as many stops as you want. A time window is you telling Circuit that a stop must be completed within a specific delivery time. This is a great feature if you're delivering to local businesses that may not hold regular hours or if you want all of your direct-to-consumer deliveries done before the evening.
After you've customized your route, it's time to optimize it.
With Circuit for Teams, it's as simple as clicking a button. Our route optimization software takes your customizations into account and then looks at speed, distance, traffic patterns, and other critical variables. Within a minute, you'll have your fully-optimized route.
Finally, share your route with your drivers (and make any changes as necessary).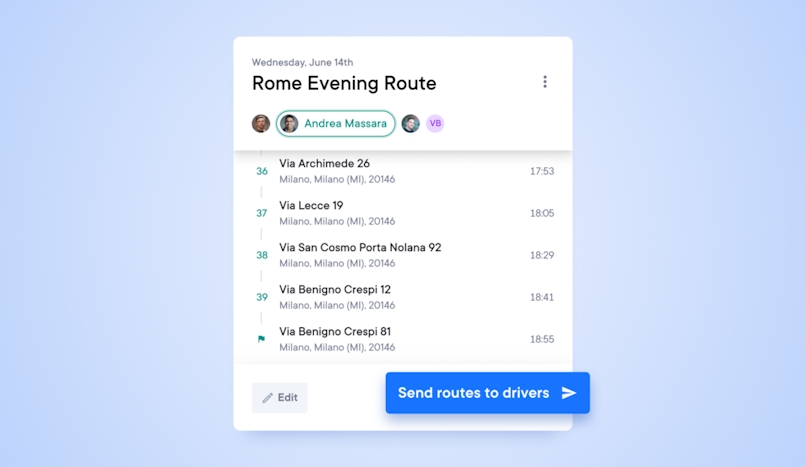 Once the route is optimized, you can share it with your drivers.
You can also set up schedules for your drivers. For example, if some of your drivers work in the morning and others in the afternoon, you can specify that in the app. That way your afternoon drivers are only handling stops that are going to happen later in the day.
As your drivers begin their routes, you can follow their progress with our route monitoring feature.
Our route monitoring feature tells you where your driver is within the context of the route. This means you get their exact location, plus you get to see which stop they just completed, where they're headed next, and the updated ETA.
Next Steps: Starting Your Free Trial with Circuit for Teams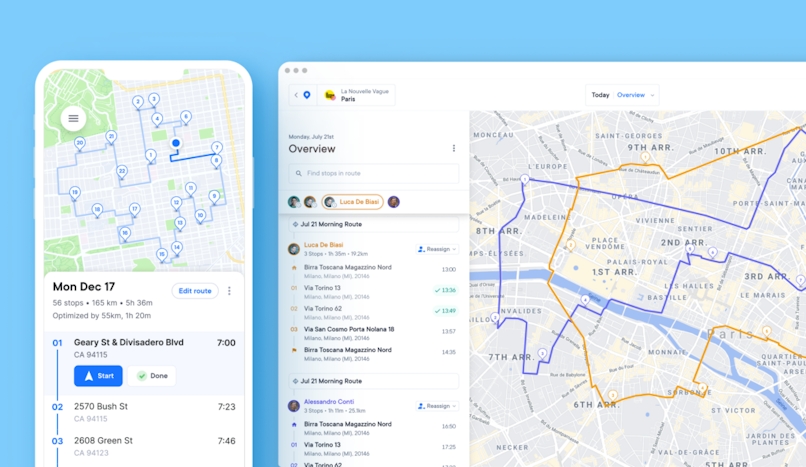 Above we covered how you can do route optimization in a matter of minutes by using Circuit. By using our advanced route optimization software, you can build out the fastest route for your drivers within minutes.
But Circuit also has more advanced functionality that will improve your delivery team's last-mile delivery process, including:
Recipient notifications: Send your customers updates on when they can expect their package.
Proof of Delivery: Have your drivers take a photo of where they left the customer's parcel or collect a signature on their smartphone using the Circuit app.
To see how all of these features help you save time and give a better delivery experience, start your free trial today.
Like this article? You may also enjoy: