11 minute read
10 Best Commercial Vehicle Route Planners
Explore the top 10 commercial vehicle route planners to optimize your delivery operations, save on fuel, and enhance customer satisfaction.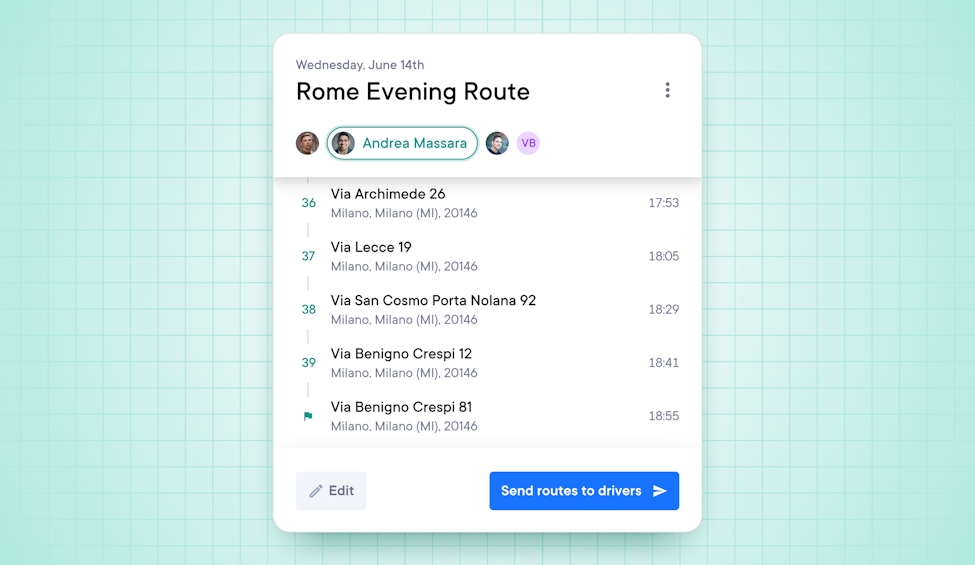 Tired of wasting time and money on inefficient routes? Discover the top 10 commercial vehicle route planners that can streamline your business operations.
Whether you have a small commercial delivery business or are managing a large team of vehicles, you can benefit from using a commercial vehicle route planner.
That's because route planners save you time and money by creating fast and efficient routes. With faster routes, your team can deliver more products in less time. 
You'll also save on labor, fuel costs, and vehicle maintenance.
But every commercial vehicle route planner is a little different in terms of what features they offer.
In this post, we'll cover 10 different commercial vehicle route planners available, each for a specific use case.
Key takeaways
Various commercial vehicle route planners cater to different needs, such as long-haul truck routing, field service delivery management, or day-to-day route planning across many industries.
These route planners offer features like automated planning, real-time driver tracking, and route optimization to enhance operational efficiency and customer satisfaction.
Pricing structures vary, with some platforms offering basic plans that can be customized with additional features for a fee, enabling businesses to tailor the software to their specific needs.
The choice of a commercial vehicle route planner should align with the business operations, whether it's managing long-haul trucker operations, field service technicians, or a midsize delivery team, to ensure the most beneficial utilization of the software.
Circuit for Teams stands out for midsize businesses, offering a streamlined approach to multi-driver route planning with features like real-time route monitoring, order and driver tracking, and proof of delivery (POD) collection, facilitating improved delivery output and customer satisfaction.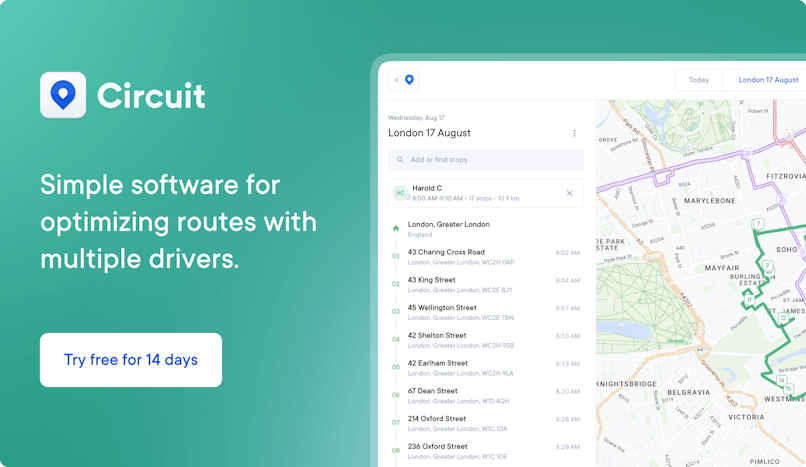 1.  Circuit for Teams — best truck and commercial vehicle routing planner for midsize businesses

At Circuit, we offer two different routing tools:
Ideal for one-driver operations across various industries, enabling fast completion of stops with features like map toggling, easy viewing and editing of stops, and voice commands for adding multiple stops.
One of our customers, Sagar Khatri, increased his delivery output by 50 percent when he started using Circuit Route Planner to optimize his stops. 
The Circuit Route Planner is $20 per month, and drivers can start a free trial today.
Designed for multi-driver routes with advanced features like route monitoring, order and driver tracking, proof of delivery (POD), and live route adjustments by dispatchers.
Circuit for Teams starts at $100 for your first two drivers per month, and also has a free trial you can try.
In this guide, we focus on Circuit for Teams, as it shows everything you can use Circuit for.
Creating the Fastest Route with Circuit for Teams 
You can manually enter addresses directly on the Circuit for Teams mobile app (for both iPhone/iOS and Android devices) or through the web app. 
But if you're dealing with several stops on every route, it's faster to import your address list through our spreadsheet import feature.
Once your addresses are in Circuit for Teams, you can optimize for speed or customize your route. 
With Circuit, you can set priority stops, time windows, and average time per stop to meet customer needs and optimize for speed. Stops can be copied between routes for streamlined operations.
Monitoring Routes in Progress and Sending Automatic Tracking Updates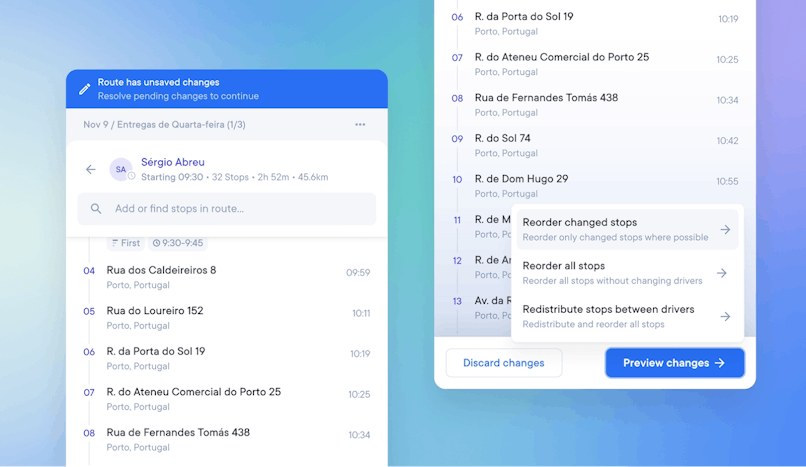 When you use Circuit for Teams, each driver downloads the Circuit for Teams app for their smartphone.
This lets them use the routes you optimized with their preferred navigation app (like Google Maps, Apple Maps, and Waze).
It also makes it easy for you to monitor routes in progress and make last-minute tweaks if necessary. 
Additionally, you can edit routes in real time to account for unexpected delays and changes.
With Circuit for Teams, you can see where your drivers are, but their geographical location is given to you within the context of the route. 
That means you can see which stop they just completed, where they're headed next, and an updated ETA.
Collecting Proof of Delivery (POD) 
If you're delivering goods to a business, it's important to have a proper paper trail between your delivery driver and your customer. 
If you're dropping off small items — and your driver isn't coming into contact with a physical person — then you can use our photo capture proof of delivery.
The driver snaps a photo of where they left the order and uploads it to Circuit through the mobile app.
Both your business and the customer get a copy of the photo, along with a timestamp, so they know the delivery time and location.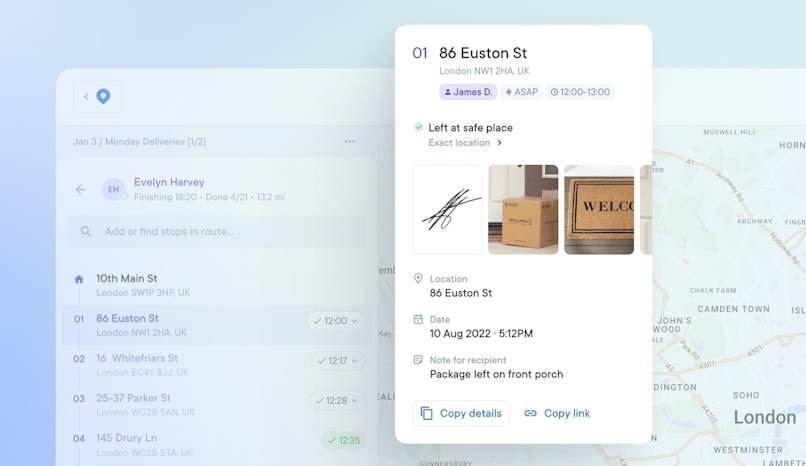 But you'll likely want more security, especially if you're delivering large quantities of goods or high-priced items.
That's where our electronic signature capture comes in.
With Circuit for Teams, your driver's smartphone turns into a signature pad.
The customer can sign it with their finger, signaling they got their order. A copy of this signature is sent to both you and your customer.
Since Circuit for Teams offers optional POD, you can also turn off the feature when it's not necessary. 
This can help the driver save travel time and move on to the next delivery quicker.
What we covered above are the core features of our commercial vehicle route planner. You can:
Create optimized routes (customized toward your customers' needs).
Monitor routes in progress (making last-minute changes as necessary and automatically sending updates to your customers).
Collect proof of delivery (through a photo or signature capture).
These features help you run a smooth delivery operation. They let you make more deliveries in less time and improve customer satisfaction.
Circuit for Teams is used by several kinds of businesses — local couriers of course, but also local breweries, computer repair services, pharmacy delivery and retail stores.
You can start your free trial of Circuit for Teams today.
Or if you're looking for a different type of commercial vehicle route planner, we recommend you keep reading to see some alternatives to Circuit for Teams.
2. Route4Me — route planning for long-haul trucks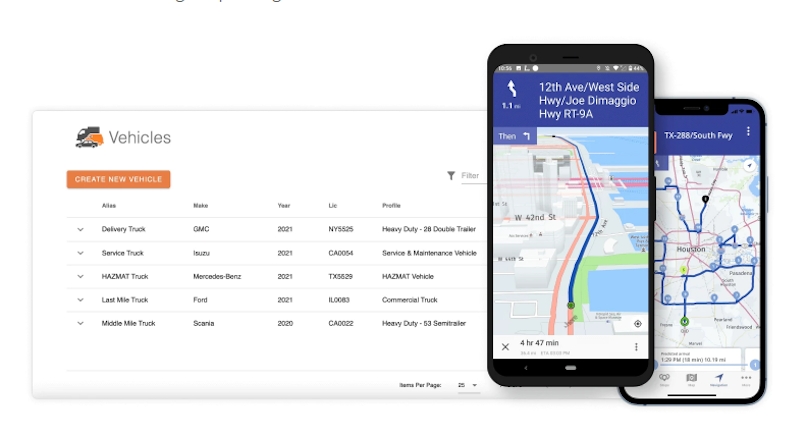 We've covered Route4Me before, discussing some of its pros and cons as a routing software.
But Route4Me has a feature that might make it a good option for your delivery team of truck drivers — a Commercial Vehicle and Truck Routing add-on.
For context: Route4Me is a route management app with basic plans that you can customize by adding extra features (for a fee).
So, you'd pick one of Route4Me's plans (starting at $199 a month) and add their truck route planner for an extra $19 per vehicle.
With this truck routing add-on, you get route planning and optimization for commercial trucks.
This includes Class 1-8 truck routing, which factors in weigh stations, height, hazmat, rest stops, and axle count restrictions.
3. Oracle — field service delivery management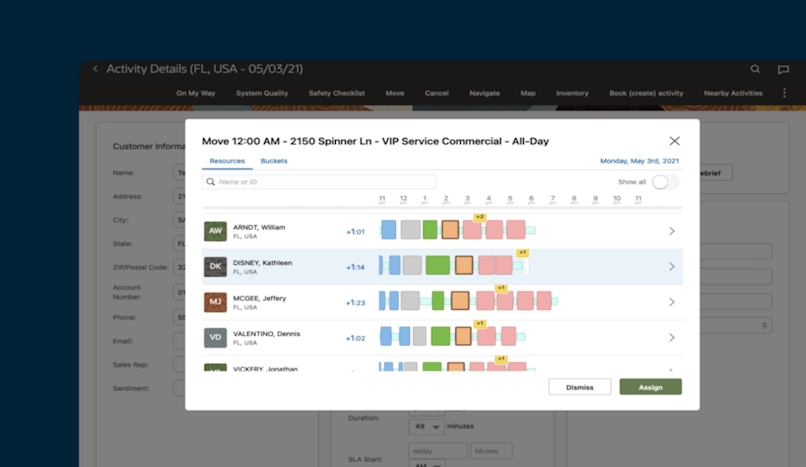 Oracle has scheduling and routing features that are well-suited for field service technicians and delivery teams alike.
For example, you can create your fleet and upload service level agreements, skills, location, and technician availability.
By giving Oracle this information, its AI learning algorithm can create routes to fulfill your customer orders as efficiently as possible.
Oracle also helps you better manage your staffing levels. Oracle's software takes a look at your historical record to try and spot trends and better predict the future.
For example, if you're mostly dealing with HVAC repair services that tend to get busier during the warmer months, then Oracle could spot this trend and begin recommending an increase in staff as spring turns to summer.
4. Upper — day-to-day route planning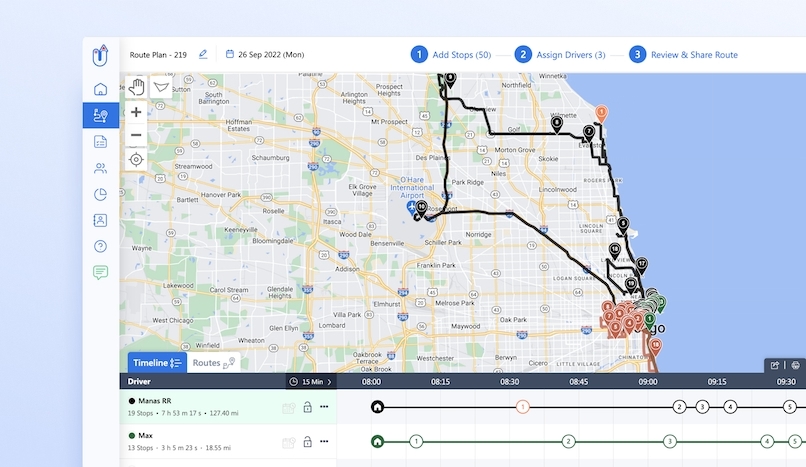 Upper is different from other truck route planning software due to its wide applicability across many industries. 
Apart from the standard courier, eCommerce, and food delivery applications, Upper can be adapted for services like garbage collection, maintenance services (like HVAC), home inspection services, and more. 
It saves hours on delivery route planning and lets dispatchers import their full list of delivery addresses from a spreadsheet. 
Upper's list of smart features includes one-click dispatch to get drivers on the road faster, priority for crucial deliveries, and up-to-date route directions and delivery instructions. 
The software also features a drag-and-drop capability to help you change the number of stops or the order of deliveries.     
Customers are likely to enjoy Upper's delivery window selection option, which lets them choose a convenient time to collect their packages.  
5. Track-POD — multiple post code route planner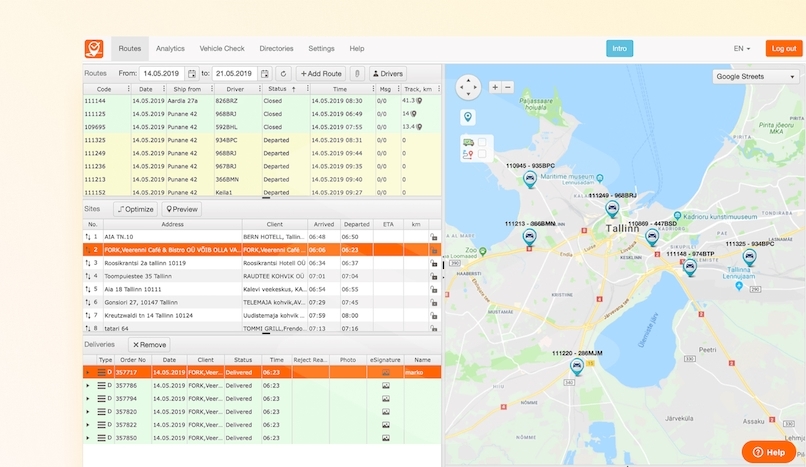 Track-POD is an intelligent delivery management platform that offers free delivery confirmation software for Android and iPhone devices.
It's also easy to scale, making it an attractive option for trucking companies of all sizes and scales. 
The one-stop ePOD app is hyper-focused on making delivery confirmation easier and faster.
You can use it to scan packages and capture geotags, time stamps, photos, and electronic client signatures. 
The app does everything you need for delivery confirmation: captures geotags and time stamps, takes photos, grabs customers' signatures, and scans packages. 
All this in a zero-paper environment. 
Other features of Track-POD include real-time driver performance updates with GPS vehicle tracking and QR/barcode scanning for load control.
It also takes great care of customer concerns with dynamic ETA and live delivery updates on any smartphone.     
6. TruckMap — for truck drivers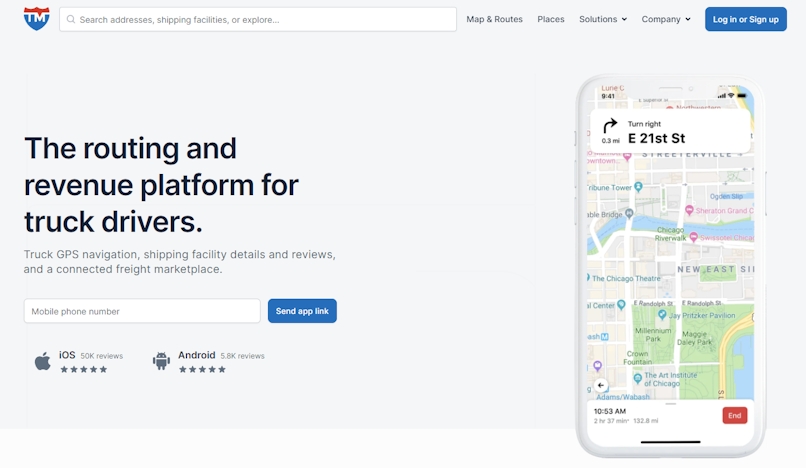 TruckMap is an intelligent routing and GPS navigation platform, specifically engineered for the commercial driver. 
Offering truck-safe turn-by-turn navigation coupled with real-time traffic alerts, it's designed to make every journey seamless and hassle-free​.
Its robust Shipping Facility Reviews feature, with over 80,000 weekly updates, ensures you're well-informed about amenities such as weigh station statuses, local directions, and loading procedures at various facilities, making it a dependable companion on the road​.
With real-time alerts on truck restrictions and hours of service regulations, TruckMap is hyper-focused on ensuring safe and compliant journeys, echoing its commitment to cater to the unique needs of commercial vehicle drivers​​.
7. SmartTruckRoute — route planning tailored to vehicle's requirements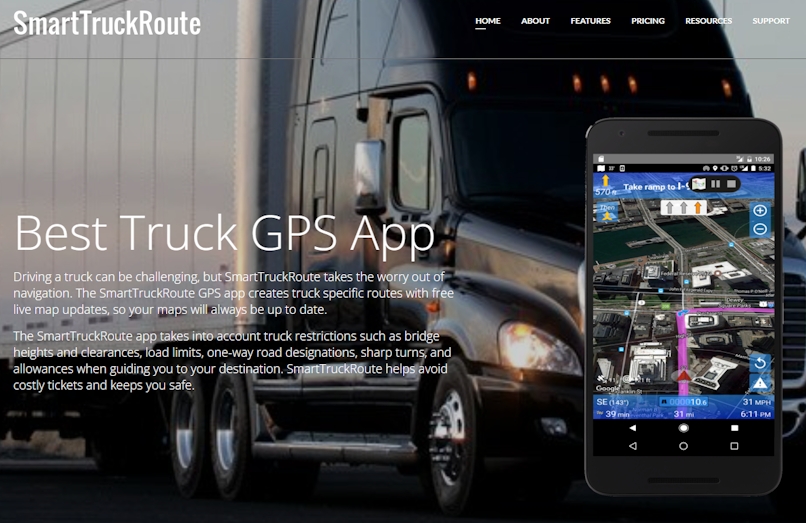 SmartTruckRoute emerges as a comprehensive solution for commercial drivers, offering a blend of easy-to-use yet robust features tailored for the road. 
At the core of SmartTruckRoute's appeal is its meticulous attention to real-time road restrictions and closure updates, conducted hourly by a dedicated team of professionals keeping tabs on live road conditions. This feature underscores the platform's proactive approach to ensuring drivers are always on the safest and most efficient routes​​.
SmartTruckRoute goes beyond basic truck navigation by allowing customization based on vehicle specifications. 
Whether driving a standard 18-wheeler, a commercial van, or a box truck, the app tailors routes to reflect the vehicle's size and weight, showcasing a level of personalization that can be crucial for different commercial driving scenarios​.
The emphasis on safety is clear with features aimed at avoiding low bridges, parkways, and residential areas. This, paired with special features like speed limit warnings, weather condition updates, and IFTA logging, shows a holistic approach to aiding drivers beyond mere route optimization​.
8. OptimoRoute — field service operations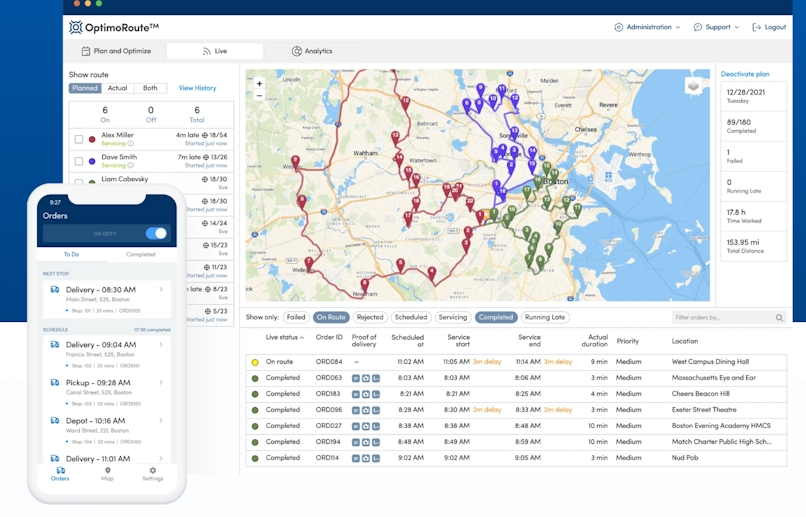 OptimoRoute is a sophisticated routing and field service management tool designed for optimizing delivery and service operations. 
Its key features include automated planning and route optimization software powered by advanced algorithms, seamless hardware integration for easy deployment, real-time driver tracking, smart scheduling technology, a robust mobile app for on-the-go data access, and a customer-centric approach to enhance service delivery. 
Beneath its user-friendly interface, OptimoRoute houses a myriad of customizable features tailored to meet the unique operational needs, making it a versatile solution for businesses striving for efficiency and superior customer experience​​.
9. Routific — best for small and medium sized businesses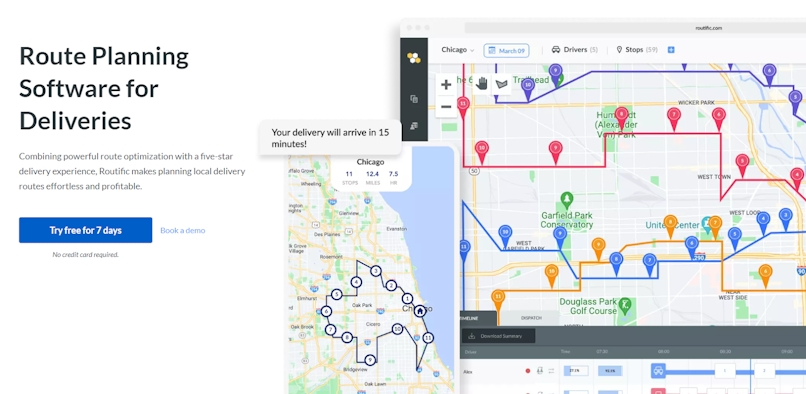 Routific is a robust route optimization platform dedicated to streamlining delivery operations. 
It swiftly generates optimized routes, considering real-world factors like delivery types and time windows, saving significant trip planning time​​. 
The platform facilitates easy import of customer details, real-time modifications to routes, and seamless dispatching of routes to drivers' smartphones, enhancing operational functionality​. 
Customers stay informed with automated notifications and real-time tracking links, while businesses benefit from proof of delivery features and end-of-day performance reports, all aimed at elevating the customer experience and operational efficiency​. 
With back-end support for API integration and a fast, scalable AI-powered routing engine, Routific stands as a comprehensive, user-friendly solution for managing deliveries efficiently​​.
10. Routetitan — basic truck routing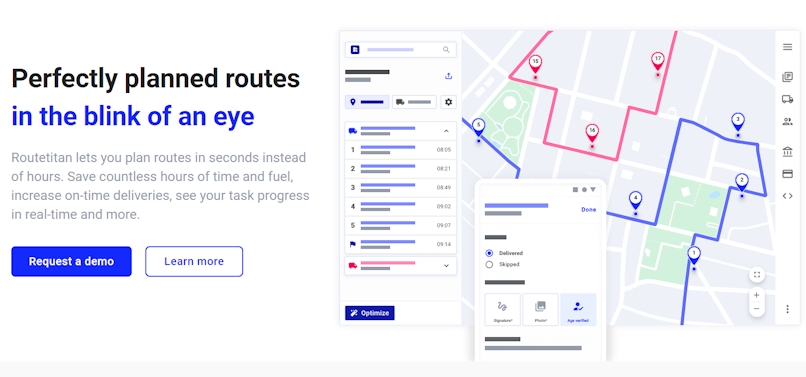 RouteTitan is a robust delivery management tool engineered for optimizing delivery routes swiftly, considering real-world factors like time-windows and stop prioritization​​. 
It allows seamless import of orders, simplifies dispatching to drivers across various device platforms, and engages customers with automated notifications sharing accurate arrival times​​. 
The platform enhances transparency with real-time GPS tracking, while its proof of delivery feature, encompassing signature collection and photo documentation, ensures a comprehensive, reliable solution for managing last-mile deliveries efficiently​.
Final thoughts: choosing the best commercial vehicle route planner for your business
The best commercial vehicle planner for your business will depend on what you do. 
If you're managing long-haul trucker operations, where your drivers are dealing with very few stops but need to factor in rest areas and weight restrictions, consider specialized vehicle planners like Route4Me.
If you're managing a team of field service technicians, consider something like Oracle.
If yours is a midsize delivery team dealing with cargo vans or some other commercial vehicle and need an easy, efficient way to manage multi-stop routes, try Circuit for Teams.
With Circuit for Teams, you can:
Build the best route tailored to your customers' needs. You can set advanced settings like time windows and priority stops.
Monitor routes in progress and send out automatic updates. Our automatic updates let your customers know the delivery ETA and tell them when their order is just minutes away.
Collect proof of delivery. You can give everyone peace of mind by collecting a photo or signature when a successful delivery is completed.