12 minute read
What's the Best Commercial Vehicle Route Planner for Your Business?
Tired of wasting time and money on inefficient routes? Discover the top commercial vehicle route planners that can streamline your business operations.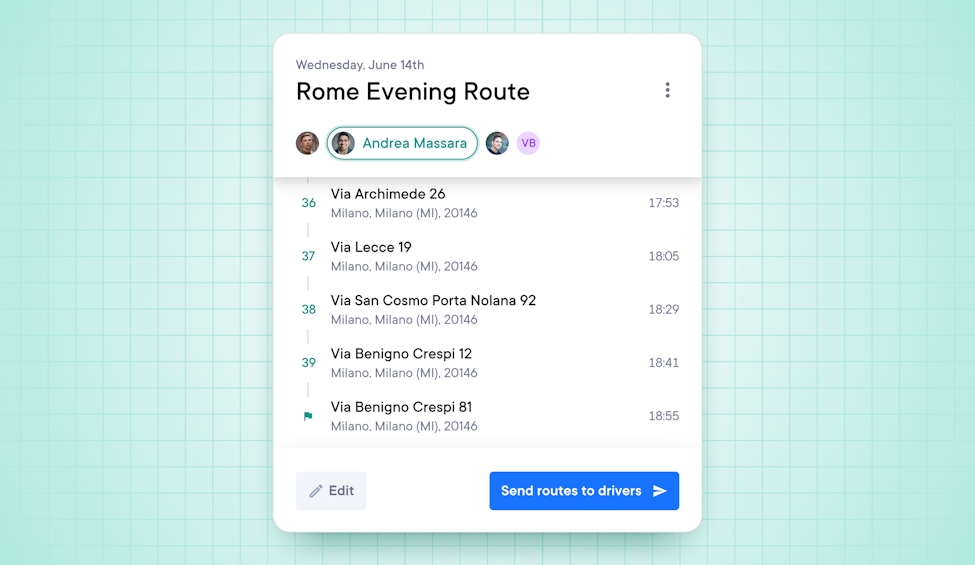 Whether you have a small commercial delivery business or are managing a large team of vehicles, you can benefit from using a commercial vehicle route planner.
That's because route planners save you time and money by creating fast and efficient routes. With faster routes, your team can deliver more products in less time. 
You'll also save on labor, fuel costs, and vehicle maintenance.
But every commercial vehicle route planner is a little different in terms of what features they offer.
In this post, we'll cover five different commercial vehicle route planners available, each for a specific use case:
Our route optimization and delivery management software solution is perfect for midsize companies. 
We have plans for one-vehicle operations and multi-driver teams, giving teams advanced features like route monitoring, order tracking, and proof of delivery. 
We highlight our customer success stories.
Route4Me is a route management software with an add-on for commercial truck routing. This is ideal for commercial delivery teams that need help with truck navigation. 
This means considering factors like truck stops, rest areas, and overpass heights — as well as low-clearance bridges.
Oracle has features great for field service delivery teams. 
For example, you can set service level agreement thresholds. This means you can tell Oracle the specific skill set of each technician on the road. 
This way, the right tech is always routed to your customer's home.
Upper is a route optimization software with applicability across service and delivery businesses. 
It offers simplified dispatch routes for multiple drivers within minutes. Upper also makes it easy to accommodate last-minute changes to route and delivery schedules. 
It's great for teams needing to prioritize stops frequently in order of importance or urgency. 
Track-POD is an all-in-one delivery management solution that eliminates paperwork for drivers and dispatchers. 
It's an intuitive app that works without an active internet connection, with automatic synchronization of data whenever the connection gets restored. 
It's great for teams that operate last-mile deliveries in rural or remote areas. 
1.  Circuit for Teams — commercial vehicle routing planner for midsize businesses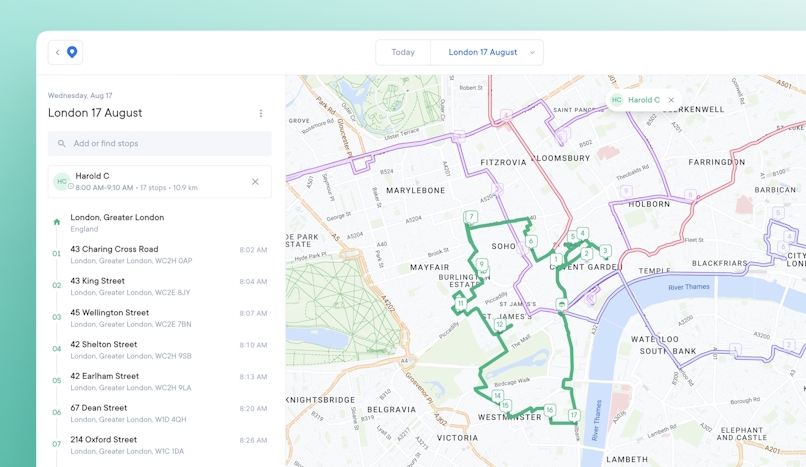 At Circuit, we offer two different routing tools:
Made for one-driver operations that need a fast way to complete their stops. Circuit Route Planner is used by all kinds of industries, including contracted couriers. 
Our advanced route planning app allows drivers to toggle between map ways, helping them orient themselves and stay on track. 
Drivers can easily view and edit stops on the app and copy stops between routes. 
Moreover, they can use voice commands to add multiple stops quickly without having to slow down the delivery process.
One of our customers, Sagar Khatri, increased his delivery output by 50 percent when he started using Circuit Route Planner to optimize his stops. 
The Circuit Route Planner is $20 per month, and drivers can start a free trial today.
Circuit for Teams uses the same powerful route optimization software as our route planner, but you can use it with multi-driver routes. 
You also get advanced features that delivery teams benefit from, such as route monitoring, order tracking updates, driver tracking, and proof of delivery features. 
Drivers also get the flexibility of turning off the POD requirement for specific stops when not needed. 
This helps make the delivery process faster and saves valuable minutes.
With Circuit for Teams, dispatchers can provide the customer service contact details to customers, making it easier for them to reach out for help. 
Dispatchers also get access to the real-time status of stops on an active route and can make live changes to it.
Circuit for Teams starts at $40 per driver per month, and also has a free trial you can try.
In this guide we focus on Circuit for Teams, as it shows everything you can use Circuit for.
Creating the Fastest Route with Circuit for Teams
You can manually enter addresses directly on the Circuit for Teams mobile app (for both iPhone/iOS and Android devices) or through the web app. 
But if you're dealing with several stops on every route, it's faster to import your address list through our spreadsheet import feature.
Once your addresses are in Circuit for Teams, you can optimize for speed or customize your route. 
Sometimes, it isn't enough to have the fastest route possible, you need the fastest route possible that works for your customers. That's when customization helps.
With Circuit, you can set priority stops, time windows, and average time per stop.
You can also copy stops from one route to another, saving time and streamlining operations.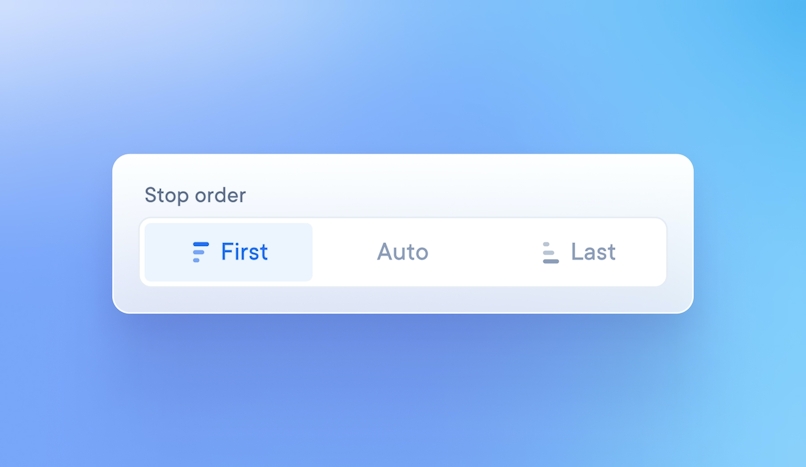 Priority stops
Some customers may pay extra to get their delivery ASAP.
You can prioritize those stops with Circuit for Teams. Now, when our route optimization algorithm makes the fastest route, it'll make sure those stops come first.
Similarly, you can identify the least urgent stop and mark it as the last one on the route.
Time windows
If you're delivering to businesses, you need to be more aware of time windows.
Businesses have working hours, and some businesses may only collect deliveries during specific time windows.
You can set time windows on every stop so your delivery drivers end up at the right location within the right time frame.
You can choose between offering customers dynamic or fixed time windows, depending on your needs.
Average time per stop
Depending on what you're delivering, your driver might be at the stop for two minutes or there for half an hour.
Traffic patterns drastically change if we're talking about two minutes from now or 30 minutes from now.
By setting the average time per stop, you give Circuit for Teams more information to create the best route for your team.
Once you've customized your route, you can assign it to your drivers.
But routes change in real time, and managing those changes is a must if you want to remain efficient. In the next section, we explain how you can do this.
Monitoring Routes in Progress and Sending Automatic Tracking Updates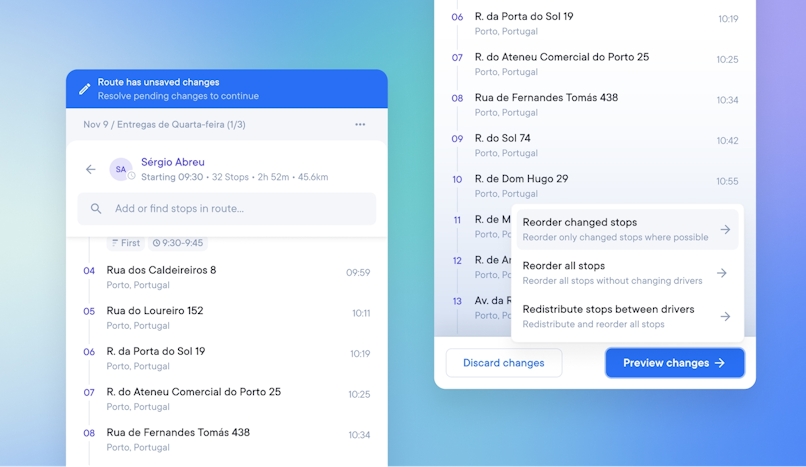 When you use Circuit for Teams, each driver downloads the Circuit for Teams app for their smartphone.
This lets them use the routes you optimized with their preferred navigation app (like Google Maps, Apple Maps, and Waze).
It also makes it easy for you to monitor routes in progress and make last-minute tweaks if necessary. 
Additionally, you can edit routes in real time to account for unexpected delays and changes.
With Circuit for Teams, you can see where your drivers are, but their geographical location is given to you within the context of the route. 
That means you can see which stop they just completed, where they're headed next, and an updated ETA.
Let's find out how you can use Circuit for Teams to handle two common occurrences: unexpected traffic leading to significant delays and a customer canceling or changing their delivery.
Rerouting around unexpected traffic
Our route optimization algorithm factors in traffic patterns to help create the fastest route every time.
But, sometimes, the unexpected happens. When there's a significant accident or a highway is closed, you need to reoptimize your route (such as skipping the next stop and moving it to later in the route to avoid the traffic).
Your driver can do this on their smartphone, or you can do it from your web app back at HQ. Any changes the driver makes on their phone show up on the web app and the other way around.
Customer canceling/delaying delivery
A customer may call and ask that you make their delivery later in the day or tomorrow. Or they'll cancel it completely.
When this happens, you can quickly remove their stop from the route and have Circuit for Teams reoptimize the route. Your driver then has an accurate, up-to-date route.
And with Circuit for Teams, you don't have to keep updating your customer when change occurs. Instead, your customers get automatic updates sent through email, SMS message, or both: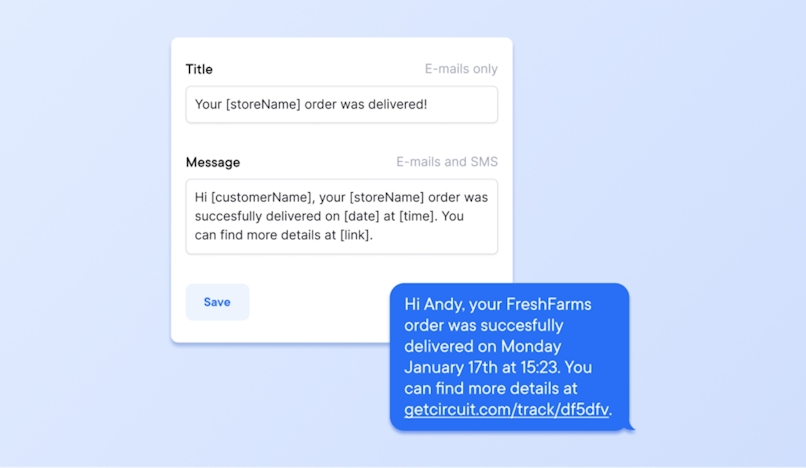 The customer gets their first update when your driver starts their route.
This update tells them their ETA based on the optimized route. It also includes a link to a dashboard where they can check to see the status of their delivery.
They get their second update when their delivery driver is about 10 minutes away.
Your customer can communicate with the driver through these messages if they need to give any extra info.
For example, if your driver is delivering to a medical office in a hard-to-navigate complex, your customer can help guide them.
Collecting Proof of Delivery (POD)
If you're delivering goods to a business, it's important to have a proper paper trail between your delivery driver and your customer. 
You want to cover your bases in case your customer says they can't find their items due to an inventory issue on their end.
If you're dropping off small items — and your driver isn't coming into contact with a physical person — then you can use our photo capture proof of delivery.
The driver snaps a photo of where they left the order and uploads it to Circuit through the mobile app.
Both your business and the customer get a copy of the photo, along with a time stamp, so they know where and when the delivery was made.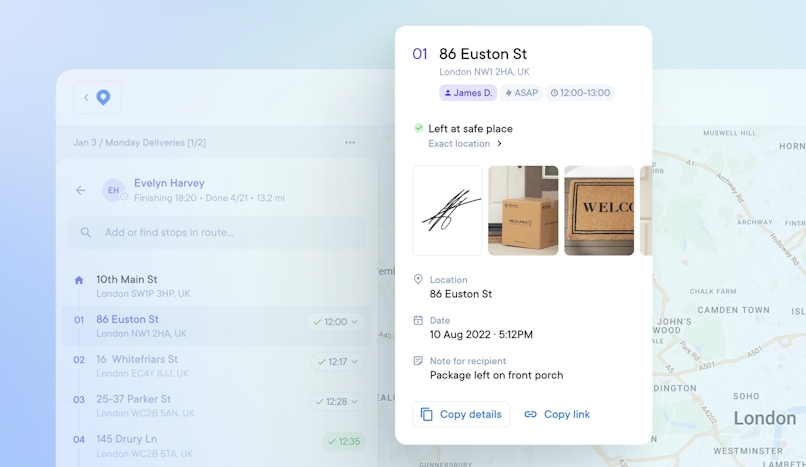 But you'll likely want more security, especially if you're delivering large quantities of goods or high-priced items.
That's where our electronic signature capture comes in.
With Circuit for Teams, your driver's smartphone turns into a signature pad.
The customer can sign it with their finger, signaling they got their order. A copy of this signature is sent to both you and your customer.
Since Circuit for Teams offers optional POD, you can also turn off the feature when it's not necessary. 
This can help the driver save time and move on to the next delivery quicker.
What we covered above are the core features of our commercial vehicle route planner. You can:
Create optimized routes (customized toward your customers' needs).
Monitor routes in progress (making last-minute changes as necessary and automatically sending updates to your customers).
Collect proof of delivery (through a photo or signature capture).
These features help you run a smooth delivery operation. They let you make more deliveries in less time and improve customer satisfaction.
Circuit for Teams is used by several kinds of businesses — local couriers of course, but also local breweries, computer repair services, pharmacy delivery and retail stores.
You can start your free trial of Circuit for Teams today.
Or if you're looking for a different type of commercial vehicle route planner, we recommend you keep reading to see some alternatives to Circuit for Teams.
2. Route4Me — route planning for long-haul trucks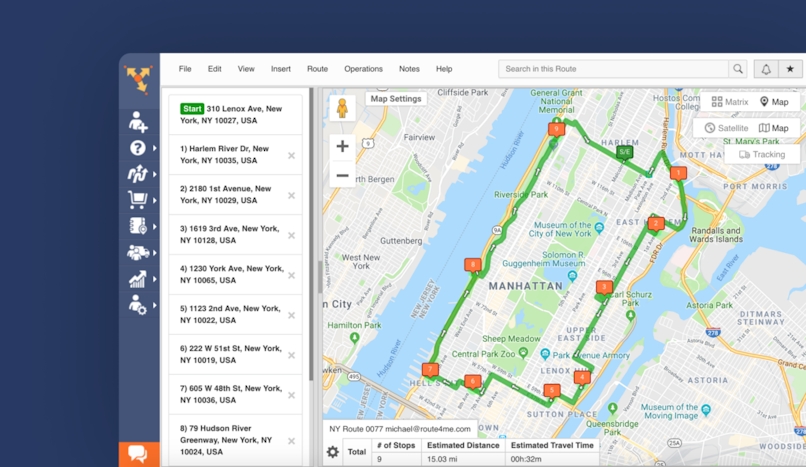 We've covered Route4Me before, discussing some of its pros and cons as a routing software.
But Route4Me has a feature that might make it a good option for your delivery team of truck drivers — a Commercial Vehicle and Truck Routing add-on.
For context: Route4Me is a route management app with basic plans that you can customize by adding extra features (for a fee).
So, you'd pick one of Route4Me's plans (starting at $149 a month) and add their truck route planner for an extra $10 per vehicle.
With this truck routing add-on, you get route planning and optimization for commercial trucks.
This includes Class 1-8 truck routing, which factors in weight stations, height, hazmat, rest stops, and axle count restrictions.
A Quick Recap of Route4Me
Route4Me has a large marketplace of delivery service add-ons you can add to your monthly plan (for a fee).
Route4Me has a truck routing add-on, which is great for Class 1-8 truck routing.
Route4Me offers a seven-day free trial.
What kind of delivery teams will benefit the most from Route4Me?
Route4Me is a good choice for companies needing specific truck routing features or wanting a highly customizable route planner.
3. Oracle — field service delivery management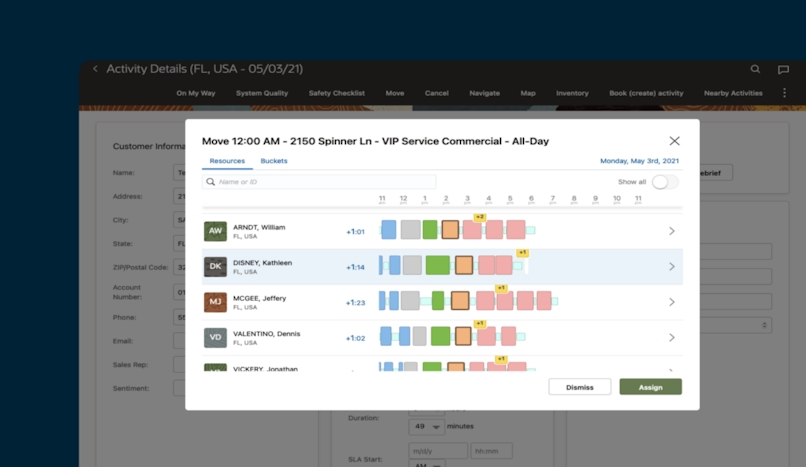 Oracle has scheduling and routing features that are well-suited for field service technicians and delivery teams alike.
For example, you can create your fleet and upload service level agreements, skills, location, and technician availability.
By giving Oracle this information, its AI learning algorithm can create routes to fulfill your customer orders as efficiently as possible.
Oracle also helps you better manage your staffing levels. Oracle's software takes a look at your historical record to try and spot trends and better predict the future.
For example, if you're mostly dealing with HVAC repair services that tend to get busier during the warmer months, then Oracle could spot this trend and begin recommending an increase in staff as spring turns to summer.
A Quick Recap of Oracle
Oracle lets you upload service level agreements and customize your routes based on technician skills and availability.
Oracle doesn't have a free trial but does offer live demos.
What kind of delivery teams will benefit the most from Oracle? Oracle is a good fit if you're running a large-scale field service crew.
4. Upper — day-to-day route planning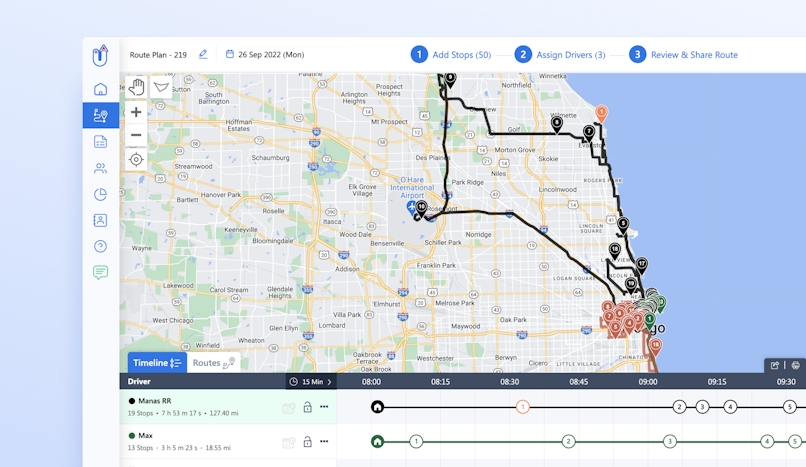 Upper is different from other truck route planning software due to its wide applicability across many industries. 
Apart from the standard courier, eCommerce, and food delivery applications, Upper can be adapted for services like garbage collection, maintenance services (like HVAC), home inspection services, and more. 
It saves hours on delivery route planning and lets dispatchers import their full list of delivery addresses from a spreadsheet. 
Upper's list of smart features includes one-click dispatch to get drivers on the road faster, priority for crucial deliveries, and up-to-date route directions and delivery instructions. 
The software also features a drag-and-drop capability to help you change the number of stops or the order of deliveries.     
Customers are likely to enjoy Upper's delivery window selection option, which lets them choose a convenient time to collect their packages.  
A quick recap of Upper
Upper is easily adaptable across multiple service industries besides delivery. 
Upper allows easy changes in routes and order of deliveries.
Upper has convenient options for customers to choose their time of delivery.
What kind of delivery teams will benefit the most from Upper?
Upper is excellent for delivery and service teams that have to juggle priority stops and accommodate last-minute changes to routes and schedules.  
5. Track-POD — multiple post code route planner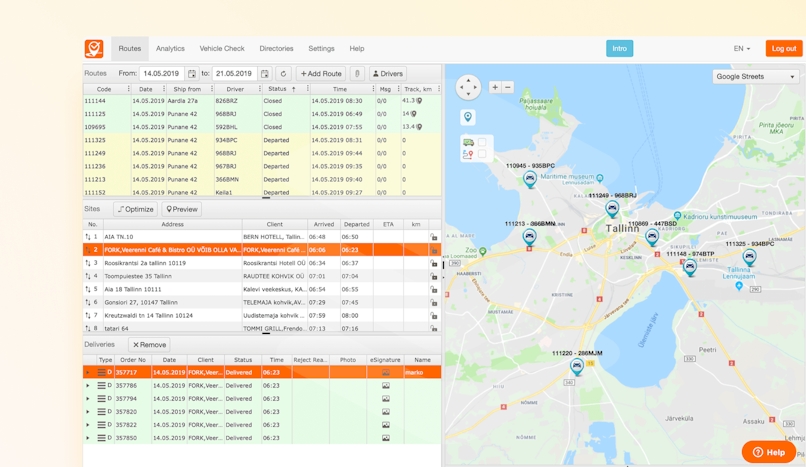 Track-POD is an intelligent delivery management platform that offers free delivery confirmation software for Android and iPhone devices.
It's also easy to scale, making it an attractive option for trucking businesses of all sizes and scales. 
The one-stop ePOD app is hyper-focused on making delivery confirmation easier and faster.
You can use it to scan packages and capture geotags, time stamps, photos, and electronic client signatures. 
The app does everything you need for delivery confirmation: captures geotags and time stamps, takes photos, grabs customers' signatures, and scans packages. 
All this in a zero-paper environment. 
Other features of Track-POD include real-time driver performance updates with GPS vehicle tracking and QR/barcode scanning for load control.
It also takes great care of customer concerns with dynamic ETA and live delivery updates on any smartphone.     
A quick recap of Track-POD
Track-POD offers free delivery confirmation software for Android and iPhone.
Track-POD allows package scanning with time stamps and geotags. 
Track-POD offers customers dynamic ETA and live delivery notifications. 
What kind of delivery teams will benefit the most from Track-POD?
Track-POD is ideal for last-mile logistics teams focused on cutting down delivery times and increasing customer satisfaction. 
Final thoughts: choosing the best commercial vehicle route planner for your business
The best commercial vehicle planner for your business will depend on what you do. 
If you're managing long-haul trucker operations, where your drivers are dealing with very few stops but need to factor in rest areas and weight capacities, you should consider specialized vehicle planners like Route4Me.
If you're managing a team of field service technicians, consider something like Oracle.
If yours is a midsize delivery team dealing with cargo vans or some other commercial vehicle and need an easy, efficient way to manage multi-stop routes, try Circuit for Teams.
With Circuit for Teams, you can:
Build the fastest route tailored to your customers' needs. You can set advanced settings like time windows and priority stops.
Monitor routes in progress and send out automatic updates. Our automatic updates let your customers know the delivery ETA and tell them when their order is just minutes away.
Collect proof of delivery. You can give everyone peace of mind by collecting a photo or signature when a successful delivery is completed.
Published
10 November 2021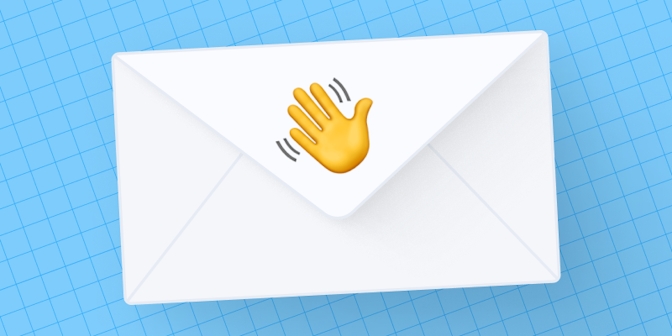 You made it this far!
Chances are you'll love our other stuff too. Get our newsletter for the latest on all things delivery.