10 minute read
What's the Best Route4Me Alternative? 4 Competing Route Planners (Including Circuit)
To help you find a suitable route planner for your delivery operations, we looked into 4 alternatives to Route4Me.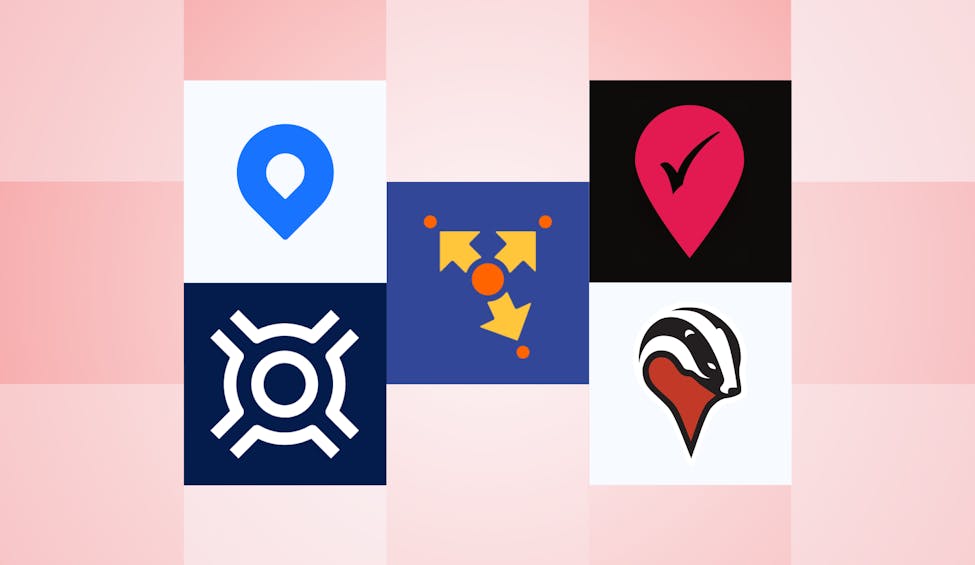 Route4Me's route management software isn't a good fit for every delivery business. First, its pricing structure is a flat rate for up to 10 drivers, with an additional $50 for every extra driver.
This means if you're managing a team of three delivery drivers, then you're paying more per driver than a team of seven delivery drivers. Plus, if you're working with a large courier fleet that has more than ten drivers, your monthly rate will quickly add up.
Second, Route4Me makes its service extremely customizable by offering most of its features as extras you can add-on for an additional fee. Route4Me has three different main pricing tiers, with only their most comprehensive package offering multi-driver route optimization. But other standard delivery software features, such as proof of delivery or route monitoring, need to be purchased via Route4me's online marketplace for an extra fee.
For reasons like these, Route4Me may not be the best delivery software for you and your delivery team.
To help you find a suitable alternative, we looked at several different software products that offer various features.
In this post, we cover these 4 alternatives to Route4Me:
Circuit
Badger Maps
OptimoRoute
RoadWarrior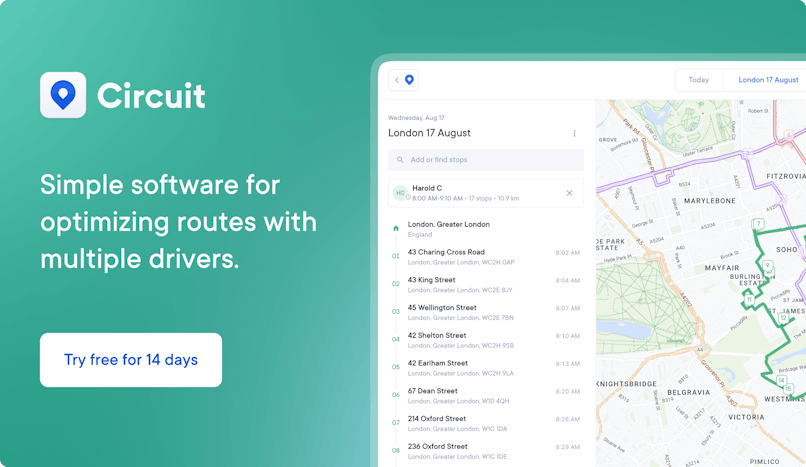 1. Circuit: An all in one Route4Me alternative for last-mile delivery
Circuit is our own delivery software, and it has two separate options: Circuit for Teams and Circuit's Route Planner for individual drivers.
If you're an individual driver using Circuit, you can download our free mobile app that works for iOS and Android devices.
If you're a dispatcher or a manager supervising a delivery team, sign up for Circuit for Teams, which also includes a web app. In the web app, you can create optimized delivery routes (as well as make changes throughout the day) and monitor routes in progress.
After a route is created, your driver logs into their Circuit mobile app, gets their route, and can start making their deliveries.
Note: Circuit's mobile app works with all major GPS navigation apps, such as Google Maps, Waze, and Apple Maps.
Below we cover in detail how Circuit for Teams works as a Route4Me alternative.
Circuit for Teams
Circuit for Teams comes in three different pricing tiers, with our most popular plan being our Recipient plan.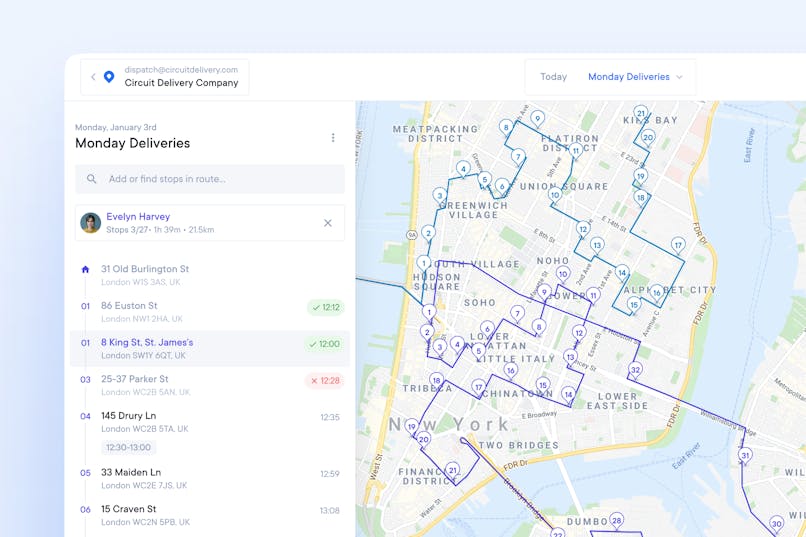 Our Recipient Plan includes:
Spreadsheet import
Route optimization and customization
GPS tracking
Recipient notifications (both SMS messages and email notifications)
Proof of delivery
Spreadsheet import, route optimization, and route customization
You get started with Circuit for Teams by getting your customers' addresses into the app. You can do this via spreadsheet import or manual entry.
While spreadsheet import is significantly faster than manual entry, manual entry is a valuable feature for when drivers or dispatchers need to modify routes that are currently in progress.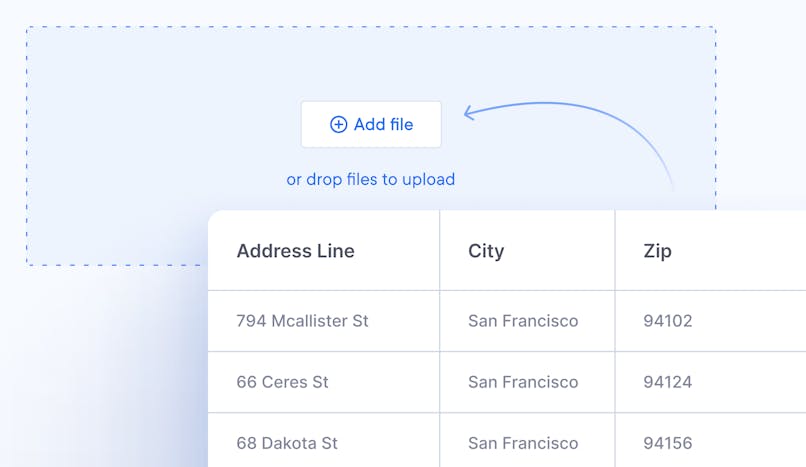 Circuit's manual entry feature uses the same autocomplete technology as Google Maps, which means that as you type in an address, we recognize your location and suggest the most likely destination. This makes manual entry quick and easy.
With your addresses in Circuit, you can now optimize and customize your route.
Optimizing your route means making your route as fast as possible. When you're working on optimal routes, your delivery business saves money on both fuel and labor costs.
With Circuit for Teams, you can optimize routes for one driver… or several. Compare that with Route4Me, where you can only plan multi-driver routes when you're on Route4Me's most expensive plan.
Once your stops are loaded into Circuit, you can customize your route, setting additional parameters, such as:
Priority stops: Make one stop priority number one. When you do this, Circuit automatically makes it the first stop that will be completed.
Time windows: Set delivery time windows for specific stops, so you can schedule deliveries that need to happen before or after a certain time.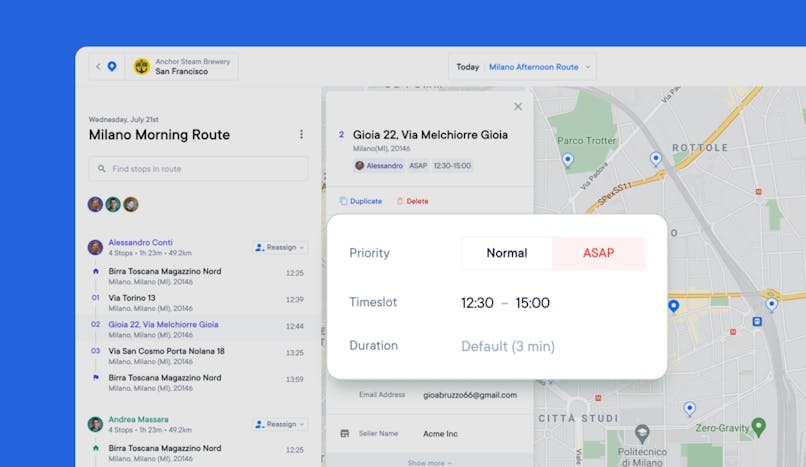 Again, these advanced features aren't built into Route4Me's plans but are offered as extra services through Route4Me's marketplace.
💡 Delivery driver pro tip: When you load your vehicle, do it while referencing your final optimized route. By loading your vehicle strategically, you cut down on the time it takes to find the right package when you arrive at your stop. Click here for more delivery driver training tips.
GPS tracking (route monitoring)
Included in every Circuit for Teams pricing plan is our route monitoring feature. Compare that to Route4Me, which offers route monitoring as an extra add-on you can purchase through their marketplace for an additional $90 a month.
Because your delivery drivers are using Circuit's mobile app on their smartphone, you're given real-time updates on where your delivery drivers are within the context of the route.
For example, you're not just told what cross streets your driver is currently at when you track a route's progress on your desktop app. Instead, you're told what stop they just completed and where they're going next with updated ETAs on the screen.
This keeps you in the know of your driver's whereabouts, which is helpful for two reasons.
If you need to make changes to ongoing routes. If a customer calls and cancels an order or a new order is placed, and you need a driver to make a stop and pick up a parcel. These are common last-minute changes that affect ongoing routes. By knowing where your drivers are within the context of the route, your dispatch manager can quickly make a more informed decision.
If a customer calls for an updated ETA. Without a live tracking tool, when a customer calls to ask about the status of their order, you're in the dark. You need to reach out to your driver — interrupting their route — get an update, and then relay that information to the customer. With route monitoring, you can simply look at your Circuit dashboard and give the customer an update.
But there's also a better — and easier — way to keep your customers informed about their delivery, which we go over below.
Recipient notifications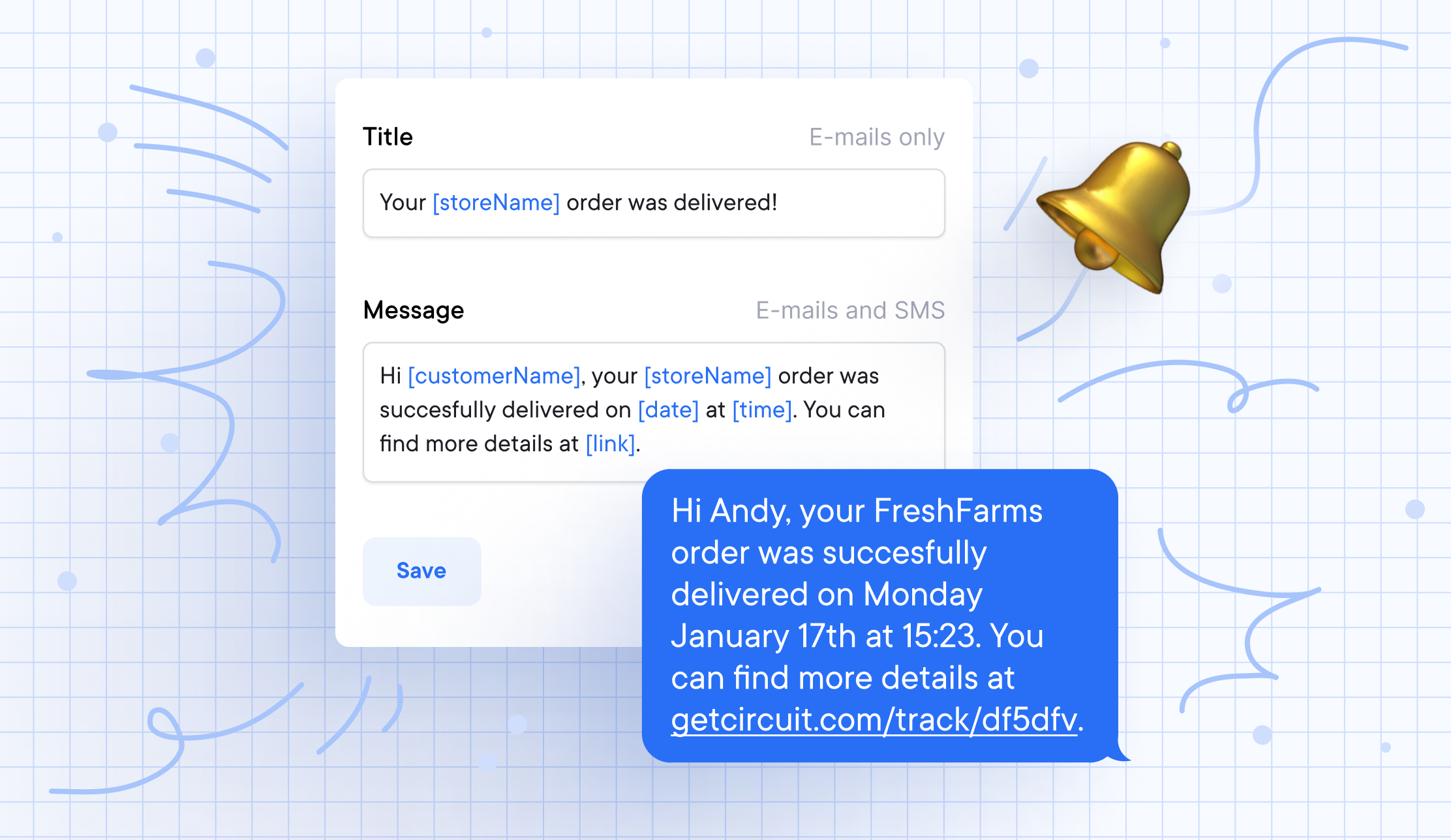 With Circuit for Teams, you can send out recipient notifications to let your customers know when their package is arriving.
First, customers get an email or SMS message (or both) when the driver starts their route. In this message, the customer is given a link that takes them to a dashboard where they can track their order's status.
As their delivery progresses, customers get another notification when drivers are close to completing their stop. With this notification, your customer can directly communicate with the driver, such as telling them the gate code or asking them not to knock because they just finished putting their newborn down for their afternoon nap.
Note: Recipient notifications aren't included in Route4Me's plans, but you can purchase it for an extra charge through Route4Me's marketplace.
Proof of delivery
With Circuit, your delivery team can obtain proof of delivery in two ways.
Taking a photo of where the package is left
Collecting a digital signature provided by the customer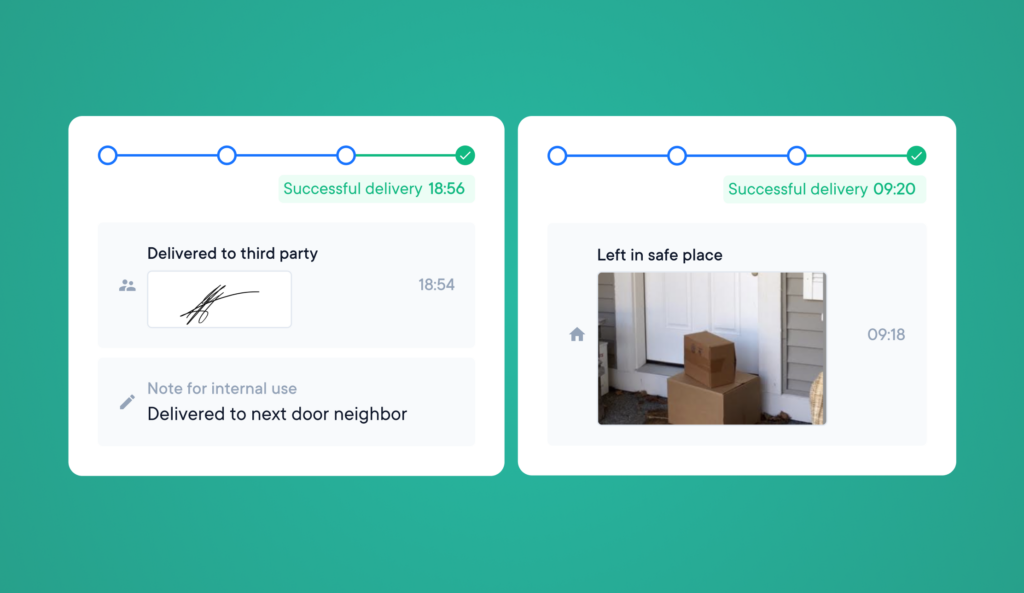 If your delivery driver is collecting a digital signature, they simply use their smartphone. The customer signs their screen using their finger. The signature is stored securely in Circuit, so you can reference a digital copy of the proof of delivery in the future, if needed.
Similarly, when a driver leaves a package in a secure area, they can take a photo with their smartphone and upload it into Circuit. Both your back office dispatch team and the customer get a notification that the driver has completed their delivery, along with a copy of the photo.
Proof of delivery helps give customers peace of mind, plus limits any liability your delivery team may face.
For a real customer example of the value of using proof of delivery, read about how Sagar Dhaliwal's food subscription service used Circuit's proof of delivery to drastically reduce the number of customers claiming they never received their order.
Circuit for professional couriers working individually

Above we covered Circuit for Teams, but we also cater to individual delivery drivers and couriers who want to save money by delivering more packages in a shorter amount of time.
In Circuit's Route Planner, you can use the same mobile app but your features are limited to route planning. Couriers and delivery drivers will benefit from this plan because it offers:
Unlimited routes (with up to 500 stops per route)
Our signature advanced route optimization (along with our customization features such as priority stops and time constraints)
Spreadsheet import (currently offered for Android devices only. As of now, iPhone users will enter their addresses manually on the Circuit app).
To read a case study of a professional courier who uses the Circuit Route Planner app to double the number of deliveries he can make in a day, click here.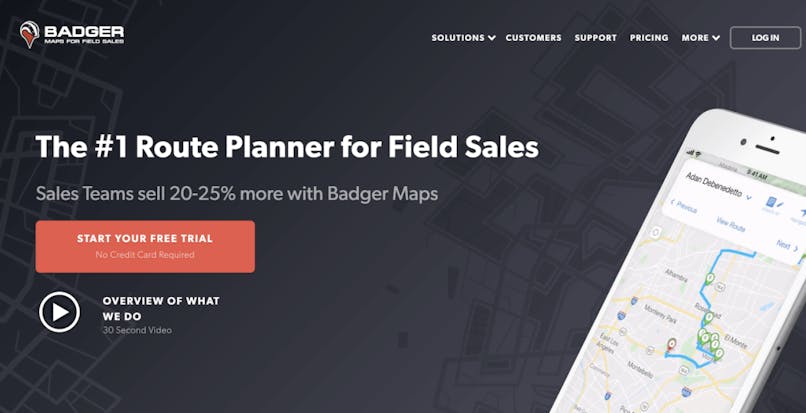 Badger is a good Route4me alternative if you're looking for mapping and routing software for your field sales team.
Field service teams need different features from a route planning tool than traditional courier delivery fleets.
For example, your team of field sales reps can use Badger to make check-ins. After completing a sales presentation, your reps can update the customer account with notes, such as whether you closed a sale or not. This data is then collected and used to generate weekly reports.
Another feature unique to Badger: find leads.
You can use Badger's app to find leads in a specific area and easily create customer accounts.
For example, you can type in "doctors" if you're selling a medical device or service to private practitioners. Doctors that are listed will pop up in the Badger app and you can create an account for them. Once you have your list of leads, you can then optimize your route and start making your cold visits.
Note: Badger is meant to be used exclusively by field sales and service reps. This means it doesn't have advanced delivery software features like proof of delivery or what we covered when discussing Circuit.
Badger pricing
Badger has two different plans: Business and Enterprise.
Badger's Business plan is $49 a month per user when billed annually ($59 if billed monthly).
You get Badger's route optimization software, along with its basic CRM integration (so you can bring in your prospect line from platforms like Salesforce), and weekly reports that help you see how many prospects you're closing.
Badger's Enterprise plan is $95 a month per user when billed annually ($105 if billed monthly).
In Badger's Enterprise plan, you get everything in the Business plan, plus one-on-one account training with a Badger representative, a more advanced custom CRM integration, the ability to set custom roles and permissions, and more.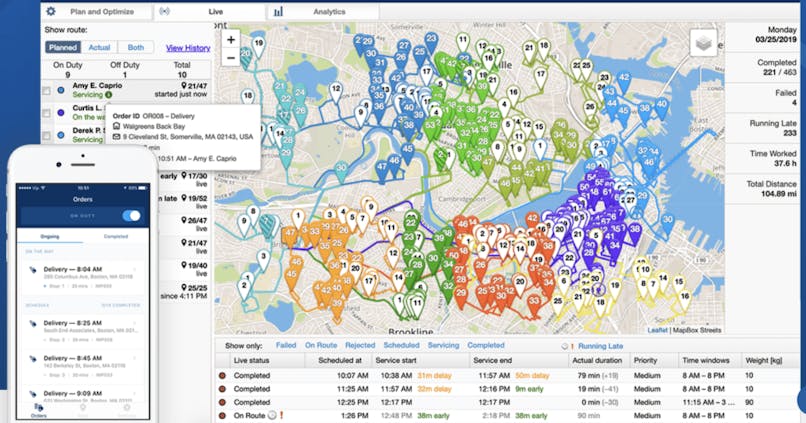 What sets OptimoRoute apart from other options on our list is how OptimoRoute's optimized routes can be easily downloaded onto Garmin TomTom or Navigon GPS devices.
While more delivery teams are benefiting from the convenience — and lower costs — of having their drivers use their smartphones, some companies have already invested in using physical GPS devices.
If you're currently using Garmin or Navigon, and have no plans to stop, then OptimoRoute is a good Route4Me alternative to consider.
OptimoRoute pricing

OptimoRoute has three different plans, each of which uses a per driver, per month pricing model.
OptimoRoute's Starter plan lets you create a route of 250 orders at once, but this plan doesn't include route monitoring or API integration.
OptimoRoute's Business plan lets you plan a route with 500 orders at once, but customers don't get delivery tracking.
OptimoRoute's Enterprise plan gives you access to all of OptimoRoute's features and lets you plan routes with over 750 stops.
Note: OptimoRoute doesn't offer proof-of-delivery, which means if you want your delivery drivers collecting POD, you'll need to find a separate solution, such as a standalone proof-of-delivery app or use a service like Circuit which includes proof of delivery.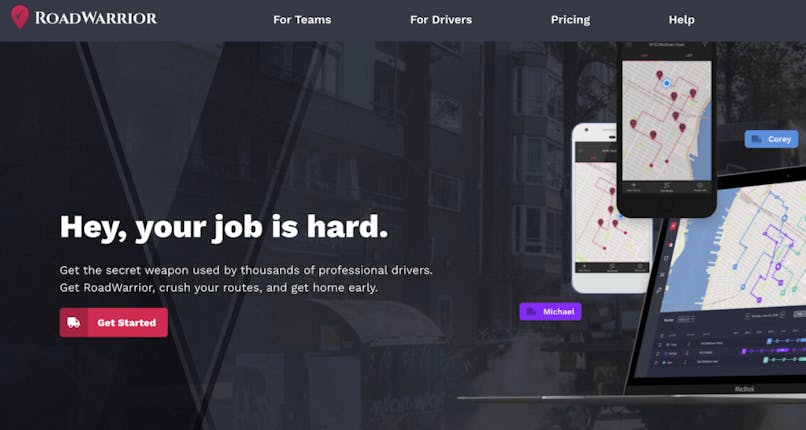 Think of RoadWarrior as a lightweight alternative to Route4Me.
It doesn't have a marketplace of add-ons you can use, nor does it have all the core features of Circuit for Teams. But RoadWarrior is an affordable alternative to Route4Me, especially for delivery teams who only need specific features, which we cover in the pricing section below.
RoadWarrior pricing
RoadWarrior has three different pricing plans: (1) Basic (2) Pro and (3) Flex.
RoadWarrior's Basic plan is free, but you can only make routes with 8 or fewer stops. Plus, you're limited with a daily total of 50 optimized stops. In contrast: Circuit has a free route planning service that doesn't limit the number of routes you can make in a day.
RoadWarrior's Pro plan costs $10 a month, but again the size of your route is limited. You can't make more than 120 stops per route and the number of stops you can make in a day are limited (no more than 500).
RoadWarrior's Flex plan is like it's Pro Plan but built for multiple drivers. It's $10 a month, plus an extra $10 for any additional user. It's only in RoadWarrior's flex plan that you can start tracking and monitoring your in-progress routes.
Final thoughts: Choosing an alternative to Route4Me
Whether Route4Me isn't the right delivery software for you due to its pricing structure, its à la carte features, or its dated user interface, there are several delivery software solutions to consider as an alternative.
Circuit has two options that work as a Route4Me alternative.
Circuit's Route Planner. A mobile-friendly route optimization software that helps professional couriers and individual delivery drivers improve their delivery process.
Circuit for Teams. Our all-in-one delivery management system used by small businesses and large scale courier services to streamline the key aspects of running a delivery team into one easy to use software.
If you manage a team of drivers or are a courier who runs a route and you need a simple, cost-effective way to optimize your deliveries, sign up for a free trial of Circuit.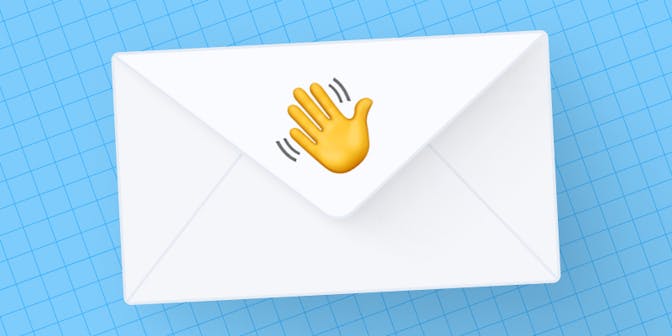 You made it this far!
Chances are you'll love our other stuff too. Get our newsletter for the latest on all things delivery.