15 minute read
6 Tookan Alternatives: Finding Delivery Software to Fit Your Business
Explore six alternatives to Tookan for your delivery software needs. Find the best fit for your business with our comprehensive comparison guide.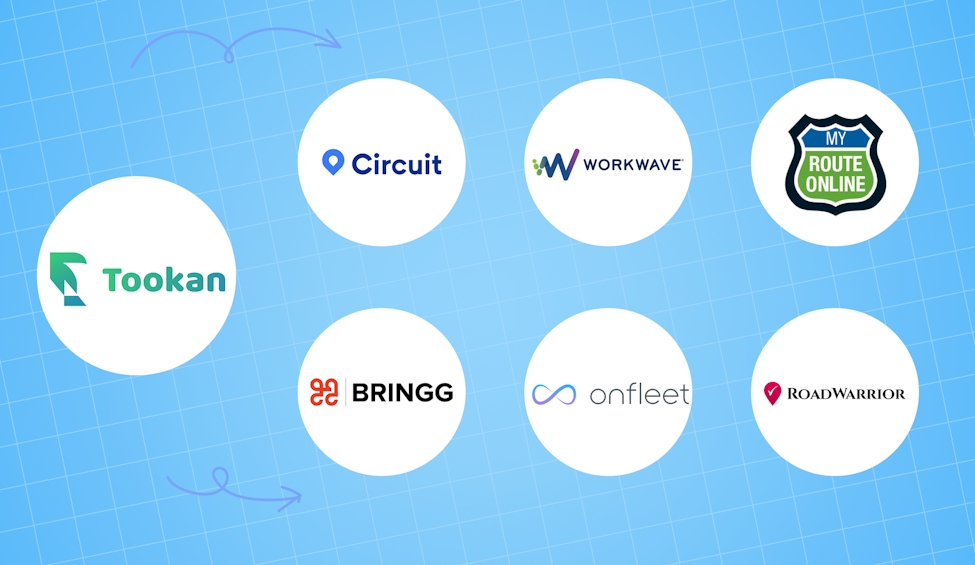 If you need delivery management software for your business and you manage a team of drivers, Circuit is a cost-effective solution. Start your free trial today.
Tookan is an enterprise delivery management system that assists large enterprises in streamlining their delivery operations. 
With Tookan, you can do everything from receiving customer orders to issuing orders to your contracted drivers. 
One of the many products owned by Jungleworks, Tookan also has the benefit of several integrations. 
But Tookan isn't ideal for every type of delivery business — especially small to midsize delivery operations.
For example, some delivery companies may want a stronger focus on route optimization, route customization, and route planning from their delivery software.
(FYI: You can get route optimization with Tookan, but at an additional cost.)
In this post, we cover six Tookan alternatives, including:
Our easy-to-use delivery tool for businesses of all sizes focuses on improving last-mile delivery processes — from route planning to driver management.
This field service management platform offers route management tools for specific industries, such as landscaping and pest control.
This lightweight route planning tool is for delivery teams that don't need features like driver tracking and order updates.
This Tookan competitor focuses on larger enterprises that need driver management software.
This user-friendly alternative to Tookan is an all-around solution that takes the headache out of route planning and management.
RoadWarrior stands out for its simplicity, as it's fast and easy to set up, pay for, and use every day.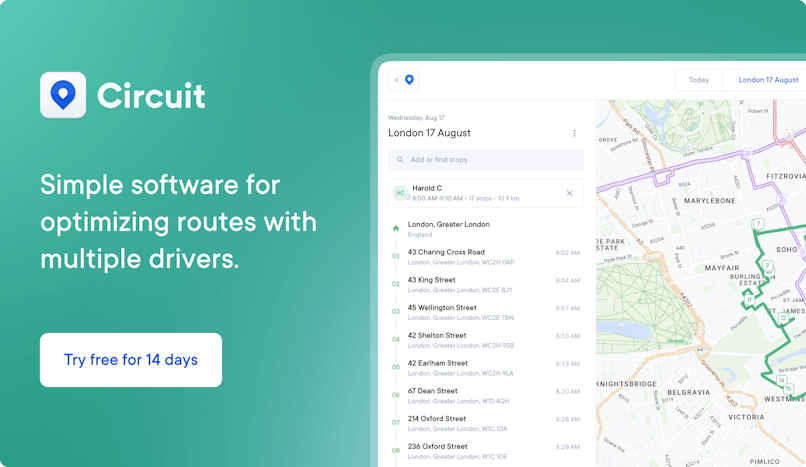 1. Circuit for Teams: A delivery software for all types of businesses
We first developed Circuit as a route optimization app for individual delivery drivers. 
Drivers use the Circuit Route Planner mobile app (available for iPhone/iOS and Android devices) to plan the fastest route possible. 
Drivers can lower costs by completing more stops in less time while increasing their earnings.
As we continued to improve our product based on feedback, we learned customers wanted an easy-to-use, scalable, all-in-one delivery management app for entire delivery teams — not just individual drivers.
So, we developed Circuit for Teams, a platform that delivery teams can use to improve their last-mile delivery service. 
Since then, thousands of teams have used our software, handling everything from package and food delivery to local delivery for pharmacies.
Specifically, Circuit for Teams lets you:
Optimize the fastest routes possible for multiple drivers
Manage deliveries across locations with multiple depots
Monitor routes and track drivers in progress (GPS driver tracking)
Automatically send customer notifications with tracking
Get proof of delivery
Note: If you're looking for a Tookan alternative because you need a route optimization solution — but don't want to wait and speak to sales to get started, learn about Circuit for Teams.
API integration
As a delivery partner, you might be delivering goods that people have ordered online through eCommerce shops. 
Just like Tookan, Circuit for Teams offers API integrations with platforms like Zapier and Shopify.
This allows your customers to track order deliveries and get updates directly through the eCommerce platform they've used. It's more convenient for them.
Route optimization
Unlike Tookan, route optimization is the cornerstone of our delivery software, included in every plan we offer. 
With Circuit for Teams, there's no limit to how many stops you can optimize in a route or how many routes you can create.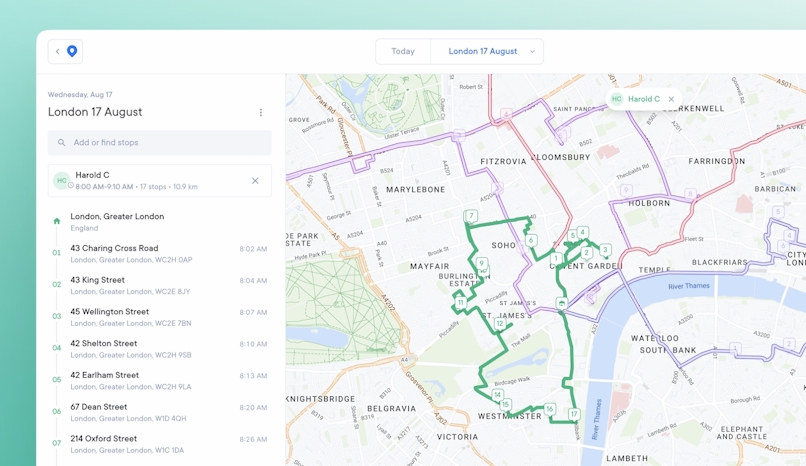 You can save time and quickly create routes by uploading addresses into Circuit for Teams through our spreadsheet import.
Drivers can also manually enter addresses into the companion Circuit for Teams app. 
Manual entry is a plus because, unlike platforms like Tookan, delivery drivers can add addresses while on the go without relying on dispatch HQ to update the route. But dispatchers can also lock drivers out of this function as needed.
Whichever way your team chooses to add addresses, once they are in the Circuit for Teams dashboard, they can customize the route.
Once you've planned and customized your route, you can send the route to your drivers.
Next, your delivery drivers log into the Circuit for Teams driver app on their smartphones.
They choose their route and use, "Start Route." They can use the Circuit for Teams app with their preferred navigation system (such as Google Maps, Apple Maps, or Waze).
When your driver makes a delivery, they mark it complete, and our software moves them to the next stop.
But what if you need to update a route? No stress. 
Circuit lets you edit already optimized routes, making adjustments based on real-time data — like having to prioritize a package.
You can even manage multiple depots, overseeing deliveries across multiple locations — great for larger teams.
Set priority stops 
With Circuit for Teams, you can set which stop you want your drivers to make first. This is ideal for businesses wanting to offer priority sending or rush deliveries.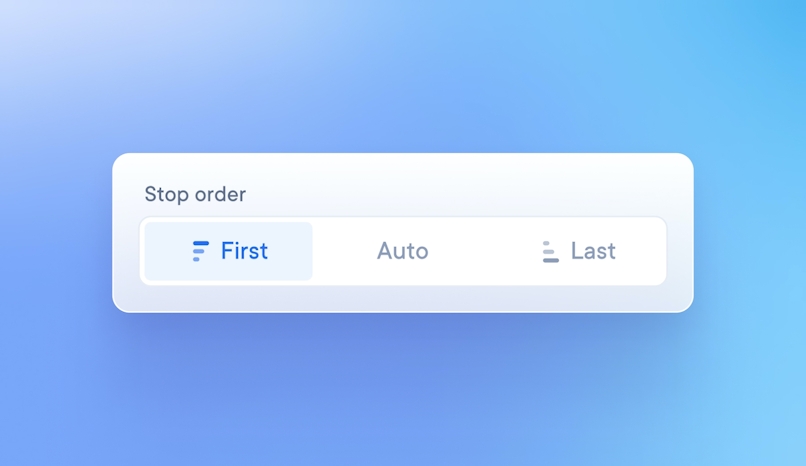 On the flip side, you can designate which stops should come last, helping structure your drivers' workday based on customer demand.
Designate delivery time windows
If your customers know when they can expect their packages, they're more likely to be home to get them.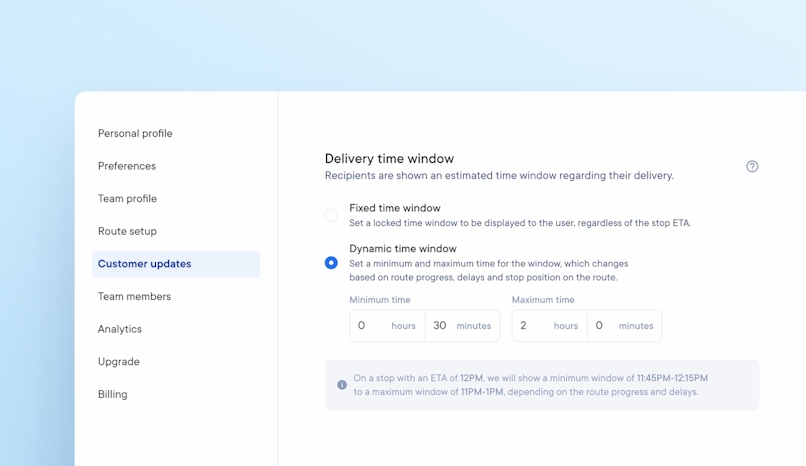 There's no need for the driver to try to find a secure spot to leave the goods.
Circuit for Teams lets you give stops a time window, such as making sure specific stops happen in the morning or afternoon. 
These time windows can be flexible or fixed.
You can use time windows to help make sure a delivery driver finishes their route by a certain time. 
Or if you're delivering to businesses, you can make sure your time window coincides with their hours of operation.
Set average stop times 
By telling our software how long each stop should take, we can optimize a more efficient route. 
For example, if your driver has 30 stops and each stop has an average time per stop of 15 minutes, their most efficient route will differ from if they only expected to spend five minutes at each stop due to traffic patterns and other variables.
Route monitoring (GPS tracking)
Dispatchers can use our software to monitor ongoing routes and get real-time updates from each driver. And our GPS tracking gives you added context to your driver's whereabouts.
From your Circuit for Teams dashboard, dispatchers can find which stops their driver recently completed, where they're going next, and their most up-to-date estimated time of arrival (ETA).
Circuit for Teams even offers dynamic stop status icons. With this feature, you can easily monitor delivery status in real time and update routes as needed.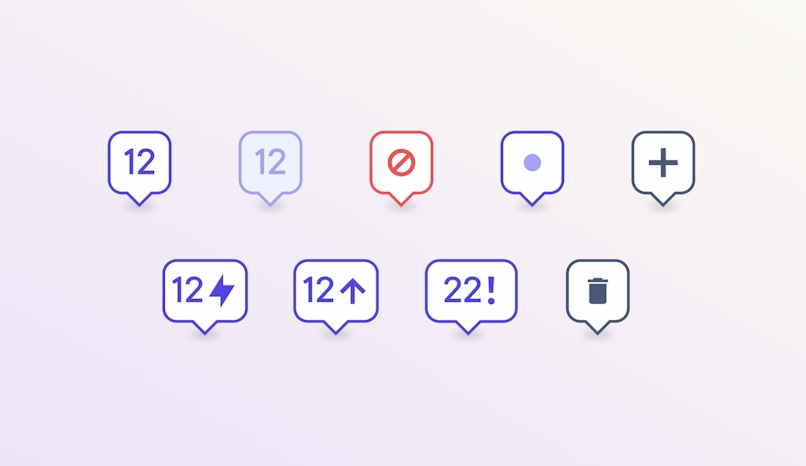 There's another benefit to having route monitoring: giving customers a delivery ETA.
If a customer calls your delivery business or customer service team to ask about the status of their order, you can quickly reference your Circuit for Teams dashboard to give them an ETA.
But there's another way to keep your customers informed: customer notifications.
Customer notifications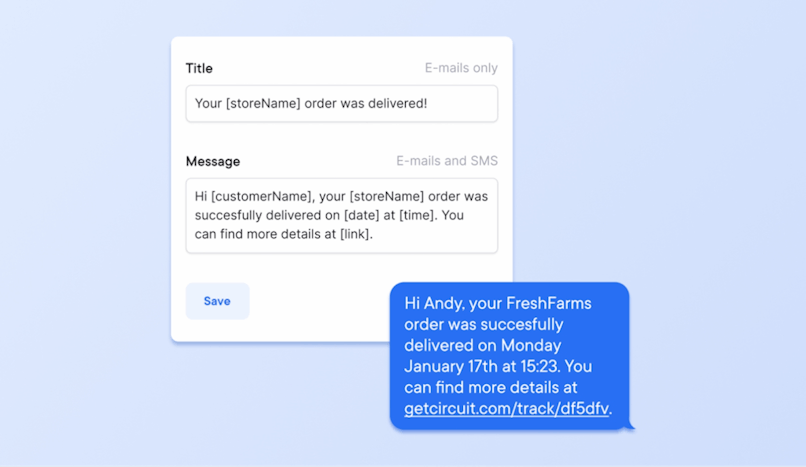 Thanks to the GPS tracking on Circuit for Teams, you can let your customers know when to expect their packages.
When you use Circuit for Teams, you can send customers automated notifications about the status of their deliveries.
The first notification goes out when your driver clicks "Start Route" on their app. 
In this message, your customer gets an ETA of when their package will arrive and a link to a dashboard where they can check on the route in progress.
(In your account preferences, you can choose whether you want your customers to get an email, an SMS, or both.)
The second notification goes out when your driver is close to completing the stop. 
Your customers get an updated ETA and an option to message their driver directly. 
This means customers can ask their delivery driver not to ring the doorbell or give them more specific directions on how to find their address.
Circuit for Teams also lets you include customer service information with each tracking link. 
If customers have questions about a package's status, they know where to turn right away.
Proof of delivery (POD)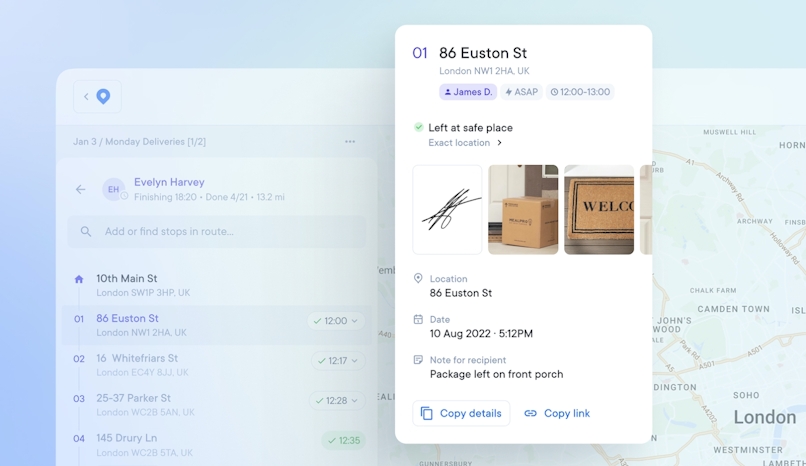 Once the driver makes the delivery, they can use their Circuit for Teams mobile app to capture electronic proof of delivery (POD). 
Your delivery driver can get the customer's signature or take a photo of where they left your package 
If a signature is needed or requested, your driver can use their smartphone to collect the customer's signature.
Circuit for Teams uploads both types of POD to the app and shares them with the customer by email — plus you can access it whenever you want.
This gives all parties peace of mind and can help solve potential disputes about missing or damaged packages.
With Circuit for Teams, you can even save and share POD. 
For instance, if a customer is wondering where their package is, you can send them a photo of where the driver left it.
Circuit for Teams vs. Tookan: An overview
Tookan is built as an enterprise and workforce management system, meaning it has features that might be overkill for your business, such as a customer ratings tracker and a "merchant" add-on, which helps onboard external merchants to your marketplace platform.
Both are handy for larger enterprises that can't oversee their massive delivery teams or are potentially managing delivery drivers from a different ZIP code. 
But if you don't need those features, you'll pay a monthly fee for software not catered toward your needs.
Circuit for Teams is a viable Tookan alternative for midsize delivery teams or teams that exclusively want to improve their last-mile delivery operations by making fast and efficient deliveries.
Circuit for Teams vs Tookan pros:
Circuit for Teams is user-friendly.
Circuit for Teams is specifically for delivery managers and streamlined, without the clutter of extra unnecessary functions (like email parsing).
Circuit for Teams is more affordable (Standard plan of $200/month vs $299 for the Tookan Standard plan).
Circuit for Teams vs Tookan cons:
Tookan includes customer booking forms.
Multi-merchant extension is available for Tookan.
2. WorkWave Route Manager: A field service management software with route management features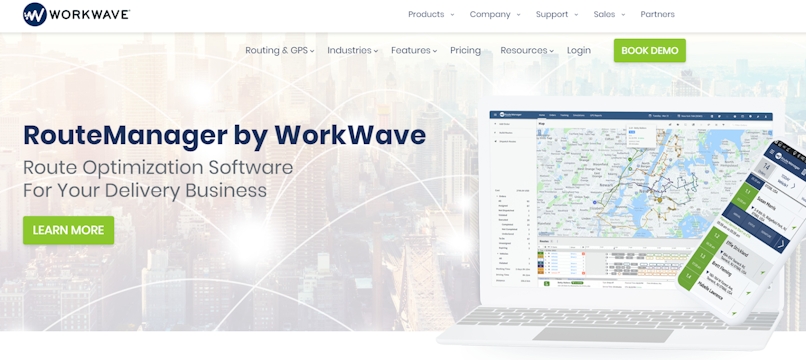 While Tookan is for larger delivery services, it's not necessarily for specific industries. 
However, WorkWave has custom-made route management solutions for industries like plumbing, landscaping, HVAC, and pest service.
For example, with their pest service software, field service representatives get access to a scheduling platform that lets them pull up customer information (such as the last time their house was serviced).
But WorkWave also offers a more generic route management option, WorkWave Route Manager, for most businesses.
Their route manager comes in three tiers:
WorkWave Route Manager. This plan is for delivery teams that don't need automated customer notifications (such as sending updates) or route monitoring but need route optimization and an API connection that lets you easily get all your addresses.
WorkWave Manager 360. Your delivery team can get automated customer notifications, route monitoring, and GPS tracking by smartphone.
WorkWave Manager 360+. This is the most advanced plan. It has GPS tracking (through a hardwired GPS tracker in the vehicle) and individual driver safety monitoring.
WorkWave vs Tookan pros:
WorkWave has industry-specific solutions.
WorkWave can be adapted based on fleet type.
WorkWave lets you specify delivery needs like field service, last mile, or long haul.
WorkWave vs Tookan cons:
Tookan offers free upgrades for a lifetime — a unique perk.
Tookan is geared toward bigger companies; WorkWave may not be able to keep up with major retailers.
Tookan is available in more than 180 countries, while WorkWave coverage is more limited.
3. MyRouteOnline: A lightweight route planning tool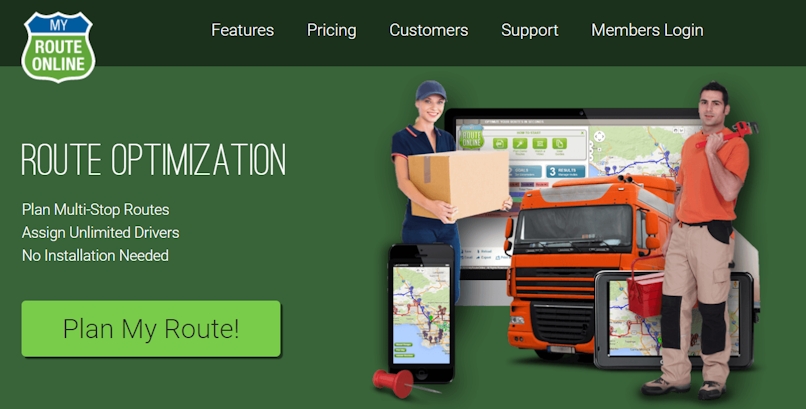 If you're looking for a lightweight alternative to Tookan — specifically, a tool built around route optimization — you might like MyRouteOnline.
MyRouteOnline lets delivery teams optimize routes with up to 350 addresses. 
Like Circuit for Teams, delivery managers can import addresses into MyRouteOnline through an Excel or CSV file.
When using MyRouteOnline, you can plan routes in three ways:
Minimize distance
Minimize time
Balance distance and time
But it's important to remember that MyRouteOnline is only a routing tool. 
Unlike Circuit for Teams, Tookan, and WorkWave Route Manager, you can't use MyRouteOnline to monitor routes, send customer notifications, or capture proof of delivery.
MyRouteOnline vs. Circuit Route Planner for individual drivers
We first developed Circuit as a route planning app for individual drivers to optimize delivery routes. 
This option is available as our Route Planner for Android and iOS, helping drivers and couriers double the number of deliveries they can make in a day.
One of the differences between MyRouteOnline and Circuit Route Planner is the pricing.
With Circuit, you pay $20 a month to optimize as many routes as you want (with unlimited stops per route). 
But with MyRouteOnline, you pay for "address credits" — every unique address costs one credit.
Here's the breakdown:
50 credits cost $24
500 credits cost $59
1,200 credits cost $109
6,000 credits cost $399
15,000 credits cost $799
You can reuse the same address within 30 days without being charged additional credit. 
If you deliver weekly to the same location, MyRouteOnline could save you a bit of money. 
But if you're adding new addresses or growing your business, Circuit Route Planner's flat rate of $20 can be more cost-efficient.
MyRouteOnline vs Tookan pros:
MyRouteOnline is simple and streamlined, without the "extras" cluttering it up.
MyRouteOnline offers more flexible pricing with its credit system.
MyRouteOnline serves diverse purposes, from road trips to truckers, whereas Tookan is business-focused.
MyRouteOnline vs Tookan cons:
MyRouteOnline's address credits can be annoying to track.
MyRouteOnline caps route optimization at 350 addresses.
MyRouteOnline lacks API integrations.
4. Bringg: Another enterprise delivery management software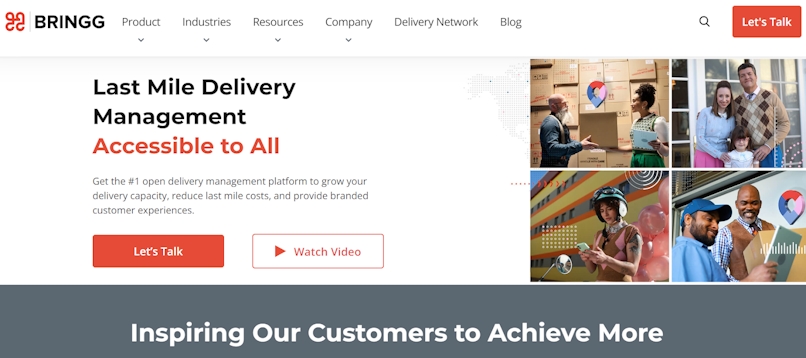 You might be looking for a Tookan alternative because of other issues (perhaps the Tookan interface doesn't work well with your team, or you have poor customer support).
However, you still need a tool built for enterprise delivery management.
In that case, Bringg might be a good alternative. Bringg is a good fit for larger companies that need on-demand delivery features and software that integrates with their supply chain management.
You can use Bringg to integrate with your eCommerce platform (like Shopify or Magento), pulling orders directly out of an online store and putting them into Bringg's delivery management system. 
Plus, you can track inventory with printable barcodes.
Regarding last-mile processes, your team can use Bringg to optimize routes, capture proof of delivery, and even set up an automation that lets last-minute orders placed by customers go to drivers with open availability and available stock. 
(To make sure these features are worthwhile, you'd have a delivery business where your drivers are in vehicles with extra inventory.)
Note: Delivery businesses interested in Bringg may want to consider Onfleet. To learn how those two brands compare, check out our Bringg vs. Onfleet comparison.
Bringg vs Tookan pros:
Unlike Tookan, Bringg offers industry-specific solutions.
Bringg's unique delivery service network hub connects retailers with carriers.
Bringg offers a lot of resources like videos and help guides to get users started.
Bringg vs Tookan cons:
Tookan offers more integrations than Bringg.
Tookan's branded dispatcher dashboard has more functionality, like recurring tasks and inventory management.
While Bringg is focused on delivery, Tookan offers a more comprehensive retail solution, from inventory and worker scheduling to route optimization.
5. Onfleet: Last-mile delivery logistics software

Onfleet is a simpler alternative to Tookan. You can optimize routes quickly based on location, driver or vehicle capacity, traffic, and more. 
Dispatchers can add or remove stops and send the re-optimized route to drivers in real time through the mobile application.
Dispatching is also a breeze thanks to the planning software's auto-assign functionality. 
Dispatchers stay in control with real-time vehicle tracking. Drivers can benefit by integrating the Onfleet driver app with Apple Maps, Waze, or Google Maps to avoid traffic and get more efficient routes.
POD also helps simplify drivers' lives and gives them peace of mind.
Finally, Onfleet can help keep customers happy. Thanks to real-time driver tracking, it's possible to give customers delivery time windows and ETAs.
The automatic status updates through SMS make it easy for customers to know when to expect their deliveries. 
Plus, an integrated feedback form lets customers give their opinions — so your team can improve accordingly.
This route optimization software is ideal for data-driven dispatchers. 
You can get detailed performance insights into each driver, tracking details like tasks completed, time spent idling, and successful versus failed deliveries. 
With these concrete metrics, it's easy to review drivers' performance, make improvements, and streamline delivery operations.
Onfleet vs Tookan pros:
Onfleet is a leaner, more practical tool focused on delivery.
Onfleet's customer feedback form is integrated and more streamlined than Tookan's.
The Onfleet driver chat app is a more user-friendly way for dispatchers and drivers to connect.
Onfleet vs Tookan cons:
Tookan is available in more countries (180+ versus 90+ reported).
Tookan offers geofencing that automatically alerts you when a driver leaves their route.
Tookan's offline sync functionality wins points.
6. RoadWarrior: Simple multistop route planning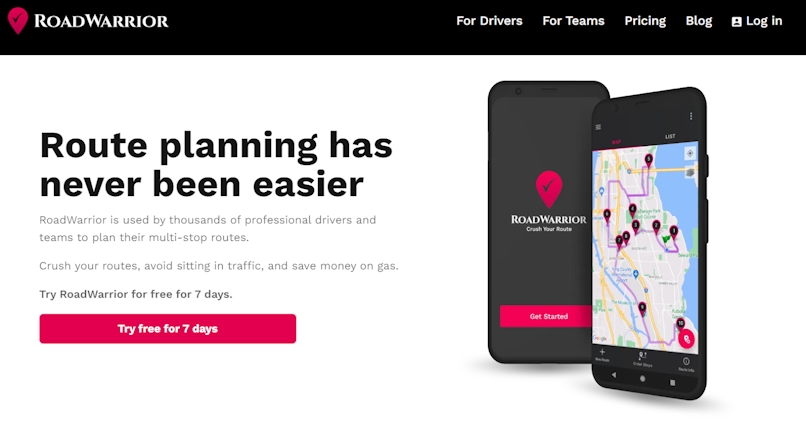 Tookan offers several features, but if you want something simple, RoadWarrior is the answer. 
There are two versions — one for drivers and one for teams. Both versions offer a free seven-day trial to test it and find if it lives up to the hype. 
The pricing plans are also straightforward: For the Flex plan, you pay $14.99 per month per team member, making scaling up or down a breeze.
Drivers can use the app to plan the quickest routes, entering up to 200 stops at a time. 
It's simple: Create an account online, enter your stops (upload them with a spreadsheet or pick them on a map), and tap optimize.
The tool then finds the fastest route, considering details like one-way streets, school zones, toll roads, and more. 
Drivers can also set availability time windows and prioritize stops as needed.
Small businesses can benefit from the "teams" version of the tool. 
Again, it's easy to start: Create a Flex account with RoadWarrior, enter routes, and assign them to your drivers. 
The app takes care of the optimization — and with real-time tracking, you can monitor each driver's progress. 
Driver managers can also add or remove drivers or dispatchers and control access permissions. 
RoadWarrior vs Tookan pros:
RoadWarrior offers one product for drivers versus another one for teams, enhancing versatility.
RoadWarrior is more small-business-friendly, focusing on the bare essentials of delivery and route optimization.
RoadWarrior takes OnTrac and FedEx manifests.
RoadWarrior vs Tookan cons:
Tookan can more easily accommodate larger operations.
Tookan offers significantly more integrations.
Tookan isn't just for route optimization but also for other tasks like inventory management.
Finding a Tookan alternative that's best for your business
There are several reasons you might look for a Tookan alternative — from frustration with the overall customer experience to a technical issue. 
But each issue boils down to the software not being a good fit for your delivery team. 
And often, midsize delivery teams struggle to find the right delivery tool that's powerful and easy to use. Here's a summary of features:
Circuit for Teams, Bringg, and Onfleet offer the same basic features. However, Circuit for Teams stands out for its user-friendliness and competitive pricing.
Circuit for Teams' Standard plan starts at $200 per month, while Onfleet's cheapest option starts at $500 per month.
Meanwhile, Bringg's pricing isn't transparent — you have to contact them to find out more. 
With Circuit, you can start a free trial right away, no need to talk to a salesperson.
Circuit for Teams also has great reviews. 
On Capterra, Onfleet has a 4.7 out of 5 stars, while Circuit for Teams has 4.8 out of 5. 
Bringg also has 4.8 stars — but get this: Only eight people have reviewed Bringg on Capterra (versus 26 for Circuit for Teams).
Circuit for Teams also offers practical features, like being able to share POD and easily set fixed versus flexible delivery time windows.
With Circuit for Teams, we aim to give you a delivery management platform that helps you manage your last-mile delivery processes, regardless of your business size.
With Circuit for Teams, you can:
Create the fastest route possible.
Monitor routes in progress from a web app.
Automatically send real-time tracking updates to your customers.
Collect (and share) proof of delivery.
Track your drivers and their progress
If you need delivery management software for your business, Circuit for Teams  is a simple, cost-effective solution. Start your free trial today.