12 minute read
Onfleet vs Bringg vs Circuit: Finding the Best Delivery Management Software
To help you find the best delivery management tool for your business, we've reviewed 3 different delivery software platforms — Circuit, Onfleet, and Bringg.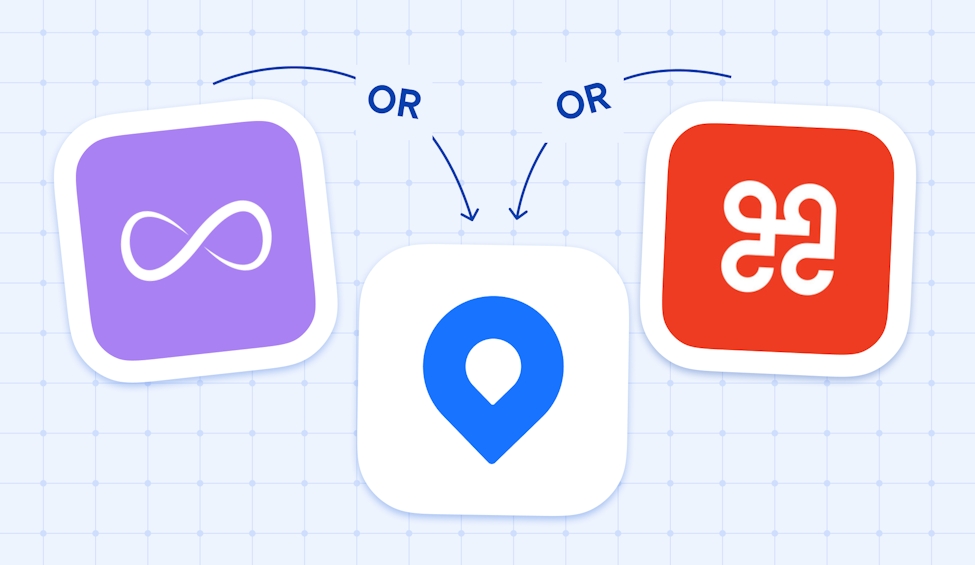 If you're running a delivery team, having efficient delivery processes allows you to reduce the time your drivers spend completing each route, as well as the amount of time your back office needs to plan routes and monitor the progress of deliveries.
In turn, this will save your business labor and fuel costs, while allowing you to complete more successful delivery stops in a day.
Those are significant wins for increasing the profitability of your delivery team, but in order to create these optimal delivery processes, you need to find the best delivery management software — or route planning software.
And it must be a tool that handles key areas of delivery operations, such as:
Route optimization
Route monitoring
Customer-facing order tracking
Capturing proof of delivery
The challenge is finding delivery software that works for your unique needs and budget.
To help find the right solution for your business, we're reviewing three different delivery software platforms — Circuit, Onfleet, and Bringg — that fulfill different requirements.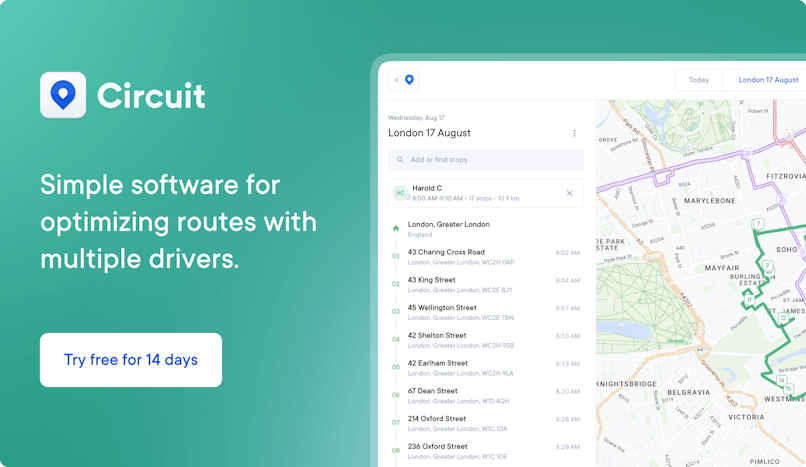 Circuit started as route optimization software, built to help delivery drivers complete their routes in a shorter amount of time. Since then, and based on feedback from our customers, we have expanded our tool to offer key features that allow delivery teams to grow and maintain their profitability.
Here's what using Circuit looks like, from route planning, to dispatching, to completing deliveries.
Planning routes: Importing addresses automatically into Circuit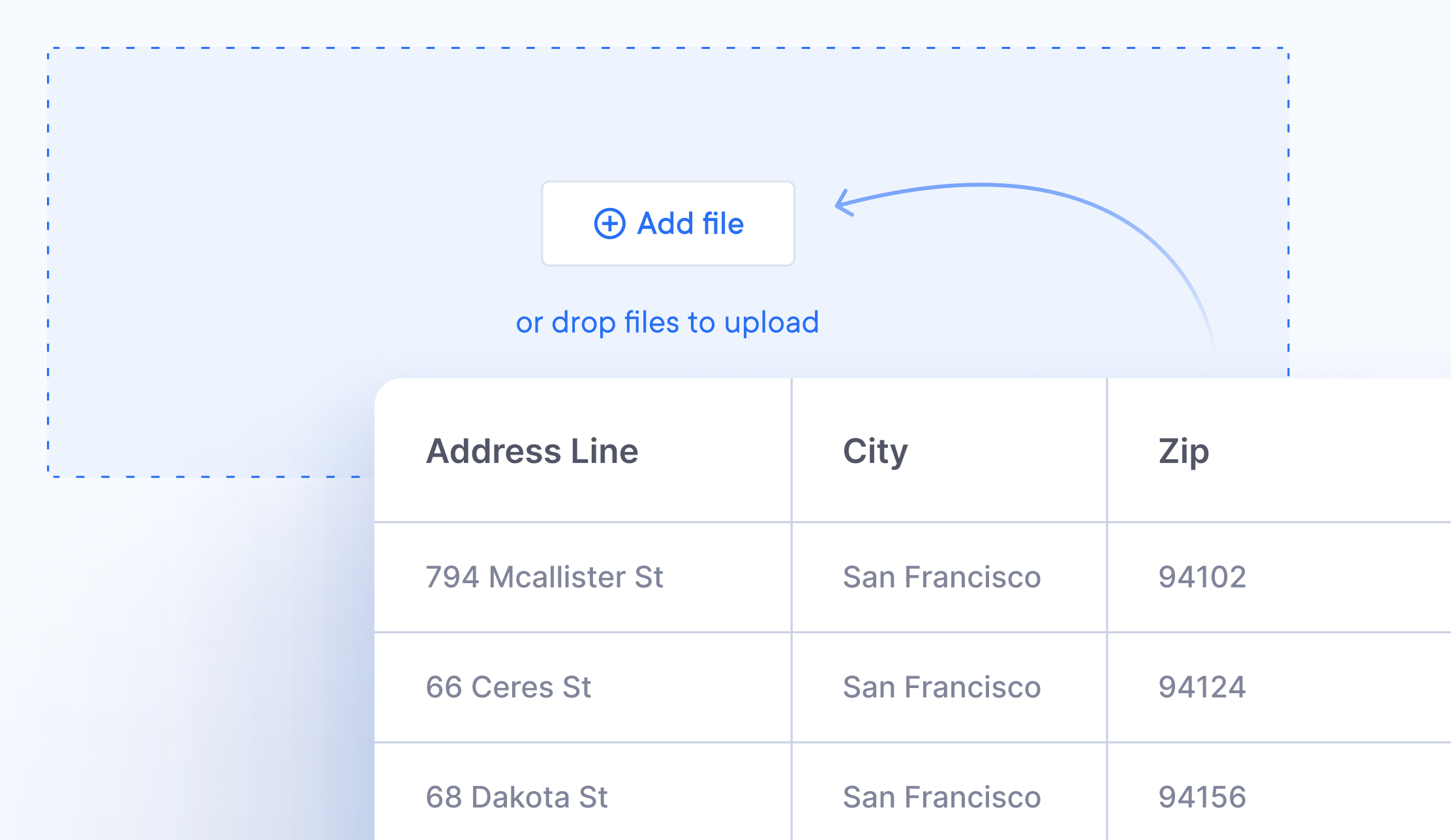 Where you get your delivery addresses from depends on what kind of business you're running, and whether you're using eCommerce tools like Shopify or on-demand delivery platforms. To make it easy to upload addresses into Circuit from multiple platforms, we use a simple CSV or Excel file uploading feature. Just download the orders from whatever platform you're using, and upload them into Circuit.
We also let you manually add routes to Circuit, on your desktop at HQ or if you need a driver to add a stop themselves on their smartphone — which uses Google's algorithm to auto-complete the address as they're typing it in. This allows drivers to easily re-optimize the route based on unplanned changes.
This brings us to our next feature.
Route optimization
Route optimization is the cornerstone of any successful delivery business, and it's not something that can be done by just trying to create the shortest route possible in GoogleGoogle Maps. This is because creating the fastest route possible requires an advanced algorithm that factors in traffic patterns, distance, terrain, the number of delivery drivers, and several other factors.
With our route optimization tool, you can let Circuit optimize without any additional limitations (creating the fastest route possible) or you can set up specific parameters, such as:
Priority stops: You can select certain stops as having a higher priority than other stops. This tells Circuit to create the most optimized route with specific stops happening first. This helps couriers that need to pick up parcels from stores before they can deliver them to customers.
Time constraints: We have one customer that uses Circuit to deliver retail products in Argentina. She uses Circuit's time constraints to make sure her delivery driver is finished with the first half of his route before the town takes siesta. This guarantees the driver is back at the warehouse by a specific time to take his break and isn't trying to make deliveries to customers who won't be available to answer the door.
Vehicle capacity (coming soon): We are working on adding vehicle capacities to Circuit, which will allow your delivery team to factor in the number of packages any vehicle can hold per route, leading to increased route optimization.
Route optimization also gives you an accurate ETA of when you're going to complete your route, which helps you know if you can scale up deliveries with your current staff — or if you need to add more drivers.
To get the most accurate ETA possible, we recommend setting an estimated time spent per stop.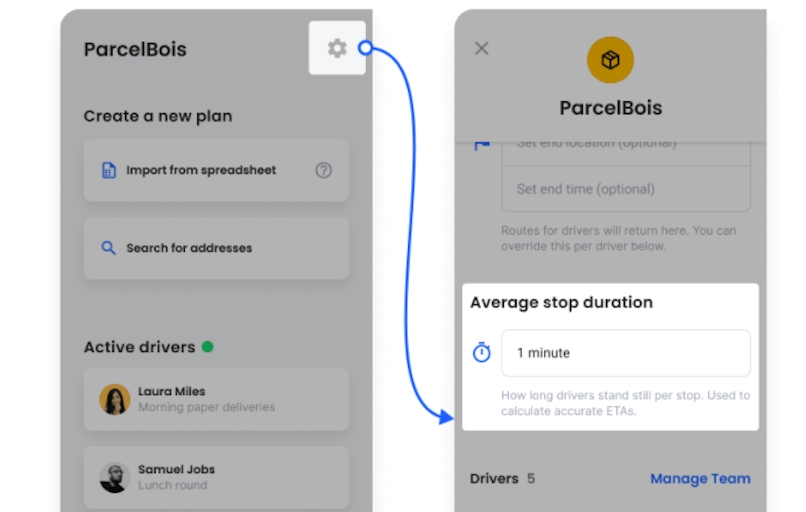 This estimate adds time for your driver to park their vehicle, get out of their car, find the package, leave it at the customer's front door, and document proof of delivery.
If you're just starting out using Circuit, your time per stop is likely to decrease over time.
We've recently interviewed several Circuit customers, such as OK! Kombucha, a beverage wholesaler, on how using Circuit helped them reduce their time at each stop from an average of 7 minutes down to an average of 2 minutes per stop. For OK! Kombucha, those saved 5 minutes per stop translated to saving 12.5 hours a week in labor costs.
Once your routes are optimized, your drivers can start their deliveries. Drivers simply use the Circuit mobile app along with their preferred navigational tools, such as Google Maps, Apple Maps, and Waze.
Route monitoring and customer notifications
When you're managing delivery routes, it's important you know where the drivers are at all times, because this allows you to make actionable decisions (such as assigning more stops to a driver) as well as providing a better customer experience when they call to inquire about the ETA of their package.
The problem with other route monitoring services is that they tell the dispatcher where the driver is geographically, such as Lincoln Avenue and 16th Street, without telling you where the driver is within the context of the route.
At Circuit, we know some routes change as they are in progress, so we let you know where your driver is, what stop they have just finished, and where they're going next — with an updated ETA.
We also offer customer notifications. You can set Circuit up so customers get an SMS message or e-mail with a link to a tracking dashboard, where they can see real-time progress of the route.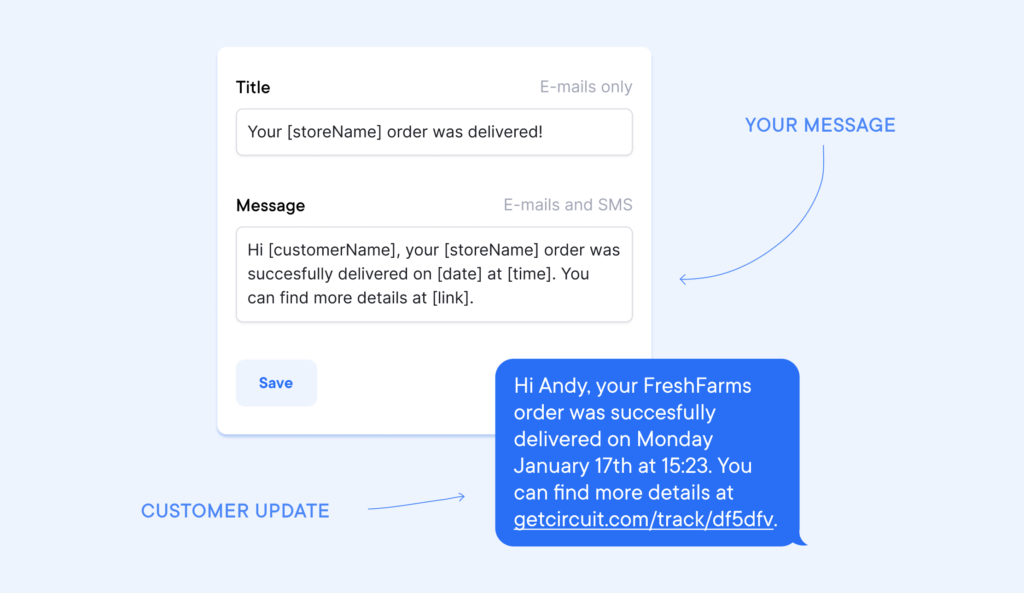 As the driver gets closer to the customer's stop, another notification is sent out, telling them a more accurate and narrow time window — allowing the customer to leave any specific notes for the driver, such as a gate code or instructions not to knock or leave the package on the patio.
Capturing proof of delivery
There are two ways to capture proof of delivery with Circuit.
The driver uses their smartphone to collect a signature from the customer
The driver takes a photo of where they left the package
Both photo and signature are then uploaded to the Circuit app for future reference. This is helpful in case a package is left on the side of the customer's front door, or somewhere where it's hard to see, and the customer calls your warehouse upset because they didn't receive their package.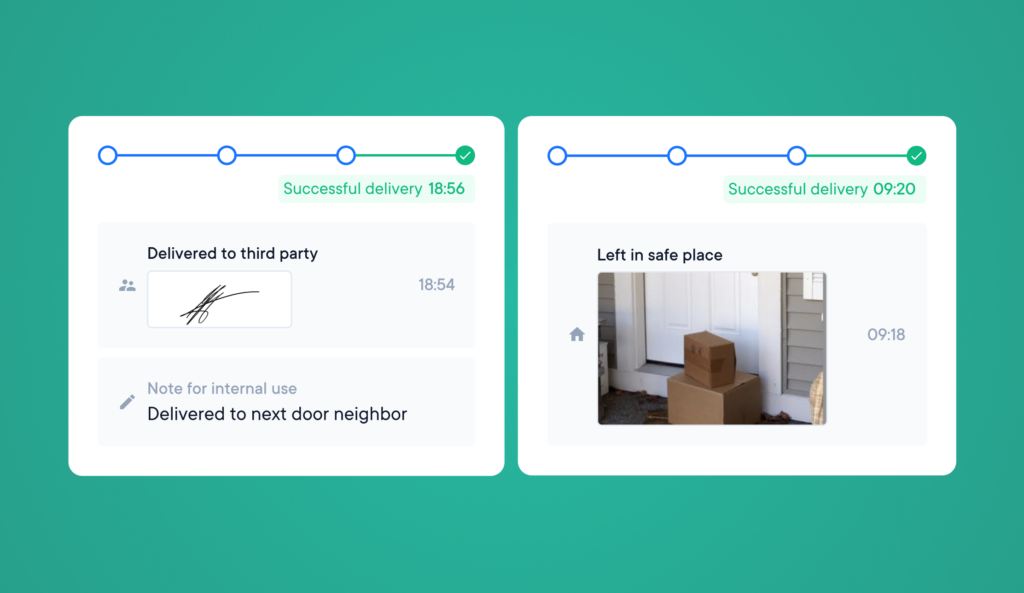 One of our customers experienced the costly downside of not collecting proof of delivery. Sanjhi Rasoi is a restaurant in Calgary that offers a food delivery service where they deliver ready-to-eat meals directly to the customer.
Before using Circuit, the restaurant had to re-deliver at least one meal per day because their customers called and said they were unable to find their food parcel.
Without obtaining proof of delivery, the owner of the restaurant couldn't confirm whether or not the food had been delivered correctly. After using Circuit's proof of delivery feature, the number of re-deliveries Sanjhi Rasoi has to do has dropped to zero.
Circuit pricing
Circuit offers three different pricing tiers. Each pricing tier works off a per driver basis and doesn't put any limits on how many stops or routes your team can make in a month.
Note: If you have some busier times than others (i.e. weekends or holiday periods), you can add or remove drivers throughout the month — meaning you have total flexibility and don't need to pay for the whole month for every driver. This makes Circuit scalable, and adaptable to your workloads.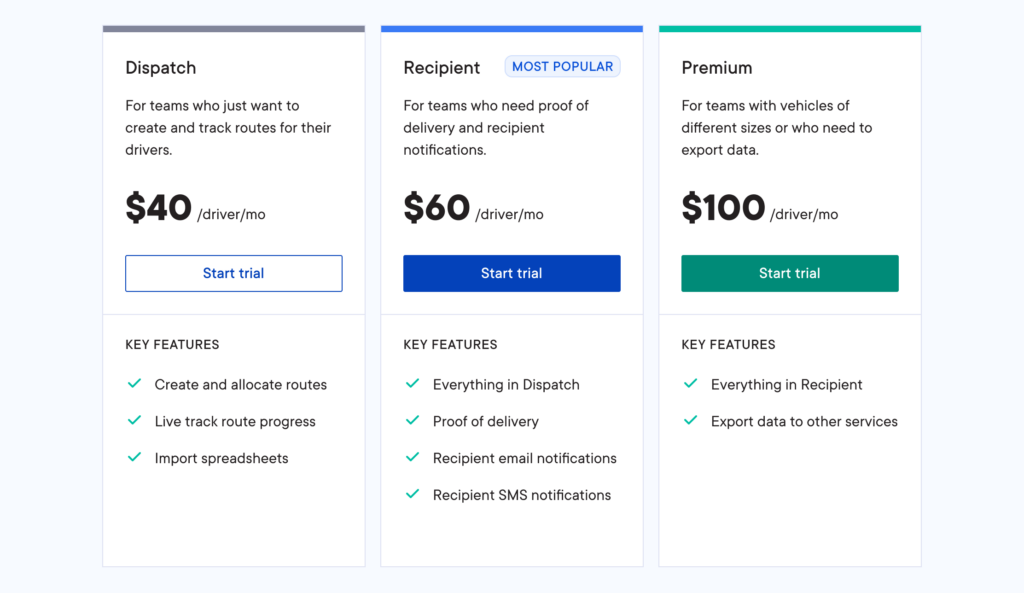 If you manage a team of delivery drivers and want a simple, cost-effective way to keep track of them (while making their routes more efficient), sign up for a free trial of Circuit.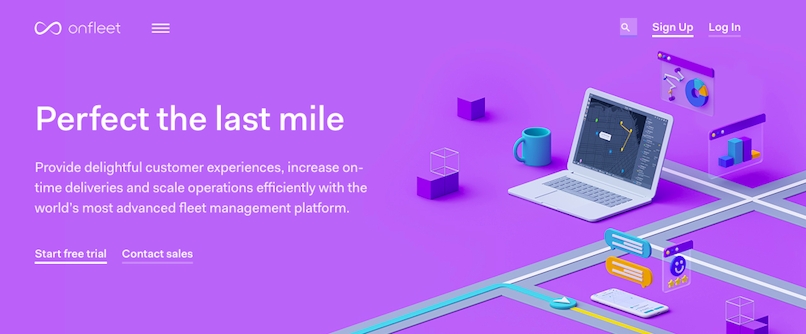 Onfleet has options for small businesses looking to add local delivery to their operations, and also for larger fleet-based enterprises.
However, Onfleet becomes an economical option when it's used by large couriers with dozens (or even hundreds) of drivers that aren't dealing with a high monthly order volume.
This is because of Onfleet's flat-rate pricing tier, i.e. the more drivers using Onfleet, the less you're paying per driver. But each tier comes with a limited number of tasks (stops or pick ups), which means you'll want to make sure your delivery team won't go over its allotted monthly tasks.
We go over the nitty-gritty details of Onfleet's pricing structure below, but first let's cover Onfleet's main features.
Route optimization: Get your couriers to their stops as quickly as possible and update the route if needed from your dispatch office (only available in Onfleet's most expensive plans).
Proof of delivery: Capture PoD using signatures, photos, and notes. If you're a courier that needs to be able to scan barcodes, then you'll need Onfleet's premium plan.
Driver analytics: Find out which drivers are taking too long on their routes, and which drivers are your most time-efficient.
Driver chat: Text your driver directly as they navigate the route. This keeps all communication streamlined, so dispatch can see the route in progress, along with communication sent to or received from the driver (only available in Onfleet's top three plans).
Status updates for your customers — Send out SMS messages to your customers, letting them know when a delivery has started, when their package is scheduled to arrive, and when it's minutes away.
Plus, in the premium plan, customers can actually call or directly message their driver, in case they need to update the driver on a parking issue or a gate code.
Collect driver feedback from the customer: Your customer is sent a feedback form after a delivery is completed, letting your delivery team gauge its quality of customer service.
Onfleet pricing

Onfleet charges a flat rate per month, but also puts a limit on the number of tasks your driver can complete. This can work in your favor or against it, depending on the size of your delivery team and its monthly volume.
If you're at the professional level, you're paying $1,999 a month and getting 12,500 tasks a month. If your courier team consists of 150 drivers, then you're only paying $13 per driver for all of Onfleet's features, including priority support and brand customization. However, that's assuming your drivers are not managing more than 625 deliveries a day (based on a 5-day work week in a 4 week month). If your team goes over that allotted amount before the end of the month, you're charged an extra .18 per task.
Again, depending on the size of your team and your average monthly volume, this pricing structure may or may not be a deal-breaker.
Let's say you're a small courier company of seven bicycle couriers who mainly need route optimization. If you divide the flat rate by the number of couriers you have, you're paying about $50 per driver. Plus, you're limited to making 125 deliveries a day across all seven couriers, which equals less than 18 stops per driver.
Here are the four pricing tiers, with the features offered on each one:
Starter: $149 a month with 1,000 tasks. This plan doesn't offer route optimization (a cornerstone of any delivery software platform) or integrations with platforms like Shopify or WooCommerce. On the starter plan, the main features are that you can import routes via CSV files into Onfleet, get Live ETAs as drivers complete their routes, and your drivers can collect proof of delivery at their stops.
Basic: $349 a month with 2,500 tasks. Route optimization starts at this price point, as does driver chat communication between driver and dispatch, and API integrations into platforms such as billing & invoicing, eCommerce & POS, and courier service providers like Workstream and Fountain.
Premium: $799 a month with 5,000 tasks. At this price point, your team can now scan package barcodes when they're picking up loads or dropping off packages. Plus, drivers can get custom contact numbers so customers can get a hold of them if needed. Finally, the premium plan comes with priority email access and a dedicated representative for customer support.
Professional: $1999 a month with 12,500 tasks. With this price point, your team gets priority support, full data access to driver analytics, and more.
Onfleet's pricing structure can work in your delivery team's favor if you have enough delivery drivers that the flat rate is worth it.
But, let's say you have three couriers and need route optimization, then you're paying $349 for three drivers, which breaks down to a little over $116 per driver. In that situation, Onfleet is significantly more expensive than the competition.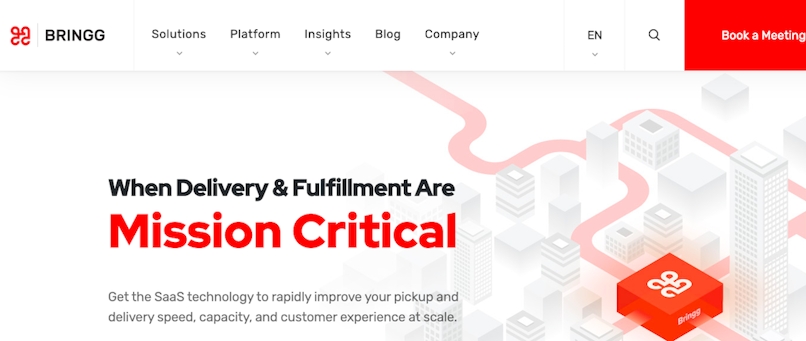 As a startup in 2017, Bringg raised $10 million to help big retail brands compete with delivery services from giants like Amazon and Uber. Currently, Bringg is mainly used for last-mile delivery (from warehouse to customer) and first-mile delivery (from supplier to delivery warehouse) and has been adopted for several industries, including retail and healthcare.
Bringg's services are often used by healthcare companies because of the level of transparency and communication Bringg facilitates between drivers and customers. For example, if you're a medical equipment supplier providing IV bags and oxygen tanks, communication is critical — because delay on a patient's oxygen tank due to them not being home can have serious repercussions.
Bringg also works for large brands who integrate on-demand delivery with supply chain management, and separates itself into two components: backend operations and delivery operations.
For backend operations, Bringg offers its users:
Multi-platform delivery orchestration: Bringg can integrate with other fleet management platforms, such as Doordash and eCommerce platforms. This can be helpful for delivery teams that are handling orders that come from multiple channels.
Inventory tracking: Using a barcode scanner, Bringg registers and documents where each package is, from the moment your warehouse gets it until the driver drops it off.
Customizable pick-up and drop-off locations: To help big brands compete with Amazon, Bringg lets its customers change pick-up and drop-off locations. For example, if you're a courier who is working with several franchises and they need to toggle back and forth between locations to help with product fulfillment, Bringg can help your drivers go to the right location each time.
For delivery operations, Bringg offers its users:
Route optimization and automated dispatch: Bringg creates optimized routes and offers automated dispatch, which is helpful for on-demand delivery companies. Basically, when an order comes through, Bringg assigns it to a specific driver based on several parameters.
Driver and vehicle management: Larger courier businesses that employ both in-house drivers and third-party independent contractors can use Bringg to facilitate communication between the drivers who are available to take more orders.
Mobile driver app: The Bringg driver app (available for both iPhone and Android devices) is how couriers collect proof of delivery, accept or reject new orders, and track their earnings.
Driver analytics and logistics software: Finally, Bringg can help courier companies analyze metrics, such as delivery cost vs customer satisfaction scores, the number of stops completed on time or late, and so on.
Bringg pricing

Bringg doesn't offer transparent tiered pricing because their services are meant to be modified towards each company's needs. On their site, you need to fill out a form, stating how many deliveries you're making a month, with four different levels:
Less than 2,500 deliveries per month
Between 2,500 and 10,000 deliveries per month
Between 10,000 and 60,000 deliveries per month
More than 60,000 deliveries per month
Note: Given the scope of Bringg's delivery orchestration, it usually does take a few weeks to get this software integrated with your business.
Final thoughts: Onfleet vs Bringg vs Circuit
When looking for the best delivery management software, there are several good options out there — including Onfleet, Bringg, and Circuit. Different tools tend to vary drastically in functionality and price, but they all aim to make processes smoother for dispatchers, delivery drivers, and recipients.
We built our delivery software, Circuit, based on direct feedback from our users. We want to give midsize delivery teams all the tools they need to maintain profitability, while scaling up delivery processes.
We did this by focusing on the four most critical parts of running a delivery team:
Route planning and optimization
Real-time route monitoring
Customer-facing order tracking
Capturing proof of delivery
If you manage a team of delivery drivers and want a simple, cost-effective way to keep track of them (while making their routes more efficient), sign up for a free trial of Circuit.
Published
28 September 2020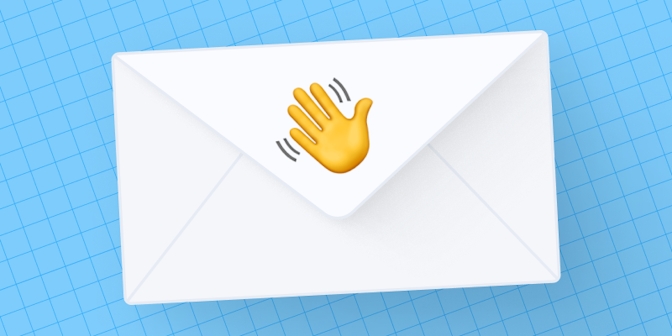 You made it this far!
Chances are you'll love our other stuff too. Get our newsletter for the latest on all things delivery.