9 minute read
RoadWarrior vs Circuit: Comparing Route Optimization Software
In this post, we're going to be comparing one route planning and optimization software, RoadWarrior, against our own platform, Circuit.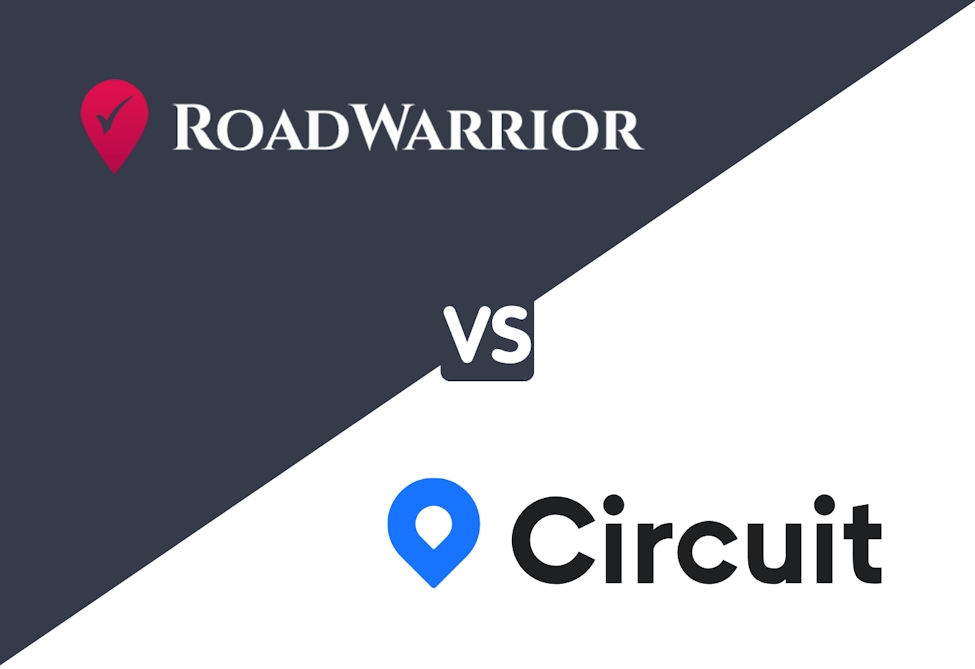 Route optimization software can save you time and money. But which one is the best fit for your business? Check out our comparison of RoadWarrior and Circuit.
Key takeaways
Circuit for Teams makes driver management and route monitoring easier than ever. It offers a range of powerful features including route swapping, the ability to make real-time updates, and collect electronic proof of delivery.
RoadWarrior helps dispatchers plan, assign, and manage driver routes. It allows you to group routes into zones.
If you need to plan an efficient route — as a delivery driver or a dispatcher managing a team of delivery drivers — you'll need to use route optimization software. 
Planning routes manually is never guaranteed to get you the fastest route possible, even when you're using mapping tools. And if you're managing multiple drivers on complex routes, this is even tougher.
Luckily, there are various route planning tools to choose from. In this post, we're going to be comparing one route planning software, RoadWarrior, against our own platform, Circuit.
While both options help with route optimization, Circuit for Teams offers more powerful features that can help you deliver packages faster, scale your team, and better handle demand surges.
It's important to note that RoadWarrior is designed with dispatchers in mind — with little control on the driver's end. 
It also offers limited features apart from route optimization. 
So, it may not be the best option for package delivery, especially when compared to Circuit for Teams
In this article, we'll highlight the main features of each software, helping you understand which one ideally suits your needs.
The post will take a deep dive and compare the routing functionality, pricing tiers, and delivery management capabilities of RoadWarrior and Circuit for Teams.
Circuit for Teams and Circuit Route Planner
Circuit for Teams has a simple mission: to help businesses save time and money by optimizing delivery routes. 
We believe that efficient route planning is crucial to achieving success in any industry, and we strive to make it accessible to all companies, big or small.
We understand that route planning can be a challenging task, which is why we rely on our customers' experiences to help us identify areas for improvement and develop new features that address their pain points. 
By incorporating real customer feedback into our product development process, our platform is user-friendly, efficient, and meets the needs of diverse businesses.
Unlike RoadWarrior, Circuit for Teams is proud to be founder-owned. 
This means we have a deep understanding of the challenges that small and midsize businesses face. 
We know that businesses are often strapped for time and resources, and they need software solutions that are effective and affordable.
Side note. If your drivers need an app to help them with simple route planning and optimization, they can download Circuit Route Planner app from the Apple App Store (for iPhone/iOS) or Google Play Store (for Android).
It's free to plan routes of up to ten stops (compared to RoadWarrior's eight stops), and our Pro plan is $20 per month for unlimited stops. 
With both the free plan and the Pro plan, your drivers can optimize an unlimited number of routes per day.
The Circuit Route Planner app is designed for delivery drivers, and it's trusted by more than 50,000 worldwide (and counting). 
On average, each driver saves an hour per day.
But if you're managing a team of drivers with multiple needs, Circuit offers a better solution.
Enter, Circuit for Teams.
With route optimization for multiple drivers and functionality including driver tracking, multi-depot capability, and proof of delivery, Circuit helps dispatchers save time with delivery management.
Introducing the Circuit for Teams delivery management platform
As we'll explain in more detail, Circuit for Teams goes up against RoadWarrior's Flex plan.
But, while the route optimization capabilities of Circuit for Teams and RoadWarrior may seem similar, when it comes to comparing Circuit for Teams versus RoadWarrior Flex — there are many points of difference in value for money.
To summarize: Circuit for Teams is designed for managing multiple delivery drivers offering functionality that helps dispatchers operate their delivery routes better.
On the flip side, RoadWarrior Flex is more limited, focused mainly on routing and monitoring any generic driver team in the field.
For example, on top of route optimization for multiple drivers and real-time driver tracking (which both platforms offer), Circuit for Teams also offers:
Proof of delivery
Delivery tracking and recipient updates
Multicapacity vehicles
Proof of Delivery (POD)
Your delivery drivers can capture POD photos with their smartphones, meaning they can leave packages in safe locations (and prove it) if the recipient isn't home.
And with the Circuit for Teams app, they can collect electronic signatures.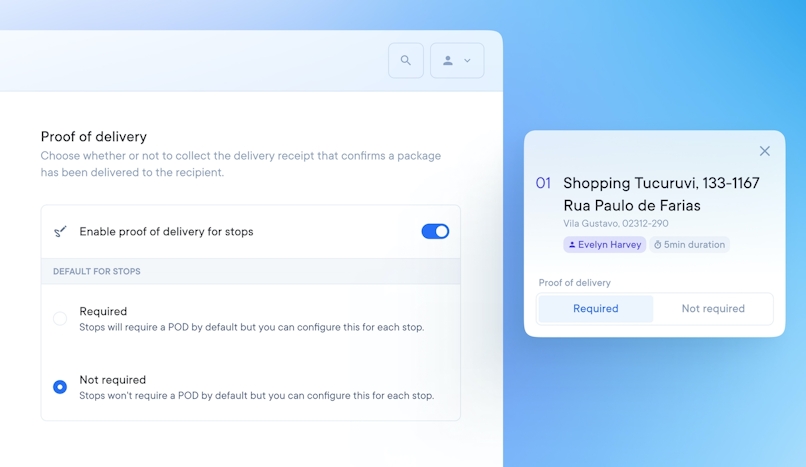 The proof of delivery is then uploaded to the cloud, and the dispatcher back at HQ can access it anytime they want through the web app.
Delivery tracking and recipient updates
With the Circuit for Teams Standard plan, you can send customer notifications by email and SMS, meaning you can automatically ping them with an accurate delivery ETA when drivers set out on their route.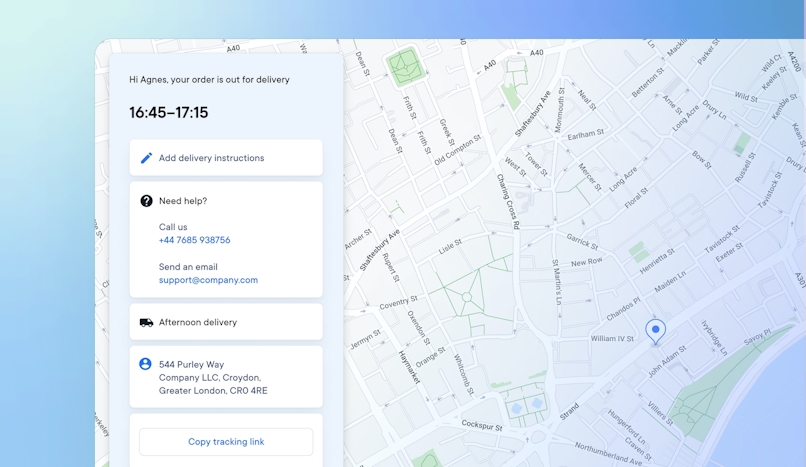 Circuit for Teams gives recipients post-delivery updates which can also contain the proof of delivery photo — showing customers exactly where the package has been left safely by the driver.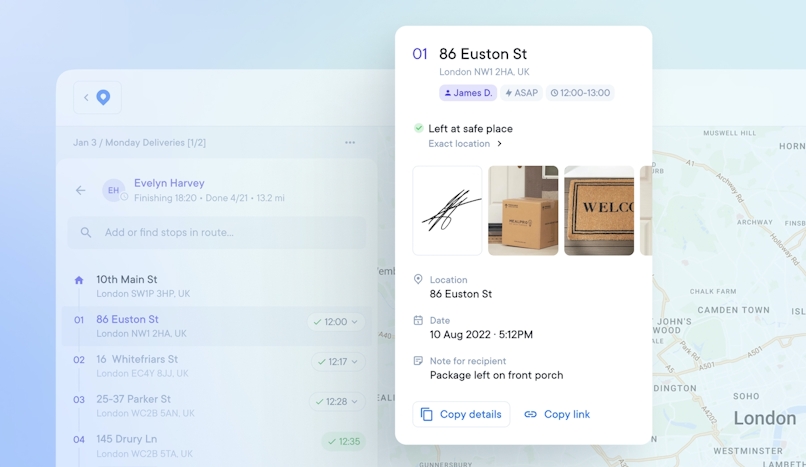 Multicapacity vehicles
Like most of our customers, you likely have multiple vehicles of different sizes to plan for, which is especially stressful when working with contract drivers.
When there are large trucks, smaller vans, and cars in the mix, that means each driver can handle different volumes (or different items).
With Circuit for Teams, you can specify the capacity of each vehicle in your team.
This means you can customize the number of stops allocated to large trucks and small cars, allowing you to do 100 percent efficient route optimization.
Key takeaways: Why choose Circuit for Teams?
Circuit for Teams is a user-friendly route planner for delivery teams with multiple drivers, but it offers much more than just calculating better driving directions.
Dispatchers and managers can plan the best route in a couple of minutes by uploading their list of stops, and routes are optimized based on time windows and priority stops. 
Drivers access routes using the smartphone app and follow whichever GPS navigation app they prefer (such as Google Maps, Waze, or Apple Maps).
With Circuit for Teams, driver management and route monitoring are easy. 
But you don't have to take our word for it. A customer described the product as, "Very easy to use. Circuit for Teams has the most accurate navigation of any routing software I've ever tried."
Another happy customer said, "We tried Circuit because of its free trial, and everything just worked for us. There was no reason to check any other optimization tool."
You can swap routes between drivers at the last minute and track vehicles as they go about their route. 
This allows you to keep recipients in the loop manually if needed, although automatic email and SMS recipient updates will inform them of when to expect their package.
Our built-in electronic proof of delivery (POD) minimizes lost packages and customer disputes and makes sure drivers can maximize the number of deliveries they make on any given day.
Circuit for Teams pricing
Circuit for Teams comes in three possible tiers.
With Essentials ($100 per month), you get route planning for your first two drivers, real-time route monitoring, and integration with our API. The plan allows dispatchers to bulk upload stops quickly and easily, create routes in seconds, and track the delivery progress in real time.
Our Standard plan ($200 per month) offers all this, plus proof of delivery and recipient updates for your first three drivers. Dispatchers can create notes to share helpful information with drivers. They can also set dynamic or fixed delivery times windows to provide customers with the most accurate information.  
Our Pro plan ($500 per month) offers everything on both of these smaller plans, plus you can analyze your delivery data for your first six drivers. Dispatchers can also prioritize pickup and delivery stops on a route, making sure the most urgent packages are delivered and collected on time.
For just ~3% of what you pay your drivers, you could have them deliver 20% more packages.
If you manage a team of drivers and want a simple, cost-effective way to keep track of them (while making their routes more efficient), start your 14-day free trial now.
RoadWarrior: Key features and pricing tiers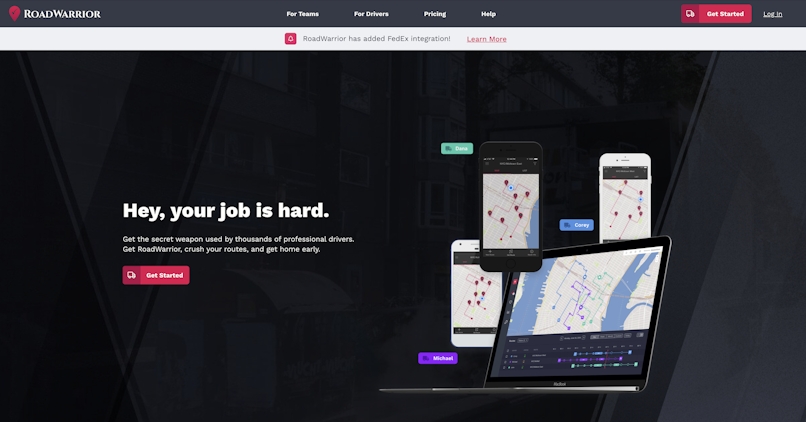 RoadWarrior's dispatcher software, Flex, is available as a web-based application, although drivers can still use their RoadWarrior smartphone app with the dispatcher's Flex account.
RoadWarrior Flex functionality
RoadWarrior Flex is what you'll need if you want to optimize routes for multiple drivers — and this is the product that you might compare against Circuit for Teams.
RoadWarrior Flex is a platform for dispatchers, transferring the routing software capabilities from the app into a web-based application.
As a dispatcher or manager, you can plan routes, assign routes to drivers, and manage or update routes in progress.
One of the key benefits of Flex is that you can group routes into zones, meaning you can schedule certain drivers into their preferred parts of a town or city.
RoadWarrior Flex pricing
The pricing structure is pretty straightforward for the Flex product. 
For $14.99 per month per team member, you get a maximum route size of 200 stops, with 500 daily optimized stops for each driver.
RoadWarrior Flex comes with a free, seven-day trial. Meanwhile, Circuit for Teams doubles that with a free trial period of 14 days. 
RoadWarrior vs. Circuit: Which is better?
Selecting the best route optimization software for multiple drivers comes down to your specific requirements. 
Let's say you manage an entire team of delivery drivers. Your needs are likely different to those of a sales team that need to find different addresses — but not deliver packages to them.
That's why you should focus on several factors while choosing route optimization software for your delivery team.
The most obvious considerations are pricing, flexibility, and ease of use.
Here's a list of some other important factors:
Processing time. The best route planning software works out optimized routes in seconds, not minutes. That's because speed is important when you need your delivery teams to make many stops across different routes.
Map accuracy. Outdated maps are a major efficiency killer in this business, leading to failed or delayed deliveries. Pick a solution that uses real-time mapping data to generate route directions.
Analytics and reporting. Look for software that provides a centralized analytics dashboard. It should give you detailed statistics and insights into customer preferences. That's often what differentiates a great route planner from an average one.
Customer satisfaction. Choose a route planner that prioritizes customer satisfaction. Focus on features like live tracking, ETA notifications, and the ability to select delivery windows. These can create more meaningful customer experiences.
Scalability. Finally, pick an option that continues to be reliable and efficient as your business grows. Platform flexibility and the option to integrate more features, add-ons, and services are key factors.
Pros and cons of Circuit for Teams
Pros:
Deliver faster by calculating the fastest route for each driver in seconds.
See the real-time status of stops on an active route and make live changes to increase the chances of successful delivery
Scale your delivery team without hassle, whether you need to manage three drivers or a hundred.
Handle demand surges with ease by adding drivers and vehicles with unlimited route optimization.
Manually alter or rearrange routes as needed. 
Offer customer service contact details with delivery information to provide an improved customer experience.
Save time with optional proof of delivery requirements that can be turned off when not needed.
Cons:
There's the occasional possibility of backtracking due to inaccurate time calculation.
Although there are multiple service plans, pricing per driver can be expensive for small businesses and startups.
Pros and cons of RoadWarrior
Pros:
The RoadWarrior route planner has a free version that lets you test its features before you buy it.
It offers easy route customization, letting you add or delete delivery addresses and focus on urgent deliveries.
It accounts for traffic, priority drop-offs, school zones, tolls, and more to create the quickest routes for your team.
It offers easy route customization, letting you add or delete delivery addresses and focus on urgent deliveries.
Cons:
The RoadWarrior mobile app can occasionally be unreliable due to lag and downtime.
Every additional driver on RoadWarrior costs $14.99 per month, which can be pretty expensive if you operate a large team.
There are no options to contact the support team by phone or chat. Customer service is limited to email.
Final thoughts: RoadWarrior vs. Circuit
When it comes to route planning and optimization, RoadWarrior and Circuit use robust routing algorithms, which help drivers to efficiently deliver more parcels.
However, if you're running a delivery team and you want more than just better routing, the Circuit for Teams platform is probably a better fit. 
This is because it's designed to help delivery companies, couriers, and small business delivery teams.
Here's a comparison of some of the top features that set RoadWarrior and Circuit for Teams apart:
RoadWarrior offers some nice features like spreadsheet uploading, zonal grouping, data sync, and reporting in its Flex platform — but it lacks proof of delivery, recipient updates, and other features that make delivery operations easier.
At Circuit, we're constantly talking to customers and developing new features based on their feedback.
If you manage a team of drivers and want a simple, cost-effective way to keep track of them (while making their routes more efficient), sign up for a free trial of Circuit.
Check out another article that might help: RouteXL vs. Circuit. And in our comparison of route planning solutions, you'll learn how Circuit stands up against RouteXL, Route4Me, and OptimoRoute.