7 minute read
How to Manage Delivery Drivers (And Improve Performance)
Managing a team of delivery drivers is no easy thing. You have to juggle a lot of tasks when you run a delivery team. Here is how you can do it better.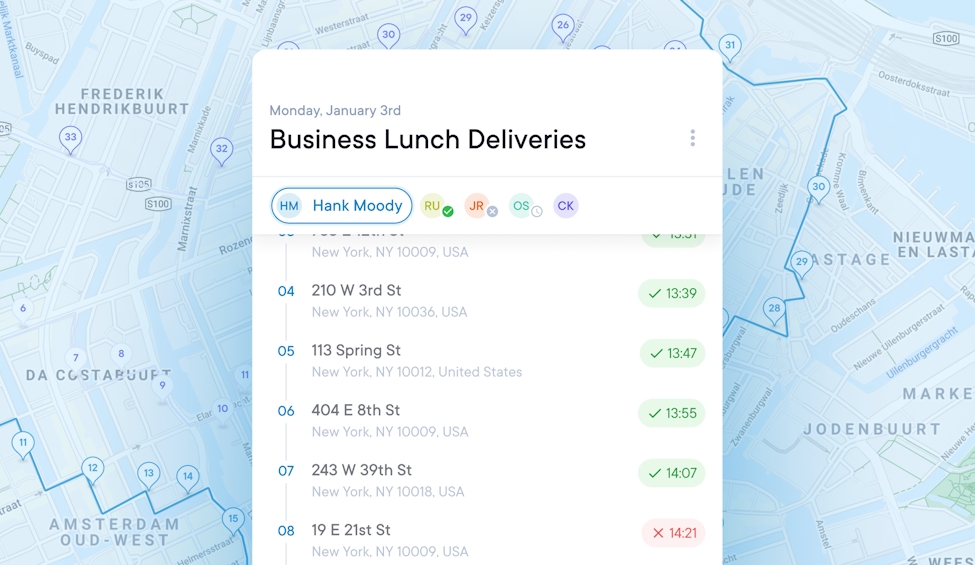 Wondering how to manage delivery drivers? It's no mean thing. You have to juggle a lot of tasks when you run a delivery team, including:
Making sure you have your drivers' up-to-date availability
Giving your delivery drivers optimized routes (which means more stops in less time)
Keeping an eye on your drivers as they complete their routes
Letting your drivers secure proof of delivery
Continuously improving and refining your delivery process
In this post, we'll show how you can tackle these 5 big challenges. And we'll show you how you can improve the performance of your delivery drivers while improving customer satisfaction in the process.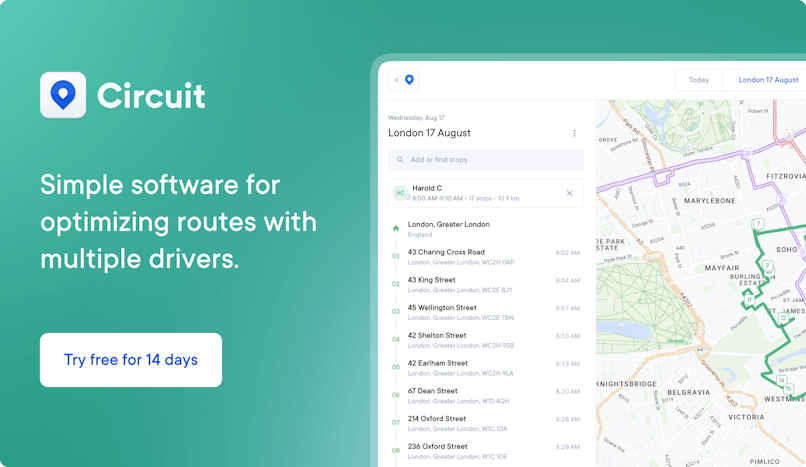 Tip #1: Confirm which delivery drivers are available, and when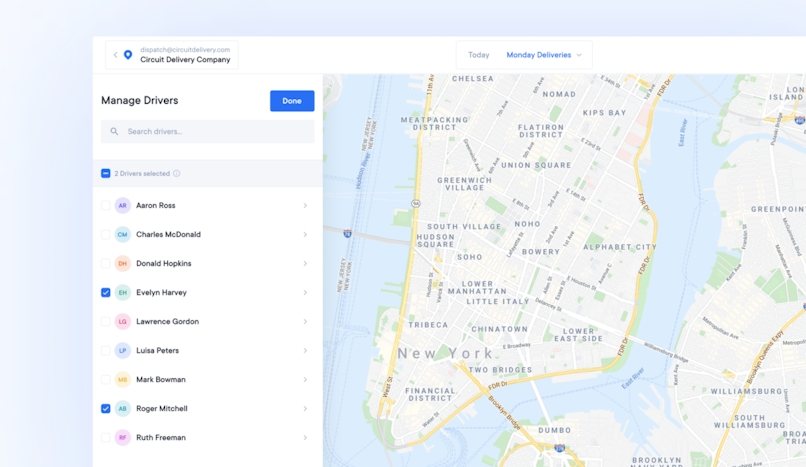 We've done dozens of case studies of small to midsize delivery teams, and we discovered that most of them use several part-time drivers with varying levels of availability.
Those kinds of schedules can be a pain to manage. Some of your drivers will only be available on specific days, or during the morning or in the afternoon. This is especially true if you're hiring independent contractors who are working with more than one client.
When you use Circuit for Teams, every one of your delivery drivers gets their own profile. In that drive profile, you can enter their availability.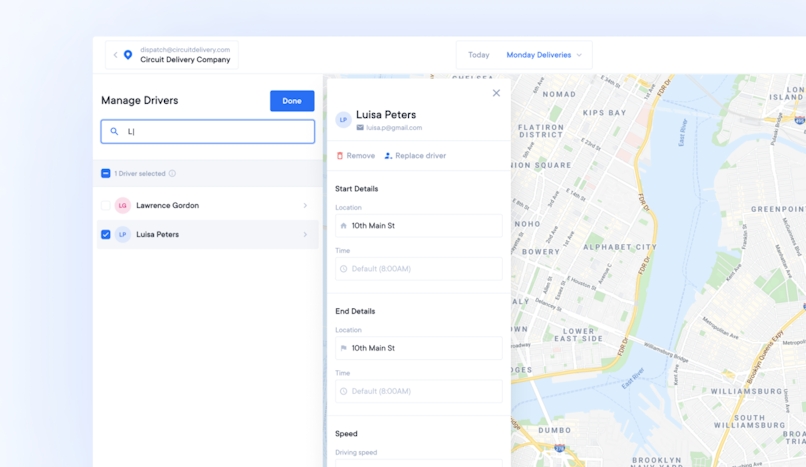 This way, you'll know which drivers are available and which ones are not when you're assigning the routes for the day.
Tip #2: Give your delivery drivers an optimized and efficient route
The next step to set your drivers up for success is to give them a fast and efficient route to navigate. Without an optimized route, delivery drivers struggle to make their stops on time.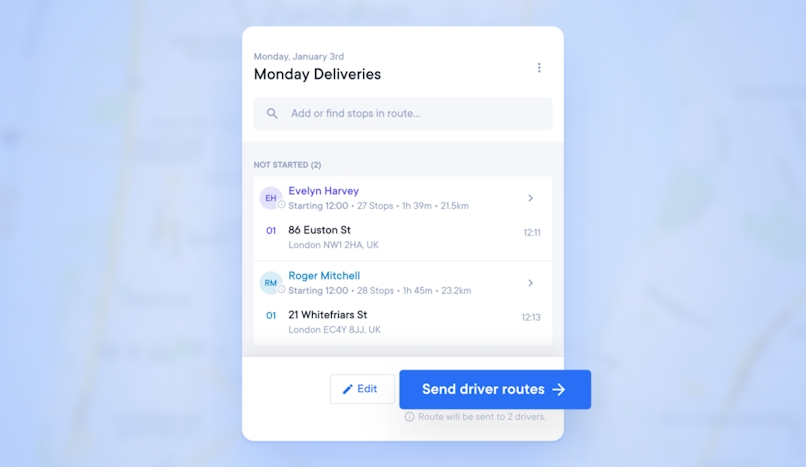 Here's an example of how an optimized route can save a driver time (and why it matters):
Sagar Khatri, a courier whose income is based on how many deliveries he can make in a day, started out manually making his own routes. But after using Circuit's route optimization tool, he was able to double the number of deliveries he made in a day. That's effectively doubling his salary, just by making sure he's following an optimized route.
When you use Circuit for Teams, you can create fast and efficient routes like that for your entire delivery team. This means they can make more stops for you in less time.
You can also customize your delivery routes by setting time windows and priority stops:
Time windows ⏱
A time window is when your customer wants/needs their package delivered within a specific delivery time. Some examples of this are a local business that's closed during lunch hour, a doctor's office that is only open until noon, and a residential customer who needs their delivery after regular business hours.
Priority stops ⚠️
A priority stop is when you need a specific delivery completed ASAP (before all the others). For example, one of our customers uses the priority stop feature when delivering prescription medication. Their couriers can look at the daily manifest of new orders and tell Circuit which stops to prioritize.
Let's say you have a customer who specifically needs their package between midday and 2pm. If you're not using software to figure out where that slots in, it's a logistical nightmare to guarantee that a specific delivery happens within your delivery window. Your driver will have to take special care to make sure they deliver the package at the right time.
That's going to slow them down while they're on the road.
But when you use Circuit for Teams, you can add certain time windows and priority stops as you create your route. And if a customer calls the day of delivery and requests a specific time window, you can make that change in real-time and reoptimize the existing route right then.
You don't have to do any complex management — you simply update it on the Circuit web app, and your driver gets the info (and the recalculated route) on their smartphone app.
Tip #3: Always know where your drivers are on their route
Drivers use Circuit for Teams on their smartphones by downloading our free mobile app (available for iOS and Android devices). And because your drivers are using their smartphones, you'll always have the up-to-date GPS tracking of their location.
But more than that, you'll have their location within the context of the route.
This means you can see which stop your driver just completed and where they're heading next (with an updated ETA). This helps you make better decisions if you need to make last-minute changes to the route of any driver.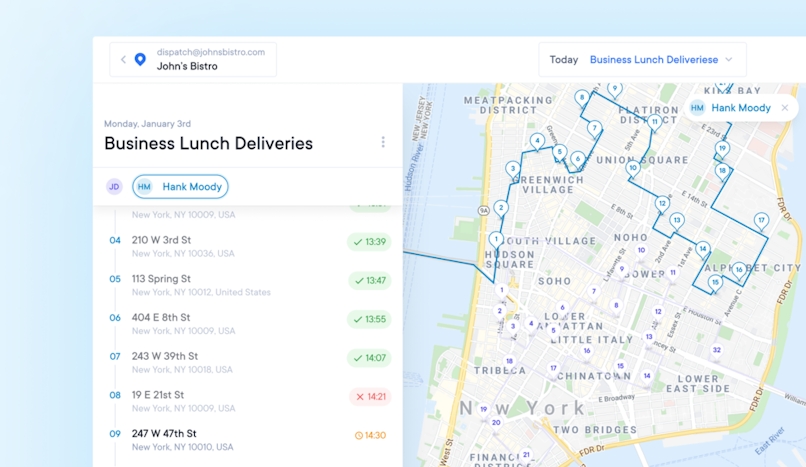 Let's say a customer called your business asking to make a pick up at their location. In this case, you can check your Circuit route monitoring dashboard to see which driver is closest to that customer's location (or who will be closest later in their route). That way, you can add that new stop to the driver who will be the least adversely affected by the change.
Tip #4: Make sure your drivers get proof of delivery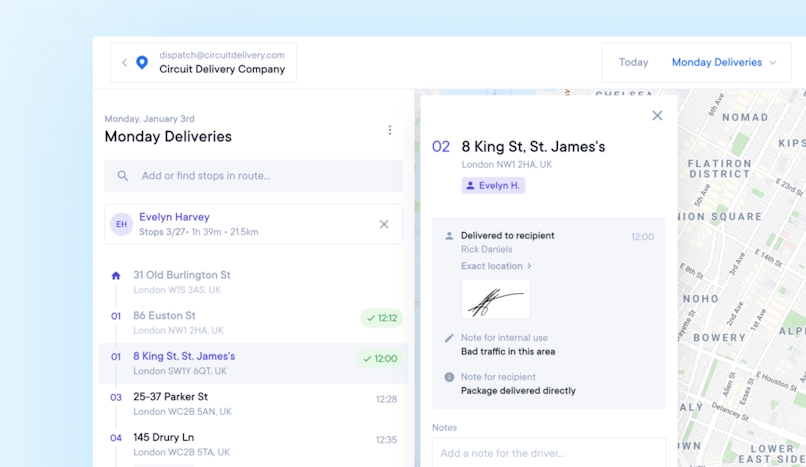 Everyone's seen horror stories online of delivery drivers getting caught on camera chucking someone's package. There are even stories of drivers stealing delivery orders but saying they were delivered. (Note: This unprofessional behavior tends to happen during the holidays when delivery teams hire extra help and can't spend as much time as they'd like on training.)
One simple way to make sure this never happens with your team — and to protect your drivers from false allegations — is to require that your drivers collect proof of delivery.
Proof of delivery gives you, your delivery driver, and your customer peace of mind.
When you use Circuit for Teams, your drivers can get proof of delivery in two ways:
They can take a photo of where they left the customer's package, and upload that photo into the Circuit for Teams app. The photo is shared with you and the customer.
They can collect a signature. Again, your driver simply uses the Circuit for Teams app, asking the customer to use their finger to sign their name on the driver's phone. A copy of the signature is sent to you and to the customer.
Tip #5: Keep improving your overall delivery process
Your delivery drivers will only be as good as your delivery process as a whole. One of our customers, the owners of OK! Kombucha, knew this from the get-go.
When OK! Kombucha started making deliveries, their orders were small enough that the two owners (Safa and Erik) could handle it on their own. But as their customer list grew, they wanted to add a full-time delivery driver. But they knew before they could add a delivery driver to their payroll, they needed to improve their delivery process.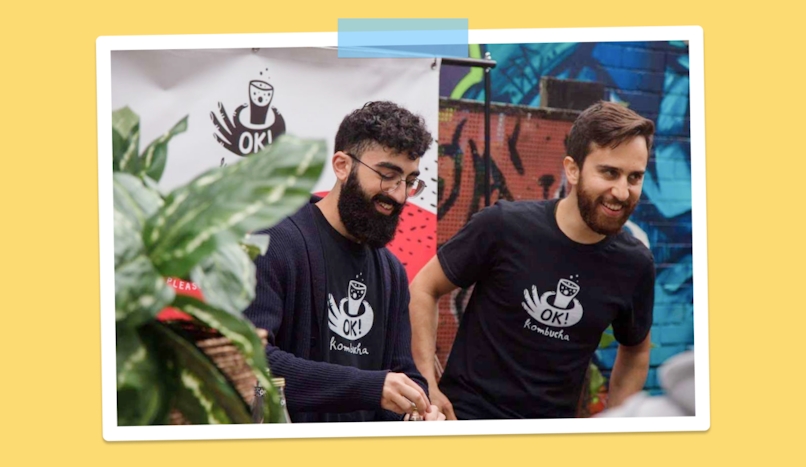 As it stood, it took the owners roughly 7 minutes to complete a stop once they arrived at the customer's address. Each stop took so long because they had to use multiple tools:
They used Google Maps to navigate to the stop.
They used Shopify to get any specific delivery instructions, like where to go when they arrived at an apartment complex.
They then had to also use Shopify to look up what the customer ordered.
They used WhatsApp or email to let the customer know they had arrived.
How to manage delivery drivers: Conclusion
Safa and Erik didn't want to hire a delivery driver to handle all of that. Instead, they wanted their delivery driver to spend less time managing various apps and focus all of their attention on making fast, secure, and friendly deliveries.
Thankfully, when they started using Circuit for Teams, they cut the average time per stop to under 2 minutes. That saves 12.5 hrs a week in payroll. But it wasn't just about saving labor costs for OK! Kombucha (though that was a nice plus for helping them increase profitability).
The big win was that they could use Circuit for Teams to simplify their delivery process. Completing a delivery — what was once a four-step process that required toggling between several apps — could now be done with just one easy app.
This improved process gave Safa and Erik the peace of mind to hire a delivery driver.
No matter what stage your delivery business is at, it's good to take another look at your delivery process to see if there are ways you can make it easier or more efficient for your drivers to make their stops.