15 minute read
The Best Route Planning Software: 5 Different Route Planners Compared
In this post, we cover how your delivery operations (both route planning and route execution) benefit from using routing software.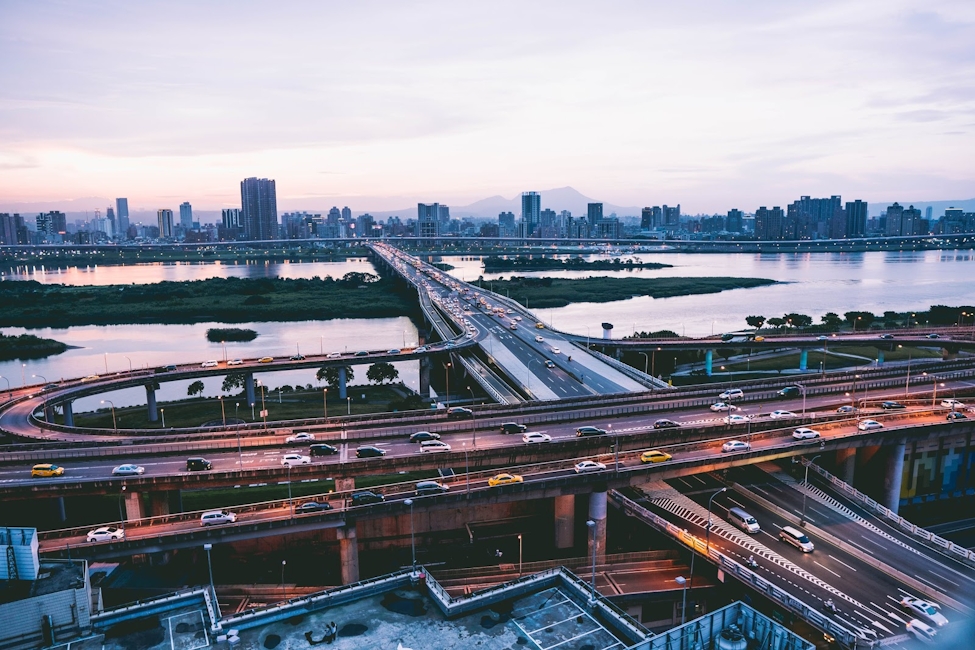 Routes are full of variables that make route planning time-consuming — from factoring in traffic patterns to calculating the distance between stops, changes in the speed limit, and the time it takes delivery drivers to complete each stop.
Some of our customers were spending hours each day trying to optimize their routes before discovering Circuit — our route planning software for individual couriers and delivery teams.
But manually planning routes isn't just a time-drainer at the beginning of the day; it's also incredibly inefficient for the drivers as they complete their routes. This is because manually planned delivery routes simply can't be optimized to be as efficient as possible.
We discuss this in our article on using Google Maps to plan multi-stop routes.
In this post, we cover how your delivery operations (both route planning and route execution) benefit from using routing software.
Then, because we know different delivery teams benefit from different tools, we examine five of the best route planning software options available:
If you're ready to see the benefits of using cost-effective route planning software to plan and complete your delivery routes, sign up for a free trial of Circuit.
The Benefits of Route Planning Software At a Glance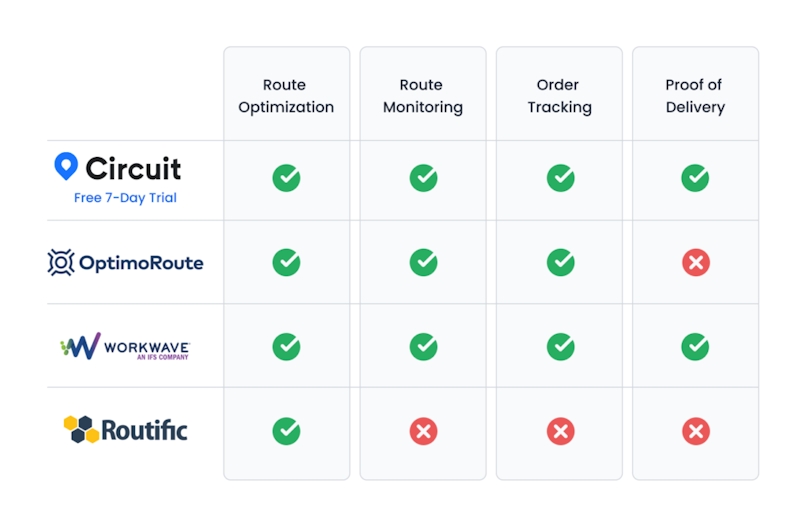 Using route planning software helps your delivery operations save time and money in two ways:
Reducing the time it takes to plan the fastest routes possible.
Reducing the time it takes your drivers to complete their stops.
Creating optimized routes on the route planning side helps your drivers spend less time on the road. This saves labor and fuel costs, plus it leads to increased customer satisfaction because customers always get their orders on time.
On the route execution side, the right route planning software will have all the advanced features you need to streamline your delivery process.
Delivery teams will benefit from order tracking to keep their customers informed with:
Updated and accurate ETAs.
Route monitoring to keep dispatch in the loop on where their drivers are within their route.
Proof of delivery to give customers peace of mind that their parcel was delivered securely.
Below, we go over 5 different route planning software platforms.
1. Circuit (Route Planner & Circuit for Teams)
Circuit started as route optimization software for individual delivery drivers and couriers.
Our Route Planner Tool is still available and widely used. But based on customer feedback, we developed Circuit for Teams, which also includes a web app.
Circuit for Teams offers advanced route planning features to help delivery teams (from courier businesses to small-to-midsize businesses offering local delivery) optimize their delivery processes, from route planning to collecting proof of delivery.
Let's start with our Route Planner Tool to show you how easy it is to optimize a route with Circuit.
Circuit's user-friendly mobile app works with both Android and iOS devices. Drivers can manually enter routes or import a spreadsheet (Note: at this time, spreadsheet importing for mobile users is only available on Android devices).
Manual stop entry with Circuit is quick and easy because we use the same autocomplete technology that Google Maps uses. As you enter your stops, Circuit recognizes where you're delivering, so when you start to enter your next stop, Circuit suggests the most likely destination.
Once you've entered all your stops into Circuit, you can set several different parameters to help you customize your route, for example:
Priority Stop: If you have a stop that needs to happen ASAP, set it as your priority stop, and Circuit will optimize the route so that stop is first.
Time Constraints: Time constraints can be used to make sure deliveries happen within a requested delivery window.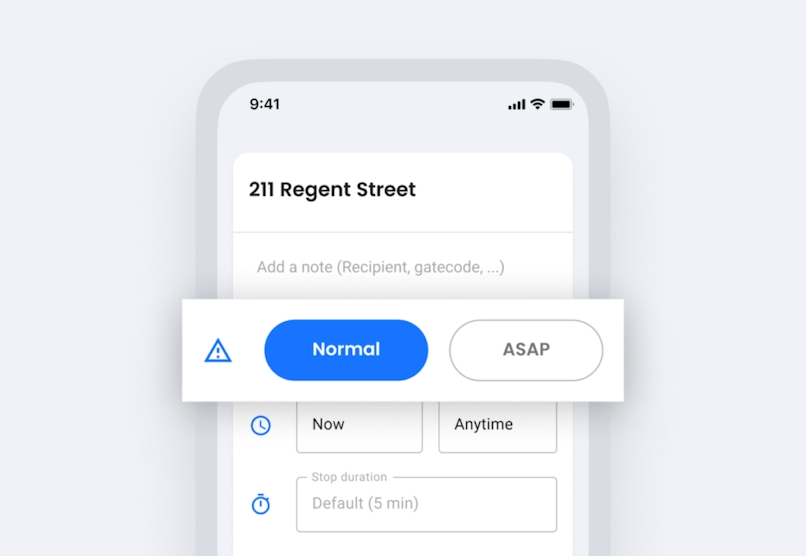 Once the route is ready to go, click Start Route.
Circuit opens up your preferred navigation tool, and your driver can start making stops. Circuit works with all the major navigation apps, such as Google Maps, Waze, and Apple Maps.
Circuit for Teams takes the same route optimization tool in our Route Planner but combines it with advanced delivery team features, including:
Route monitoring
Recipient notification
Proof of delivery
Circuit for Teams is for delivery teams with more than one driver, or couriers who manage several contractors and routes.
By using Circuit for Teams, you can optimize delivery processes at the individual level (faster routes, quicker stops) while managing an entire team from one easy-to-use dashboard.
Route Planning with Circuit for Teams
When you're using the web app, you can use our spreadsheet import no matter what kind of computer you're using, allowing you to save time by uploading your addresses instead of typing them in manually.
Once your addresses are uploaded, dispatchers can customize their drivers' routes based on the parameters we discussed above. For example, if a driver lets a dispatcher know they can only work a half day, then the dispatcher can add time constraints to that driver's route.
Plus, once your routes are sent to a driver, they can re-optimize routes based on any unexpected changes that occur during their day.
One of our customers — a bicycle courier company that delivers prescription medication — uses this feature to their benefit because their couriers need to re-optimize routes based on whatever last-minute filled prescriptions they had to pick up from the pharmacy.
Route Monitoring
Because your drivers are using the Circuit mobile app, you can see where they are within the context of completing their route when you're using Circuit for Teams.
Knowing where your drivers are as they complete their routes has multiple benefits.
If you need to make any changes due to last-minute delivery requests or cancellations, you can quickly see where each driver is at within the context of their route. Instead of just telling you their geographic location, Circuit updates you on what stop they recently completed and where they're headed next, with an updated ETA.

If a customer calls to inquire about their delivery status, you can quickly update them by looking at your route monitoring dashboard. Without using a route planning tool with route monitoring functionality, you'd have to directly reach out to your delivery driver to get an updated ETA.
But there's also another way to keep customers in the loop about delivery, which we cover next.
Recipient Notifications
Circuit offers recipient notifications, so you can keep your customers updated on where their package is without forcing them to reach out to you themselves.
First, Circuit sends out a message when the driver starts their route (messages go out either as an SMS message, an email, or both).
In this message, the customer gets an estimate of when their delivery will occur, as well as a link to a dashboard that they can visit throughout the day to check on their package's status.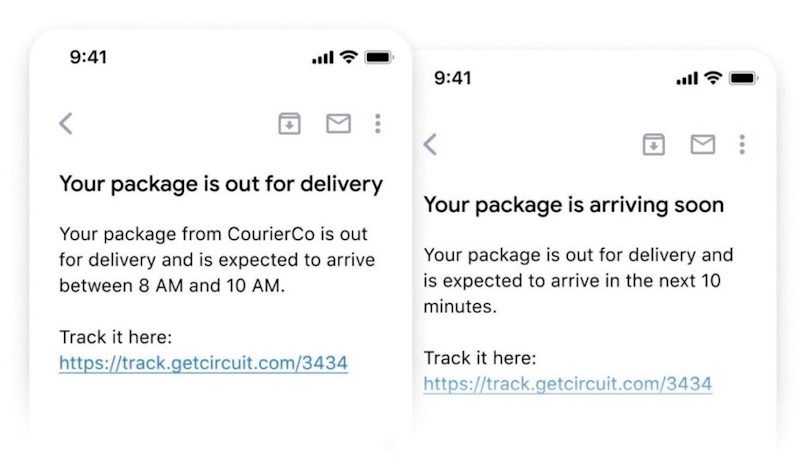 Then, as your driver gets closer, Circuit sends an updated message with a new, more specific time window.
Plus, in this notification, your customer can communicate directly with your driver via a messaging service. This lets the customer tell the driver any extra notes that may be helpful for finding their location or any other pertinent information, such as "please don't ring the doorbell, overprotective dog."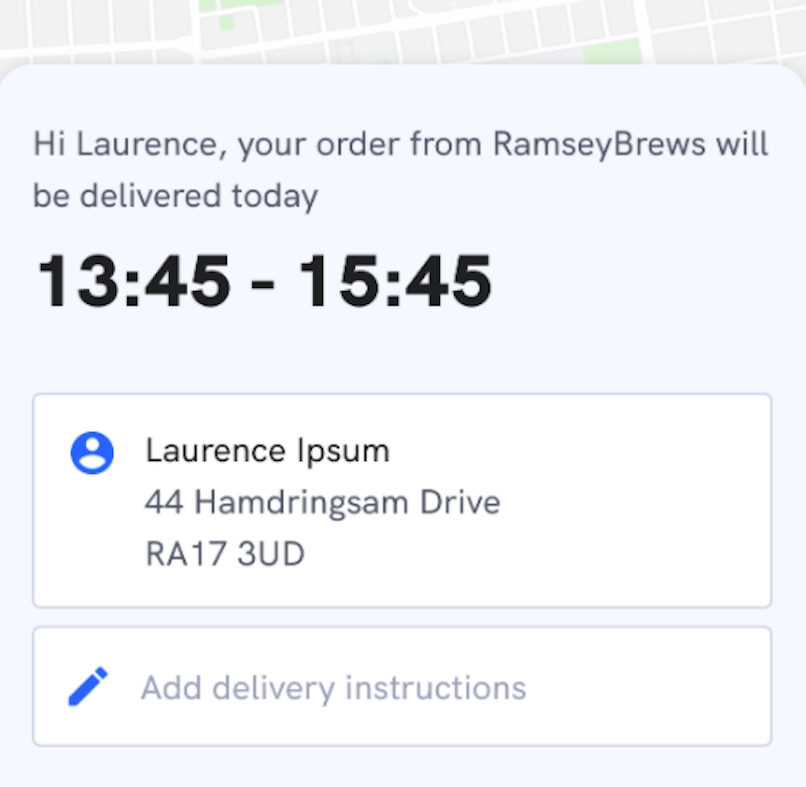 By providing accurate and updated ETAs, your delivery team gets two benefits.
Customers who need to be present for delivery are less likely to miss their delivery window. This cuts down on the amount of second delivery attempts your team needs to do, which saves you money and keeps your route planning on track.

Customers are less likely to call your home office/dispatch line and ask for an updated ETA. One of our customers — a health food store in Argentina — would field phone calls throughout the day from customers asking about their ETA.

Before she started using Circuit, she had to take down the customer's information, call her driver, and get an update. This took time out of her day and added time to her driver's route, as he had to pull off the road and give her an update. But with recipient notifications, your customer isn't in the dark about when their delivery is going to occur, so they shouldn't have a reason to call for an update.
Proof of Delivery (POD)
To confirm delivery was made securely, Circuit lets delivery drivers collect two different types of proof of delivery: signature or photo capture.
If your customer is available for delivery, drivers can use their smartphone to collect the customer's signature. (The customer signs the driver's smartphone with their finger.)
If your customer isn't home, your driver can leave the package in a secure place, take a photo of where they left it, and upload that photo into the Circuit app.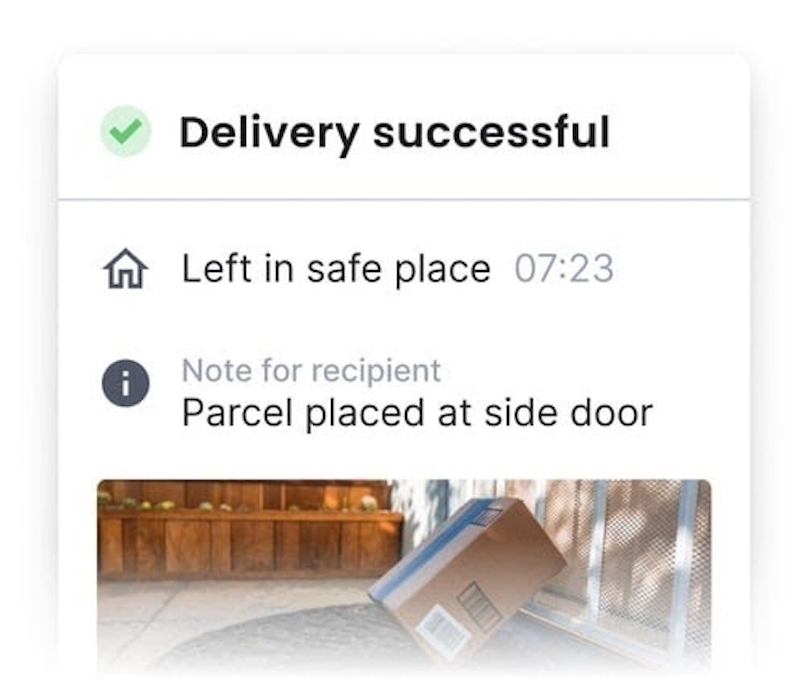 The customer and the back office team get notified that the delivery was complete and they receive a copy of the proof of delivery.
Without proof of delivery, both you and the customer lose peace of mind.
One of our customers, Sagar Dhaliwal, manages a food subscription service in Canada. Before Sagar started using Circuit to manage his deliveries, he had no way to confirm deliveries were made. So, when customers complained that they couldn't find their food order, the owner had to send out new parcels of food.
But when Sagar started using Circuit for Teams to plan his routes, his drivers were able to collect proof of delivery. Now, when customers call claiming they can't find their food order, he uses Circuit's app to reference the photo the driver took to help his customer find their order.
If you're ready to see the benefits of using cost-effective route planning software to plan and complete your routes, sign up for a free trial of Circuit.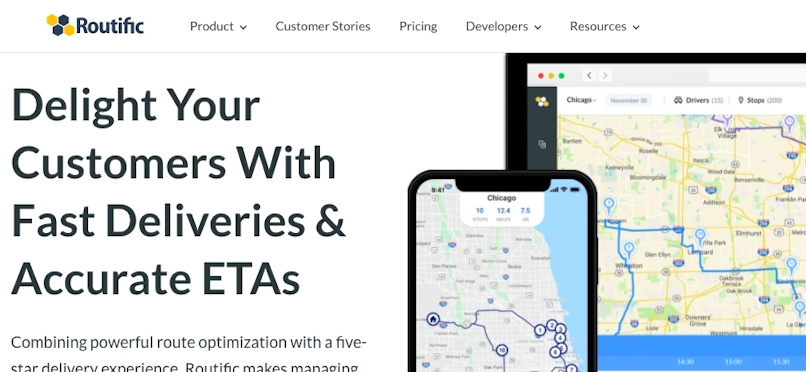 Routific is a route planning tool that contains some of the advanced features we talked about above, but first let's look at how you can use them to plan routes.
Note: If you're looking specifically for a direct comparison between Routific and other tools, check out our blog post: Routific Competitors: 6 Alternatives for Your Delivery Route Planning.
Route Planning with Routific
When planning routes with Routific, you have four different ways of getting addresses into the platform.
Shopify Integration
Spreadsheet Import
Create Customer Profiles (Ideal for Recurring Customers)
Add Customers Manually
Once your addresses are loaded into Routific, you can start optimizing your routes. A plus with Routific is that you can drag and drop stops.
For example, if Routific creates a route that you want to modify slightly, you can drag a stop and change its order within the route. (Note: Manually changing optimized routes can make the routes less effective.)
When the route is finalized, your drivers can access it through the Routific app.
Other Key Routific Features
Similar to Circuit, Routific offers features to help delivery teams optimize their processes.
With Routific, you can monitor ongoing routes with their "Live Tracking" feature. Live Tracking works a little differently than the route monitoring we discussed above. With Routific, you're looking to see when a driver marks a stop as completed or skipped.
Below, you can see how Live Tracking works.

Green boxes appear on the timeline when a stop is completed. Red boxes mark incomplete stops that your driver has skipped. If you see a yellow box, it means the delivery was made after the ETA given to the customer.
Routific also lets drivers collect proof of delivery, but in a more limited capacity than Circuit. Drivers using Routific can collect a signature on their smartphone when they complete a delivery, but there is no photo capture option for when they have to leave a package at a customer's front door.
Routific Pricing

Routific has two main pricing tiers: the Essentials plan and the Professional plan.
The main difference between each plan is that the Essentials plan doesn't offer live tracking for ongoing deliveries, nor can you use an API integration to integrate Routific into your current workflow.
Routific also offers a Premium option, which is a custom option where Routific takes a look at your delivery needs and recommends a unique, specific plan catered for you.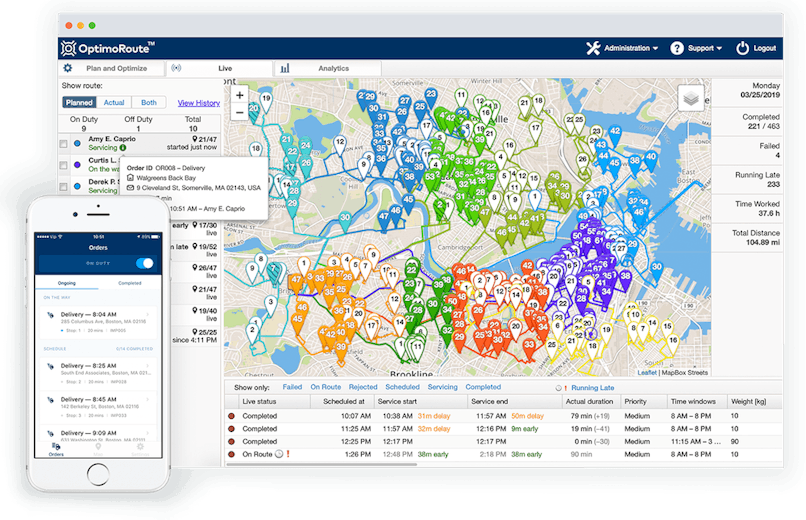 OptimoRoute is a route planning tool that offers route monitoring and customer tracking updates, but it's less advanced in a few key areas (for example, OptimoRoute doesn't offer proof of delivery, which means you'd need to use a separate proof of delivery app).
But OptimoRoute is a viable option for other reasons. For example, OptimoRoute lets you download optimized routes directly to your driver's Garmin, TomTom, or Navigon GPS devices.
If you're in need of a straightforward route planning tool that has a ready-made connection with Garmin or Navigon devices, then OptimoRoute is worth considering.
Route Planning with OptimoRoute
To get started with OptimoRoute, you can upload your orders from a CSV or Excel file. From there, you can send the route to your drivers who are using OptimoRoute's mobile app. Your dispatcher can make mid-route changes from the dispatcher side of your operations, and those changes are reflected for the driver on their mobile app.
Other Key OptimoRoute Features
With OptimoRoute, your delivery operations are automatically given analytic reports.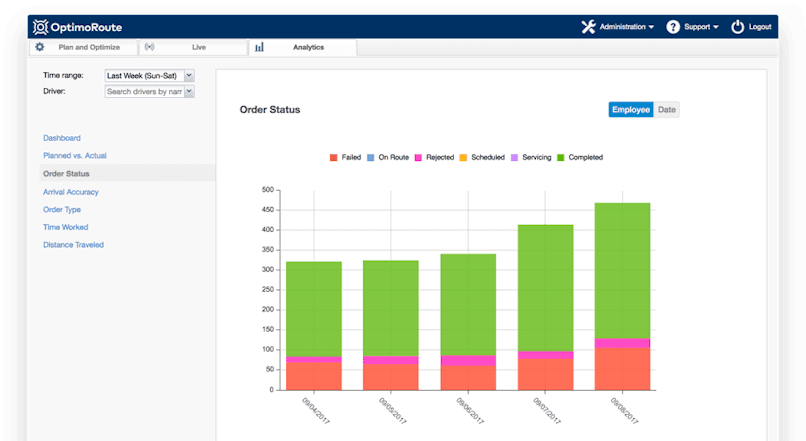 Whether or not your delivery team will benefit from analytic reports depends on what kind of delivery team you have. If you're managing a courier company that frequently uses for-hire contractors, then analytics will help you identify which of your driver's complete the most stops and which of your drivers are constantly missing their ETAs.
OptimoRoute Pricing
OptimoRoute has three pricing tiers, all of which use a per driver/per month pricing model.
Starter Plan: The Starter Plan lets you optimize routes of up to 250 stops at one time. This tier doesn't offer route monitoring or delivery tracking (as we talked about, these key areas are also important for creating an efficient delivery process).

Business Plan: With this plan, your price per driver increases, but you get 500 stops per route, along with route monitoring (but still no delivery tracking for your customers).

Enterprise Plan: This is OpimoRoute's most expensive tier, and it includes all of its features, from route optimization to route monitoring to order tracking. Plus, you can now optimize routes with up to 750 stops.

WorkWave is field service management software that has several different fully-built-out platforms for industries such as pest service, plumbing, HVAC, and landscaping.
This makes WorkWave relatively unique on our list, as the other software options are meant to be more applicable to various types of business.
For example, Circuit's route planning software has been used by bicycle couriers, local breweries, retail stores, bakers, and more.
For this post, we focus on WorkWave's route manager software.
Route Planning with WorkWave
First, you upload your routes via an Excel/CSV file. Then WorkWave takes over optimizing your routes. Similar to Routific, you can drag and drop stops out of WorkWave's preferred order before sending routes to your drivers.
After you've reviewed your route — including adding any parameters such as stop priorities — you can send routes out to your drivers who are using a WorkWave app to get their daily route.
Other Key WorkWave Features
WorkWave Route Manager offers customer updates and driver tracking.
WorkWave tries to reduce how often your driver needs to engage with the mobile app. So, it lets you set up geofences around your route. As your driver enters a specific geofence, the customer within that geofence gets notified that their delivery is imminent.
While this is a nice feature, it can quickly grow time-consuming to set up and may create its own set of complications as your drivers have to adjust their routes throughout the day.
WorkWave Route Manager Pricing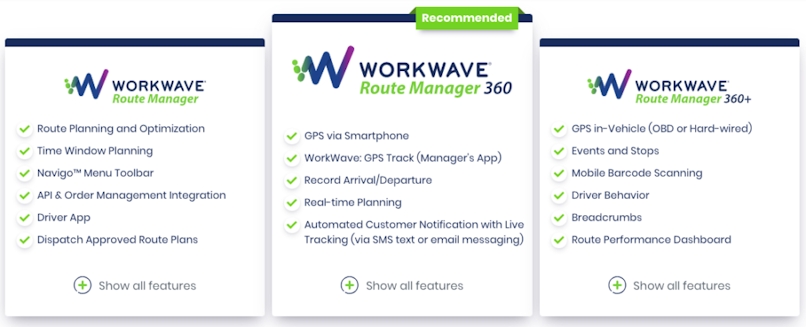 WorkWave offers three main pricing tiers: WorkWave Route Manager, WorkWave Manager 360, and WorkWave Manager 360+.
WorkWave Route Manager: This is WorkWave's most basic tier that sends out delivery tracking updates to your customers, however, it doesn't come with the geofencing feature.

WorkWave Manager 360: When you upgrade to 360, your delivery team gets real-time planning, customer order tracking, route monitoring, and more.

WorkWave Manager 360+: In 360+, you get hard-wired vehicle tracking, driver behavior metrics (such as speeding or hitting the brakes suddenly).

Route Planning with MyRouteOnline
Delivery teams can use MyRouteOnline to optimize up to 350 addresses per route. These addresses are imported into MyRouteOnline via an Excel or CSV file and can (in the more advanced plans) be saved for future use.
MyRouteOnline can plan routes in three different ways:
Minimize distance: having your drivers drive the least distance possible.
Minimize time: creating the most optimal route with the shortest amount of travel time.
Balance distance and time: a mix of the first two.
Once routes have been optimized, they can be exported as an Excel file (perfect for teams who want to print out their routes), emailed to your drivers, or exported to TomTom or Garmin devices. Drivers can also use the MyRouteOnline app to log in and retrieve their routes.
MyRouteOnline is exclusively a route optimization tool, so it doesn't have any other advanced features that are needed by delivery teams, so we will continue on to its pricing.
MyRouteOnline Pricing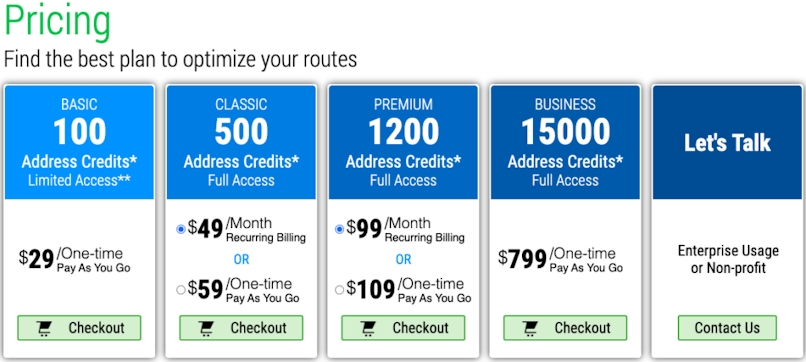 MyRouteOnline works off of credits. One unique address equals one credit (and you can reuse the same address within 30 days without being charged any additional credits).
But there are some differences between the pricing tiers. For example, if you're using the Basic Plan, you don't get the Save and Reload feature which makes it easier to plan recurring routes.
What About Free Route Planning Software?
Sometimes drivers and delivery teams try to use free route planning solutions. Free software can work for individual drivers who are managing very small routes. For example, Circuit offers a free route planner for drivers who don't need to optimize routes that are larger than 10 stops.
But once you start dealing with longer routes — or if you want to benefit from advanced features such as route monitoring or proof of delivery — then free route planning tools won't cut it.
Which Route Planning Software Is Right for You?
There are several variables that go into delivery route planning. When delivery teams try to manually plan their routes, they not only waste time in the morning, but they also waste time during the day as their drivers navigate inefficient routes.
While the best route planning software for your delivery service will vary based on your needs, we designed Circuit to be a viable option, no matter the size of your operation.
If you're ready to see the benefits of using cost-effective route planning software to plan and complete your routes, sign up for a free trial of Circuit.