5 minute read
Courier Delivery Issues: Twitter Agrees Timely Delivery is the Key to Customer Success
The results of our Twitter research on how courier delivery issues impact the online shopping experience.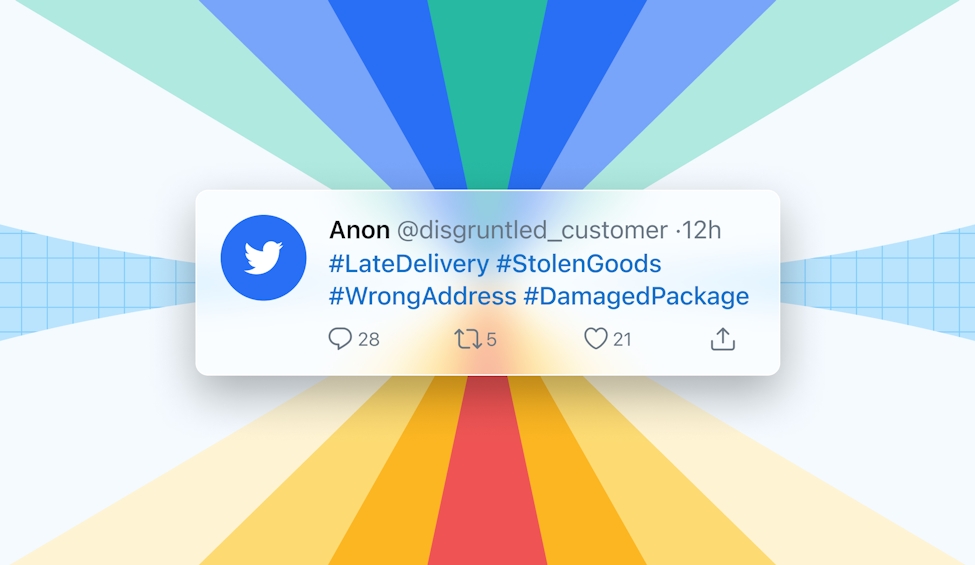 Poor delivery can hugely impact a customer's online shopping experience; it can leave a sour taste in the mouth and even turn a customer away from a retailer forever.
However, we know that poor delivery is a frequent occurrence, and with the recent growth in eCommerce, these issues are only becoming more common.
Today, with 11 percent of all shopping done online, it's vital to understand the customer delivery experience better so that you don't fall into the same pitfalls.
To do this, we analyzed over 6,700 tweets from customers to the UK's largest couriers – DHL, Yodel, Parcelforce, DPD, DX Delivery, Amazon, Royal Mail, UPS, Hermes, and FedEx – to study both the sentiment and the content of the tweets and understand the biggest issues UK shoppers have with delivery right now.
Delivery issues: Key findings at a glance
Customers care the most about late delivery on Twitter
83% of all tweets to the UK's top courier companies are negative
Only 3% of all tweets are positive
10% of tweets are about packages that don't turn up
What are the key delivery issues experienced nationally in the UK?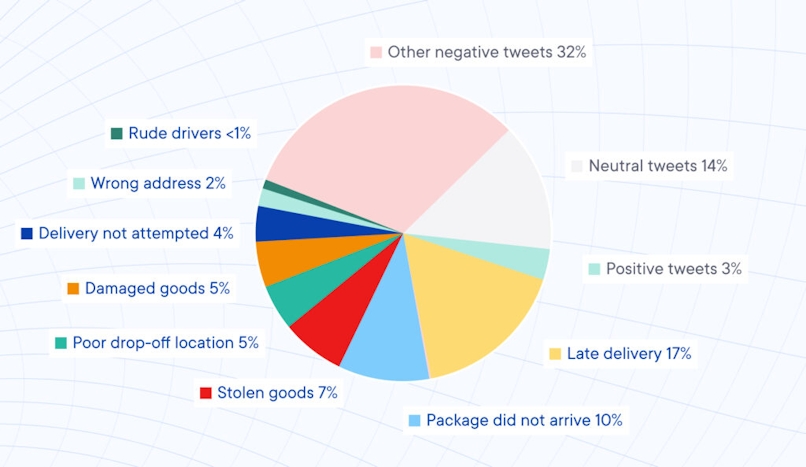 When it comes to complaining, we all turn to Twitter once in a while. Generally speaking, the only time customers want to contact you is when they need help.
So it's no surprise that Twitter is a negative space for courier companies. Our Twitter analysis revealed that 83% of all tweets have a negative tone, and only 3% are positive.
Brits' love of complaining on Twitter, the volume and frequency with which they make complaints, and the desire to offer feedback, offers valuable insights into what courier companies need to fix.
It's important that your business [and those you hire] focus on giving fast, reliable, competent delivery with a smile.
The #1 reason customers complain on Twitter is due to late delivery. with 17% of tweets relating to the problem. In fact, 10% of tweets discuss the package not arriving at all, and 7% of tweets indicate that people have stolen the goods.
These are concerning statistics; in two of these instances, the customers do not get their rightful goods.
5% of tweets are about couriers that have left packages in a poor location. For example, placed next to the bin or left out in the rain.
Another 5% of goods arrive damaged.
Finally, we looked at whether a customer did not get their package delivered despite them being in (4%), went to the wrong address (2%) or whether the drivers were rude (under 1%).
The results seem clear: There are some key issues that couriers must address to meet retailer and customer expectations.
According to UK law, the retailer is responsible for the condition of the goods until they are delivered. So you are responsible for any damage or breakage during delivery, and not the courier.
Timely delivery is important, but customers come back to you for their refunds.
Is there regional variation in delivery issues?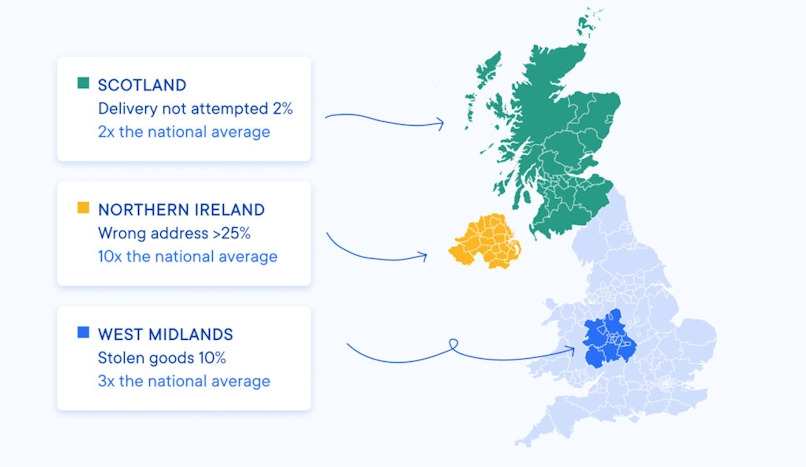 Our study paints a very interesting picture of just how different the types of delivery issues are regionally:
The crucial conclusions of our Twitter study were as follows:
20% of all tweets from the West Midlands speak about stolen goods; almost triple the national average.
8% of tweets from Scotland report that a courier did not attempt delivery, despite the customer being on the property. A rate that's twice as high as the national average.
There is an issue with finding the right address in Northern Ireland as over a quarter of all tweets say that the driver has gone to the wrong address – ten times more than the national average.
On the other hand, in Northern Ireland, packages are less likely to be delivered damaged.
While #1 is certainly a shocking statistic, when compared to the national average, it shows that regions face different delivery issues. There is also a unique case study for #2 that paints a picture of the need for better route planning and that couriers looking to improve should conduct regional analysis instead of taking a blanket approach.
Courier Delivery Issues: What can you do about this?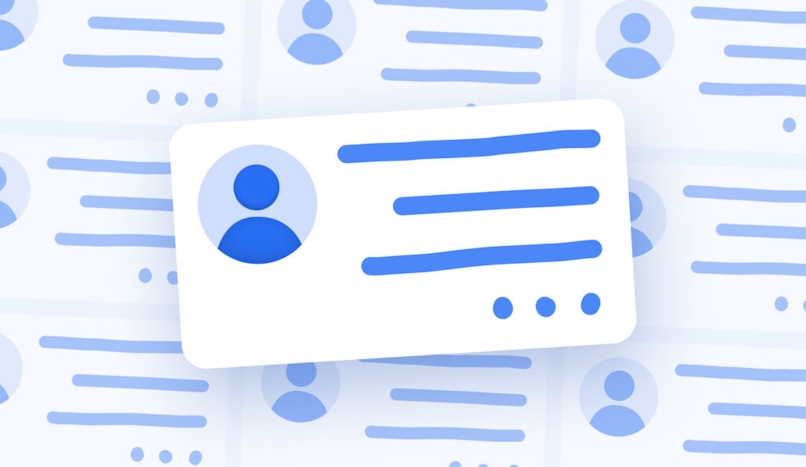 We're currently facing a delivery driver deficit, yet the demand for online delivery continues to rise.
In these circumstances, the opportunity for delays and damages increases. Retailers must take care with their courier choice and couriers need to set themselves up for success.
Here are our top recommendations for reducing the number of delivery issues and improving the experience.
Recruit more drivers by diversifying job advertisements to make sure you're reaching everyone with the right skills
Use technology to improve efficiency across the delivery system. For example, Circuit Route Planner saves drivers on average an hour per day. If 11 drivers gain an hour each through faster delivery, it saves one full average working day to the company.
Use data to make sure you're employing only the best drivers. Data captured as drivers work is not often analyzed. So both couriers and retailers are missing valuable insights.
Treat delivery drivers as an extension of the team as they are potentially the only human link a customer will have with an online retailer. If the driver feels valued, their level of service is likely to improve.
Courier Delivery Issues: Conclusion
As eCommerce continues to rise, so will the demands on the courier companies needed to fulfil customer orders, and the more likely the Twitter complaints.
However, the four key delivery issues highlighted in this post can be fixed.
To help your company give the best delivery experience, be sure to invest in hiring the right people and give them the right training. Tools such as Circuit for Teams can be used, but make sure that you're using them in the best way to give your customers the delivery experience they deserve.
If you're ready to see all the ways your delivery service can benefit from using Circuit, start your free trial today.
Notes
Circuit analysed a sample of tweets posted by UK users between 1 January – 30 June 2021. All tweets contain one or more keywords related to delivery services and support issues, such as 'wrong address', 'package' or 'customer support', and the Twitter @handle of one of the UK's leading courier companies including DHL, Yodel, Parcelforce, DPD, DX Delivery, Amazon, Royal Mail, UPS, Hermes and FedEx. Circuit analysed a random sample of 6725 tweets mentioning each courier.