8 minute read
A Guide to Shipping Costs and Accurate Shipping Estimates
Shipping costs can make or break a small business's profits. Learn more about shipping prices and how to get estimates from USPS, FedEx, and UPS.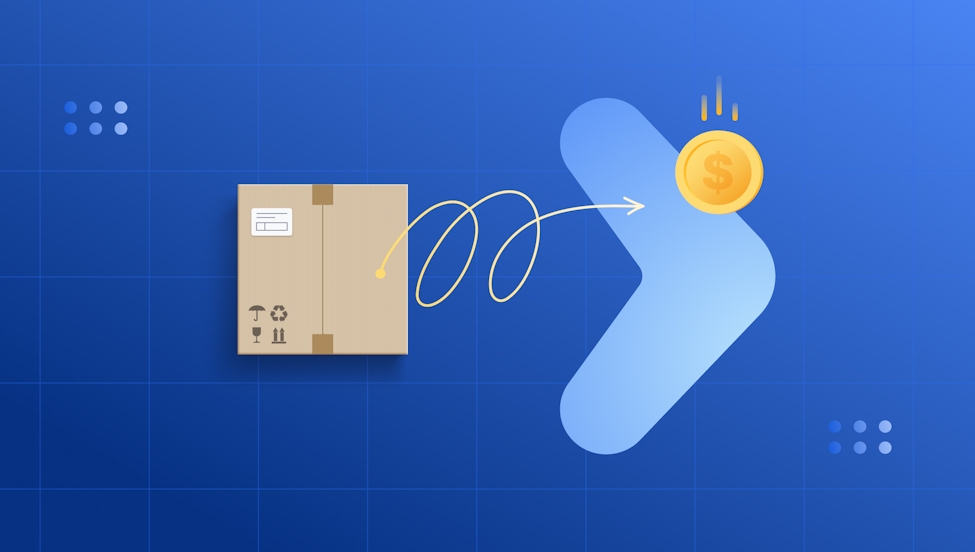 Want to take delivery costs into your own hands? Circuit for Teams optimizes routes for your delivery drivers, so they're on the fastest, most efficient route.
Understanding shipping costs and getting accurate shipping estimates is a big part of running an online business.
In fact, 45% of shoppers abandon a cart when the order doesn't qualify for free shipping.
Shipping costs can make or break a sale, and if you don't have a handle on them, it can be difficult to keep your business profitable.
Shipping prices matter to your business, how much money you make, and your customers.
That's because 73% of shoppers expect fast, affordable deliveries when shopping online.
Meeting this expectation is essential to the success of your business, but it can be difficult to do if you don't understand shipping rates.
I cover what you need to know about shipping costs and how to get accurate shipping estimates so you can offer the best shipping options and keep your business profitable.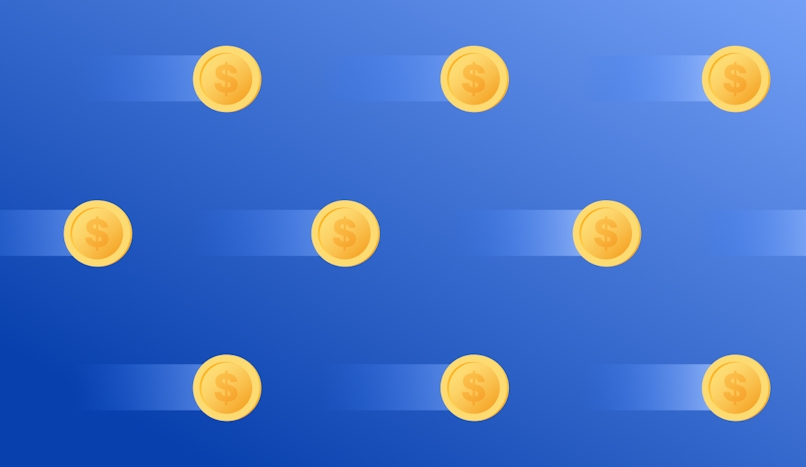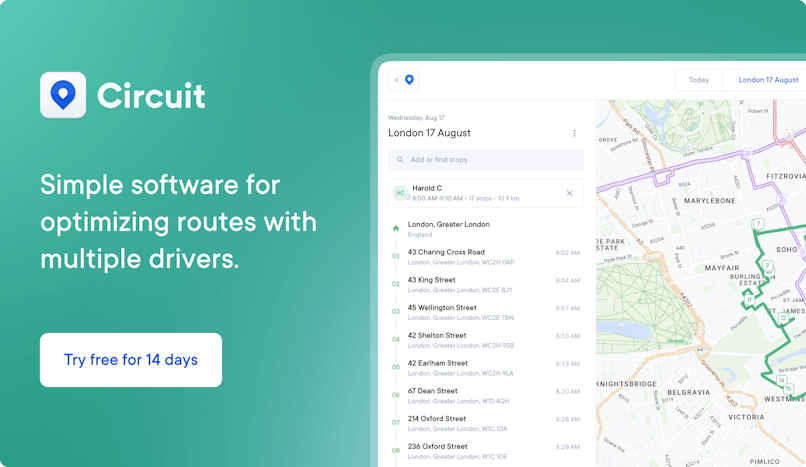 What impacts shipping costs?
From dimensional weight to delivery time, there are a few factors that influence shipping costs.
Package dimensions
Box size makes a difference.
As an eCommerce company, it's important to know that most major shipping carriers use a pricing technique called dimensional weight (DIM).
It's based on the amount of space a package occupies in relation to the actual weight of the package.
DIM is calculated by multiplying the length, width, and height of a package and dividing by a standard divisor — which depends on the carrier.
For example, FedEx offers these steps:
Multiply the length by width by height in inches. Round each measurement to the nearest whole inch. You'll then get the cubic size of your package.
Divide by 139 for US, Puerto Rico, and international shipments.
They also have a dimensional weight calculator you can use.
On the other hand, UPS Ground determines dimensional weight by dividing the cubic size of your package in centimeters by 5,000.
For each shipment, you're charged based on whatever is greater: the DIM weight or the actual weight (which is what the product weighs plus its packaging). 
Whichever weight is higher (the DIM weight or the actual weight) becomes the billable weight.
Package weight
The second factor that impacts shipping costs is package weight. 
This one is pretty straightforward: The heavier the package, the more it will cost to ship.
But there are two things to keep in mind when it comes to package weight.
Actual weight: This is the weight of your product, including packaging.
Dimensional weight: This is the weight of your product based on its cubic size.
You might be thinking, "My product doesn't weigh that much; there's no way the DIM weight could be higher."
But keep in mind that even if your product doesn't weigh much, it might take up a lot of space.
In that case, the DIM weight would be higher, and that's what you would be charged for — this is called the billable weight.
It's easier to adjust your packaging to reduce the dimensional weight than it is to reduce the actual weight of your product.
For example, you could use a lighter material for your packaging, or you could ship your products in multiple packages instead of one large package. 
Or consider flat-rate shipping options.
Package destination
Another factor that impacts shipping costs is package destination.
The farther away the destination, the more it will cost to ship.
Shipping services use shipping zones to calculate shipping rates.
Essentially, shipping zones are groupings of states in the US and countries around the world that carriers use to determine how much it will cost to ship a package.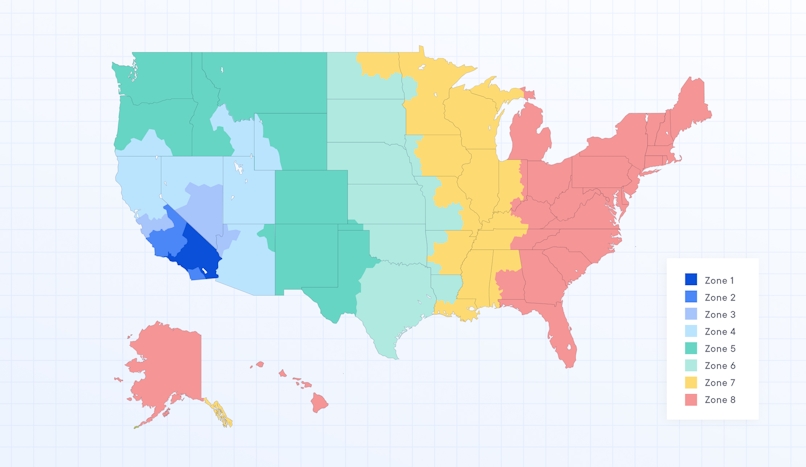 The shipping charges are based on where the package originates and where it's being shipped to.
For example, if you're shipping a package from New York to California, it will cost more than shipping a package from New York to Pennsylvania because California is in a higher shipping zone.
And, of course, international shipping is more expensive than domestic.
International shipping costs are also influenced by the destination country.
Some factors that might go into international shipping include fuel, customs and trade tariffs, security, how busy the ports are, the transportation method, and more. 
Package contents
Some items are more expensive to ship than others because they're considered hazardous materials.
If you're shipping items like batteries, cleaning products, or perfume, you'll have to pay a hazardous materials surcharge.
This is because these items are regulated by the government and require special handling.
Hazardous materials surcharges vary by carrier.
And if you're shipping high-value products, you may end up paying more because carriers require that you purchase additional insurance.
Sure, you can take the chance and ship without adequate insurance coverage, but if something happens to the package, you'll be out of luck.
Shipping insurance reimburses you if your package is lost, stolen, or damaged in transit.
While it can add to the total cost of shipping, sometimes it's worth it.
Package shipment speed
The faster you want your package delivered, the more it will cost.
This is because carriers have to put your package on a priority shipping lane, which costs more.
Economy shipping services are the cheapest, but they also take the longest.
Think about the products your small business ships.
If you're selling perishable goods or time-sensitive items, for example, you might want to consider investing in faster shipping service.
But if you're selling non-perishable items that aren't time-sensitive, you can probably get away with using a slower, more economical shipping service and saving money.
Customers are spoiled with on-demand delivery.
Remember, you don't necessarily have to be Amazon and pay the premiums to ship your items out in two business days.
If you wish to offer expedited shipping methods, though, allow your customers to pay for it.
This is a great way to offset some of the shipping costs while still giving your customers the convenience they crave.
How to use shipping cost calculators
Let's take a look at some of the major shipping carriers and their different shipping calculators.
USPS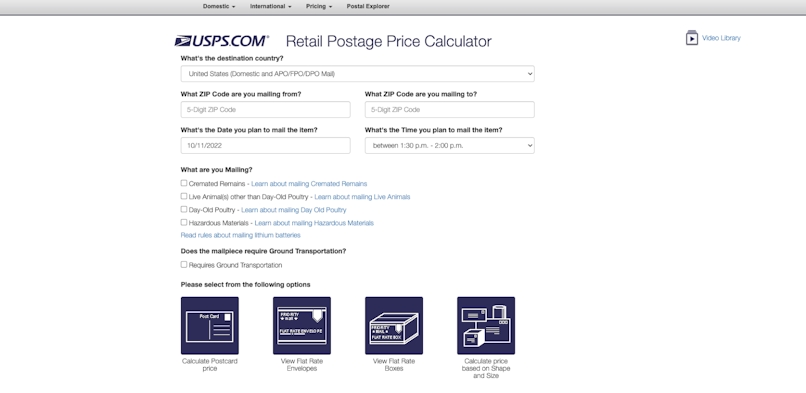 Use the USPS Retail Postage Price Calculator.
Choose the destination country from the drop-down list. 
Add the ZIP code you're mailing from and the ZIP code you're mailing to. 
Pick the date and time you plan to mail the item. 
You'll also need to check the box if you're mailing certain goods like live animals or hazardous materials. 
Check the box if the package needs ground transportation. 
Finally, pick from the options to calculate postcard prices, view flat-rate envelopes, view flat-rate boxes, and calculate the price based on shape and size.
UPS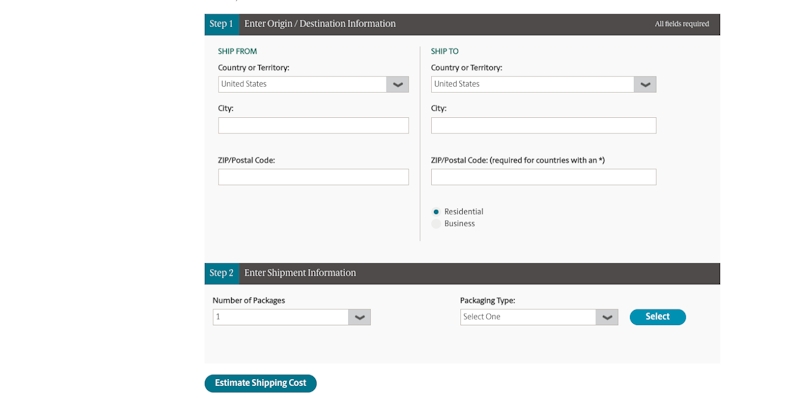 Use the Estimate Shipping Cost calculator. 
Fill out the "Ship From" section by adding the country, city, and postal code. 
Next, fill out the "Ship To" section with the country, city, and ZIP code of the destination. 
Pick the address type as residential or business. 
In the "Enter Shipment Information" section, choose the number of packages (1-20) and packaging type (your packaging, UPS Letter, UPS Express Box, UPS Tube, or UPS Pak). 
Finally, click "Estimate Shipping Costs."
FedEx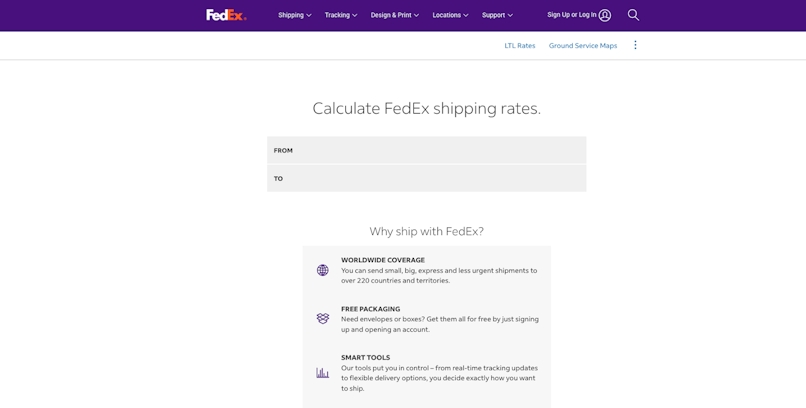 Use the FedEx shipping rate tool. 
Enter the From and To address. If you don't have an exact address, you can just enter a city or ZIP code. 
Check the box if you're shipping to a residence and select if you wish to purchase additional liability coverage and declare a value. 
Next, add information on your shipment packaging type (your packaging, FedEx Envelope, FedEx Extra Large Box, FedEx Large Box, FedEx Medium Box, FedEx Pak, FedEx Small Box, FedEx Tube). 
Now enter the number of packages (max 40), the weight (max 2200 lbs), and dimensions (optional) of the packaging. 
Enter the dates you want to ship and click "Show Rates."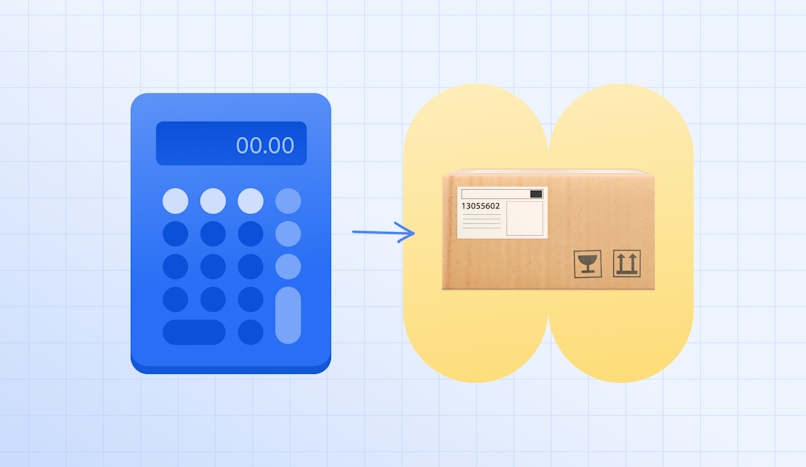 How to develop a shipping strategy
Shipping fees can have a significant impact on small businesses.
When shipping is too high, you have cart abandonment.
When shipping is too low (and you're paying for it), that's less money in your pocket.
Giving a shipping estimate doesn't have to be complicated. 
I've already shown you shipping calculators for major shippers and how they work. 
But you can also use third-party shipping calculators like ShipStation or Stamps.com. 
These services let you compare rates, services, and print labels from multiple providers.
Next, you need to develop a shipping cost strategy — determine how much your customers will need to pay for shipping.
For example, some eCommerce sites offer free shipping on orders over $50. Others charge a flat-rate shipping fee for all orders, regardless of the amount.
ShipBob's 2022 State of eCommerce Fulfillment Data Report shows that around 25% of eCommerce brands always offer free shipping on domestic orders.
But this isn't always the most profitable strategy.
Instead, many small businesses opt for real-time rates, which is simply charging the customer what the carrier charges you.
Businesses that offer free shipping often increase the product price to pad their margin.
Here are some factors to consider when deciding on your shipping strategy.
The price of your products: If you have low-priced items, it might not make sense to offer free shipping because it will eat into your profits. On the other hand, if you have high-priced items, customers might be more likely to purchase if they don't have to pay for shipping.
The type of products you ship: If you sell heavy or bulky items, shipping costs will be higher. And remember, the size of the packaging matters just as much as the goods inside.
The average order value: If your average order value is low, customers might be turned off by high shipping costs. No one wants to pay more for shipping than the item itself.
The carrier, shipping zone, and speed: The shipping carrier you use, the distance the package needs to travel (shipping zones), and how fast you need it to arrive (next-day versus economy, for instance) all play a role in shipping costs. Use a shipping calculator to get a solid idea of what you'll be paying.
Your shipping strategy will likely change as your business grows. 
As your average order value and shipping volume increase, you'll be able to negotiate better rates with carriers.
You'll want to use ground shipping as often as possible and ship from locations that are closer to your customers (so consider using a fulfillment center).
You can also outsource fulfillment to third-party logistics (3PL), which can automate and optimize your shipping process — giving you more time to focus on other areas of your business.
When it comes to giving shipping estimates, accuracy is key. 
No one likes to be surprised with high shipping costs at the checkout.
The best way to have accuracy is to use a shipping calculator and enter the details of what you're shipping.
Shipping estimate example calculation
You've found the right shipper. Now you need to crunch the numbers.
Here's a shipping estimate example.
Alternative: Deliver yourself with help from Circuit for Teams
While using 3PL is a popular way to outsource order fulfillment, it's not the only solution.
If your small business delivers locally, consider doing last-mile delivery yourself with the help of routing software like Circuit for Teams.
Circuit helps businesses plan and optimize their delivery routes, track their progress, automate customer updates, and get proof of delivery.