7 minute read
How to Reduce Enroute Costs for Your Delivery Team
Suffering from rising inflation costs? Looking to reduce enroute costs for your delivery team? We've got the answers.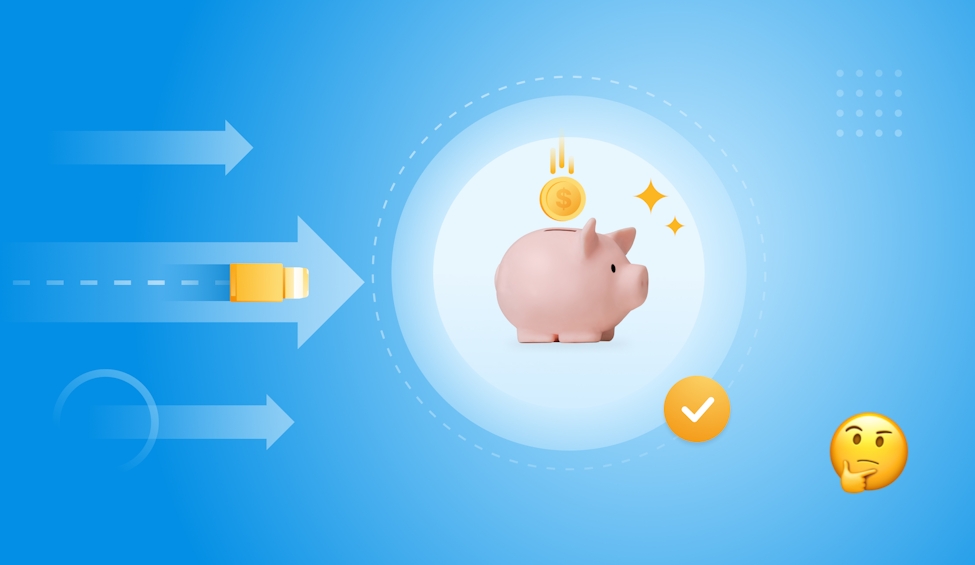 Want to skip the read? Our advice for reducing enroute costs for your delivery drivers is to use route optimization software like Circuit for Teams.
Let's face it: Deliveries are expensive!
If you're a small business, shipping a small package domestically may cost you $8 to $12.
If you run a delivery business, cutting costs involves finding ways to save money across various legs of delivery.
A major part of the process involves helping your drivers reduce costs when delivering packages from the warehouse to the final destination. 
This portion of delivery is often called last-mile delivery — and it costs a lot!
In fact, over 50% of delivery costs occur in the final mile. 
And with customer demands for fast shipping increasing, last-mile delivery costs are only rising. 
Making sure you use best practices to make last-mile deliveries most efficient is important to increase your business's profitability.
That's where I come in. Let's explore some ways to reduce enroute costs for your delivery team and streamline the delivery experience.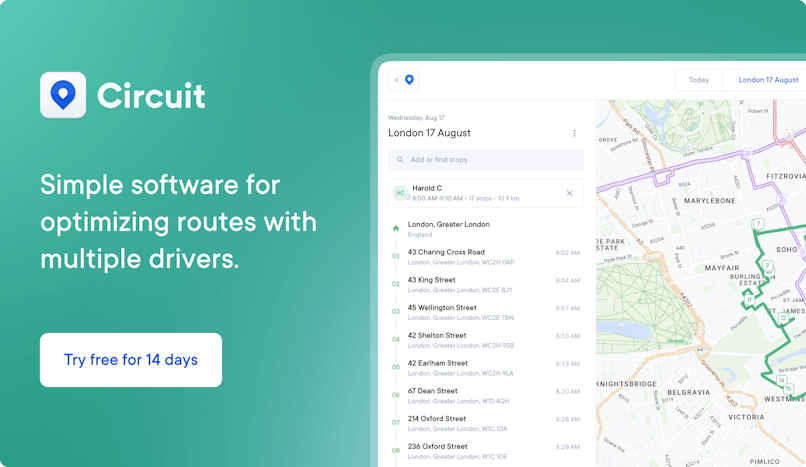 What is last-mile delivery?
Last-mile delivery is the final step of the delivery process — it refers to the delivery of packages from the fulfillment center or distribution center to their final destination.
That's the customer.
The last-mile delivery stage is a high-priority delivery point since it involves getting the packages to your customers' doorsteps. 
Speed, convenience, and accuracy in last-mile delivery are important for customer satisfaction.
In fact, 42% of customers even went so far as to state that they expect a two-day shipping option for every online purchase. 
If you're thinking about starting a dropshipping company, we sympathize with you. :(
Companies like Amazon and Walmart are making fast deliveries commonplace, and they've set a ridiculously high standard for all small businesses.
We'll give a real-world example to explain the last-mile delivery process. 
If you place an order through an eCommerce website, your package will travel through several stages of the supply chain to get to you. 
After placing your order with the eCommerce website, the manufacturer or supplier dispatches your package and the delivery process begins. 
The last-mile delivery stage begins when your package reaches the fulfillment or distribution center. 
Your package is then scanned and loaded into the delivery vehicle.
After this, the delivery driver will deliver your package to your doorstep. They may use proof of delivery to record the delivery.
It's no wonder that last-mile delivery is expensive — factors like high fuel consumption, idling, out-of-route delivery locations, and failed deliveries all add up.
(The average last-mile delivery cost per package is $10.10. That's quite steep!)
And as a delivery business, it's your responsibility to find ways to help reduce costs and make deliveries more efficient.
Why are last-mile delivery costs increasing? 
Last-mile delivery costs are affected by several direct and indirect factors.
Last-mile deliveries use a lot of gas — there's no skirting around that. 
Gas prices in the US are hitting record highs (one gallon of gas cost around $4.10 in August 2022).
Another reason last-mile delivery costs are climbing is an increase in the number of vehicles. 
In the last four years, the number of cars has leaped by over 10 million. 
This increase has led to additional traffic congestion and more time on the road. 
More time on the road equals fewer daily deliveries, increasing labor and operations costs.
Moreover, customers' delivery expectations have increased. Many expect to receive their packages the same day they buy them. 
And 73% of Americans say they would order more often from a company or delivery app following an early or timely delivery. Meanwhile, 64% of customers say they would pay more for speedy delivery.
This change in customer demand has led to delivery businesses increasing their last-mile delivery operations by offering same-day shipping. 
Many have started using more drivers for quicker deliveries, adding to labor and operations costs.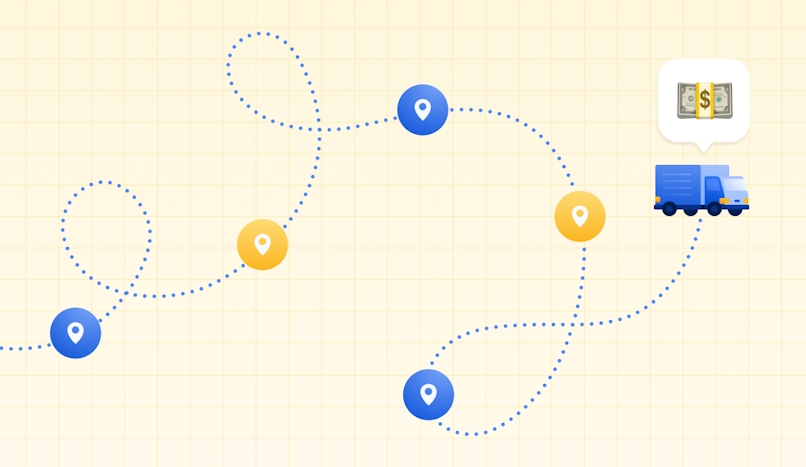 5 ways to reduce costs for your delivery drivers
While last-mile deliveries are quite an expense, there are ways to reduce costs for your delivery drivers.
Improve your profits by using route optimization and helping your drivers wield some driving techniques. 
We highlight five ways to lower costs.
Use route optimization software 
One of the easiest ways to reduce your enroute delivery costs is to use route optimization delivery software like Circuit for Teams. 
But how can route optimization help with costs? 
First, delivery management software can plan the fastest routes for your delivery team. 
A speedy route equals less time on the road, which results in more fuel efficiency. 
Second, route optimization factors in things like traffic. 
If your delivery drivers use routes with traffic congestion, the result will be more driving (and idling) time.
Route optimization software like Circuit for Teams allows your drivers to load their trucks in an efficient way, so they spend less time looking for the correct packages when they reach a dropoff location.
Loss time = fewer deliveries made in a day = less money.
This can result in more delivery time per package and higher fuel costs. 
Third, route optimization software can help you outline routes that don't include tolls. This may seem like small savings now, but it can add up to hundreds or thousands in the long run.
Lastly, the app can inform customers when they need to be around to accept deliveries. This can save you money since your drivers won't need to make redeliveries.
Not yet convinced? Here's some of our real-life examples.
Offer a course on more efficient driving habits 
While training your drivers to use efficient driving techniques may need you to shell out some time or money, it can save a lot of costs in the long run.
Motor crashes are common. 
If your delivery driver has an accident on the road, you'll be liable to pay workers' compensation. 
You may also have to pay to repair vehicle damages or incur replacement expenses. 
Besides these costs, your delivery operations can slow down if your driver has to take time off for medical care or you have a vehicle in the shop. 
You can avoid this by making sure your course includes material on defensive driving skills, where your delivery drivers will be taught to avoid dangers on the road. 
Other efficient driving skills to instill in your delivery drivers are driving for maximum fuel and avoiding engine idling. 
Teach your drivers to accelerate gently, coast to decelerate, and maintain a steady speed.
Make sure your drivers avoid unnecessary idling. 
Idling refers to running a vehicle's engine when it's not in motion — such as at a traffic light or in traffic congestion.
Tell your drivers to turn the engine off if they stop for more than a few seconds. 
Research has found that drivers save fuel by shutting down for stops as brief as 10 seconds.
Another way to avoid idling is by using a route optimization app like Circuit for Teams. 
By suggesting the fastest sequence of stops and avoiding hurdles like traffic jams, the software can help prevent your drivers from getting stuck. 
Help drivers keep their vehicles in good condition 
Having a vehicle breakdown is the last thing you want when your delivery driver is on their way to deliver packages to customers. 
Not only will this delay deliveries — potentially costing you money — but you may also have to spend money to fix the delivery vehicle.
The efficiency of your delivery logistics could take a serious hit. That would suck! 
The easiest way to avoid vehicle breakdowns is to help your drivers regularly maintain their vehicles. Keeping delivery vehicles in good condition can keep them on the road longer.
So, what does regular vehicle maintenance include? We've made you a handy checklist:
Checking the tire pressure
Changing the air filters
Checking headlights and taillights 
Replacing the spark plugs
Replacing the oil and oil filters
Checking the coolant level
Changing the radiator fluid
Changing the brake pads
Checking the windshield wipers
Checking seat belt functionality
Maintaining power steering fluid level
Checking the battery
Discover inefficiencies using real-time data 
You can use real-time data to track problem points in the supply chain and resolve them quickly and effectively. 
This can save a lot of time and money. We'll use an example to help you better understand. 
Let's say your driver is on their way to deliver a package to a location but experiences a vehicle breakdown midway. 
If you can track their vehicle in real time, you can quickly assign the delivery to another driver close to that route. 
The new driver should be able to deliver the package to the customer on time, and you won't incur any losses.
Circuit for Teams can help you track drivers in real time through the driver app on their phones. 
Offer customers multiple delivery options 
Each average failed delivery costs $17.20 per package. And according to a survey by Loqate, 8% of first-time domestic deliveries fail. 
As a delivery business, you can help avoid this by offering your customers multiple delivery options. 
Set up pickup locations for your customers to collect their deliveries, saving you additional costs on delivery operations.
Alternatively, you can offer opportunities beyond same-day delivery by letting your customers choose a delivery date and window that's convenient for them.
You can also use software like Circuit for Teams to send automatic delivery updates to your customers, so they can be ready when the driver delivers their package.
Have a happier and more efficient delivery team today
As a delivery business, cutting costs is a great way to increase your profit margins. 
But last-mile deliveries are especially expensive. 
Using best practices to improve the last leg of your delivery services is important. 
By getting your drivers to use more efficient driving techniques and regularly maintain their vehicles, you can help reduce your costs of last-mile delivery. 
You can also give your customers faster delivery options and avoid paying for failed deliveries. 
Another easy and effective way to trim down enroute costs for your delivery team is using Circuit for Teams.
The route planner can plan the most efficient routes for multiple drivers in less than five minutes. Just add your list of stops and drivers to optimize delivery routes.
You can monitor your delivery vehicles in real time and resolve any inefficiencies quickly.
Circuit for Teams also lets you send automatic notifications to your customers and collect proof of delivery, improving the customer experience.