8 minute read
How to Choose the Right Grocery Delivery Software for Your Store
When looking for a grocery delivery software for your grocery store, you'll need an easy-to-use platform that takes the hassle out of organizing deliveries.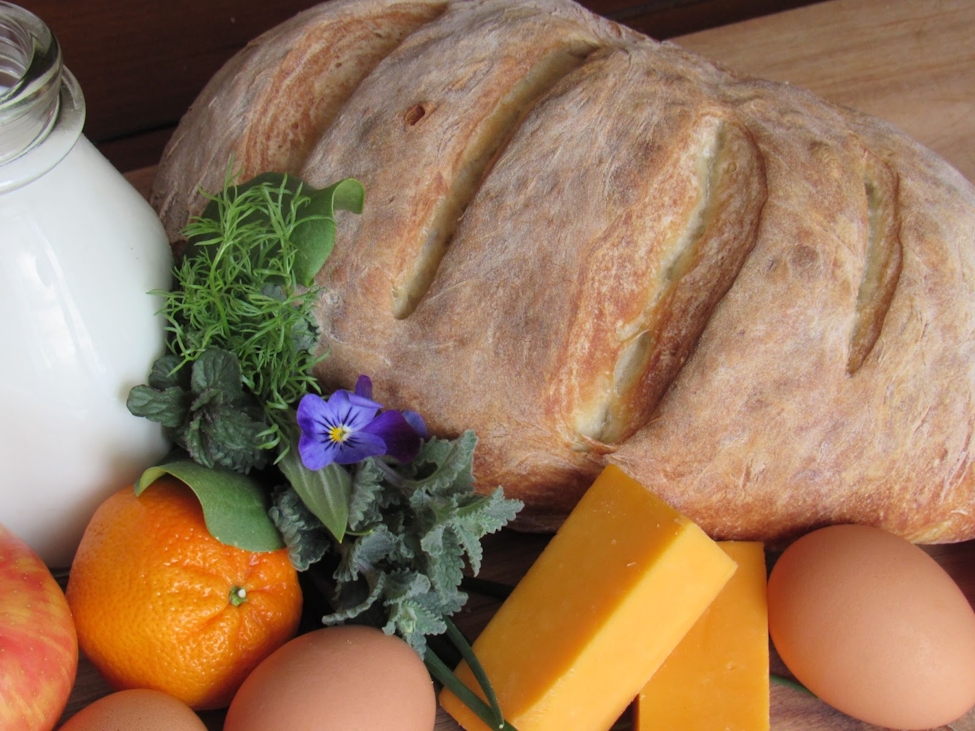 If you run a grocery store and you have an existing online ordering system in place, you'll want to find the best way to manage the grocery delivery process after someone places their order.
Grocery store owners need their grocery delivery software to be efficient and cost-effective — and to offer functionalities that make delivery management as straightforward as possible.
When looking for a grocery delivery solution for your online grocery store, you'll need a tool that takes the hassle out of organizing deliveries — one that delivers your online orders as quickly as possible.
On top of this, you'll need to minimize the time fresh produce is kept in the back of a delivery vehicle. By planning efficient delivery routes, grocery items will arrive at their destination as fresh as when they left your store.
6 real-world benefits of using a grocery delivery software like Circuit
In this post, we'll highlight the benefits of choosing a flexible delivery platform like Circuit for Teams as your grocery delivery software. And we'll give you a rundown of how it helps you:
Easily upload grocery orders in bulk
Quickly calculate optimized routes for grocery delivery drivers
Change grocery deliveries and planned routes in real-time
Track deliveries and drivers as they occur
Automate grocery order status notifications
Capture proof of delivery
Take control of customer experience for your grocery delivery service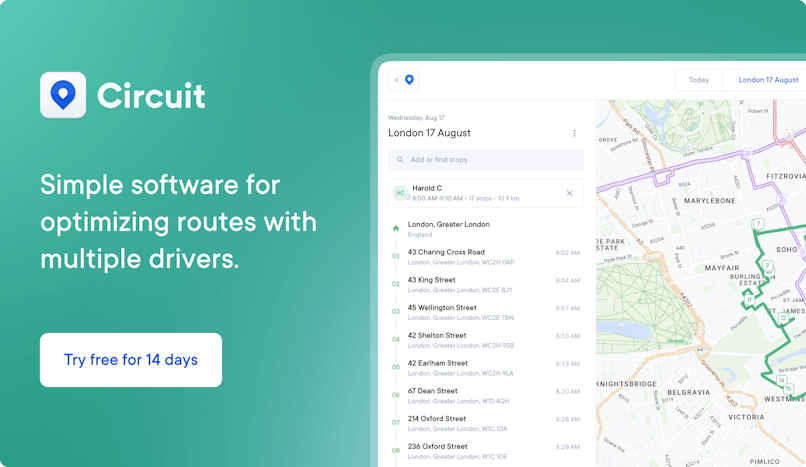 "De-coupled" delivery platforms vs all-in-one grocery solutions
Some grocery delivery software tools out there will offer you an ordering platform coupled with their own delivery functionality. This is definitely tempting because you'll have everything in one place for both online grocery ordering and delivery management.
But unfortunately, these combined systems often only work in tandem and can limit your options to use other grocery delivery or grocery ordering solutions in the future. Although a combined ordering and delivery platform is a decent option if you don't have either system set up yet, it's still worth considering using a more flexible grocery delivery software instead.
👉 Put simply: A delivery system that hooks up to any eCommerce platform gives you the flexibility to change one or both systems if something isn't working for your business.
What if you are already happy with how your online grocery ordering platform works?
If you're a grocer and already have a successful grocery ordering system set up, adding a separate de-coupled delivery software is often the most straightforward option.
💡 For example, you might be using Shopify as an online grocery shopping platform — and you're just looking for something that works alongside to help you handle your deliveries. In this case, there's no need to disrupt your business with wholesale changes to new platforms. You can simply add Circuit for Teams as an independent platform, and export your orders in bulk.
Next, we'll take a deep dive into Circuit, and the benefits it offers to grocery delivery businesses.
1. Easily upload your grocery orders to create your delivery schedule
Despite which eCommerce platform you choose to use for online grocery ordering, with Circuit for Teams, you can import a spreadsheet of delivery addresses and grocery orders — and within a couple of minutes, you'll have 100% optimized delivery routes for all your drivers.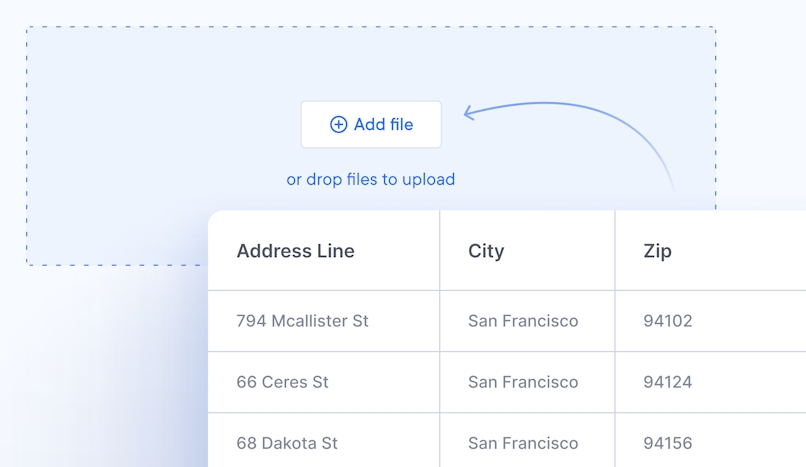 Many of Circuit's customers have dramatically cut the time it takes to upload delivery addresses for their grocery orders. This saves them time, energy and payroll costs.
The Circuit for Teams"Bulk Add Addresses" spreadsheet import tool (shown above) avoids a long manual process of uploading addresses and prevents problems, such as badly-copied delivery addresses, caused by human error.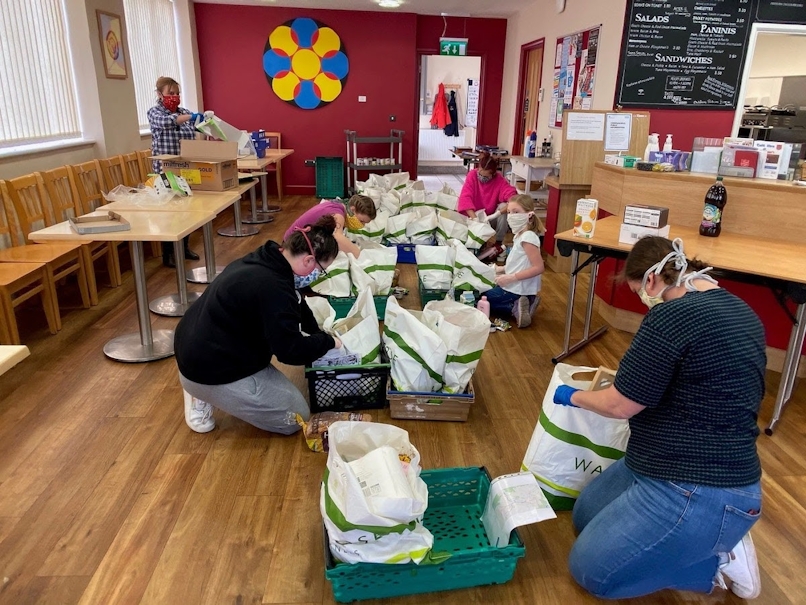 Oasis Hub Bath, a non-profit organization providing food parcels to needy families, uses Circuit to manage its grocery deliveries in exactly the same way a for-profit grocery store would.
Elayne, the administrator at Oasis Hub Bath, imports the addresses into Circuit for each week's deliveries on her computer via an Excel spreadsheet. Circuit then creates an optimized delivery route for each driver volunteering on that day.
The team at Oasis Hub Bath is grateful that Circuit reduces the time it takes for the team of volunteer drivers, who never even charge gas money, to drop off all the grocery parcels. Elayne says:
I'm not sure how we would have planned these routes and made these deliveries to our community without Circuit.
Circuit's spreadsheet import feature also lets dispatchers add notes for drivers and establish priority deliveries for items that need to be delivered within a specific time slot. This works if customers may have paid for express delivery or some produce needs fast delivery to stay fresh.
2. Quickly calculate optimized routes for your grocery delivery drivers
Route optimization is one of the most important features of grocery delivery software, as it lets drivers deliver more grocery orders in less time.
After importing a spreadsheet of delivery addresses from your chosen ordering platform, Circuit for Teams:
Calculates the fastest route to deliver all the orders.
Distributes routes among the drivers you have available.
Sends each driver route instructions, through the free Circuit Driver App.
Uses each driver's preferred mapping app (Waze, Google Maps, Apple Maps).
The Circuit mobile app is available for both iOS and Android devices, so drivers can use their own smartphone to follow delivery routes and keep in touch with headquarters.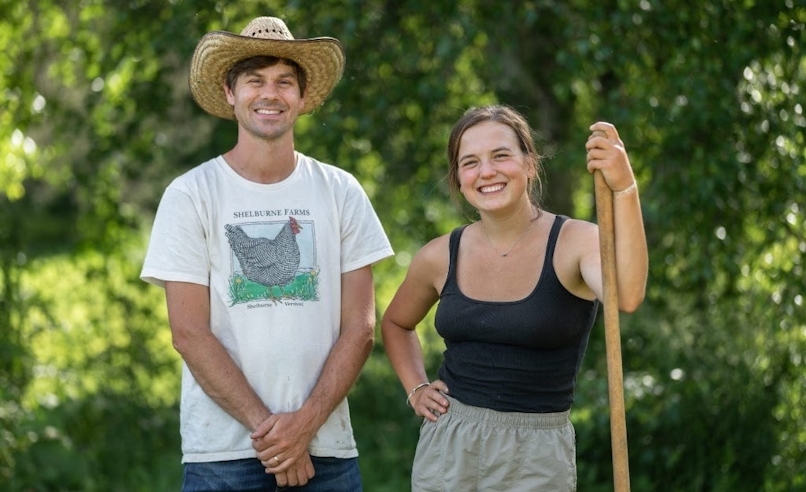 When Tim Wall, the owner of Three Chimney Farm, changed his business model to focus on direct-to-customer (D2C) sales, he suddenly went from zero to sixty deliveries per week. He needed delivery management software that could organize those deliveries efficiently.
Initially, Tim had tried to use MapQuest, a free online route planner — but found that it limited the number of stops on each delivery route. Google Maps also placed a limit of 10 stops on each optimized route. So, Tim opted for Circuit, which allowed him to optimize multi-stop delivery routes, with as many stops as he needed.
3. Change deliveries and adapt routes in real-time
Once drivers are out on their grocery delivery route, needs can change. Customers may cancel or change their grocery orders, last-minute orders may come in that need to be added to a route, or drivers may have to finish the day early because of a personal emergency, for example.
Unexpected changes mean additional stops may be needed — or grocery deliveries have to be redistributed. Circuit for Teams was built with this flexibility in mind and allows stops to be added to routes even after sending the day's routes out to drivers.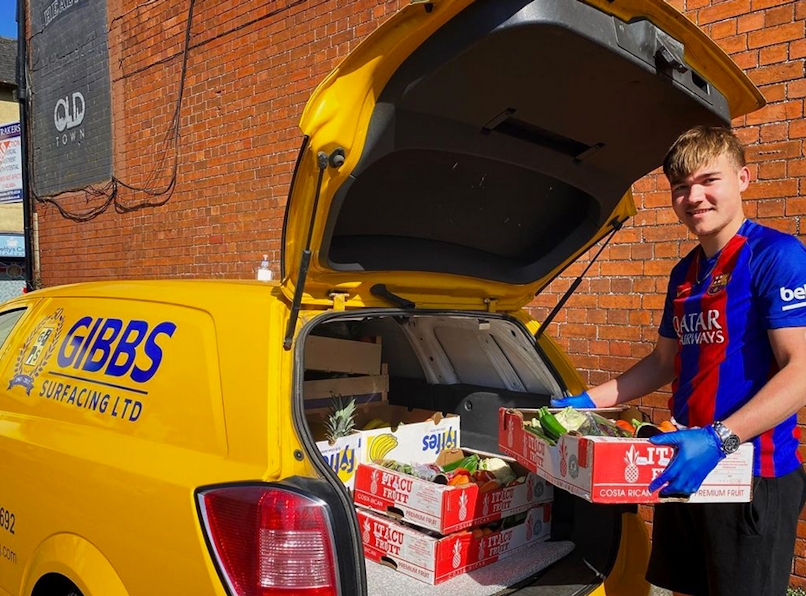 When Kris Talikowski, owner of The Core Juicery juice bar in Swindon, UK, started offering a fruit and vegetable box service to make up for lost business during the COVID-19 pandemic, he went from zero to 400 grocery deliveries per week.
He chose Circuit for Teams to manage these socially-distanced deliveries to his customers' home addresses, which reduced the number of times they needed to go to the grocery store.
Beyond the clear benefits of using Circuit's route optimization software, Kris also makes use of the built-in flexibility of Circuit for Teams. This allows him to adjust routes even after they've been sent to his drivers, adding more stops, or adjusting route length based on how many veggie boxes each different delivery vehicle can carry.
Circuit also automatically adjusts routing based on traffic conditions, taking drivers away from traffic jams and changing the order of delivery stops as required, keeping routes optimized in real-time and altering ETAs and customer notifications as the grocery delivery route progresses.
4. Track grocery shopping deliveries and drivers
Grocery delivery software not only optimizes routing, but it also offers businesses the possibility to monitor routes in real-time. Managers back at the grocery store can see where each driver is along their delivery route at any time. This feature provides information about:
Which grocery deliveries have already been completed.
How long it will take to get to the next stop.
Estimated times for deliveries further along the route.
This accurate delivery order status can then be passed on to customers when necessary.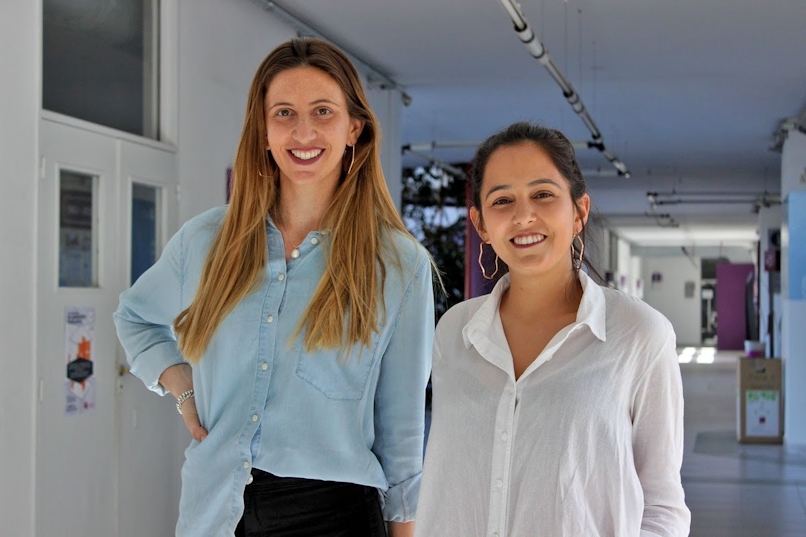 Before Pilar Ordonez, the owner of the health-food store Coco Market started using Circuit for Teams to deliver directly to her customers, she had to contact each driver by phone every time a customer called to ask when their order would arrive.
This not only took time out of Pilar's schedule but also meant drivers had to pull over to answer her call, delaying their progress on the delivery route.
After signing up for Circuit for Teams, Pilar was able to track drivers' delivery routes directly from her computer in real-time. Now, when a customer query comes in, she can give them an accurate arrival time without ever slowing her drivers down.
5. Automate grocery order status notifications
Circuit for Teams has a handy recipient notification feature, which sends notifications to customers who have made an online grocery order and are waiting for delivery. This helps save store owners time they'd spend fielding calls about the status of grocery delivery services — because customers are automatically informed of updated ETAs.
Your online grocery delivery customers get an email or text message with a link about when their package is due to arrive. When they want an on-demand update of delivery time, the customer clicks on the link and gets the latest ETA information as calculated by Circuit. Simple.
6. Capture proof of grocery delivery
Circuit for Teams includes an electronic proof of delivery (ePOD) feature. Using the driver's Circuit smartphone app, they can capture electronic signatures — with the customer signing for the delivery using their finger on the screen.
Electronic proof of delivery (ePOD), with electronic signature and photo capture, ensures that grocery delivery drivers can prove the delivery was made. This protects them, and your business, from fraudulent non-delivery claims, delivery errors, and lost grocery boxes.
These signatures are immediately sent via the cloud and are accessible at HQ through your web app. For a contactless option, digital photo capture allows drivers to take a photo using their smartphone to record that the grocery delivery was left with the customer as agreed.
A notification of this PoD is sent to the customer by text or email, including the electronic signature and/or delivery photo, which concludes the delivery process. If a customer dispute comes up, the information captured electronically can be used as evidence that the delivery was successful and order status was completed.
Take control of customer experience for your grocery delivery service
By using grocery delivery software and having sole responsibility for your grocery store's deliveries, you can take control of the customer experience for every one of your orders.
Circuit for Teams makes it easy to manage your own hand-picked team of delivery drivers, who can be trained to provide a service tailored to your brand and your customers' expectations.
Using a two-in-one ordering and delivery system leaves you with less flexibility to chop and change your technology. Plus, third-party delivery services will add to your costs and remove your ability to control the customer experience (which reflects your grocery store's brand values).
Circuit for Teams gives you everything you need to handle your grocery deliveries efficiently — all with a simple and friendly user experience. This includes advanced route planning and route optimization, real-time delivery ETAs and driver tracking, proof of delivery, and more.