7 minute read
Shipping vs Delivery: What's the Difference?
Confused about the differences between delivery and shipping? Learn how eCommerce orders are transported to customers' doorsteps.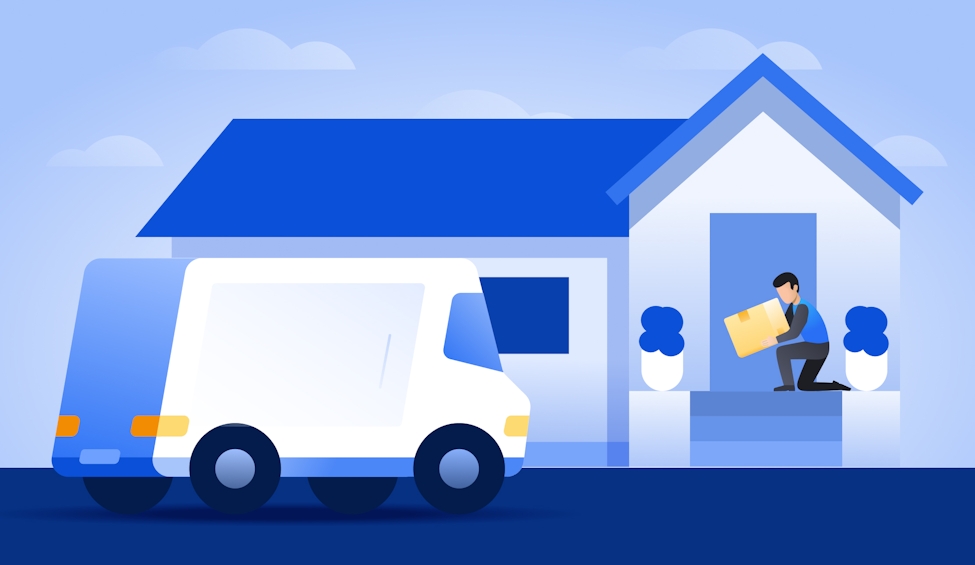 Struggling to meet delivery deadlines? Manage drivers and deliveries with Circuit for Teams.
If you run a delivery business, you're probably pretty familiar with the words shipping and delivery. 
Both terms involve the transportation of goods from the supplier to the customer. 
But while most people may use them interchangeably, the terms don't actually mean the same thing. 
Shipping describes a package leaving your warehouse and making its way to the customer. 
Delivery, on the other hand, describes the actual date a package is dropped off at the customer's address. 
To avoid confusion, it's a good idea to give both the shipping date and delivery date to your customers. 
Educating customers on the differences between the two terms is, after all, important for your small business to grow. 
You wouldn't want your customers thinking your brand is in the wrong because they've got the words all confused.
Be sure your customers understand the difference between shipping and delivery. 
That way, you'll be able to manage their expectations — and potentially avoid miscommunications or dealings with difficult customers. 
To help, I'll discuss how shipping differs from delivery so that you can make the differences clear to your customers. 
I'll also go over some ways you can best get the message across.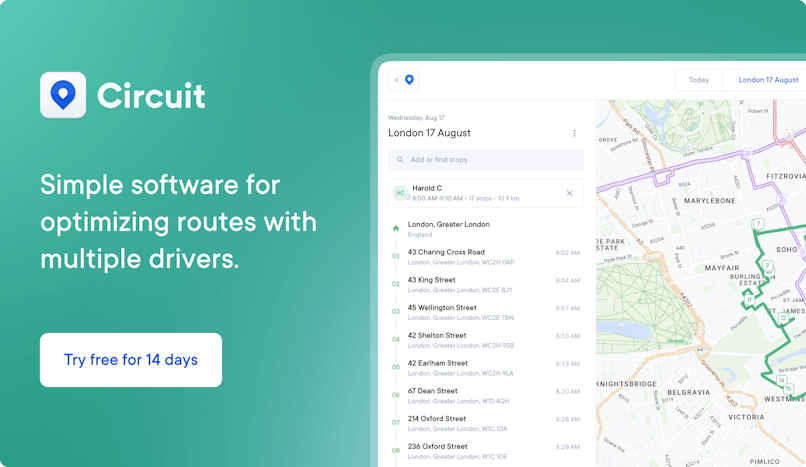 What is shipping?
Shipping or shipment refers to the packaging and dispatching of products from a retailer's or supplier's warehouse. 
These products are usually small and dispatched through a local postal service or courier service. So, shipping typically involves transporting small items and household goods. 
The shipping process goes something like this: 
Receiving an order: Once an order is received, you'll first check your inventory to make sure you can process it. This stage of the shipping process involves working with your manufacturer or supplier to receive the item at your warehouse. Otherwise, if you work with a third-party logistics company (3PL), you'll send them the item at a fulfillment center. 
Processing an order: This step involves confirming the order information, customer's payment details, address, and contact information. You'll also want to update inventory data.
Fulfilling the order: Order fulfillment involves picking up the right items for the order and packaging them for transport. If the item is small, the package is then shipped using local postal or courier services. 
Accurately calculating your average shipping cost can help you offer better customer service and increase sales. 
How is this done? 
If you know what shipping usually costs you, include it in the item price. 
This will then allow you to offer free shipping on more orders and keep more customers since customers are more likely to abandon an online shopping cart when they have to pay unexpected shipping charges.
What is delivery?
Delivery refers to the date a customer can expect their order to arrive at their doorstep. 
Delivery typically deals with large items such as furniture and major appliances that may need the delivery person to install the product in the customer's home. 
Depending on the delivery service the customer has paid for, the courier might offer white glove delivery or threshold delivery. 
Typically, the delivery process looks like this: 
Packages arrive at the transportation hub or delivery service warehouse from the supplier or manufacturer. 
Delivery drivers are assigned their daily schedules. (If you're doing your own last-mile delivery, you can make this process more efficient by using route optimization software like Circuit for Teams.)  
Warehouse workers scan items set for delivery and update the inventory before loading packages onto delivery trucks. 
Delivery drivers bring packages to the customers' addresses and get proof of delivery. 
Here are some of the different types of delivery services:
Standard delivery: Standard delivery is the slowest method of delivering packages. It usually takes three to five business days, and the delivery is typically made by surface couriers (courier services that only deliver on land).
Same-day delivery: This kind of service delivers the customer's order on the same day they place the order. The customer typically has to place the order early in the day so the delivery service has enough time to pick up and deliver the item. Many eCommerce websites like Amazon now offer same-day delivery options for certain products or special customers who subscribe to services like Amazon Prime.
Next-day delivery: This kind of delivery is useful for delivering goods that can be transported through the night. These are items that won't perish instantly but still need to be transported quickly or with special arrangements like cold storage. Examples include fresh meat and medicine. Large quantities of goods can be moved domestically overnight since after midnight, there's less traffic, making overnight delivery an attractive option for many businesses.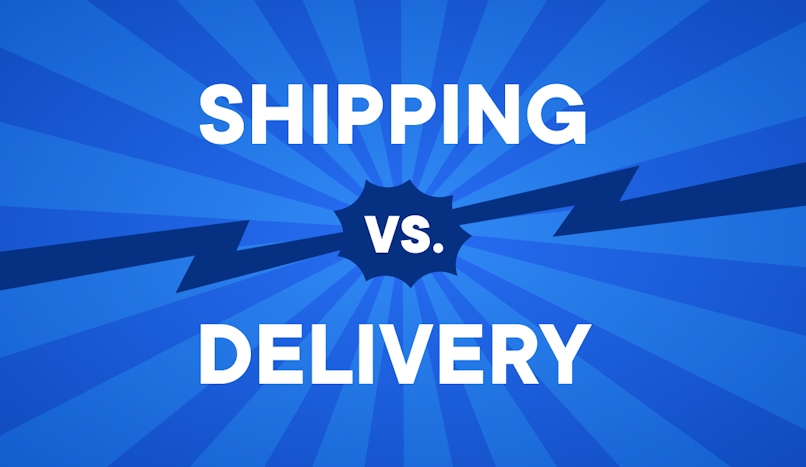 Shipping vs delivery: Key differences
Shipping and delivery are both important parts of the supply chain. 
Both make sure that the package reaches the right customer's address. 
While shipping is the process of picking and packing an order at the warehouse and sending it to the customer or a distribution center near them, delivery deals with the final transportation of the package to the customer's doorstep. 
Let's take a closer look at how shipping and delivery differ from each other.
Arrival time 
Delivery indicates when a customer will receive their order. 
The shipping date tells you when a package leaves the supplier's warehouse, but it doesn't indicate anything about last-mile delivery. 
The delivery date, on the other hand, is what tells you when the order is likely to arrive at the customer's address. 
Updating online shoppers on the estimated time of arrival is key to maintaining a transparent and problem-free delivery service. 
After all, no one likes waiting indefinitely for a package with no indication of when it's going to come. 
Not giving an estimated time of arrival or tracking options can leave your customers impatient and grumpy. 
You can automate this process by using routing software like Circuit for Teams that optimize delivery routes and allow you to send updates to customers. 
Size of the order 
Shipping essentially deals with small orders that can be sent through local postal or delivery services. 
These orders are typically packed and shipped directly from the supplier's warehouse. 
Items that you might ship include electronic gadgets, cosmetics, clothes, or other household goods. 
Delivery deals with heavier and larger items like air conditioners, dining tables, televisions, or washing machines. 
These products often need to be installed by a service professional. 
The delivery agent delivers the product and may help set it up for the customer.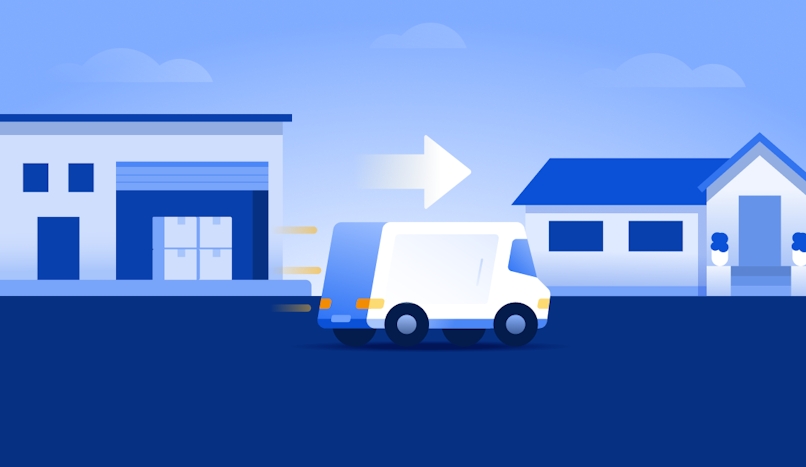 Ship date vs delivery date in a typical shipping process
The date an item leaves the warehouse is called the shipping date. 
The next part of the package's journey is delivery. 
When you say delivery time, you're indicating the time you'll need to transport the item to the customer's address. Delivery date refers to when the order will be delivered to the customer. 
An online order typically follows these steps until it's delivered: 
Order processing: This step involves creating tracking IDs and purchase orders. You also need to update inventory and assign tasks to the packaging and shipping teams.
Order packaging: Now it's time to pack up items for shipment. It's a good idea to invest in durable packaging material to avoid damage during shipping.
Shipping and delivery: Your packages are then shipped out of the warehouse. Depending on your business, you might notify your customers that their packages have been shipped. A small item might be handed over to a third-party courier service or the local postal service to make the delivery.
Returns: If an item you delivered is broken, damaged, or substandard in any way, you'll most likely have to collect it and send it back to your supplier. As an eCommerce business, you're expected to give a replacement or refund to your customers in those cases. Check out our post on reverse logistics to know how this process works.
How can businesses explain ship date vs delivery date to customers?
Online shoppers take delivery time very seriously. 
Often, their purchasing decisions are based on delivery options offered. 
For example, 72 percent of consumers said free shipping was their top reason to shop online. 
Many customers, however, might not know the difference between shipping and delivery dates, and this can lead to confusion and cause problems in terms of customer expectations. 
Customers are usually sent emails or text notifications about when their orders will be shipped. 
A customer might take this to mean that the shipping date is the date they'll receive their order. 
To avoid miscommunication, it's best to make sure the customer is fully informed about the difference between shipping and delivery. 
Do this by including both dates on the order confirmation email. This will help clarify that the two things are different.  
We also suggest including a short paragraph explaining the differences between shipping and delivery dates on your "Shipping and Returns" page. 
Your FAQ page on your website is another place where you can address this confusion. 
Shipping and delivering products yourself? Circuit for Teams simplifies the process
Are you interested in taking care of last-mile delivery yourself rather than outsourcing it to a shipping service?
Circuit can help.
Circuit for Teams lets you organize and plan your entire team's deliveries by mapping routes and picking the fastest one so your drivers don't waste any time. 
It even automates the process of sending customers regular updates about their deliveries. 
Customers can check to see where their orders are before they reach them and what the estimated date of delivery is.
This eliminates confusion about shipping or delivery dates. 
With frequent updates about their orders, customers can feel more confident about when their orders will arrive on their doorsteps.