6 minute read
What Is Threshold Delivery?
Learn the difference between white glove and threshold delivery services and understand how to easily manage them for your customers.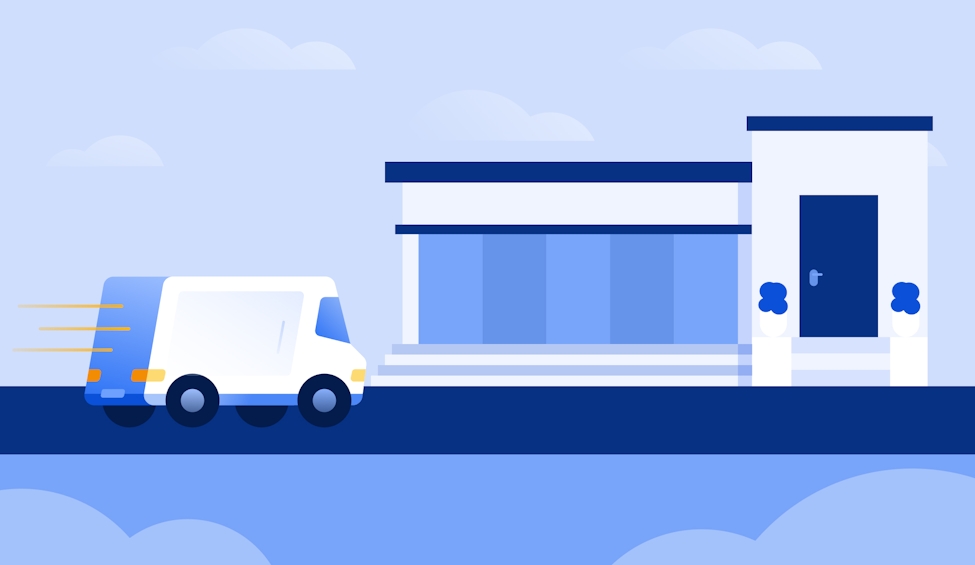 Easily manage threshold deliveries and collect digital signatures with Circuit for Teams.
Threshold delivery is when a carrier delivers a package over the threshold of the recipient's property — where it will be secure and dry. 
This usually means the delivery driver meets the customer at their entryway to leave the package indoors, like inside the front door or in the garage.
It's used in home delivery and commercial shipments for mid-sized items (like furniture or a commercial pallet) and in sensitive deliveries (like alcohol). 
If you manage last-mile deliveries, it's important to understand the ins and outs of threshold delivery service and how it compares to other delivery service levels.
A quick review can help you manage your delivery costs, potentially charge more for upgraded delivery services, and keep profits up.
Whether you're interested in expanding the delivery services you offer or you need to train your delivery drivers on the right levels of service, I can help.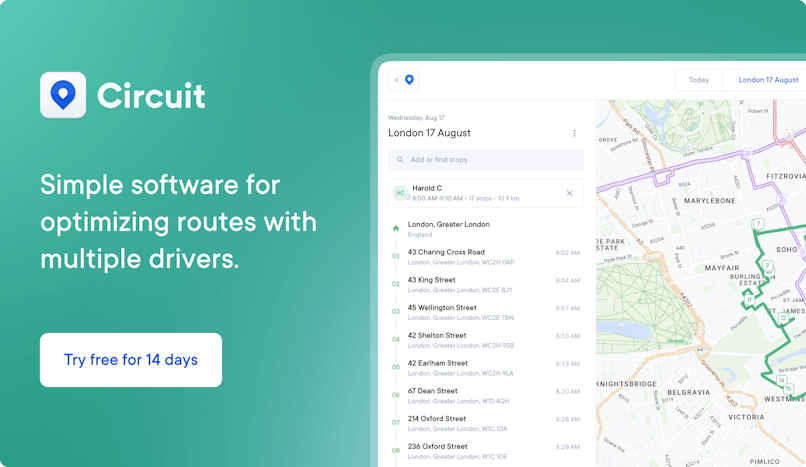 How is threshold delivery different from standard delivery?
Standard delivery service is what you get when you receive a package through major carriers, like UPS, FedEx, or DHL. 
As a customer, the driver drops your package at the door and leaves.
At this level, the package should still be left in a place that's mostly safe from the elements (that is, the first dry area, like a covered porch. 
But the delivery driver's priority is delivering the package anywhere at the address. 
Threshold delivery means there's a delivery window so the delivery driver can deliver the package right over the door's threshold — whether a garage door, front door, or lobby door.
Threshold delivery also commonly includes the delivery driver getting a signature from the customer.
This makes threshold delivery a more secure delivery option, helping keep packages safe from weather and porch pirates. 
Avast ye scallywags!
Service level of threshold delivery 
Threshold delivery is often the next tier up from the standard delivery option that retailers or shipping companies offer. 
When placing an order, the customer chooses which delivery option they want at checkout.
But some companies, like SixPenny, don't offer any service lower than threshold delivery — making this their most basic level of delivery service.
On the other end of the spectrum, you have large retailers offering an array of delivery options. 
For example, Costco has threshold delivery as the fourth-tier option, with less-involved standard and curbside options below it.
Delivery service levels typically go in this order:
Free standard porch drop-off for small packages (UPS, FedEx, Amazon Prime)
Free curbside (driveway) delivery for large packages, like furniture
Threshold delivery inside the door of the building, either free or paid
Room-of-choice delivery inside the specific room you want in the building
White glove delivery, including room choice, unpacking, and assembly (with or without removal of packaging and old furniture)
Appliance delivery, including white glove service, plus electrical or water setup
Some delivery companies blur the lines between these service levels, like offering room-of-choice under their threshold delivery option.
Cost of threshold delivery 
If you're trying to set a price for your company's threshold delivery service option, consider the various ways companies currently charge for this type of service.
Shippers offer threshold delivery as a free or upgraded delivery option. 
Its cost is usually set apart from the shipping cost itself.
Shipping and threshold delivery are sometimes free, but they're still considered two different services.
Let's consider online furniture retailer SixPenny, which offers free shipping plus free threshold delivery as their basic delivery method. 
They also offer free shipping plus an upgraded white glove delivery service option for an additional cost of $100.
Meanwhile, other companies charge a fee for threshold services. 
Fermob — an outdoor home furniture distributor — also offers free shipping but charges a flat fee of $75 for their threshold delivery service. 
Their free options include small package delivery and curbside delivery for larger items.
Meanwhile, last-mile delivery service company Gubi offers threshold delivery for a flat $75 as its second-tier delivery service.
Other companies charge a custom price for threshold delivery based on a few factors, such as: 
Order size
Delivery vehicle size
Product(s) price
Scheduled delivery time
For example, Home Depot offers scheduled threshold shipping with fees based on order size and delivery vehicle size. 
Car threshold deliveries cost $8.99, van deliveries cost $35, and box truck or flatbed deliveries cost $79.
HAY, a home furniture designer, charges 12 percent of the order value for their second-tier threshold delivery service but caps it at $349 for larger orders.
It's important to note that these prices are generally for shipping addresses within the contiguous United States. 
Deliveries to Hawaii and Alaska and international orders typically cost more or don't qualify for upgraded delivery options.
Aside from fees the shipping company charges for threshold delivery service, customers are generally expected to tip their drivers.
Delivery area of threshold delivery 
When your customer is expecting a threshold delivery, you can make sure you meet expectations by following the common rule of where to leave threshold deliveries. 
This isn't the same as standard deliveries, like small packages left on the front porch by UPS.
Threshold delivery means your delivery driver will leave the package in a secure location — safe from the elements and usually inside the front door or garage — but no further indoors.
Delivery should cross the property's secure threshold and stop there. 
That's the level of service the customer paid for and requested.
When completing a threshold delivery at a single-level home or business, your driver should leave the package with the recipient inside the front door, gate, garage, or covered porch (if requested).
The biggest thing is that the package should be protected from the elements in a secure area.
At a multi-level complex, like an apartment building or condo, threshold delivery might involve leaving the package in the lobby. 
Your business could choose to have your drivers carry packages to the exact apartment or condo, but many threshold delivery services stop their drivers at the lobby and charge higher fees for direct-to-door service.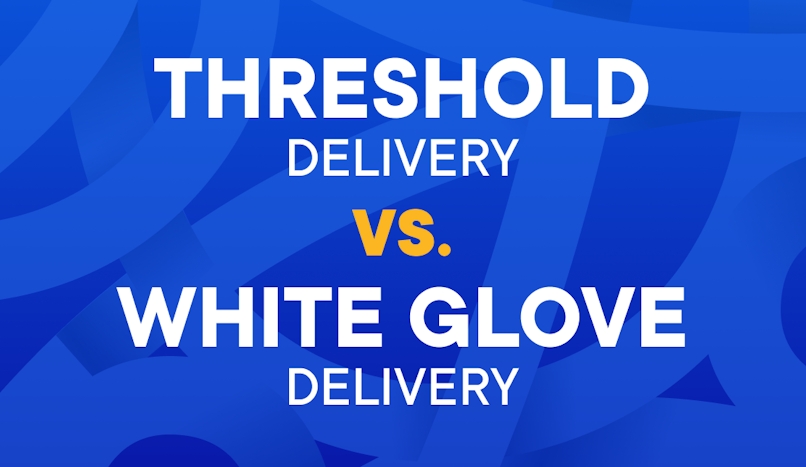 Threshold delivery vs. white glove delivery
Threshold delivery and white glove delivery are the two main options for scheduled indoor deliveries — but there are a few key differences.
As the less expensive delivery option, threshold delivery isn't as comprehensive or time-consuming for the delivery driver as white glove delivery. 
While threshold delivery involves the driver leaving the package in a secure, dry place on schedule and potentially receiving a signature, white glove delivery usually means the carrier brings packages to a specific room and helps with assembly.
It's important to make this distinction so delivery drivers understand how far they should go to make customers happy when delivering packages. 
Ideally, you'll share this information during driver training.
Suppose your driver has a threshold delivery, but the customer asks them to help carry it to the second-floor bedroom. 
In that case, your driver would have to decline because it's beyond the level of service paid for by the customer.
Otherwise, your company risks losing money on delivery time and effort that isn't properly accounted for in customers' fees. 
Unplanned delivery service upgrades can also delay your driver's route schedule. 
Completing a white glove delivery to a specific room and handling the entire unpacking and setup process takes much longer than just handing over a package and getting a signature. 
You can't give customers free upgrades just because your company hasn't clarified delivery service levels to drivers.
What type of products are best for threshold delivery?
Products that work well with threshold delivery services include mid-sized packages that don't have complicated assembly or installation — and aren't too heavy or fragile for the customer to manage themselves.
It's also a great option for packages that don't fit through a standard doorway and need to be left inside a garage.
Examples of these types of products include:
Mid-sized furniture
Exercise equipment
Large TVs
Mattresses
Construction materials
Playground equipment
Artwork
Commercial pallets
While threshold delivery is popular for larger orders, you can also offer it to deliver special items. 
Instacart customers ordering alcohol, for example, have to pay for threshold delivery — the alcohol service fee. 
This helps cover the extra time and technology needed for the delivery person to verify the customer's age at the door and follow laws that say alcohol deliveries can't be left unattended. 
Marijuana deliveries are similar — the driver should hand that package off directly to the customer to make sure it ends up in the right hands.
Products that aren't recommended for threshold delivery include heavy furniture, large appliances, and any other bulky items that the customer might struggle to handle on their own or that need professional setup. 
These products are better for a higher level of delivery service — white glove service and beyond — to make sure nothing is damaged during setup.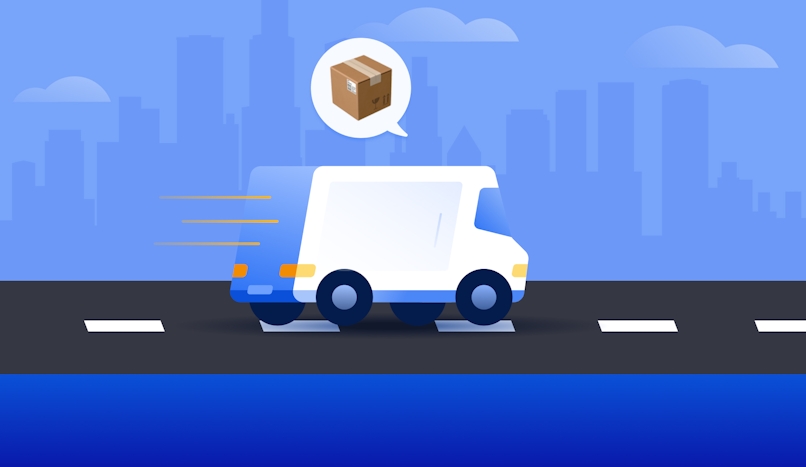 How to easily manage threshold delivery routes
Offering threshold delivery can be simple with the right technology. 
Your delivery drivers just need to know the scheduled delivery window and how to collect proof of delivery.
Circuit for Teams makes it easy to do both with a single app.
You can easily set a time window for each delivery on a driver's route, and their route will automatically optimize to make sure they arrive at each delivery stop on time.
The software lets drivers collect digital signatures from customers and take photos for proof of delivery.
Circuit for Teams also lets you send custom notifications to customers, track drivers, and more.