13 minute read
The Best Free Route Planner App: Expectations vs. Reality
Here's what you need to know when picking the right free route planner app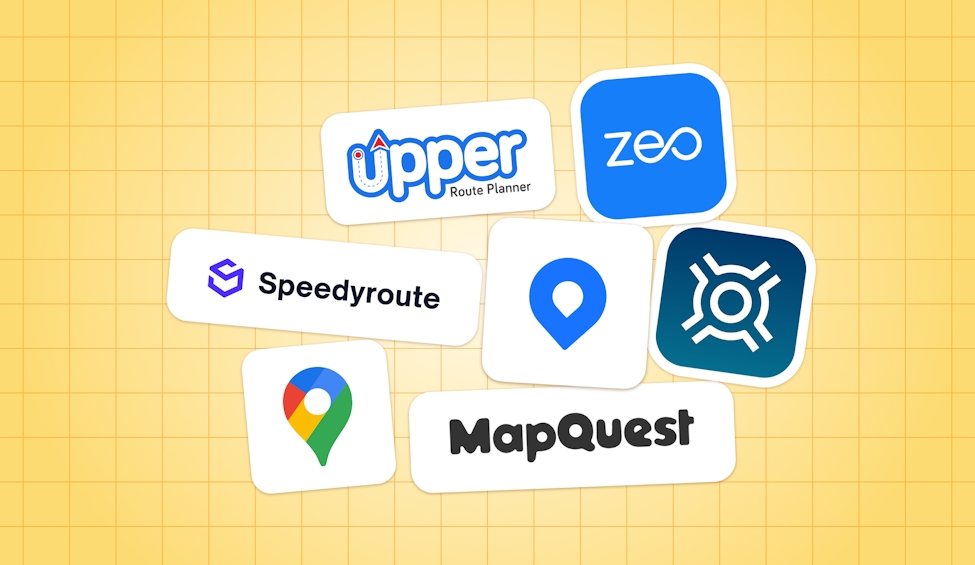 Let's face it, time is money when your job relies on making deliveries.
No one wants to spend more time than needed to be stuck in traffic or backtracking because they made a wrong turn.
It is stressful, wastes fuel, and increases your time on the road.
This is why as a courier, having a clear route is essential.
With the average U.S. driver delayed by more than 50 hours a year, this is time you cannot afford to waste.
If you're manually planning your delivery routes and can't guarantee that they're going to avoid these pitfalls, it might be time to think about a free route planner app.
Having a fully optimized route can save you over two hours every day. Meaning you can grab another job, or get home early.
In this article, I'll cover:
What a route planner app is and how it can save you time
The diverse types of route planner apps
The best type of route planner apps for couriers
And the frequently asked questions regarding free route planner apps
If you are interested in learning how to take advantage of the best free route planner apps, read on to learn some of our top tips.
What is a route planner app, and why bother?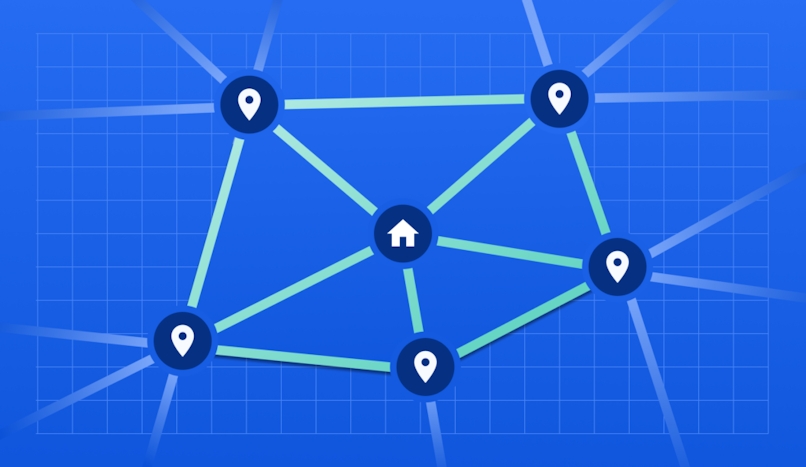 There's no denying that GPS like Google Maps or Waze come with their benefits.
However, there's no point in having access to all of that live satellite technology if you can't take advantage of it to make your delivery route easier.
The first thing to know is that free route planner apps don't replace GPS, as much as they elevate the everyday navigation you already have.
You can still use GPS to navigate to all your stops. The difference with a free route planner app is you're following an optimized route to cut down on your drive time.
Route planners use additional factors such as the number and location of your stops on the route, time windows for deliveries, and traffic conditions to quickly give you the most efficient route possible.
Without one, you will need to manually work out your route before you start and you cannot guarantee that it will be the most efficient or save you any time.
So, if you're looking to get finished faster, choosing a free route planner app will be your best option.
The different types of free route planner app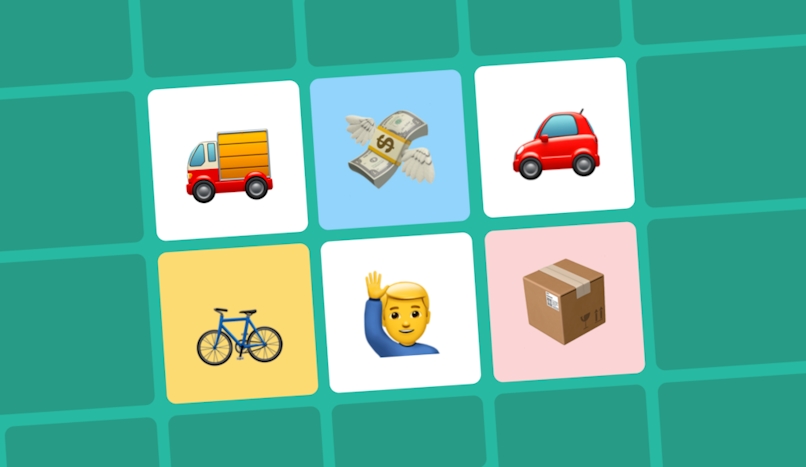 There's a pretty wide gap in the different types of free route planner app. You'll find some apps whose lowest-cost plans still allow for hundreds of stops each month; others offer free or cheap plans that only cover up to 10 stops.
There are also several different free route planner apps that cater to every need and situation:
Trucker route planner apps
This type of route planner app can help to optimize a truck driver's productivity and routing. Truck routing application software includes several features, ranging from driver management to load optimization to routing and mileage trackage.
With trucks being responsible for moving 71% of America's freight, it is clear that trucking plays a vital role in the U.S. economy, and their deliveries help to keep it moving. Having a clear trucking route helps truckers make faster deliveries while also stimulating the economy.
One example of a trucker route planner app is Samsara, an all-in-one fleet management program that integrates tracking, management, and maintenance of a trucker's fleet. Another example is KeepTruckn, whose features include GPS tracking, productivity maximization, and dangerous driving detection.
Sales route planner apps
When it comes to sales route planning, the right app can help sales representatives optimize their sales opportunities.
Market dynamics and competitor actions are just a few factors that these apps consider when planning a route. Sales route planner apps can also minimize common challenges salespeople may face. This includes data lag, changing market dynamics, and schedule gaps, negatively affecting revenue and productivity.
Two examples of this type of app include the Salesforce and Onsight apps. Salesforce is a practical app for sales reps who can use its features to convert more leads into sales, increase growth, and more. Meanwhile, Onsight includes features that can speed up sales processing.
Road trip route planner apps
Road trips can be fun adventures, but they can also be frustrating, intimidating, or even dangerous if you do not always have a clear route plan. A road trip route planner app can help you get to all your desired points on your road trip with features that will help simplify your road trip so you can enjoy the best parts of it.
These road trip route planning apps will not only find you the best route for your multiple stops, but they can help you avoid traffic delays, find the cheapest gas available, or plan your hotel stay.
Roadtripper is one app that will help you build your route on your trip. This app can help you find the best stops along your route and offers turn-by-turn navigation. Google Maps is another app that may be great for road trips, as long as you don't mind having a limit of only nine stops to plan at a time. However, it is completely free, offers voice assistance, and includes real-time traffic information.
Bike route planner apps
For those of you who commute with your bike or enjoy cycling, your bike routes will likely differ from regular commuting routes. Similarly, these routing maps will contain different features from other apps. Some of the best cycling apps may record your elevation, speed, and distance.
One bike route planner app is MapMyRide, which allows cyclists to create and discover new routes and favorite the ones they enjoy the most. Additionally, it will enable you to track your experience, connect with others on social media and analyze the data it collects.
BikeMap is another app that allows you to discover your perfect bike route. It includes nearly 9 million bike paths and is free to download but offers a premium option. With this app, you will get route planning, navigation, and real-time data so you can enjoy your ride.
Courier route planner apps
As I've mentioned above, a courier route planner app is essential if you do over 100 stops a day, need to find the most efficient route.
They calculate traffic congestion for the time of day, priority time windows, time at the stop, and the number of turns, amongst other things – to give you the fastest route.
You can even add the amount of time you'll be at each stop to give you a super-accurate ETA.
What are the best free route planner apps for couriers?
According to one report on delivery pack statistics, there was a 46% increase in packages processed in 2020.
That means demand for delivery drivers is high and on the increase.
I've put together reviews of the best free route planning apps available today, along with a brief guide about how to choose the right one for you. Keep reading and never worry about manually routing your routes again.
7. Google Maps – best for 1-2 stops
You've already read about using Google Maps' for multi-stop delvery, as I've mentioned it's perks in the section on road trips above.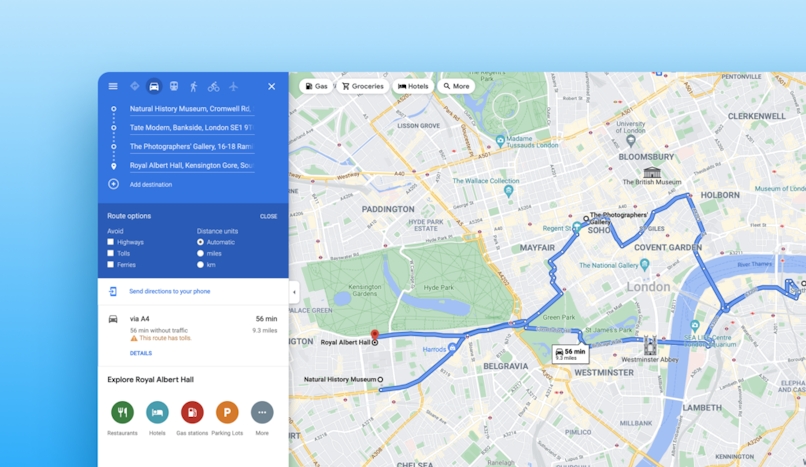 Here is the complete list of benefits Google Maps can offer you:
It is entirely free
Includes various transmit mode options
Voice assistance, so you're guided to your destination
Real-time traffic data to help you avoid traffic jams
Street view, which allows you to familiarize yourself with your surroundings beforehand
Downloadable maps, in case you run into an area with no service
While Google Maps does offer a few benefits and is free of charge, you won't always get the fastest routes. Also, the routes it does create are not always reliable. There are also privacy concerns regarding the app.
You can find out more about how to use Google Maps as a route planner in this previous article.
Ashley M. praised the app's accuracy with traffic conditions. Another review expresses less satisfaction with the app, saying it tends to crash at the wrong time. A third reviewer said that the app has unclear instructions that sometimes result in them taking a wrong turn or exit.
As a delivery courier, Google Maps may be helpful if you have a small route with nine or fewer stops since nine is the limit to the number of visits you can add to this app – and manually optimizing this many stops for the most efficient route isn't too hard a task. Otherwise, you should probably look for another courier route planning app for your job.
6. Zeo Route Planner – best for flexible pricing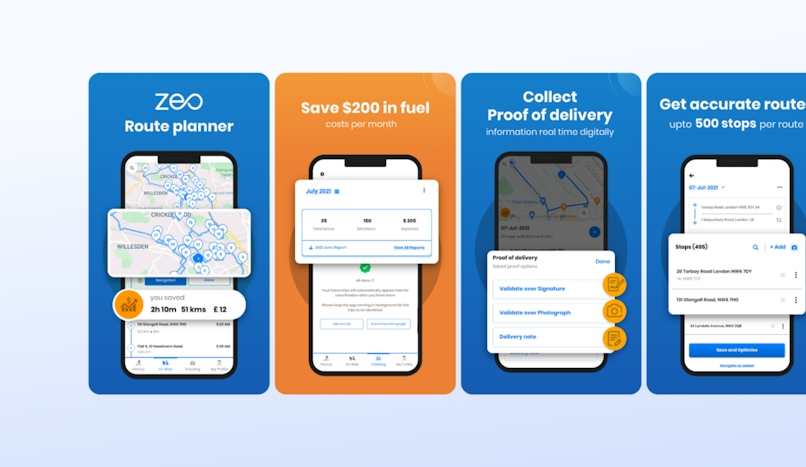 If you do smaller multi-stop routes daily, I would definitely explore the possibility of Zeo Route Planner.
Typically, this app is a better alternative than Google Maps for couriers, and with their Premium plan, you can add up to 500 stops per route.
This is an alternative free route planner app. Zeo app is free for individuals with less than 15 stops to make, has live location updates, mile tracking, priority time slots and route optimization.
It's also easy to install and use on your smartphone and is available on both iOS and Android.
There are a number of plans available:
Zeo Route Planner pricing
Their daily plans start at $2 a day, their monthly plans start at $15, and their yearly plans start at $150, so you can choose the pricing option that best suits you.
This app has a rating of 4.6 stars out of 5 and has 94% positive reviews.
One reviewer notes that this app is helpful for frequent travelers. However, one reviewer says that the amount of time it takes for the app to open is too long. Another reviewer claims that the app will often crash, which could be troublesome and waste time for couriers who have several stops to make.
In my opinion, the free plan is a bit of a misnoma. With a daily limit of 500 stops per day, the Premium plan might be what a single courier needs. However, as there are questions around its reliability, you might be better off paying the extra $5 each month and giving Circuit Route Planner a go instead.
5. Speedy Route – best for small teams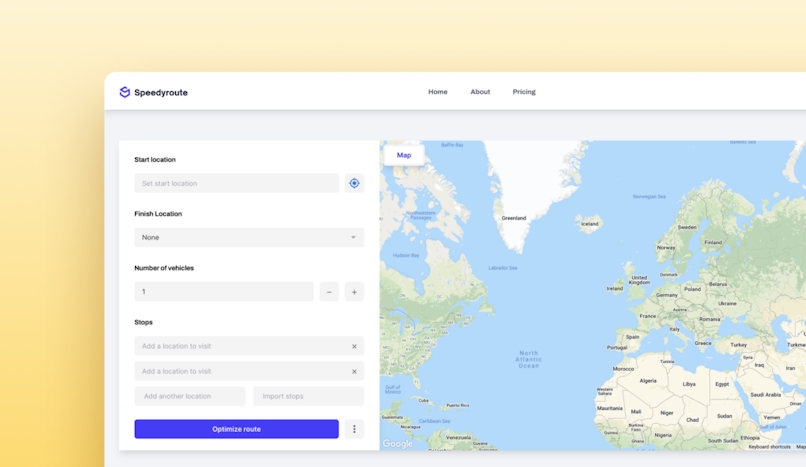 Another free-to-try route planner app is Speedy Route. They only charge users with more than ten locations. So your first ten stops are free.
Sure, every free route planner app on this list seems appealing, but Speedy Route has the added bonus of also being a browser-based app.
This means that if you have your manifest ahead of time, simply being able to more clearly see the route could be of benefit.
Alternatively, you could make use of Speedy Route's multiple driver discount:
Speedy Route pricing
For one driver and up to 100 stops Speedy Route is $39 per month. However, for 5 drivers and 500 stops, it's a much more economical $69 per month.
They offer daily, weekly, monthly, and exclusive offers for their services for single or multiple drivers.
Speedy Route has an overall rating of 3.8 out of 5 stars on a leading software review and selection platform.
One reviewer, Benoit C., claims it is great for saving time and money, but admits it can be slow during certain hours. Another reviewer, Chad B., noted that while the app works great when you enter less than 20 addresses, it is terrible when you try the version with 50 stops.
Based on this review alone, this app may not be the best option for someone with more than 20 stops.
4. Optimoroute – best for independent couriers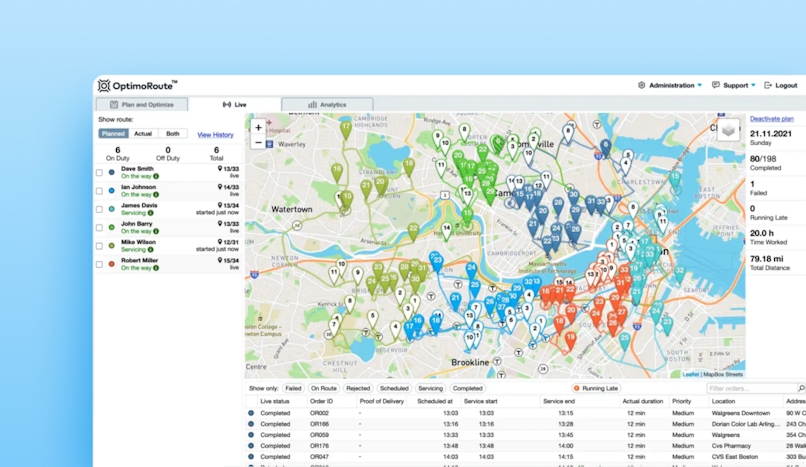 This route planner app has more than 50 features, such as automated planning, real-time route modification, and workload balancing.
Sounds great?
It is, but you should consider whether you need all of the additional functions that Optimoroute has before paying for a plan.
Which is why I recommend it for independent delivery contractors that will likely get the most use out of this full software package, rather than someone working for a DSP or om multi-drop.
They also have a free 30-day trial subscription, but no free plan.
Optimoroute pricing
Optimoroute offers a free 30-day trial and then either a monthly or annual subscription.
Pricing starts at $19 a month for Optimoroute's starter option with 250 stops. As some couriers will find that restrictive, I'd recommend their $29 Business option with up to 500 stops.
Another couple of points of note are that subscriptions are charged yearly and live tracking and ETAs are only available on the $29 mid-tier pricing plan.
Optimoroute customer reviews
User reviews give Optimoroute an overall rating of 4.5 out of 5 stars.
According to reviewers such as David B. and Monica B., you get excellent value for your money, and the system is flexible. Reviewer Tim B. notes that planning multiple routes in the same city can be difficult however.
For those of you needing to export yo Garmin, this way be a wise choice.
3. Upper Solo – best for small business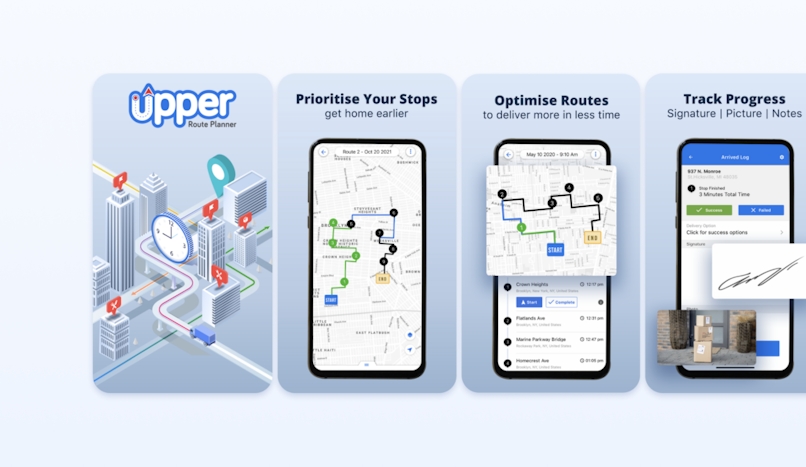 This route planning app claims to reduce planning time. With it, you can optimize up to 500 stops.
Upper Solo is made primarily for delivery businesses. As such, its features include:
Excel import
Route planning
Route optimization
Proof of delivery
One-click dispatch
Report and analytics
Upper Solo pricing
Upper Solo Route Planner will give you the first two months free when you pay annually. Otherwise, you get a 7-day free trial. You can pay $16.66 a month per driver or $199.90 annually per driver.
Out of a total of 123 reviews, this app has a rating of 3.9 out of 5 stars.
Reviews from early 2021 suggest that its route optimization is not the best. Reviewers have also noted that it takes too long to input stops; the app constantly freezes and can be slow at times. Other reviewers praise the app, claiming it is easy to use and works correctly most of the time, and the support system is fast when issues arise.
In my opinion, for the cost versus the reported functionality issues, you might be better to consider Circuit Route Planner or Zeo in this price bracket.
2. MapQuest – best for large delivery business
This GPS navigation app includes several maps and navigation features to help with route planning. These features include optimized routing, alternate route choices, route settings that allow you to avoid highways or tolls if you wish, and more.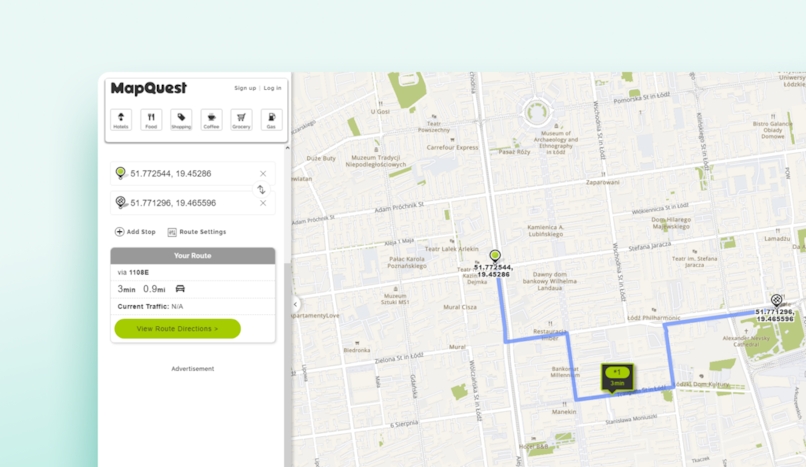 This app is also great because it allows you to:
Search and explore restaurants where you discover new places to eat
compare gas stations so you can save money
view the weather, so you're not caught unaware by unexpected weather
roadside assistance if your car breaks down
For businesses, MapQuest will track your assets, convert addresses into coordinates, and drive revenue and brand awareness.
Mapquest pricing
The free version allows you 15,000 transactions per month while the business plus option allows you 500,000 transactions for $800 a month.
MapQuest has a rating of 4.2 out of 5 stars based on over 61,000 reviews.
One reviewer notes that the app has made it easy to travel places. Another reviewer was dissatisfied with the app for not offering alternative routes and taking them down an unpaved road. A third reviewer, who gave the app a 3-star rating, notes that its satellite map could be more recent, suggesting that it is slightly dated. A fourth reviewer prefers MapQuest over Google Maps.
1. Circuit Route Planner – best overall free route planner app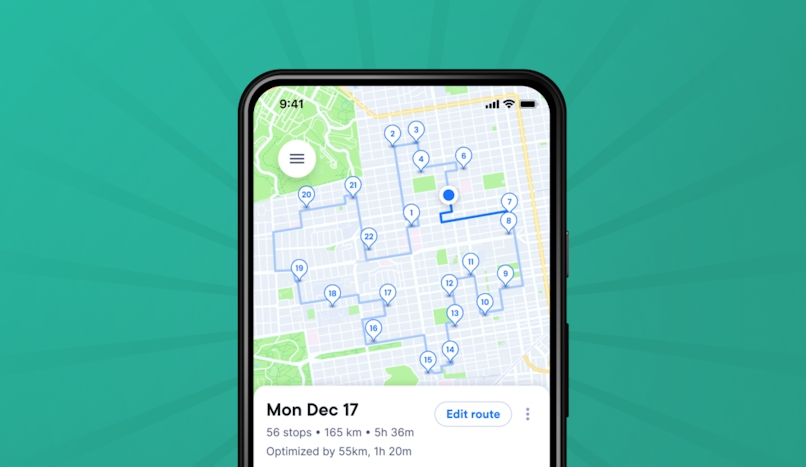 For delivery drivers doing anywhere over ten stops a day, Circuit Route Planner is the best free route planner app.
As you would expect, Circuit is modern and well-designed. You can add all of your stops straight in the mobile app—it can handle your route just fine. Snap proof of delivery from your phone.
In addition to unlimited stops on the Premium plan, you get access to the Fast Package Finder—developed with couriers to help you find every package as you get to the relevant address.
This is where Circuit Route Planner distances itself from the other good free route planners I reviewed. None of the others include anything like that, so if you are in the market for making delivery as fast as possible, Circuit is your best option.
It's not something every courier will need (especially if you use a car as your delivery vehicle). But, at 4:30 pm on Friday when you want to get home, it's nice to know you'll be able to quickly find the package you need next.
The app is simple to use. Another real plus about Circuit Route Planner is the stupidly easy interface. It's a cinch to add stops, mark priority packages, add notes, and keep track of everything, even if you have hundreds of stops.
So how much does this all cost?
Circuit Route Planner pricing
The price is free for up to ten stops, or $20 a month for an unlimited number of stops. It also offers a free trial allowing you to road-test the app before paying for a subscription.
Circuit app has an overall rating of 4.8 out of 5 stars on CapTerra, the leading software, and selection platform.
The Circuit Route Planner ease of use is rated 4.6 and its customer service 4.7, with one reviewer raving about the exceptional service. Another reviewer observes it works great with Google Maps, and a third reviewer praises its user-friendly nature.
Even less favorable reviews note that its addresses are incorrect only a few times and that it was just a slight inconvenience to log into the app as an administrator.
It's not the cheapest plan out there, but it is the highest rated by its users. Plus, the Circuit team are always improving the app, which means any bugs or issues are really quickly fixed.
Frequently asked questions
Does Waze have a route planner?
Waze is a map and GPS navigation app that gives you real-time alerts regarding traffic, hazards, police, and more. You can use it as a route planner with the Circuit app to optimize your route.
What is a good free Android route Planner app?
Our app, Circuit, is an excellent free route planner app compatible with Android devices. If you're an Android user, you can easily download our app to find addresses fast, minimize your time in traffic, and get home earlier.
Is Zeo Route Planner free?
Zeo Route Planner is not free. It is $15 a month for 500 stops. Meanwhile, Circuit Route Planner includes a free 7-day trial. Our plan also has unlimited stops and includes the Fast Package Finder.
Ready to give Circuit Route Planner a go? Start your free trial now