8 minute read
What Is Curbside Pickup and Delivery? Is It Right for Your Business?
Many business customers increasingly expect curbside pickup and delivery. See how it works and decide if it's right for your business!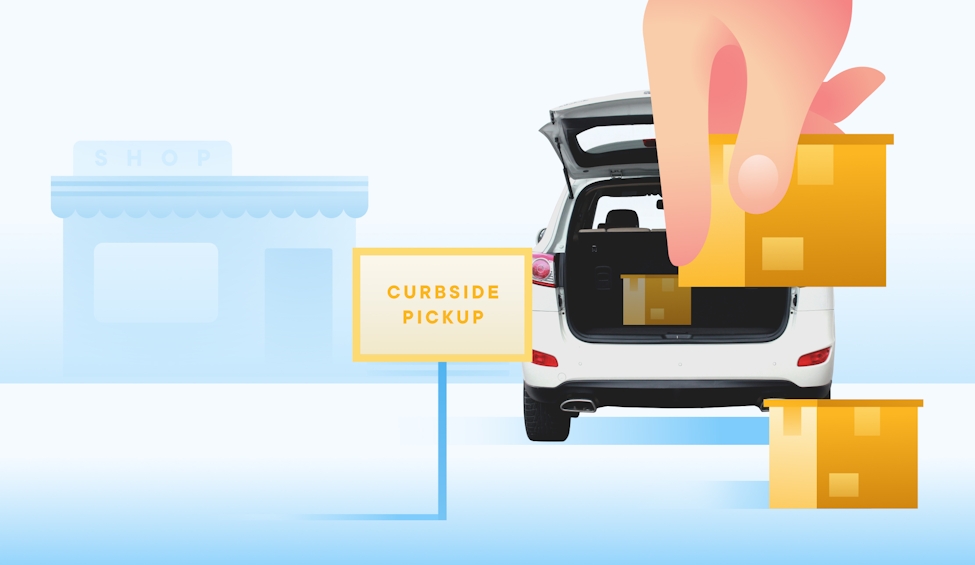 Curbside pickup is a business service where customers can order and pick up goods without ever leaving their car. 
The customer simply pulls their car into a designated area when they arrive (either clearly marked parking spaces or the curb outside the store, as the term was originally coined). 
Curbside delivery is very similar. A curbside delivery driver drops the goods at the customer's home, sometimes at the curb of the driveway, as a contactless delivery system. 
But this is just a quick overview of curbside pickup and delivery.
Let's look a little deeper!
Key takeaways:
In this article, we'll cover some specific aspects of curbside pickup and delivery that you as a business need to know, including:
Curbside pickup and delivery are contactless services allowing customers to place orders and pick them up or have them delivered without leaving their car or home. 
Curbside pickup and delivery have become very popular due to their convenience, cost-effectiveness, and ability to enhance customer satisfaction and loyalty.
Curbside pickup and delivery can benefit a variety of businesses, including grocery stores, restaurants, and retail stores.
To take advantage of curbside pickup and delivery, businesses must focus on staff training, finding an inventory tracking system to support the service, and designating a parking area for delivery drivers. 
Concerns over staffing, space, costs, and fraud can stand in the way of many businesses offering curbside pickup and delivery. Circuit for Teams can help with many of these concerns.
By the end of this article, you should have a better idea of whether this is a good option for your business.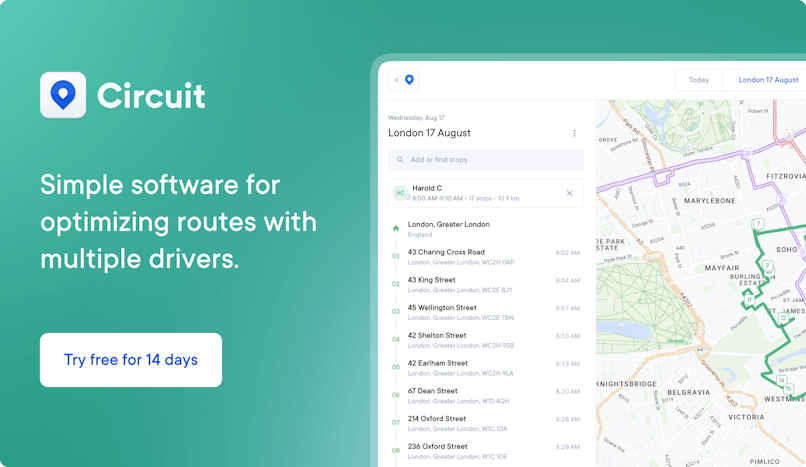 How do curbside pickup and delivery work?
This service comes in several forms, including curbside pickup, in-store pickup, and delivery. Let's look at each one to see how it works.
Curbside pickup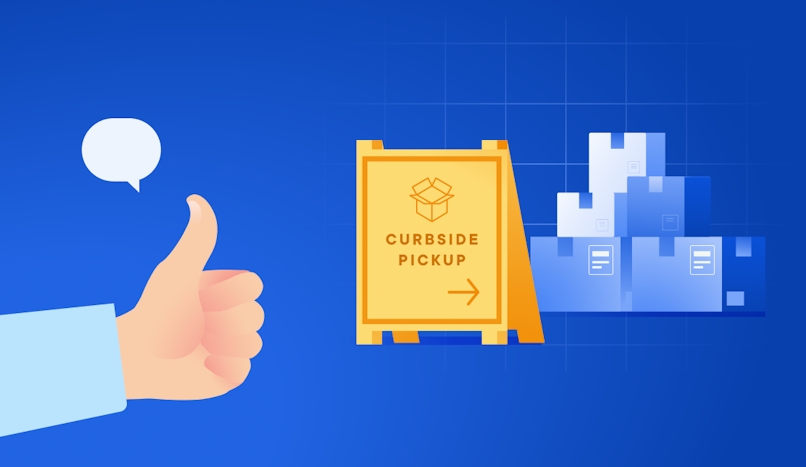 How does curbside pickup work? 
With the curbside pickup option, a customer places an online order through a mobile app or on a company's eCommerce website.
The customer then places their order and pays with a credit card at checkout. After paying, they get an order confirmation with either a specific pickup time or a window of time in which to pick up their order. 
On the business side, you'll get the order in real time. Your staff can then shop for the order and prepare it for pickup.
When your customer arrives, they will park in your designated pickup location, usually a set of parking spots outside your store. You can then plan for them to notify you via text message or phone.
Once you get the text or phone call, a staff member can gather the order and bring it to the customer's car. 
Buy online pickup in-store (BOPIS) 
With in-store pickup, customers put in an online order through a website or app. Then, a store associate gathers the order and prepares it for pickup.
When the customer arrives, they enter the store to pick up their order. 
You can do this in one of two ways.
First, you could have a specific pickup counter in your store. The customer would approach the counter, where an associate would verify their order and hand it to them.
The second option is to use lockers. The customer would go to the designated locker, enter a pre-determined access code, and gather their order.
Delivery 
There's also a home delivery option, offering ultimate customer convenience.
This option lets the customer make an online order, just as in the previous examples. 
A store associate can then gather the order and prepare it for delivery.
Finally, your delivery driver gathers all of the customer orders and delivers them. 
A delivery tool like Circuit for Teams can plan the driver's entire route to best use their time. You or your dispatcher can also view their progress and make any needed adjustments along the way.
The driver can deliver the order according to the customer's instructions to keep it as contact-free as the customer wants.
There you have it — three different methods for pickup and delivery.
This omnichannel approach to pickup and delivery gives your customers a number of time-saving options.
Why is curbside pickup so popular?
This comes down to one word: convenience. 
Convenience is at the core of the retail industry — we're always looking for new innovations and strategies to streamline the process. 
And this is what brings customers back time and time again. 
We can also tie this popularity to several benefits that curbside pickup offers to both customers and business owners. These benefits include:
Cost-effectiveness. As a retailer, third-party apps offering pickup and delivery options can really eat into your bottom line. By offering your own pickup and delivery, you keep more of your profits. Customers also find that this method helps them track their spending and avoid unplanned purchases, resulting in more savings. 
Customer satisfaction. So much makes this a positive customer experience. Not only is it convenient for them, but it also helps them save time when they're in a rush. And satisfied customers tend to share their experiences with others, helping businesses grow their customer base.
Brand loyalty. Customers who enjoy the benefits of curbside pickup are more likely to continue using it. In fact, it can be one more reason they choose you over a competitor.
Which businesses benefit most from curbside pickup?
Small and large businesses can take advantage of curbside pickup and delivery. 
Here's a rundown of the best businesses for this system, including some examples of companies that are absolutely crushing it.
Grocery stores. Grocery is a top industry for this service, making a weekly chore a lot more convenient. Major grocery chains like Stop and Shop and Aldi show no signs of slowing down. 
Restaurants. This industry really took a hit during the coronavirus pandemic, when lockdowns and social distancing shut down many dining options. As a result, curbside pickup and delivery really took off. And many large and small restaurants continue to offer this service, including Texas Roadhouse and Chili's.
Real companies transforming their business with curbside pickup 
Blair St. Dairy
In 2015, James Meek opened Blair St. Dairy in Sydney, Australia with his business partner Cliff. Their little shop was a hit, and they quickly opened a second location. 
By the time COVID hit in 2020, they had 30 employees between their two locations. Each location would sell around 400 cookies per week. 
They were thriving – but COVID changed everything. James and Cliff were cleaning out their kitchens after deciding to temporarily close both cafes. 
They wondered what they could do with all of their leftover cookie dough. Since they hated to see it go to waste (and they knew that locals could use cookies right now more than ever), they decided to put it up for sale on Instagram in hopes that some of their followers would be interested in curbside pickup.
In two hours, they sold 400 pounds. Demand was so high that they couldn't even respond to two-thirds of the customers who reached out.  
JackBe
JackBe is a new grocery service based in Oklahoma City. Recently, they received almost $4 million in SEED funding. 
I know what you're thinking - do we really need another grocery store?
Well, JackBe is probably different from any grocery store you've heard about before. JackBe based their entire business model around curbside grocery pickup. 
With JackBe, you place your order in their app and they bring it to your car when you arrive. You'll never go inside their store to shop, and because they only take online orders, they can always provide an up-to-date inventory.
This means no substituitons. Ever. I mean, online grocery delivery is cool, but have you ever been super frustrated because the store was out of the item that you really needed and you get a lame substitution instead?
That's a nice perk, but the real perk of JackBe is that they offer on-demand curbside pick-up. Once they let you know your order is ready, you can pick it up anytime without having to get out of your car. 
How to offer curbside pickup at your business
Of course, a great curbside pickup and delivery service doesn't just happen. Every business must consider a few key elements when offering pickup and delivery options.
Train your staff well. The more familiar your staff is with your POS system (a point-of-sale system used to process transactions from retail customers), pickup process, and order fulfillment, the smoother your pickup experience will be. You should also take the time to train your delivery drivers so they are as efficient and professional as possible.
Invest in an inventory tracking system. Staff at every physical location needs access to inventory information at that local store, so they can quickly and accurately find and package orders for pickup. 
Designate a parking area. Whether a parking lot or a few street-side parking spaces, clearly lay out where you want your customers to park. This cuts down on confusion and makes it a smoother experience. 
How to determine if curbside pickup makes sense for your business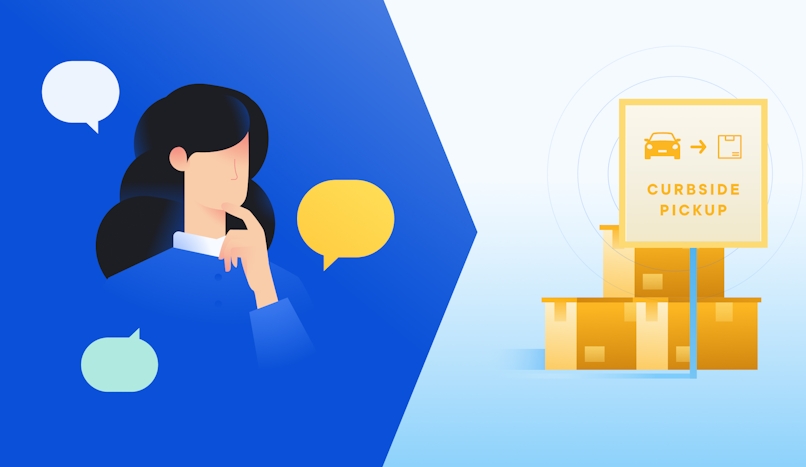 As you can see, pickup and delivery both have a lot of moving parts. Ultimately, the question is whether one is right for you.
We've discussed many curbside and in-store pickup benefits, but that doesn't really represent the full picture. 
It's only fair to fill you in on the challenges businesses face with this service, so you can decide whether it's right for your business.
Staffing 
One of the biggest challenges with curbside pickup and delivery is having enough staff to cover the extra work. After all, in addition to your regular staff, you'll need staff to gather online shopping orders, bring them out to customers' cars, and deliver them. 
Consider how many more people you'll need for these roles and the cost of hiring more in-store staff and delivery drivers.
Space 
You need space for customers to pick up their orders and to store orders until pickup. This could mean a pickup counter in the store, storage lockers, or space for a designated parking area. 
Look at the situation of your store and decide what options are best for you. Maybe you're struggling to find extra space inside and outside your store, in which case, delivery may be your best option.
Cost 
As simple as this service may seem, costs can quickly add up. 
Here are some of the costs you'll need to consider:
Building and maintaining an online store or mobile app.
Outfitting your parking area.
Buying a delivery vehicle.
Fueling your delivery vehicles.
Of course, there are ways to offset some of these costs. 
For example, you could use a do-it-yourself eCommerce platform to build a simple online store. Or you can use a tool like Circuit for Teams to better organize your delivery routes to be more fuel efficient. 
Risk of fraud 
Fraud is a real concern for business owners.
This pay-in-advance system means fraudulent customers can come in and pick up someone else's order. Many delivery companies also deal with porch pirates.
And you would be the one to bear the cost of this loss. 
You can avoid some of this by setting up a process for customer identification. But, as with most things, there's no way to protect yourself 100 percent.
Minimize fraud, including porch piracy, by making sure customers are home at the time of delivery and obtaining proof of delivery, such as a customer signature.
It's up to you to weigh the pros and cons of this service. Are the benefits enough to outweigh the challenges?
Only you can say!
Offering delivery services at your business? See how Circuit for Teams can help
Online shopping and curbside pickup and delivery are exciting innovations for both customers and businesses. 
Hopefully, you now have a better understanding of how these processes work and whether one could be a good option for your business. 
As you continue investigating curbside pickup and delivery, check out how Circuit for Teams can help.
Circuit for Teams is a tool that helps businesses organize and manage their own delivery operations, including packages, drivers, and routes. 
With this state-of-the-art tool, you can:
Get proof of delivery with the ability to capture a signature or snap a picture
Know your delivery status at a glance with our easy stop-status icons
Allow customers to enter specific delivery instructions, view estimated delivery times, and more
Make real-time changes to live routes
And that's just skimming the surface. Start your free trial today to see what else we can do.