8 minute read
In-House Cookie Dough Delivery: One Café's Powerful Answer to COVID-19 Lockdowns
During COVID-19, these cafe owners started delivering cookie dough to their customers. They retained 70% of their staff… and found a new way to do business.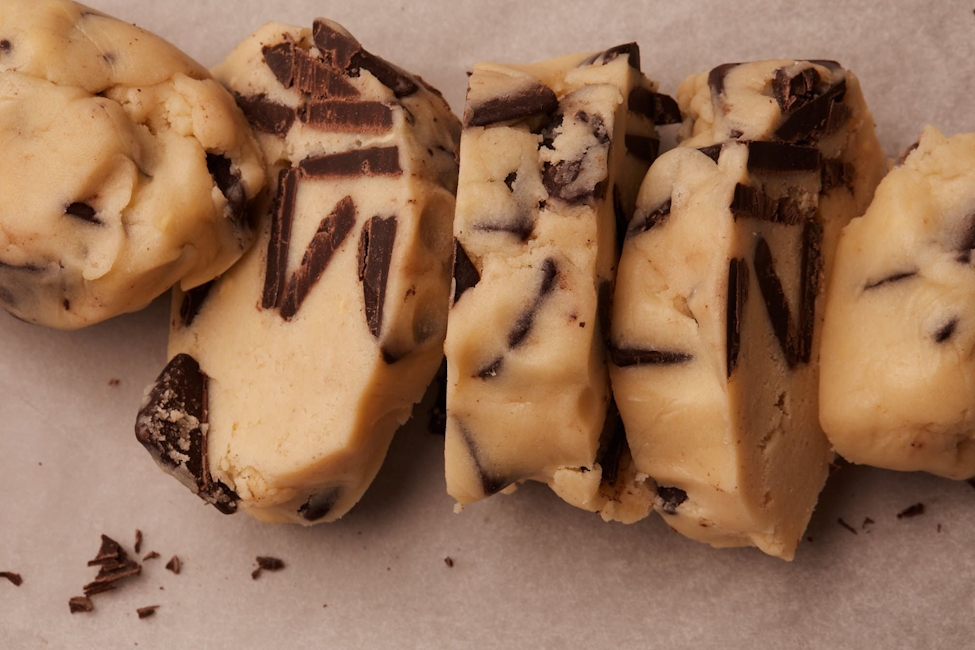 Blair St. Dairy was the first restaurant James Meek owned. He and his business partner, Cliff, opened the location with just two additional staff — a barista and a waitress — six years ago.
Here's how they went from a popular restaurant to being successful at cookie dough delivery.
The little café was a hit with Sydney locals who enjoyed the upscale breakfast and lunch options; so popular, in fact, that the pair opened a second location on Blair St. and employed over 30 staff before the pandemic hit.
Both locations were always bustling — a testament to James' and Cliff's success in turning their vision for the cafés into reality.
Even though most people came for the healthy, trendy food, one of the most popular items on the menu was their freshly-baked chocolate chip cookies.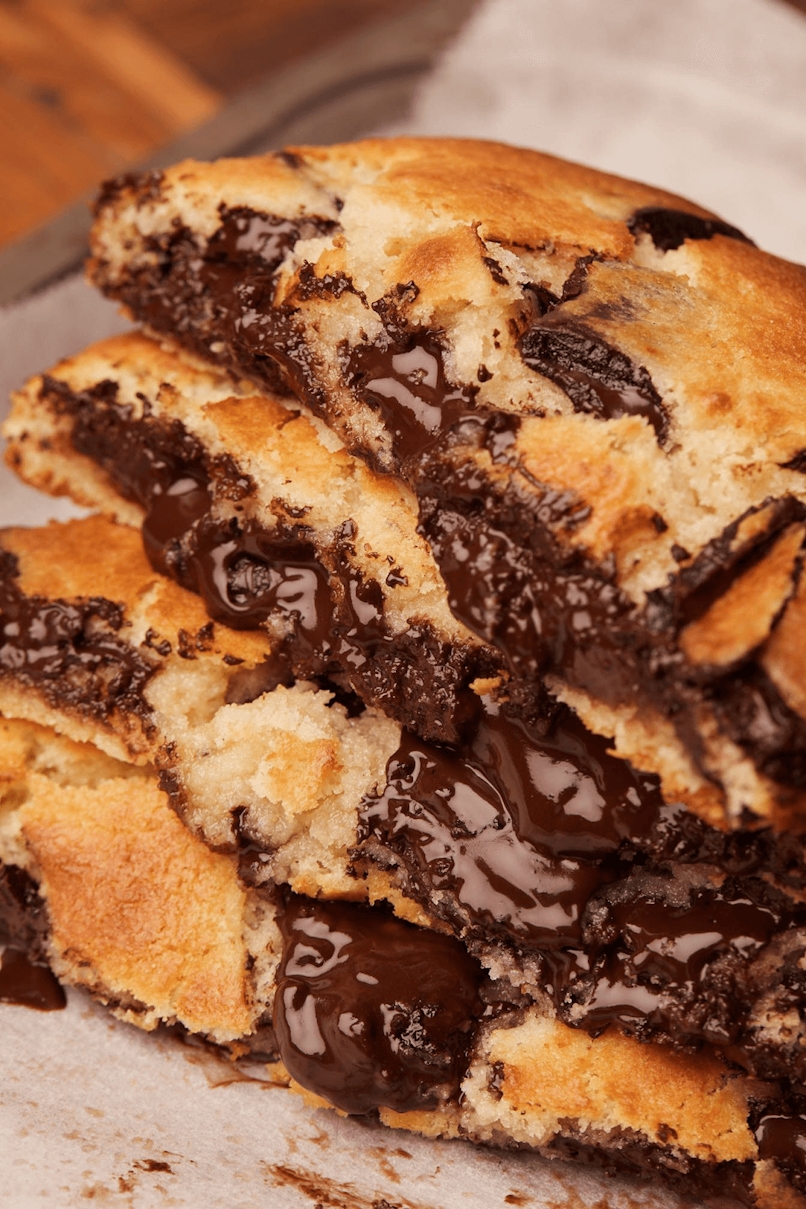 They're full of chocolate and butter and all sorts of unhealthy stuff. It's just delicious. People really like it.
Each café location would sell roughly 400 cookies per week.
But then COVID-19 came to Australia. Uncertain they could keep their employees safe enough to prep food for take-out, James and Cliff made the decision to close both cafés until they knew more.
Obviously, a café business is a cash-flow business. It's day to day: You need money to be continually coming in because money's continually going out.But this was bigger than us, so we thought we'd stop and take a breath and reassess what's going on. How do we get through this period?
While he and Cliff were cleaning out the kitchens, they came across a concerning sight: several kilograms of their signature cookie dough with no way to sell gooey, warm cookies to their customers.
Undeterred, the pair decided to offer cookie dough delivery on Instagram in the hopes that some of their 9,000 followers would be willing to pick it up curbside. It was a massive hit. In just two hours, they sold two hundred kilograms (over four hundred pounds) of the dough. They barely managed to reply to a third of customer inquiries for the dough.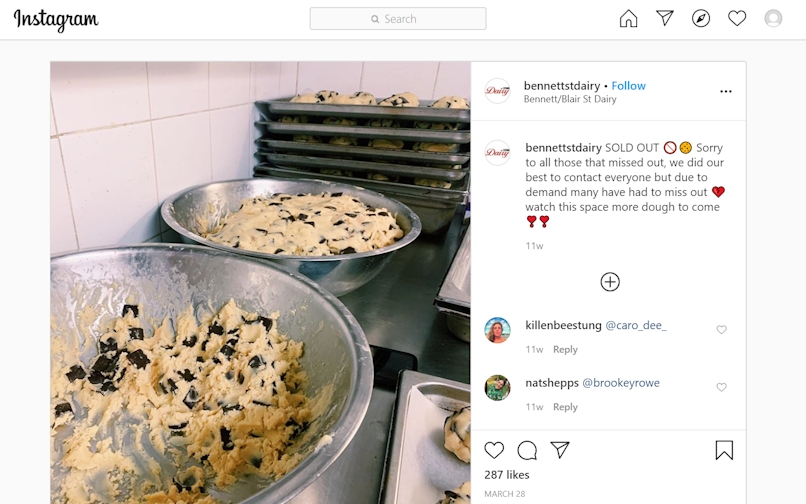 Deluged with requests for more cookie dough delivery, the pair got to work making more batches of dough, setting up a page where customers could order the dough on their website, and figuring out the best way to get orders to their customers.
Note: Have a loyal, local customer base who'd love to get their hands on your food products? Using Circuit for Teams, you can build an in-house delivery team to fill orders and curate an unbeatable customer experience. Get a free trial.
Finding a System That Worked for Cookie Dough Delivery
Initially, James and Cliff determined a few set hours during which their cookie customers could swing by and pick up the packages of dough. But a few hours on Sunday turned into a few hours on Sunday, Tuesday, and Thursday … And in the meantime, they kept hearing that customers wanted cookie dough delivery to their homes.
They tried cookie dough delivery themselves, then they hired a delivery company (neither method worked out). Finally, they decided to build their own in-house team in the hopes of crafting a better customer experience.
Here's what went wrong with the first two methods and what they did right to make the last attempt work.
Attempt #1: Delivering the Cookie Dough Themselves
The first time James offered cookie dough delivery, he had 30 orders to deliver among Sydney's suburbs.
I started doing it myself actually, casually thinking, 'How hard can it be? I've got 30 deliveries to do. I'll just plug them into Google as I go.' But it was an absolute nightmare.
He quickly learned that trying to plan out his routes using only Google Maps was a no-go.
That was a big mistake, because even if you go to one suburb and you know you've got three deliveries through that suburb, you can be super inefficient about how it's done. You're constantly like, 'Where is it again?' and typing it into your phone.
Needless to say, doing the cookie dough delivery for himself was a short-lived effort. So he turned to Google search to find an alternative solution.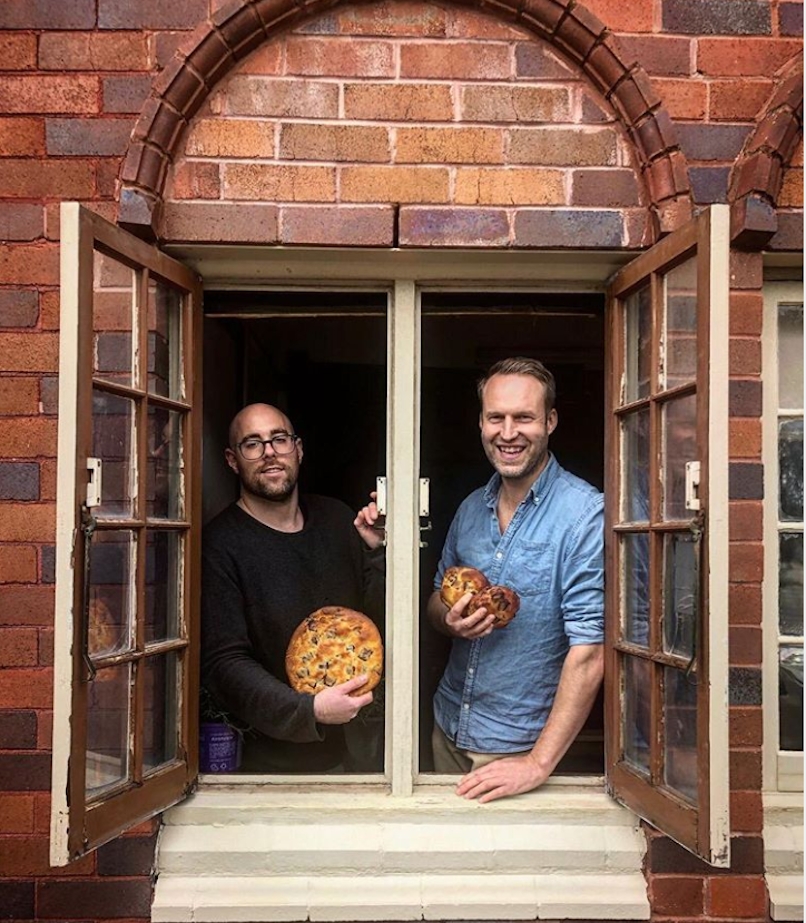 Attempt #2: Outsourcing to a Courier Company
The Bennet St. Dairy's relationship with a courier company they found online lasted only two days. He's the first to admit he doesn't know if his experience was in line with the company's usual work quality: With the increased demand on delivery services, it may have been that they couldn't keep up with orders during the pandemic.
But overall, they struggled to do the cookie dough delivery in a timely manner, and many of their customers complained about how the dough was delivered (for example, one delivery person left the dough on top of the mailbox by the street).
He had also heard complaints from others in the industry. Perishable items weren't always properly stored in warehouses (not kept refrigerated), and a next-day delivery could sometimes be delivered three days later (too long for cookie dough). One person recounted how their customers would find their packages swarmed with ants. It was at least a food quality concern (if not a food safety issue).
In addition, James worried about the inability to make last-minute changes to their cookie dough delivery instructions when customers called. He wanted a way to give them the best possible customer service, but it was hard to do when he didn't have a direct line of communication with the drivers.
Even though the customer understands that we outsourceto the courier company, it's still a reflection upon your service and your product.
He was worried that too many negative experiences would lose him the trust he worked so hard to build with his customer base.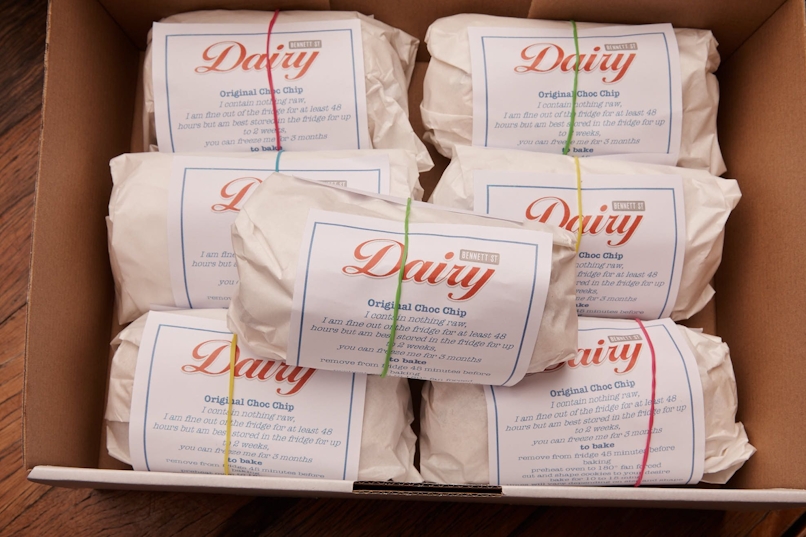 Note: James' experience with couriers extended only to local delivery. Shipping perishable cookie dough delivery outside of your immediate area typically involves a traditional shipping carrier and packaging your products with supplies such as bubble wrap or styrofoam, dry ice or gel packs, and robust shipping boxes to keep perishable products from damage during transport or spoilage in extreme temperatures.
Attempt #3: Building an In-house Team for Local Delivery
By the time James thought of building his own cookie dough delivery team, he had already started bringing back some of his regular staff to help make the dough (while social-distancing, of course). His barista was offering takeout coffee, too.
Building his own cookie dough delivery team would mean he could re-employ even more of his waitstaff — and that meant he wouldn't have to go looking for as many new employees on the other side of the pandemic.
But to make it work, he knew he needed a tool to optimize routes and organize his drivers. His search led him to Circuit for Teams. He could provide optimized routes for multiple drivers each day while monitoring their progress and giving customers accurate ETAs.
The cost breakdown ended up very similar to hiring a courier, but this way, his drivers knew the products and could act as brand ambassadors, delivering a higher level of customer service. His main delivery expense is the salary for his drivers (who he's happy to employ again). The cost of Circuit in comparison to that, he says, is negligible. Since it saves him hours of planning each day and gives him the tools he wanted to deliver amazing customer service, he believes it's the right move for Bennett St. Dairy.
A Few of James' Favorite Things About Circuit for Teams
In addition to route planning, James loves that he has real-time knowledge of where his drivers are. If a customer calls to ask for a cookie dough delivery status, he can tell them how long it will be so they can be ready to accept the dough when it's delivered.
He also enjoys the ability to see the distance for all the routes so he can plan for gas costs.
In addition, he uses proof of delivery to know exactly where his drivers left the dough. If there's a problem (such as the customer not being able to find it), he has something to work from to help them instead of only being able to re-send dough the next day.
That ability to react quickly and fix any mistakes is exactly what James wanted for his business.
The Power of Strong Rapport with Customers
Before the pandemic, James had never considered shipping food items.
When you're running the cafés, you're running the cafés. There's other things you might want to do, but they tend to take up all your time.
But the cookie dough delivery was such a success that James plans to keep it as a permanent product offering. It might even become bigger than the cafés themselves, thanks to the campaign going viral.
He doesn't think they would have seen nearly as much success had they not had so much rapport with their existing customer base.
I'm very much about old-school values, the real-time interaction with people when they come in.
It's a policy that worked in his favor when the pandemic hit. The Bennet St. Instagram had 9k followers when they first posted their cookie dough for sale. Over the next month, it rapidly grew to 13.3k followers. At its height, people were posting 40-50 Instagram stories per day about baking the cookies at home. Their feed was flooded with the faces of happy children grasping deliciously large cookies.
News media coverage helped as well: Everyone was looking for a positive message during lockdowns, and families making cookies at home was a story worth smiling over.
By having their own team, James and Cliff were able to respond rapidly to increased demand, while translating their old-school values to the delivery experience. Whenever they made a mistake, they could replace the customer's order within a day (instead of the one or two weeks they might have had to wait with a regular online company).
Cookie Dough Delivery: Final Thoughts
James entered the hospitality industry shortly after graduating from college. Running his own restaurant was always his goal.
In hospitality, you get to a point where the next big step is to own your own place, which is a very, very big step to take," James reflected. "But I had a passion for making that work, and the vision was there, and I had to do it.
That vision, manifested in the Bennet St. and Blair St. cafés, was put to the test during the pandemic.
Without the cookie dough delivery, the Bennett St. and Blair St. Dairies would have struggled like many of their neighboring businesses. James says he would have taken a more serious look at takeout food, but he was definitely concerned about how they could do so safely and effectively. Not all of his colleagues in the restaurant industry were so lucky — those that resorted to UberEats, for example, lost most of their profits to platform fees.
But thanks to cookie dough sales and his in-house delivery team, James and Cliff were able to retain 70% of their staff. And now that restrictions in Sydney have lifted, they're back to making all kinds of delicious food (including the healthy stuff, of course).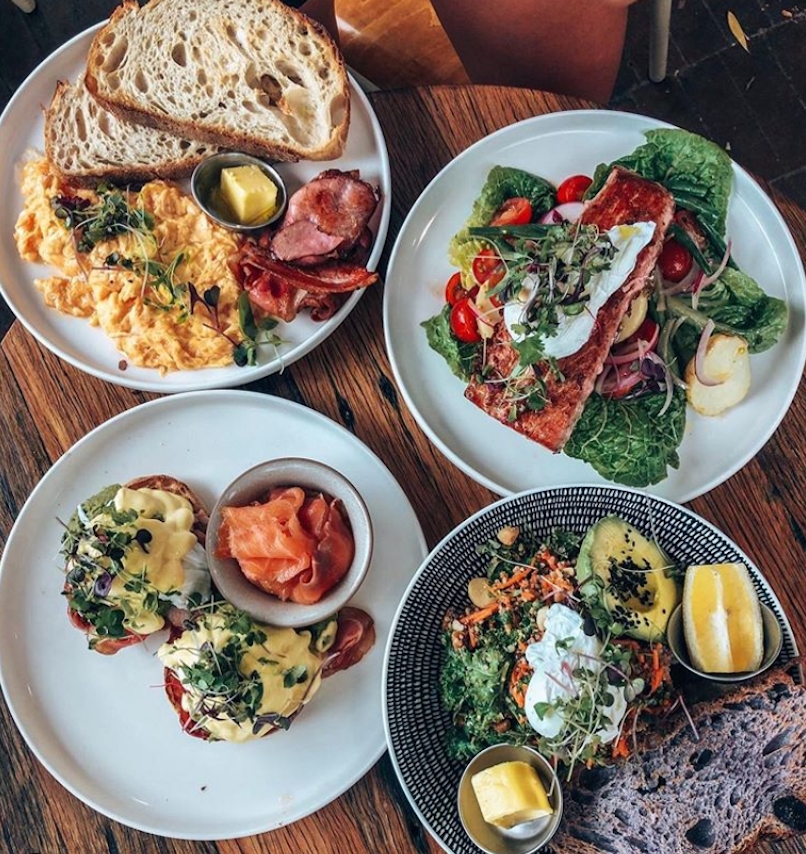 And in the future? For as long as there's demand, they'll continue selling (and delivering) cookie dough: 500g for $12.
Note: Have a loyal, local customer base who'd love to get their hands on your food products? Using Circuit for Teams, you can build an in-house delivery team to fill orders and curate an unbeatable customer experience. Get a free trial.