6 minute read
Key Features You Need in Contactless Delivery Software
Delivery teams will struggle to offer their customers contact-free delivery without contactless delivery software in place. Here is what you need.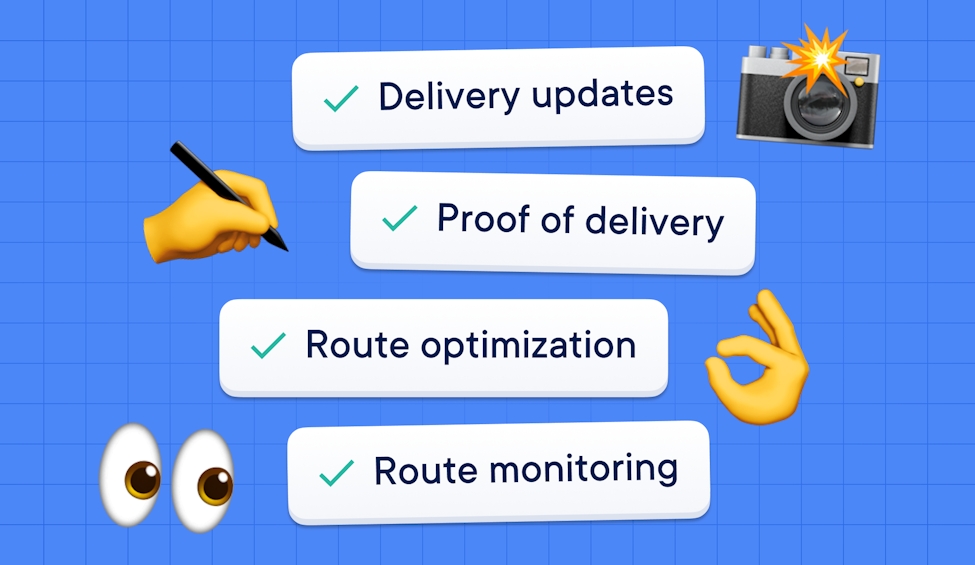 Wondering whether you need contactless delivery software?
There are several benefits to offering your customers contactless delivery:
It's social distancing friendly. Delivery teams saw a huge increase in demand for no-contact delivery as people started social distancing due to COVID-19. Instead of knocking on a door and coming face-to-face with recipients — or handing them paperwork to sign — drivers can safely place the package at the customer's doorstep.
Your team can make more deliveries in a day. With contactless delivery, your driver spends less time at each stop, because they can quickly (and safely) drop off the package without waiting for the customer. This means they can make more stops in a day, which means your customers will get their orders sooner rather than later.
Your customers don't need to wait for their package. Because your customer doesn't have to physically sign for their package or be there to receive it, they don't need to worry about waiting around for your delivery driver to arrive. They can go about their day, and when it's convenient for them they can pick up their package from their patio or mail room.
But delivery teams will struggle to offer their customers contact-free delivery if they don't have some type of contactless delivery software in place.
In this post, we look at key features of contactless delivery software, plus we cover other beneficial delivery tools your team should be using. And throughout, we'll mention our delivery software, Circuit for Teams, which will help you make contactless deliveries easily.
The Two Important Features of Contactless Delivery Software
Contactless delivery software has two key features that make contact-free deliveries possible.
Contactless delivery software sends your customers automatic delivery updates, so your customer knows exactly when their package is arriving.
Contactless delivery software lets your drivers collect proof of delivery, so both you and your customer know exactly when delivery was completed.
Let's look at these two features in more detail.
Sending Out Order Delivery Updates
Sending out delivery updates lets your customer know where their package is, and when they can expect their order at the front door.
That's important because you want to offer your customer peace of mind, especially because your driver is not coming into physical contact with the customer.
For example, with contactless delivery, your driver can knock on the door when they make their delivery, but they're not going to wait to make sure someone is home. Instead, they're going to leave the package securely at your customer's address.
Sometimes the customer will be okay with leaving the package outside all day, but other times they may want to make sure they're going to be home around the time it's dropped off. For example, if they're waiting on an item they want to use ASAP.
With delivery updates, your customers will be kept informed on when their delivery is expected to arrive. That way they can decide when they want to get their package.
Note: When you use Circuit for Teams, our all-in-one delivery software that you can use to make contactless deliveries, your customer gets updates throughout the day.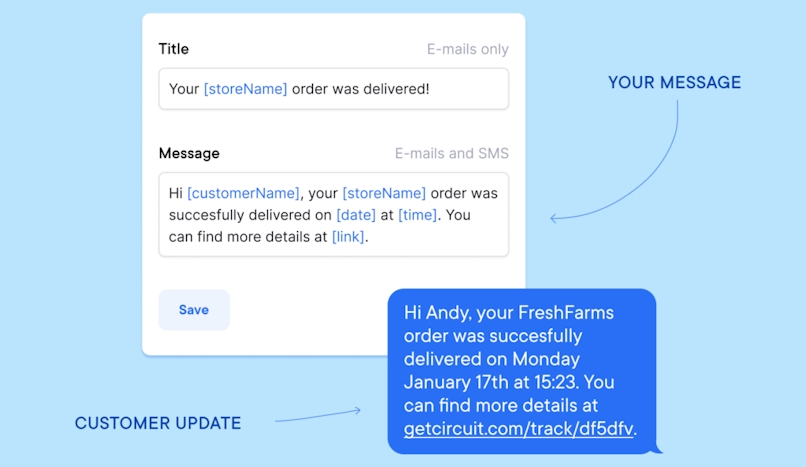 They get their first update when your driver starts their route. The customer receives an email or text (or both) that gives them an ETA of when their package will be delivered, along with a link. That link takes them to an online dashboard where their package's location is updated in near real-time.
When the driver is roughly 10 minutes away from their address, Circuit for Teams sends out another update with a new accurate ETA.
Collecting Proof of Delivery (by Taking a Photo)
The next key thing you need for your contactless delivery process is to be able to collect proof of delivery (POD).
POD gives your driver, your delivery business, and your customer peace of mind. This is especially important with contact-free delivery because your drivers are securely dropping the package off without making contact. You want a way to avoid any potential disputes, such as a customer calling in to say their package was missing or delivered damaged.
For example, one of our customers, before using Circuit for Teams to manage his deliveries, experienced the time-consuming hassle of delivery disputes first hand.
Sagar Dhaliwal runs a popular restaurant in Calgary that has a food delivery service (a light, delicious mid-day lunch delivered straight to your door).
But before Sagar used Circuit for Teams to capture proof of delivery, he'd get calls from customers saying they never received their food order. That's because he was doing contact-free deliveries, without using any software to help his team.
When these disputes happened, Sagar had his chef make up a new portion and his driver had to re-deliver the product. That took a lot of time (from both his restaurant crew and his delivery team) and cut into his margins.
Luckily, Sagar was able to solve this problem by using Circuit for Teams to capture proof of delivery.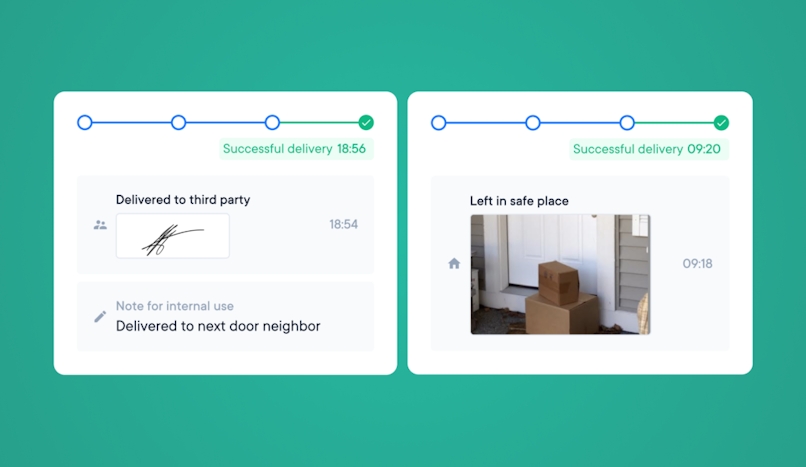 Now his team has an actual contactless delivery system in place, and it looks like this:
His drivers can do their contactless delivery as always, placing the food outside the customer's door. But now they use their smartphone to take a photo of the delivery. This photo is then uploaded into their Circuit for Teams mobile app.
A copy of the POD photo gets sent to the customer as a notification and is also stored in Sagar's back-end Circuit account, so he can pull it up and reference the photo if a customer calls to say they can't find their order.
By using Circuit for Teams to help him make contactless deliveries, Sagar's team went from having to re-delivery an average of 10 orders a day to having to redeliver zero. This resulted in huge cost savings for the business.
Note: If you ever need to pause contactless delivery or collect a signature, you can do that with Circuit for Teams, too. Your driver can use their smartphone to get a signature from the customer. Just like the photo, the signature is shared with you and your customer.
Additional Delivery Features Your Team Will Benefit From
We've looked at how your delivery team can handle contactless deliveries more easily by using Circuit for Teams, our all-in-one delivery software for managing multiple drivers.
Being able to do contactless delivery is just one of the benefits of using Circuit for Teams.
Our software also lets you:
Optimize fast and efficient routes for your entire delivery team. When all your drivers follow fully-optimized routes, they're saving time and reducing overheads. They're also completing more stops in a day. That's a double win.

One of our customers doubled the number of stops he could make in a day after he started optimizing his routes. Another one of our customers saved 12+ hours a week in route planning by letting Circuit for Teams optimize and plan their routes for them.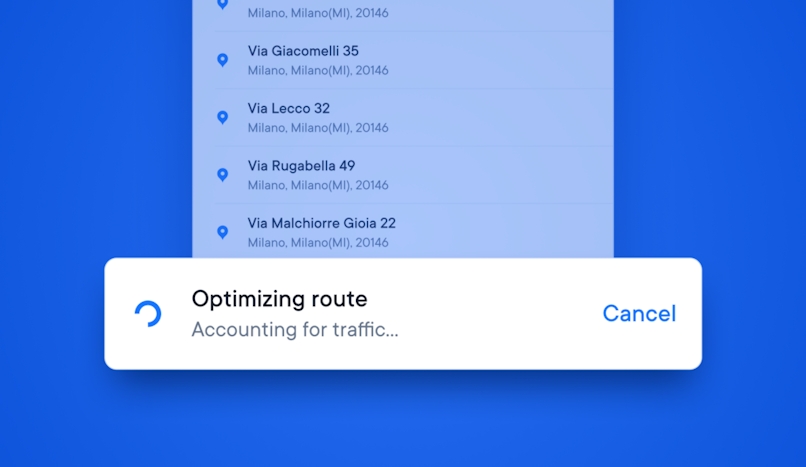 Monitor routes in progress. Because your drivers are using the free Circuit for Teams mobile app (which works with both iOS and Android devices), you get accurate GPS tracking of each driver. You also get their location within the context of the route they're driving. So you'll know which stop they just completed, and where they're headed next. Total visibility over your whole team.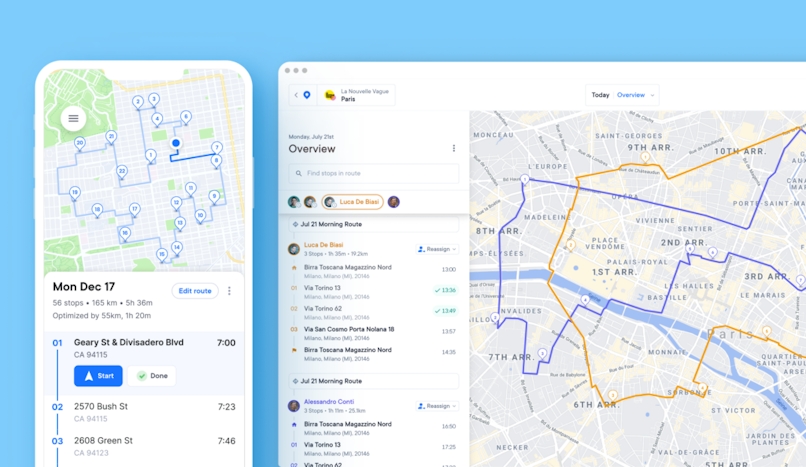 Next Steps: Starting Your Free Circuit for Teams Trial
The demand for contactless delivery won't be going away anytime soon. Even if the COVID-19 pandemic disappears completely, your customers would still benefit from three key things: faster deliveries, knowing when their package was dropped off, and getting proof of delivery sent to their email or phone.
That's what you can do when you start using Circuit for Teams to offer contactless delivery.
You also get advanced functionality usually found in more expensive last-mile delivery tools, including route optimization and route monitoring.
Enjoy this article? You might also like: