5 minute read
A Deep Dive Into Delivery Driver Employment
We surveyed almost 1,000 delivery drivers and collected other data to find the current trends in delivery driver employment. Here's where people are looking for jobs, what drivers are earning and how your team might feel about their work.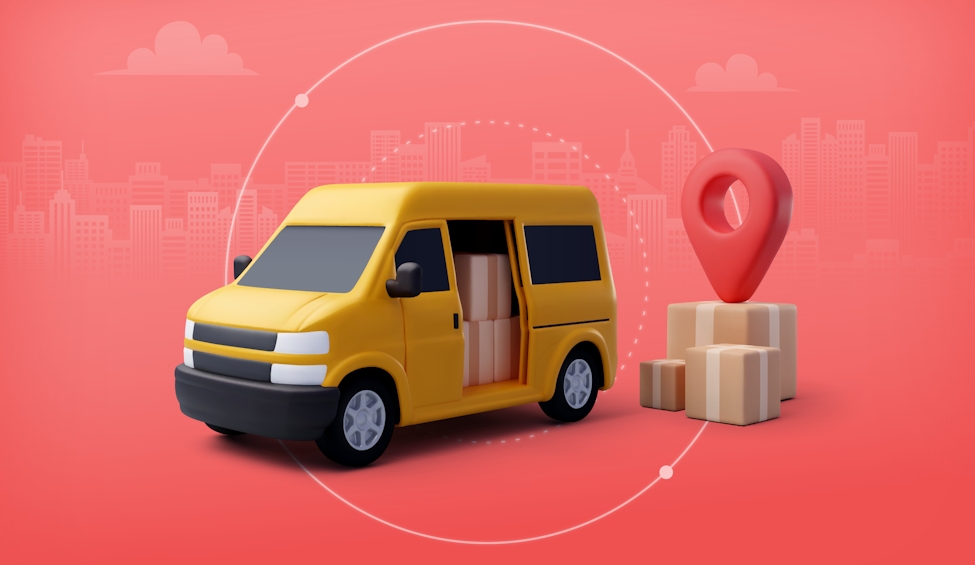 With delivery driving jobs booming throughout the US, we dove into the data to find out more about delivery driver employment.
Key takeaways
Google searches for "delivery driver jobs" have increased by 479% in the past two years.
North Dakota is the state that pays delivery drivers the most, with an average annual salary of $46,225. Oklahoma has the lowest salary, $31,855.
80% of delivery drivers feel they are underpaid. 
77% of delivery drivers plan to pick up a second job to keep up with inflation.
You could say that delivery drivers are the backbone of the economy.
They deliver everything from takeout and packages to medicine and groceries, propping up eCommerce and brick-and-mortar stores nationwide.
With so much demand for this line of work, it's understandable that there's a growing interest in delivery jobs. To get a better picture of what this type of employment is like today, we analyzed data from the US Bureau of Labor Statistics, Indeed, and Google Trends search volume data. 
We also surveyed 988 delivery drivers to help us understand delivery driving and the people who do it.
Let's find out where they work, how much they make, and where most of the nation's interested job seekers are looking to fill open driver positions. 
Who do delivery drivers want to work for?
Location plays a big role in choosing which company you're more likely to want to work for. Here's where most people are interested in delivery jobs. 

We found that interest in delivery driver jobs has increased nationwide by 479% in the last two years. In particular, interest in food delivery driver jobs has risen 321% —although some of it is likely due to the COVID-19 pandemic, that's still a huge uptick!
Georgia's job seekers showed the most interest in delivery jobs, followed by Texas, Arizona, California, and Maryland. But certain states were interested in working for certain delivery companies over others. 
Rural states (like Alaska, Wyoming, and South Dakota) wanted UPS jobs, while those in more densely populated states (including Maryland and New Jersey) preferred Amazon.
Perhaps New Jersey had the third largest number of candidates interested in working for Amazon because it was also the state with the third-most Amazon warehouses in the country in 2020.
Key Takeaway: Google searches for "delivery driver jobs" have increased by 479% in the past two years, showing that people are increasingly interested in the work.
What's the best state to be a delivery driver?
The number of delivery driver job openings varies throughout the US, but all states need plenty of drivers to meet the demand. But are some states better for them to work in than others?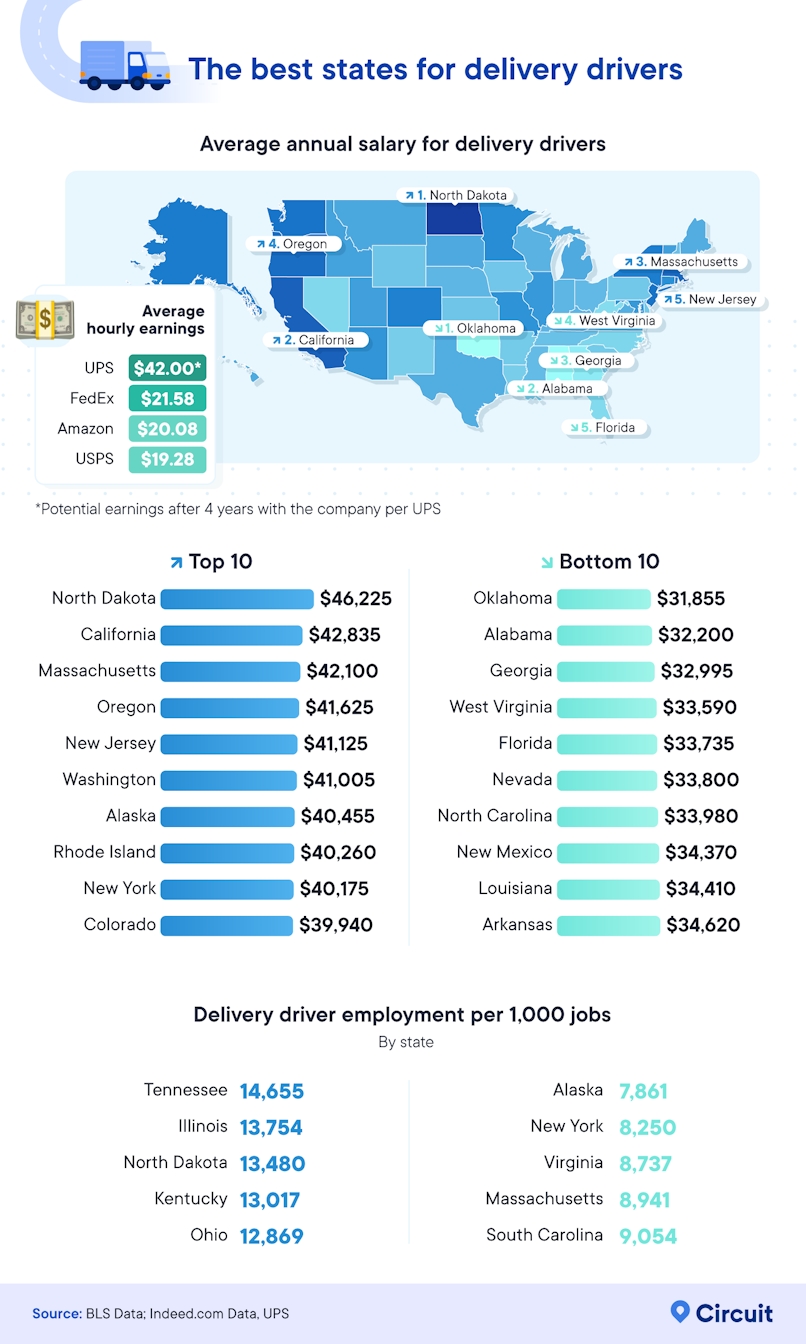 North Dakota, California, and Massachusetts offered the highest delivery driver salaries, while Oklahoma, Alabama, and Georgia had the lowest.
The highest average wage for delivery drivers was around $46,225 per year in North Dakota — a largely rural state where home delivery is in especially high demand. 
Georgia's low minimum wage and Alabama's lack of any minimum wage might explain their positions in the bottom ten. Conversely, higher-wage states like California and Washington tended to have higher salaries for delivery drivers.
Drivers in Stockton, California, were some of the highest-paid in the state. Drivers here can make over $49,000 a year, and the top three industries they're likely to deliver for are manufacturing, transportation, and hospitality.
Key Takeaway: North Dakota drivers make the highest salaries on average, but they can earn even more in Stockton, California.
What do drivers think?
To better understand the profession, we asked delivery drivers how they felt about their jobs. Here's what they had to say.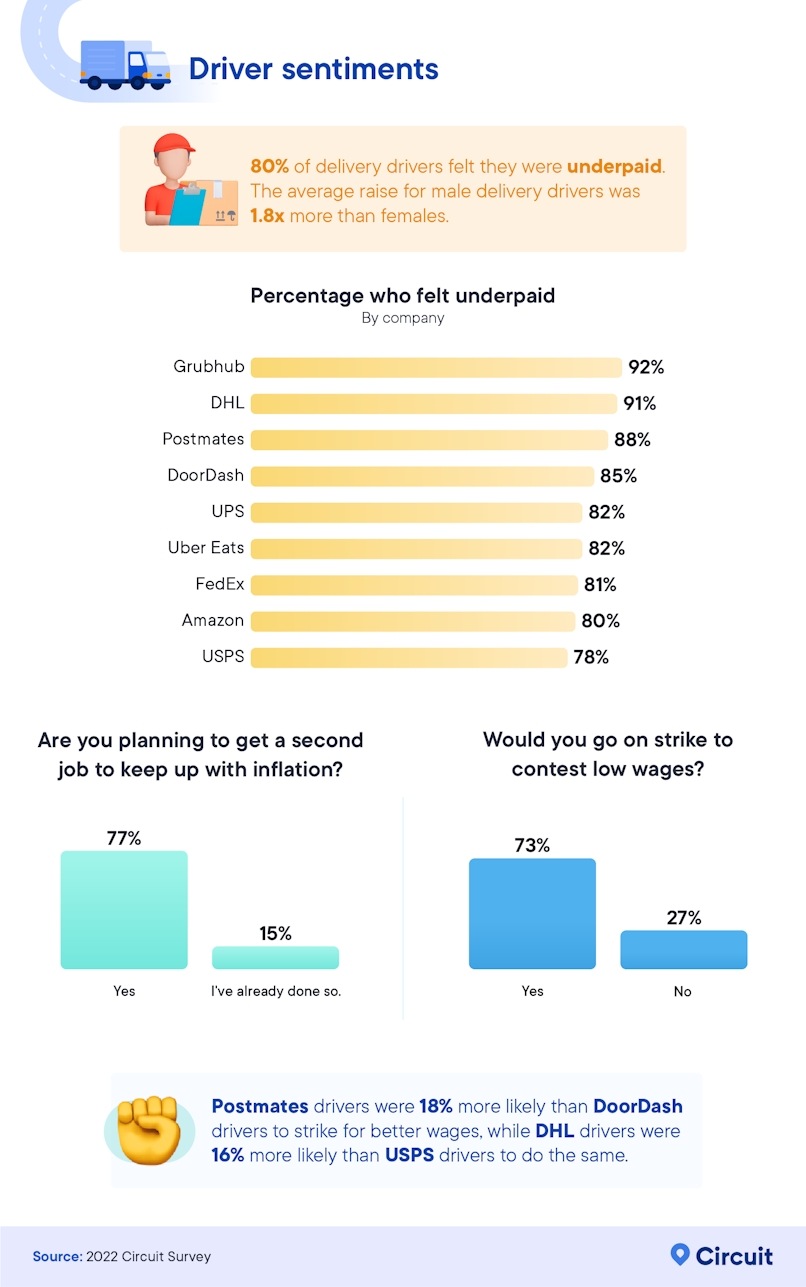 Unfortunately, most drivers don't feel they make enough money for their hard work.
Nearly all drivers (at least 91%) working for Grubhub and DHL felt underpaid, but many working for other companies (78-88%) said the same.
As a result, 77% of our respondents said they plan to get a second job to keep up with inflation. A few (15%) already have.
Plus, 73% said they'd even go on strike to contest their low pay.
The combination of inflation and perceived poor wages make strikes increasingly likely, so now might be the right time for companies to reassess what they pay employees.
Delivery drivers and truckers have recently advocated for higher pay and conditions, increasing many salaries nationwide. Their wages may also rise again in the near future due to union agitation and the growing demand for deliveries.
Key Takeaway: With most delivery drivers feeling underpaid, strikes and demands for higher wages may become increasingly likely — especially since nearly three-quarters of respondents said they would go on strike to contest their current wages.
Time for a change?
Interest in delivery driver jobs is on the rise throughout the US. Many companies are hiring, but the salaries differ from state to state. 
But drivers have been unhappy with their salaries and those on offer, with most willing to go on strike for better pay. With the nation relying on them to deliver the goods they need, it might be time for managers in some states to consider pay raises. 
Although there's plenty of nationwide interest in delivery jobs, managers may want to focus resources primarily on their existing teams. If your drivers want higher pay, consider rewarding your highest performers before hiring new ones. 
Methodology 
We used data from the US Bureau of Labor Statistics (BLS), Indeed.com, Google Trends search volume data, and a survey of 988 delivery drivers to explore delivery driver employment. 2021 wage and employment per 1,000 jobs data was obtained from BLS. Indeed was scraped for over 12,000 recent delivery driver job postings around the United States. Wages displayed by company were based off of publicly available Indeed salary listings. Salaries were normalized using the 2,080 hours per year standard to estimate average hourly salaries. For the survey portion of our data, we ensured each company had a sample size of at least 100 employees. This included both part time and full time employees. Of survey respondents, 67% were male, and 33% were female. Survey results were self reported. Please note that these estimates are based on the specific methodology employed and may not accurately reflect the actual figures. We welcome any inquiries or updates to the data, as we are committed to providing the most accurate and up-to-date information on this page.
About Circuit for Teams
We make deliveries easier through our driver app, which helps minimize delivery problems. Take the stress out of planning and managing your driver's routes with Circuit for Teams.
Fair use statement
Readers and publishers can share these findings for any noncommercial purposes as long as they provide a link back to this page.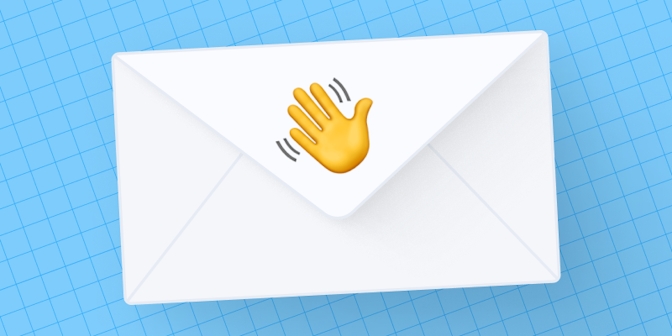 You made it this far!
Chances are you'll love our other stuff too. Get our newsletter for the latest on all things delivery.