12 minute read
How to Start a Mobile Pet Grooming Business in 2023
Learn how to start your mobile pet grooming business and the startup costs, equipment, and licenses associated with your new business in the pet industry.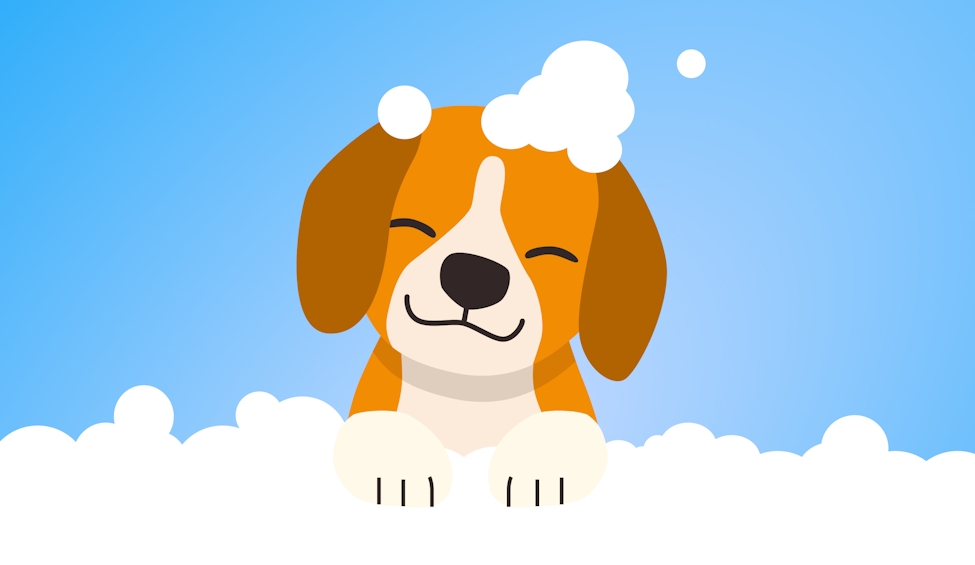 Manage a crew of groomers? Get them where they need to go faster with Circuit for Teams.
Anyone can start a mobile grooming business — and there's money in pampering our furry family members.
In fact, seventy percent of American households own a pet. That's a lot of mucky friends who need regular grooming.
Mobile pet grooming businesses are on the rise. Becoming popular solutions for busy owners who don't have time to take their pets to a traditional grooming salon.
And who can beat the convenience of having the pet salon come right to your door?
All you need is a passion for animals and the drive to be your own boss, set your own hours, and make a living doing what you love to consider starting your own mobile dog grooming business.
Below, I'll cover everything you need to know to get your mobile grooming service startup off the ground.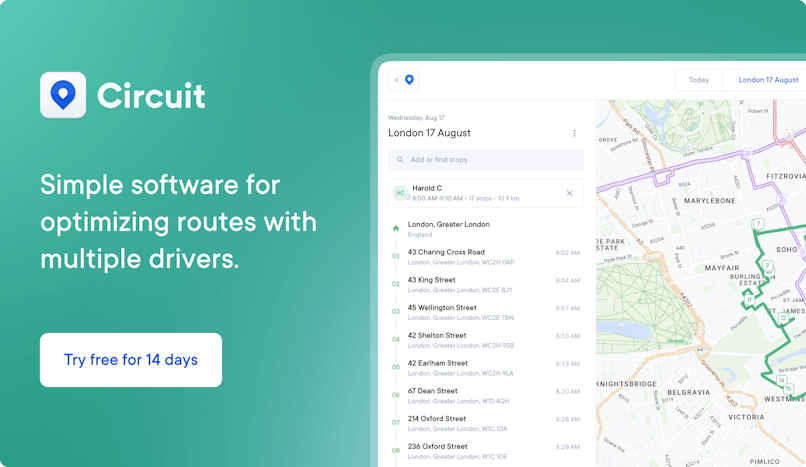 How profitable are mobile pet grooming businesses?
Let's talk money.
In general, mobile pet grooming services cost less to start up than their brick-and-mortar counterparts.
With a mobile pet grooming service, you won't have to pay for rent, utilities, or other overhead costs associated with a physical location.
On the other hand, you will have to consider the rising cost of gas in your operational budget.
But starting a small business can be expensive, so getting started working in the grooming industry for less can be a huge win.
Let's get down to brass tacks.
How much do dog groomers make?
Most dog groomers make at least 50 percent of each grooming. But if you plan on doing the dog grooming yourself, you can keep more of your profits instead of hiring groomers and paying them a percentage of the fees.
Plus, mobile pet groomers can charge more for their services since coming to a client's house offers another layer of convenience.
The average mobile grooming service charges $30 to $90 for basic grooming. Their fees normally vary depending on where a groomer is located and how competitive their local market is.
How to set prices for mobile dog grooming
First, do market research and competitive analysis to identify your customers, set fair prices, and make your business unique.
Most groomers also base their fees on the breed and size of the dog.
For example, the mobile pet grooming business Bubbles N Biscuits has a starting groom charge of $65 for extra-small pets and $95 for large pets. 
Plus, customers can add extra services, such as nail trimming, ear cleaning, and tooth brushing, for additional fees.
So it's a good idea to research the competitors in your area to determine what fees you should charge for your services.
But let's get down to numbers.
How much can a mobile pet groomer really make in a day?
As a mobile groomer, you should groom about four to five dogs per day on the low end.
On the high end, most mobile dog groomers get to about six dogs a day, and that's about average.
How does that shake out (pun intended)? Let's go through the sums:
Say you charge $65 per dog.
5 x $65 = $325 a day
If you hire a groomer, you'll pay them 50 percent.
$325 – $162.50 (what you pay your groomer) = $162.50 a day (profit)
Of course, some days, you may groom more dogs at a higher price. It just depends on the demand in your area.
The average annual pay for a mobile dog groomer in the US is $48,278 a year.
Remember, you'll have business expenses, such as fuel costs, vehicle maintenance, and scheduling software to pay for. 
You'll also have to consider the cost of buying everyday supplies like shampoo, conditioner, and clippers.
In a recent survey of pet groomers we did, using the right brush is important for getting tangle-free fur. Some types include bristle, pin, and slicker brushes. 
Other essential tools respondents told us they typically use include deshedding tools, nail grinders, and quality shampoos and conditioners.
This comes out to about $100 a week. 
And don't forget about travel. One pet groomer told us they usually travel around 25 to 50 miles a day, which comes out to $60 to $120 a week in gas — although, there have been times when it's cost more than $200.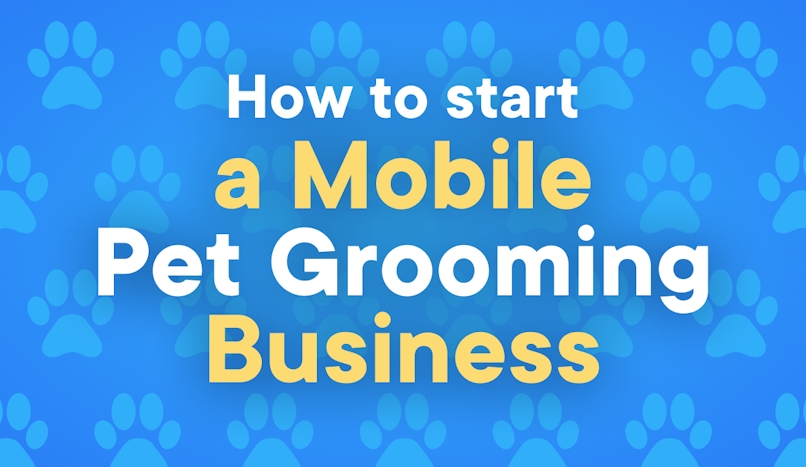 How to start a mobile pet grooming business in 6 steps
Mobile grooming business owners enjoy flexibility, freedom, and the opportunity to work with some of the cutest customers around.
Still, it can't be said that grooming is all sunshine and doggie kisses.
If you handle all the work yourself, it will be a physically demanding job. You might consider hiring a groomer for your mobile grooming shop and stick to the business side of things. 
Of course, caring for fur babies is hard work, and it can take one to two hours to groom an average-sized dog.
Bathing, hair cutting, drying, brushing, styling, cleaning ears, brushing teeth, trimming nails, and — brace yourself — expressing anal glands are all part of the job.
This means hours on your feet. And even with some comfy shoes, this can take a toll.
The grooming process includes a certain amount of risk as well.
Plus, not all puppers and doggos enjoy going to the groomer's. Bites and scratches do happen.
You'll have to learn to be familiar with the signs of fear or aggression in dogs to avoid these incidents.
There's also a condition called "groomers lung" to be aware of. There's a chance you'll be breathing in a lot of tiny hairs as you groom. Wearing a mask is one step you can take to protect yourself.
Ready to get your new business rolling? Here are the steps you should take:
Step 1: Develop your mobile pet groomer skills
If you plan on being a mobile groomer, you'll need to get started by developing your skills.
Pet care isn't just a hobby. It's a serious responsibility.
You're caring for furry family members, and clients expect you to offer the best possible care.
You'll be interacting with animals you're unfamiliar with, so you need to learn the ropes so you can handle your responsibilities safely and confidently.
It's a good idea to practice your animal-handling skills before you start taking on clients. 
For example, in our survey of pet groomers, one respondent said it's important to have patience and basic obedience skills to understand the dog and guide it to work with you. 
They also found stamina to be pretty important since it's a somewhat physically demanding job (for example, you might have to lift pets onto a table). 
You also need to learn grooming techniques and different shapes and cut styles, including: 
Puppy cut
Teddy bear cut
Top knot
Kennel cut
Lamb cut
Lion cut 
In the US, while there are no states that currently require licensing for pet grooming, some may eventually.
You can get a dog grooming certificate from a licensed dog grooming school — such as those from the National Dog Groomers Association of America — to give you the skills and confidence you need to succeed.
You can also apprentice at a pet spa, pet day care, pet store, or in a mobile grooming vehicle before you start your own business.
Organizations like the Institute for Apprenticeships and Technical Education can be a good place to start to find opportunities. 
If you can practice in a grooming vehicle, you'll get hands-on experience handling animals in a confined space.
Step 2: Legally establish the business 
Before you dive into the legal paperwork, you need to develop a solid business plan as it'll dictate how you will make money.
Your business plan should guide you through each stage of starting and managing your business. It's a roadmap to help you structure your business and run it in the  most profitable way.
Your business plan doesn't need to be long, but it should account for the following costs:
Fuel and transportation costs: Pet groomers are on the road a lot.
Vehicle maintenance and repairs: This includes common upkeep like oil changes, tire rotation, and brake replacements.
Equipment maintenance: Blades and shears need to be maintained and sharpened periodically.
Supplies: It's a good idea to restock shampoo and conditioner products as you use them to keep your inventory full.
Marketing expenses: You'll need to make sure people know you exist, especially when you're starting out.
Payroll: If you're hiring groomers, you'll have to account for their pay.
Once you have your business plan in place, it's time to establish your new business and get the paperwork you need to have a legal and successful business strategy in motion.
Next, you'll want to lock down the legal stuff.
Start by choosing your business structure and establishing a legal business entity, like a limited liability company (LLC).
Establishing a legal business entity protects you from personal liability in case something goes wrong, and it's a legal requirement for registering a business.
There are different types of legal business entity structures to choose from. Learn more from the US Small Business Administration (SBA).
A limited liability company (LLC) is one of the most common choices among small business owners for management flexibility, tax advantages, and liability protection.
You'll get to choose your business name at this stage. 
Your state may have specific naming requirements. For example, an LLC's legal name usually needs to include words like "limited liability company" or "LLC." 
Check with your secretary of state for specific requirements.
You also want to make sure your name isn't already being used by another business. 
This could lead to difficulty forming your business entity and legal trouble because you might be infringing on another company's trademarks.
You'll also need to apply for an employer identification number (EIN) to register for federal taxes.
Visit the SBA website to check if your state has any specific licensing requirements. 
While you don't currently need a pet grooming license, you may need a general business license. 
The next step is to get business insurance so you're protected in the case of an accident or another unexpected event.
Make sure your business is properly insured by researching and getting the right coverage, such as general liability, vehicle insurance, and pet groomer insurance.
If you plan on hiring employees, your state may also require you to carry workers' compensation insurance.
You'll also want to open a business bank account to spend or accept money as a business. 
A business bank account helps you stay legally compliant and organized when tax time comes.
Step 3: Get the supplies needed to start a mobile pet grooming business 
Now that the legal stuff is taken care of, it's time to get creative and work on your mobile grooming vehicle.
If you're a DIY master, you may want to convert a vehicle or trailer with a washer on the back. You can also hire someone to do it or purchase a prefab mobile grooming vehicle.
With your business plan in place, you should have a breakdown of expenses and a clear budget for your vehicle costs. 
Pro tip: when purchasing your vehicle and supplies, consider safety, comfort, and convenience.
Remember, you'll be spending a lot of time in this space, so it needs to be functional and safe for both you and the woofas you'll be serving.
Here are some things you'll probably need in your mobile grooming van:
Step 4: Market your mobile pet grooming business 
Once you've gotten yourself a mobile grooming van, you're almost ready to start your business. But you need customers.
We talked earlier about doing market research as you develop your business plan. You need to understand and know who your customers are to run a successful business.
This helps with everything from setting your pricing to how you market your business.
You need to be where your customers are. Where do the pet owners in your area go?
You can hand out flyers at local dog parks, kennels, and pet boarding businesses, or offer discounts on sites like Groupon in your area.
Contact local pet stores or vet clinics and ask if you can offer your services in the parking lot.
Pass out business cards to friends and family. 
Offer new customer discounts and referral incentives, so you can fill up your schedule and maximize your income as quickly as possible.
Make sure to claim your business profile on Google My Business so potential customers can find you when they're searching for nearby groomers.
You can advertise your hours, website, and business updates by claiming your business on Google.
If you don't, people looking for your services may not be able to find you, get your contact info, or see your correct business hours.
Post clear photos of your services and your adorable customers too. Include information like updated pricing lists, contact information, and availability on your website and social media accounts.
You'll also want to keep up with reviews. Businesses with more reviews make 54 percent more revenue.
Google reviews are incredibly impactful for potential customers.
88 percent of consumers read reviews to make a decision about local businesses, and 72 percent of consumers said positive reviews make them trust businesses more.
Don't forget that word of mouth can be a powerful marketing tool. In fact, one study showed that word of mouth can spread information from one customer to 40,370 people in a year's time.
Step 5: Offer excellent customer service 
In the pet industry, reputation is everything.
I just told you how word of mouth can spread from one person to 40,370 in one year.
Well, when someone's beloved furry family member gets mistreated or hurt by a groomer, they tell other people.
This could result in lost business — 86 percent of consumers hesitate to buy from or use services from companies with negative reviews.
You should always strive to offer outstanding customer service and make sure your customers are satisfied with their service every time.
Some principles of good customer service are:
Understand customer expectations. Listen to your customers and ask the right questions to understand their needs.
Be communicative and responsive. Make sure you answer all customer questions promptly and keep them updated throughout the process.
Offer value. Offer customers value-added services or discounts to say thank you for their business. Tooth brushing, massage, nail trim and file, gland expression, and flea treatment are some add-ons to consider.
Maintain professionalism. Always keep a professional attitude and be courteous to your customers.
Be knowledgeable. Know your products and services inside out so you can give accurate information to customers.
Develop your skills. Invest in yourself, your staff, and your business by attending seminars, webinars, or industry training to stay on top of the latest trends and developments.
Pet owners love their furry family members and want to make sure they get the best care possible.
If they have a bad experience with your business, they're not going to recommend you to their friends and family.
Make sure you have a policy on handling customer complaints or unhappy customers that's solution based.
Be professional, courteous, and always offer a quality service that aims to surpass your customer's expectations.
For example, be on time and greet your customer with a smile. Address their pet by name and handle the animal gently.
When the grooming is complete, make sure the customer is satisfied with the cut and style. 
You can even send a follow-up survey to gather feedback and ratings to improve your services in the future.
More than 60 percent of customers check Google reviews before they visit a business or use their services.
So it can be a good idea to offer a discount to customers willing to leave you a review.
But make sure you have an action plan for handling negative reviews.
Negative reviews can scare away potential customers. 
If you address negative comments and offer resolutions, potential customers will see that you are proactive and dedicated to customer satisfaction.
Step 6: Grow your mobile pet grooming business 
We've talked about marketing your business, using word-of-mouth to get your community's attention, and other steps you can take to get started.
Some ways to get your business off the ground include: 
Passing out business cards and flyers (especially in areas where animal lovers are)
Starting social media ad campaigns (to reach new customers in your area)
Sharing coupons for first-time customers (to help fill up your appointment schedule)
Setting up a referral program for loyal customers to refer their friends (to grow your business)
When your appointment schedule is full, and pet owners in your area love your service, it's time to focus on growing your business.
You can begin this process by expanding your service area, adding vehicles to your fleet, or hiring more groomers.
With more business, you must make sure you're ready to handle the capacity.
Potentially, you'll have to manage multiple drivers. This means you may want to invest in route optimization software.
Circuit for Teams makes it easy to manage multiple drivers with real-time updates.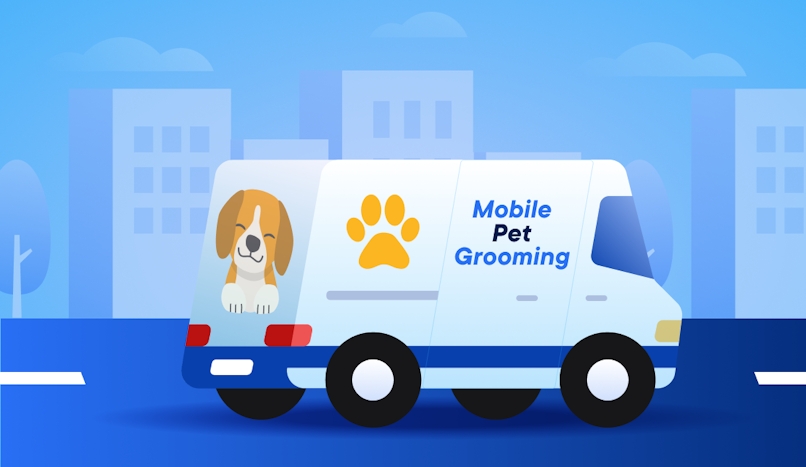 Mobile pet grooming business FAQs
Let's tackle some of the most common questions about owning your own mobile pet grooming business.
How much does it cost to start a mobile pet grooming business? 
You can expect to pay anywhere from $15,000 to $100,00 to start a mobile grooming business.
If you have some equipment already, you'll save money.
You also need to consider other one-time startup costs and ongoing expenses, like the following:
Dog grooming course tuition ($500 to $2,000)
Business registration, licenses, and legal fees ($50 to $1,200)
Equipment and supplies ($550 to $2,200 a year)
Van or trailer payment, vehicle insurance, and fuel costs
Software for appointment scheduling, accounting, and email or text marketing
Website and marketing costs
Employee wages
Can you make a living off dog grooming?
Yes, you can make a living off dog grooming.
Like we mentioned earlier, mobile pet groomers typically charge an average of $30 to $90 for each appointment.
On average, mobile pet groomers in the US make over $48,000 a year. 
And this number doesn't account for busy days, big dogs, add-on services, or tips.
How do dog groomers build clientele?
Obtaining clientele as a dog groomer takes time and effort, but the more word of mouth spreads, the easier it will be to fill your appointment book.
Here are some things you can do to make this process go faster:
Visit local dog parks, vet clinics, pet stores, and pet-friendly businesses.
Create a website and social media accounts for your business.
Use email marketing and other digital channels to reach potential clients.
Offer discounts and promotions on sites like Groupon.
You can also offer loyalty programs and refer-a-friend discounts to encourage customers to keep coming back.
And, of course, make sure you're getting great reviews by offering incentives for customers who are willing to leave you a review.
These strategies can help you promote your mobile pet grooming business and attract more customers.
Managing your mobile grooming business
We hope this post has been helpful in getting your mobile grooming business off the ground — we walked you through everything from legally establishing your business to getting the word out about your services. 
While it can be challenging to get started, mobile pet grooming can be a rewarding career.
And if your business continues to grow, you can add new vehicles and new groomers to meet the demand.
Best of luck with your new grooming business!