13 minute read
Returns Management 101: How to Get the Most Out of Your Returns Policy
Effective returns management can improve customer satisfaction and boost a business's bottom line. Here's how it works.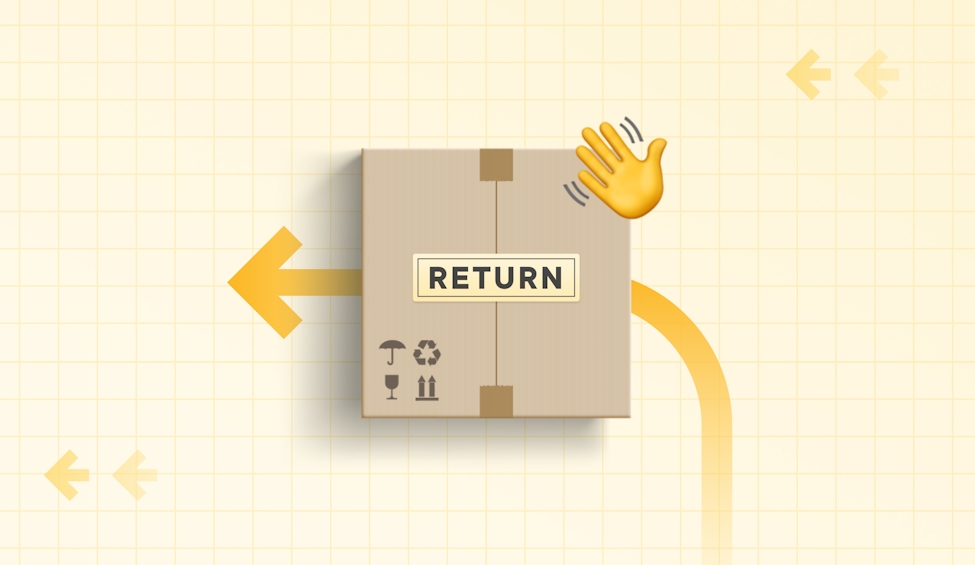 It's an inevitable part of the eCommerce or retail supply chain: Sometimes, people decide to return a product — maybe they aren't happy with it or simply just change their mind. 
Hey, we've all done it, right? I definitely have — and you likely have, too.
It's important for people running a retail or eCommerce business to plan for potential returns, also known as reverse logistics. Reverse logistics is the process of getting goods from customers back to a business.
You want to do all you can to optimize customer returns. This makes life easier for customers, which can boost customer satisfaction.
It can also minimize administrative burdens.
For example, if you make your returns policy clear and easy for consumers to find, you can avoid them calling your customer service hotline, taking up employees' time when they could be dealing with more complex jobs.
Below, I'll explain why an easy returns experience is good for your business and take you through the returns process.
I'll also outline some tips for how to make your returns policy clear and improve your returns management process.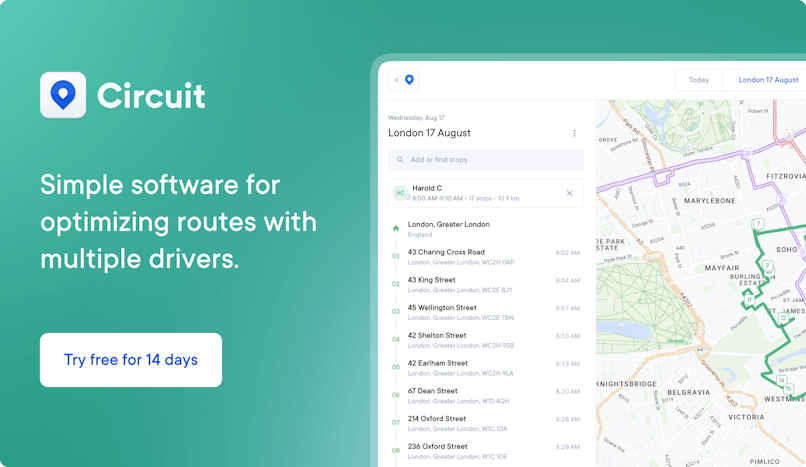 What is returns management?
Returns management refers to the end-to-end process of fulfilling a customer return.
The process starts with the customer initiating the return and finishes with your business getting the returned item and (assuming the item isn't damaged or otherwise unusable) restocking it.
Here's how the returns management process works: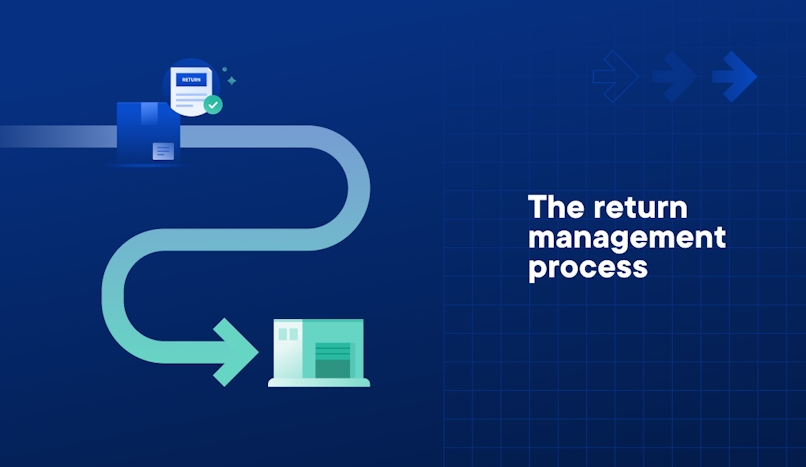 Step 1: The customer requests a return 
A customer may get the product and decide they no longer want or need it. This is when they'll initiate the return.
As a company, it's your responsibility to determine how customers can notify you of their desire to return a product (for example, through your eCommerce platform's live chat, email, or phone).
Step 2: You approve or reject the return 
Customers may want to return their product for a refund or exchange. For example, they may want to swap clothing for a different size.
Your customer support team is responsible for determining if a customer can return for a refund or exchange. To guide their decision-making, it's important to have a clear returns policy.
It's also important to make sure customers can easily access your returns policy, so they know what they can and can't return (I'll go into more detail on how to make a clear returns policy below).
For example, if you sell clothing, you might not allow returns on undergarments.
You must also determine if people can return goods for money back or store credit. Also, consider details like how long a customer can wait to return an item (such as a 30-day policy).
I'll talk about what that involves in more detail below. 
At this stage in the returns process, your customer service team (or whoever handles returns) will use that as their guidebook to either verify or deny the customer's return request.
Step 3: The customer sends return items back 
Once you approve the return, the product needs to make its way back to you.
You can manage reverse logistics in one of two ways. 
One way is to handle it yourself. In this case, you must arrange for product pickup (for example, from the customer's home or business).
When the customer reaches out about a return, you'd schedule a delivery driver to pick it up.
Another option is to outsource your returns to a third-party logistics (3PL) provider. In this case, a third party handles moving the product from the customer back to you.
The 3PL might pick up the item from the customer's home or business. Or, customers might drop off products at designated 3PL stations, such as the US Postal Service (USPS), FedEx, UPS, or DHL.
Many companies working with 3PLs send products in packaging customers can reuse for returns and include prepaid shipping labels with orders.
Prepaid digital shipping labels can cover the cost of returns upfront, so you don't have to stress about coordinating logistics and paying your provider extra for unpredictable return costs.
Learn more about 3PLs and how they can support your business by checking out our guide on the topic.
When the customer already has the packaging and shipping materials, all they have to do is leave the item with the post or logistics company.
Step 4: The return arrives at the company for inspection 
Once the return arrives back to your business, you must receive, sort, and inspect it for quality control. 
You may want a dedicated section in your warehouse for this purpose.
When inspecting a returned product, it's important to consider the customer's reason for returning it.
If the item is defective, for example, you can't resell it. But if the customer simply didn't like the product's color or size, you might be able to resell the item.
This determines how you'll sort the product. Ideally, it should go on to restocking. But you'll probably have to toss it if it's defective.
This stage of the process depends on the order fulfillment you use. 
Some companies manage their order fulfillment and returns in-house, while others outsource this process to third-party fulfillment centers.
Step 5: You issue a customer refund or exchange 
Ideally, your quality control team won't find any issues with the returned item. 
Assuming it's in good condition and the customer meets all the return guidelines, they can issue a refund or exchange the item.
Issue a refund by compensating the customer for the amount they paid, for example, by debiting the bank account or credit card they used. 
Alternatively, some customers may prefer store credit for future purchases.
If the customer opts for an exchange, your team must pick, package, and ship the correct item to the customer.
Read our post on best practices when it comes to warehouse slotting. 
Step 6: The returned product is restocked 
Assuming the product isn't defective, you can restock with unsold inventory that will eventually go to other customers.
Your material handling processes will determine how the product is moved, stored, and protected throughout this process. 
For example, you might use automated machinery to place goods on warehouse shelves.
Optimized material handling can help you accurately sort, organize, and place the product on warehouse shelves. 
For example, optimal warehouse slotting (where items are stored in the warehouse) could mean keeping items that sell quickly and move through the warehouse fast up front — where workers can grab them easily.
In contrast, workers can store products that don't sell as quickly in the back. They're less accessible there, but that's OK because workers don't need to access them as often as fast-selling goods.
This will all be handled by a third party if you outsource your logistics and returns management.
The impact of effective returns management on your business
A well-organized returns experience can benefit both you and your customers. Here's why it matters:
Improved customer satisfaction
If you've ever had to deal with a complicated returns process, you know how frustrating it can be. 
Trying to figure out where to send a package, paying for postage, and dropping the goods at the post office all waste time and energy. 
An easy returns process simplifies consumers' lives, boosts customer satisfaction, earns customer loyalty, and improves customer retention. 
Customer retention refers to keeping the same customers coming back again and again. This is important for your business because it's less effort and cost to maintain an existing customer than to invest in marketing to attract new ones.
Here are some things that make the returns process easier for consumers:
A clear returns policy that customers can find quickly and offers transparent steps on how to return an item
Giving customers ready-made shipping labels that already have the address and paid postage
Clearly stating customer service contact info, such as a chat app or telephone hotline, in case of questions or issues
When customers have all this information at their fingertips, there's less confusion or time wasted looking up how to return a product. 
Plus, they don't have to deal with paying for postage.
If they know they can easily return an item, they're more likely to buy from you in the future. If the experience is a nightmare, they might be less eager to support your business.
Reduced wasted costs
A reverse logistics process can help reduce wasted costs. 
By making sure customers can return items securely and safely (for example, by offering durable packaging and printable return labels), you can get the items back in one piece. 
You can then restock them for resale and reduce potential profit loss. 
In some cases, the product might be defective or broken when it reaches the customer. In these instances, it's important that the customer lets you know before requesting the return.
Below, I'll talk more about possible reasons for returns and explain how to get customers to give a reason for a return — for example, through an online form.
Streamlined operations
Create an easy returns process to get products back for restocking faster. 
For example, give customers a clear returns policy — say, they have to send items back within 30 calendar days — so they don't delay sending items back. 
This means you can restock — and resell — them sooner. 
Your business can benefit from faster turnaround and less waste since products can be reused or resold once returned — instead of simply ending up in a landfill (for example, if a customer doesn't want the product and just trashes it).
Tips to improve your returns management process
As the above list makes clear, investing in an effective returns management system benefits your business.
But how can you actually improve the returns management process? 
Follow these best practices to simplify the workflow.
Give customers accurate product information 
Product returns can cost time, effort, and money. 
For example, you have to deal with processing and inspecting returns, and you may have to pay for the extra shipping costs.
If you're sending your own delivery drivers to pick up returns, you also have to cover related costs like fuel.
Ideally, you want to avoid returns completely. 
One way to do this is to give customers detailed information about their products upfront. Make sure product descriptions are clear to set accurate expectations.
Clear product descriptions offer basic facts — it's about giving users information, not using fancy sales talk to persuade them to buy.
Here's how to achieve clear descriptions:
Include basic dimensions in product descriptions, like size and weight. For example, if you're selling clothing, don't just rely on sizes like S, M, L, XL, and XXL. Instead, include actual measurements for your sizing charts since different brands size differently.
Include high-resolution photos of your products in use. This can also give people a better sense of sizing. For example, if you're selling a chair, showing someone sitting in it can give people a better idea of its size. 
Show essential details like product materials. For example, a leather bag probably has other components, like a buckle and zipper. What are those components made of? Be sure to specify to avoid disappointment.
Assess the true cost of returns and how it affects business 
Free returns are a big perk for customers who don't have to worry about the added expenses of sending an item back. 
However, paying for the shipping yourself can add costs to your business.
Calculate in advance how much returns will cost you. You'll have to factor in a few things to figure it out, including:
Shipping costs: The cost to ship items back can depend on details like geographic distance, product size, and weight. The type of shipping (for example, 48-hour service versus standard shipping) can also make a difference, as can the provider. Check out major providers like USPS, DHL, FedEx, and UPS for pricing info. 
Humanpower costs: If you're managing your own reverse logistics, you must pay a driver to pick up packages. If you're working with a 3PL, they may charge extra for this step.
Related logistics expenses: If you manage your own returns, you also have to consider costs related to pickup, such as fuel. Plus, this means more use of your delivery vehicles, which can cause added wear and tear and increase maintenance costs.
Depending on the costs, it might make more sense to let customers keep the original product and issue a refund.
Analyze product returns and adjust accordingly 
Examining returns data can help you reduce returns going forward.
When a customer wants to return an item, try to find out why. You might offer a checklist of options for them to choose from, like wrong size, wrong color, product not as expected, defective item, and so on.
Assuming customers can initiate returns online, have a checklist as part of the online returns process.
If you don't organize returns online, you can include a paper with a list of possibilities to check (for example, the consumer could print out this list along with the return shipping label when they opt for a return).
For example, if you find a lot of customers are returning items because of the wrong size, you might create a more comprehensive size chart with detailed measurements for your website.
Process returns quickly to keep customers coming back 
Customers don't want to wait long to have returns processed and refunded. Having a set returns process can help you process returns quickly.
This starts with having a clear returns policy. You also want to train employees on returns management, allowing them to quickly determine whether a return can be approved and act accordingly.
When training employees, take into account these points:
Make sure they know the policy. Cover details like what can and can't be returned, how much time customers have to return an item, and what methods they can use to return an item. Also, cover basic questions customers might ask, like "Do I have to pay for my own shipping?" or "Who will pick up the product?"
Make sure they know where to send larger issues. No matter how clear your returns policy is, there might be gray areas that fall outside the standard terms. For example, let's say a customer misses the return deadline by one day. It might be worth taking the return anyway to keep your customer happy. However, this might be the kind of issue needing senior manager approval — not everyday customer service approval. Designate the "senior" person customer service agents can turn to in case of issues.
Offer extra training on how to handle difficult customers. Unfortunately, customer service agents may face frustrated, angry, or rude customers. Make sure your teams know how to deal with these instances (our guide to dealing with difficult customers can help). Role-playing scenarios can help agents practice dealing with tough customers.
With the right training, you can empower your customer service team to act confidently and accurately when dealing with customers. 
For example, let's say an agent gets a call from a customer who wants to return undergarments — but you don't allow returns on these personal items.
Your customer service member can explain that returns aren't allowed on this item. Ideally, they can even flag where the customer would have found this information when making the purchase.
Check out this guide for more tips on teaching customer service best practices. Tips range from having newer customer service agents shadow more experienced agents to using internal notes to give feedback on cases.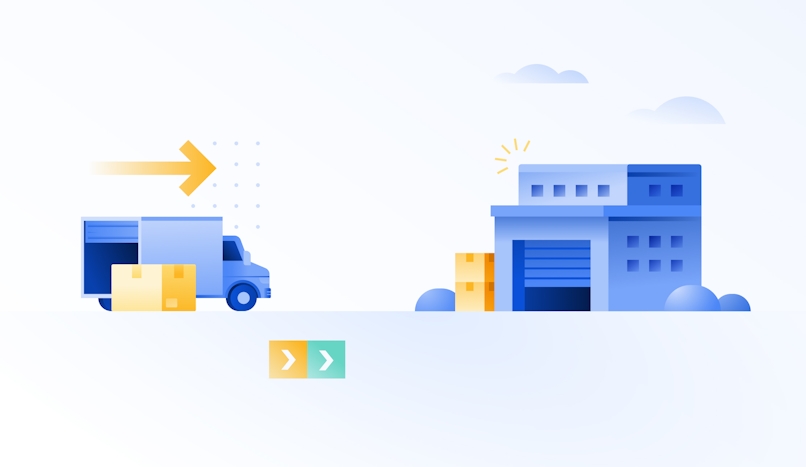 Tips to improve your returns policy
Above, I explained some ways you can improve your returns management process. A streamlined process starts with a clear returns policy. 
Here's how to make it happen. 
Make your returns policy easy to find 
You should clearly post your returns policy on your website. 
Including your returns policy in the customer's order confirmation email and as a hard copy with the shipment is also helpful.
This way, customers know where to find the policy and don't have to contact customer service with questions.
It also safeguards your liability: You can rest easy knowing you've given the customer the information they need to make a return. 
A customer can't claim they weren't aware of the policy if you've clearly shared it with them in multiple ways.
Make it simple and understandable 
Confusing return policies can be frustrating for both your business and your customers.
For example, if you don't clearly state that returns must be made within a set number of days, customers may get angry if they try to return an item late. 
This can negatively impact your customer service team since they'll have to deal with an angry customer.
Cut out legal jargon and use easy-to-understand language. Here are some tips for making sure your policy is clear:
Read it yourself. Do you understand all the words? If not, highlight the words or phrases you don't get and use a thesaurus to find simpler ways to explain them.
Have someone else review the policy. They can do the same as described above — highlight phrases or words they don't know. Then, amend the text as needed.
This resource highlights some common legal and business jargon, including confusing filler words. If those words appear in your policy, odds are they make it more confusing.
This resource also has actionable tips for avoiding jargon when writing, such as using shorter phrases and simpler words and leaving out unnecessary information. Focus on what matters.
Next, I'll detail what to include in your returns policy.
Clearly explain what customers need to do 
Your policy should include these essential points:
The conditions for returns: First, customers need to know if returns are possible. Some businesses restrict returns on certain products, such as personal items like undergarments. You may also want to specify conditions for the return, such as the item being in good condition and still having the tags on. This increases the odds that you can restock and resell the goods.
How long customers can wait to return an item: Next, determine how long customers can wait to return an item. For example, you might specify a 14-, 30-, or even 60-day time frame.
Who pays for shipping costs: Specify whether the business or customer will bear the shipping costs. Some retailers include prepaid shipping labels in their orders so customers don't have to take on this expense.
Where customers can return the item: Specify where to ship the item. Ideally, you'll have this preprinted on a shipping label for them, minimizing the risk of typos and incorrect addresses.
How customers can return the item: Can they reuse the same packaging? Have you included a return shipping label, or can they download one online? What logistics provider can they use? For example, if you've included prepaid shipping labels for USPS, the customer must send the package through USPS — not DHL, FedEx, or UPS.
Detail what customers can expect, including time frames 
When customers send an item back for an exchange or a refund, they're probably wondering what happens next. Clarify what they can expect, answering questions like:
How long until the customer is refunded?
What form will the refund take: store credit or debit to the customer's bank account or credit card?
Will the refund be issued immediately or only after the products arrive safely at your business?
Is there a way for the customer to track their return status, for example, by offering real-time notifications about the shipping progress?
You might include this information on a dedicated webpage that's all about your returns policy, or in a related frequently asked questions (FAQ) page that focuses on returns.
Keep profitability up with effective returns management
Managing returns is an inevitable part of running an online store. People don't always want the products they receive (for whatever reason) and may want a refund or exchange.
Product returns management refers to the process of fulfilling a customer's return request — from the moment they initiate the return to when the item is safely restocked in the business warehouse.
Effective returns management can enhance the customer experience, boost your bottom line, and streamline operations.
A clear returns policy is the basis for an optimal returns management system. It should cover everything from how long customers can wait to return items to where they should ship items for returns.
You can further streamline reverse logistics and improve capacity planning by following best practices. 
For example, you can decrease return rates by offering clear product information so customers know exactly what to expect.
With these tips, you can reduce hassle for your customers and your customer service teams.