12 minute read
3PL: A Guide to Third-Party Logistics for Business Owners
A 3PL can manage your business's entire logistics, alleviating stress and simplifying operations. Find out how they work here.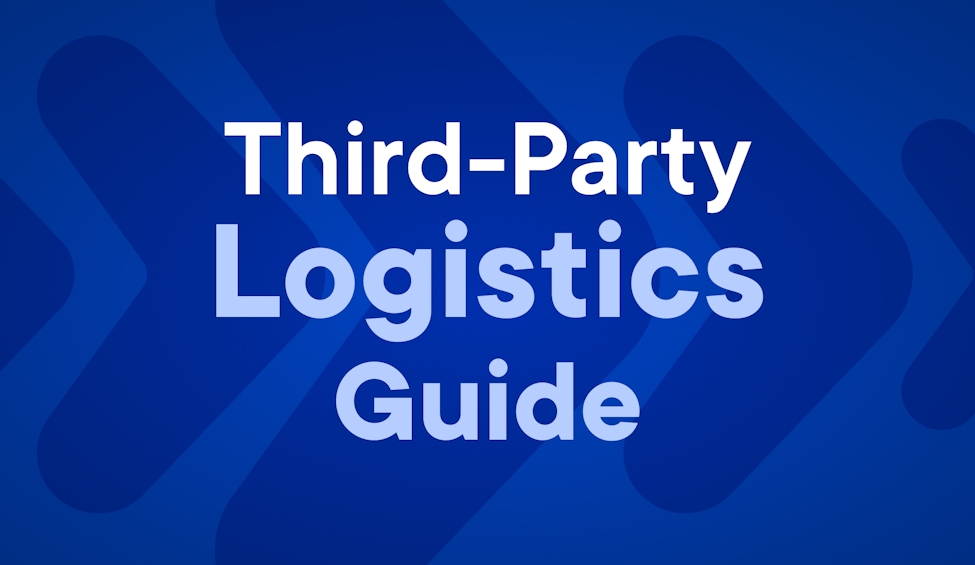 Instead of leaving your logistics to a third-party provider, manage shipping and delivery yourself with the help of Circuit for Teams.
Logistics is a big job — especially for eCommerce stores.
Logistics refers to the process of managing, storing, and transporting goods to customers, covering everything from packaging products to shipping them from point A to point B.
Don't have the time, money, energy, or resources to handle logistics yourself?
Enter 3PL.
What exactly is third-party logistics, and (more importantly) how do you use it effectively?
Below, I'll cover the benefits of third-party logistics, explain why this might appeal to you, and detail what to look for in a 3PL provider.
I'll also get candid about some of the cons of 3PL services and talk about managing your own logistics and deliveries using a "1PL" model.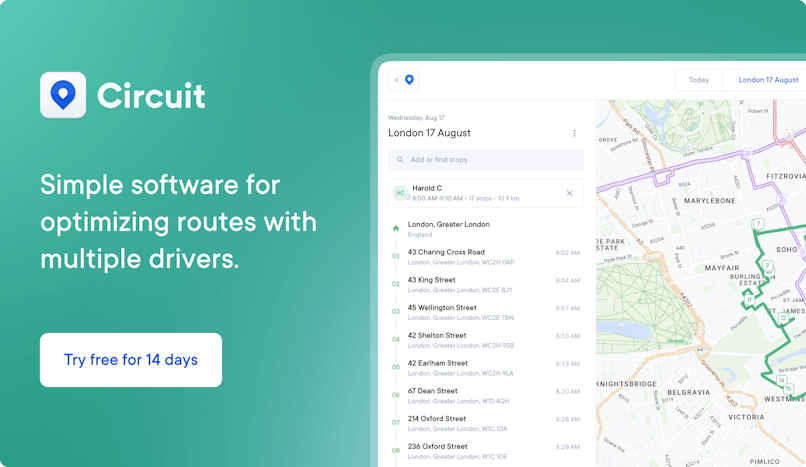 What is third-party logistics?
3PL stands for "third-party logistics," the process of outsourcing logistics processes — including inventory management, warehousing, and order fulfillment — to a third-party service provider.
The popularity of third-party logistics is on the rise — in part because of the booming eCommerce industry. 
In the United States, the 3PL market is expected to grow at a rate of 6.9 percent through 2028, resulting in revenue of $362.8 billion.
But, before we dive further into third-party logistics, it's useful to understand what we mean by "logistics."
Logistics refers to the process you need to move products through the supply chain once a finished product is ready for sale. 
It covers steps like:
Warehousing
Warehousing refers to the storage of products before sending them to customers.
A warehouse holds products in bins or on pallets to keep them safe and secure. It's the last point in the supply chain management journey before last-mile delivery, when you ship the product to the customer.
Inventory management
Warehouses don't just hold inventory. The goods inside the facility need to be tracked and organized.
Inventory management lets you improve your capacity planning so you know how much inventory you have, where it is, and when you need to order more.
This way, you're never left short-handed during a customer order.
Picking and packing
What happens when a customer order arrives?
You need a person to identify the product, find it on the warehouse shelves (a process known as picking), and package it.
Companies like Amazon already use robots to automate parts of the picking and packing process.
Shipping and receiving
Warehouses often double as shipping and receiving centers.
They need to accept and store inbound products. When customer orders come in, the relevant products need to be prepared for shipping.
For example, the correct shipping labels need to be affixed to the package. You also must consider customs forms for international shipments.
Reverse logistics
As if all of the above isn't enough work), you also need to consider reverse logistics.
This is basically the process of dealing with customer returns. 
Instead of organizing products to be sent OUT, you're organizing them to be sent INTO your shipping facility or warehouse and processed.
So, that's logistics in a nutshell. 
Third-party logistics covers all the same things, but YOU aren't managing these processes yourself. 
You've outsourced them.
With third-party logistics, you hire another company to manage and oversee the various parts of the logistics process. 
How does third-party logistics work?
Sounds easy, right?
Well, no. Clearly, logistics is a complicated process involving a lot of steps and components. 
How can a third-party service provider make it easier for you?
It might seem way too complex to leave to someone else. 
Don't stress. 3PL providers have clear processes in place to make collaborating easy (hey, there's a reason they're so popular).
Here's how your relationship with a third-party logistics company might work: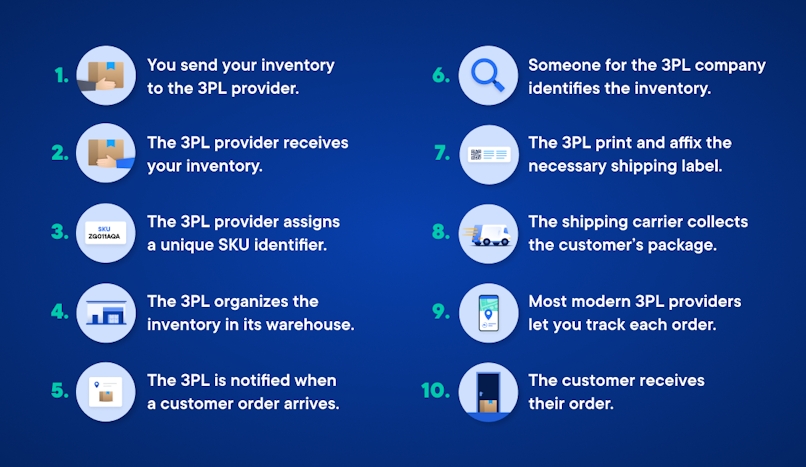 You send your inventory to the 3PL provider (or have your inventory shipped directly from the manufacturer to the 3PL provider).
The 3PL provider receives your inventory at one of their warehouses.
The 3PL provider assigns a unique SKU identifier to each type of inventory they receive. This will make it easier to find inventory later.
The 3PL organizes the inventory in its warehouse, making sure it's safely and appropriately stored. For example, the 3PL provider will use a temperature-controlled warehouse for products needing refrigeration.
The 3PL is notified when a customer order arrives. There are different ways to do this. For example, you can manually forward orders to the 3PL or use software — like a tool that integrates with your online shop — to automatically forward the order.
Someone for the 3PL company identifies the inventory, finds it in the warehouse, and picks and packs it.
The 3PL uses the information from the customer order to print and affix the necessary shipping label. Alternatively, some 3PLs work with external shippers (like FedEx, UPS, or USPS) for this step.
The shipping carrier collects the customer's package from the 3PL distribution center and takes care of last-mile delivery, getting the order into the customer's hands.
Most modern 3PL providers have software systems that let you track each order. You can also offer tracking to customers with delivery time window notifications and real-time order updates.
The customer receives their order.
As you can see, 3PLs take a lot of hassle off your hands. All you have to do is focus on driving sales and getting customer orders.
Fulfilling those orders falls on the 3PL. 
So you don't have to stress about devoting time and resources to this aspect of material handling (how goods are moved, stored, and protected throughout the supply chain).
What services do 3PL providers typically offer? 
As you can see from the steps described above, a 3PL partner is a comprehensive logistics services provider.
3PL is a step above second-party logistics (2PL), when a shipping company or courier simply collects a package — for example, from your business warehouse — and delivers it to the end company.
A 3PL service is more all-encompassing than a traditional freight broker or freight forwarder, which simply acts as a go-between for businesses and delivery drivers. 
They basically serve as matchmakers for brands and carriers. For example, a small eCommerce shop might use a 3PL provider because they don't have the resources to manage shipping in-house.
The 3PL company will have the resources (like warehouse access) and skills (like proficiency with warehouse management and tracking software) to manage the eCommerce store's storage and shipping needs.
Note: There are also fourth-party logistics (4PL) services, which coordinate between your business and the 3PLs you work with for order fulfillment. 
The 4PL can do extra things like negotiate contracts between you and the 3PL and act as a central point of communication between the 3PL and your business.
With a 4PL service, you basically outsource ALL of your logistics management, including communication with the warehouse and shipping providers. 
This includes coordinating with 3PL providers, inventory management, transportation, and even logistics technology management (like order tracking software).
4PL companies include Deliverr, ShipHero, and Shopify Fulfillment Network. You might want to work with a 4PL if you don't have the bandwidth to deal with logistics or don't want the hassle. 
4PL services are usually easy to scale up quickly.
That said, it can be frustrating not having any control over your logistics services. You won't be able to address key issues like customer support and quality control.
If you want direct contact to the provider handling your logistics, a 3PL service is preferable. 
Here are the services you can expect from a third-party logistics provider:
Warehouse management
The 3PL has warehouse space to store your goods.
This can be a big boon since the warehousing market is getting increasingly competitive and expensive.
Instead of paying for and managing your own warehouse (which comes with added costs, like electricity and other utilities), you simply pay someone else to deal with it.
They can use a warehouse management system (WMS) to stay organized.
Inventory management.
3PLs don't just stuff your goods into a warehouse. They make sure they're properly identified, stored, and tracked.
Many 3PLs use inventory management software to organize items.
For example, inventory might have a unique barcode that's scanned at various stages of the warehousing process, from receiving to packing and shipping.
Order fulfillment
When a customer order comes in, the 3PL takes care of order management and fulfillment services.
This involves picking products and packaging them.
You can use an order management system (OMS) to track inventory as it comes and goes, simplifying capacity planning.
The 3PL will know when more inventory is needed to keep sufficient stock on hand and meet customer demand.
You might be able to use the OMS, so you're automatically notified when inventory levels are low and you need to get more stock to your 3PL.
Shipping management and order tracking
3PLs organize the dispatch, shipping, and tracking of orders from their warehouses.
They may have their own team to ship orders or work with established transportation services like FedEx, DHL, UPS, or USPS.
Reverse logistics operations
It's not ideal, but it does happen: Customers want to return products.
A 3PL can also offer this service, known as reverse logistics.
3PLs can operate locally or internationally. It's important to make sure you have a 3PL that covers the geographic area you need.
Note that different 3PL companies may offer different services. 
Always read the fine print regarding a company's offering and what they will and won't do before signing an agreement.
(Psst, don't worry: I'll go into more detail on how to vet 3PL providers and find the best one for you below).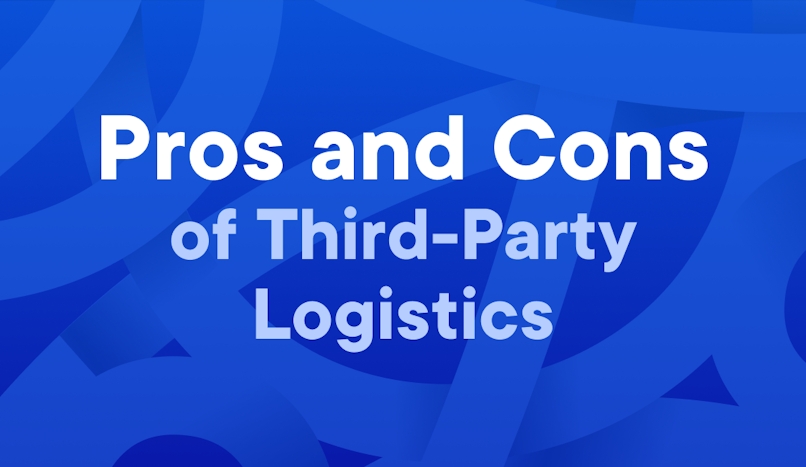 Pros and cons of using a third-party logistics provider
Now that you know what third-party logistics providers do, you're probably wondering whether hiring one is worth it.
After all, this will add to your overhead expenses since you'll have to pay for the service.
That said, not handling the stress of a logistics organization can be well worth the money!
Here's a more detailed rundown of the advantages and disadvantages of third-party logistics, so you can decide whether it's the right choice for you.
Pros of using third-party logistics 
When you work with a 3PL, you're outsourcing your logistics needs to an expert in shipping and fulfillment. This has some key perks:
Simplify your business operations: When you don't have to deal with the many facets of logistics (from warehousing to shipping), you have far fewer reasons to worry. Plus, without logistics distractions, you can focus on other core competencies, like marketing and product development.
Scale up quickly: A 3PL is also a great solution if your business is rapidly growing. They'll already have the people, vehicles, and software tools needed to ship more products more quickly. You don't have to worry about setting up the infrastructure to grow.
Alleviate stress: Managing logistics can be a huge headache. Leaving it to a 3PL alleviates this burden. The peace of mind alone can make a 3PL provider worth it.
Cons of using third-party logistics 
Working with 3PLs isn't foolproof. There are some drawbacks to consider, such as:
The cost: You'll have to pay a 3PL provider regular fees for operations, transportation, and warehousing (usually a monthly fee), plus upfront fees like setting up software integrations and a customer account. Further, some 3PLs have a minimum monthly usage/spend. In the end, it may not be the most cost-effective option for you.
Restricted hours: Some 3PL providers work 24/7. Others — usually the more cost-efficient options — have restricted hours. This can affect your business workflow by resulting in delayed deliveries and decreased customer satisfaction.
Lack of control: Working with a 3PL means you rely on them for fulfillment and delivery. This can be frustrating if you prefer to maintain oversight of your business. Lack of personal involvement also makes it harder to personalize the customer experience — for example, by adding a unique note to each package.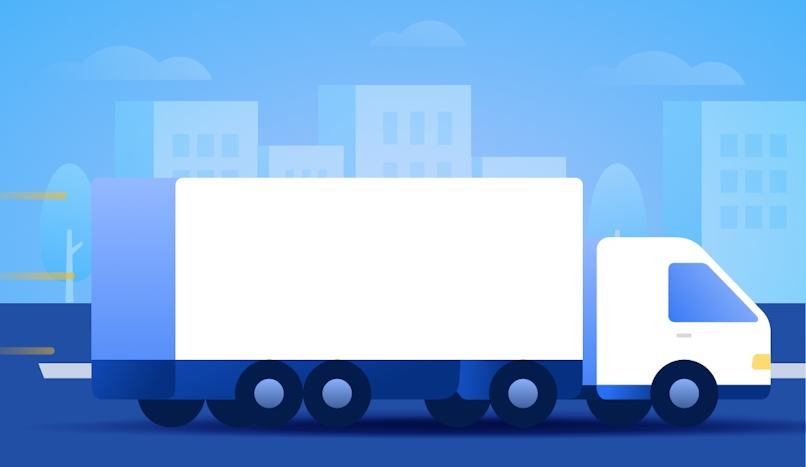 What to look for when choosing a 3PL provider
ECommerce businesses looking to hire a 3PL provider need to do their due diligence. There are a lot of options to choose from, and you want to make sure you're paying for quality service.
Here are some points to consider when selecting a 3PL:
Services
3PL providers can offer an array of services, from receiving inventory to storing and shipping it.
Make sure your prospective providers offer the services you need in the right geographic area. If you want reverse logistics services, ask if they offer them (and how much extra they'll cost).
Capacity
A 3PL will work for multiple customers — you won't be the only one.
Come prepared with an estimate of how many orders you'll need fulfilled and shipped over a certain period (you can look at your past business data for an idea) and make sure they can fulfill those needs.
Also, ask about their capacity to scale up. If your business grows and you have to send out double the orders, will they be able to keep up?
Shipping times
You don't want customers waiting forever for products because your 3PL provider is lagging.
Ask for hard figures regarding average shipping times.
Also, ask about different shipping options. Do they offer expedited shipping (like 24- or 48-hour options)? Fast shipping is increasingly in demand, so this is a good perk to offer customers.
Cost
Let's consider your bottom line.
How much will a 3PL cost you?
Ask for a detailed pricing table, including fees for onboarding, inventory receiving, warehouse storage, order picking and packing, packaging, and kitting (arranging a product in a certain way before shipping or assembling key components).
Finally, you must consider shipping costs. The 3PL should be able to show how they calculate shipping (such as by weight, size, and/or distance).
Questions to ask your 3PL provider 
Still unsure which 3PL distributor you should trust with your entire supply chain needs? Ask them these ten questions before signing on the dotted line:
Do you offer [service]? If there's a specific service you need, like reverse logistics, ask whether they offer it.
How many warehouses do you have, and where are they located? This helps make sure they can handle your distribution needs. Also, ask if they have distribution centers in your high-volume business areas.
When do you operate? Are they 24/7, or do they have set hours? This will impact their ability to meet tight shipping deadlines. Also, ask if they work on weekends and holidays.
How does your pricing work? They should be able to give you a summary overview of costs, including onboarding, warehousing, and transportation.
What is your maximum capacity? This will help determine if they can handle your current capacity — and if they'll be able to manage your orders if you scale up and expand in the future. You can also ask how many orders they currently manage per month to get a broader idea of their abilities.
How do you handle [24-hour] delivery? You can also ask about 48-hour or three-day delivery, for example. Make sure they have an expedited process for fast orders. Also, ask how they make up for delays (which can happen).
What kind of technology do you use? You want to make sure you can handle any software integrations without a steep learning curve.
What kind of reporting can I expect? Any reputable 3PL will maintain regular communications and offer reports with details like new orders, shipping notices, returns, and inventory counts. Find out which tools they use to measure these metrics and how often they'll update you.
Can you offer references? A great 3PL should have testimonials from existing clients who are familiar with their services and can attest to their professionalism. 
Can I see a sample contract? Always ask for a draft contract and terms and conditions to review before signing. Also, see what other legal paperwork you may need to address, like a nondisclosure agreement.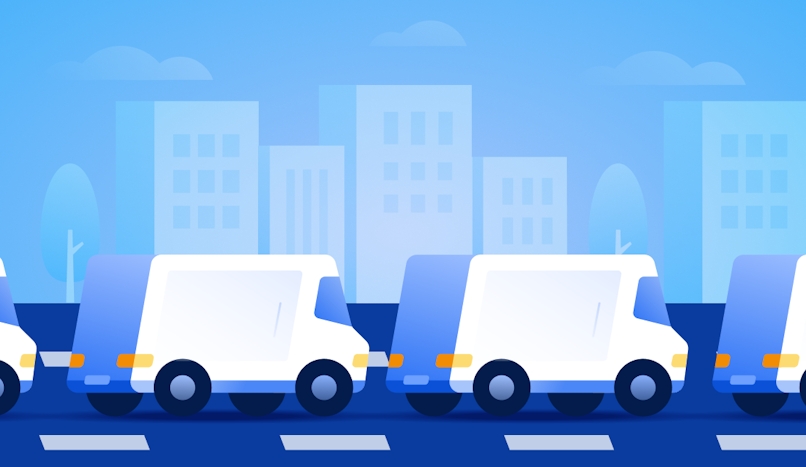 Third-party logistics conclusion
Third-party logistics providers are becoming increasingly popular — and for good reasons.
With 3PL services, eCommerce companies can outsource essential logistics processes like warehousing, inventory management, picking and packing, shipping and receiving, and reverse logistics.
This can save business owners valuable time and stress, allowing them to focus on other aspects of the business (like customer acquisition, sales, and product development).
While they are convenient and can save time and hassle, third-party logistics companies have some drawbacks. 
They cost money and can add to operating expenses, for example.
Plus, some business owners might not like the idea of leaving their logistics in someone else's hands.
The good news is that using a 3PL is only one option when it comes to order fulfillment.
There are alternatives — like having an in-house order fulfillment center.
Would you rather take a DIY approach? Set up a 1PL to deliver goods directly to the end customer and manage the entire last-mile supply chain.
The benefit?
This lets you maintain total control of your fulfillment process, shipping, and last-mile delivery, which can bring you peace of mind. 
That said, setting up your own shipping services involves some careful planning. 
You'll have to hire a reliable team of delivery drivers, purchase the right vehicles, and invest in the right software tools to organize and track deliveries.
One must-have tool for any business setting up its own shipping services? Circuit for Teams.
Circuit for Teams is a route optimization tool that charts the fastest sequence of delivery stops for you. 
Simply add the delivery addresses and Circuit for Teams plans the route, taking into account hurdles like construction sites and traffic jams.
By charting the most efficient routes for you, Circuit for Teams can also save your business money. 
For example, by avoiding traffic jams, your drivers will avoid idling and use less fuel — one way to boost transportation cost savings.
Circuit for Teams also lets you set delivery time windows, send customers estimated times of arrival (ETAs), and track package progress in real time. 
Plus, it has perks for drivers, like a proof-of-delivery feature, so your team can prove that they've done their job.